Bus Fleet News
September 2010
---
Latest News
---
Here you will find all the latest bus fleet news for many bus operators in and around the Derbyshire area. If you have anything to report please contact me by clicking here.
---
---
NEWS
-
---
---
NEWS
2nd Oct:
MPD 2212 is now here and in use. 2211 may follow.

8th Sept:
A recent transfer within the Midlands fleet has seen the arrival of MPD 2210 (SN03 LGD) at Derby.
Former Derby Citybus 148 (C148 NRR) is now on a farm, T W Busby Farm to be precise, in Haughton, Stafford

2nd August:
Omnicity 3580 has moved to Wigston.
Dart 2252 is the second Dart to be repainted in the newer style livery.




---
---
NEWS
22nd July
Mercerdes 0814 Vario/Alexander 436 (R154 UAL) is a recent transfer here from Centrebus, Hinkley.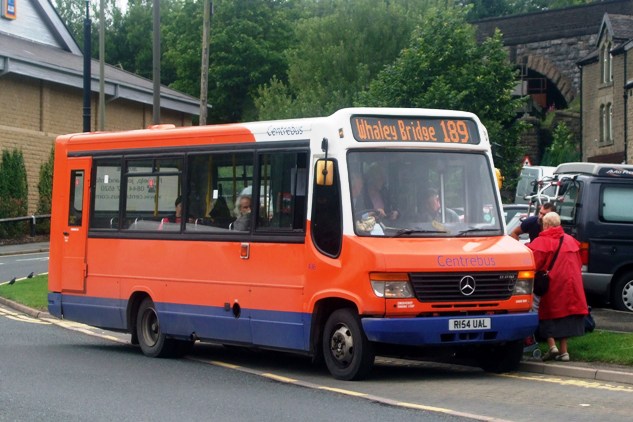 Mercedes minibus 436 (R154 UAL) in Buxton.
(C) Nick Mannion

9th May
Former Fox Vario (R154UAL) is in use here in Centrebus livery. 2 white Tempos have also been in use.


---
---
NEWS & Sightings
-
---
---
NEWS & Sightings
2nd August
Vecta (M801 PRA) has been withdrawn. Merc (S750 RNE) has also been withdrawn for the last few months, and may have already gone for scrap.

---
---
NEWS

31st March
The new Volvo Centro is (FJ10 NFV),and is expected to be in service on the black cat service tomorrow.

---
---
Gills Travel

-:
---
---
G&J Holmes

NEWS
-
---
---
Glovers of Ashbourne


NEWS
30th October
Volvo coach (B252 KTO) is for sale on ebay. The coachwas bought new by the company: Click here to view.

11th October
Paladin (K123 BUD) has been re-registered (AIG 8338).
An Excalibur coach registered as (AIG 4114) is also now here. It has brown orange and yellow stripes in the livery! Anyone know its previous registration / history?


---
---
Harpurs Coaches


NEWS + SIGHTINGS

2nd October
2 more ex Dublin B6's have arrived via ensign. (99-D-60001/8) are now (V736/5 PHJ).

A new arrival here is ex Dublin Wright bodied Volvo B6 (V728 PHJ), which is in use in a yellow blue and brown livery. It has arrived via Ensign, and was previously (99-D-60007) - or was it (99 - D - 6002)???.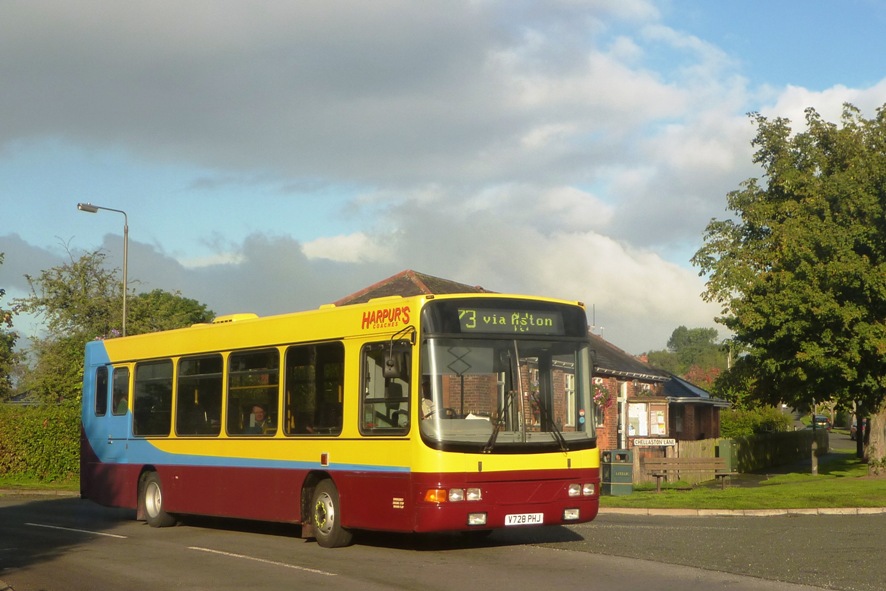 Former Dublin B6 (V728 PHJ) seen here in Weston on Trent on its way to Derby.
(C) -
---
---
Hawkes Coaches


NEWS
1st May
Another former TWM Metrobus has arrived here, thought to be (B846 AOP). It has been here a month or so now at least!

---
---
Hulleys of Baslow

NEWS + SIGHTINGS
16th June
The new number 2 in the fleet is MAN / MCV EVOLUTION (AE05 EVC) from Alliance and Leicester (dealers rental fleet). It replaces (P881 PWW) which was written off in an rta last month.
---
---
Johnson Bros / Redferns

NEWS & SIGHTINGS
14th September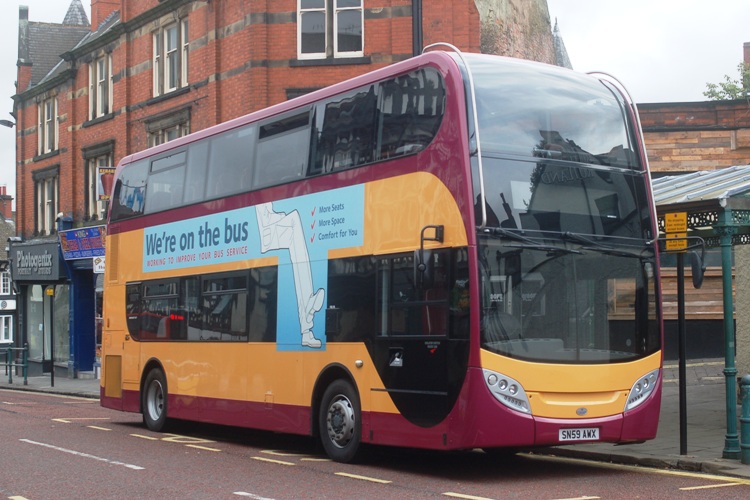 A new addition to the fleet is Enviro 400 (SN59 AWX), seen here in Chesterfield on the Bingo bus.
(C) John Moore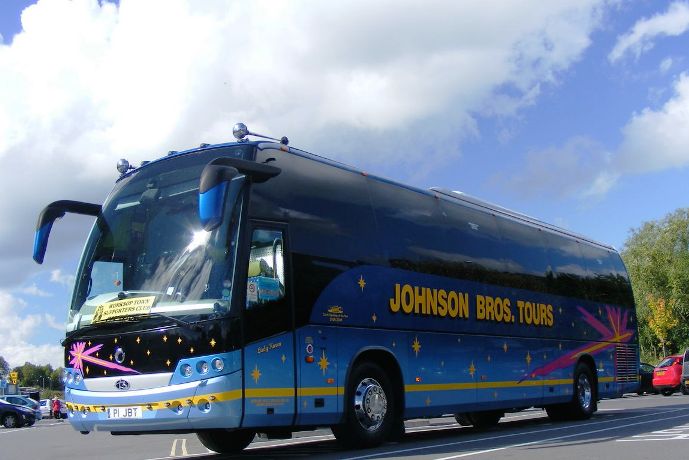 Cracking photo of (P1 JBT) in Matlock.
(C) Ian Moorcroft



26th May
Two new plaxton Panther bodied coaches to arrive here are (YN10 AAE) and (YN10 AAF). Both are in white and carry coachholiday.com branding.

---
---
Linburg

NEWS + SIGHTINGS
-
---
---
Littles Travel

NEWS + SIGHTINGS
-

---
---
Midland Classic


NEWS
10th September:
Dennis Falcon (K212 UHA) has now been painted into Midland Classic livery, and is in use.

4th September:
A new direct service numbered X12 (Burton - Lichfield) starts on 6th September.
Former East London Dennis Trident 91 (V118 MEV) has arrived here via Southdown PSV.
Dennis Dart SLF / Plaxton Pointer 24 (P409 BNR) has been repainted and re-trimmed, and gained fleet number 24.


---
---
Premiere, Nottingham


NEWS
8th September
Last Monday saw the introduction of Premieres latest Red route in Nottingham, the Red 2 to Cotgrave. 3 Solos have been branded for the service.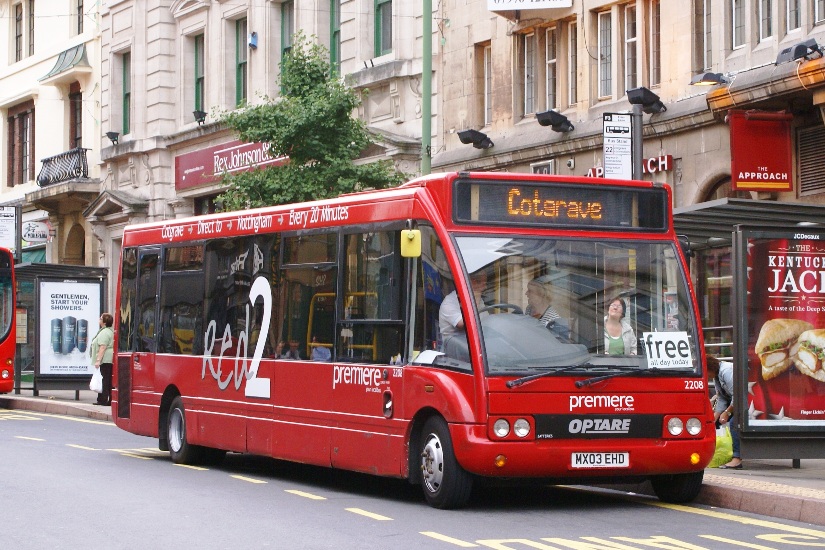 Solo (MX03 EHD) is seen on Friar Lane last Saturday, when passengers had the opportunity to try Red 2 for free before the service began the following day.
(C) Alf Cundy
---
---
Stagecoach East Midlands
Chesterfield, Mansfield, Worksop
NEWS
8th September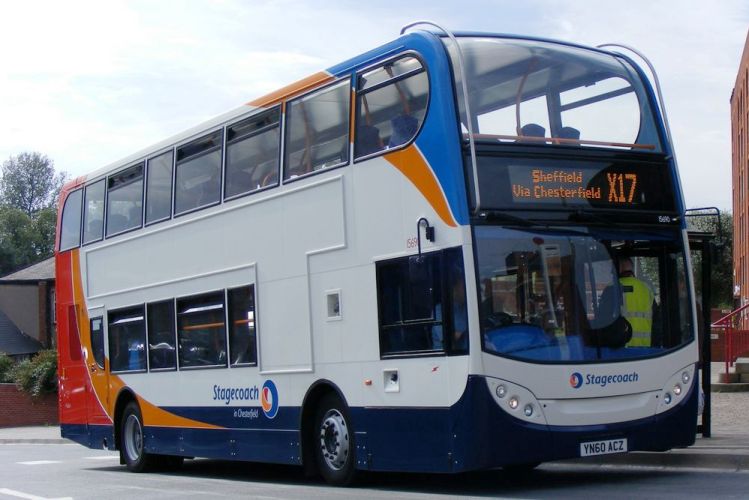 .
(C) Ian Moorcroft

Brand new Enviro 400 15690 (YN60 ACZ) is seen here in Chesterfield on the X17 service. More are due in service soon, which will see most of the remaining Olympians being withdrawn.
To keep up to date with Stagecoach in Chesterfield, and many other operators in the area, take a look at the excellent Transpire website.


---
---
TM Travel


NEWS:
See Wellglade section.
---
---
Translinc
NEWS
:
---
---
The Wellglade group
trent barton, kinchbus, notts+derby and T M Travel.
NEWS
2nd October:
Olympian 720 has transfered from Kinchbus to notts + derby.
Another transfer to N+D is DAF / East Lancs 1153, although this may only be here short term.

Darts 906/7/16 are now part of the Midland general fleet. They have been painted red for the new 99p route from Nottingham to Cotgrave, which begins on Monday. The vehicles are now numbered 2001/2/3.



14th September:
Dart 932 back in use today, in Burton on the Villager service (V1/3).
Dart 902 (P902 CTO) has been sold to Paragon travel.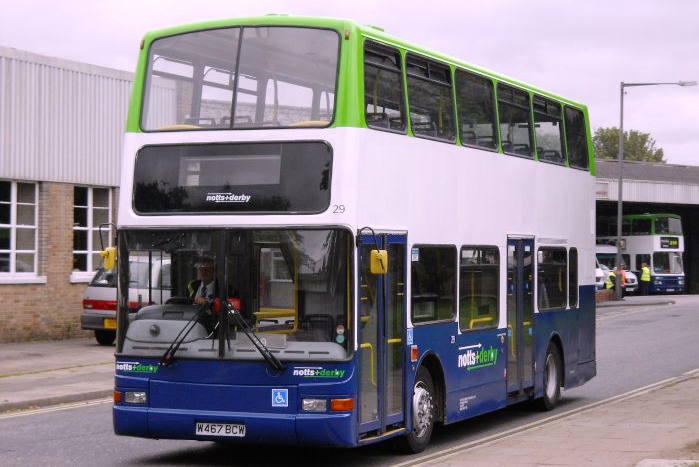 One of 4 low floor deckers to join the notts+derby fleet is 29 (W467 BCW). It is seen here outside the Meadow Rd garage.
(C) Jonathon Graham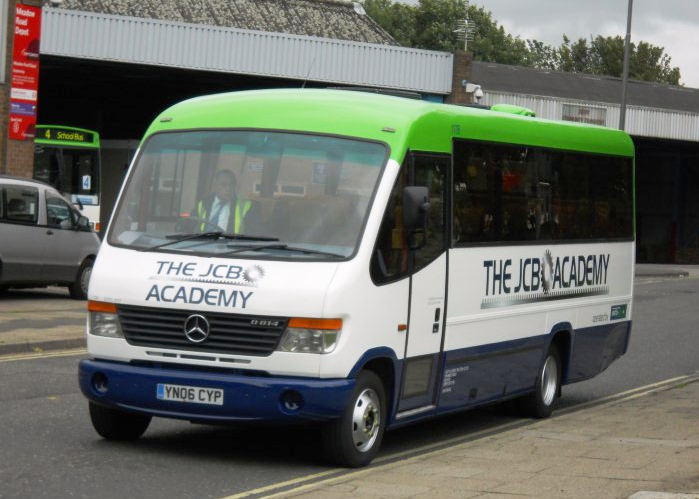 Former TM Cheetah (YN06 CYP) has now joined the notts+derby fleet, and has been branded for a JCB academy service. Mercedes Sprinter here is 1019 (WJ02 KNR) is to get similar treatment.
(C) Jonathon Graham



10th September:
Coaches 57 and 58 have been re-registered at (YRC 180/1).

New arrivals with notts+derby are 4 Plaxton President Volvo B7TLs from London United. They are here for a college contract (this may only run until Christmas). The 4 are:
29 (W467 BCW), notts+derby livery,
30 (W474 BCW), red (painted soon),
31 (W475 BCW), notts+derby livery,
32 (W477 BCW), notts+derby livery.

Paladins 106 and 111 have been withdrawn, along with Excel 161 (Derby College). 117 may follow shortly.

Another Mercedes Sprinter here is 1019 (WJ02 KNR). This and former TM Travel Mercedes/Plaxton Cheetah 1178 (YN06 CYP) are expected to be painted for notts+derby and carry names for the JCB Academy.

A new Mercedes Sprinter in the Midland General "door to door" fleet (Derby Community Transport) is (CE02 MDY).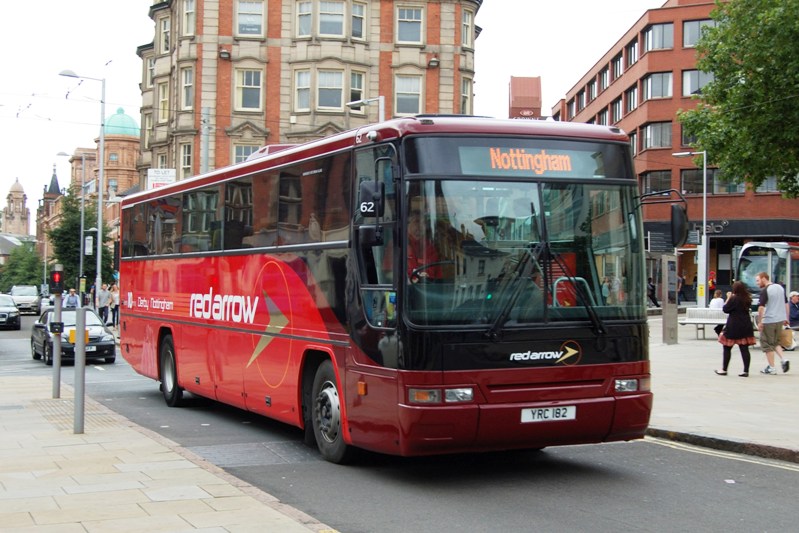 Coach 62 has recently been repainted into red arrow livery once again (as "spare" coach) after spending a few years on the transpeak route. Previously (R62 RAU), the coach has now been re-registered as (YRC 182).
(C) Miles Williams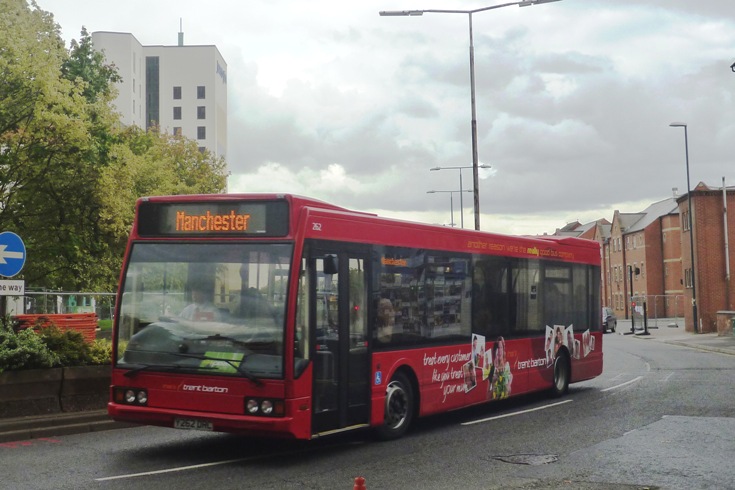 Excel 262 has been repainted in trent barton livery and carries "thats trent barton" adverts! It is seen here leaving Derby on the transpeak to Manchester.
(C)

Excel 152 and Dart 933 have been sold to M Travel.
Former Kinch minibus (L809 CJF) is now with Clowes.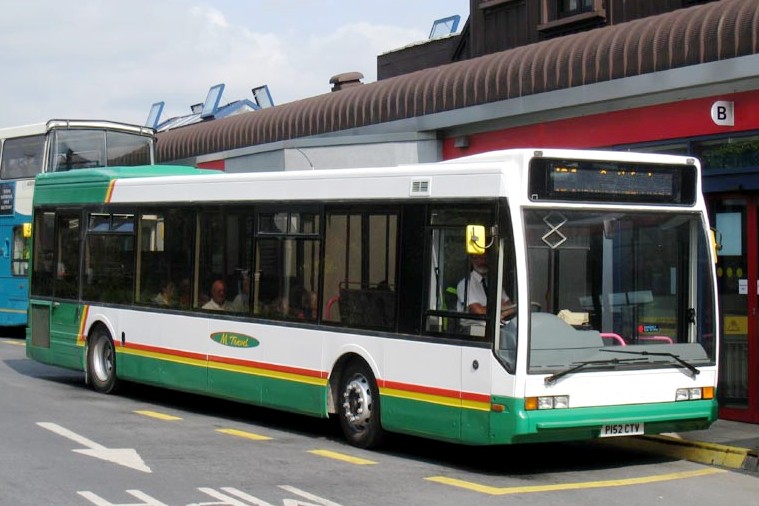 Former notts+derby Excel 152 now with M Travel.
(C) Phil Stevens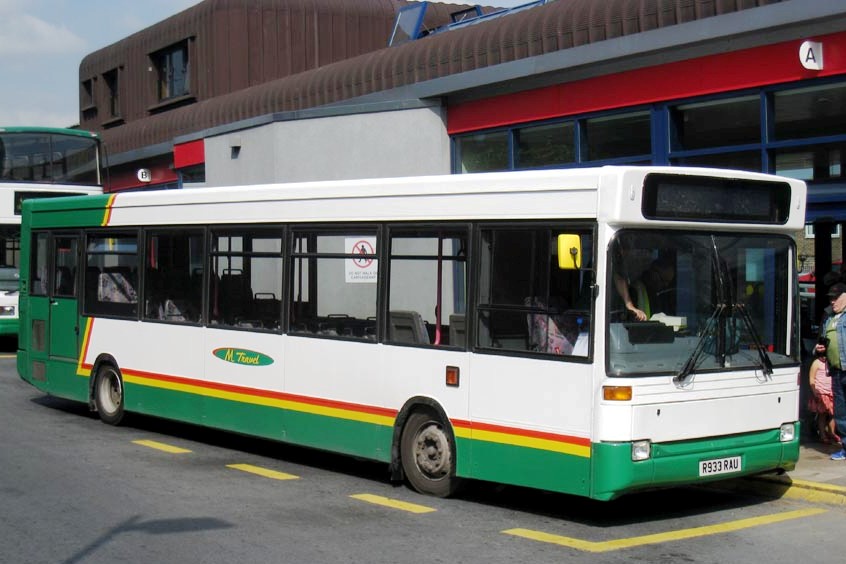 Former trent Dart 933 now with M Travel.
(C) Phil Stevens



Coach 62 has been re-registered as (YRC 182). The reg is originally off a Tiger Cub, but was more recentlky carried on Trents tow truck. uck.
Paladin 132 now carries standard N+D livery.

One of TM Travels Plaxton Cheetah minibuses now carries notts+derby names (on TM livery). Apparently it has been like this for a while, but this week was the first time i noticed this!

Atlantean 571 has been saved. A date for the diary is Sunday April 24th, when 571 should be doing a tour, starting in Sheffield and covering routes to Matlock, Allestree, Mickleover, Derby and Melbourne! More details will appear on the events page soon.....

. 25th August:
Volvo coach 62 has been re-branded and refurbished for red arrow (former transpeak).

Recent TM Travel repaints are Excel 215, and former Lothian Olympian (P274 KSX).

The two Solos for the Doncaster Hospital Park and Ride are:
1166 (MX03 YDF),
1205 (YN04 XZC),
With the following as spare (in TM livery):
1206 (YJ56 WVN)

20th August:
Midland General have registered a new service between Nottingham and Cotgrave from the begining of October. The service is numbered 99P - i wonder what the fares will be like!

Excel 263 is the latest repaint into trent barton red for Sutton. Dart 916 has come off, but has been on loan to Sutton. Only Darts 918 and 949 remain in use at Sutton.

Olympian 723 (C723 NNN) has been exported. Darts 895, 911, 926 and paladin 115 are stored at Langley Mill (not sold).

Tiger Cub (YRC 185) is for sale on ebay, along with former Trent Vario (R279 RAU).


---
---
Yourbus, Nottingham
NEWS
September 8th :
The following Plaxton Pointer Darts have arrived here in the last month or so:
1104 (S184 BMR),
1105 (S185 BMR),
1106 (S186 BMR),
1107 (S181 BMR),
1108 (S838 BMR).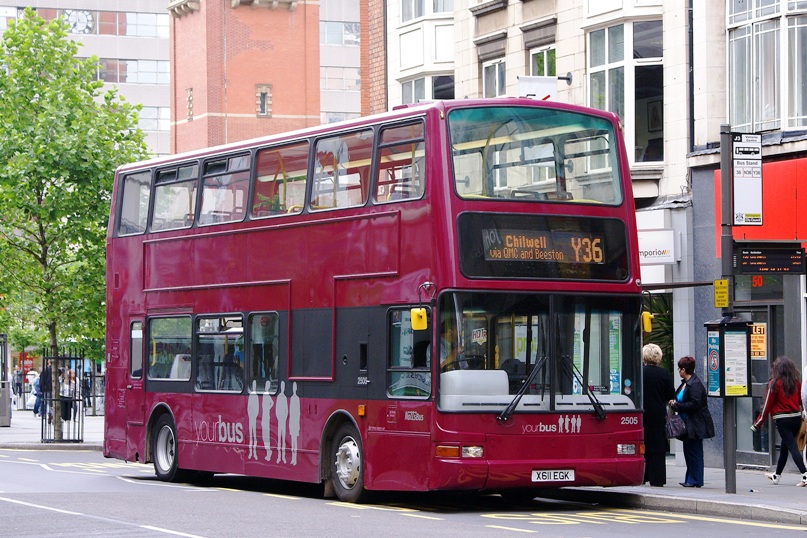 Trident 2505 (X611 EGK) on the Y36 service.
(C) Geoff Girling
---
---
Last Months News

News Index Page
---