Bus Fleet News
September 2008
*Sightings of buses on unusual routes will no longer appear on this page. They can be posted by anyone in the sightings area of the Forum. This can be accessed by clicking here (will open in new window). Hopefully this will make the Fleet News more prominant on this page!
---
Latest News
---
Here you will find all the latest bus fleet news for many bus operators in and around the Derbyshire area. If you have anything to report please contact me by clicking here.
---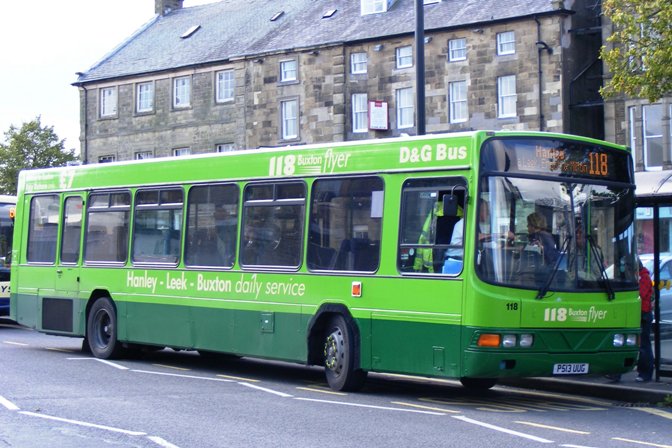 Familiar livery? D & G (P513 UUG) in Buxton branded for the 118 "Buxton Flyer".
(C) Ian Moorcroft
---
---
NEWS
3rd Sept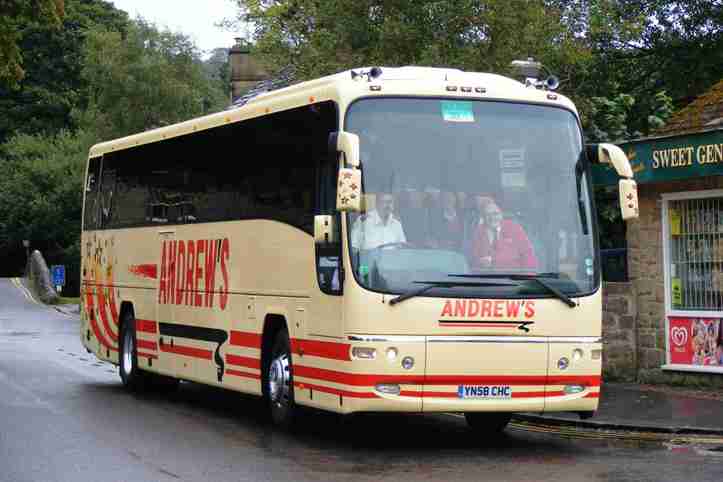 Andrews brand Volvo B12B / Plaxton Panther new coach (YN58 CHC) in Baslow.
(C) Ian Moorcroft



30th July
A 2nd 12.8 metre Volvo B Plaxton is due for delivery in September (58 reg). A Beulas/ Iveco, ex Yorks is on hire until then..Thanks Ian.


---
---
NEWS
26th Sept:
The two Optare Excels 2998 and 2999 have gone to Stafford Bus Centre. Thanks Scott.
Minibus 1391 (P491 CAL), Citybus 4346 (C146 NRR) and Dart 2198 (L38 PNN) have gone to Stafford Bus Centre.
7 of the 8 new Solos have been delivered. These are (YJ58 CCA/D/E/F/K/N/O).

15th Sept:
Citybus 4346 is now withdrawn from service.
Three new Solos have arrived here: (YJ58 CCA/D/E).
East Lancs Spryte bodied Dart 2390 (V338 MBV) has arrived here too.
Citybus 4329 is the latest to be withdrawn.
Spectra 4699 has arrived from Leicester joining 4698, aswell as Olympian 4653 which joins 4648, both from Burton.
Citybuses 147 and 150 have been sold to Fowlers.
15 Omnicities (3552 – 3566) and 8 Solos (2905 – 2912) are due here in October. Many services in the city are revised from 26th October.

3rd Sept:
Minibus 1391 has been withdrawn.
Recent Scania double deck arrivals are 4161/2 and 4191.
Minibus 1390 (P490 CAL) is now with RML travel.

SIGHTINGS
Sightings will no longer appear on this page. They can be read and reported by clicking HERE

---
---
NEWS
-
---
---
NEWS & Sightings
-
---
---
NEWS
-
---
---
G&J Holmes


NEWS
Fri 29th Feb
Two more slimline Solos are expected here later this year. They would replace Vario (YN54 XXP) and long Solo (YG55 YGZ). Thanks Andy.

---
---
Glovers of Ashbourne

NEWS
-
---
---
Harpurs Coaches


NEWS + SIGHTINGS

30th July
A new addition to the preserved fleet is former Derby Corporations Crossley 111(CRC 911)!

---
---
Hawkes Coaches

NEWS
-
---
---
Hulleys of Baslow

NEWS + SIGHTINGS
-

---
---
Johnson Bros / Redferns

NEWS & SIGHTINGS
-
---
---
Littles Travel

NEWS + SIGHTINGS
22nd Sept
The 2 Volvo B10M/Plaxton Derwents, G727/728JJC have been sold to an operator in Wales. These were partially traded for the 07-reg coach.

3d Sept
Lances 366, 369 and 370 (N366/9/70 VRC) are here from Trent.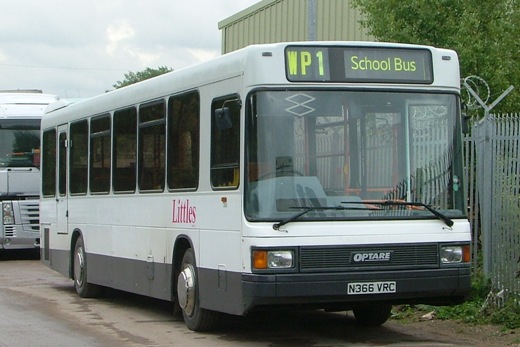 Former Trent 366.
(C) John Moore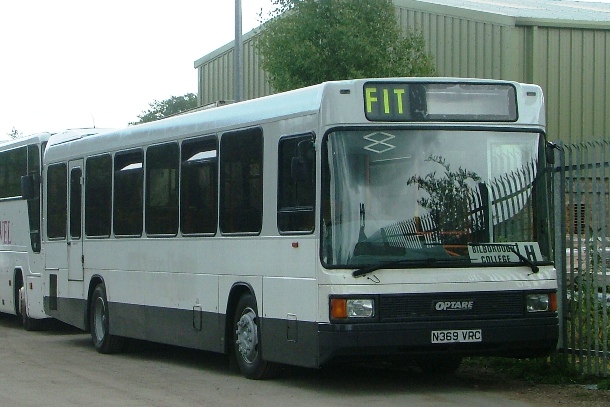 Former Trent 369.
(C) John Moore
---
---
Midland Classic

NEWS
-
---
---
Stagecoach East Midlands
Chesterfield, Mansfield, Worksop

NEWS
26th September:
Enviro 300s: 22640, 22641, 22643, 22644 and 22646 are now in use at Chesterfield.
Excel 35003 (YN51 VHL) has lost it's route 54 branding and been repainted, the other remaining branded Excel's should also recieve this treatment.
Olympian 16586 (R586 JVA) has been withdrawn. Thanks to Jack for the above.
Olympians 14339 (G339KKW) and 14343 (G343KKW) are now with Macphearsons at Donisthorpe, both still currently in Stagecoach livery.

17th September:
The 15 Enviro 300's for Chesterfield are as follows:
22640 YN58 CEA
22641 YN58 CEF
22642 YN58 CEJ
22643 YN58 CEK
22644 YN58 CEO
22645 YN58 CEV
22646 YN58 CEX
22647 YN58 CEY
22648 YN58 CFA
22649 YN58 CFD
22650 YN58 CFE
22651 YN58 CFF
22652 YN58 CFG
22653 YN58 CFJ
22654 YN58 CFK

None are in service yet, but most are thought to be at Stonegravels depot. They are set to replace step entrance Darts and some Olympians. Thanks to Jack for the above information.

Solo 47280 (YS02 WWE) is at Chesterfield and is receiving mechanical attention, 47423 (YN53 ZWD) should be arriving very soon!

Dart 32418 is now withdrawn.

2nd September:
At Stagecoach Chesterfield new MAN's (YN58CEF\EK\EO.YN58CEJ\EA) have been delivered, but then returned to dealer with defects.
47280 still in engineering being prepared for service. 47423 should be here soon. Thanks Rob.


SIGHTINGS
Sightings will no longer appear on this page. They can be read and reported by clicking HERE

---
---
TM Travel


NEWS
15th September:
The Solo SR was at TM travel for demonstration purposes only.
A second pink Solo (YE52 KPU) has arrived here. It is understood that this will be operated, unlike the previous pink liveried Solo (S248 KNL), which did not become part of the fleet.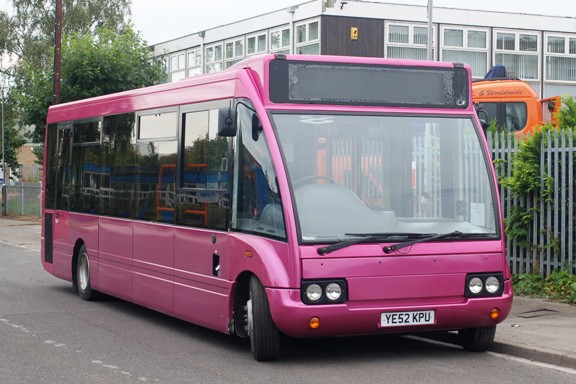 TM travels pink Solo (YE52 KPU).
(C) John Moore
---
---
Translinc
NEWS
:
---
---
The Wellglade group
NEWS
24th September :
Minibus 39 has gone to Looms, Spondon for scrap.

22nd September :
Vario 284 has been sold by Stafford Bus Centre to Manchester operator Ashalls, Clayton.
Two of the Deltas owned by Sanders, Holt have been withdrawn. 309 (J309BVO) is being used for spares, whilst 334 (K334FAL) was destroyed by fire.
Roadcar have withdrawn 352 (K352FAL).
Goodwins have sold Lance 356 (N356VRC) to another Manchester company, Haytons.

15th September :
Paladins 114/6 (Kinchbus livery) and 126 (trent buses livery), have returned to service with notts and derby. Darts 891/2 have also been re-instated.
Paladin 113 appears to be on loan to Dove Holes, whilst 106 has gone to Sutton for the new Bolsover to Buxton Unibus contract until 134 has been painted etc.

Kinch Paladin 113 and N+D Dart 891 appeared on the Buxton town services 185/6 at the same time last week, due to a bus shortage at Dove Holes. The regular Darts, 928/32 were used on the Skyline 199 service.

5th September :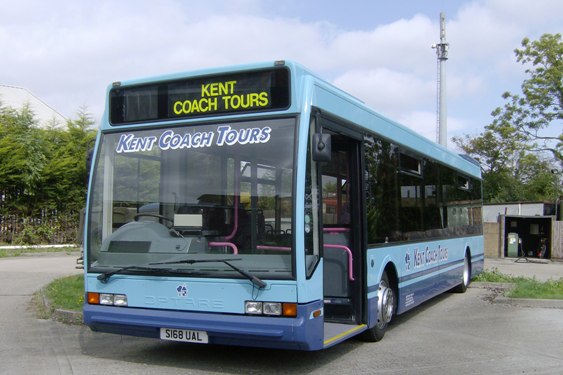 168 with Kent Coach Tours.
(C) John Glynn



5th September :
Paladin 101 has joined 120 with "Moving People". 108 has been seen in the preston area on rail replacement work too.
Excel 226 and Solo 405 are currently away at Unitec for accident repairs.
Former Trent Volvo Citybus 622 (G622OTV) is now with Centrebus, based at Hinkley.

2nd September :
Paladin 134 is expected to be painted into Unibus livery, for a new contract route between Buxton and Bolsover. The vehicle will be based at Sutton.
Excel 226 is off the road with accident damage, and Mickleover Excel 224 is away for work to be done on the floor.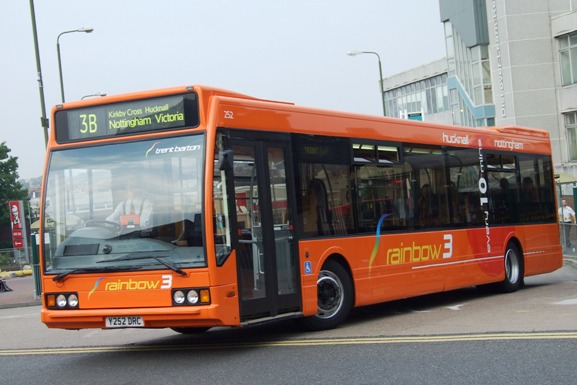 252 has recently been painted into rainbow 3 orange livery. It is seen here leaving Sutton bus station.
(C) Daniel Stone
SIGHTINGS
Sightings will no longer appear on this page. They can be read and reported by clicking HERE
---
---
Last Months News

News Index Page
---