Bus Fleet News
August 2008
*Sightings of buses on unusual routes will no longer appear on this page. They can be posted by anyone in the sightings area of the Forum. This can be accessed by clicking here (will open in new window). Hopefully this will make the Fleet News more prominant on this page!
---
Latest News
---
Here you will find all the latest bus fleet news for many bus operators in and around the Derbyshire area. If you have anything to report please contact me by clicking here.
---
---
NEWS
30th July
A 2nd 12.8 metre Volvo B Plaxton is due for delivery in September (58 reg). A Beulas/ Iveco, ex Yorks is on hire until then..Thanks Ian.


---
---
NEWS
24th Aug:
East Lancs Spryte bodied Darts (V337/8 MBV) are due here soon after repaint. They are expected to replace the two Optare Excels. The 2 darts were new to Wings buses, Uxbridge, and have been purchased from the Stafford Bus Centre.

Citybus 4330 is 1 of 2 sold to Lowes Coaches, Nottingham. Some of the vehicles in the list below may not have left / arrived yet, but should do in the coming weeks

4th Aug:
Olympians 4648 and 4653 are now here, along with Scania decker 4191.

Dart 2012 has left the fleet along with former London Citybuses 4323/5/8/30/1/2/3. Derby Citybuses 4342 and 4347 have also gone.

Citybus 4335 remains, probably the last Marshall Citybus in the fleet. 4342 has gone, and 4343 may have departed.

SIGHTINGS
Sightings will no longer appear on this page. They can be read and reported by clicking HERE

---
---
NEWS
Sat 16th August:
Recent arrivals here are Dart /paladins 116 and 117 (N431/2 CHL). Both have moved from the Huddersfield bus fleet.

Sat 3rd May:
Former Trent Varios 823 (R823 MJU) - the one that received trent barton livery - has transfered here from the Centrebus fleet. It still carries centrebus colours.


---
---
NEWS & Sightings

3rd May
LDV Convoy (P568 PRE) has been withdrawn and is stored at the Ripley yard along with Minibus (L525 BDH) and national greenway (JIL 2195).


---
---
NEWS

July 21st:
The latest Centro is away for suspension repairs, plain white Centro (YJ57 BCU) is here on loan until its return.

May 8th:
Lynx (E260 TUB) has been sold to W E Jones Llanerchymedd (Wales).
The new Centro is now in service and has fleet names applied.


---
---
G&J Holmes


NEWS
Fri 29th Feb
Two more slimline Solos are expected here later this year. They would replace Vario (YN54 XXP) and long Solo (YG55 YGZ). Thanks Andy.

---
---
Glovers of Ashbourne

NEWS
-
---
---
Harpurs Coaches


NEWS + SIGHTINGS

30th July
A new addition to the preserved fleet is former Derby Corporations Crossley 111(CRC 911)!

---
---
Hawkes Coaches

NEWS
-
---
---
Hulleys of Baslow

NEWS + SIGHTINGS
-

---
---
Johnson Bros / Redferns


NEWS & SIGHTINGS

29th Aug
Former Go North East Olympian (B744 GCN) is now repainted into Redfern green. Thanks Chris.

16th July
Olympians (G754/755/762 UYT) have been painted into Redferns green livery.
VR (ODL 664R) has now been painted green too.

---
---
Littles Travel

NEWS + SIGHTINGS
29th Aug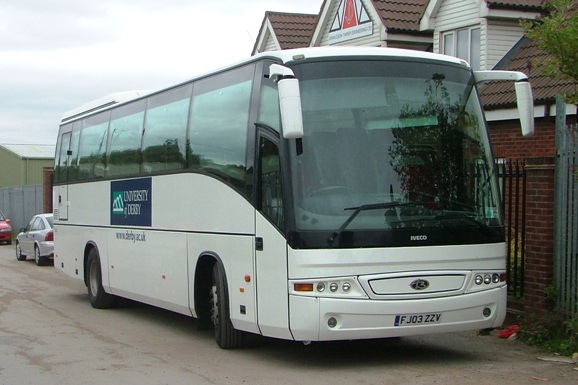 (FJ03 ZZV) carries Derby University names.
(C) John Moore

24th Aug
A brand new Scania PB coach is due in September - this will be (PB58 LTL).

The Optare Solo here may be moving on shortly.
New arrivals here are 3 Optare Sigmas from Trent, two of these are 369/70 (third is thought to be 367).
Two Scania Century coachs have also arrived (an 08 and 03 plate) aswell as an 07 plate Scania i4.
---
---
Midland Classic


NEWS

9th June
Darts 917, 919 and 922 (R917/9/22 RAU) have arrived here from trent via Stafford Bus Centre.

---
---
Stagecoach East Midlands
Chesterfield, Mansfield, Worksop

NEWS
29th Aug:
The Dart that was in Mexborough and Swinton green, 32930 (N106 CET) is now in service at Chesterfield repainted into Stagecoach colours. Thanks Chris.

24th Aug:
Solo 47428 (W303EYG) is now in service at Chesterfield having transfered from Yorkshire.

15th Aug:
Trindent 18120 (YN04 KGA) has gone to Hull fromWorksop.

Dart 32118 (K118 SRH) has been sold to ACL, Weston Super Mare.

Darts 32113 and 32114 (K113/4 SRH) are now with Bankfoot buses of Perth

Former Chesterfield Transport Dennis Falcon/East Lancs 40 (TWJ 340Y) is dumped in the yard of North Wales operator Express Motors, Bontnewydd near Caernarfon, for some years now since they withdrew it. Express Motors also operated sister Falcon 41 (TWJ 341Y) and they donated this to the Tsunarmi Appeal in Sri Lanka.

10th Aug

NC Dart 32930 (N106 CET) is currently being repainted into Stagecoach livery and should see service at Chesterfield any time. This has replaced Coach 52630 which has moved from Chesterfield to Ecclesfield.

Following the arrival of President 18035 (MX53 FLR) at Worksop, Trident 18120 (YN04 KGA) has moved from Worksop to Hull.

All Plaxton Presidents 18033/34/36/37/38/39/40/41/42/43/44/45 (MX53FLN/FLP/FLV/FLZ/FMA/FMC/FME/FMF/FMG//FMJ/FMK/FML) should now be at Mansfield.

Thanks Jack.

3rd Aug

Daimler Fleetline 15513 (MBE 613R) has now had major work undertaken on it's engine. The vehicle has now passed it's test so should be back out again very soon. This is the last Fleetline with Stagecoach and was converted to open-top whilst at Grimsby-Cleethorpes - whose fleet the vehicle was originally new to in 1976. It saw regular revenue-earning service up until a few years ago on the Cleethorpes sea front until it was replaces by open top Northern Counties Olympian 14667 (H667 BNL). Thanks Dave.

Former Chesterfield Fleetline 159 (UWA 159S), latterly in preservation has been moved from Barrow Hill Roundhouse to TM Travel's depot at Fan Road in Staveley, where it is being stripped for spares and will then be scrapped. 150 (UWA150S) is expected to go the same way. This leaves 154 (UWA154S), which is still currently at Barrow Hill. Thanks Chris.

Chesterfield
Dennis Dart / Northern Counties Paladin (N106 CET) is expected to transfer here from Rawmarsh. It is currently in Mexborough & Swinton green and cream so is likely to be repainted!
Stagecoach Solo 47423, which used to be in Rural Links livery in Sheffield, has been repainted in Stagecoach livery. It now carries Stagecoach in Chesterfield fleetnames, and Chesterfield Transport Legals. 2 more are due here.
Due to the Stagecoach takeover of Rapsons in Scotland, it is believed that 3 more Optare Excel I's will be transferred to Chesterfield depot.

Worksop
Plaxton President bodied Trident 18035 (part of the Manchester batch purchased by Lincolnshire) has arrived at Worksop. This is likely to be the only vehicle of this batch to arrive at the depot. It is the only vehicle to have been re-engined at Manchester to Euro 5 standards and therefore requires Ad Blue.

New Alexander Dennis buses at Worksop, in the "green" Stagecoach livery are:

Enviro 300 (B44F): 27594/5 (FJ08 VRC/D),
Enviro 200 (B37F): 36005-7 (FJ08 FZX/VPY/FZZ),
Enviro 200 (B29F): 36008/9 (FN08 AYE, FJ08 FZY).

Mansfield
Dennis Tridents 18034/7/9/45 have arrived from Manchester.
MANs 39676-9 (FX08 HFA/B/C/D)are now branded for the Clipstone Clipper.
Darts 34455-9/62-5 hav had new "Mansfield Miller" branding applied, complete with Windy Miller characters.


SIGHTINGS
Sightings will no longer appear on this page. They can be read and reported by clicking HERE

---
---
TM Travel


NEWS
24th August:
The Solo SR has arrived and may be the one that was with Trent a few weeks ago.
Recent arrival Pink Solo (S248 KNL), ex Go North East.
An Alero has also arrived (witha Yorkshire contract?).
Solo (W295 EYG) has yet to be re-built!

15th August:
A white Solo SR has been delivered, although it will not enter service until September 1st (58 plate).

All the D reg Olympians have been withdrawn.

Another Excel acquired here is (P505 OUG), which has come from Diamond Bus in Birmingham.

Solos (YL02FKU/V) should arrive next week from Stagecoach, the vehicles will be leased to the company whilst they operate the 120 contract. They are in yellow, white and blue rural links livery, but should be painted into TM livery on arrival.

Solo (W288 EYG) is now in service.

Sold are Varios (R669 LFV) and (R671 LFV) which have passed to Scraggs Coaches, Stoke On Trent.

Scrap deckers, Titan (A604 THV) and Olympians (SPY 206X) and (D147 FYN) have been sold to Deatons Auto Salvage, Netherthorpe, Staveley who have also bought withdrawn ex London Olympians (D143 FYM) and (D161 FYM).



---
---
Translinc
NEWS
:
---
---
The Wellglade group
NEWS
29th August :
Frio Excel 201 is now in trent barton livery. 252 is now painted in rainbow 3 livery, due to the service requiring an extra bus due to route changes. Both are based at Sutton.
Dennis Lance 367 remains with Trent, and is now in use as a driver trainer. It is thought to have replaced 134, which should transfer to N+D soon. 366 is thought to be the third Lance with Littles, the other two being 369/70.
Red Arrow coach 70 is now back in service after refurbishment. 65 is now off for the same treatment, the last one to be done.
Former Olympian 713 (Stagecoach) and Delta 325 (McKindless) have been scrapped.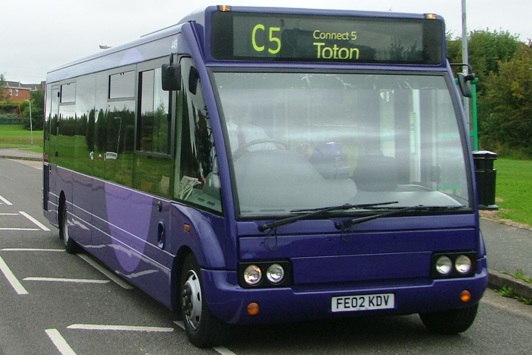 Solo 449 has been painted Indigo, ready for the relaunch of Rainbow 5. It will work on the "Connect Indigo" route which connects Toton with the main Indigo bus route.
(C) John Moore



24th August :
Due to a delayed launch of the Indigo route, the new Volvos will now be re-registered as 58 plate buses. It is thought that 710 is the only bus to have had branding applied.

367/9/70 are thought to have been sold to Littles, Ilkeston.
Indigo Connect Solo 449 is now in use on the route in its new livery,although branding has not yet been applied.
Olympian 14 has also been repainted in full notts+derby livery and has joined 13 at Derby.

Dart 891/2 may be re-instated after being withdrawn.

15th August :
Solo 426 has been destroyed by fire.
3 buses including lance 369 have been sold to Littles.
Some of the stored Paladins may be re-instated due to notts + derby gaining new contracts.
Former trent Excel 170 is also with Norfolk green, along with 171 and 172.

14th August :
Solo 449 has been painted purple for Connect 5 (Indigo). It is back at Manvers Street garage minus vinyls.
Solo 405 has been in a collision at Sutton and is currently off the road. Dart 910 is to replace minibus 821 at Sutton. 910 will be used on route 145, displacing Vario 286 onto service 146.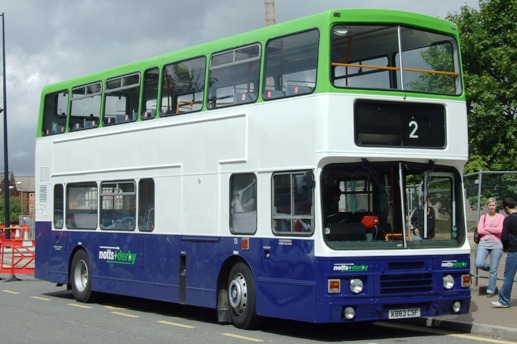 Olympian 13 is the first decker to be painted in this notts+derby livery. Number 13 (K883 CSF) recently arrived from Lothian.
(C) Daniel Stone


Olympian 13 has arrived at Meadow Rd repainted in N+D livery, but retains the centre door.

Coach 64 has returned to service on Red Arrow after repaint and refurbishment. Coach 70 is now off for the same treatment leaving just number 65 to be done.

Solo 449 (not 440 as previously reported) is being painted into an Indigo "connect" livery, ready for the relaunch of the Rainbow 5 in September. The Indigo launch has been delayed due to problems with the ticket machines!

Dart 907 has had N+D names applied to the Airline Shuttle white and blue livery.

Solos 437-440 have been fitted with LED displays all around.

When displaced, the R5 Scanias will go onto the following routes: H1 (4), 18 (4), IF (1), Villager (6), Kinch route 2 (6). Uncertain where the remainder will go, but they are likely to replace Darts. Tempo 306 will go back onto the Radcliffe Line displacing 618.

Former trent Citybus (G623 OTV) is now with Centrebus (not sure where abouts!), and former Excels 171 / 172 (S171/172 UAL) have passed from Konect to Norfolk Green.

Heartland Travel now own Vario 275 (R275 RAU). It has been re-registered (387 FYM), and can usually be found on the 381 (Lichfield to Walsall).

3rd August :
The launch of the Indigo service, the new name for Rainbow 5, may be delayed due to problems with the new ticket machine technology. Spare Volvos 726/7 have entered service at Nottingham, and can mainly be found on route 18. One of Nottinghams Solos will be painted into Indigo livery for use on what is currently Connect 5.

Red Arrow coach 66 is back in use after repaint and refurbishment. 64 is now away. 65 and 70 are yet to be done.

Solo 405 is the only remaining red "spare" Solo at Sutton. 402/3/4 have joined 401 at Langley Mill, and Darts 911, 916, 918 and 931 have been received as replacements.
Langley Mill Solos 423/4/5 have gone to Nottingham garage for use on the Ruddington Connection. 424/5 have been painted in the pionk livery, and 423 remains in red, but will be going for repaint shortly.

Olympian 14 is still at Langley Mill - fitted with a N+D destination blind. So just number 13 away for repaint at present?

The H1, route 18 and Villager services are just some that are expected to have rainbow 5 Scanias when they are displaced.

SIGHTINGS
Sightings will no longer appear on this page. They can be read and reported by clicking HERE
---
---
Last Months News

News Index Page
---