Bus Fleet News 4 DERBY
September 2007
---
****NEW****NEW********NEW********NEW********NEW********NEW********NEW********NEW****
*************************************************************************************************
---
Latest News
---
Here you will find all the latest bus news and sightings for many bus operators in and around the Derbyshire area. If you have anything to report please contact me by clicking here.
---
---
NEWS
Tue 18th Sept:
All white VOLVO / JONCKHEERE (N815 NHS) is in use here, presumably the coach on hire until their new coach is ready in November. Thanks Ian.

Mon 6th June:
A new Volvo Plaxton Coach is expected here by 1st November.
The 5 Lion deckers are being repainted in the next few weeks too. Thanks Ian.

Wed 18th June:
Andrews are operating (EAZ 2598), an all over white Volvo with Plaxton Premier 320 bodywork with unusually for this company a destination screen, not sure whether it's bought or just on hire. Thanks Ian.

Sat 9th June:
PLAXTON CHEETAH (YN07 ONZ) in full fleet colours. Thanks Ian.
---
---
NEWS
Tue 18th Sept:
Many timetable changes are taking effect from 28th October. These are thought to be improvements to the Sunday frequencies on routes 20, 26, 32, 36, 37/38, 40/41.

Tue 11th Sept:
Minibus 1170 has been on loan here.
Route 20 will become low floor from the end of October. 2 deckers may also leave the fleet. Thanks Rich.

Thurs 6th September:
The latest repaints are Darts 2227, and 2233. Thanks Richard.
Former DCT Citybus (B134 GAU) has left the Fowlers fleet, and has joined (B138 GAU) at Dews.

Sat 1st September:
Former DCT Fleetline 311 (MTV 311W) is for sale on ebay.
Olympian 4665 is now back at Derby. Thanks Rich.

Sat 18th Aug:
The latest repaints are Dart 2252 and Excel 2998.
Swadlincote garage is closing at the end of this year. Operations will move to Burton garage.

SIGHTINGS
Tue 25th Sept:
1170 on the 33. Thanks Chris.
Burtons town linx Dart 2327 on X38. MPD 2223 on Pride Park & Ride, Dart 2227 on the 24. Thanks Dave.

Fri 21st Sept:
2218 on 19, 3604/5 on Oakwoods. Thanks Chris.

Thurs 20th Sept:
MPD 2217 on route 19, Volvo B10BLE 3605 and Dart 2215 on the Pride Park & Ride.

Wed 19th Sept:
Olympian 4666 on the 24.
Dart 2090 and Minibuses 1381/4 on the 36. Thanks Dave.
Dart 2234 on the 19, 2235 on Pride Park & Ride along with MPD 2223. Another MPD on 109.
Citybus 4336, MPD 2224 and 4643 Olympian on the 20. 4643 on the 29.

Mon 17th Sept:
Dart 2235 on the 26, Citybus 4348 later on the 22.

Thurs 13th Sept:
Dart 2236 on the 26. Thanks Dave.

Wed 5th Sept:
MPD 2223 on the 38! Minibus 1381 reported on suspended tow earlier, on Arrivas own towing vehicle.

Fri 31st Aug:
Dart 2089 on the 22 following a break down, 4739 left Derby on suspended tow. This Dart was later on the 26. Thanks Dave.
3604 on the 37. Thanks Chris.

Tue 28th Aug:
DAF 4734 on the 37. MPD 2222, 3604/5 and a Dart all seen on Oakwoods. Thanks Chris

---
---
NEWS
Wed 19th September:
Acquired here is (L172 CKG), a Scania K113CRL with Alexander Strider body and painted in full Bowers red livery.

Wed 25th May:
National 526 (FRA 526V) reported to be sold to Mike Nash (dealer). 535 (FRA 535V) is now the last National remaining.

Thurs 17th May:
It has been reported that Centrebus have taken over the company. Thanks Chris.
---
---
NEWS & Sightings

Tue 11th Sept:
Doyles are set to take over the running of service 59 (Derby to Ilkeston) in October.

Thurs 6th July:
Former trent Vecta 801 on the X48 today. Thanks Dan.


---
---
NEWS
Tue 11th Sept:
Felix have lost the route 59 contract.

Thurs 28h June
Dan reports that Lynx (J564 ***) was replaced by the Black Cat branded Volvo / Alexander Strider on route 59.

---
---
G&J Holmes


NEWS
Tue 25th Sept
The brand new Optare Solo has arrived here, MX57 CDY. This is due to enter service on Matlock area services on 4th October. The new Matlock Bus Station should open around then too. Thanks Chris.

---
---
Glovers of Ashbourne


NEWS
Fri 14th Sept
Another minibus here is (XIL 7655).
Another coach here is Volvo B10M / Plaxton Paramount(F429 DUG). The coach was new to Wallace Arnold.

-

---
---
Harpurs Coaches

NEWS + SIGHTINGS
- :
---
---
Hawkes Coaches


NEWS + SIGHTINGS

Mon 14th May
Metrobus (KYV 647X) has been withdrawn.

---
---
Hulleys of Baslow

NEWS + SIGHTINGS
18th July:
Hulleys solo number 10 (MX 56 ACF) is currently off road after sustaining accident damage whilst operating the 63 at Woolley Moor after colliding with a car Thanks Ian.

15th July: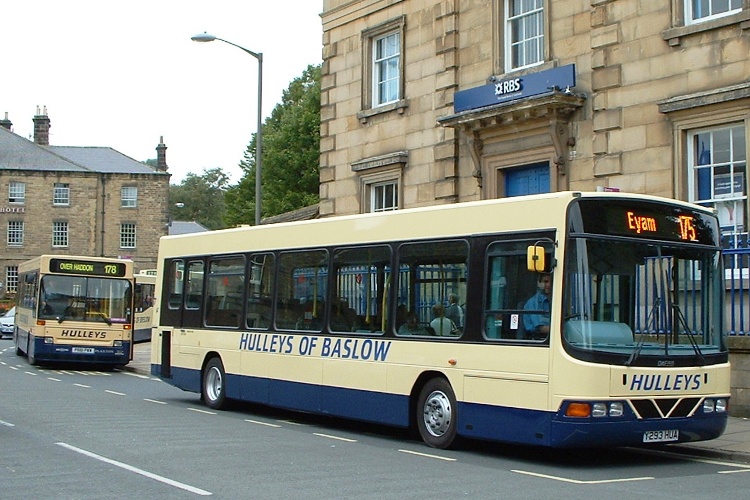 Hulleys new number 7 in Bakewell.
(C) Ian Moorcroft

Tue 2nd July:
A photo request from regular contributer Ian M: "Does anyone have any photos of MIDLAND TRAVEL coaches especially (A333 ANH) (number 80) or the NEOPLAN SKYLINERS?". Please contact me if anyone can help.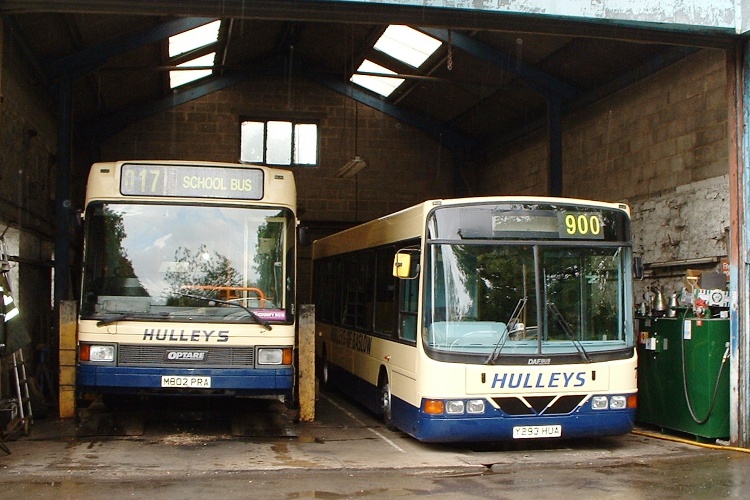 Hulleys new number 7 - (Y293 HUA), at the garage not long after being delivered. (C) Ian Moorcroft



Tue 19th June:
Hulleys have sold Vario (R281 RAU) to North Wales operator LLEW JONES. Thanks Ian.

---
---
Johnson Bros / Redferns


NEWS & SIGHTINGS

Mon 4th June:
A second double deck coach has arrived here - (T616 DWL). Their first one (T617 DWL) has now been reregistered (T$3 JBT) as expected.
Excel (P274 NRH) is still white and has not yet received Redfern green livery.

---
---
Littles Travel

NEWS + SIGHTINGS
Fri 14th September.
Volvo /Plaxton Derwent (G728 JJC) on route 9 today. Thanks Chris.
Wright bodied VDL (YJ06 LFW) has arrived here for a Bilbourough College contract. its in a blue and white livery. Thanks Paul.

Tue 4th September.
Following the arrival of Volvo B10M / Plaxton Derwents (G727/8 JJC), the two remaining Leyland Nationals (TAE 638S) and (VKE 565S) have been withdrawn (and sold??). Thanks Chris.


---
---
Midland Classic


NEWS
18th August
Midland Rider Dart (H149 MOB) is on loan here. Thanks John.

---
---
Stagecoach East Midlands
Chesterfield, Mansfield, Worksop

NEWS
Tue 25th:
Olympian (C335 HWJ) is now in Wales, with Griffiths, Y Felin Heli.

SIGHTINGS
Sat 15th September:
Dart (YN56 SHV) was on Route 10, 54 branded excel (YN51 VHP) on 25 and Olympian (S161 RET) on 77. Thanks Jack.

Thurs 13th September:
Route 39 branded Solo 47321 on route 3. Excel 35001 on Dart route 51. Olympian (S169 RET) on 77.
Route 39 Solo 47323 on the 2, Excel 35020 (R11ABC) on the 39, Route 54 Excel 35006 on the 70 and Olympian 16490 (N140AET) on the 77. Thanks Chris.

Sat 8th September:
Jack reports: Darts (X838 HHE) and (YN56 SHJ) on 54, Olympian (P145 KWJ) on Dart Route 51 and Dart (K118 SRH) on 727!

Sat 1st September:
10 branded dart (YN05 XOA) on 5 and Dart (T803 OHL) and Excel (R11 ABC) on Dart Route 10.
Excel (N207 LCK) on Dart route 51. Excel (YN51 VHO) broke down on 54 this morning and was replaced by (YN56 SHJ).
Spire Sprinter (J216 AET) on 90. Thanks Jack.

Thurs 30th August:
Dart (YN04 YXZ) and B10M (R719 RPY) on Dart route 10 today (30th August) Spire Sprinter (J216 AET) on solo route 39. Thanks Jack.

Wed 29th August:
Excel (R643 MBV) on Dart route 10, Olympian (N137 AET) on Solo Route 39!
Olympian (P150 KWJ) and B10M (M603 VHE) on Trident Route 77. Mercedes Minibus N759CKU on 90
---
---
TM Travel


NEWS
Tue 4th September:
A new Slimline Solo here is (YN57 KFE). It is in allover white livery with TM travel names. Thanks Ian.
Van Hool Tiger (D229 HML) is a new arrival here.

---
---
Translinc

NEWS
Mon 2nd June:
A pink Norwich Solo is still on hire here. It was on Rolls Royce staff shuttle duties on Friday.

---
---
The Wellglade group
NEWS
Tue 25th Sept: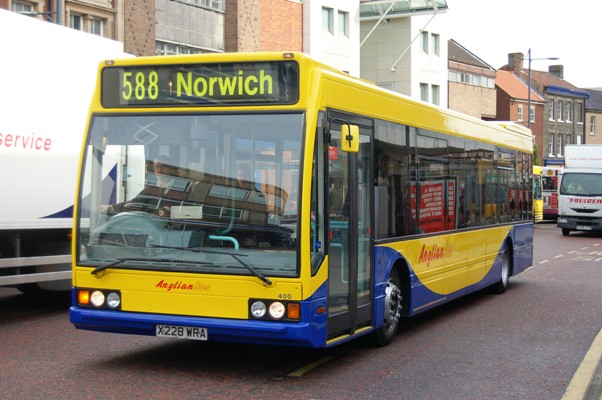 Former Kinchbus Excel 228 (X228 WRA) is now with Anglian buses.
(C) John Moore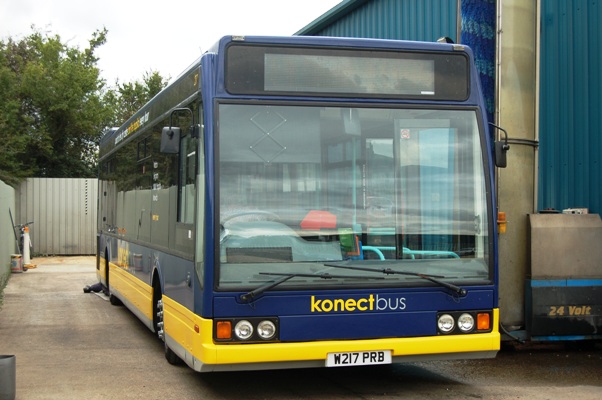 Former "Black Cat" branded Excel 217 (W217 PRB) now joins other ex Trent Excels in the Konectbus fleet.
(C) John Moore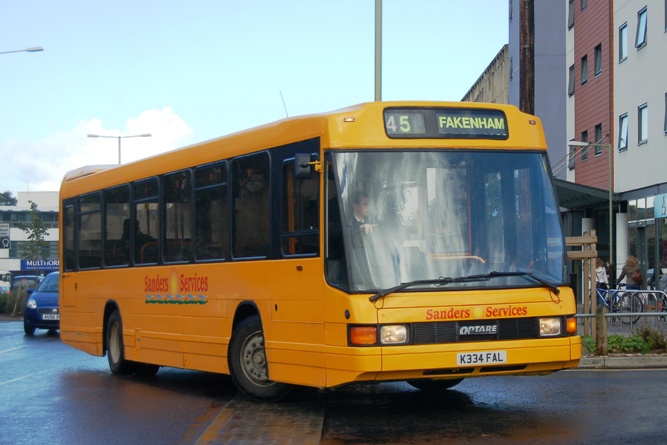 Former Trent Delta 334 (K334 FAL) has passed from Konect to nearby operator Sanders.
(C) John Moore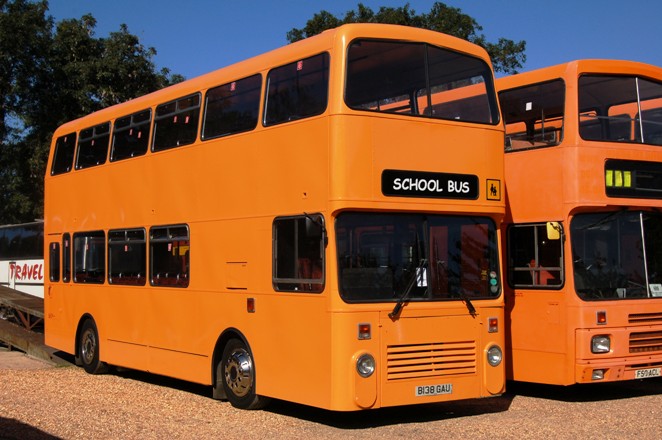 Former DCT and lately notts + derby Citybus 138/738 (B138 GAU) is now with Dews. (B134 GAU) has joined it there passing from its former owner Fowlers Coaches.
(C) John Moore



Thurs 20th Sept:
Paladin 138 now carries the new blue and white Unibus livery, joining 135. 137 is still in the paintshop.
P&R Excel 202 needs a new engine.

Tue 18th Sept:
4 of the Plum Tempos, 313, 314, 315 and 316 are in service on the Keyworth Connection.

Many timetable changes will take place at the end of October. Sunday services will be improved on "the sixes" and H1 and new ones added to IF and HQ! Additional buses will also run on Thursday and Friday evenings. The D1 P&R will also run on Thurs and Fri evening, and Sundays. The changes compliment the new Westfield shopping centres opening times.

Fri 14th September:
Excel 228 i now with Anglian buses.
Derby University are expected to buy two Slimline Solos for Unibus route 4. N+D will operate and maintain the buses, but not own them.
The Keyworth Connection Tempos should start on Sunday.

Tues 11th September:
The front of Citybus 739 has been repainted into Notts + Derby livery. The rest of the bus is still in Arriva colours!
Vario 288 and and minibus 49 are currently on loan to N+D who are using Unibus route 4 (Kedleston Road campus to Markeaton St campus). Solos are expected to replace them soon!!

Thurs 6th September:
Scania Omnicity Demonstrator (YN07 EXP) is on loan to Trent, and has been used on their Rainbow 1 service today. It is fitted with imitation leather seats. It will be gone after the weekend. Thanks Dan.

4 of the 6 plum liveried Optare Tempos 313-8 (YJ07 VSK-P) are expected to start on the Keyworth Connection on 16th September (or soon after). They will replace Darts 908-11(P908-11 CTO) which are expected to transfer to notts and derby. The remaining 2 Tempos will be used on route 21 (Ilkeston - Nottingham), which will become a branded route. All six will retain the plum livery.

Two Allestree Solos are currently off the road. 460 is awaiting a new fuel tank, and 463 a new gear box.
Olympian 715 is currently off with accident damage, but is being repaired.

Tue 4th September:
Unibus Lance 366 seen out on the road today on trade plates. Sold??

Notts and Derby have won the 111 Pride Park and Ride contract in Derby. The service, which also includes the off peak (Mon-Fri) route 19 to Spondon, will require 3 low floor buses. 3 of the current Keyworth Connection Darts are expected to be used on the service. N+D take over on 28th October, and the new timetable is expected to include a Sunday service. Arriva Derby currently operate this contract.

The Kinchbus Slimline Solos (YJ07 EFR/S/T/U/V/W/X) have been numbered 1 to 7. Numbers 1 to 6 are branded for "Sprint" the new name for the route 7 University Shuttle. Number 7 carries new style Kinchbus names on the same base livery. The minibuses which the Solos have replaced are still at Loughborough, but these are expected to be sold soon.

The "Local Bus" contracts that N+D ran, have now transfered to Premiere of Nottingham, who are providing two modern Enviro 300's. N+D have also "EX" route (peak hour service between Hucknall Estates and Nottingham) to Local Bus / Premiere. As a result Tesco Paladin 110 has moved back to Meadow Rd garage, and localbus 127 should loose its fleet names!

Dart 936 has transfered or is on loan to Nottingham. Paladin 138 is at Langley Mill for repaint into new unibus livery. olympian 715 has been off with acident damage. SIGHTINGS
Sat 29th Sept:
Chris reports Dart 946 on Ilkeston route 23, 949 on the 27 and 935 on IF. 63 on RA.

Fri 28th Sept:
Dan reports Dart 891 on the Unibus route 5.

Thurs 27th Sept:
Dart 933 on the 9.1. 253 and 936 on 141.

Wed 26th Sept:
Asda Paladin 117 on the Hospital Hopper H1 route. 233 on TP and 667 on V2.

Tue 25th Sept:
Excel 234 is on the ONE and 233 and Scania 667 on Mickleovers. Thanks Chris.

Fri 21st Sept:
934 back at Nottingham after being on Villagers in the morning.
667 on sixes after branded 687 broke down in Derby. It was towed in to Meadow Rd.
897 on Airline Shuttle.
199 reported on the ONE, then Mickleover, then short Transpeaks!
234 back from Dove Holes and on Mickleover, 665 on X38 (308 off).

Thurs 20th Sept:
Dart 934 on loan to Derby and in use on the Mickleover. Thanks John.
Frio Excel 199 on the transpeak to Manchester in the morning! Later on "the ONE".
Two sixes Scanias off today, spare 667 being one of the replacements. 665 on X38.
Paladin 119 on D1 P&R, Solo 423 on H1. Thanks Chris.

Wed 19th Sept:
Excel 233 and Scania 667 on the sixes 6.1/4/X. 665 on X38.
669 on the R4, and 402 on "the nines".
Local Bus Paladin 127 on the Derby College Shuttle, 122 on D1 P&R.

Tue 18th Sept:
A N+D Paladin reported on V3!!
Dart 935 on V1/3, 423 on H1 and 199 on TP duplicate. Solo 447 and Excel 233 on Mickleovers. Thanks Chris. 665 and 667 on the sixes. Thanks James.

Mon 17th Sept:
233 on "the ONE", 667 on sixes, paladin 111 on D1 ND 637 ON bc. Thanks Chris. Dan reports Dart 898 on R3B and 904 on R3A.

Fri 14th Sept:
234 reported up at Dove Holes on Skyline. Excels 225 and 201 on the town services.
Frio Excel 199 on TP. 667 on RA along with coach 63.

Thurs 13th Sept:
Solo 447 on N+D route 35.
152 on College Shuttle, Paladin 119 on D1 P&R, and Local Bus branded Paladin 127 on X17. Thanks Chris.
Excel 253 on R3b, Dart 904 on the 3a. 402 on 9.3. Thanks Dan.

Wed 12th Sept:
Dan reports: 252 on pronto, 253 and 905 on Rainbow 3b.

Tue 11th Sept:
199, 90 and 935 all on villagers V1/3. 665 on X38 in the morning.
405 on 90, 906 on R3b, and 94 on BC. Thanks Dan.

Mon 10th Sept:
Red Arrow coach 66 was towed from Derby by Burrows. A Scania bus replaced it on RA.

Fri 7th Sept:
930 and 935 on V1/3. Solo 48 on v2, 665 on HQ and 667 on RA. Thanks Chris.

Thurs 6th Sept:
935 broke down in Belper garage on the 72. This was replaced by 939 after a short gap in service. Thanks Ian.
Scania 665 replaced branded 685 on sixes 6.X. 667 on RA.
Up at Sutton Excels 252/3 and Solo 405 on Rainbow 3b. 404 on nines 9.3. Thanks Dan.

Wed 5th Sept:
Excel 233 on V3, 930 on V1. Dart 935 and Solo 447 reported on the 71 - although both 447 and 448 reported on The Allestree!

Tue 4th Sept:
Over in Loughborough Dart 899 and Solo 7 were on the Tempo routes (11 and / or 12).

Sat 1st Sept:
Hospital Link Vario 276 on the X17. Thanks Geoff

Fri 31st Aug:
Paladins 127 and 128 peformed on the last two "Local Bus" services. Thanks Dan.
Solo 405 on Pronto! 431 on Radcliffe Line. Scanias 637 and 639 on the R1, 666 on the 18 and 669 and 900 on the Keyworth Connection. Thanks Dan.

Tue 28th Aug:
Dart 937 on amberline, paladin 128 on X17 and Solo 404 on nines 9.2.
447 on the 71 replacing 938 which was on short TP's later on! Thanks Chris.

---
---
Last Months News

News Index Page
---