Bus Fleet News 4 DERBY
August 2007
---
****NEW****NEW********NEW********NEW********NEW********NEW********NEW********NEW****
*************************************************************************************************
---
Latest News
---
Here you will find all the latest bus news and sightings for many bus operators in and around the Derbyshire area. If you have anything to report please contact me by clicking here.
---
---
NEWS
Mon 6th June:
A new Volvo Plaxton Coach is expected here by 1st November.
The 5 Lion deckers are being repainted in the next few weeks too. Thanks Ian.

Wed 18th June:
Andrews are operating (EAZ 2598), an all over white Volvo with Plaxton Premier 320 bodywork with unusually for this company a destination screen, not sure whether it's bought or just on hire. Thanks Ian.

Sat 9th June:
PLAXTON CHEETAH (YN07 ONZ) in full fleet colours. Thanks Ian.
---
---
NEWS
Sat 18th Aug:
The latest repaints are Dart 2252 and Excel 2998.
Swadlincote garage is closing at the end of this year. Operations will move to Burton garage.

Mon 30th July:
Darts 2216 and 2234 are the latest repaints. 2216 now carries no Park & Ride branding. Thanks Richard.
For the Burton area, Dart 2093 now carries Stevensons livery, whilst 2091 has been written off in an RTA. Thanks Fred.

Wed 25th July:
2 Derby Olympians are currently on loan to other garages, 4665 is at Tamworth and 4642 at Swadlincote.
Deckers are used on the new X50 service which runs to Drayton Manor during the school holidays only. 4667 on there the other day.

SIGHTINGS
Fri 17th Aug:
MPD 2222 and Excel 2998 on Chellaston routes. Citybus 4328 on 44. Thanks Dave.
Minibus 1388 on the 33. Thanks Chris.

Thurs 16th Aug:
Olympian 4643 on the 26, and Excel 2998 on the 24. MPD 2217 on the Chellastons.

Tues 14th Aug:
Town linx Dart 2321 on the X38 again (was on yesterday too).
MPD 2218 on the 22 (earlier on Chellastons). Thanks Dan.

Wed 8th Aug:
Burton had MPD 2275 on the X38.
At Derby MPD 2223 on P&R. Thanks Chris.

Tue 7th Aug:
Town Linx Dart (P316 FEA) on X38.
Dart 2227 on 109, Citybus 4343 on the 45. Thanks Chris.

Mon 6th Aug:
Citybus 4327 on the 45, 4349 on the 44. East Lancs Dart 2198 on the 38 to Sinfin, along with LF Dart 2238.
MPD 2224 on the 29 to Mackworth, whilst 2090 was on the 36. Thanks Chris.

Wed 25th July:
Burtons X38 branded Dart (R929 RAU) was on route 7A to Lichfield today! Thanks Geoff.

---
---
NEWS
Wed 25th May:
National 526 (FRA 526V) reported to be sold to Mike Nash (dealer). 535 (FRA 535V) is now the last National remaining.

Thurs 17th May:
It has been reported that Centrebus have taken over the company. Thanks Chris.
---
---
NEWS & Sightings

Sun 15th July:
New here is (R191 LBC) a Toyota midi coach! Thanks Chris.

Tue 15th May:
Solo (Y812 KDP) has been repainted into fleet livery. Thanks John.


---
---
NEWS
Thurs 28h June
Dan reports that Lynx (J564 ***) was replaced by the Black Cat branded Volvo / Alexander Strider on route 59.

---
---
Glovers of Ashbourne

NEWS
-
---
---
Harpurs Coaches

NEWS + SIGHTINGS
- :
---
---
Hawkes Coaches


NEWS + SIGHTINGS

Mon 14th May
Metrobus (KYV 647X) has been withdrawn.

---
---
Hulleys of Baslow

NEWS + SIGHTINGS
18th July:
Hulleys solo number 10 (MX 56 ACF) is currently off road after sustaining accident damage whilst operating the 63 at Woolley Moor after colliding with a car Thanks Ian.

15th July: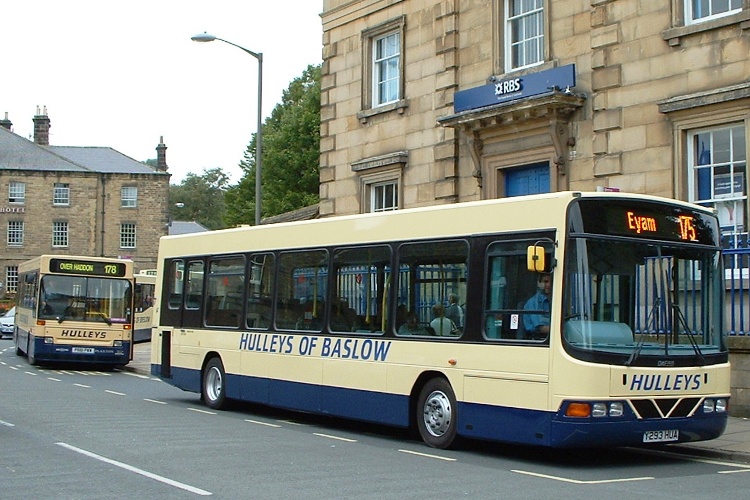 Hulleys new number 7 in Bakewell.
(C) Ian Moorcroft

Tue 2nd July:
A photo request from regular contributer Ian M: "Does anyone have any photos of MIDLAND TRAVEL coaches especially (A333 ANH) (number 80) or the NEOPLAN SKYLINERS?". Please contact me if anyone can help.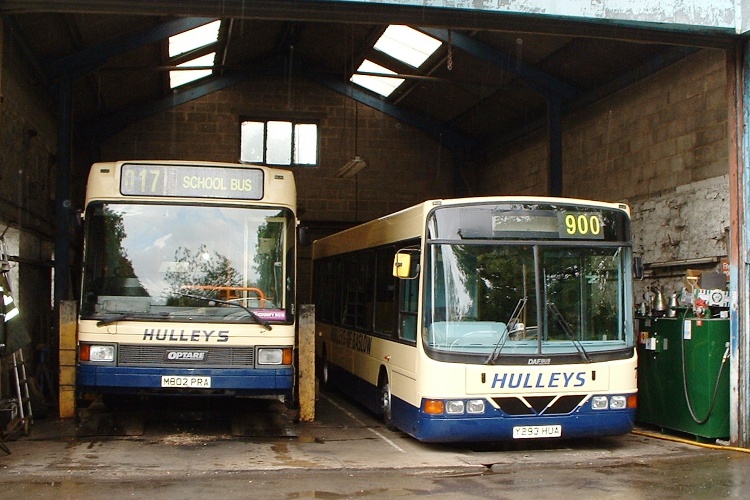 Hulleys new number 7 - (Y293 HUA), at the garage not long after being delivered. (C) Ian Moorcroft



Tue 19th June:
Hulleys have sold Vario (R281 RAU) to North Wales operator LLEW JONES. Thanks Ian.

---
---
Johnson Bros / Redferns


NEWS & SIGHTINGS

Mon 4th June:
A second double deck coach has arrived here - (T616 DWL). Their first one (T617 DWL) has now been reregistered (T$3 JBT) as expected.
Excel (P274 NRH) is still white and has not yet received Redfern green livery.

---
---
Littles Travel

NEWS + SIGHTINGS
Mon 30th July
Following the arrival of Volvo B10M / Plaxton Derwents (G727/8 JJC), the two remaining Leyland Nationals (TAE 638S) and (VKE 565S) have been withdrawn. Thanks Chris.


---
---
Midland Classic


NEWS
18th August
Midland Rider Dart (H149 MOB) is on loan here. Thanks John.

31st July
The latest addition to the fleet is a low floor vehicle. Dart (VU52 UEK) has been acquired from Happy Al's, Birkenhead. Thanks Fred.

25th July
2 Metrobuses here are (GBU 6V) and (GBU 7V), both are from Cottrells, Micheldean. The later is former Stevensons 78.

---
---
Stagecoach East Midlands
Chesterfield, Mansfield, Worksop

NEWS
- :


SIGHTINGS
Sat 18th Aug:
Olympians (S168 RET) and (S169 RET) on Trident route 77. Thanks Jack.

Fri 17th Aug:
(S168 RET) and (N133 AET) on 77. Thanks Jack.

Thurs 16th Aug:
Olympians (P145 KWJ) and (P152 KWJ) on Excel route 54. Olympian (S167 RET) on 77 and Dart (X838 HHE) on Solo Route 39. Thanks Jack.

Mon 13th Aug:
Olympian (P160 KAK) was on Dart Route 10 Today, Dart (X839 HHE) was on Solo Route 39. Thanks Jack.

Wed 8th Aug:
Dart (T803 OHL) was on Solo route 39 today. 51 branded dart (YN04 YXY) on 10. Thanks Jack.

Tue 7th Aug:
Jack reports: Dart (YN04 YXZ) broke down this morning operating the 51, it was replaced by an Olympian.
Olympian (P158 KWJ) on trident route 77, (P150 KWJ) on 25.

Sat 4th Aug:
Dart 34465 (YN53 ZSF) on Pronto, (K211 SRH) on Sherwood Arrow.

Sat 14th July:
Olympians (S168/9 RET) both on the Trident route 77. Thanks Chris.

---
---
TM Travel


NEWS
Wed 22nd August:
A new slimline Solo has been delivered, and is currently in all over white livery. It will enter service in September and will be a "57" plate.

Another arrival is another Leyland Tiger - this being a W reg Van Hool bodied Semi-automatic. It has arrived here from Tryline Travel, Cwmbran in Wales (whose livery it still carries).

MAN / Jonckhere double deck coach (T53 BBW) has been sold. (W66 BBW) may also be sold.

Tiger (FIL 8614) has been re-registered (D*** ***)! Its former identity is now carried on an S reg Rover car that TM operate as a fleet vehicle!

Many thanks to Dave for the above information.

Sun 15th June:
Leyland Tiger (FIL 8614) is a new arrival here. The bus currently wears all over white with blue wheels, and blue TM Branding. The bus is a 1989 Leyland with Van Hool body, this being either a Tiger or a Royal Tiger. Apart from being a Van Hool body, which is fairly odd, the bus also has a fully manual gearbox, unlike the standard semi-auto box which is common on many Tigers.

Van Hool Bodied DAF (YIL 4058) had been sold to a dealer. It was then loaned back for 4 weeks due to a coach shortage. This loan ended a few weeks ago. Thanks Dave.

---
---
Translinc

NEWS
Mon 2nd June:
A pink Norwich Solo is still on hire here. It was on Rolls Royce staff shuttle duties on Friday.

---
---
The Wellglade group

NEWS
Sat 18th August:
All of the Black cat ones have now returned from Optare after modifications.
4 of the 6 Plum Tempos will shortly be branded for the keyworth Connection. It is still unclear where the other 2 will be allocated.
The Allestree Solos have been repainted grey, and refurbished inside. They will be back in service after the bank holiday.

Thurs 9th August:
Due to further problems with the new Tempos they are being sent back to Optare for adjustments! One of the X38 ones is currently away, as are Black Cat branded 309 and 312. Unbranded "plum" liveried tempos are being used on the BC whilst branded buses are away.

Sat 4th August: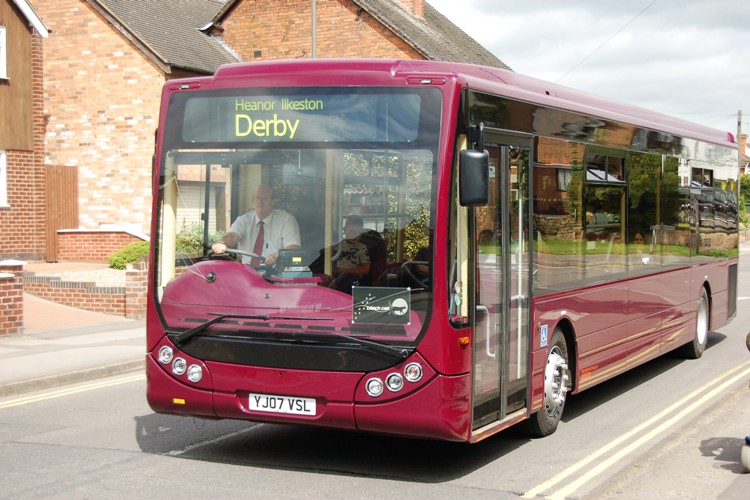 Plum liveried Tempo (YJ07 VSL) on the Black Cat service!
(C) John Moore



Mon 30th July:
Excel 229 has been sold to Konect, although not collected yet. The 4 Black Cat Excels have also passed to Konect.
The new livery for the llestree Solos will be grey/silver.
Still no news on where the 4 stored step entrance Kinch Darts, or Excels 208/9 have been sold to. No news on the Optare Tempos either.
SIGHTINGS
Mon 27th Aug:
Chris reports: Excel 234 and Dart 930 on TP.
Dan reports 431 on Radcliffe Lines, and 668 on Keyworths.

Sat 25th Aug:
Solo 425 on Rainbow 1! 637 on R2 and Dart 936 on the 27. Thanks Dan.

Fri 24th Aug:
Solo 439 and Scania 666 on Radcliffe Lines. College Excel 161 and 900 on Keyworth Connection. 668 on Cotgraves, 636 on R4 and 638 on BC. Thanks Dan.

Wed 22nd Aug:
Scania 665 on TP to Manchester, 667 on RA. Dart 935 on TP too. 930 on V1/3. Thanks Dave.
Dart 946 on R1, 936 Amberline, 949 route 27. Thanks Dan.

Mon 20th Aug:


Sat 18th Aug:
The spare Volvo Coach 63 on RA. Thanks Dave.

Fri 17th Aug:
Solo 439 was on Rainbow 4! Thanks John.
College Excel 161 back at Derby (after being on loan to Nottingham) and on the tea time 73 to Weston on Trent. Thanks Dave.
Excel 900 now at Manvers St (Nottingham), in service on the 18 with paper destination displays in the windscreen. Destination blind has been removed! Thanks Paul.
Dart 930 used on the 6.3 for a time this morning - 689 was taken off with a ripped seat! Solo 414 on H1.

Thurs 16th Aug:
Solo 447 on Spondon Flyer! 667 on X38 and red Vario 284 on X17. Thanks Chris.
Solo 404 on R3C, Dart 904 on R3b. Thanks Dan.

Wed 15th Aug:
Dave reports Scania 639 on BC and 63 on RA.
Dart 935, and Excels 199 and 233 on Mickleover.

Tues 14th Aug:
Vario 284 on X17. 665 on RA, 667 X38.

Mon 13th Aug:
Dart 937 on R1, 441 Connect 5, 636 18, 669 R5.
161 on keyworths, on loan to Nottingham covering for 911. Thanks Dan.
930 on TP, 935, 199 and 233 on Mickleover. 665 also on Mickleover, 667 on X38. thanks Chris

Thurs 9th Aug:
665 X38, 233/4 and 199 on Mickleovers! Thanks Mr Gaskin - who is 33 today - "Happy Birthday".

Wed 8th Aug:
Dan reports Solo 466 on H1 and Scania 665 on the X38.
Mickleover Excel 223 reported in Sutton at 11am! 199 and 234 on Mickleover, 233 TP.

Tue 7th Aug:
Derby College Excel 161 in use over in Nottingham on the Keyworth Connection!
Plum Tempos 314 and 316 on the Black Cat today. Thanks Dan.
Scania 665 on X38, Excel 233 on transpeak, Solo 447 on the 71/2.

Mon 6th Aug:
Plum liveried Tempo 316 on the Black Cat, along with Scanias 637 and 664! Thanks Dan.
Dart 937 on H1, Scania 667 and Excel 234 on Mickleovers, Darts 930/5 on Villagers. Thanks Dan.
Solo 447 on Belper 71/2.

Sat 4th Aug:
Plum Tempo (YJ07 VSL) was on the Black Cat today along with Scania 637. Thanks Adrian.
Paladin 109 on the transpeak to Manchester! Thanks Dan.
447 on the 71 and Dart 935 on Villager.
225 on Buxton Town service 185. 233 on loan to Dove Holes and on the Skyline service. Thanks Dan.

Fri 3rd Aug:
Solo 447 on the 71, 938 took off as it was leaning to one side!
Scania 637 on BC. Solo 426 and Dart 949 on H1.

Thurs 2nd Aug:
946 on BC, 900 on 141. Thanks John
Blue liveried Minibus 49 on the Kinch Airline Shuttle.
Paladin 111 on the X17.
Scania 638 and Dart 936 on BC.
667 and 63 on RA.

Wed 1st Aug:
Dart 949 and Scania 639 on BC. Solo 447 on V1/3. 425 on H1

Tue 31st July:
Derby a bit short today. This led to N+D Paladin 136 turning up on the Villager V1/3. The sixes Solo 419 was also on the Villager!! Thanks Richard.
Dart 930 on V2, Excels 199, 233 and Scania 667 on Mickleover.
Paladin 103 on the Transpeak. Solo 435 and an unidentified Scania on H1. Thanks Chris.

---
---
Last Months News

News Index Page
---