Bus Fleet News
October 2016
---
Latest News
---
Here you will find all the latest bus fleet news for many bus operators in and around the Derbyshire area. If you have anything to report please contact me by clicking here.
---
---
NEWS
15th October
Former NCT Excels (Y546 DTO) and (FD02 SFK) have arrived here from Go Goodwins.

6th April
New to the Andrews fleet is MAN / Beaulas Jewel (YK16 SOA).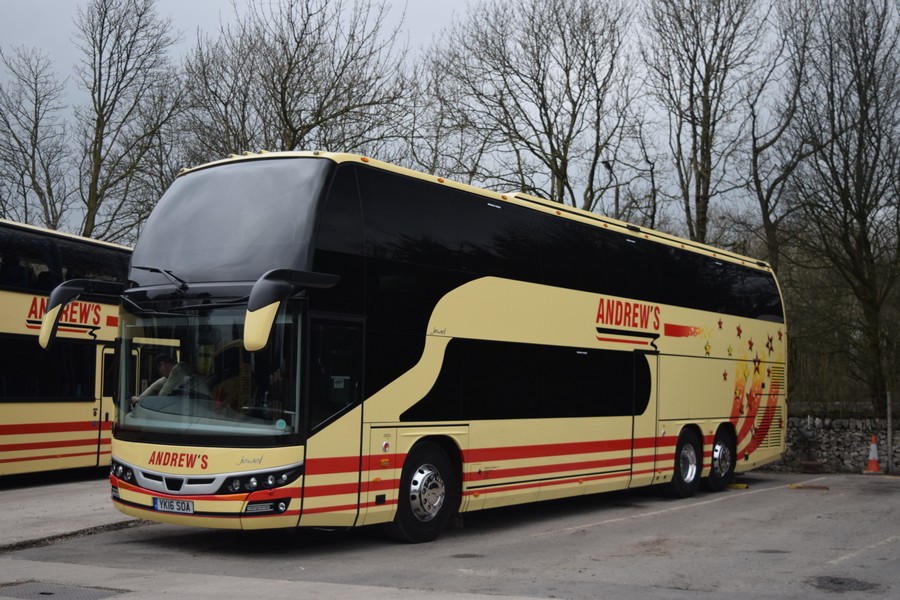 New for Andrews is MAN / Beaulas (YK16 SOA).
(C) John Curtis



Also new is Transit (YS65 TVJ).

27th July
New here is Mercedes (FJ15 EJC).

25th April
Two Neoplan Euroliners have arrived here from K B Travel, Penrith. They are (J6/7 AOT).
Merc minibus (TIW 2654) is now white.
---
---
NEWS
20th October
Omnicity 3552 now carries "MAX" style Arriva livery (dark front lighter towards rear) with connecting Derby branding.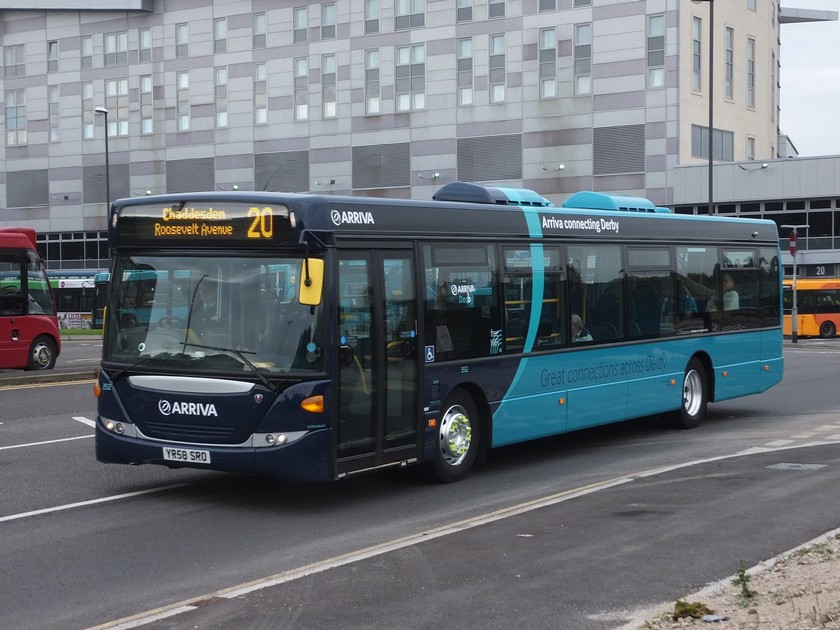 Omnicity 3552 is the first to be painted in the "max" style livery in Derby. These buses are being repainted and refurbished for the Chaddesden and Oakwood services which will see competition from Yourbus later in November.
(C) Guy



The two Centros in use are numbered 5996/7 (not 5596/7 as previously stated on this page).

15th October
More vehicles have appeared in use in Derby over the last few weeks. It is thought some vehicles may be away for repaint / refurbishment. Yourbus are starting services 20 and 26 in competition with Arriva from 20th November.

White Centros 5996 (YJ58 FFC) and 5997 (YJ58 FFA) have arrived this week and are in use. I believe more from the same batch are at Ascot Drive, but only these two have seen service. They have previously been used in many locations, including Malta.

DAF Gemini 4748 (FJ06 ZST) is on loan from Thurmaston. Gemini 4212 has also been seen in use in Derby.

DAF Alexander ALX400 deckers 4783 (S255 JUA) and 4794 (S220 JUA) are also now in use, with MPDs (Y384 HKE) and 2159 (LJ51 DCF) and Solo 2503 (YJ58 PNK).

26th September
Cadets 2711 2721/2 are in use here. MPD 2159 has also been here (on loan?).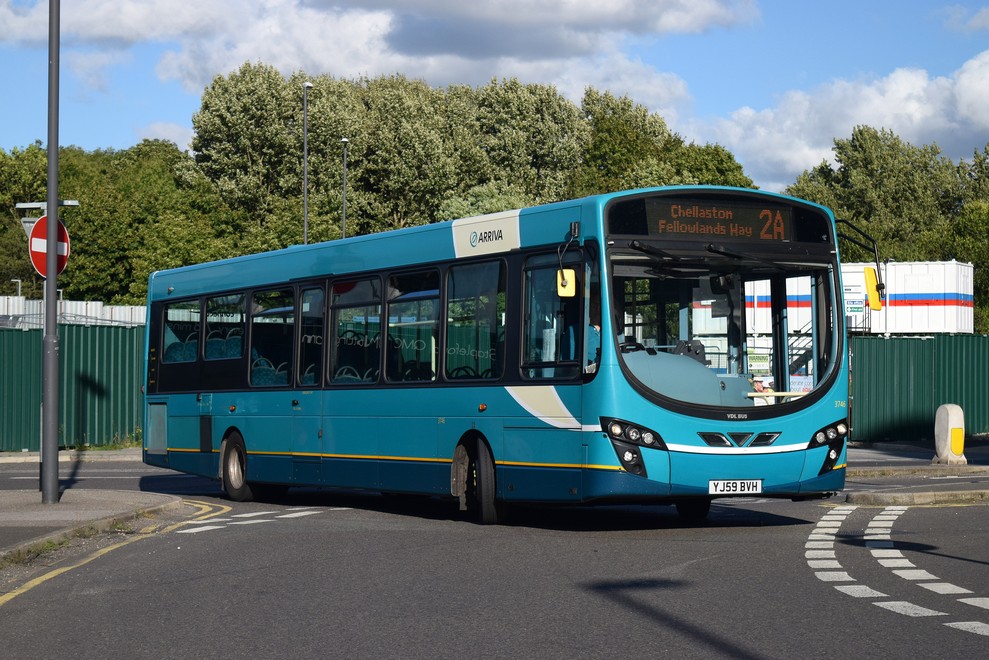 VDL 3746 has recently joined the Derby fleet.
(C) G W Girling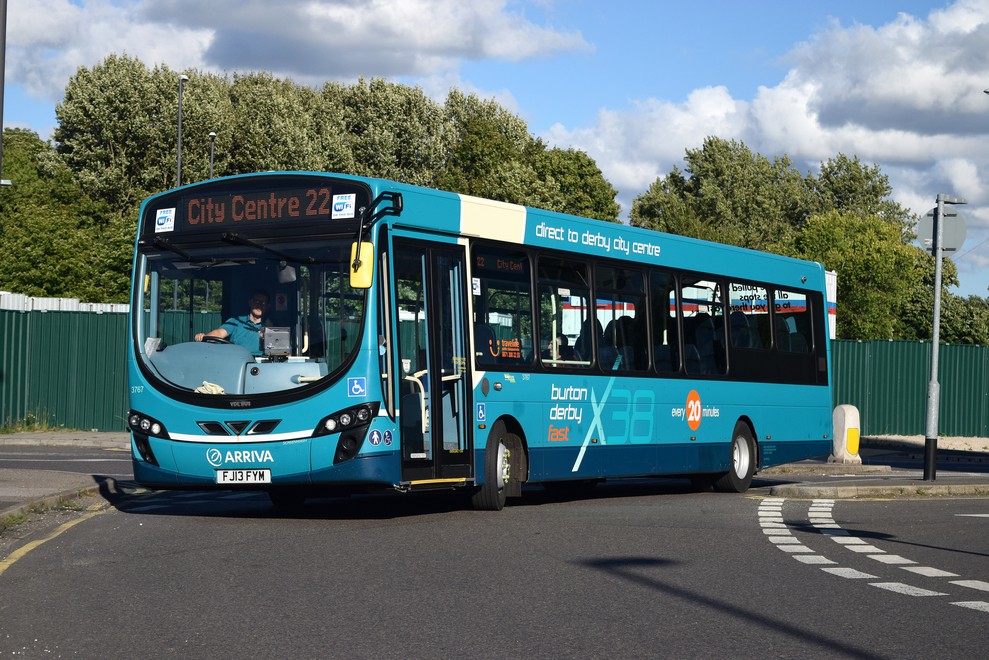 VDL 3767 is now based at Derby following the closure of Burton garage. Although branded for the X38 it is seen here on route 22.
(C) G W Girling



5th September
Wright VDLs 3744-7 (YJ59 BVF/G/H/K) have arrived here replacing 4 Versas.

Versa 2988 is still in use here.

Cadet 2718 has now been withdrawn.

26th August
The X38 will be operated from Derby from Sunday. Branded VDLs 3767/8 (FJ13FYM/W) will transfer from Burton along with 3769 (FJ13 FYX) as a spare.

4 more Wright/VDLs are expected to join the Derby fleet next week, from Telford/Shrewsbury. These will replace Optare Versas.

5th July
Solo 2550 (WL03 AOL) is in use here. DAF/Wright Cadet 2718 (Y358 UON) moved to Burton a few months ago. More recently another Cadet, 2725 (Y346 UON), has arrived, and is in use here


---
---
NEWS
-
---
---
NEWS
4th October
Solos (MX08 DGE/V) have been in use here in white, ex Holmeswood. Solo 392 (VU02 TSX) is another addition to the fleet. The vehicles arrived during the summer, at short notice due to taking on extra services following the collapse of GHA.
---
---
NEWS & Sightings
---
---
NEWS
-
---
---
G&J Holmes


NEWS
4th October
New here is (YN66 ENM) a Mercedes 921L minibus with a Turas 900 body.

---
---
Glovers of Ashbourne

NEWS
---
---
Harpurs Coaches


NEWS

4th July
Metrobus (C373 BUV) has been sold to Watts, Leicester in running order for further use / spares. It left on 18th June.


---
---
Hawkes Coaches

NEWS
---
---
Hulleys of Baslow

NEWS + SIGHTINGS
4th October
New here as number 7 is Enviro 200 (YX09 HZJ), B37F seating. The vehicle was new to Veolia and latterly was with Tates of Barnsley. This replaces the enviro 200 whichich was destroyed by fire during the summer.

25th August
White Enviro 200 (MX60 BXA) was destroyed by fire on 22nd August in Old Brampton whilst on the 170.


---
---
Johnson Bros / Redferns

NEWS & SIGHTINGS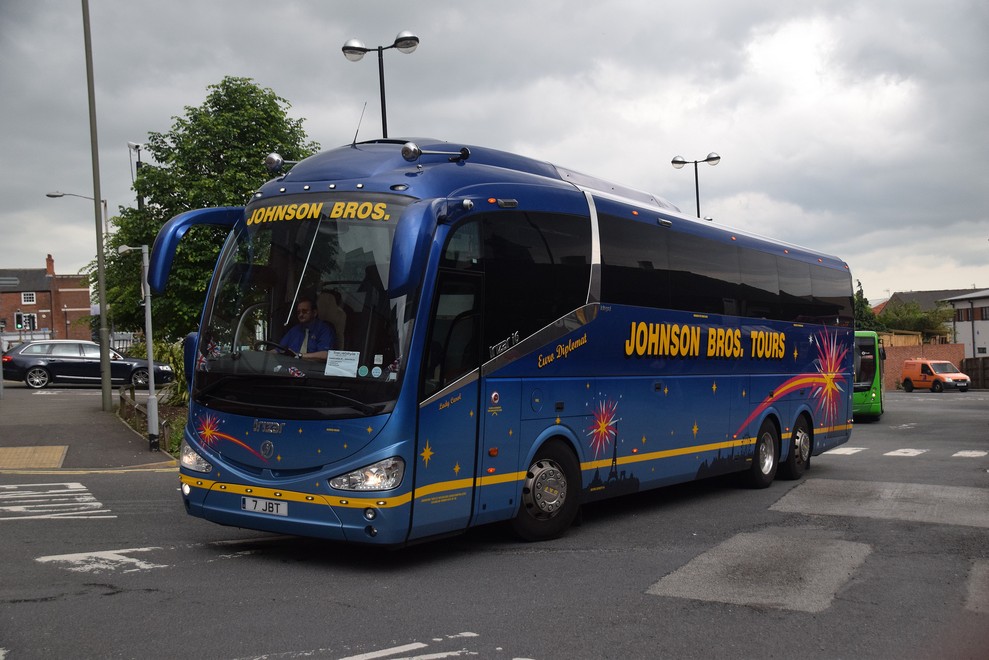 Irizar (7 JBT).
(C) Geoff Girling
---
---
Linburg

NEWS + SIGHTINGS

---
---
Littles Travel

NEWS + SIGHTINGS
15th October
REcent arrivals are two East Lancs bodied Volvo B7s from London United. (PG04 WHA) is in Littles livery whilst (PG04 WHB) is in use in red.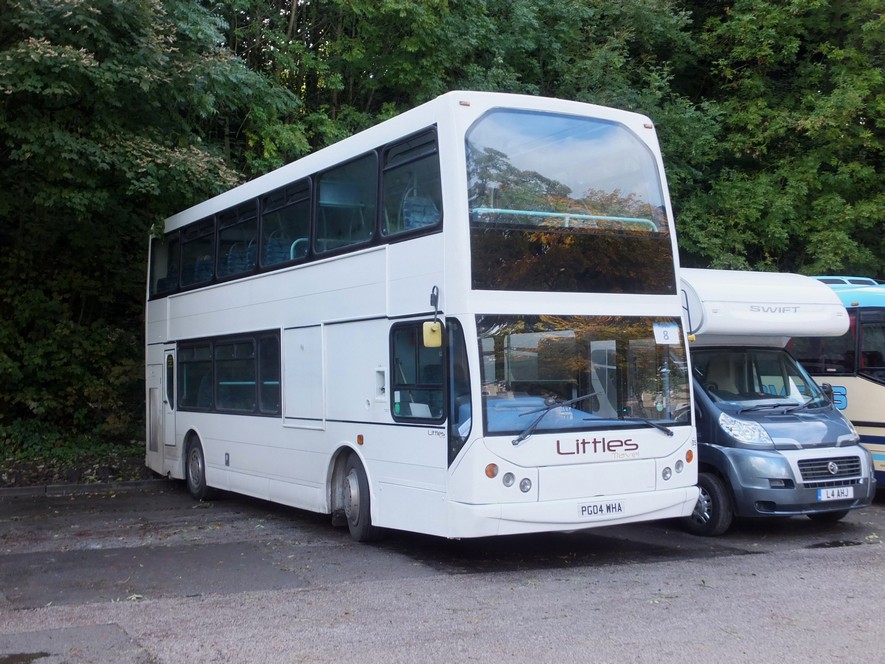 Former London East Lancs Volvo D5 (PG04 WHA) is seen here on layover in Buxton.
(C) Guy



4th October
Former trent barton red arrow Irizar coaches (FN04 BRX), (FN04 BSU/V) are now with Davies, Llanelli.

Similar (FN04 BSZ) is with Pickthall, Rowrah.

20th February
All 8 former Trent Red Arrow Scania / Irizars were purchased. Many have been painted white and are for sale.


---
---
Midland Classic

NEWS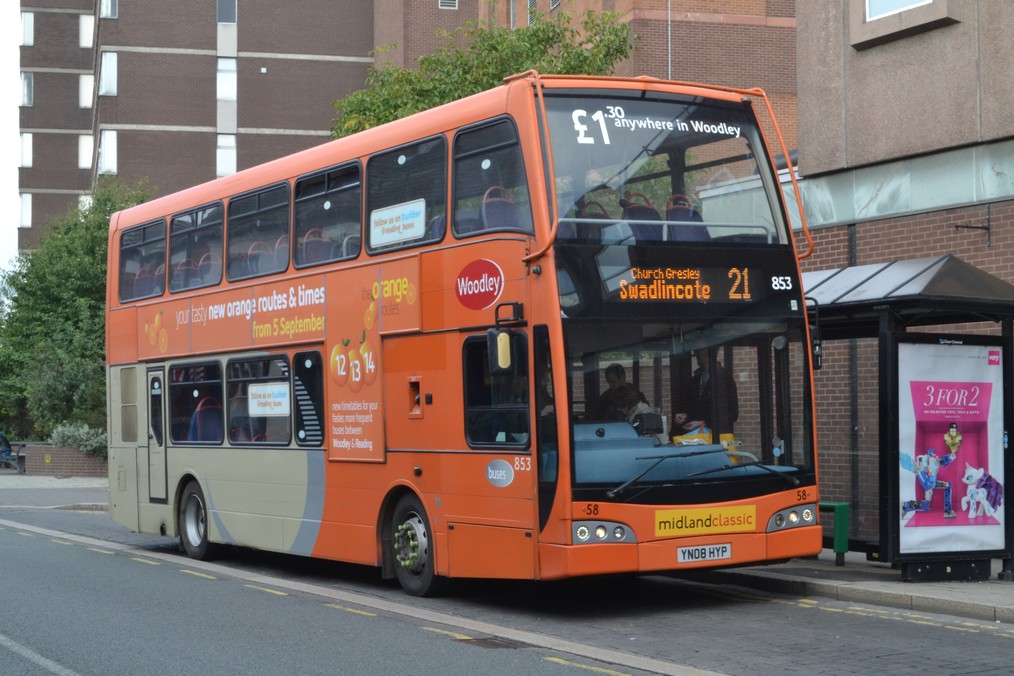 Reading Olympus 58 (YN08 HYP) isone of two on loan to Midland Classic.
(C) Calum Maclennan

6th October
Metrocity demo 212 (YJ16 DAA) is in use here.

Reading buses Scania / East Lancs Olympus (YN08 HYO/P) are in use here numbered 57/8.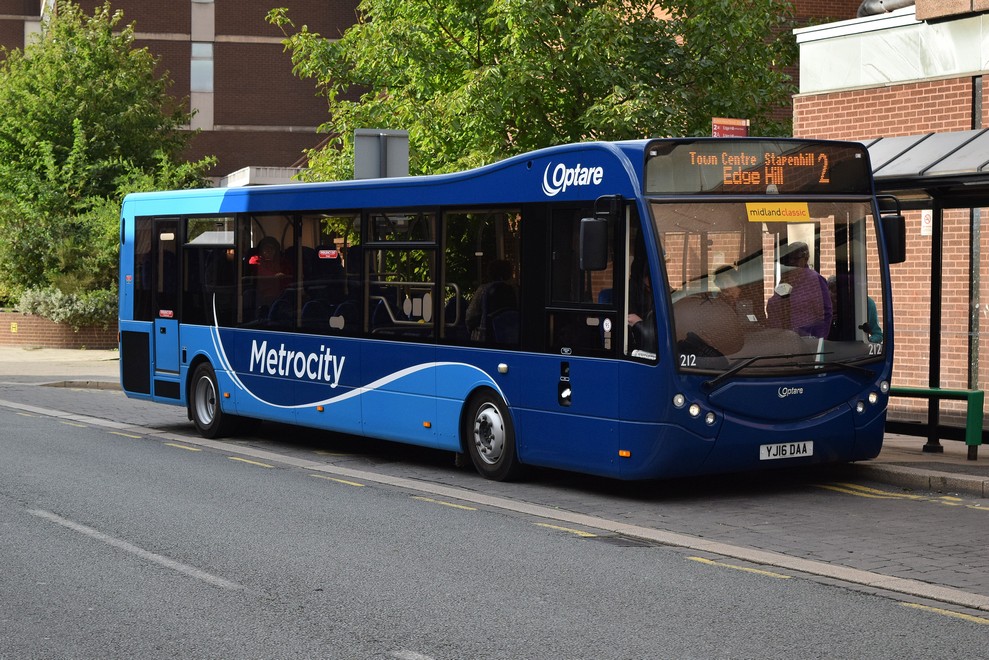 Metrocity demo 212 (YJ16 DAA) is currently in use here.
(C) Geoff Girling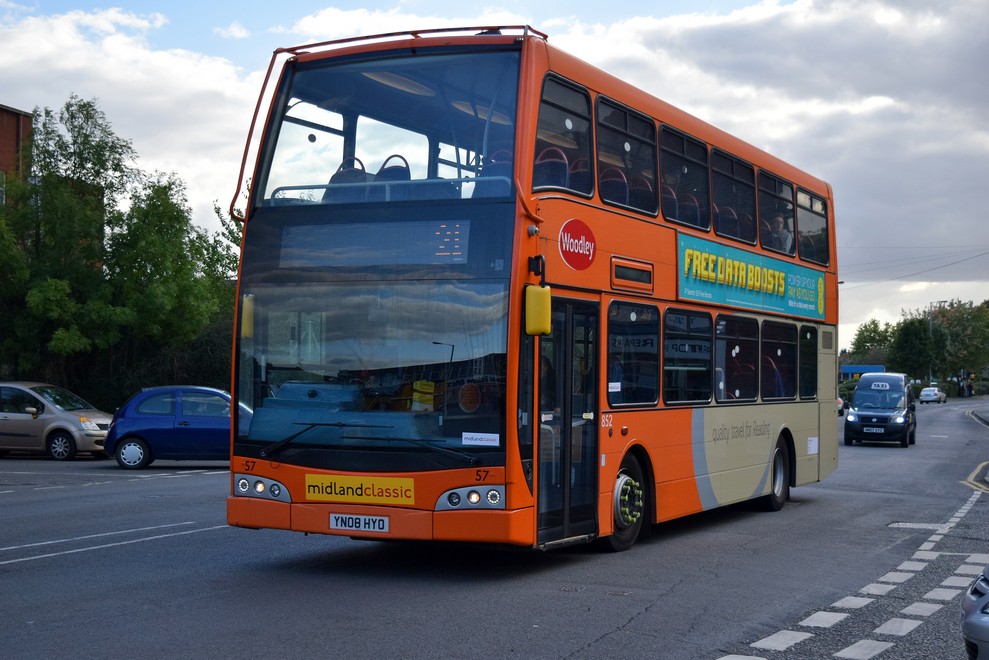 Reading buses Olympus (YN08 HYO).
(C) Geoff Girling



26th September
Olympian 96 (F96 PRE) has joined the fleet.

Scania Omnidekka 56 (BV55 UCU) is now in fleet livery and in use.

Commander 111 now in use in Midland Classic livery.

Cadet 209 has been returned to Arriva and has seen use at Derby.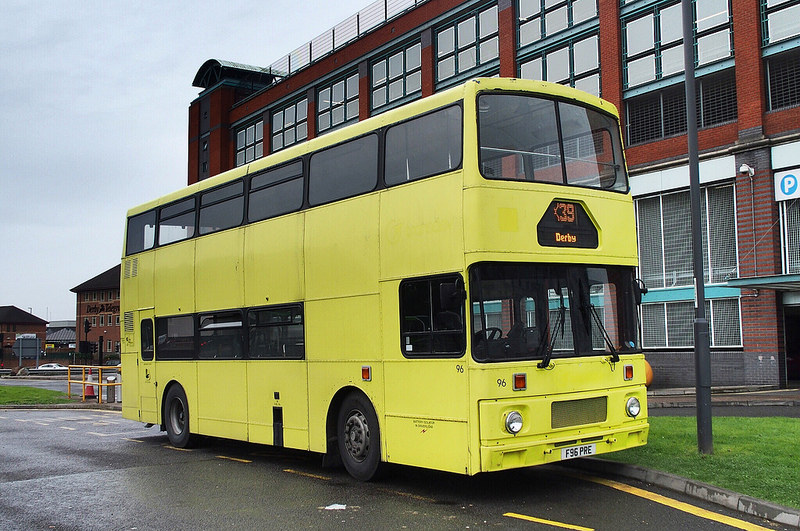 Olympian 96 in Derby bus station on the X39 Boots work service.
(C) Richard Woodhead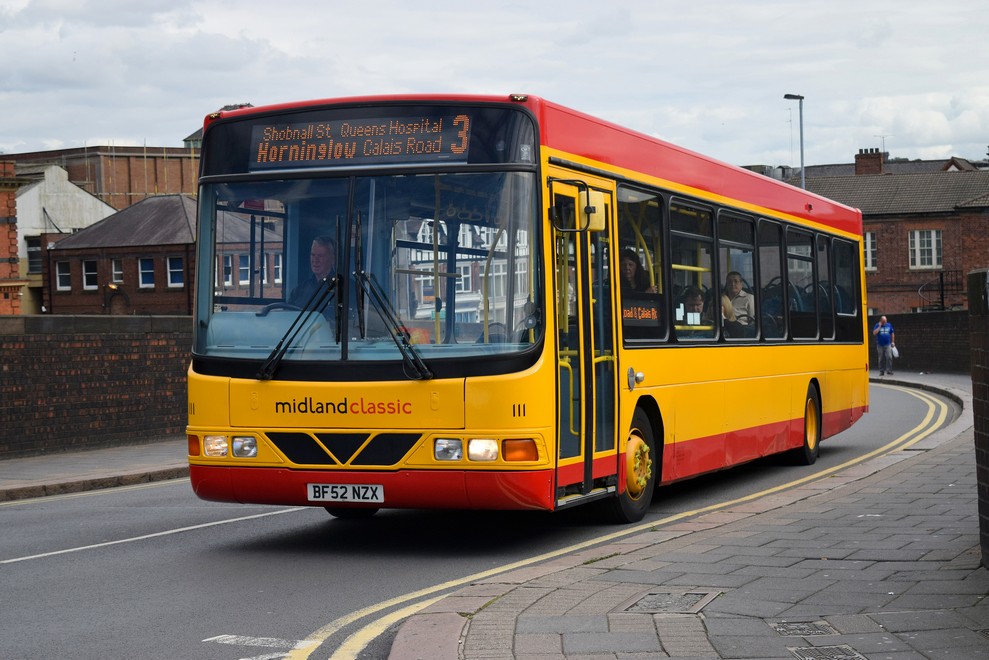 Former Arriva Commander 111 seen here in Burton.
(C) Geoff Girling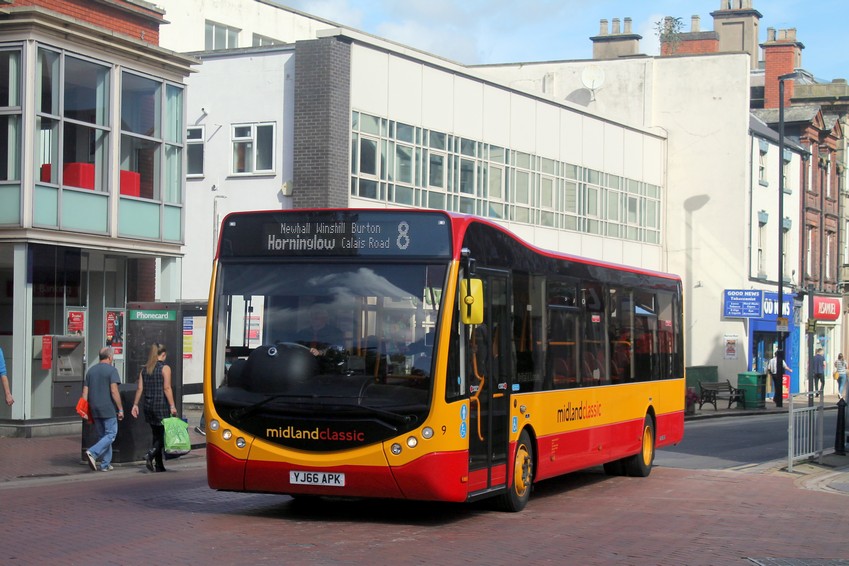 Brand new Metrocity number 9 seen here in Burton Upon Trent.
(C) DBD



29th August
Arriva Cadet 2711 now 209 (Y351 UON) is on loan.

Commanders transfered are:
3706 now 106 (BF52 NZS).
3707 now 107 (BF52 NZT).
3708 now 108 (BF52 NZU).
3709 now 109 (BF52 NZV).
3710 now 110 (BF52 NZW).
3711 now 111 (BF52 NZX).
3712 now 112 (BF52 NZY).
3713 now 113 (BF52 NZZ).
3714 now 114 (BF52 OAA).
3715 now 115 (BF52 OAB).
3716 now 116 (BF52 OAC).

31st August
Cadet 2711 is on loan to Midland Classic as 209 (Y351 UON).

Notts and Derby Omnidekkas 40 and 42 are also on loan numbered 210 and 211.

Midland Classic took over most of the Arriva Burton network from Sunday 28th August 2016. The Wetmore Road garage is being used in addition to the current depot.

Arriva Burton DAF/Wright Commanders 3706 to 3716 are the only vehicles included in the sale. 3711 is currently away for repair/repaint.

4 brand new Optare Metrocitys will be on the road from September on route 2. They are 6/7 (YJ66 AOY/Z) and 8/9 (YJ66 APF/K).

A new addition to the fleet is former Go Ahead London Scania Omnidekka (BV55 UCU).




---
---
Nottingham buses
6th April 2016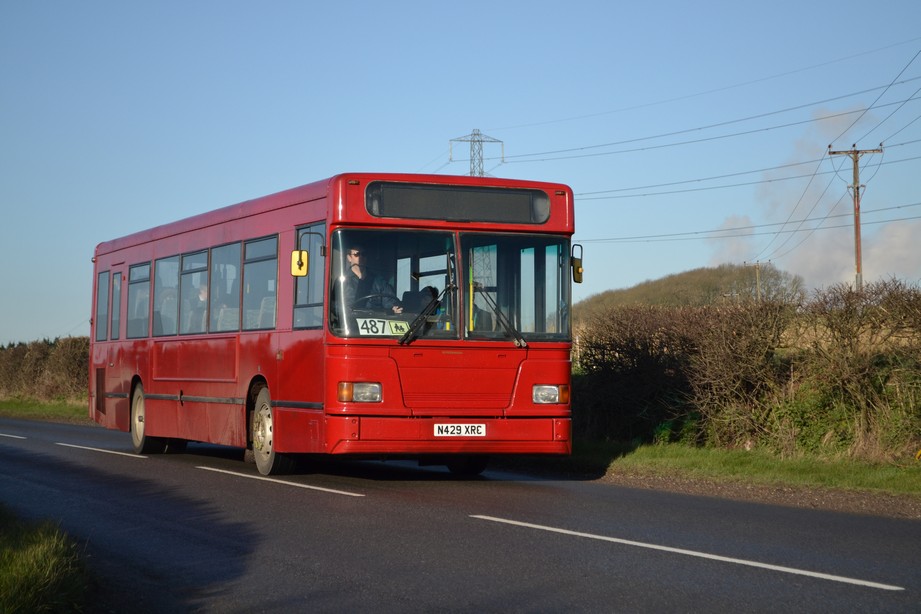 Nottingham buses now operate former Arriva Midlands Scania (N429 XRC). This was in service with Arriva in Telford until late last year, and was based at Derby for many years (new in City Rider livery) .
(C) Calum Maclennan
---
---
---
Skills, Nottingham


NEWS 29th January

New tri axle Levantes to arrive for National Express work are:
(BD65 JFG),
(BD65 JFJ),
(BD65 JFK),
(BD65 JFN).


---
---
TM Travel


NEWS:
See Wellglade section.
---
---
---
The Wellglade group
trent barton, kinchbus, notts+derby and T M Travel.

NEWS
20th October
Solo SR 506 has moved from Nottingham to Derby.

4th October
Excel 257 is now in use with notts and derby, in trent barton red livery.

26th September
Omnidekka 11 (YN06 JYK) is now with TM Travel as 1178, painted in notts and derby livery. Coach 74 (FJ10 OXP) has moved from TM to notts and derby in its place.

Excel 257 is now at notts and derby.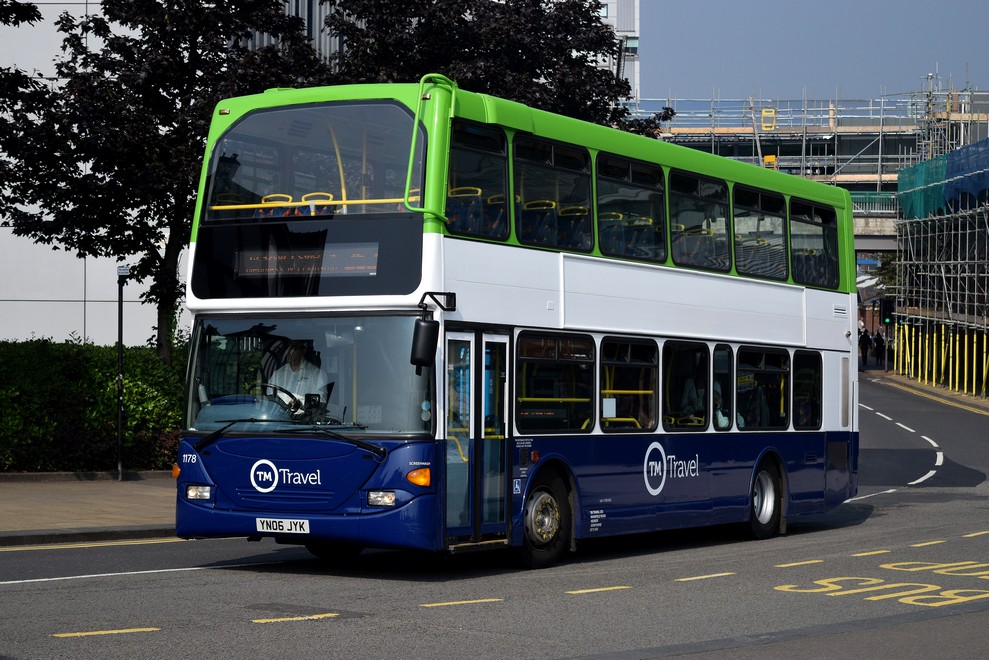 1178 is seen here in Sheffield.
(C) G W Girling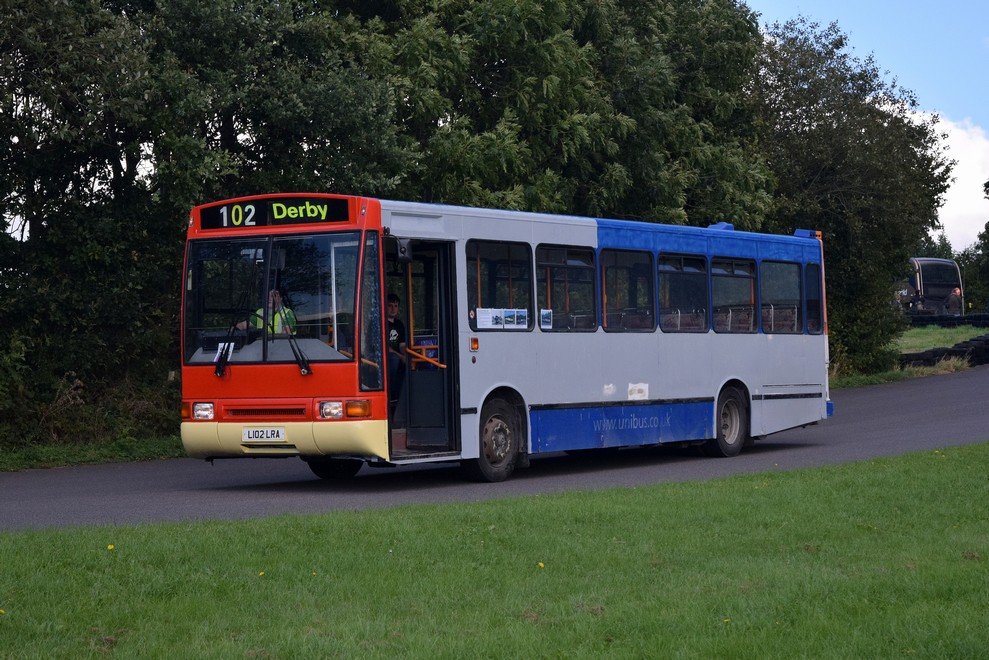 Paladin 102 has now been preserved. Seen here leaving Showbus 2016.
(C) G W Girling



21st August
New ADL Enviro 200 MMCs have been ordered for the Mickleover and Nines from November.

The Nines will have 14 38 seaters, and the the Mickleover 8 42 seaters. All buses will have wifi, leather headrests,LED screens, USB charging and wood effect flooring.

The Centrelink service in Nottingham shall be operated by Nottingham Community Transport from the end of October.

5th July
259 has currently been withdrawn and is expected to be replaced by 257 at notts+derby. 261 remains in use with trent at Sutton, the last excel with trent barton.

Haltham Travel reported to be operating former trent Excels (XIB 1908) (former V202 ENU, laterly with Littles) and (S161 UAL) (ex Belle Vue) in Lincoln.

Excels 263, 266 and Paldin 116 have all ended up at Looms, Spondon, for scrap.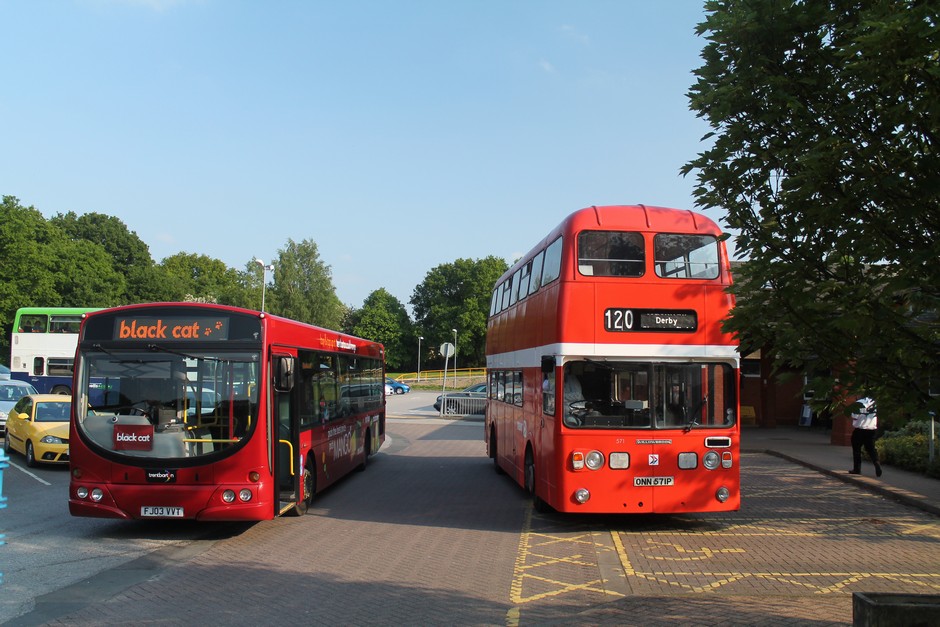 Ilkeston Hospital.
(C) DBD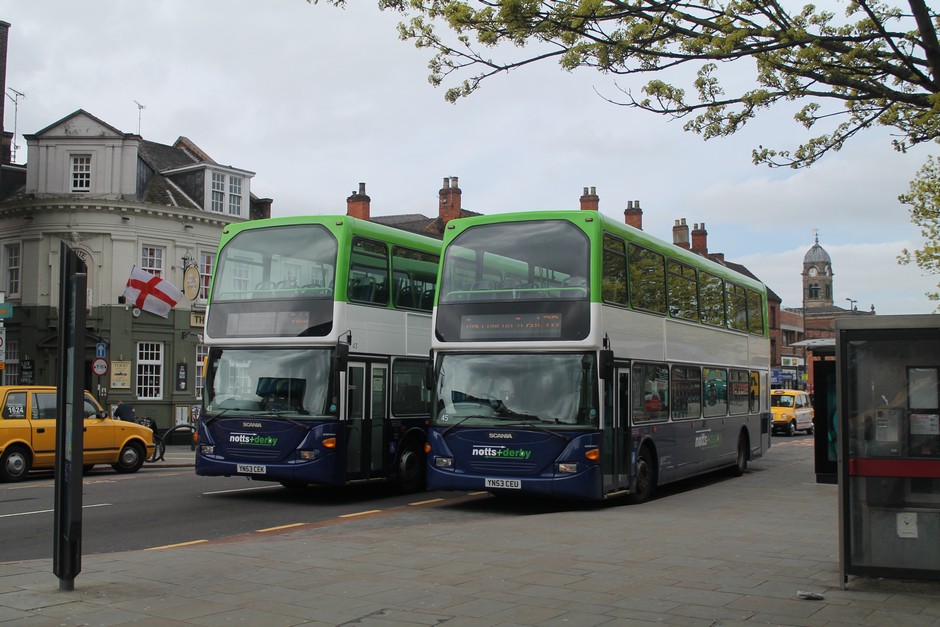 43 and 45, two former NCT Omnidekkas seen here on the Morledge, Derby.
(C) DBD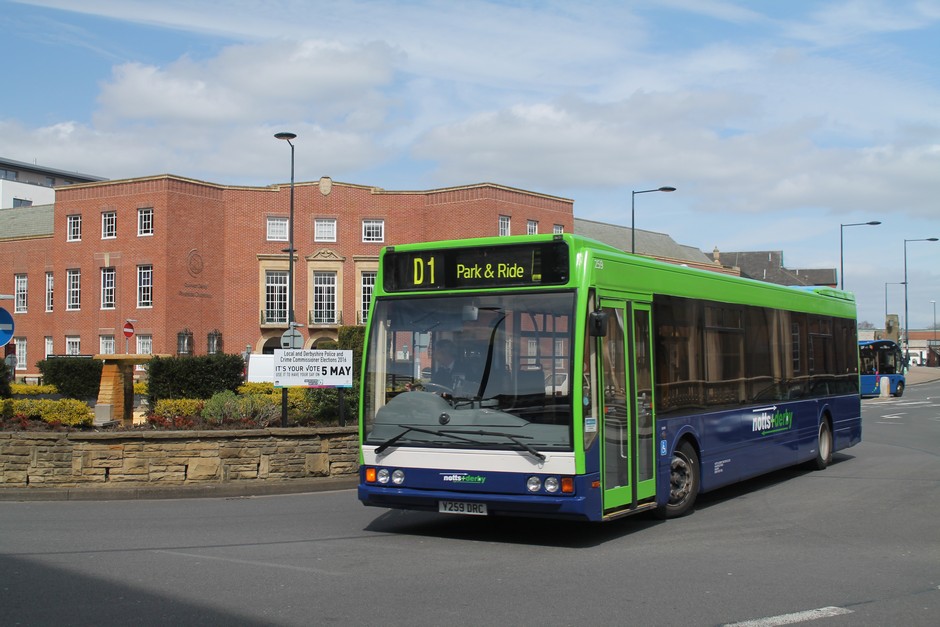 Excel 259 shortly after repaint, on the D1 park and ride in Derby city centre.
(C) DBD
---
---
Vallances
NEWS
-

---
Yourbus, Nottingham
NEWS
1st December 2015:
Citaros 3002, 3003 and 3009 have gone to Prestonbus.

The 6 dual doored Citaros are back in use here.


---
---
Last Months News

News Index Page
---