Bus Fleet News
September 2016
---
Latest News
---
Here you will find all the latest bus fleet news for many bus operators in and around the Derbyshire area. If you have anything to report please contact me by clicking here.
---
---
NEWS
6th April
New to the Andrews fleet is MAN / Beaulas Jewel (YK16 SOA).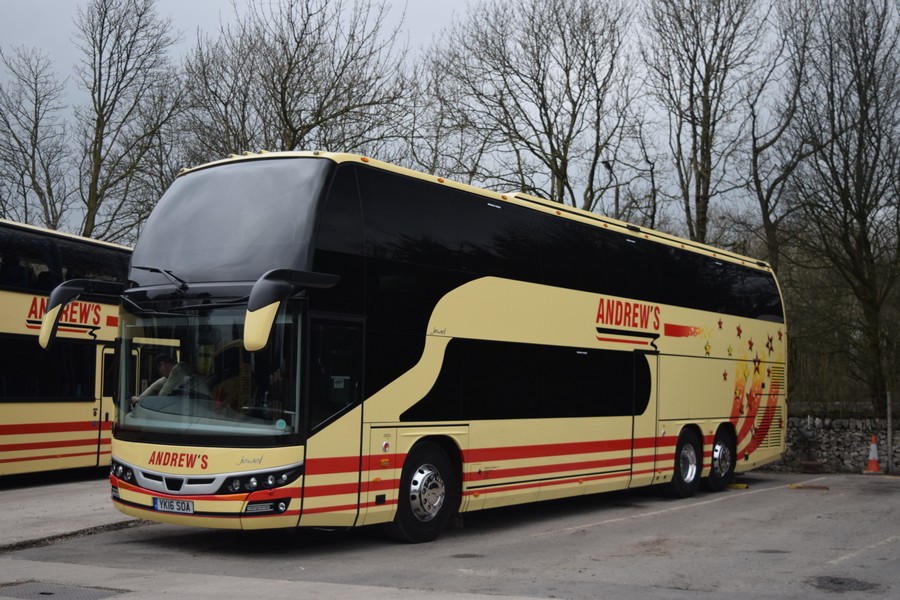 New for Andrews is MAN / Beaulas (YK16 SOA).
(C) John Curtis



Also new is Transit (YS65 TVJ).

27th July
New here is Mercedes (FJ15 EJC).

25th April
Two Neoplan Euroliners have arrived here from K B Travel, Penrith. They are (J6/7 AOT).
Merc minibus (TIW 2654) is now white.
---
---
NEWS
26th September
Cadets 2711 2721/2 are in use here. MPD 2159 has also been here (on loan?).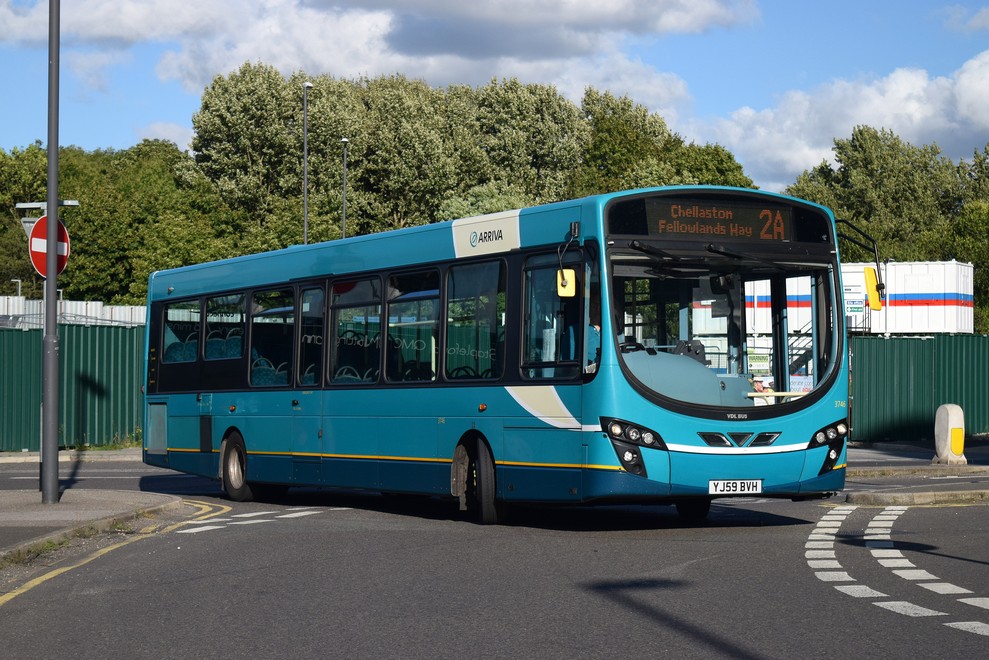 VDL 3746 has recently joined the Derby fleet.
(C) G W Girling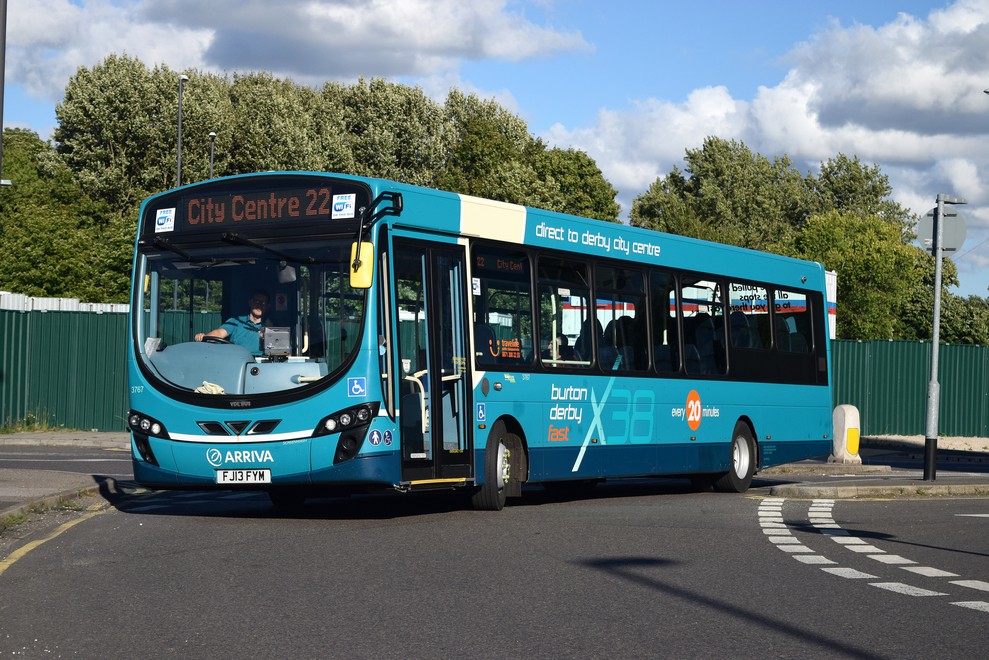 VDL 3767 is now based at Derby following the closure of Burton garage. Although branded for the X38 it is seen here on route 22.
(C) G W Girling



5th September
Wright VDLs 3744-7 (YJ59 BVF/G/H/K) have arrived here replacing 4 Versas.

Versa 2988 is still in use here.

Cadet 2718 has now been withdrawn.

26th August
The X38 will be operated from Derby from Sunday. Branded VDLs 3767/8 (FJ13FYM/W) will transfer from Burton along with 3769 (FJ13 FYX) as a spare.

4 more Wright/VDLs are expected to join the Derby fleet next week, from Telford/Shrewsbury. These will replace Optare Versas.

5th July
Solo 2550 (WL03 AOL) is in use here. DAF/Wright Cadet 2718 (Y358 UON) moved to Burton a few months ago. More recently another Cadet, 2725 (Y346 UON), has arrived, and is in use here


---
---
NEWS
15th June:
Former BM Coaches of London tri-axled 61 seater Van Hool T917 Astron (YJ59 BAA) has arrived from Arriva Bus & Coach with former Johnson Brothers Neoplan (A16 BNX), previously (YN03 AVE), leaving in part exchange. The private reg will be used on BAA.

Ex Mayne, Neoplan Tourliner (C49Ft) A15 NBX (ex KM11 GSM) has joined the fleet.

5th June:
Setra (S31 5GT), (RJI 4525) has left the fleet.
Caetano Algarve bodied Dennis Javelin (P179 ANR) has been sold to Warringtons of Ilam.
Former Johnson Brothers of Hodthorpe, Neoplan Euroliner (YN03 AVE) has been re-registered (A16 BNX).
Allover white Temsa Safari (YJ10 DVF) is currently on loan from the Arriva Bus & Coach dealership.


---
---
NEWS
29th January
Scania / Wright 702 (K7 YCL) (former Y2 DRV) is here in Centrebus livery.

Solo 263 has been re-registered (B6 WER) former (W293 EYG).

650 (FJ59 FYT) now in High Peak livery aswell as the other centro 648 (FJ09 ZKC).

Scania 748 (YN08 MRO) now carries High Peak livery (was in Transpeak).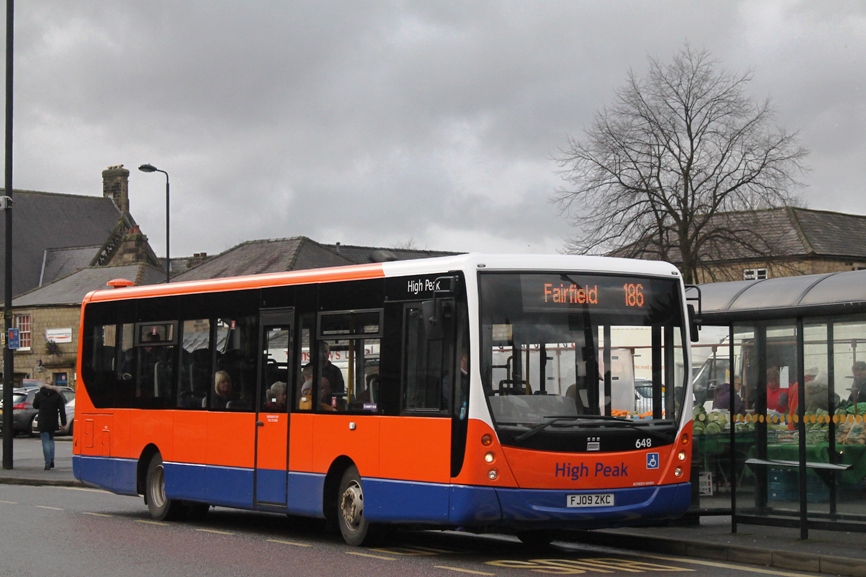 Centro 648 has been repainted into Centrebus livery.
(C) DBD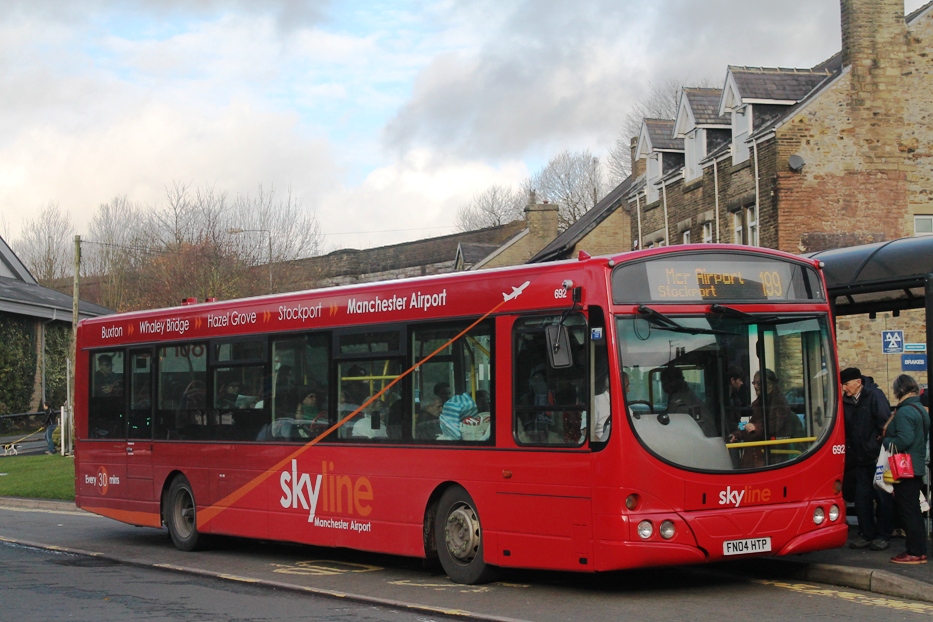 Scania 692 in the revised Skyline livery.
(C) DBD

5th November
Former NCT Omnicities (FG52 WFW) and (FG52 WFX) are here. They have been re-registered and are now 721 (HP51 BUS) and 722 (HP52 BUS).

9th October
Four E200s here branded for transpeak are:

525 (YX65 RFY),
526 (YX65 RFZ),
527 (YX65 RGO),
528 (YX65 RGU),

Transpeak branded E200 528 leaving Derby Bus Station.
(C) DBD

18th September
Transpeak E200 525 (YX65 RFY) entered service last week, but has since returned to ADL with teething problems.

E200 518 (YX63 ZVU) is currently in use here.

30th August
4 E200s are expected here soon for transpeak. They will be in full green transpeak livery and used alongside two of the branded Scanias. The 4 E200s currently here for transpeak will move on to elsewhere within Centrebus. The transpeak branding has already been removed from some vehicles.

24th August
Three more new Solo SRs arrived in June as 287 (YJ15 )AOK, 288 (YJ15 AMK) and 289 (YJ15 AMO).
Solos that have left the fleet are 226 (scrapped March), 266 (to Centrebus May), 263 withdrawn July, 266 withdrawn August.

The last Excel 682 (X233 WRA) was used until 12 August before withdrawal and has now been sold into preservation.

Paladin 680 (L104 LRA) was withdrawn in April, and 679 (L103 LRA) now also withdrawn (still at the depot on 20 August). 681 (L102 LRA) remains in service.

Centro 648 has recently been reregistered back to (FJ09 ZKC). This and 650 are now normally on town service 185/6.

Scania Solar 690 was also refurbished after 693, in plain Centrebus until this repainting was stopped in March. Scania Solar 697 has returned refurbished in a new style red Skyline branded livery in July, followed by 692 in August.

New transpeak Enviros are still expected. 703 is thought to be due a repaint into a 'new' unibus livery.

Thanks to Guy for this update with help from Centrebus Yahoo group and Peak District Enthusiasts Facebook page.

8th May
2 brand new Solos arrived here in March as 285/6 (YJ15 AYA/B). Seating is B31F.

8th March
Skyline Scania 693 was painted into Centrebus livery last month. It currently carries no fleetnames. It is not known if Skylink branding will be applied, or if subsequent repaints will be into a branded Skyline livery.

It is thought a batch of new transpeak branded (green) Enviro 200s may be on the way.


---
---
NEWS & Sightings
---
---
NEWS
1st December
Another recent arrival isAlexander ALX400 bodied DAF DB250 (Y516 UGC), new to Arriva London as DLA316.

Another addition is Van Hool Alizee bodied Volvo B10M (DXI 741). This was recently with Rigby's Coaches of Accrington but was new to Tellings Golden Miller as (F809 TMD).

5th October
The latest arrivals here are: Alexander ALX400's (T319 FGN), (W438 WGJ), (X454 FGP), (Y475 UGC) and (Y529 UGC).

4th June
Short 36 seater Plaxton Premiere / Volvo B10M-48 (R960 RCH) has joined the fleet. This was recently operated by Johnson Brothers of Hodthorpe.

3rd February
Former Wallace Arnold Jonckheere Deauville bodied Volvo B10M (L903 NWW) has arrived here. It still carries Abbey Coaches of Darwen livery.

2nd January:
Three recent arrivals are:
(GIL 3113) Volvo B10M / Plaxton Paramount.
(R955 TSL) Volvo Olympian / East Lancs Pyoneer.
(S63 TNA) Scania L94IB4 / Irizar Century.


---
---
G&J Holmes


NEWS
29th January
New E200 (SN65 OFC) is here.
Another arrival is Volvo B7R (YV07 PVF)

Vehicles to leave are (W186 CDN) to First Call Travel, Merthyr Tydfil and (YN54 XXP) to Solus.

6th October
Volvo B7R / Plaxton Prima (YV07 PVF) has joined the fleet from Howard Snaith of Otterburn. This has replaced DAF / Van Hool Alizee (W186 CDN) which has now left the fleet.

3rd February
White E200 (MX59 AVN) is on loan here. This was used by Powells, and was branded for the Rotherham Free Bee service.
Solo (MX59 AVP) was with First Devon and Cornwall by November 2014.



---
---
Glovers of Ashbourne


NEWS
6th October 2015
Scania / Irizar Century (XJI 2964) has passed to Black & White Coaches of Scunthorpe.
Mercedes Benz / Plaxton Cheetah (W635 MKY) has been re-registered (AIG 1346).

27th July 2015
Paladin (AIG 8338) has reverted to its original reg (K123 BUD)

2nd March 2015
Volvo/ Alexander Q type (M54 PRA) is here now reregistered as (AIG 4114).
The former (AIG 4114) now carries (L923 NWW) and has been sold.


---
---
Harpurs Coaches


NEWS

4th July
Metrobus (C373 BUV) has been sold to Watts, Leicester in running order for further use / spares. It left on 18th June.

6th October 2015
Ex Merseyside Arriva Volvo Olympian (N294 CKB) withdrawn and sold. Sister (N297 CKB) has also been withdrawn.

3rd April 2015
(A14 GTA) left for Barnsley on 31st March.

27th March 2015
(R309/10 WVR) are both withdrawn and are up for sale.
(A14 GTA) is withdrawn, unserviceable.
Plaxton (J723 EUA) has been advertised for sale but is still in use.
(X423 PFE) will be back out soon with seatbelts fitted. 424 being fitted next. Once complete the other two Dublin B7s, currently in store, are likely to be painted and join the fleet.
(00-D-70111) and (00-D-70113) are 423 and 424.


---
---
Hawkes Coaches

NEWS
---
---
Hulleys of Baslow

NEWS + SIGHTINGS
25th August
White Enviro 200 (MX60 BXA) was destroyed by fire on 22nd August in Old Brampton whilst on the 170.

29th January
E200, 23 (YX11 CSY) is now in service here.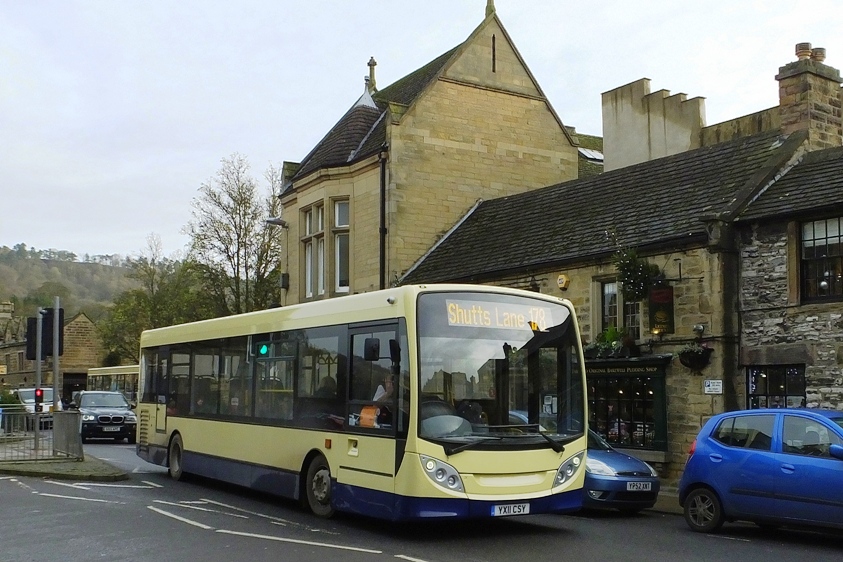 Hulleys E200 (YX11 CSY) in Bakewell.
(C) Ian Moorcroft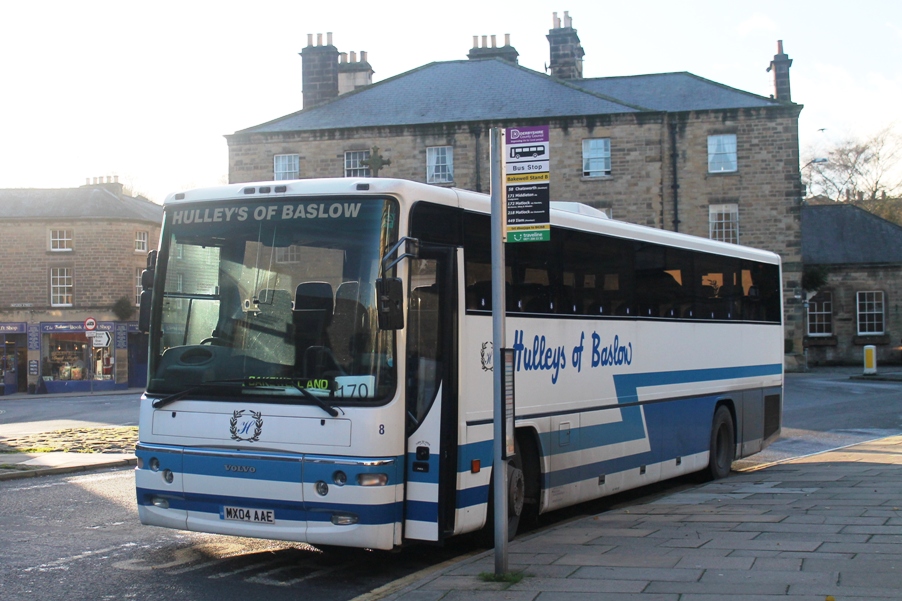 Hulleys coach 8 on service 170 in Bakewell.
(C) DBD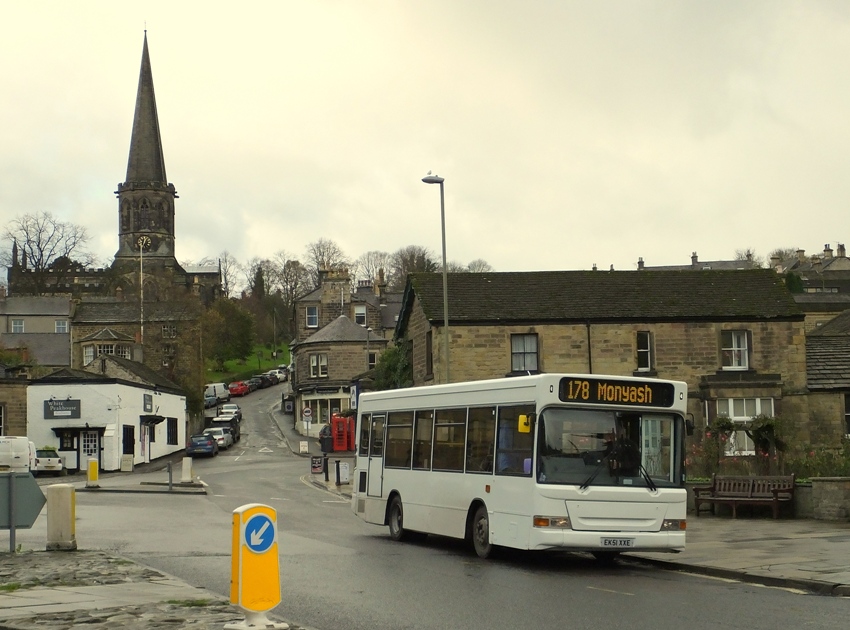 Former South Lancs Travel MPD (EX51 XXE) has joined the fleet. It is seen here in Bakewell.
(C) Ian Moorcroft

29th October
Wright Streetlite (MX62 AXN) is here on hire for at least a week, until the Enviro 200 (ex Whitelaws of Stonehouse) Hulleys have bought is ready.

This week should see the arrival of the new spare bus, a 52 plate Dart MPD from Ensign (ex South Lancs Travel).

24th July
The oldest bus in the fleet, DAF SB120 / Wright Cadet 7 (Y293 HUA) has been withdrawn after suffering major gearbox failure, and after cannibalisation for useable spares will be scrapped. The replacement, as the new number 7 is ADL ENVIRO 200 (MX60 BXA) bought from Mistral (dealer), and operated previously as 2600 in the fleet of Hansons of Stourbridge. Entering service initially in all over white it will gain fleet colours in August.

6th January
New here on 5th January as number 4 is (MX59 ZCL) an Enviro 200 (B29F) last recorded with City Sprinter, Renfrew.
VDL SB180/ MCV 22 (YJ62 JWF) returned to ARRIVA (dealer) off loan on 23 December 2014.




---
---
Johnson Bros / Redferns

NEWS & SIGHTINGS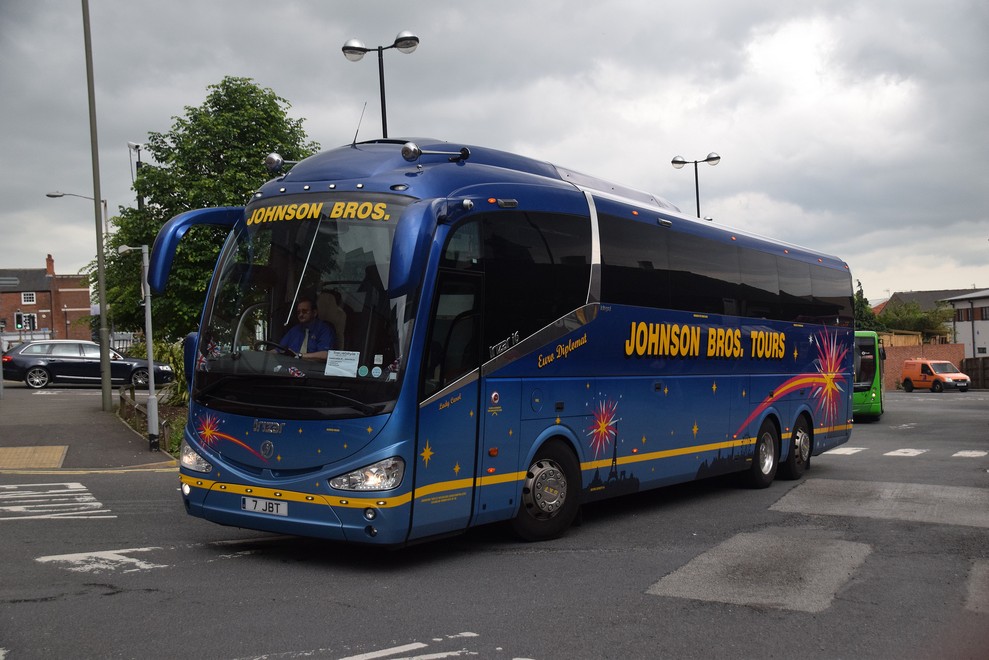 Irizar (7 JBT).
(C) Geoff Girling


12th January
Volvo B10M coach (K67 BKG) is here based at Mansfield.

Trent Excel 260 has been on loan here for a few days, but has now returned to Lanley Mill.


---
---
Linburg

NEWS + SIGHTINGS
26th June
4 Northern Counties Olympians are here from London Suburban:

(L204 SKD) now (OUI 4770),
(L205 SKD) now (BUI 471),
(L210 SKD) (not yet reregistered),
(L215 TWM) (not yet reregistered).

Former Yorkshire Traction ECW Olympian (C669 GET) (this was BUI 471) and ex Cambus (F513 NJE) and (G757 UYT) have all been withdrawn.

Two Darts to join the fleet are ex Stagecoach London Plaxton Pointer bodied examples which have also be re-registered!

(V173 MVX) is now (OUI 9980),
(V175 MVX) is now (IIG 9382).
---
---
Littles Travel

NEWS + SIGHTINGS
20th February
All 8 former Trent Red Arrow Scania / Irizars were purchased. Many have been painted white and are for sale.

29th October
Four E200s have arrived for services around Matlock. They are:

(SN65 OEZ),
(SN65 OEY),
(SN65 OFA),
(SN65 OFB).

28th July
Another Elite here is EX4 (DF60 VNR). This arrived in May.
All three former P&R E200s are thought to have left the fleet.

24th June
Levante (YX07 HJF) is in the fleet. Ex Whittles (still has blue skirt).

Volvo B9 Elite EX5 (SE60 LWO) has joined the fleets. It was previously with Parks as (HSK 646).

E200 (YN62 AOH) has been sold to Ensign.


---
---
Midland Classic


NEWS
26th September
Olympian 96 (F96 PRE) has joined the fleet.

Scania Omnidekka 56 (BV55 UCU) is now in fleet livery and in use.

Commander 111 now in use in Midland Classic livery.

Cadet 209 has been returned to Arriva and has seen use at Derby.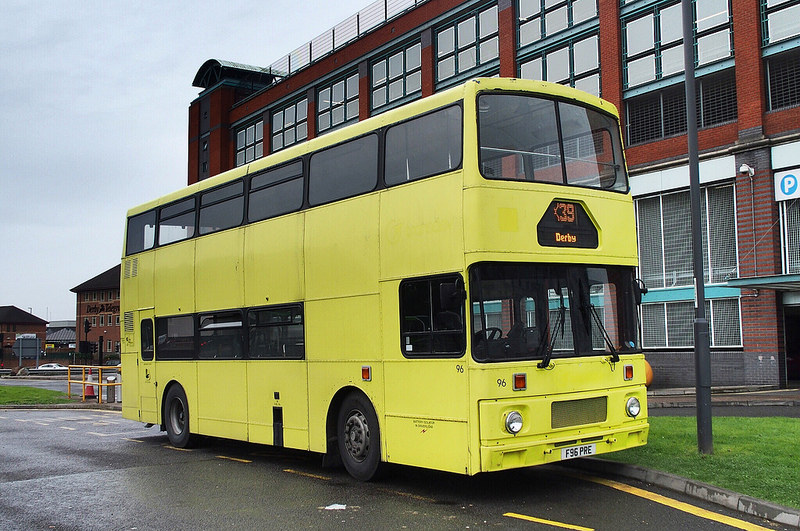 Olympian 96 in Derby bus station on the X39 Boots work service.
(C) Richard Woodhead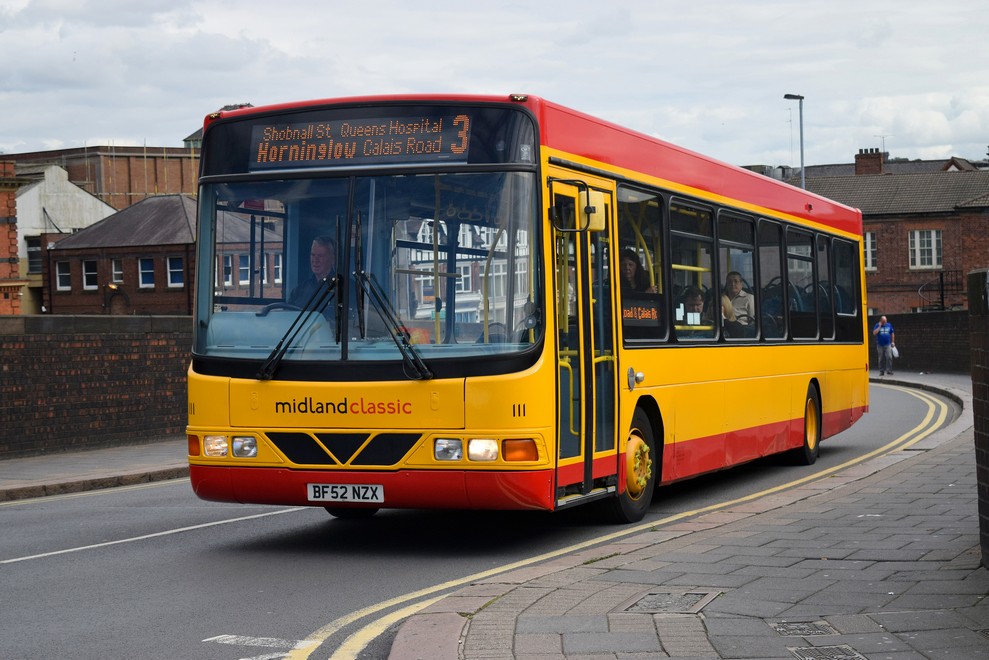 Former Arriva Commander 111 seen here in Burton.
(C) Geoff Girling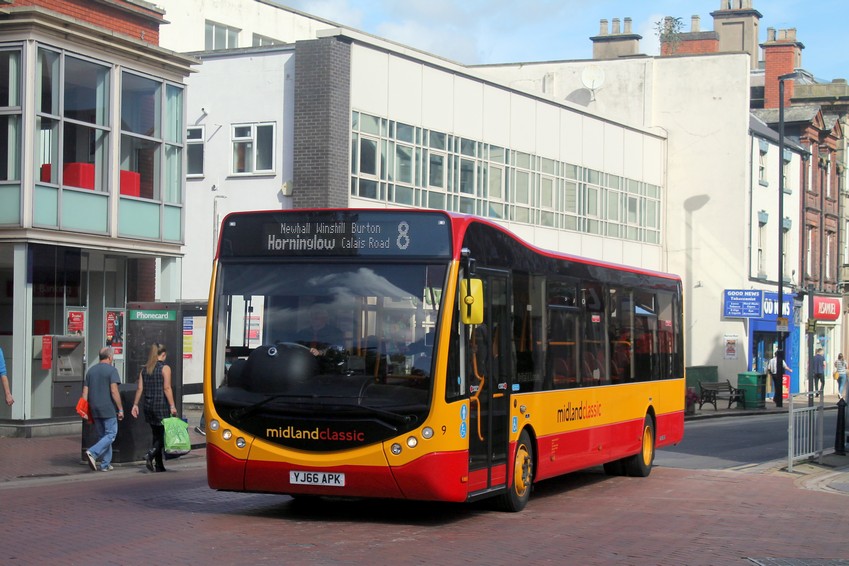 Brand new Metrocity number 9 seen here in Burton Upon Trent.
(C) DBD



29th August
Arriva Cadet 2711 now 209 (Y351 UON) is on loan.

Commanders transfered are:
3706 now 106 (BF52 NZS).
3707 now 107 (BF52 NZT).
3708 now 108 (BF52 NZU).
3709 now 109 (BF52 NZV).
3710 now 110 (BF52 NZW).
3711 now 111 (BF52 NZX).
3712 now 112 (BF52 NZY).
3713 now 113 (BF52 NZZ).
3714 now 114 (BF52 OAA).
3715 now 115 (BF52 OAB).
3716 now 116 (BF52 OAC).

31st August
Cadet 2711 is on loan to Midland Classic as 209 (Y351 UON).

Notts and Derby Omnidekkas 40 and 42 are also on loan numbered 210 and 211.

Midland Classic took over most of the Arriva Burton network from Sunday 28th August 2016. The Wetmore Road garage is being used in addition to the current depot.

Arriva Burton DAF/Wright Commanders 3706 to 3716 are the only vehicles included in the sale. 3711 is currently away for repair/repaint.

4 brand new Optare Metrocitys will be on the road from September on route 2. They are 6/7 (YJ66 AOY/Z) and 8/9 (YJ66 APF/K).

A new addition to the fleet is former Go Ahead London Scania Omnidekka (BV55 UCU).

12th July
Midland Classic will be operated the majority of the current Arriva services in Burton from 28th August. A new network is set to be introduced. More details soon.

26th May
2 new Metrocitys arrived here a while ago for use on the Lichfield town services. They are numbered 4 and 5 (YJ16 DXT/U).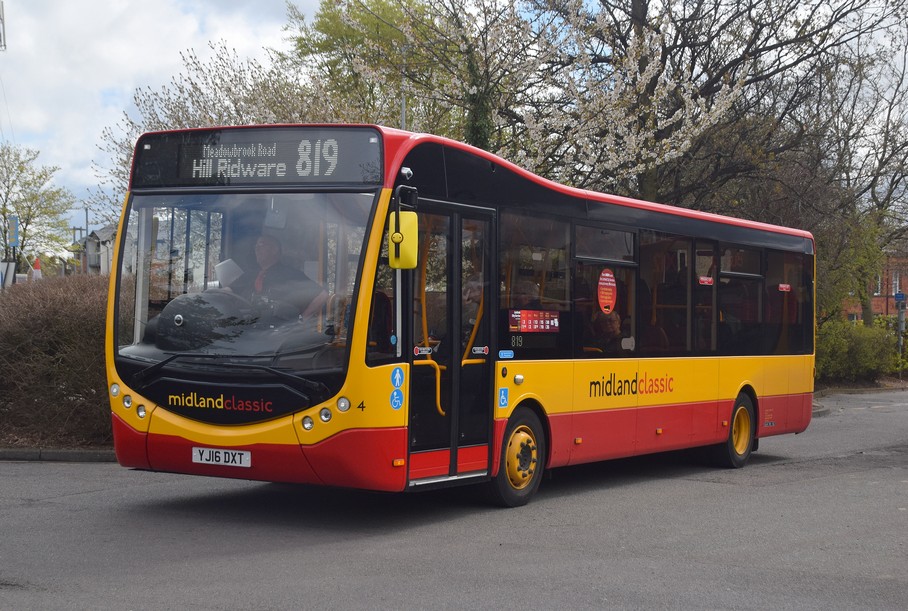 Metrocity 4 (YJ16 DXT).
(C) Geoff Girling

29th January
DAF 40 (X441 FGP) has been in use here in D&G red, however it has currently been withdrawn.
The open top Olympian has been withdrawn and sold.

27th December
The Falcon has been withdrawn from service early following mechanical issues.

Midland Classic now operate Town Circulars in Lichfield. Previously operated by the company on behalf of Diamond bus.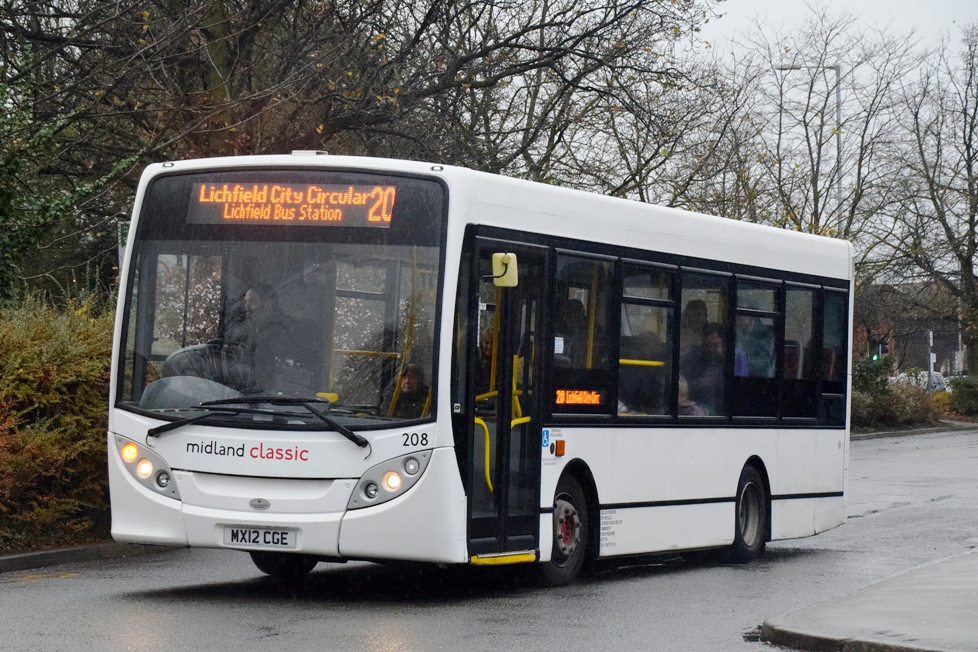 Solus E200 (MX12 CGE) is seen here in Lichfield, on loan to Midland Classic, operating the town service on behalf of Diamondbus.
(C) Geoff Girling
29th October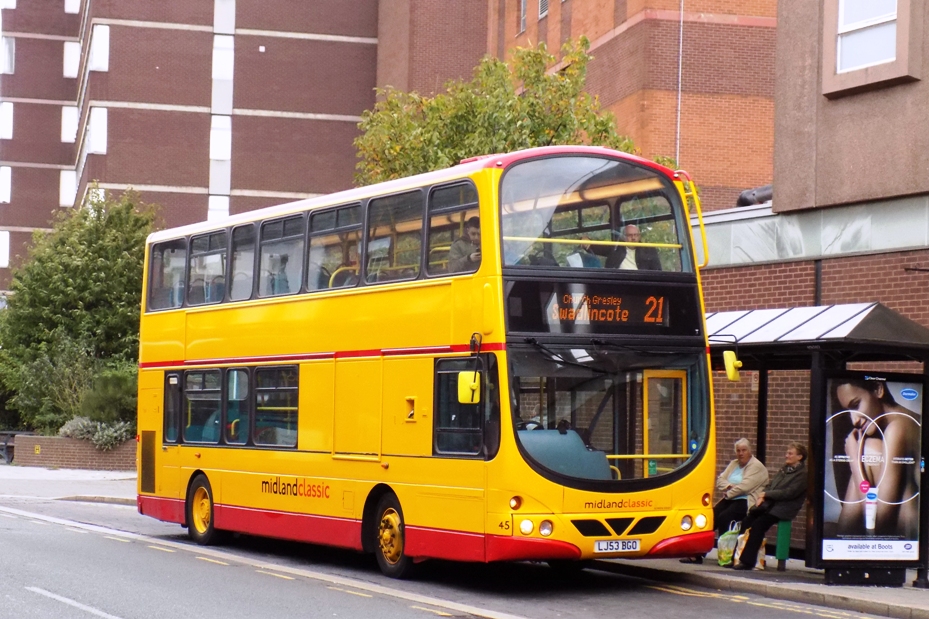 Former Arriva London Gemini 45 (LJ53 BGO).
(C) Daniel Louch

E200 (YY64 YKC) has been re-registered as 3 (JB64 MCL). This also now carries fleet livery.

4 DAF / Geminis have arrived from Arriva London. All are now painted. They are:

42 (LJ03 MWA),
43 (LJ53 BFP),
44 (LJ53 BGK),
45 (LJ53 BGO).

Tridents 91/94/95 have recently departed for scrap. 92 was briefly reinstated, but has since been withdrawn, leaving 93 as last Trident in service here.


---
---
Nottingham buses
6th April 2016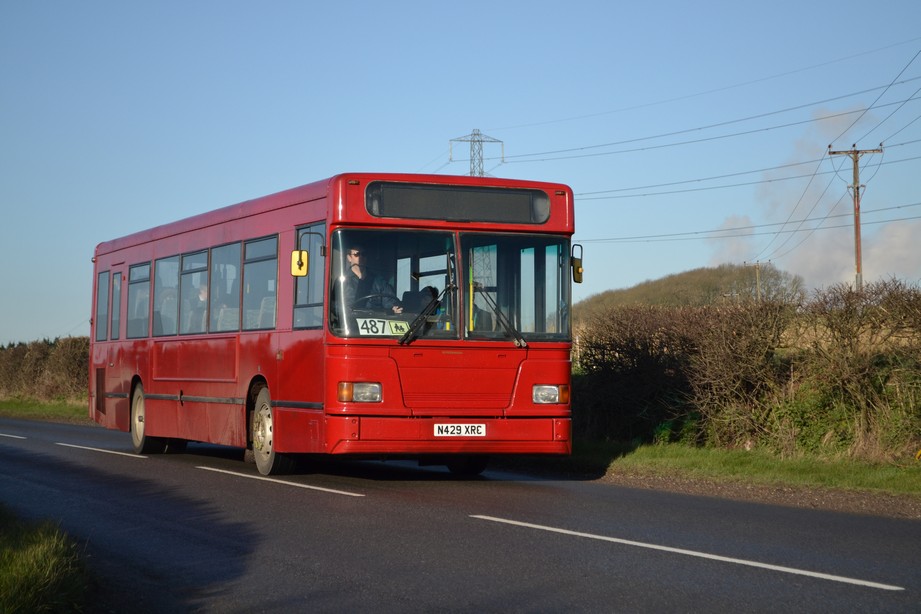 Nottingham buses now operate former Arriva Midlands Scania (N429 XRC). This was in service with Arriva in Telford until late last year, and was based at Derby for many years (new in City Rider livery) .
(C) Calum Maclennan
---
---
Paul S Winson


10th November
Former Paul S Winson of Loughborough ADL Dart SLF / ADL Mini Pointer (DW05 PSW) is now in use with Travel Wright of Newark.

14th August
Olympian (G129 NRC) is now preserved with Nottingham Heritage Vehicles. NEWS

---
---
Skills, Nottingham


NEWS 29th January

New tri axle Levantes to arrive for National Express work are:
(BD65 JFG),
(BD65 JFJ),
(BD65 JFK),
(BD65 JFN).

18th September

Elites (SN10 JJZ) and (SW10 VNS) are now in use.

27th July

Vehicles here for National Express work are:

Scania tri axle Levante (white livery), ex National Express:
(MIG 9439) former (FJ07 DVR),
(MIG 9440) former (FJ07 DVP),
(MIG 9442) former (FJ07 DVK),
(SHZ 5733) former (FJ57 KJE),
(SHZ 5734) former (FJ57 KHF).

Volvo B12B Plaxton Elites. Ex Parks. In Citylink livery.
(SN10 JKE) former (HSK 650),
(SN10 JKF) former (HSK 649),
(SN10 JRU) former (HSK 647).

(SN10 JJZ) and (SW10 VNS) also reported here, but havent been seen in use.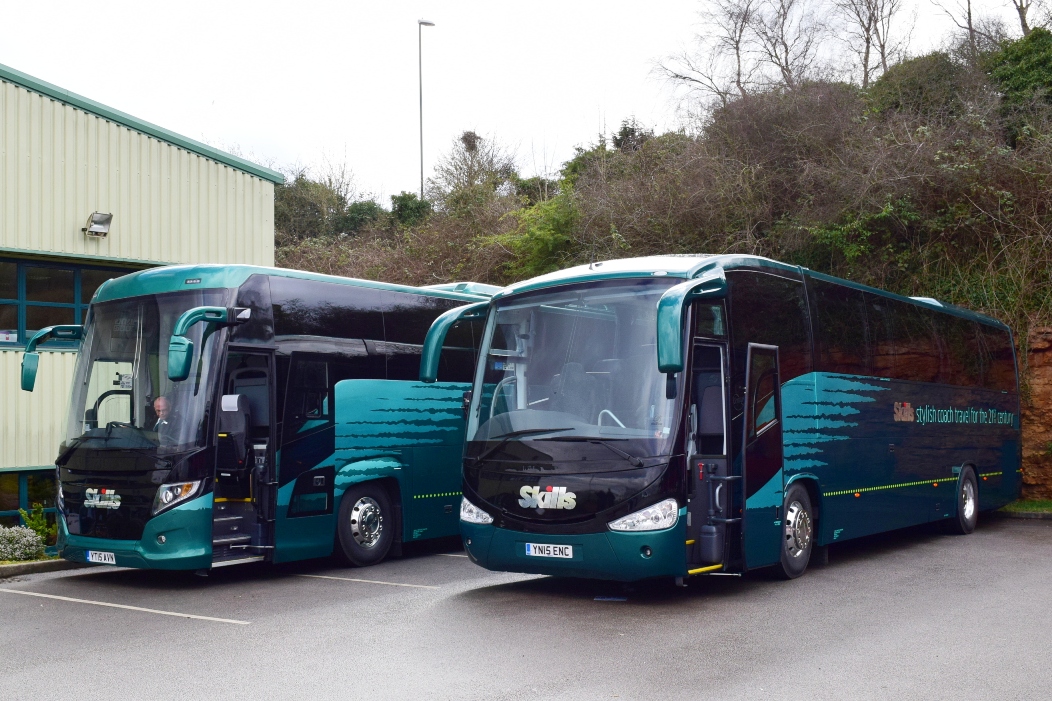 New for Skills is (YN15 ENC) with brand new (YT15 AVN) alongside.
(C) G W Girling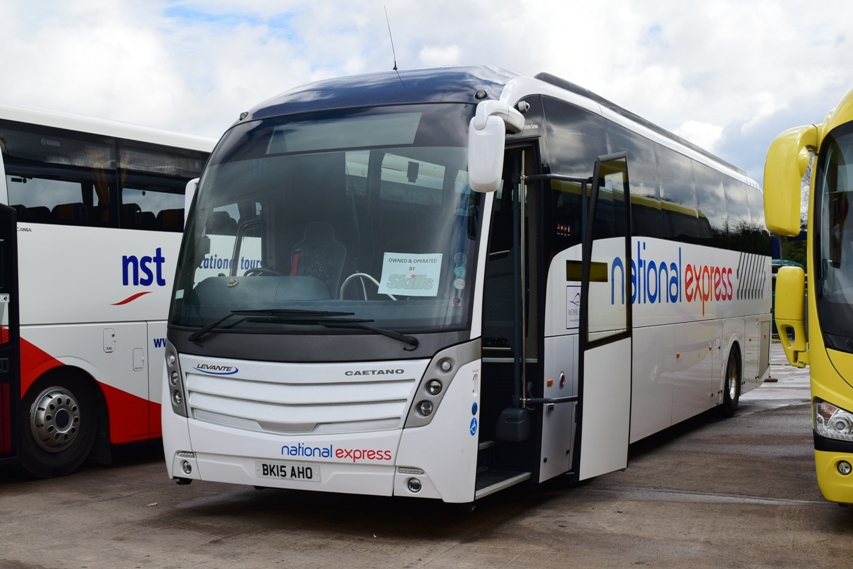 New Levante (BK15 AHO).
(C) G W Girling
---
---
TM Travel


NEWS:
See Wellglade section.
---
---
Translinc
NEWS
---
---
The Wellglade group
trent barton, kinchbus, notts+derby and T M Travel.

NEWS
26th September
Omnidekka 11 (YN06 JYK) is now with TM Travel as 1178, painted in notts and derby livery. Coach 74 (FJ10 OXP) has moved from TM to notts and derby in its place.

Excel 257 is now at notts and derby.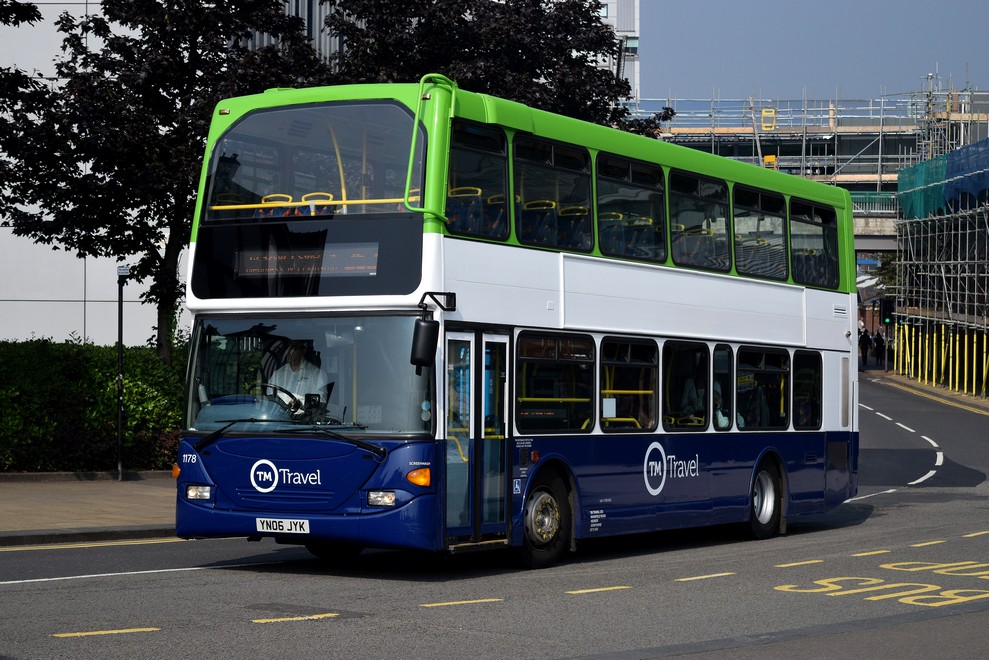 1178 is seen here in Sheffield.
(C) G W Girling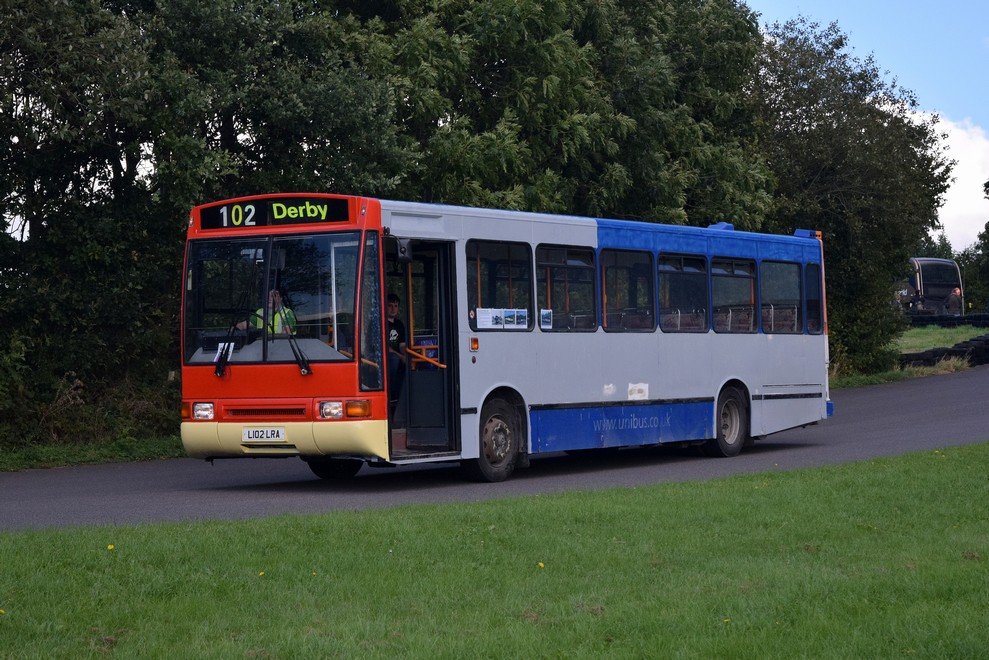 Paladin 102 has now been preserved. Seen here leaving Showbus 2016.
(C) G W Girling



21st August
New ADL Enviro 200 MMCs have been ordered for the Mickleover and Nines from November.

The Nines will have 14 38 seaters, and the the Mickleover 8 42 seaters. All buses will have wifi, leather headrests,LED screens, USB charging and wood effect flooring.

The Centrelink service in Nottingham shall be operated by Nottingham Community Transport from the end of October.

5th July
259 has currently been withdrawn and is expected to be replaced by 257 at notts+derby. 261 remains in use with trent at Sutton, the last excel with trent barton.

Haltham Travel reported to be operating former trent Excels (XIB 1908) (former V202 ENU, laterly with Littles) and (S161 UAL) (ex Belle Vue) in Lincoln.

Excels 263, 266 and Paldin 116 have all ended up at Looms, Spondon, for scrap.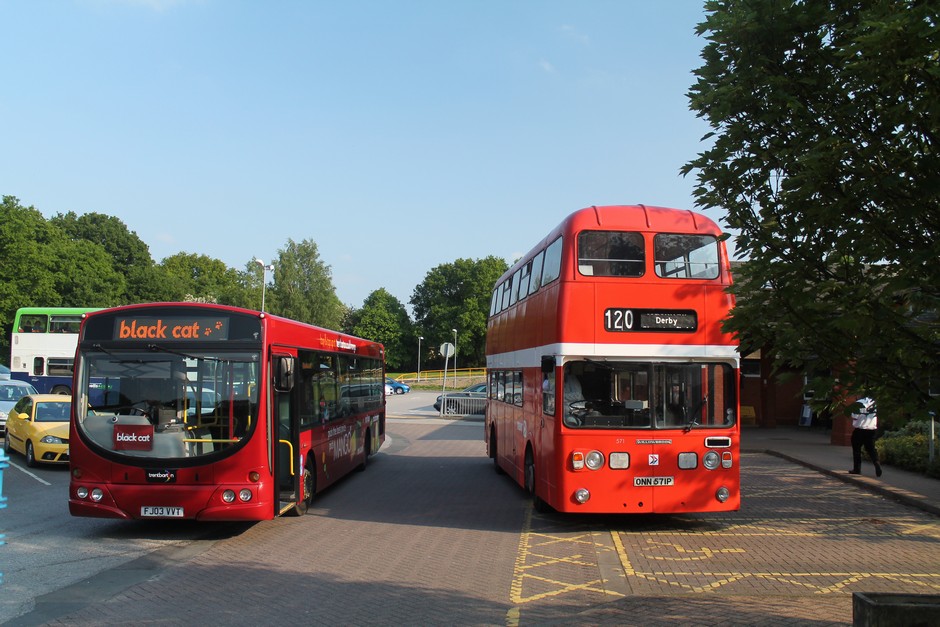 Ilkeston Hospital.
(C) DBD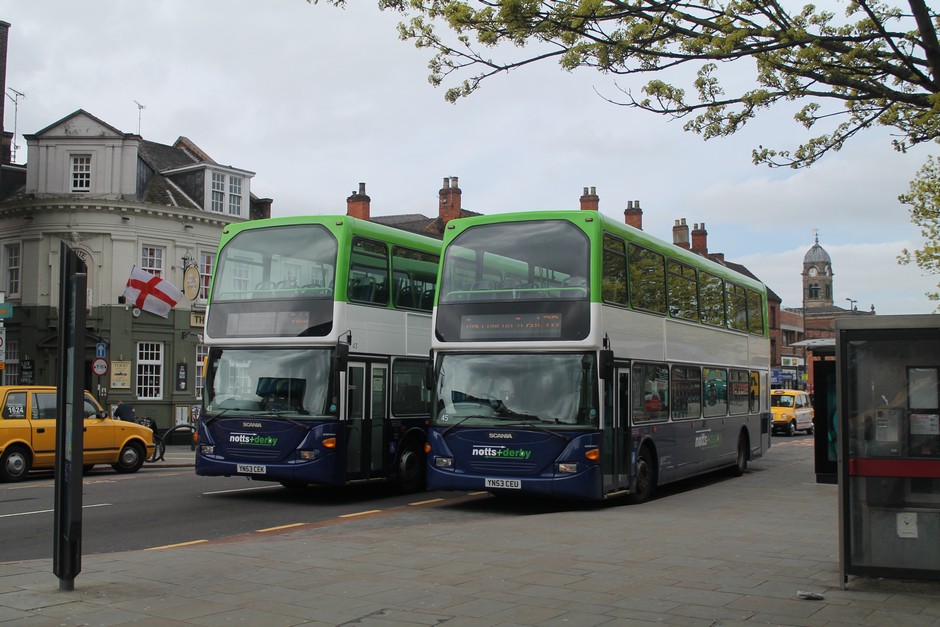 43 and 45, two former NCT Omnidekkas seen here on the Morledge, Derby.
(C) DBD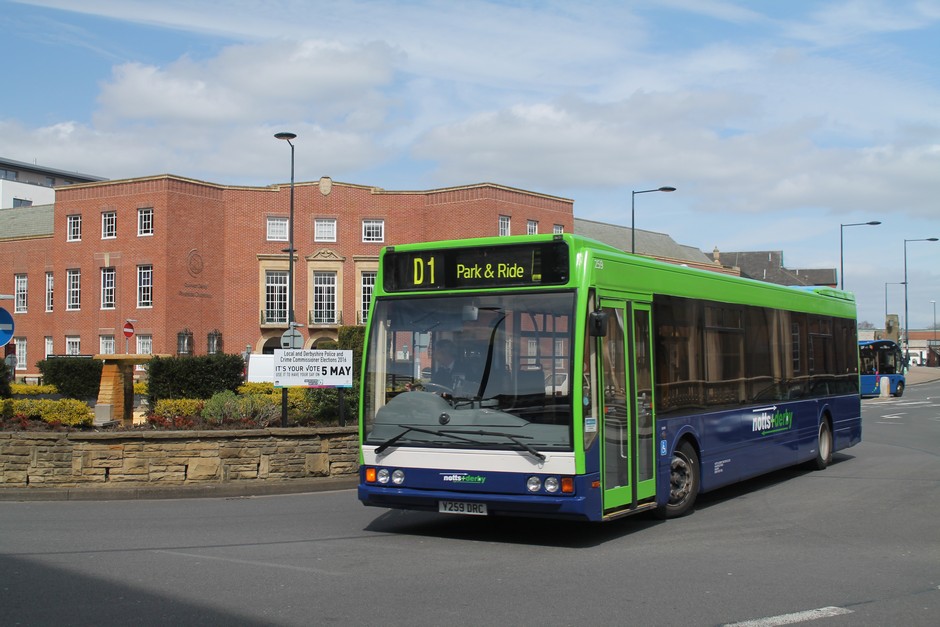 Excel 259 shortly after repaint, on the D1 park and ride in Derby city centre.
(C) DBD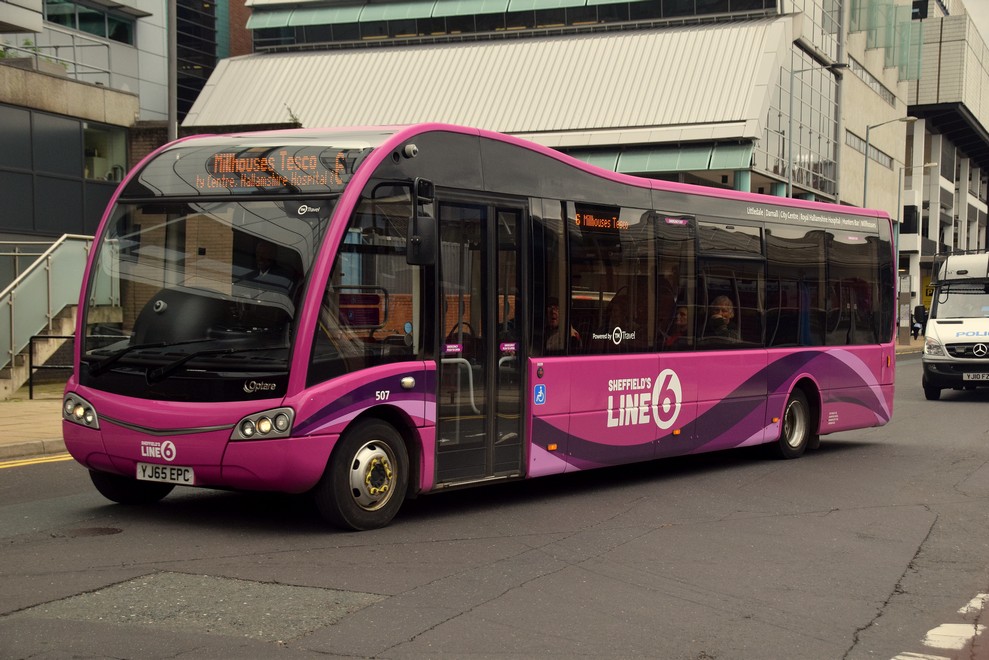 TM Travel Solo 507, now complete with Line 6 branding in Sheffield.
(C) Geoff Girling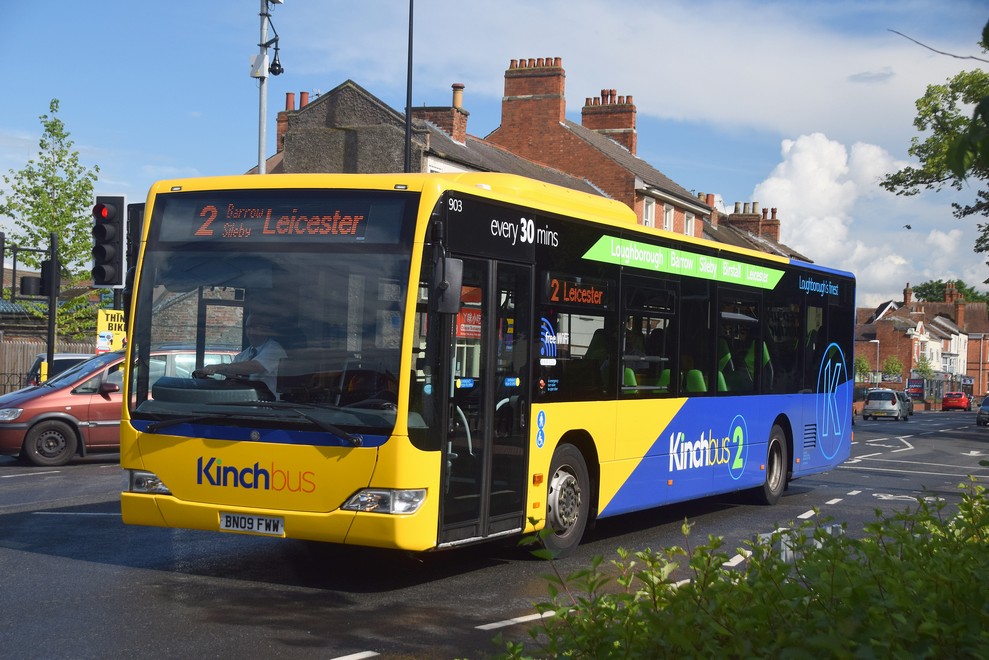 Former Trent Calverton Connection Citaro 903, now with Kinchbus, and branded for route 2. Interestingly the older Scanias previously used by Kinch on this service have gone to trent for use on the Calverton Connection
(C) Geoff Girling



26th May
Coach 62 is now in notts and derby livery.

10 former London Scanias have joined the Wellglade fleet. 4 for notts+derby and 6 for TM Travel. Details, so far, are below:

8 (YN56 FDA) notts and derby.
9 (YN56 FDU) notts and derby.
10 (YN56 FDZ)
11 (YN06 JYK))

1172 (YN56 FDV) TM Travel.
1173 (YN56 FDC) TM Travel
1174 (YN56 FDG) TM Travel
1175 (YN06 JYO) TM Travel
1176 (YN06 JYL) TM Travel
1177 (YN56 FDY)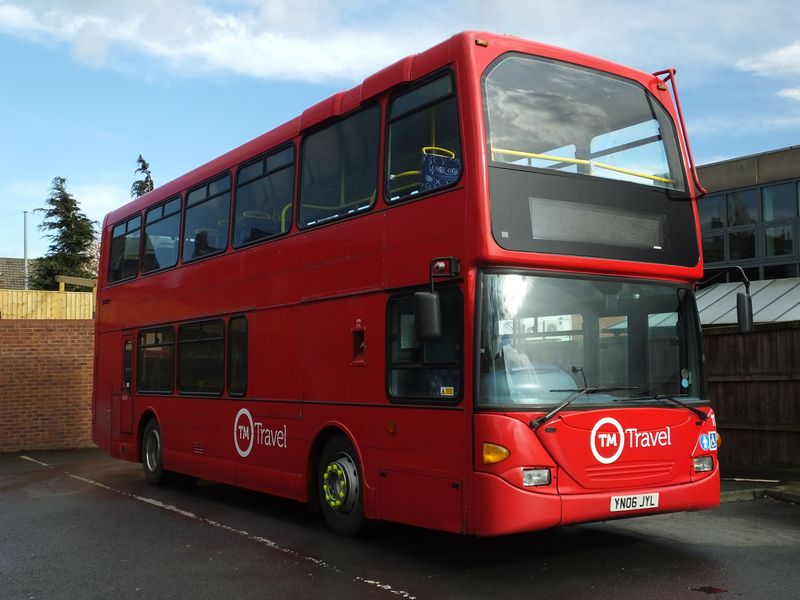 One of 6 former London Scanias for TM is 1176 (YN06 JYL).
(C) Ian Moorcroft



6th April
Volvos 742/5 now in X38 livery and in service. Red 744 has moved to Nottingham.
708 appears to be the first refurbished indigo to be back in service.

10 former Metrobus Scania deckers are due here, 6 for TM Travel and 4 for notts+derby.
1172 (YN56 FDV) is the first of 6 for TM Travel (the Dart in that numbering series becoming 951). Similar (YN56FDC/G) and (YN06JYO/L) also reported at TM.

(YN56 FDA) was at Meadow Road, and is for notts+derby. This is no longer to have the Alton Towers advert applied. Smaller adverts may be applied to an NCT Scania

Excels 258/9 and 264 now carry notts+derby livery.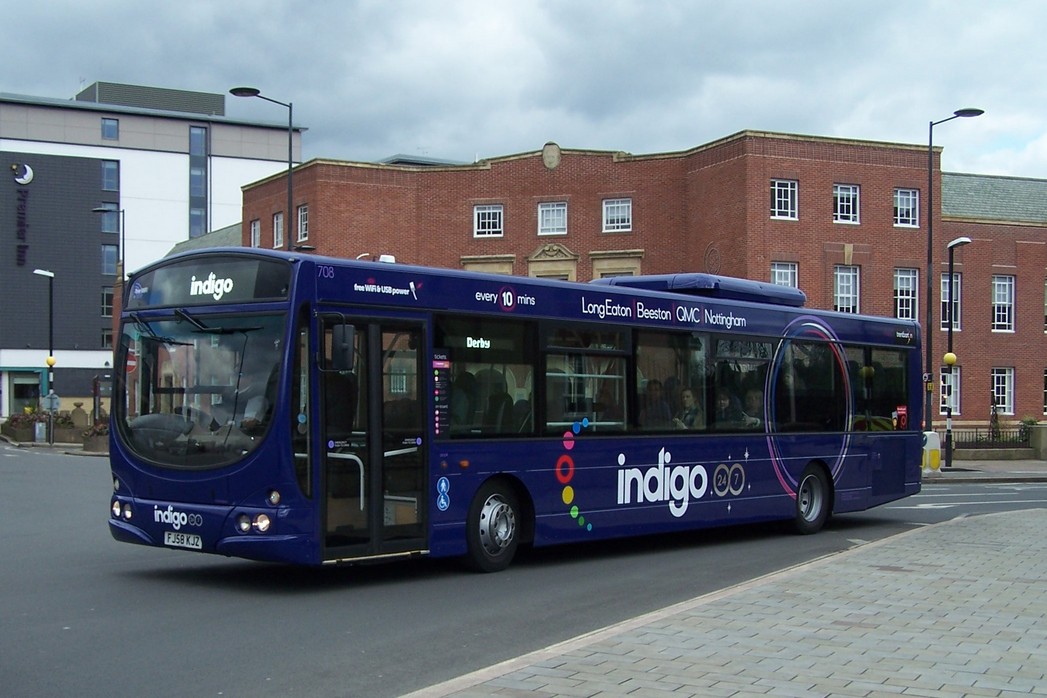 The Volvos on the Indigo route are being refurbished and repainted in a revised livery. 708 is seen here in Derby.
(C) Liam Fogarty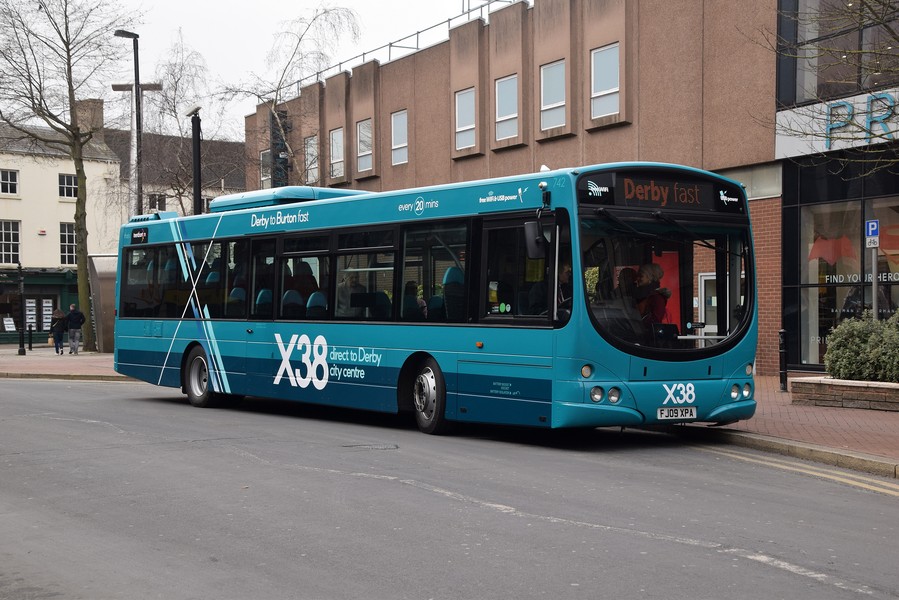 Volvos 742/5 have been repainted in this revised X38 service replacing Tempos 307/8.
(C) Geoff Girling



1st March
X38 Tempos 307/8 are now withdrawn. Volvos 742 and 745 are being painted for the X38.

TM (YT55 TMT) is now numbered 951. Solo 1202 is in pink for TM Line 6, along with new Solos 507/8/9. SO far, no branding has been applied so far, even though they have been in use for a few months.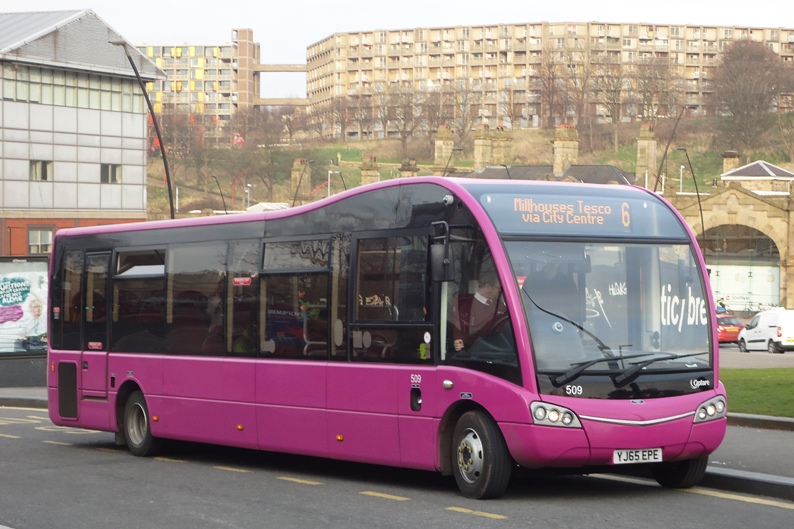 Solo 509, one of 3 Solo SRs for TM Travel route 6. Two older Solos 1194 and 1202 also wear the same livery. Although the route started using the pink vehicles a few months ago, so far none carry branding.
(C) John Whittingham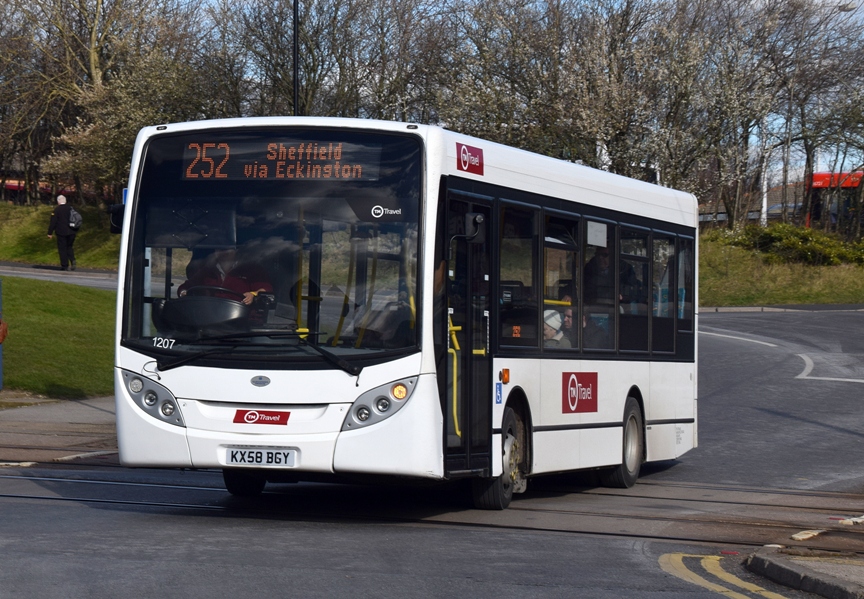 E200 1207
(C) Geoff Girling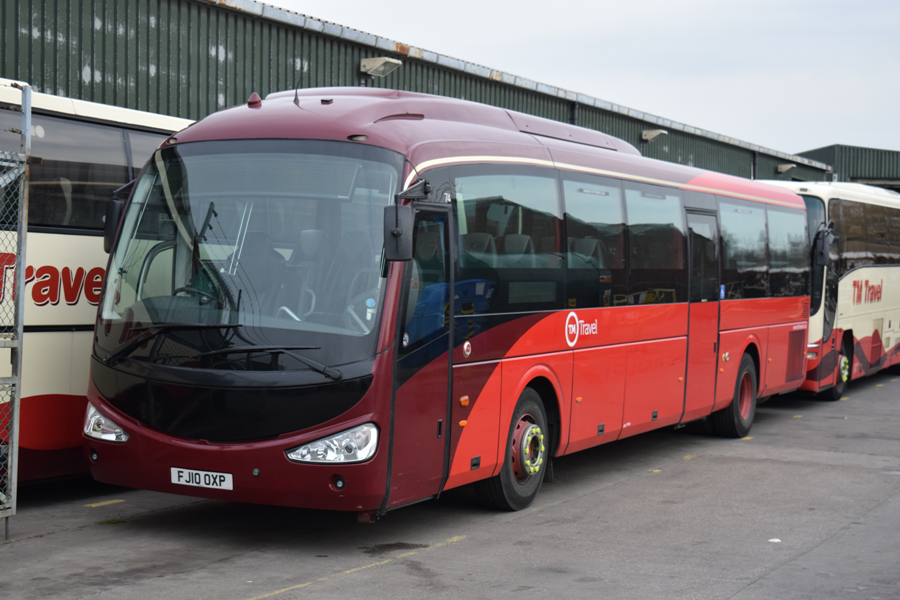 Former trent barton red arrow coach 74 is now with TM Travel.
(C) John Moore



20th February
Excel 264 now has the front painted into notts+derby livery. It is due a full repaint in the spring when 258/9 are also expected to be painted. 49 is expected to be painted into Unibus livery. TM Travel have 2 white Enviro 200s 1207 (KX58 BGY) and 1208 (KX08 HME). They arrived in October 2015.

16th February
49 remains in service in NCT livery. 48 is away for repaint. All the others are now in notts+derby livery.

Excel 261 is currently in use at Nottingham. 257 remains at Langley Mill.

29th January
Notingham City Council are proposing that free bus passes should not be valid on the red arrow between Nottingham and Derby. If the proposal goes through pass holder will not be able to travel for free from Nottingham to Derby on the red arrow. Derby City Council have no plans to review this, so passes will still be valid in the opposite direction! The change would come into effect from 1st April!

Indigo is being scaled back from 31st January. The service will be every 10 minutes between Nottingham and Long Eaton. From the same date vehicles will start to be refurbished. Once complete there will be some additional spare vehicles (to replace last Excels?).

E200 Demo (YX65 RLO) was here for a few weeks seeing occasional service from Langley Mill, mainly on Rainbow 1.

A short Mercedes Citaro demo has been in use with Kinch.
Kinch Solo 451 has joined the TM Travel fleet. Solos 401, 411, 424, 1144 have all been withdrawn at TM.

Citaro 905 is now with Kinchbus (ex Calverton).

27th December
Volvo 744 now in trent barton livery and based at Derby.
Ruddington Solos 498/9 now both based at Sutton repainted in trent barton red. They have replaced two older Solos.

Paladins 126 and 127 are now withdrawn at Langley Mill. 129 will be withdrawn next week. 132/3 are being retained into the new year.

Club Class coaches 57 and 58 have moved to notts+derby. Excel 264 is also expected to join notts and derby.

The Midland CLassic Scania that was on loan has been returned. 36 remains withdrawn.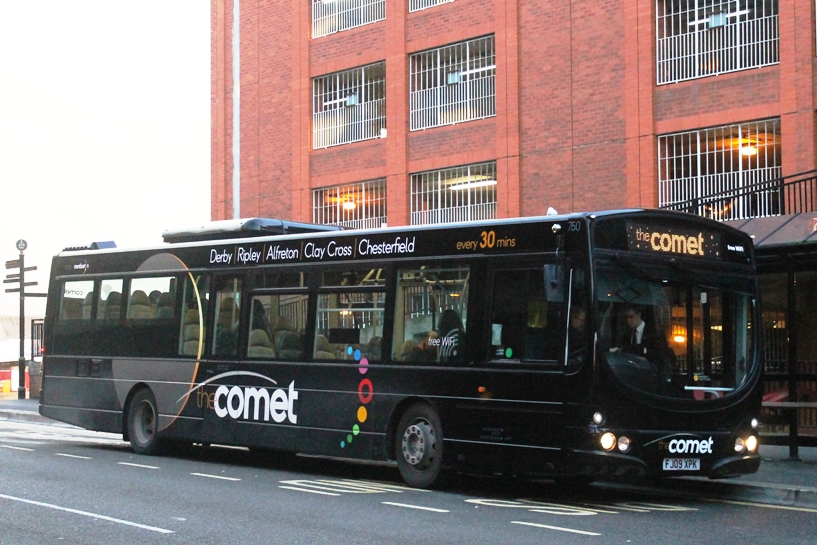 Former "the TWO" Volvo 750 has been rebranded for "the Comet". Seen here in Chesterfield.
(C) DBD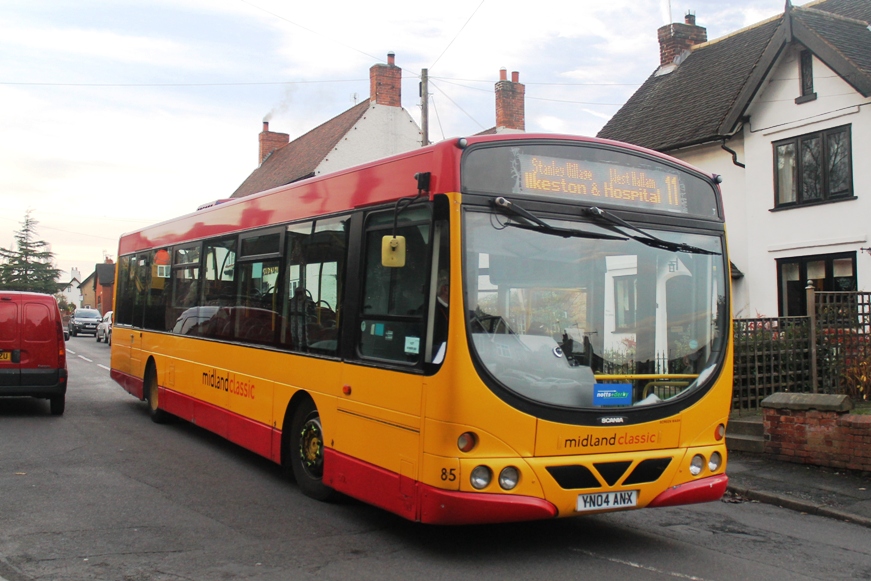 Midland Classic Scania (YN04 ANX) is currently on loan to notts+derby due to 36 being off the road with accident damage. The Scania has been numbered 36A. It is seen here on route 11.
(C) DBD

1st December
Former "Two" Volvos 746/7/8/9/50 are now branded for the "Comet" (Derby to Chesterfield service. Former 2 Volvo 743 has been painted into trent barton livery, based at Langley Mill. 742/4/5 may also be painted red.

The Club Class service will cease at Christmas. The Ruddington Connection service also ceased in November (two Solo SRs available for use elsewhere).

Most of the former Scania coaches (10 plates) from the red arrow are set for use elsewhere. 75 is now back in use on Red Arrow, as spare coach, repainted in the revised livery. 3 are set for use on the Nottingham Skylink Express service, and 1 is expected to transfer to TM Travel:
72: Skylink express,
73: Skylink express,
74: TM Travel,
75: Branded Red Arrow spare,
76: Skylink express,


31st October
Notts and Derby received their first brand new bus a few weeks ago, in the shape of Solo SR 510 (YJ65 EPF). Painted in unibus livery it is for use on route 4.

TM Travel have received 3 brand new Solos SRs for Line 6 in Sheffield. They are:

507 (YJ65 EPC),
508 (YJ65 EPD).
509 (YJ65 EPE).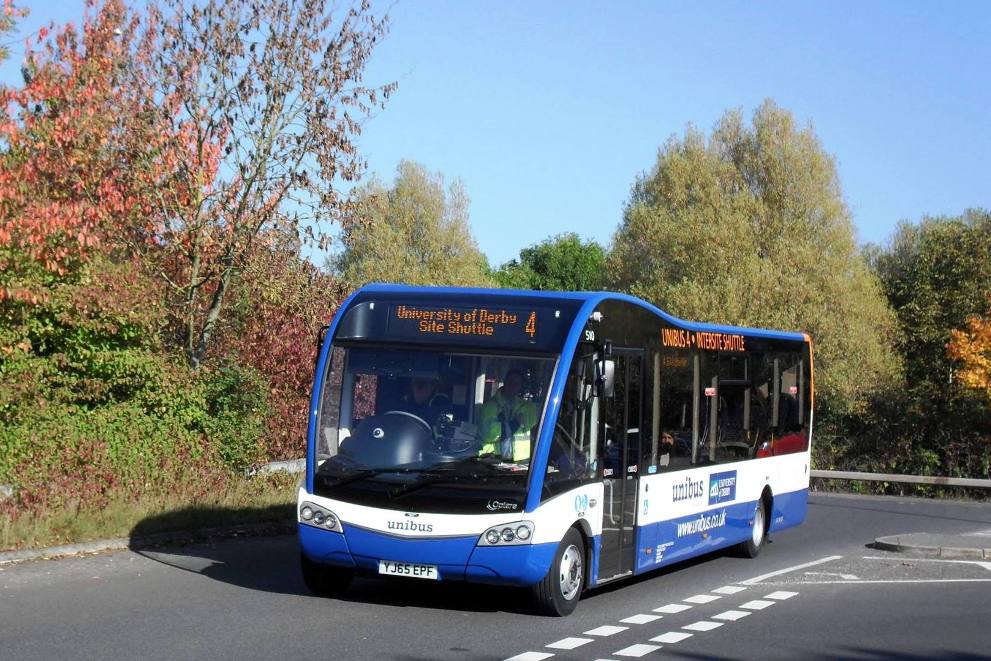 Notts and Derby Solo 510 on the Unibus 4.
(C) Adrian Healey

Due to the route being extended from 1st November to Abbeydale Tesco, via the Royal Hallamshire Hospital, Hunters Bar and Carter Knowle Road, the PVR will be 4. It is envisaged a 4th Solo will be painted for the service.

28th October
9 new tri axle Volvo /Plaxton Elites have entered service on the red arrow. The 9 vehicles are:

80 (YX65 ZHK),
81 (YX65 ZHL),
82 (YX65 ZHM),
83 (YX65 ZHN),
84 (YX65 ZHO),
85 (YX65 ZHP),
86 (YX65 ZHR),
87 (YX65 ZHT),
88 (YX65 ZHU),

Scania coach 75 is still in use as a spare. 62 has moved to notts+derby. The other coaches are now withdrawn at Langley Mill.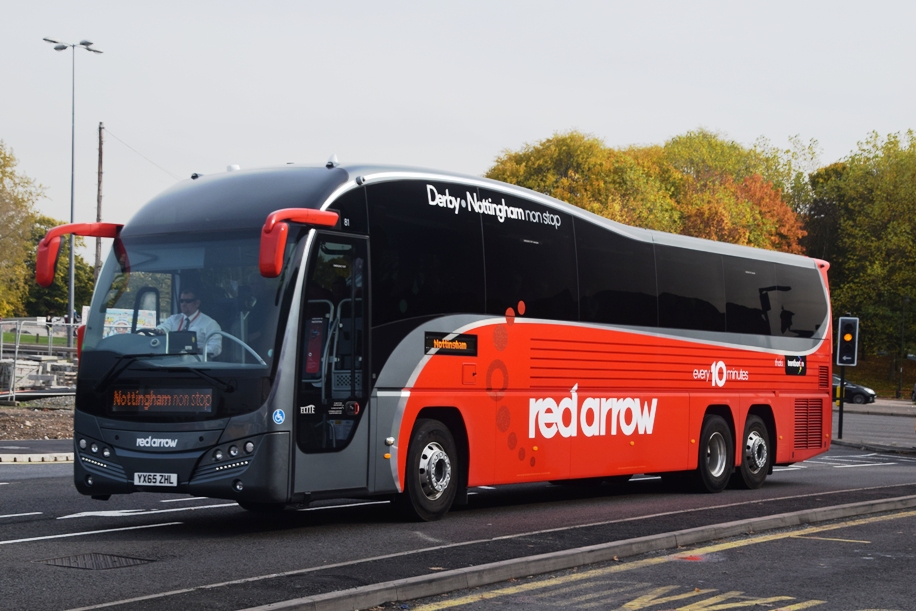 81 is one of 9 new Volvo Plaxton Elites. Seen here in Derby Bus Station.
(C) Geoff Girling

11 new Volvo Wright Eclipse 3s have entered service on the two:
770 (BF65 WLE),
771 (BD65 EWB),
772 (BD65 EWC),
773 (BD65 EWE),
774 (BD65 EWF),
775 (BD65 EWG),
776 (BD65 EWH),
777 (BD65 EWJ),
778 (BD65 EWK),
779 (BD65 EWL),
780 (BD65 EWM),

Volvos 742 to 750 (off the two) are to be repainted for other services. 5 will be for "comet", the new name for the Chesterfield to Derby red arrow, and 4 for the black cat.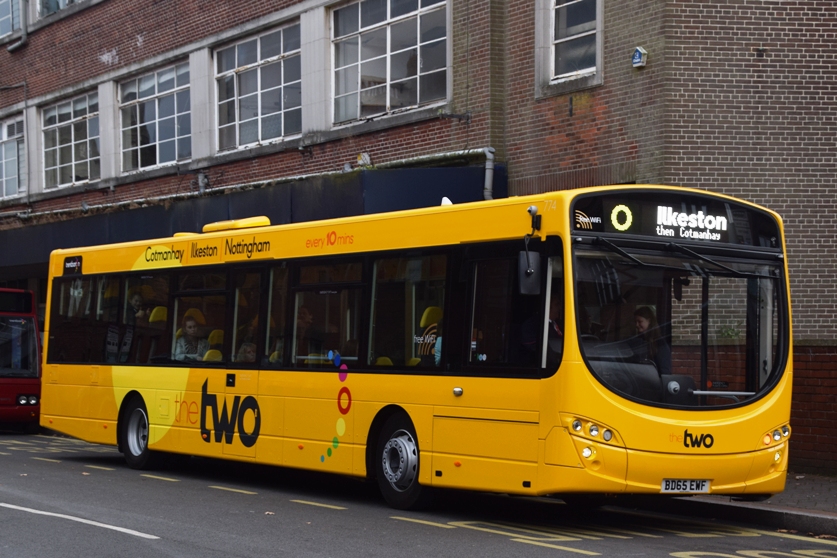 New Volvo 774 on the TWO.
(C) Geoff Girling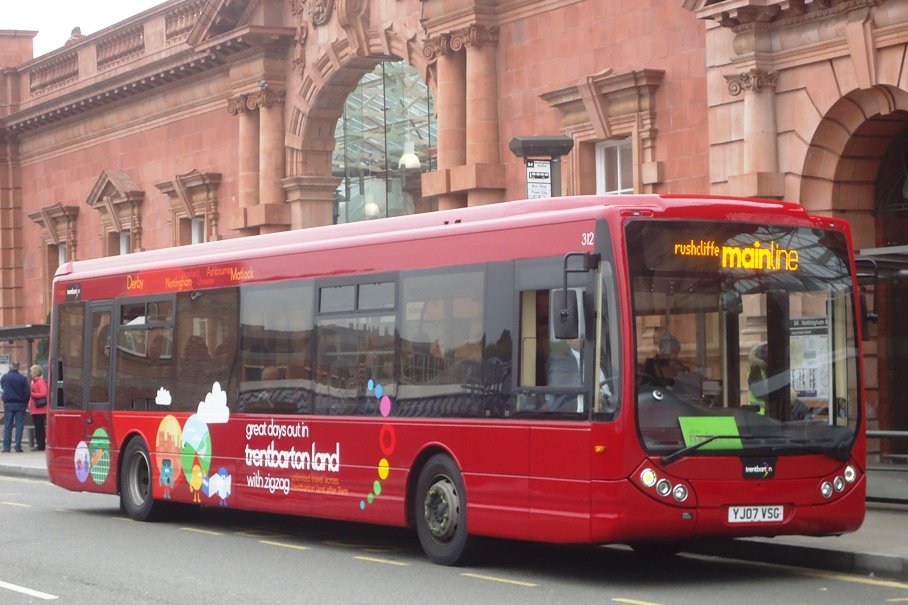 Former Black Cat Tempo 312 now carries trent barton livery. It is seen here in Nottingham
(C) John Whittingham

9th October
Excel 257 is now based at Langley Mill. 266 off. 264 continues in use at Nottingham.

6th October
The Ruddington Connection service will no longer operate after 22nd November.

Red Arrow will be relaunched on 25th October. 9 new Volvo / Plaxton Elites will be used on the service between Derby and Nottingham. From the same date the Derby to Chesterfield section will be branded as the Comet, using the Wright bodied Volvos currently in use on "the Two" in Nottingham. New Wright bodied Volvos are ready, and will be used on "the two" from 25th October. More vehicle details soon!

Brand new Solo 510 is due with notts + derby very soon, for unibus 4.

Paladin 135 has passed to Looms, Spondon for scrap. 138 is withdrawn (for scrap).
Olympian 25 has gone to TM Travel.

10 Scania Omnidekkas are set to join the notts+derby fleet soon, from Nottingham City Transport. Some have already arrived. The 10 to join the fleet will be:
40 (YN53 CEA),
41 (YN53 CEF),
42 (YN53 CEJ),
43 (YN53 CEK),
44 (YN53 CEO),
45 (YN53 CEU),
46 (YN53 CEV),
47 (YN53 CFG),
48 (YN53 CFK),
49 (YN53 CFL).

TM Travel are having 3 brand new Solos for use on Line 6 in Sheffield. These will be numbered 507/8/9. An older Solo will also be branded for the service due to a recent increase in the PVR.

18th September
Former Greens Solo 506 is now in trent barton livery, with Mango branding. It is still based at Nottingham.
Former Black Cat Tempos 309/10/11 are painted green for Rushcliffe Mainline, with 312 being spare, in trent barton livery. All based at Manvers St, Nottingham.
Solo 438 is now based at Sutton.

At Notts and Derby Paladin 138 has been withdrawn due to corrosion. Unibus Olympian 23 has also been withdrawn.

A number of vehicles have passed to Looms, Spondon for scrap recently. These include Olympian 27, Paladin 136, unibus Excels 230 and 236 and 2 long withdrawn TM Darts SPD (S779 RNE) and Alexander bodied (W923 JNF).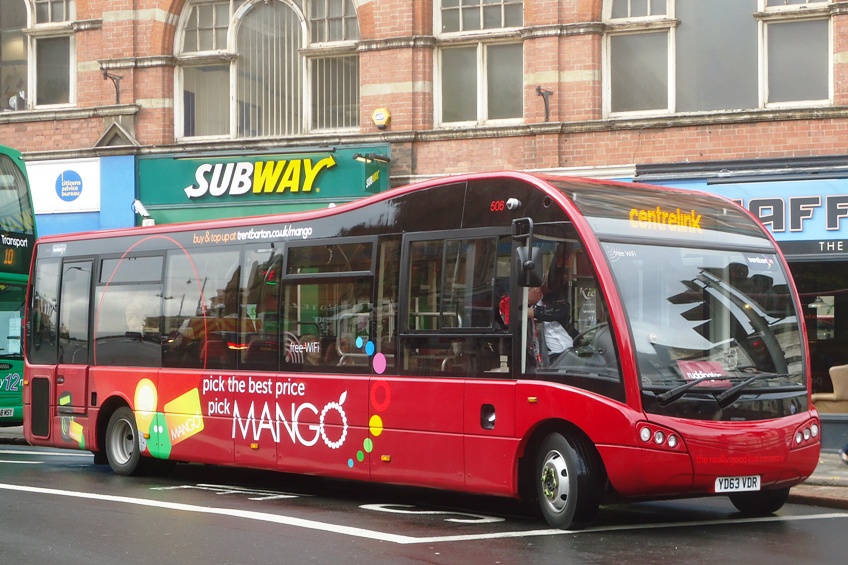 Former Rushcliffe Greens Solo SR 506 in trent barton livery, after operating a peak time Ruddinton Connection (and before going onto Centrelink)
(C) John Whittingham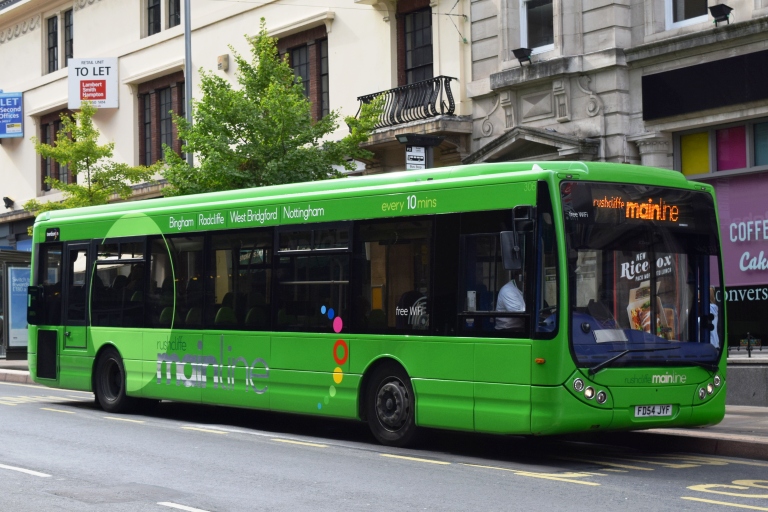 Tempo 306 in Rushcliffe Mainline livery.
(C) G W Girling

8th September
Volvo 741 now carries Swift livery for increased PVR on the service.

23rd August
Paladin 126 is to be repaired (not withdrawn as previously reported).

Centros 796 and 800 are now branded for the TM Travel Spira route.

Scania 666 is to be painted into Skylink (blue). Certain journeys are being extended to Coalville soon, so an additional branded bus is required.

Tempo 312 is now red and at Nottingham. Most if not all of "the green" tempos have has their branding removed ahead of the relaunch of Binghams services.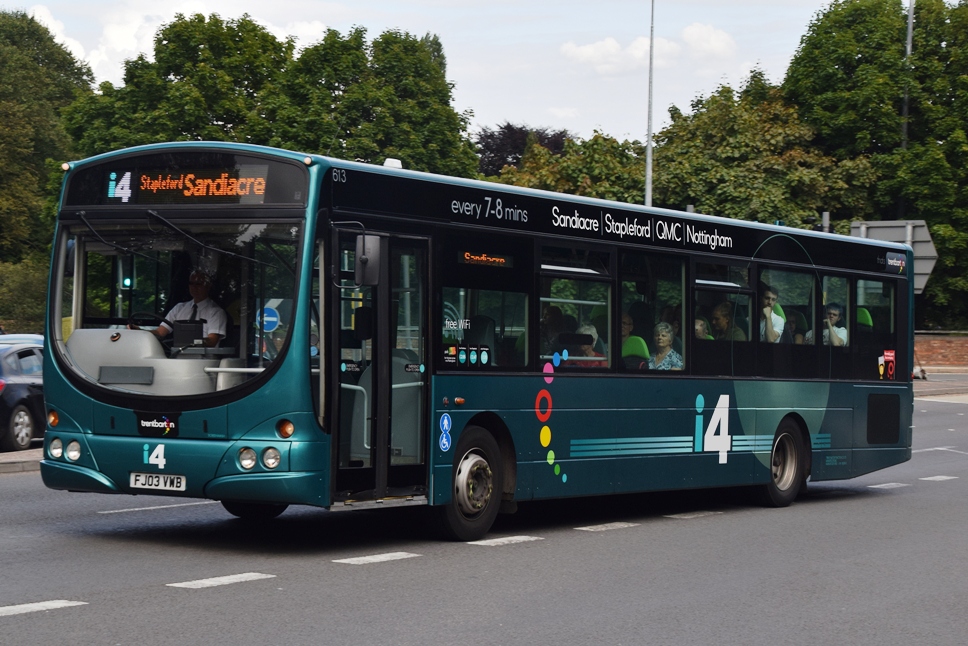 Scania 613 is once again based at Nottingham, one of 4 recently repainted for the i4 service, which now requires more branded vehicles due to a frequency increase. The vehicle was originally branded for Rainbow 5 back in 2003.
(C) Geoff Girling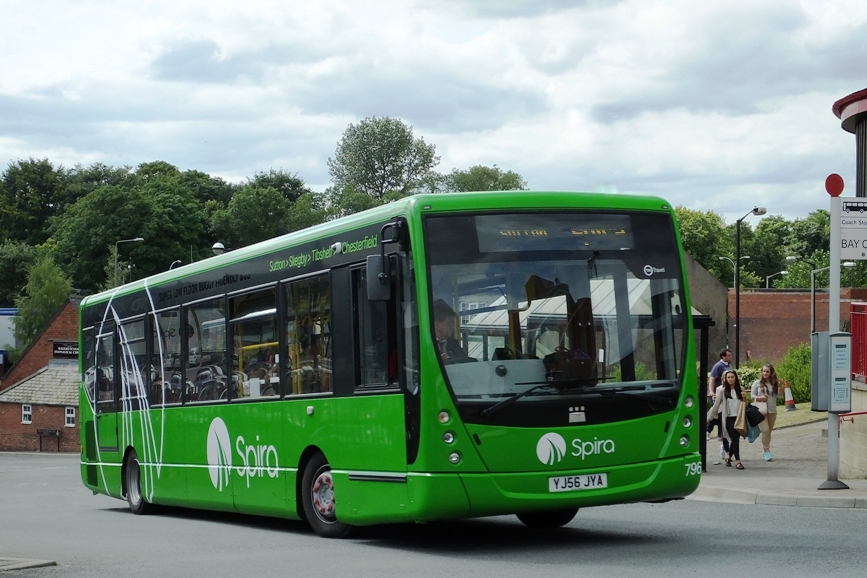 Centro 796 is now back in use, after being stored for some time, branded for TM Travels Spira service
(C) Ian Moorcroft
---
---
Vallances
NEWS
15th June 2015:
Just acquired is Mercedes Vario (SN53 MWW) from LL Travel, Mexborough. It is now in fleet livery.

Scania Irizar century (508 DKH) is now in a livery for Isle of Wight educational tours.

5th May 2015:
(508 DKH) ex (T405OWA) scania L94 Irizar century 49 seater has arrived from Barnards of Kirton Lindsay.

25th April 2015:
Scania irizar PB (A19 BNG) has arrived from from Solus coaches (now in fleet livery).
Scania K113 (M134 GAP) has been sold.
---
Yourbus, Nottingham
NEWS
1st December 2015:
Citaros 3002, 3003 and 3009 have gone to Prestonbus.

The 6 dual doored Citaros are back in use here.

18th August 2015:
At least one of the dual doored Citaros, which were withdrawn here, has returned and is back in use!
New service Y4 starts in september operating between Nottingham and Sandiacre every 15 minutes Mon-Sat and every 20 min on Sundays.

15th July 2015:
Demo Citaro (BP14 FJZ) has been in use here for the last couple of weeks.

1st June 2015:
Yourbus no longer operate any National Express services. The coaches used are currently stored at Heanor and Bradford depots.

Chalfont are operating the 230 at present with some Levantes based at Littles garage near Ilkeston. Skills are operating the 440 and 240 with tri axle Scania Levantes (ex NatEx) and Volvo B12B Elites (ex Parks, Scottish Citylink Gold).

24th March 2015:
Citaros 3004 and 3007 are now in the new livery and branded for the Y28 service.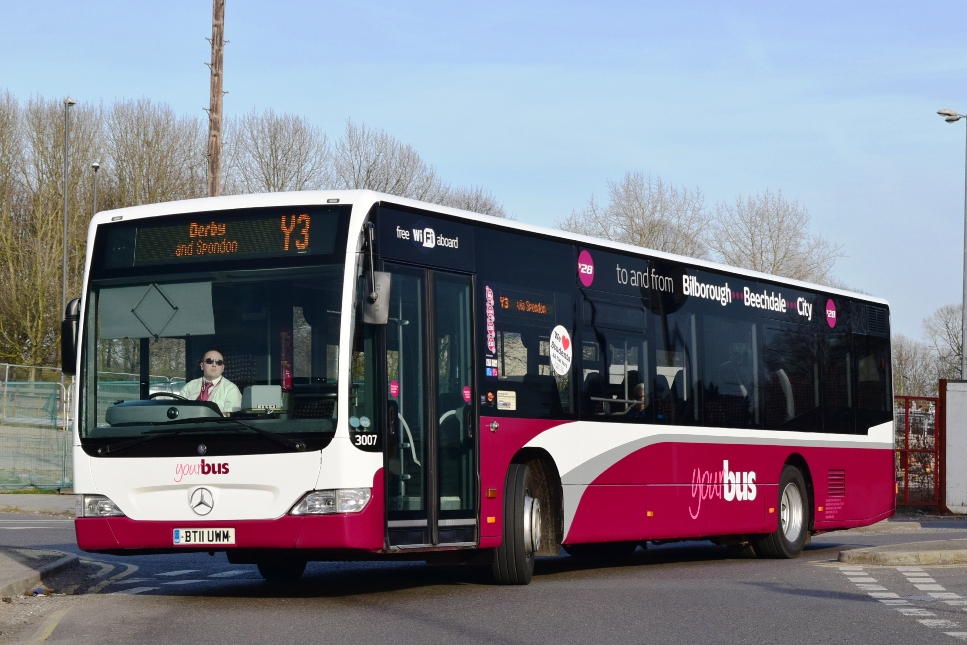 Yourbus 3007 repainted in the new livery complete with branding for the Y28. It is seen here in Derby bus station on a Y3.
(C) Geoff Girling
---
---
Last Months News

News Index Page
---