Bus Fleet News
October 2013
---
Latest News
---
Here you will find all the latest bus fleet news for many bus operators in and around the Derbyshire area. If you have anything to report please contact me by clicking here.
---
---
NEWS
-
---
---
NEWS
17th October:
Deckers 4208 and 4211 have returned from Burton to Derby for use on the 44/45, which now requires 2 additional vehicles due to a frequency increase.

8th September:
The 4 ex Burton Volvo B7s have been re-registered as follows:

4015 (UUI 2944),
4016 (UUI 2914),
4017 (UUI 2913),
4018 (UUI 2910).

MPD 2210 has been branded for the Railway Station shuttle, which operates from Derby Bus Station to the Railway station whilst London Road is closed for the next year.

2 additional vehicles will be required for the 44/45 routes from later in October, due to a frequency increase. From the same date Arriva ceases to operate the 109 to Ashbourne, as the contract passes to Yourbus (who will operate it as the 114).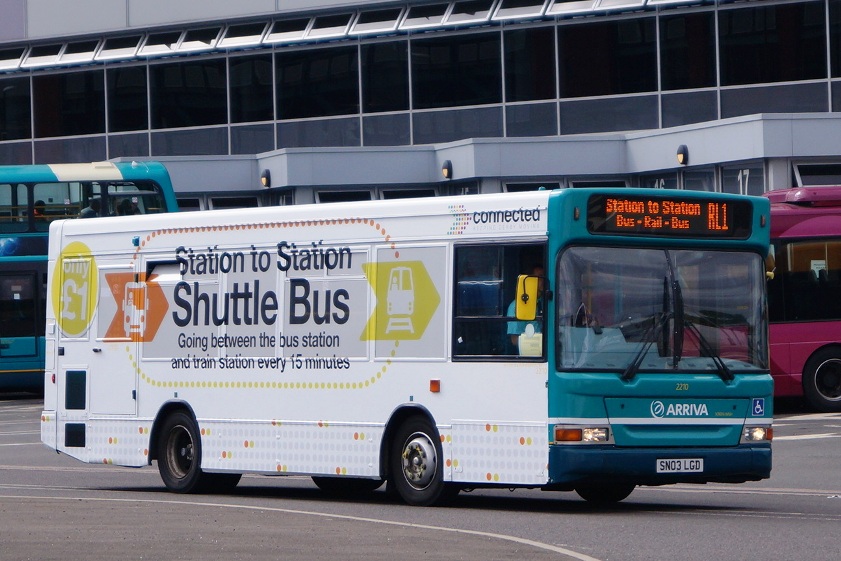 MPD 2210 has been branded for the Railway Station shuttle. (C) Geoff Girling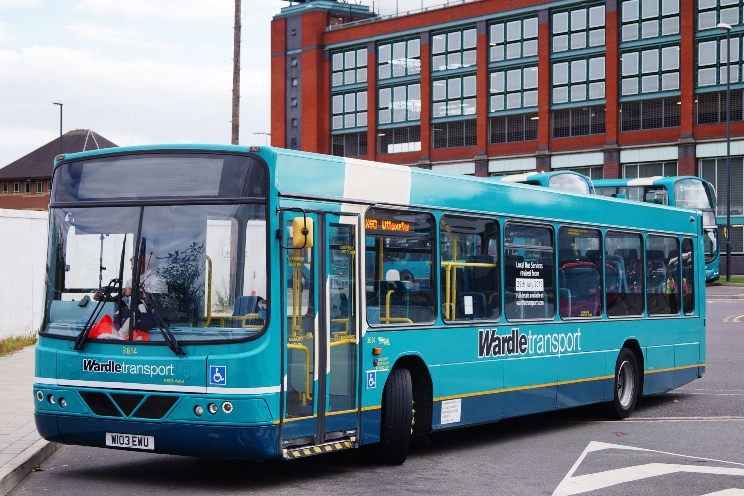 New additions to the wardle fleet now carry arriva livery with Wardle fleetnames, instead of their former distinctive red (London like) livery. 3614 is seen here in Derby bound for Uttoxeter on the X50. (C) Geoff Girling
24th June: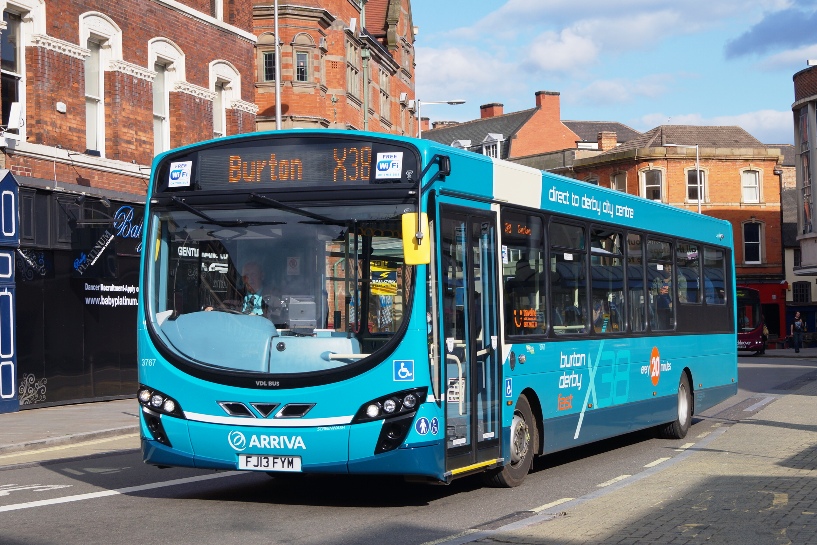 New Wright bodied VDL 3767 is seen here in Derby on the X38. (C) Geoff Girling

17th June:
3769 has entered service in Burton.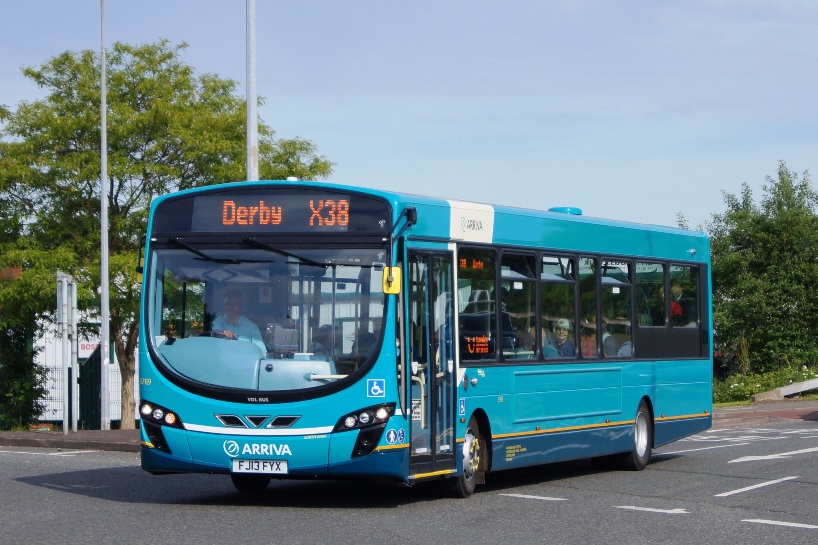 New Wright bodied VDL 3769 on the X38. 3767 (FJ13 FYM) and 3768 (FJ13 FYW) are to be branded for the route and should be launched later this week.
(C) Geoff Girling

9th May:
The 3 VDL SB200s are due at Burton early June for the X38. Two will be branded for the service.

SOme former Derby Olympians have recently changed operators. Two of the former Countryliner Olympians have found new homes. (R627 MNU) has gone to Sunray Coaches, Epsom, (R631 MNU) to Reptons, New HAw, Surrey.
(R625 MNU) is now in Wales with Lloyds of Machynlleth (mid Wales). It also now carries Irish plates.


---
---
NEWS
20th October:
(SN57 VPL) Setra S415HD has left the fleet.
SCZ9652 (T179AUA) DAF SB3000 / Van Hool Alizee T8 is currently on loan from Warringtons Coaches of Ilam.

16th January:
Toyota Coaster / Caetano Optimo IV (R852 SRY) has been sold to McEwens of Mansfield.
For more details on this operator see: The Bakewell coaches website (link works now).

24th December

Leyland Tiger (D229 HMT) has been sold to McEwens at Mansfield.
Bedford YNV / Duple 320 (D66 ONS) has been purchased from Fords Coaches at Althorne.

17th December

Bakewell coaches are back. See the website for details of their excursions and holidays during 2013: Bakewell coaches website.

The following vehicles are in the fleet:

Laura Kaye, Setra (RJI 4525). Previously (X63CNY).
Belgian Betty, Bedford YNV / Van Hool Alizee (TIL 6709), previously (C658 KVW).
Lady Janet, Leyland Leopard / Plaxton Paramount (A62 OJX).

The following are also in the fleet, but currently out of use:

Leyland Tiger / Van Hool Alizee (B42 FCV).
Leyland Tiger / Van Hool Alizee (D229 HMT).
Toyota Coaster / Caetano Optimo IV (R852 SRY).
---
---
NEWS
20th October
Optare Solo demonstrator (YJ12 NBX) is currently in use here.

3rd September
Solos 403 and 456 are on long term loan from notts+derby. Some newer Solos (10 or 11 plates) are due to replace them later in the year.
Former Kimes Scania / Wright Solar 703 (YN51 MJE) is here, still in Kimes livery with high peak names.

Former NCT Excel 715 (FD02 SFE) is on long term loan. The two Omnicities are being reupholstered, and the white one may be painted!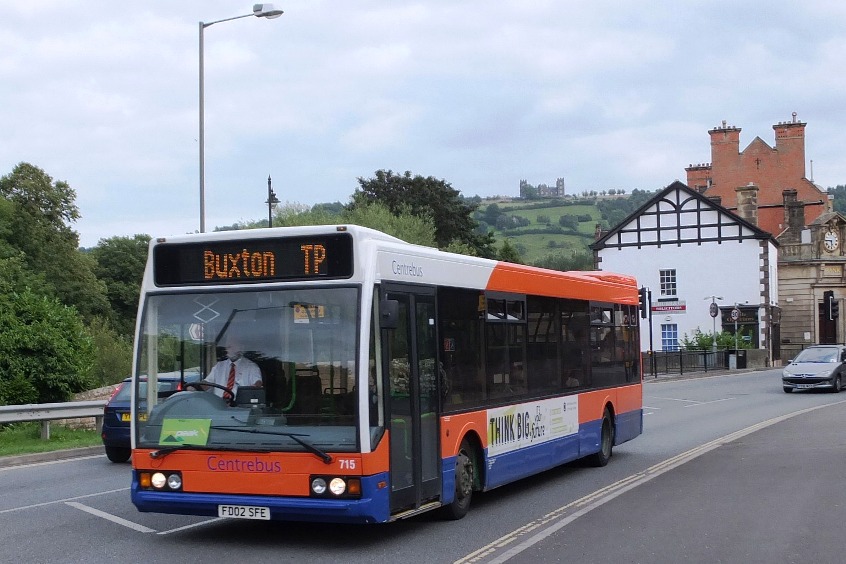 Former NCT Excel 715 in Matlock.
(C) Guy See his Flickr site for more great photos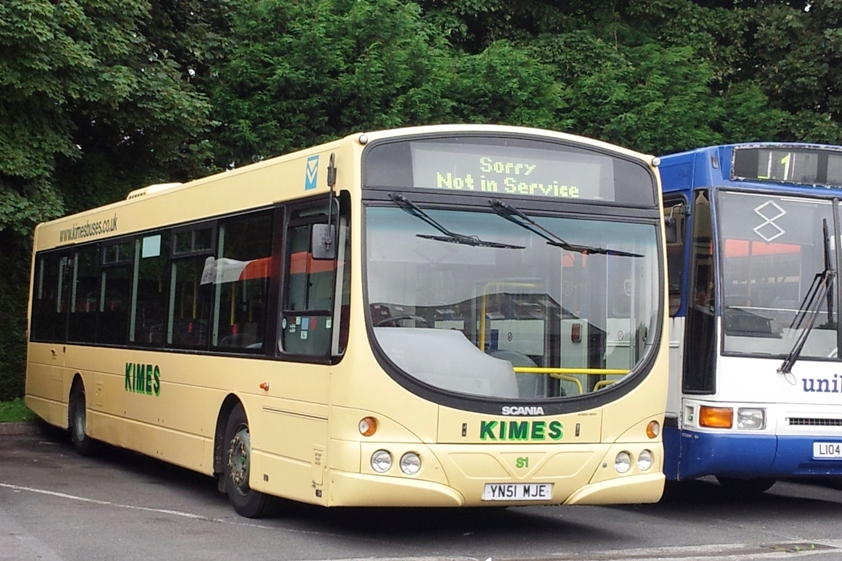 Former Kimes Scania Wright Solar 703 is now in use here. The vehicle still carries Kimes livery, but has had High Peak fleet names applied.
(C) David Harrison

13th August
Decker 904 is being rebuilt, but will probably not return to High Peak, and is likely to be replaced by an ex Kimes Scania/Solar (YN51 MJE).
Solo 262 has been involved in an rta is likely to be written off.

29th July
Transpeak decker 904 (YN07 LHT) was de-roofed in an incident near Stockport on Saturday.

Vario 445 has left the fleet.

24th April
Solos 334 (VIL 4051) and 347 (VU52 UEC) have arrived here.

2nd April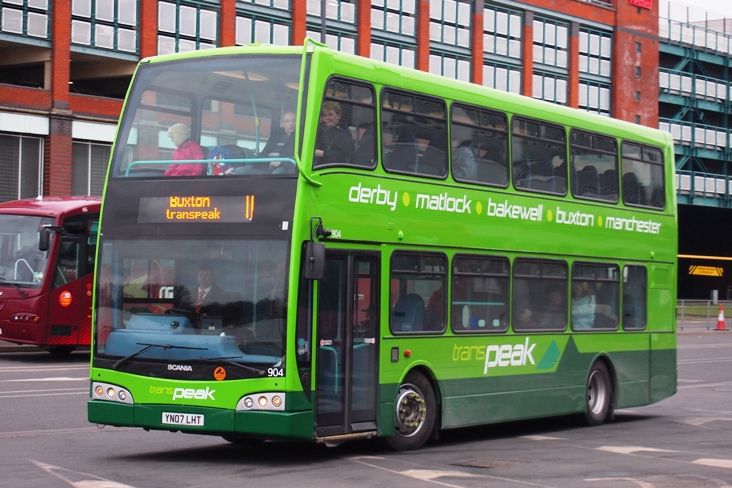 Centrebus decker 904 (YN07 LHT) has returned to High Peak repainted into transpeak livery. It is seen here leaving Derby Bus Station.
(C) Matt Burley Matt Burley's photostream


6th March
Solo 347 (VU52 UEC) arrived from Grantham last month.

3rd January
Solo 367 (V110 LVH) appears to be being broken for spares, and was towed away a few days ago.
Excel 687 (old 227) appears to have returned in Centrebus livery, but is not for use here, and is set to return to Hinckley.
White Omnicity 789 is still in use here.


---
---
NEWS & Sightings
18th December:
MPDs (V331 CVV), (W365 ABD) and (W793/4 VMV) sold to Leven Valley.
MPD (V268 BNV) sold to Glamorgan Bus, Cwmbach.


---
---
NEWS
17th June:
Leyland National (TRN 808V) has been sold.

Ex Travelmaster of Manchester Volvo B10M / Plaxton Excalibur (B10 AVT) (R75VVP) has now been added to the fleet.

Leyland Olympian (J202 HFR) has left the fleet (part ex for Olympian P493).

13th June:
Former "Uno" Dart / Plaxton Pointer (W575 XRO) is here, painted in livery and in service.
Two former Maidstone and District Northern Counties Olympians have arrived here in the shape of (P943 MKL) and (P939 MKL).

Dennis Dart SLF / Wright Crusader (P664 PNM) has been sold for scrap along with Dennis Dart SLF / East Lancs Spryte's (P212 DCK) and (P213 DCK).

6th March:
A surprise addition to the fleet is Ribble National (TRN 808V). The vehicle was formerly preserved by Premiere, Nottingham.
Another Dart has joined the fleet in the shape of Marshall Dart (T131 MGB).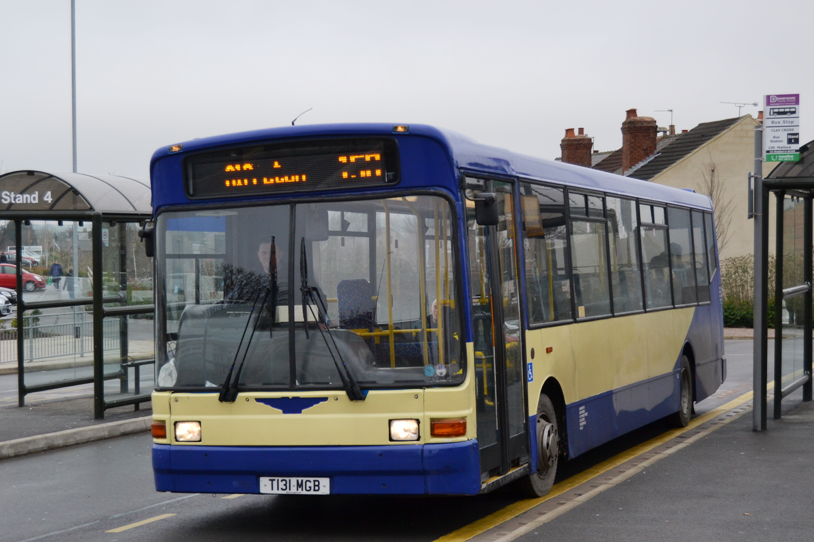 Dart (T131 MGB), Clay Cross.
(C)John Moore

17th December:
Wright bodied Dart (P664 PNM) is here, ex University Bus, Hatfield.
The R reg PS is for sale on ebay, whilst similar (N818 DNE) has been scrapped. This was never used after repaint!

D W Coaches has begun operating route 150 from Clay Cross using two vehicles. Three vehicles have joined the fleet for this, East Lancs Dart (P212 DCK) and (P213 DCK) (both ex Rossendale) and Pointer Dart (V327 KMY).
---
---
Gills Travel


8th September 2013:
Two Wright bodied Darts now here are (YAZ 8645) and (YAZ 8647), ex wmsnt.
Mercedes Vario (KF52 TZK) also joined the fleet in July.

17th May 2013:
MPD (YT51 EAP) is now here.

7th April 2013:
A new addition to the fleet is former Countryliner of Guildford Dennis Dart / Caetano Nimbus (KU02 YBG).
Volvo B10M-60 Plaxton Paramount III (K830 KAU) is also here, ex Quackers Community Transport and previously with Country Bus of Devon.

Metrorider (R228 SCH) is still active, but Dart (L134 YVK) is now unlicenced and being canibalised. (CAZ 6619) has also left the fleet.

24th December 2012:
MPDs (V263 BNV), (V264 BNV), Dart (R931 RAU), Metrorider (R228 SCH) and Darts (L134 YVK), (CAZ 6619) and an LDV minibus appear to make up the operational fleet.

Metrorider (R232 SCH) is currently SORN, off since November stored in the yard with a white Dart.

Darts (CAZ 6641), (M146 VVS), (N612 LGC) and Metrorider (R609 XAO) appear to have moved on.
---
---
G&J Holmes

NEWS
-
---
---
Glovers of Ashbourne


NEWS
28th May 2012
Coach (AIG 1346) is here. It was formerly (L776 LUJ) with Welsh operator Owens of Four Crosses.
---
---
Harpurs Coaches


NEWS

9rd September 2013
(G362 YUR) has been sold to Moxons, Worksop.

7th June 2013
Two more Arriva North West Olympians to arrive here are (R309/19 WVR), in addition to 310.
(WM04 NYW), a Volvo B10M coach (ex Greyhound) is another addition, now painted in livery.

17th May 2013
New here is ex Arriva Olympian (R310 WVR), 2 more expected to follow.
Volvo B10M (RIL 5084) has passed to PVS Carlton, Barnsley.

9th May 2013
Former Barton Leopard (LNU 571W) has been sold for preservation.

6th March 2013
Ex Lothian Olympian (M234 VSX) is here from Kinchs of Minety (Wiltshire).

---
---
Hawkes Coaches


NEWS
20th October:
Starliner (PO63 FLP) has been re-registered as (DH63 DEH).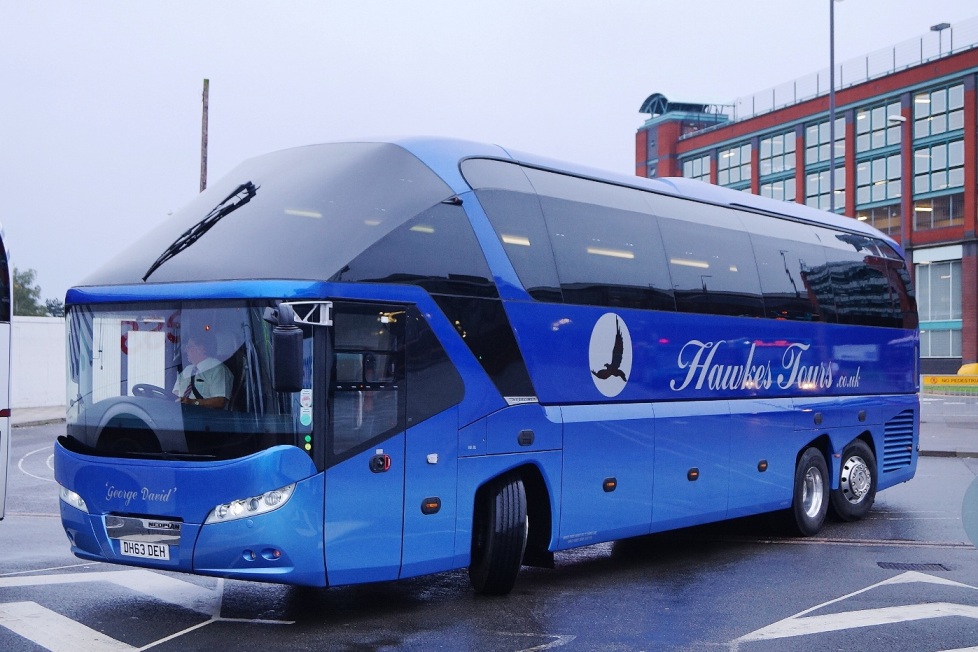 Brand new Starliner (DH63 DEH) is seen here leaving Derby bus station.
(C) Geoff Girling



8th September:
Brand new Neoplan Starliner (PO63 FLP)? is in use here.
Former Go North East Olympian (R557 LGH) has arrived from Ensign.

14th April:
Metrobus (ROX 646Y) has been withdrawn.

5th July:
A third PS to arrive here is (R978 XVM).


---
---
Hulleys of Baslow

NEWS + SIGHTINGS
17th October
A temporary addition to the fleet is Wright Streetlite 22 (MX61 BCK). It is on loan from Mistral.

8th September
A new addition to the fleet is Dennis Trident / Alexander ALX400, 15 (LX51 FJA) - new to Stagecoach London as TA414 (then 17414). It is currently in use in all over red livery. Ensign have converted it to single door, and it should be painted in October half term.

13th August
New here as fleet number 11 is Enviro 200 (b37f) (MX09 HJF). New to Countryliner, Surrey via Mistral (dealer). It entered service on 7 Aug in fleet livery but without fleet names to assist in the extra requirements for Bakewell show (3 buses on Park and Ride).
The hired Enviro 200, (MX10 DXW) was kept a little longer than expected, returning to Mistral on 6 Aug.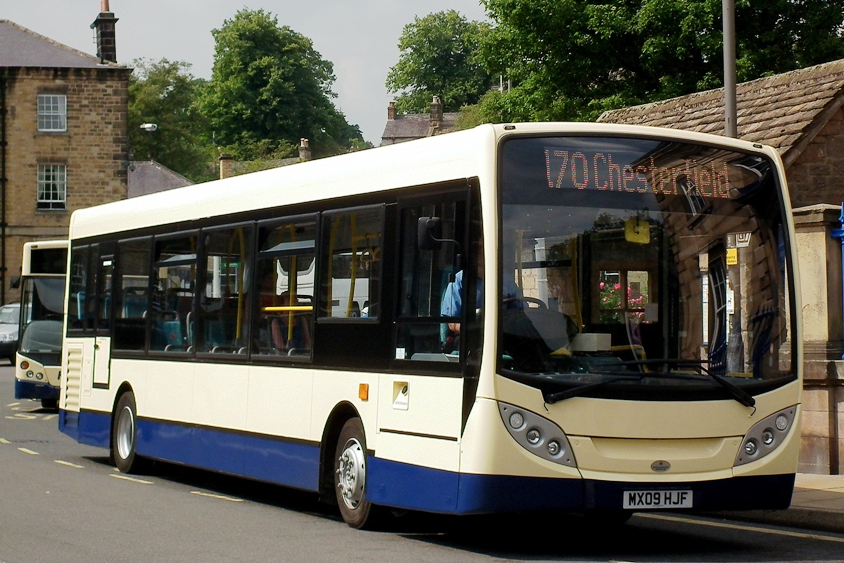 Hulleys latest addition to the fleet is Enviro 200 (MX09 HJF). It is seen here in Bakewell.
(C) Ian Moorcroft

29th July
Dennis Lance / Optare Sigma 15 (N361 VRC) has followed sister 11 to Fletchers Metals of Chesterfield for scrap after gearbox failure. This leaves 12 (N362 VRC) as the only step entrance bus left in the fleet.


---
---
Johnson Bros / Redferns

NEWS & SIGHTINGS
-
---
---
Linburg

NEWS + SIGHTINGS
-

---
---
Littles Travel

NEWS + SIGHTINGS
7th April
Excel (V202 ENU) has been reregistered as (XIB 1908).
---
---
Midland Classic


NEWS
24th October
White Enviro 200 (YX62 EEY) is on loan here.

2nd October
New here is former Scania demo 21 (YN62 AAK).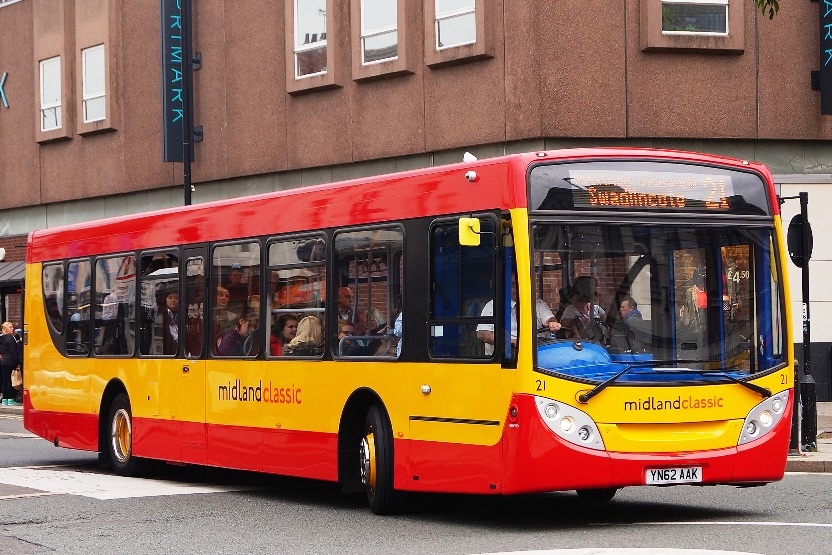 The latest addition to the fleet, 21 (YN62 AAK) in Burton.
(C) Geoff Girling

13th August
A third Solo to join the fleet is ex travelmaster, 33 (Y332 HWT).
MAN 61 (RX53 LNJ) has left the fleet, and has been sold for further service.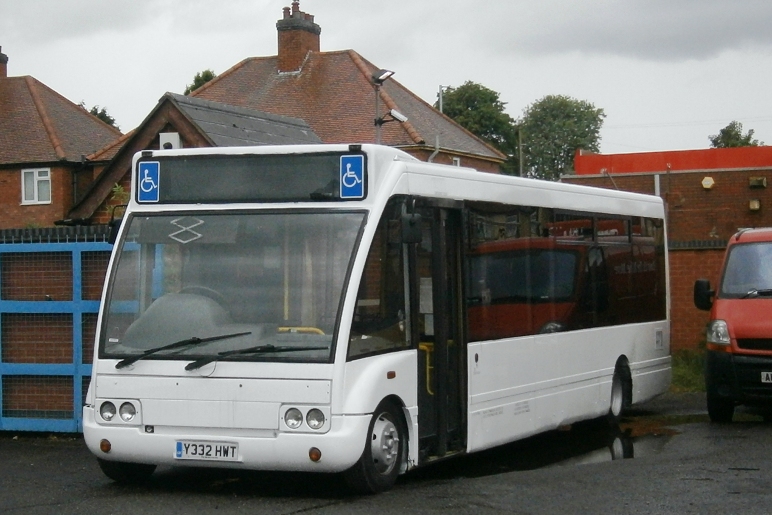 A third Solo has joined the fleet, (Y332 HWT).
(C) Daniel Louch

29th July
Alexander-Dennis Enviro 300 demonstrator (YN62 AAK) is in service here.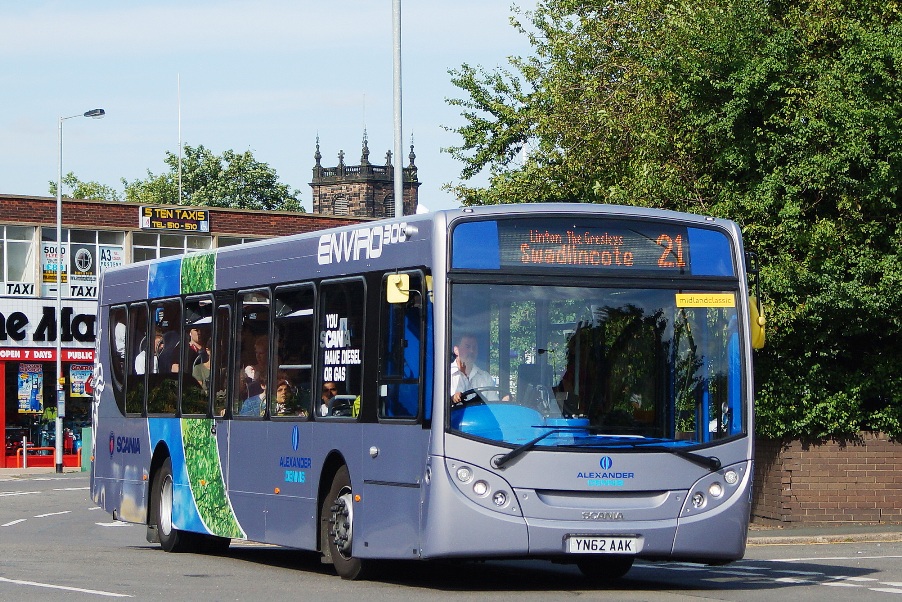 Enviro 300 demo (YN62 AAK) seen here in Burton on route 21.
(C) Geoff Girling



17th June
Another Scania to arrive here from South Lancs Travel i 89 (S27 SLT).
Only 81 and 82 are branded for the X12, 83 is in standard livery.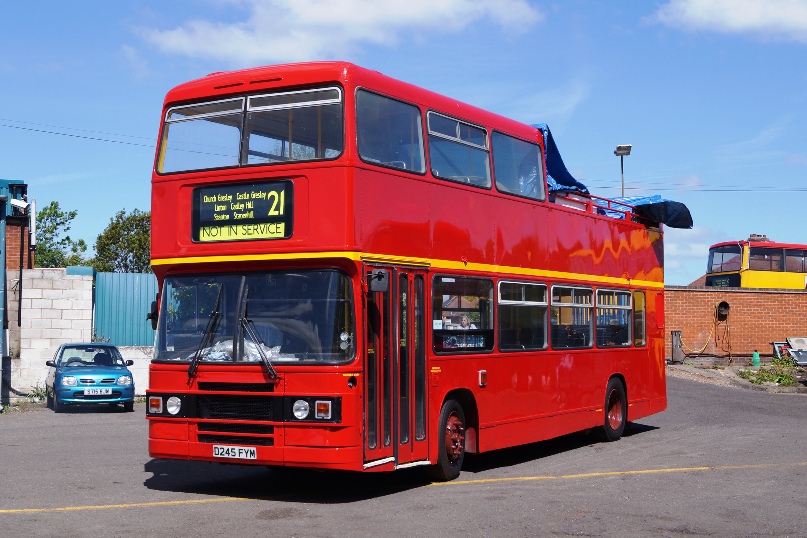 Open top Olympian (D245 FYM) has joined the private hire fleet.
(C) Geoff Girling
---
---
Paul S Winson


19th May
At least one new E200 is here in the form of (WW13 PSW). It is thought to have replaced one of the leased Streetlites.

6th March
Coaches 57 and 58 , (T7 PSW) and (T8 PSW) have been refurbished, by receiving new fronts and interior trim, to uplift the image. They have been registered (HOD 76) and (YNR 778) respectively.
Both the plates were previously on fleet numbers 108, the Scania ELC Cityzen and 115 The ex Nottingham Trident. These have received 108 (T7 PSW), 115 (T8 PSW).

StreetLites here are: 901 (MX12 DZA) and 902 (MX12 DYM).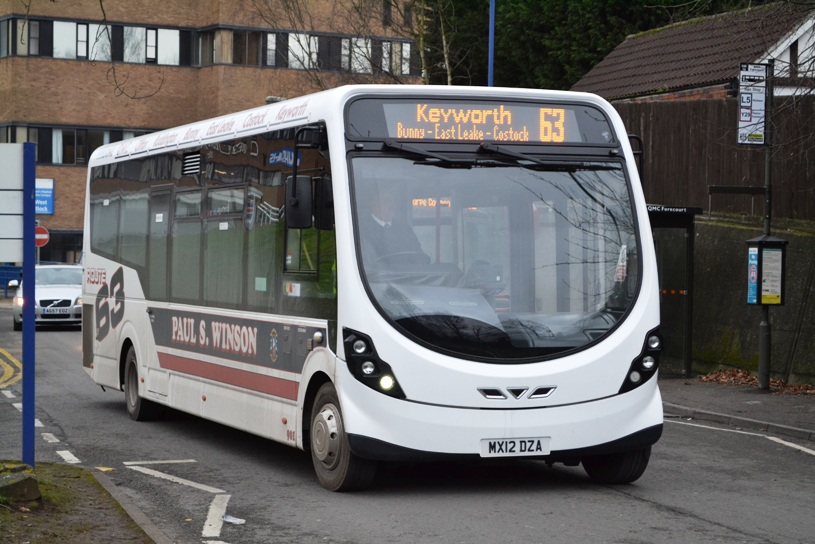 Streetlite (MX12 DZA).
(C)Calumbus Calumbus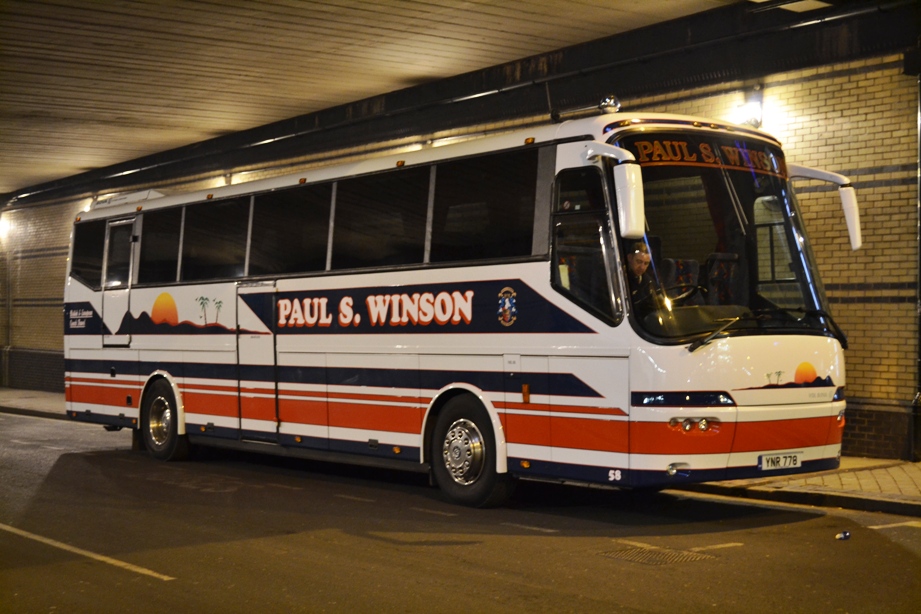 (C)Calumbus Calumbus
NEWS
---
---
Skills, Nottingham


NEWS 29th July

New arrivals here are Scania Irizar PB (YT60 OTE) and a sixth ex Bowens Omniexpress in the form of (YP10 VZA).

17th June

2 former London Volvo B7 / Plaxton Presidents (from COuntryliner), and 4 Alexander bodied Tridents from Stagecoach London to replace Dublin Olympians.

19th May
Skills have acquired a new VDL Futura.
Omni Express coaches (YT10 VZC/F) are now in Nottingham City Coaches livery.

26th March
5 Omni Express coaches to arrive here are (YT10 VZA-E). Ex Bowen group.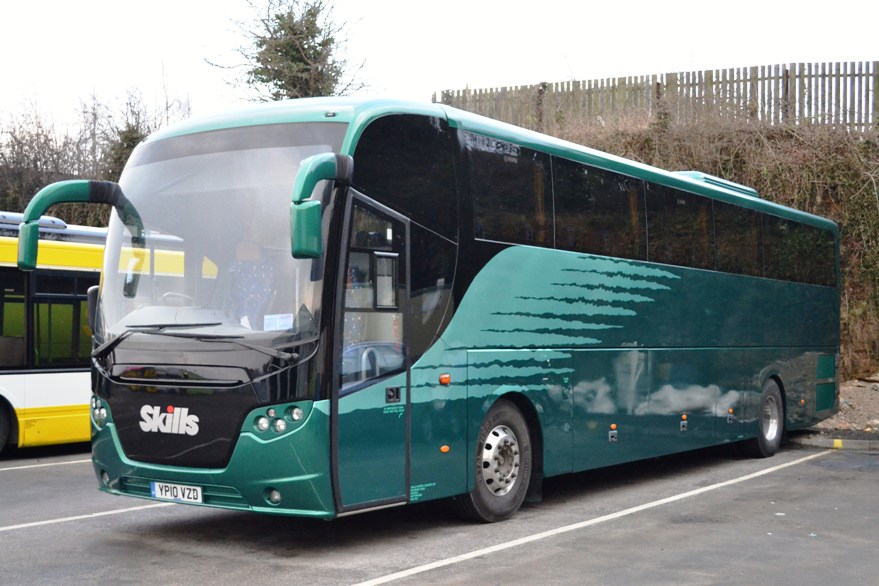 Omni Express coach (YT10 VZD).
(C)Calumbus Calumbus
---
Stagecoach East Midlands
Chesterfield, Mansfield, Worksop
NEWS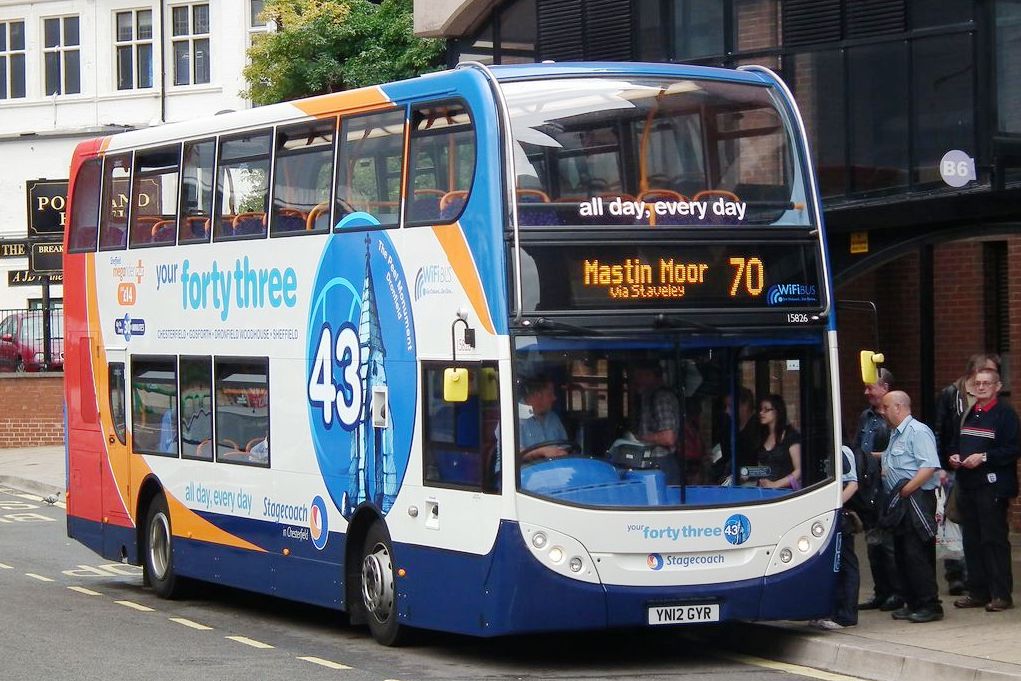 6 new Enviro 400 deckers have entered service at Chesterfield, 4 of which are branded for service 43. (YN12 GYR) is seen here in Chesterfield on route 70.
(C) Ian Moorcroft
To keep up to date with Stagecoach in Chesterfield, and many other operators in the area, take a look at the excellent Transpire website.
---
---
TM Travel


NEWS:
See Wellglade section.
---
---
Translinc
NEWS
---
---
The Wellglade group
trent barton, kinchbus, notts+derby and T M Travel.

NEWS
20th October:
NCT Solo 237 (Y237 LRR) is on loan to notts and derby, with 30 being on loan to NCT at Gotham for the university work. 31 has also been on loan, along with 33.

Three Dennis Javelin / Plaxton coaches have arrived here (ex MOD). The three will become:
52 (FJ51 MVN),
53 (HX02 OAN),
54 (HF02 FLW).

55 has been withdrawn.
Excel 234 is expected to transfer to Kinchbus soon.

Volvo 723 has been repainted in trent barton red (ex indigo). It continues to be operated out of Nottingham.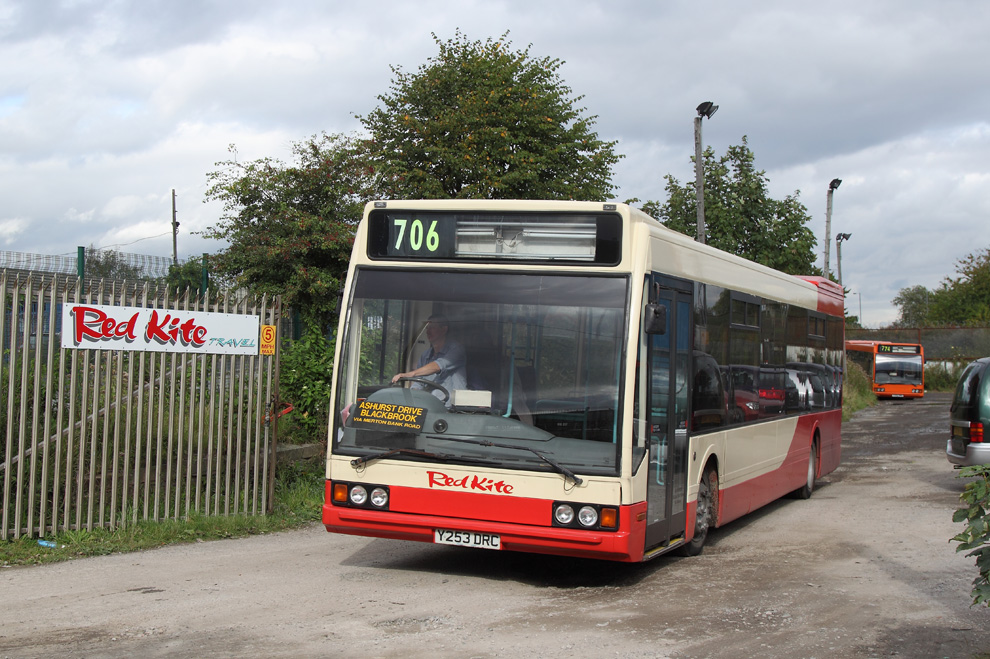 Former Rainbow 3 Excel 253 now with Red Kite, St Helens. The vehicle was the 100th Excel, delivered in Barton livery before being painted in the new trent barton livery and finally for the Rainbow 3 service.
(C) Shane Ross



9th September:
Scania 631 is now branded for the H1 and 635 for the Ilkeston Flyer.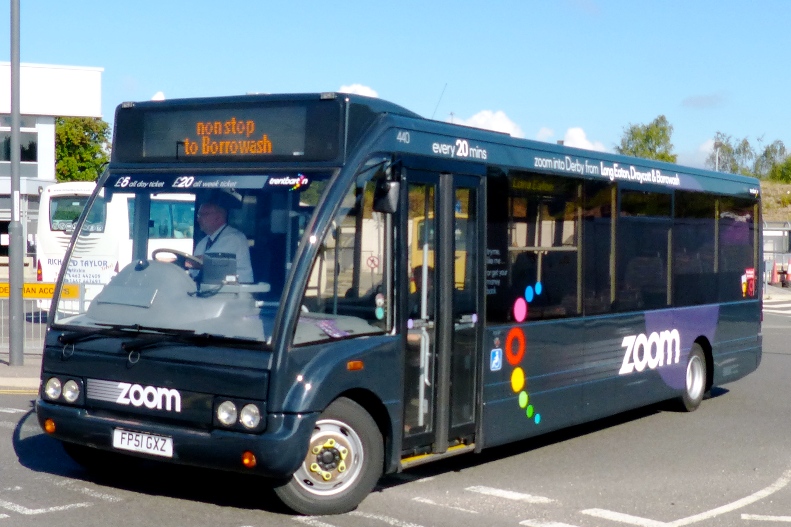 Zoom Solo 440 in Derby.
(C) Dennis Basford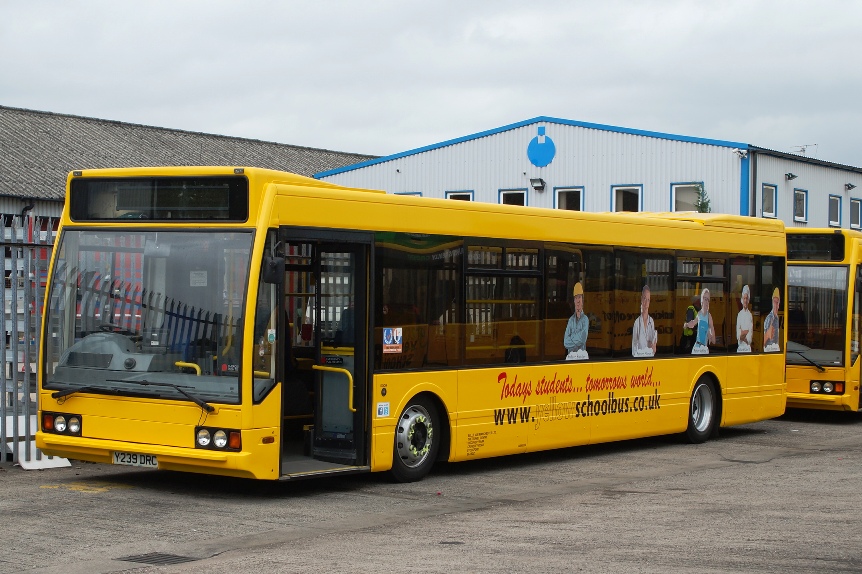 Former Rainbow 3 Excel 239, now with Belle Vue, Manchester.
(C) Geoff Girling



8th September:
One of the 3 recent arrivals for Door to Door is Ford Transit 1010 (BK07 HSN).

trent barton operated the new Zoom route (Derby - fast to Borrowash, Draycott and Long Eaton) for free yesterday with the 4 branded Solos: 439, 440, 446 and 452.

6th September:
Solos 403 and 456 are on loan to High Peak.
Centro 1179 now with N+D, currently being painted.

Over at TM, Solo 1205 is now in standard livery following the loss of the NHS park and ride contract, for which it was previosuly branded.
A number of deckers have been withdrawn too, and are not due to be replaced due to loss of contracts. DAF / Northern COunties (P337 ROO), due to engine failure, and Lothian Olympian / Royale (P274 KSX), said to be chassis corrosion. Two former Dublin Olympians, (J619/28 CEV) are also said to be withdrawn and being used for spares.

13th August:
910 has gone for scrap.

29th July:
Scania 688 is in use in new brighter "the sixes" base livery, complete with "secret sixes" branding. The vehicle has been extensively refurbished inside, with improved seating, new floors and wi fi. The route will be relaunched once all the branded vehicles have received the same treatment.

452 is the first of 4? Solos to be branded for Zoom, the new service between Long Eaton and Derby from September.

Solo 461 is now in use with trent barton based at Langley Mill. It carries Mango branding on the new style livery.

3 17 seat Transit mini buses are to join the door to door fleet for use on a contract previously operated by Translinc.
Coach 56 is away for repaint, 1200 awaiting repaint, and new electronic destinations.
Dart 910 is for scrap. 122 should also be going on a one way trip to Looms soon as most spare parts have been removed.

Following 1185 being renumbered 798, 1187 (YJ07 JVE) is now 799 (this is the tesco one) and 1189 (YJ07 JWU) is now 800 (this is the leather seated one).

17th June:
Excel 215 is in Looms scrapyard in Spondon.

13th June:
Former TM Travel MAN Centro 1200 is now in use with notts+derby. 1198/9 are in use with trent barton at Nottingham "helping out on Skylink". All three still carry the former Sheffield Free Bee livery.
Falcon 12 (K212 UHA) and Olympian (L649 MYG) are on loan from Midland Classic for Download Festival shuttles. The Falcon is being used on site at Donnington Park.

7th June:
Notts+Derby Centro 1185 has been renumbered 798.

1st June:
Excels 234, 264 and 266 are back in use at Derby after having "old style" trent barton names applied. The vehicles on "the sixes" are being refurbished, so may be here to cover.
Centenary Volvo 724 has moved to Langley Mill.

A number of vehicles have been taken to Looms over recent weeks. These include former Lothian driver trainers 8 and 9 (yellow and only used at N+D for spares), deckers 21 and 24, Rainbow 3 Excel 246 and TM ECW Olympian 1102 (D188 FYM).
Former Kinch Dart 896 has also been rmoved from Loughborough.

1198 and 1199 are both now in service "helping out on Skylink" in Nottingham.

Excels 239 and 254 have been sold to Belle Vue, Heaton Chapel.

17th May:
Centro 1185 now in use with notts+derby.

A number of vehicles have been scrapped at Looms, including a TM Olympian thought to be (D192 FYM), former transpeak coach 61, and one of the yellow liveried former Lothian Olympians (bought for spares only).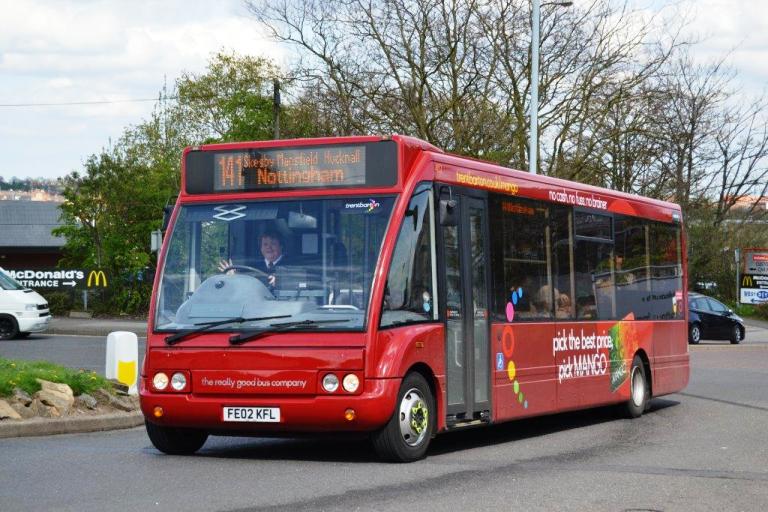 Solo 462 looking splendid in the new livery.
(C) John Moore



5th May:
Solo 462 is now in use with trent barton, based at Sutton. It carries new style trent barton livery (red), complete with Mango adverts.

All the double deckers in the notts and derby fleet are now in fleet livery. They also have a new website nottsderby.co.uk.


---
---
Yourbus, Nottingham
NEWS
20th October 2013:
Electric Solo's 1601-3 are to pass to Stanley coaches on the 26th October with the Durham Cathedral contract.
1604 is now withdrawn & sold to Nottingham Community Transport and can usually be found operating the L33 between QMC & Phoenix Park.

Enviro 300 1402/03, B7RLE Centro's 3601/02 & Gemini's 2101/02/03 All Sold to Ensign Bus Purfleet. Enviro 200 1401 is to be retained for Eastwood Town service.

Levantes 4002/05/09/13/14/15/16 Will pass to Go NorthEast on November 11th along with some NX Diagrams. At the same time 4105 will go to Ensign. 4107 has been withdrawn following its fire at Gatwick Airport.

3011/12/13 are being branded for the Y5 whic is extended to Nottingham from 29th October.

Dual door Citaro's 3501-06 are being put back in service. Thanks to Paul, and the yourbus Yahoo Group for the above info.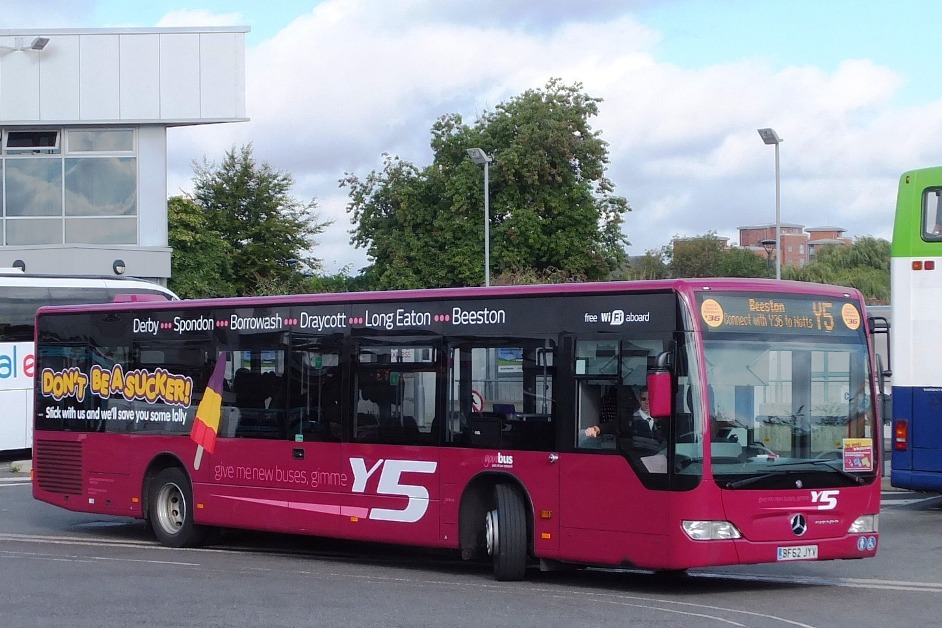 Citaro 3019 with "save some lolly" advertising.
(C) Guy See his Flickr site for more great photos

13th August 2013:
Levante coach 4107 (FN06 FLE) caught fire on Friday at Gatwick airport. It is unlikely to return to service!



29th July 2013:
8, (not 9 as first thought) Citaros have arrived here and have been branded for the new Heanor and Ilkeston services which start on Sunday. The current Citaros will remain on the Y36, not replaced as reported earlier in the month. The new vehicles are:

3024 (BK13 XYA) Y1,
3025 (BK13 XYB) Y1,
3026 (BK13 XYC) Y1,
3027 (BK13 XYD) Y3,
3028 (BK13 XYE) Y3,
3029 (BK13 XYF) Y3,
3030 (BK13 XYG) Spare,
3031 (BK13 XYH) Spare.

Yourbus also appear to have regained the Durham City Centre contract too, so are likely to retain the 3 electric Solos, and the diesel one for back up at Durham.

9th July 2013:
Buses for the Y5 are 3014-19 (off citylink). 3020-23 will remain on Citylink.

Durham Based electric solo's 1601-03 will go to the new operator of the service they are used on. Diesel solo 1604 will move to Heanor.

Levante (FJ61 EWX), which was on loan, has returned to Volvo bus.

1st June 2013:
New service Y5 starts on 14th July (not 22nd April as previously stated! I do know what month we're in, honest), from Derby to Beeston via Long Eaton. Changes are also being made to the Citylink service from the same date, with a reduction to the off peak daytime frequency.

1205 (MX62 GVL) is a second Streetlite branded for the 110/111 services in Ashbourne.

The two Volvo / Wrights 3605/6 have been re-registered. (A5/6 UOB) are now (SJ04 DVL/M).


---
---
Last Months News

News Index Page
---