Bus Fleet News 4 DERBY
October 2007
---
---
Latest News
---
Here you will find all the latest bus news and sightings for many bus operators in and around the Derbyshire area. If you have anything to report please contact me by clicking here.
---
---
NEWS
Tue 18th Sept:
All white VOLVO / JONCKHEERE (N815 NHS) is in use here, presumably the coach on hire until their new coach is ready in November. Thanks Ian.

---
---
NEWS
Tue 23rd October:
Dart 2090 is on loan to Swad. Thanks Rich.

Sat 20th October:
Route 20 is expected to be low floor from Monday.
Many timetable changes are taking effect from 28th October. These are thought to be improvements to the Sunday frequencies on routes 20, 26, 32, 36, 37/38, 40/41.

SIGHTINGS
Wed 24th Oct:
Excel 2998 on the 109 to Ashbourne. AMN were using 2274 on the X38. Thanks Chris.

Mon 22nd Oct:
MPD 2222 on the 26. Volvo B10BLE 3605 on the 61. Thanks Dave.

Sat 20th Oct:
Burton 2010 (L510 BNX) on X38. Quality bus. Thanks Chris.

Fri 19th Oct:
Excel 2998 on the 24. MPD 2224 replaced an East Lancs Dart on the 19, EL Dart going onto 36.

Wed 17th Oct:
Excel 2998 on the 22, Citybus 4334 on 44. One of the few Chellaston branded Darts, 2237 on route 19. Thanks Chris.

Tues 16th Oct:
Dart 2231 on pride park and ride.

Mon 15th Oct:
2238 on 111 pride park and ride. A MPD replaced an Excel on the 19.
Minibus 1391 on the 38 to Sinfin! Thanks Rich.

Thurs 11th Oct:
MPD 2218 on 111 Pride Park and Ride.

Tues 9th Oct:
Both Excels 2998/9 on Park and Ride (one had been on 19). Dart 2227 and Volvo 3604 on the Sinfins. Thanks Dave.

Mon 8th Oct:
Dart 2226 on the 24 and Excel 2998 on Park and Ride all day. Thanks Chris.

Sat 6th Oct:
Dart 2229 on the 26.

Thurs 4th Oct:
MPD 2224 on the Pride Park and Ride.

Wed 3rd Oct:
Dart 2237 on the 45!

Tue 25th Sept:
1170 on the 33. Thanks Chris.
Burtons town linx Dart 2327 on X38. MPD 2223 on Pride Park & Ride, Dart 2227 on the 24. Thanks Dave.

---
---
NEWS
Wed 19th September:
Acquired here is (L172 CKG), a Scania K113CRL with Alexander Strider body and painted in full Bowers red livery.

---
---
NEWS & Sightings

Sat 20th Oct:
One of Doyles 147 branded MPD's has been repainted white! Both have been missing off the route this week. Thanks John.

Sat 13th Oct:
A new arrival here is Solo (L50 LOW)! Thanks John.

Tue 11th Sept:
Doyles are set to take over the running of service 59 (Derby to Ilkeston) at the end of October.

---
---
NEWS
Thurs 17th Oct:
Despite recent rumours, Felix will continue operating coaches, although less Holiday trips will be undertaken due to a decline in demand.

Thurs 11th Oct:
Volvo/Alexander Strider (M301 KRY) made a return to the Black Cat after Scania (YN05 GZB) failed in Derby.
The V plate Volvo also on Black Cat, and the Centro on Ilkeston Flyer.

Tue 11th Sept:
Felix have lost the route 59 contract to Doyles.

---
---
G&J Holmes

NEWS
Tue 9th Oct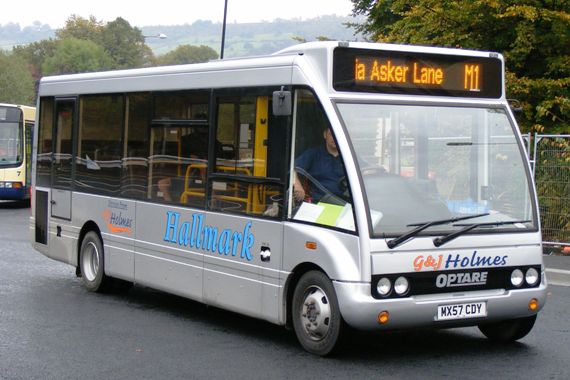 G&H Holmes new Optare Solo (MX57 CDY) in Matlocks wonderfull new bus station!
(C) Ian Moorcroft



Tue 25th Sept
The brand new Optare Solo has arrived here, MX57 CDY. This is due to enter service on Matlock area services on 4th October. The new Matlock Bus Station should open around then too. Thanks Chris.

---
---
Glovers of Ashbourne


NEWS
Sat 27th Sept
Volvo B10M Coach (N382 EAK) has been sold to Lowes Coaches, Nottingham.
Acquired here is Plaxton Cheetah (W635 MKY). Thanks Chris.

Fri 14th Sept
Another minibus here is (XIL 7655).
Another coach here is Volvo B10M / Plaxton Paramount(F429 DUG). The coach was new to Wallace Arnold.

---
---
Harpurs Coaches


NEWS + SIGHTINGS

Wed 17th
Olympian (G363 YUR) has now been painted into fleet livery.

---
---
Hawkes Coaches


NEWS + SIGHTINGS

Mon 14th May
Metrobus (KYV 647X) has been withdrawn.

---
---
Hulleys of Baslow

NEWS + SIGHTINGS
:
---
---
Johnson Bros / Redferns

NEWS & SIGHTINGS
:
---
---
Littles Travel

NEWS + SIGHTINGS
Fri 14th September.
Volvo /Plaxton Derwent (G728 JJC) on route 9 today. Thanks Chris.
Wright bodied VDL (YJ06 LFW) has arrived here for a Bilbourough College contract. its in a blue and white livery. Thanks Paul.
---
---
Midland Classic


NEWS
Saturday 20th October:
Former Stevensons Leyland Lynx / Alexander 1009 (HXI 3009) is the latest addition to the fleet.


---
---
Stagecoach East Midlands
Chesterfield, Mansfield, Worksop

NEWS
Wed 17th October:
A secondhand Solo is to be acquired from S/C Yorkshire, which is planned to enter service on route 6.
The remaining 3 Mercedes minibuses still in service (N759CKU, J214AET and J216AET) are likely to be withdrawn in the coming weeks. Thanks Dave.

Tue 25th September:
Olympian (C335 HWJ) is now in Wales, with Griffiths, Y Felin Heli.

SIGHTINGS
Sat 27th Oct:
An Excel was used on one of the services between Chesterfield and Alfreton today, usually operated by the new Darts. Thanks Chris.
One of the 23 branded Tirdents was on tow today. Thanks Ian.

Thurs 25th Oct:
Step entrance Dart 32113 on route 54 in place of an Excel. Thanks Chris.

Sat 20th Oct:
Olympian (P145 KWJ) on 51 today, and Dart (YN56 SGZ) on 10. Thanks Jack.

Thurs 11th Oct:
Dart 32415 on the 727 and 32561 on the 82. Market Festival Olympian 16485 on the 51.
Route 54 branded Excel 35002 on the 25! Coach (S670 RWJ) on route 70, Dart (K110 SRH) on the 25, and Paladin 20281 on the 96 to Alfreton.

Sat 6th Oct:
Volvo B10M 20413 on the Sherwood Arrow. Thanks Chris.
Jack reports: Olympian (N144 AET) suffered a tyre puncture this morning whilst on 74. Dart (X837 AKW) on Trident Route 77! Olympian (P159 KAK) and Excel (P222 ABC) on 54.

Thurs 4th Oct:
Olympians (K363 DWJ) on 77 and 16489 (N139 AET) on the 727. Thanks Chris.

---
---
TM Travel


NEWS
Wed 17th October:
A further 2 slimline solos are expected this week, to be used on the City Clipper service in Sheffield alongside (YN57 KFE).
TM Travel are moving from their current base, a new place, at Halfway, Sheffield.
A Van Hool Coach, (YXI xxxx) has been acquired from an operator in Hull!
A former? Arriva training bus has turned up in their yard too - it is F reg - more soon! Thanks Dave

---
---
Translinc
NEWS
:
---
---
The Wellglade group

NEWS
Wed 31st Oct:
Darts 934/6 are to be repainted for notts + derby to replace 909/10.
Tempo's 317 and 318 has entered service on route 21 for which they are branded.
Frio Excel 199 is off the road, awaiting a new engine!
Citybus 739 is awaiting repair, it has problems with one of the axles! Olympian 715 still parked up at Langley Mill - the front has been repainted into N+D livery.

Sat 20th Oct:
Darts 935 and 937 painted in N+D livery and branded for Pride Park & Ride, ready for service on Monday. A third low floor bus is need for the 19 during the day, and P&R during the rush hours. This will be covered by one of 909/10, both of which have had front end repaints into N+D livery. The Keyworth Conection blue livery remains on the rest of the bus. 936 should be totally repainted to displace one of these in a few weeks time.

First Eastern Counties have sold former Trent Olympian 711 (A711 DAU) to Wigley, Carlton (dealer) for scrap.

Wed 17th Oct:
Olympian 715 has had the front painted in to notts + derby livery following accident damage.
Kinch liveried Vario 288 and blue minibus 49 have transfered to N+D and are allocated to Unibus route 4 that links the University of Derby to Markeaton Campus.

Mon 8th Oct:
The remaining Kinchbus minibuses are now for sale (excluding 49 and 288 which N+D are using). Most are stored at Langley Mill.
The Olympians may be renumbered from 712 etc to just 12 etc.

Fri 5th Oct:
3 Darts currently in the trent barton fleet are to transfer to N+D and be used on the Pride Park and Ride 111 and service 19, which they will operate from 22nd October. The three Darts are expected to be 935, 936 and 937.
Former Kinchbus Excel 226 and 227 are being painted into trent barton red. They will replace Darts either directly or indirectly.
Service 21 is finally set to be relaunched on 15th October using two of the leather seated plum livered Optare Tempo's - wow! This will also create 2 spare buses (so 4 in and 3 out to N+D).
The four Darts previously used on the Keyworth Connection, 908-11 (P908-11 CTO) are for sale.


Wed 3rd Oct:
Solo 436 has transfered from Kinchbus to trent barton's Langley Mill garage, it has also been repainted into tb livery.

Sun 30th Sept:
Former Kinchbus Darts 889/90(L401/2 CJF) and 893/4 (M405/6 HFP) have been sold to Stott, Milnsbridge (West Yorkshire).
Paladins 135, 137 and 138 are now painted in the new Unibus livery of blue and white.
D1 Park & Ride Excel 202 was back on the road on Friday, but had to be towed back to Meadow Rd from Derwent St in the afternoon!
The two Plum Tempos for route 21 (Ilkeston to Nottingham) are not yet in service.

Tue 25th Sept: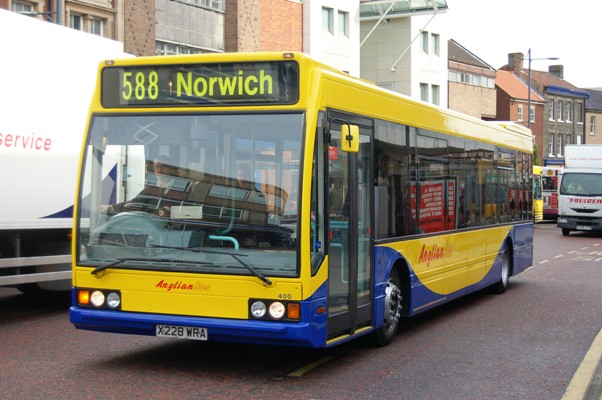 Former Kinchbus Excel 228 (X228 WRA) is now with Anglian buses.
(C) John Moore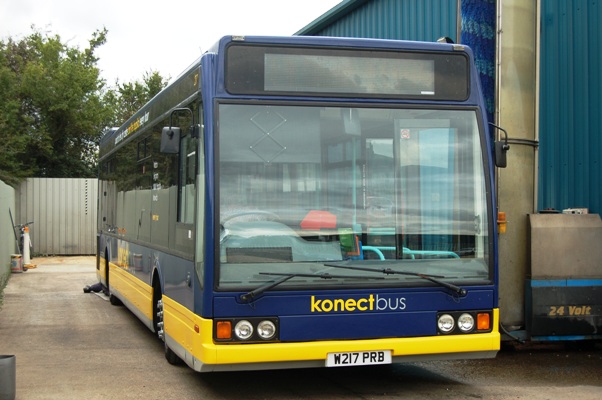 Former "Black Cat" branded Excel 217 (W217 PRB) now joins other ex Trent Excels in the Konectbus fleet.
(C) John Moore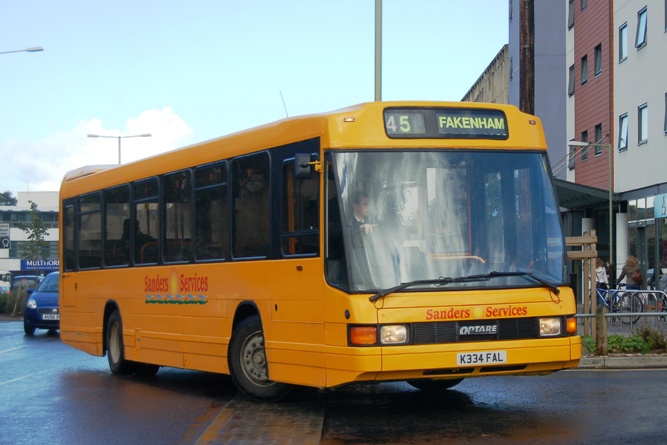 Former Trent Delta 334 (K334 FAL) has passed from Konect to nearby operator Sanders.
(C) John Moore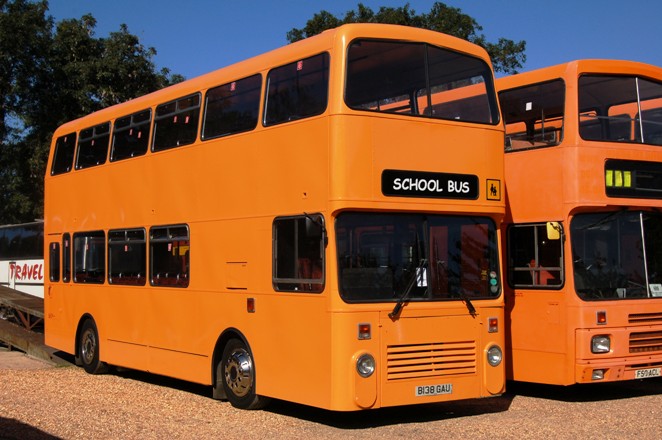 Former DCT and lately notts + derby Citybus 138/738 (B138 GAU) is now with Dews. (B134 GAU) has joined it there passing from its former owner Fowlers Coaches.
(C) John Moore

SIGHTINGS
Tue 30th Oct:
900 reported on Spondon Flyer. Thanks Fred.
Dart 930 and Solo 447 on V1/3. Thanks Geoff.
667 on X38. Think the full compliment of Mickleover Excels were out later in the afternoon after two spares were taken off.

Mon 29th Oct:
119 on X17.

Sat 27th Oct:
H1 Solo 433 on the 27 in the evening following 466's breakdown. Darts 934/6 and 946/9 were on the H1 most of the day in place of the Solo's, which are too small.
s
Fri 26th Oct:
Solo 448 on notts and derby route X17 - replacing 298! Thanks Chris.
Unibus Paladin 106 on transpeak, Scania 667 on RA, 636 and 668 on R5. Scanias 638/9 on H1. 665 X38. Thanks Dan.

Thurs 25th Oct:
667 and 63 on RA. Thanks Chris.
Excel 152 on Pide Park and Ride, one of the branded Darts on the 19. Vario 290 on X17. Paladin 128 on unibus 6. Thanks Chris.
Solo 448 on Micklovers

Wed 24th Oct:
Darts 891 on 111 and 892 on X17, Scanias 665 on X38 and 667 on Spondon Flyer and Unibus Paladin 105 on 73. Thanks Chris.

Tue 23rd Oct:
Unibus Paladin 135 and Solo 448 on Allestree. A Dart on it later too!! Thanks Chris.
Scanias 665/7 and Solo 447 on Mickleover, Excel 233 on Allestree. Dart 930 on the 71, 939 on V1!
Dan reports Solo 441 on Radcliffe Lines, 442 on Ruddington Connection, and Scania 666 on Cotgraves. 636, 668 and 669 on R5.

Mon 22nd Oct:
667 Mickleovers, Dart 930 TP.
Paladin 109 on Unibus 6, Dart 891 on X17 and College Excel 161 on D1 P&R.
Excel 233 on TP. Kinch 897 on Airline Shuttle.
909 taken off route 19 and replaced with Paladin 136. Thanks to Chris for todays sightings.

Sat 20th Oct:
Unibus Paladin 103 on low floor transpeaks - free rides all round. Solo 447 and Excel 233 also on there! Branded 157 broke down at Bramcote. Thanks Dan & Ian.
H1 was covered by Darts 934, 946 and 949 along with Scania 638 for all or most of the day due to capacity problems with the Solos! Thanks Perry.
Solo 448 on Mickleovers, Dart 930 on V2 and tesco Paladin 110 on X17. Thanks Chris.

Fri 19th Oct:
233 TP, 636 18, 913 Radcliffe line. Thanks Dan. 930 on V2.

Thurs 18th Oct:
667 on sixes 6.1. 447 on Allestree. Citybus 739 on route 17, Unibus 132 on the 73. Thanks Chris.

Wed 17th Oct:
Scania 665 on Mickleover, 233 on TP.
930 replaced 939 on the 71 to Belper. 934 on amberline. Thanks Chris.
Excels 252 on 241, 253 on 141 - extra capacity is needed on these routes. Solo 402 on Connect. Thanks Dan.

Tues 16th Oct:
Scania 667 on the sixes 6.4, 233 TP. Solo 448 and Scania 665 on Mickleovers. Thanks Chris.

Sat 13th Oct:
Excels 233/4 both on Mickleover. Solo 447 and Scania 667 on Allestree.
448 at matlock on short 6.1's.
H1 and nines Solos overcrowded, due to amount travelling to new shopping centre in Derby.

Fri 12th Oct:
930 V2, 423, H1, 447 V1, 665 RA, 667 X38, 668 R5. Thanks Chris.

Thurs 11th Oct:
Coach 56 taken off TP low floor workings and replaced Excel 158. Thanks Chris. Citybus 739 on 17A, Excel 233 X38

Wed 10th Oct:
Coach 60 on low floor Transpeak. All Excels off at one point, 448 and 930 being the other vehicles covering. 448 later swapped for a branded Excel.
934 amberline, 665 spondons, 299 on the 73. Thanks Chris.

Tue 9th Oct:
Scania 637 on amberline, Dart 903 on the nines 9.2.
Olympian 716 on D1 P&R for a time. 665/7 both on the sixes. Thanks Chris.

Mon 8th Oct:
Transpeak coach 61 on a low floor working on the route! Free rides for all! Thanks Chris.
Dart 936 on loan to Derby and on Mickleovers.
Paladin 122 on D1 P&R, 667 on sixes 6.1/4/X. 930 V1, 949 amberline.
665 on the ONE, 233 Mickleover, 447 V2. 127 on Unibus 6.

Sat 6th Oct:
Tesco branded Paladin 110 on the 73.
Dart 936 on R2!
669 and 442 on Keyworths.

Fri 5th Oct:
665 on RA. 448 on Mickleover, 936 amberline. Thanks Dan.

Wed 3rd Oct:
665 on Spondon Flyer, Dart 930, Excel 234 and Scania 667 reported on Mickleover.
Paladin 111 on unibus route 6. Solo 447 on HQ.

Tue 2nd Oct:
Excels 233/4 and 199 on Mickleover.
128 on D1.

Mon 1st Oct:
202 broke down again today (was towed in on Friday), seen heading back to Meadow Rd in a cloud of black smoke! Thanks Ian.
637 on R2, 930 on IF. Thanks Dan.



Sat 29th Sept:
Chris reports Dart 946 on Ilkeston route 23, 949 on the 27 and 935 on IF. 63 on RA.

Fri 28th Sept:
Dan reports Dart 891 on the Unibus route 5.

Thurs 27th Sept:
Dart 933 on the 9.1. 253 and 936 on 141.

---
---
Last Months News

News Index Page
---