Bus Fleet News
November 2017
---
Many thanks to all who have contributed news and photos to the website. Without this the site would not be possible.
---
Latest News
---
Here you will find all the latest bus fleet news for many bus operators in and around the Derbyshire area. If you have anything to report please contact me by clicking here.
---
---
NEWS
29th April
Two new arrivals here are Volvo / Plaxton coaches (YX17 NGU) and (YX17 NGV).

15th October
Former NCT Excels (Y546 DTO) and (FD02 SFK) have arrived here from Go Goodwins.


---
---
NEWS
18th November 2017
2 further repaints are Omnicities 3560 and 3573.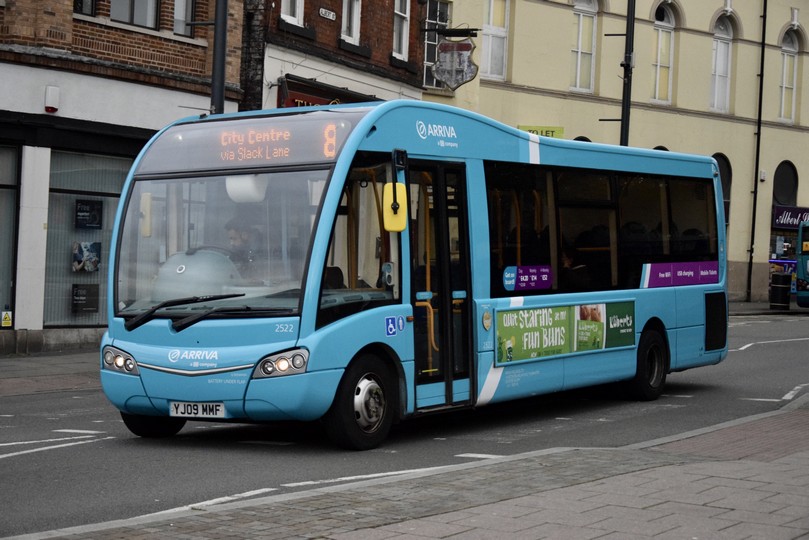 Solo 2522 in revised livery.
(C) Geoff Girling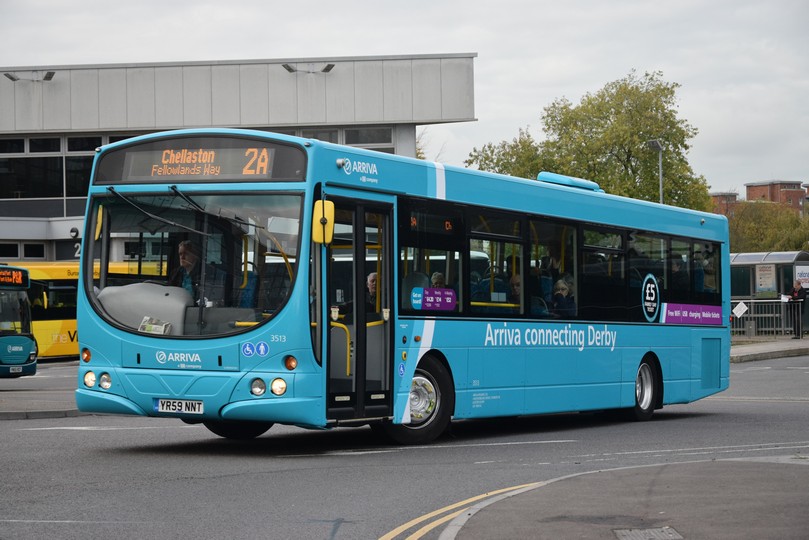 Scania 3513 in revised livery.
(C) Geoff Girling

21st October 2017
Wright Cadet 2706 has been in use in Derby this week.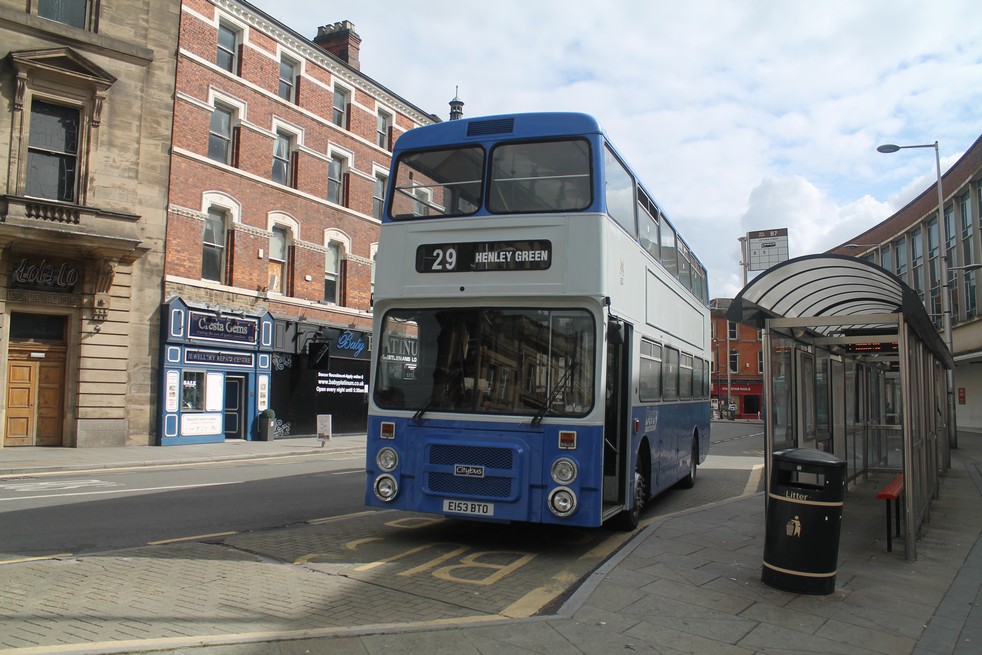 A Citybus back in Derby. Preserved 153 returned to Derby on Saturday 16th September 2017.
(C) DBD
---
---
NEWS
-
---
---
NEWS
2nd February
Brand new Solos 292/3 (YJ66 AOG/H) arrived here in November. Seating B31F.
Ex Kimes Scania 703 (YN51 MJE) is now (TIL 4051).
Solo 332 (X232 MBJ) formerly (B5WER) moved to Centrebus East in November.
Solo 347 (VU52 UEC) was also withdrawn in November.


---
---
NEWS & Sightings
---
---
NEWS
8th April 2017
A further DAF/Alexander ex Arriva London is (X427 FGP).
---
---
G&J Holmes


NEWS
9th September 2017
Yje last two Solos have been sold. (LJ60 LTY) is now with Stephensons, Easingwold and (MX59 AVT) is now with Llew Jones, Llanrwst.

---
---
Glovers of Ashbourne

NEWS
---
---
Harpurs Coaches


NEWS

29th September 2017
(S315 SRL) has been sold for scrap.

9th September 2017
Two new additions to the fleet are former Stagecoach Volvo B7RLE / Wright Eclipse (MX55 HHM/N). The first (HHM) has been repainted into fleet livery, with the second due back shortly.

13th May 2017
Olympian (N297 CKB) departed for PVS Barnsley on 2nd May.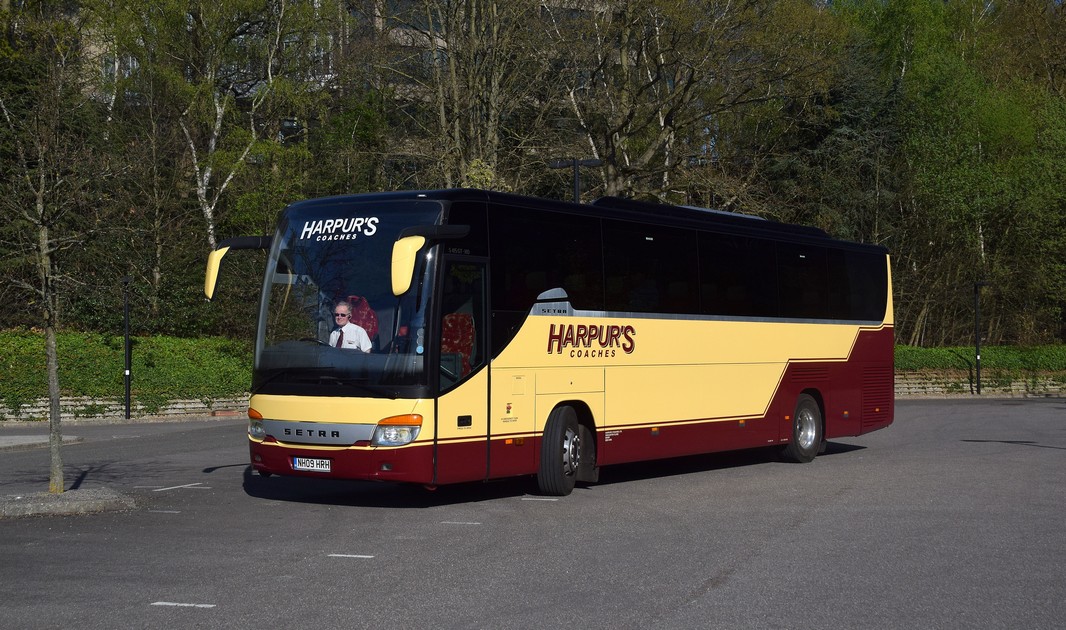 Setra (NH09 HRH) looking smart in the sunshine at Brooklands. Coincidentally the "NH" in the registration, for National Holidays, still has relevance today with the current owner being Nick Harpur.
(C) Geoff Girling
---
---
Hawkes Coaches


NEWS

9th September 2017
Former Mass transit tri axle Dennis Dragon (B10 MDO) is here! A second example also reported here.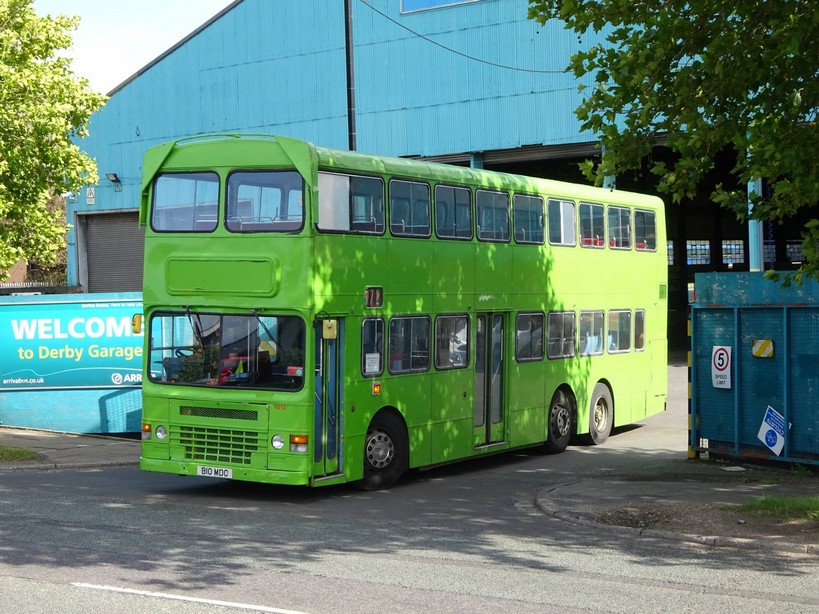 Dennis Dragon (B10 MDO) seen leaving Ascot Drive.
(C) Chris Gaskin
---
---
Hulleys of Baslow

NEWS + SIGHTINGS
17th August 2017
A new arrival here is (TT57 BLU) as the new number 2.

MAN no 2 has been withdrawn. Centro 3 and MAN 16 are also currently withdrawn.


---
---
Johnson Bros / Redferns

NEWS & SIGHTINGS
26th February 2017

Johnsons Bros Tourismo (BT66 TZK) in the blue pigeon travel livery. It is seen here outside Oswaldtwistle Mills, Accrington.
(C) Jonathon
---
---
Linburg

NEWS + SIGHTINGS

---
---
Littles Travel

NEWS + SIGHTINGS
29th September
Solo (YJ51 XSU) has been reregistered (YAZ 8645).

9th September
East Lancs Volvo (PG04 WHB) (which carried (VIL 9336) for a while) has left the fleet to Ensign (dealer). Former Go Ahead Volvo B7/Gemini (LB02 YXN) has arrived to replace it.

17th August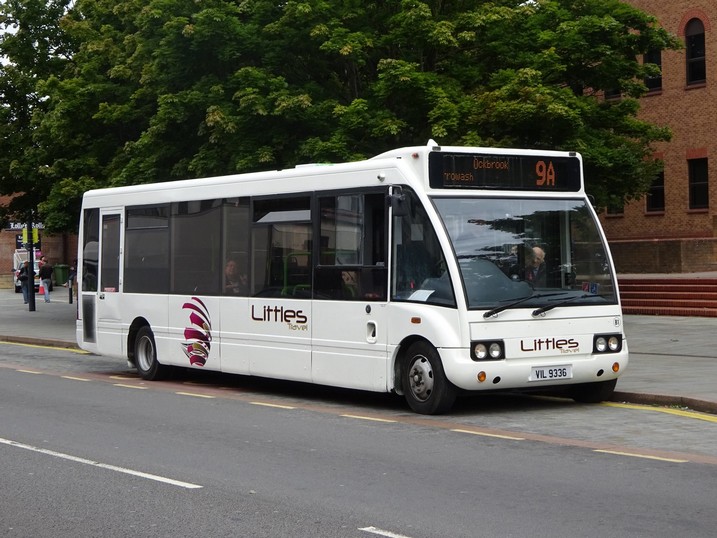 Former NCT Solo (W251 PAU) has been repainted and now carries registration (VIL 9336). This was previously carried on ex London Volvo B7/East Lancs decker which has not been seen in use since the Solo appeared, but has obviously been withdrawn, sold or reregistered.
(C) Chris Gaskin
---
---
Midland Classic


NEWS
18th November
5 ex London (Tower Transit) E200s are here. None are yet in service.

34 (YX12 AYZ),
35 (YX12 AKK),
36 (YX12 AZW),
37 (YX12 DJD),
38 (YX12 DJE).


21st October
The latest arrival here is former Tower Transit E200 (YX12 AZW).

9th September
On loan here is Reading Omnidekka 1108 (YN08 MMA).
---
---
Nottingham buses
6th April 2016
---
---
---
Skills, Nottingham

NEWS
13th May 2017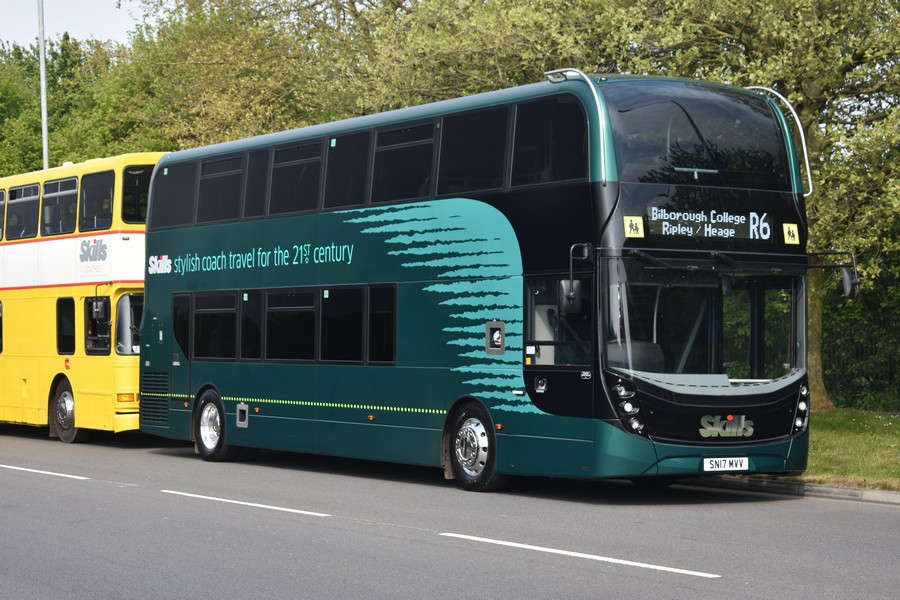 New E400 (SN17 MVV) is seen here at Bilborough College.
(C) Calum Maclennan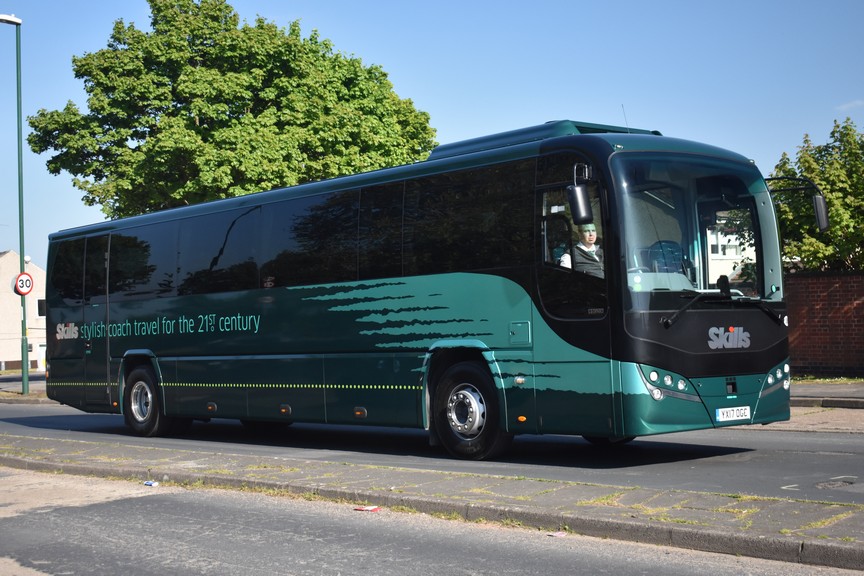 Brand new Plaxton Leopard coach (YX17 OGC) has also recently joined the fleet.
(C) Calum Maclennan
---
---
TM Travel


NEWS:
See Wellglade section.
---
---
---
The Wellglade group
trent barton, kinchbus, notts+derby and T M Travel.

NEWS
21st October 2017
Scanias 633 and 635 are now with TM travel and painted orange for use on line 30 alongside the existing Versas.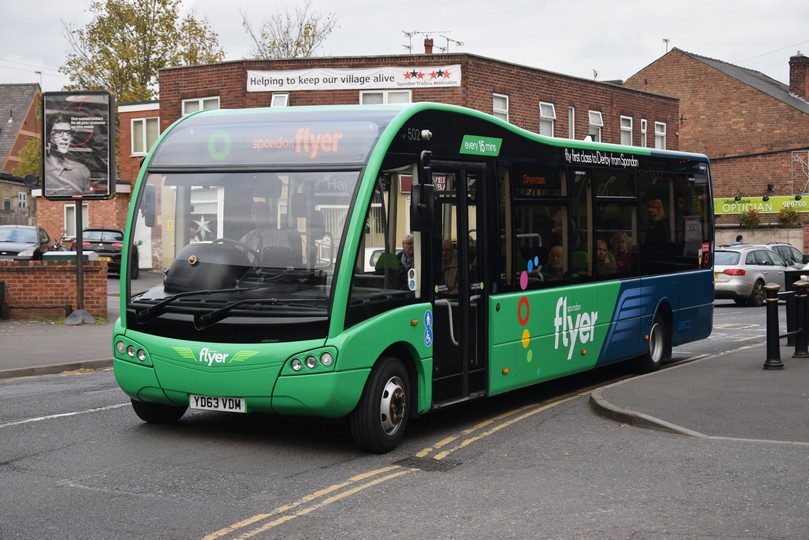 Spondon Flyer Solo 502 in Spondon. The three Solos that replaced the four Versas on this route were previously used on the Rushcliffe Villager services in Nottingham which were cut back earlier this year. Yourbus provide a replacement service supported by the council.
(C) Geoff Girling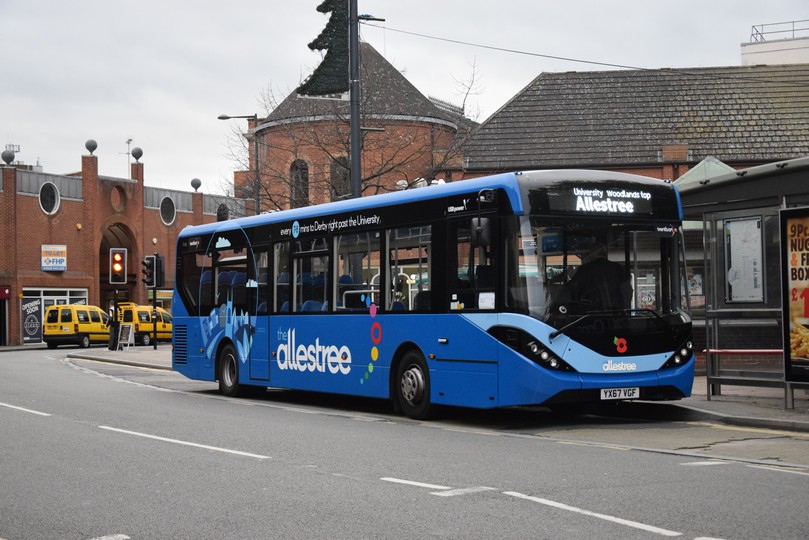 Allestree E200 169 in Derby.
(C) Geoff Girling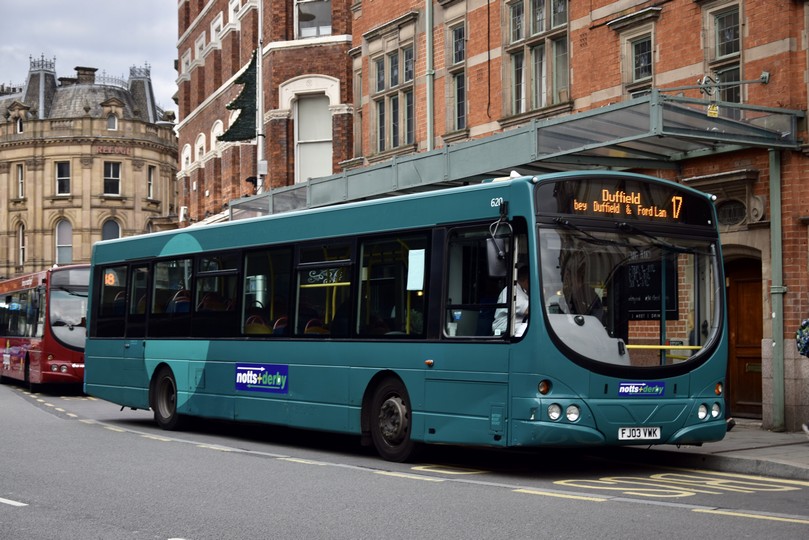 Former Cotgrave Connection Scania 620 is now with notts and derby.
(C) Geoff Girling

21st October 2017
5 new E200s are now in service on the Allestree. Details are:

165 (YX67 VGA),
166 (YX67 VGC),
167 (YX67 VGD),
168 (YX67 VGE),
169 (YX67 VGF).

4th October 2017
The 9 new Nottingham Skylink E200s are now in service. Details for the new vehicles are:

120 (YX67 VEV),
121 (YX67 VEW),
122 (YX67 VEY),
123 (YX67 VFA),
124 (YX67 VFB),
125 (YX67 VFC),
126 (YX67 VFD),
127 (YX67 VFE),
128 (YX67 VFF).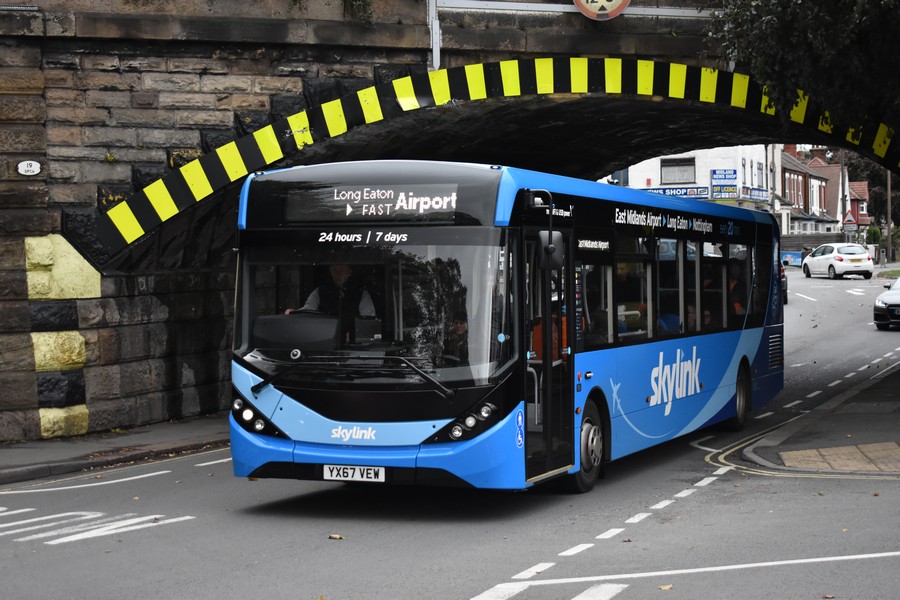 New Skylink E200 121 is seen here in Long Eaton.
(C) Calum Maclennan



29th September 2017
TM Travel have Volvo B7/plaxton President 596 (PJ02 RBV) on loan from East Yorkshire!

Lynx have acquired the 4 former Keyworth Tempos aswell as mainline Tempo 302.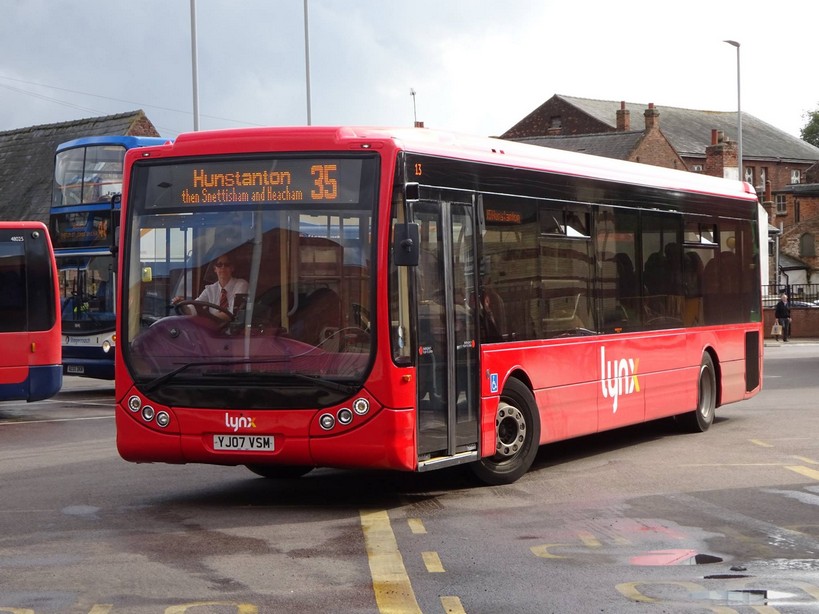 Former Trent Keyworth Connection Tempo (YJ07 VSM) is now with Lynx.
(C) Chris GaskinCalum Maclennan



9th September 2017
Former Mass tri axle Volvo B7/ East Lancs Nordic 1170 (SA52 DWC) has joined the fleet for use on a new school contract. This was new to First Glasgow.
Former zoom Scania 653 is reported to be with TM Travel.

The new E200s for Rushcliffe Mainline enter service next week.Details for them are:

109 (YX17 NTK) in Mango livery,
110 (YX17 NTL) in Mango livery,

111 (YX17 NTJ),
112 (YX67 UXR),
113 (YX67 UXS),
114 (YX67 UXT),
115 (YX67 UXU),
116 (YX67 UXV) ,
117 (YX67 UXW),
118 (YX67 UXY),
119 (YX67 UXZ),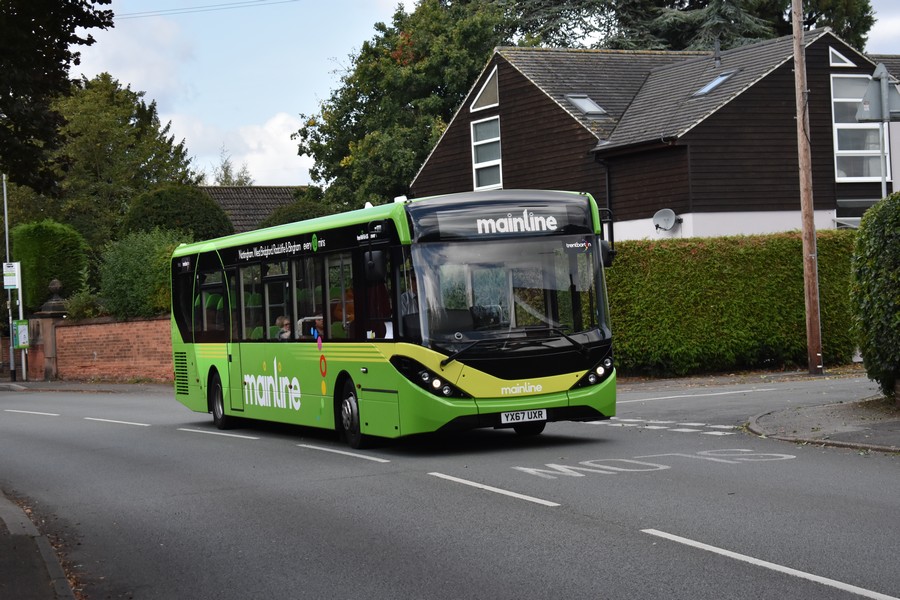 New Mainline E200 112 is seen here in Radcliffe on Trent.
(C) Calum Maclennan
---
---
Vallances
NEWS
-

---
Yourbus, Nottingham
NEWS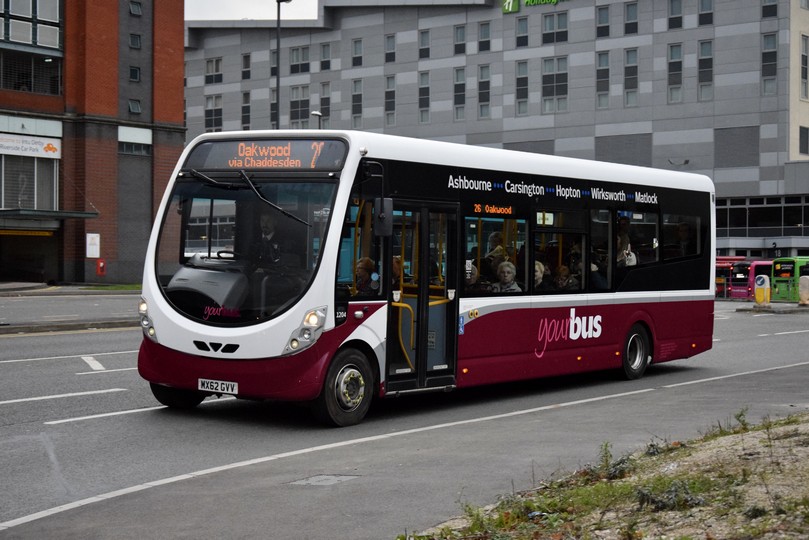 Wheel forward streetlite .
(C) Geoff Girling
---
---
Last Months News

News Index Page
---