Bus Fleet News
November 2011
---
Latest News
---
Here you will find all the latest bus fleet news for many bus operators in and around the Derbyshire area. If you have anything to report please contact me by clicking here.
---
---
NEWS
2nd July 28th April
Volvo B9R / Plaxton Panther (YN11 AXX) is here.
---
---
NEWS
24th November:
MPD 2210 still allocated to Derby, now repainted in inter-urban livery.

Several, if not all the Solos that went to Malta, have now returned to service replacing the leased Enviro 200s.

18th October:
The 6th Versa has arrived as 2943 (YJ61 CHL).

The Solos are begining to return from Malta. 2516 was back in service on Monday, and at least 2 others are back at Ascot Drive. All are thought to have left Malta.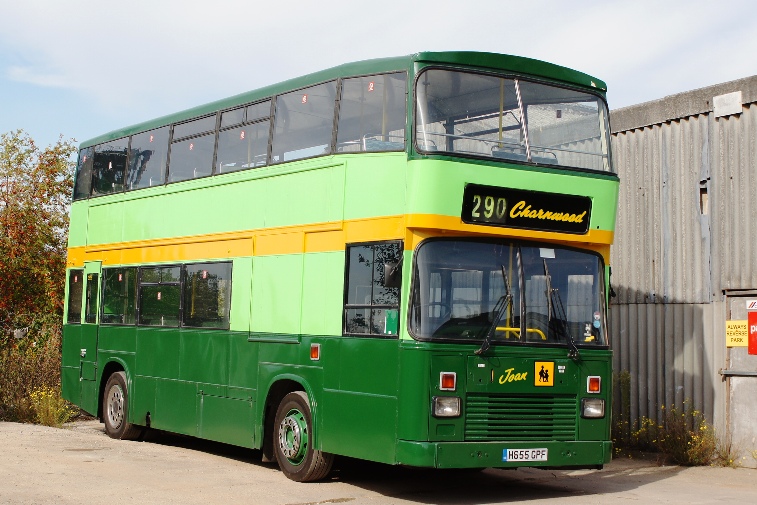 The former Derby "rocket" (Citybus 4224) lives on with Abbey Travel, Leicester, although it now appears to be known as Joan. The vehicle had a speall with Tees Valley after leaving Derby, and was new to London and Country.
(C) Geoff Girling


24th September:
MPD 2224 is back at Derby. MPD 2210 has moved on.

The 5 Versas are now in use here, although one is still regularly used for type training. The 6th is part of a different batch and is expected soon.

3rd September:
Omnilinks 3809/10 and Daret 2226 are now withdrawn.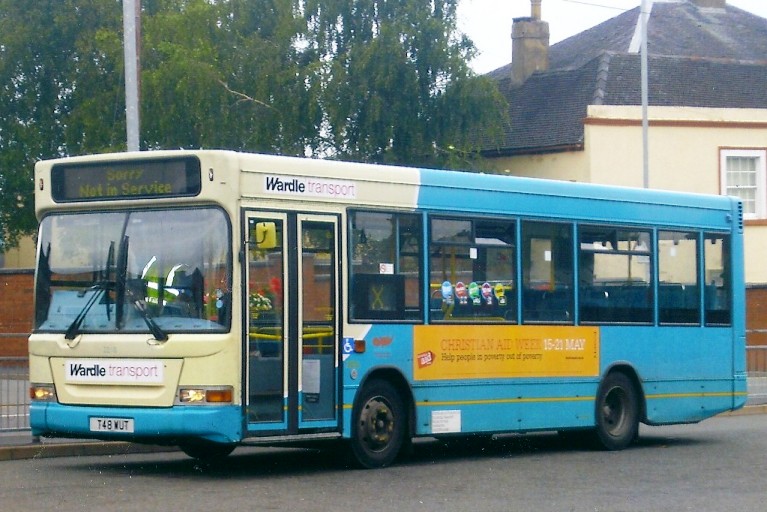 Former Derby MPD 2218 is now with Wardles.
(C) Tom Penlington



2nd September:
A sixth Versa is due here, 2943 (YJ61 CHL).

Buses due to leave once all Versas have arrived are: Omnilink 3809 to Tamworth, 3810 to Cannock, Dart 2226 to Stafford. Darts 2233/4/6 are also expected to depart.

27th August: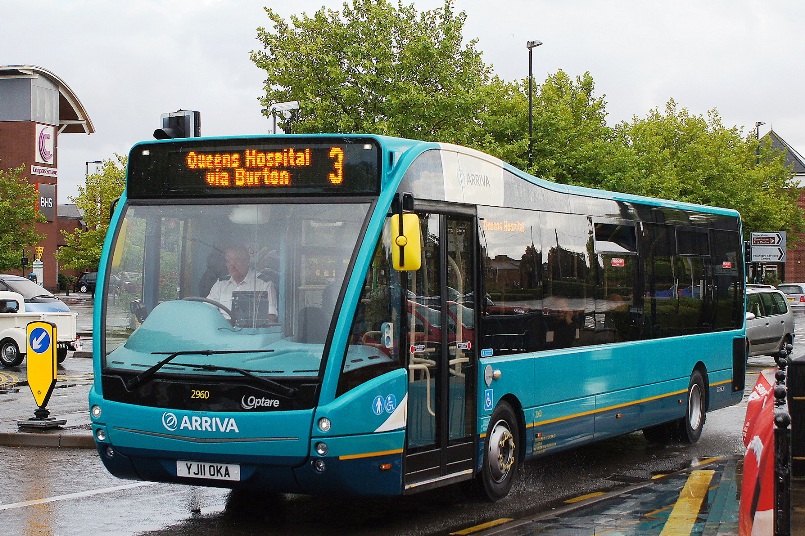 New Versa 2960 in service in Burton on Saturday 27th August.
(C) Geoff Girling

Versas due at Derby over the next couple of weeks are:

2948 (YJ61 CFF),
2947 (YJ61 CFG),
2946 (YJ61 CFK),
2945 (YJ61 CFL),
2944 (YJ61 CFM).

4 for Burton are already at Ascot Drive and are:

2960 (YJ11 OKA),
2959 (YJ11 OKB),
2958 (YJ11 OKC),
2957 (YJ11 OKD).

18th August:
Former Derby Corporation Tower Wagon 3 (RC 4248) and 5 (RC 6262) (converted latterly to a tow truck) were recently listed on ebay, although in a sorry state after being stored outdoors for many years.

4th August:
Arriva Midlands Solo's will soon become 25xx, so 9 will be replaced by a 5.
The 5 Versas for Derby will be numbered 2944,2945,2946,2947,and 2948.

23rd July:
MPDs 2217/8 and 2223/4 have moved to Wardles. The 4 new slimline Solos are now in service.

7th July:
The Derby Solos on loan in Malta are numbered as follows:
2913 (BUS 300),
2914 (BUS 301),
2916 (BUS 302),
2917 (BUS 303),
2918 (BUS 304),
2919 (BUS 305),
2920 (BUS 306),
2921 (BUS 307),
2922 (BUS 308).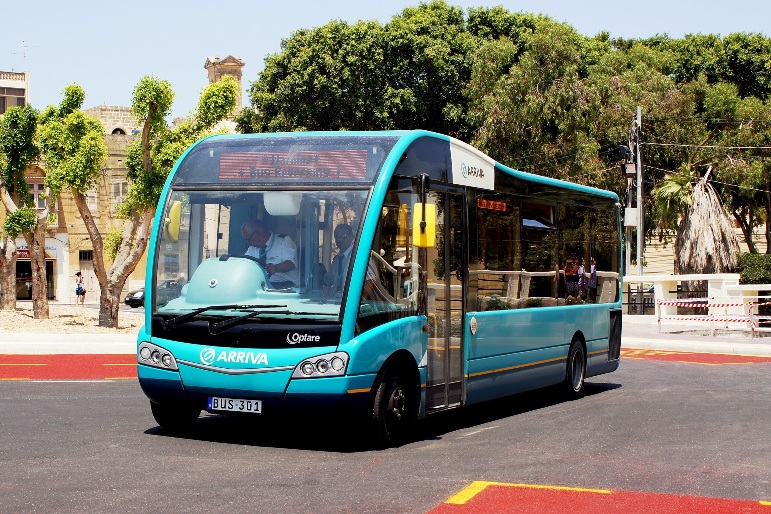 Derby Solo 2914 (BUS 301) in Victoria bus station, Gozo.
(C) Geoff Girling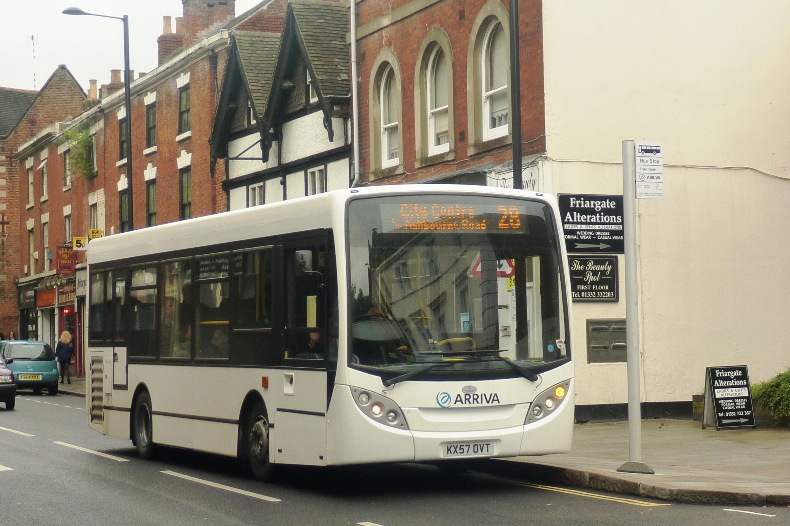 Enviro 200 1001 on Friar Gate in Derby.
(C) Bobby

2nd July:
The four slimline Solos have arrived at Ascot Drive. Omnilink 3812 now in the new livery ready for its move to Cannock. 3578/9 both out this week.

18th June:
9 Solos are going on loan to Malta. 2913/4/6/7/8 should already be off, with 2919/20/1/2 following on Tuesday. 2915 will remain at Derby.

9 Enviro 200s are here as cover for around 3 months, all are at Ascot Drive:
1001 (KX57 OVT),
1002 (KX08 UXU), in service 17/6
1003 (SN59 AXA), in service 17/6
1004 (SN59 AXB),
1005 (SN59 AXC), in service 17/6
1006 (KX57? FMC),
1007 (KX08 HMD),
1008 (KX08 HMF),
1009 (KX57 OVU),


15th June:
9 Solos from the Derby fleet are going on loan to Malta very shortly. Two Enviro 200s have arrived at Derby to cover their absence, which is expected to last around 3 months. (KX57 OVT) and (KX08 UXU) are the first to arrive, with more likely to follow. Both are from Dawson Rentals and are painted white.

The 4 new Solos here are:
2935 (YJ11 OHF),
2936 (YJ11 OHG),
2937 (YJ11 OHH),
2938 (YJ11 OHK).

5th June:
Omnilinks 3811 and 3812 are to move to Cannock for New X31 service Cannock - Birmingham. They will be replaced at Derby by Omnicities 3578 (YN55 RCF) and 3579 (YN05 HGC).

4 Slimline Solos (not SRs) are due late June early July, and 5 Versas in the autumn. This is likely to see all Darts withdrawn / moved elsewhere.

8th May:
MPD 2222 has had a repaint into the now standard inter urban livery.

4th April:
Omnilinks 3811 and 3812 are now based at Derby (again).
Dart 2227 has gone to Burton.

15th Feb:
Omnicity 3580 and Omnilinks 3809/10 are now in service. All three have transfered from Wigston.
Darts 2228/9 have gone to Burton garage, whilst 2231 has gone to Stafford.

---
---
NEWS
9th October
(YAZ 4143) was originally (M859 RCP) and came to Kimes from Teamdeck (K-Line) and so comes back into the fold!

A new yahoo group has been set up to keep up to date with Centrebus. CLICK HERE for more details.

15th September
NC bodied DAFs 42/3 (YAZ 4142/3) have arrived from Kimes (now part of Centrebus). 42 was previously (P904 PWW) and was used on the Heathrow Speedlink airport services when new.

Former Blackpool Solo 226 (V261 HEC) is here too along with former Hinckley Varios 445 and 446 (YN54 WCO/P). All 3 are in Centrebus livery.

Solos 369 (X938 NUB) and 372 (CE52 UXF) now at Hinckley.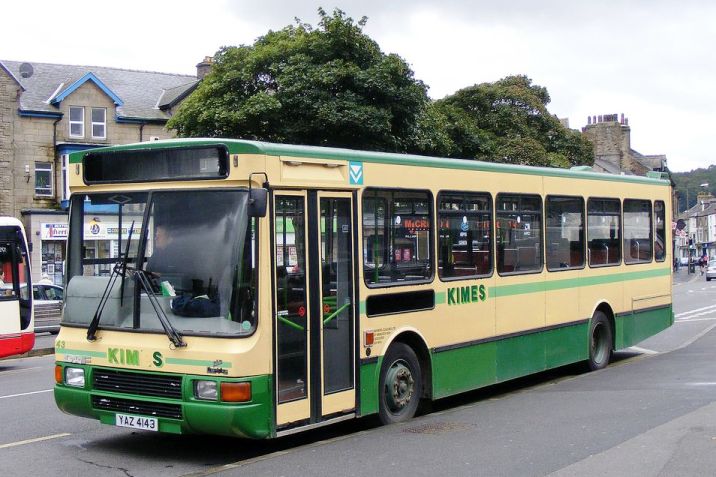 A recent transfer from Kimes (now part of Centrebus) is DAF (YAZ 4143). It is seen here in use in Buxton.
(C) Ian Moorcroft

Scania L94UB/Wright (Y2 DRM) is now in use here.

9th Feb
Former Travel Coventry Solo (S276 AOX) is expected here soon. It should be painted in the new style livery that (CE52 UFX) carries. It was previously with the Centrebus operation in the Luton area.


---
---
NEWS & Sightings
-
---
---
NEWS & Sightings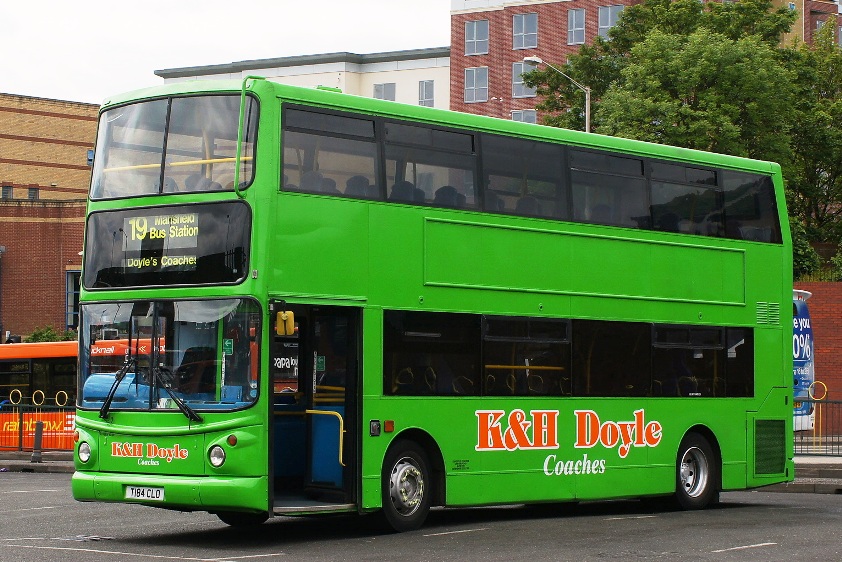 Doyles Trident (T184 CLO) in Mansfield.
(C) Geoff Girling

4th April
The 4 former Go Ahead MPDs here are: (Y863/4/5/6 TGH).

27th March
3 of the 4 former Go Ahead MPDs to arrive here are said to be (Y863/4/5 TGH).

22nd March
Bus Eireann DPC3 (00D84191) is now registered (W975 ETW).
4 former Go Ahead London MPDs are expected here on Wednesday.

17th March
Two Plaxton Pointer Darts are here from Bus Eireann:

DPC3 (00D84191) has just been repainted (no UK reg yet).
DPC10 (00D89227) is now (W973 ETW) and is in full livery.

(T183/4 CLO) are both now in full livery, 183 awaits fleet names.

5th March
Bus Eireann Dart/Plaxton Pointer (00-D-89227) in the yard today. Acquired?

One of the two tridents (no plates) has now been painted and converted to single door. It is thought to be (T184 CLO) as the other example was untouched earlier this week.

Darts (P301/8 HDP) now back in use and (R556 UOT) re-licenced but not yet in use.

Former Fox County Merc (R167 UAL) remains in store, Trent Vecta 801 left early Feb and remains untaxed, whilst ex Trent Vario 287 (S287 UAL) is now on the road elsewhere.


---
---
NEWS
-
---
---
Gills Travel


26/03/2011:
Former NCT, and more recently Littles, Optare Metrorider (R232 SCH) is now here.
---
---
G&J Holmes

NEWS
-
---
---
Glovers of Ashbourne


NEWS
18th August 2011
Former Winsons Volvo Plaxton coach (FJU 973) arrived here in June.
A Mercedes Plaxton Cheetah is also here.
---
---
Harpurs Coaches


NEWS

28th October 2011
2 of the former Dublin Olympians have been repainted: Click here for a link to photos

18th October 2011
Harpurs Coaches are taking Metrobus (C373 BUV) to the Lincolnshire Vintage Vehicle Society on Sunday the 6th November. We will be leaving the garage on Wincanton Close at 9am, on site parking is available. http://www.lvvs.org.uk/.

White Ford Transit (DN56 NLU) is in use here, and has been for a while.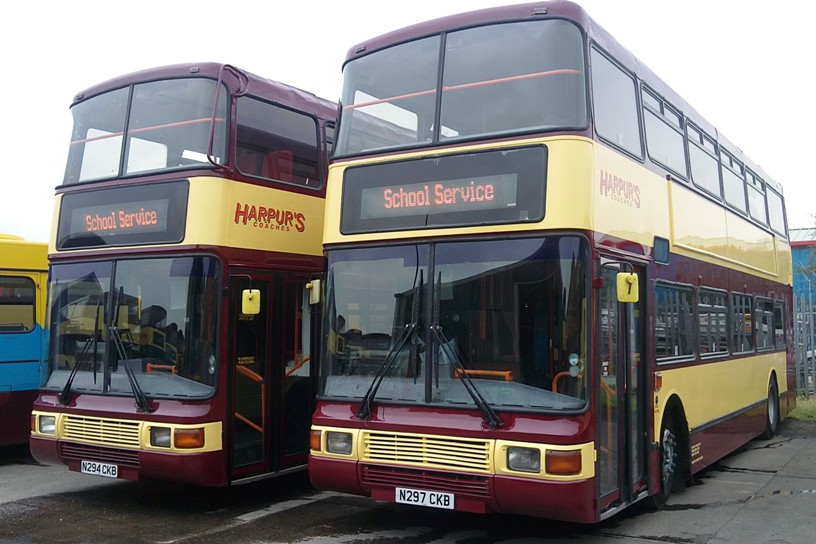 Former Arriva Olympians (N394/7 CKB) have now been repainted in fleet livery.
(C) Mr C Johnson.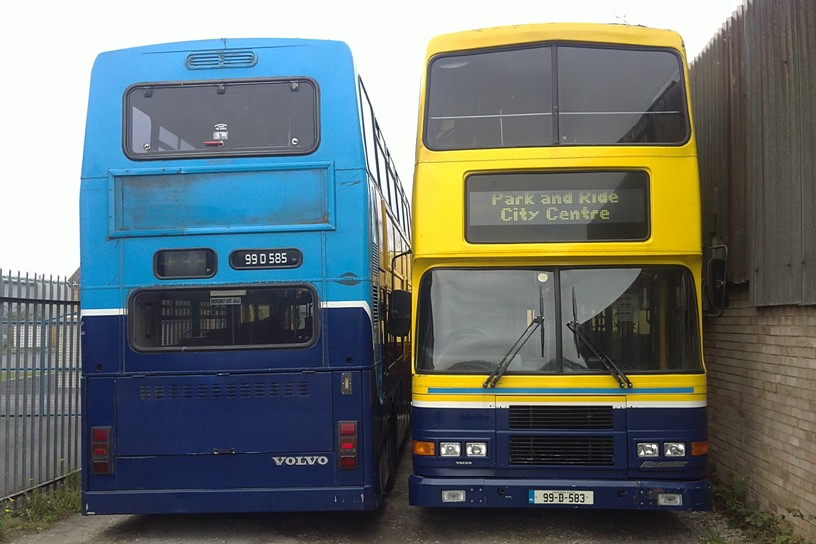 2 of the 3 former Dublin Olympians before repaint. The 3rd is having the centre door removed.
(C) Mr C Johnson.

The two ex Arriva Merseyside Olympians here are (N294/7 CKB).

29th August 2011
Two of the Dublin Olympians here are (99D583) and (99D585).

18th August 2011
3 Dublin Olympians have arrived here, along with 2 more from Arriva in Liverpool. More details to follow.
Metrobus (B204 WUL) has gone to PVS (scrap).

4th August 2011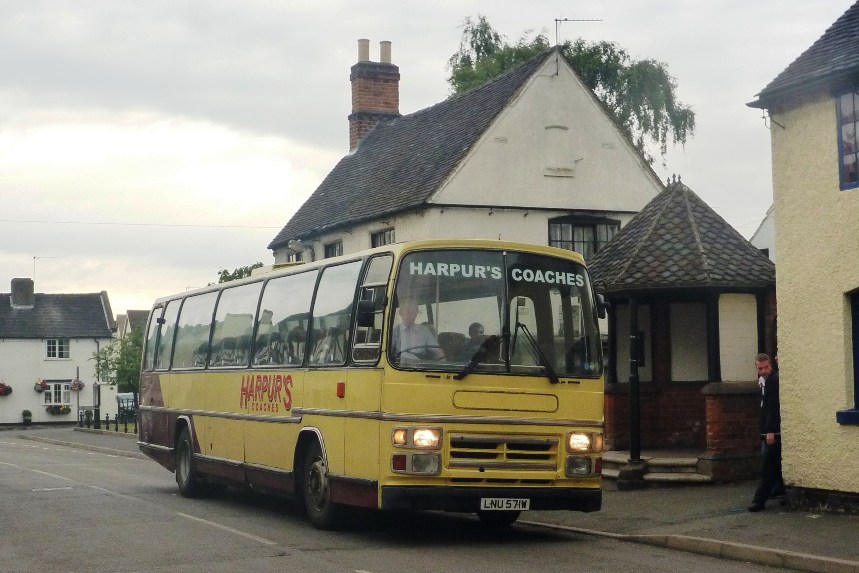 After a brief return to service this former Barton Leopard is now back in storage / preservation. (LNU 571W) is seen here in Weston on Trent.
(C) Bobby.



17th March 2011
Dennis Dominator (F638 BKD) and Metrobus (C317 BUV) have gone to PVS for scrap.

27th Jan 2011
Metrobus (C317 BUV) has been withdrawn. This leaves 3 left in service here, although some former DUblin Olympians may replace them in the near future. (C373 BUV) may be retained.
---
---
Hawkes Coaches

NEWS
---
---
Hulleys of Baslow

NEWS + SIGHTINGS
7th November
The Volvo B7L / Alexander decker 22 (V140 LGC) is now in service here.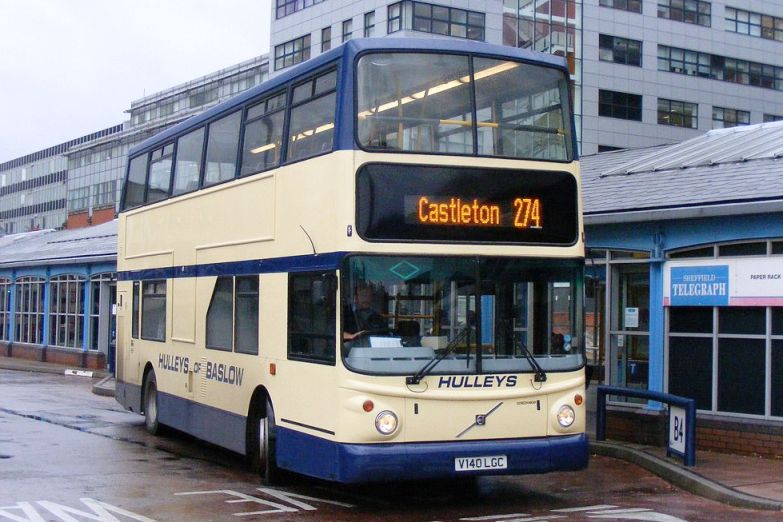 Hulleys B7L/Alexander 22 (V140 LGC) is seen here in Sheffield.
(C) Ian Moorcroft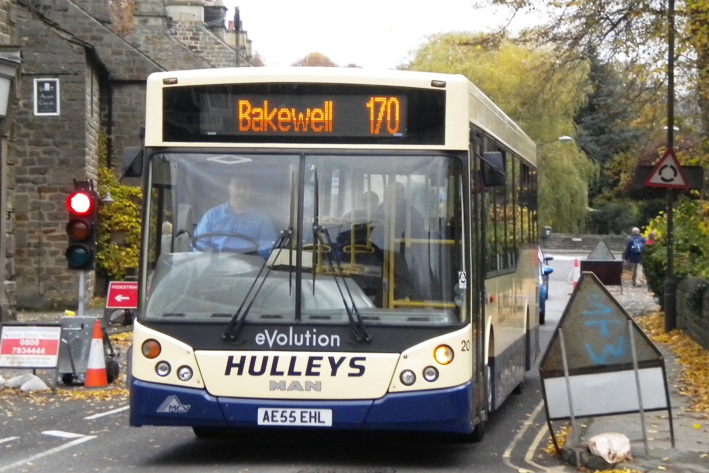 .
(C) John Whittingham

24th September
A V registered Volvo B7L with Alexander ALX 400 bodywork is due here soon. Believed to be ex London Central. It is currently being painted and Volvo are said to be taking it to Bus and Coach live next month.
---
---
Johnson Bros / Redferns

NEWS & SIGHTINGS
-
---
---
Linburg

NEWS + SIGHTINGS
-
---
---
Littles Travel

NEWS + SIGHTINGS
26th March 2011
Metrorider (R232 SCH) has gone to Gills Travel.

Thurs 14th October
Two Metrobuses have arrived here from Skills, one of which is ex Harrow (E476 SON).
---
---
Midland Classic


NEWS
24th November
Scanias 84 and 85 are now in use after repaint. 72 has also now been painted into fleet livery.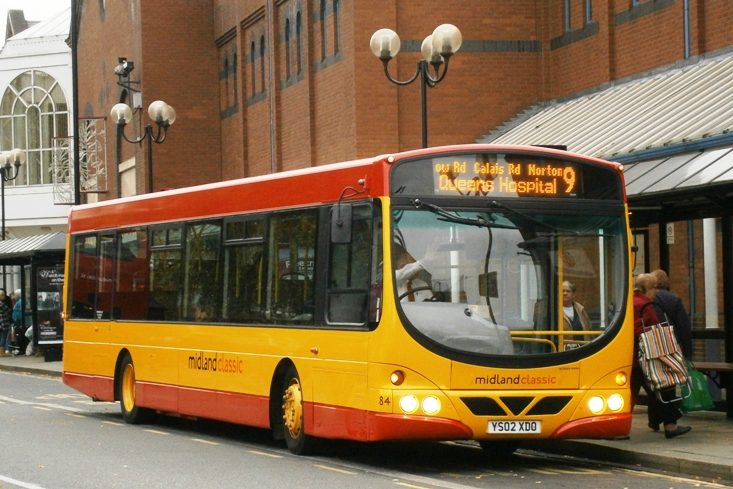 Scania 84 after repaint.
(C) Daniel Louch.
24th October: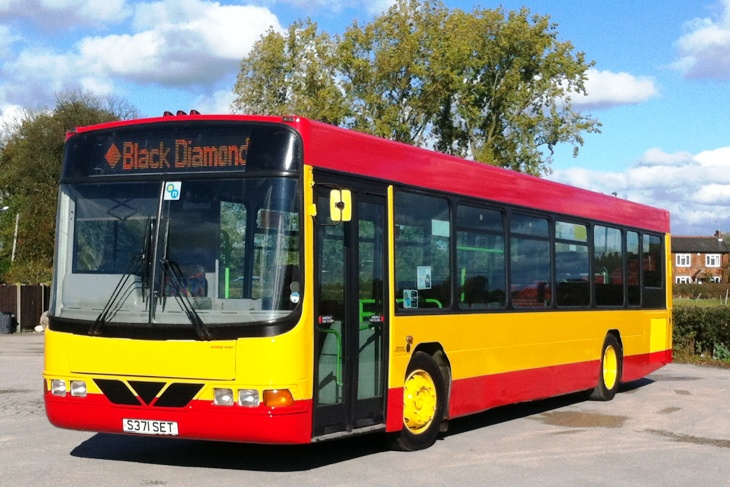 Scania (S371 SET) after repaint.
(C) James Boddice.

2 Scania Wright Solars (YS02 XDO) and (YN04 ANX) are now here. Both are from Beestons, Hadleigh.

71 (S371 SET) is away for repaint and should return this week. 72 (S372 SET) is now in service in white, but will be painted once the Solars have been done.

The Routemaster has been repainted.
15th October:
Two Wright bodied Scanias (S371/2 SET) have arrived here from Diamond, replacing Trent Darts 917/9 (R917/9 RAU).
Dart/Handybus (J315 XVX) has gone for scrap.

---
---
Premiere, Nottingham


NEWS
30th September
Two more Tridents here from Brighton and Hove are 4603 (T803 RFG) and 4604 (T804 RFG). The first has already been painted and the second should be done later next weel. They will replace 3352 and 3353 on Red 5.

3346 has gone back to the dealer for some engine work, so white E300 (KV03 ZFK) is on loan numbered 3322.

Veolia MPD darts 2220, 2221, 2222 have been sold and collected, 2223, 2224 should go in the next two weeks.

Former NottsBus Darts 3316, 3317, 3327, 3328 have also been sold and collected. 3331/2 are being retained, and are due to be re-engined and repainted for further service.

Dart 3387 has been repaired and repainted following accident damage.

20th September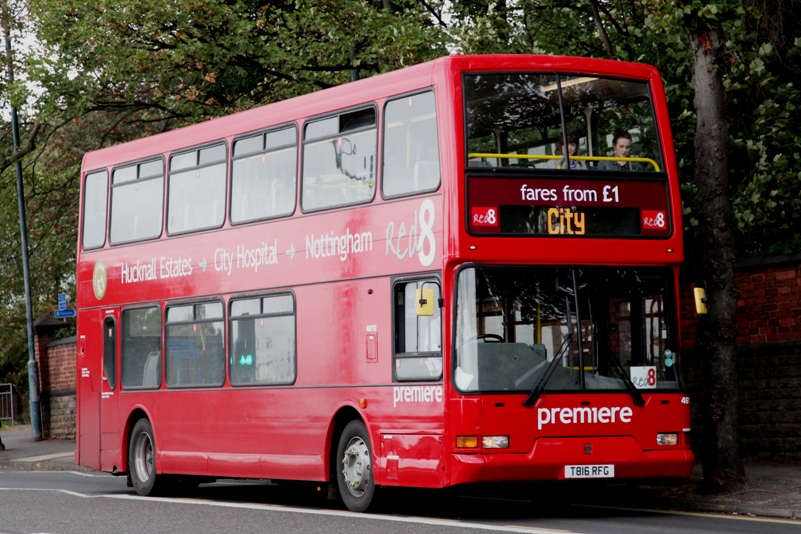 Red 8 branded Trident (T816 RFG).
(C) Rob Hadfield. The Bus Parade

Two more Tridents (T803/4RFG) are due from Brighton and Hove later this week.

Scanias 3345 (X471 AHE) and 3346 (X472 AHE) are now here and branded for Red 9. 3310 and 3351 are now spare "red" route buses.

Volvo B6 3336 (FE51 RBX) is currently being repainted into fleet livery. Similar 3335 (FE51 RBV) is now here too, and should be in use in the next few weeks.

Solo 2205 is now in Premiere red.

All NottsBus Darts are now off the road. The former Veolia MPD's are now sold with 2220, 2221, 2222 with 2223 and 2224 following very soon.

26th August
Solo 2291 now in fleet livery.

21st August
Two former Brighton and Hove Dennis Tridents are here, thought to be 4416 (T816 RFG) and 4418 (T818 RFG). These will be used on Red 8 alongside 4636.

Two more Scania / Wright Solars are here numbered 3345 and 3346. These will join similar 3347 (which has already been branded) on the Red 9.

Nottsbus branded Darts 3316, 3317, 3327, 3328, 3332 are now in storage. 3331 remains in use. MPDs 2220-4 are expected to leave the fleet soon.

Solos 2204, 2208 and 2214 have lost their Red 2 branding.

7th July
Solo 2291 (T291 UOX) is now registered (LUI 7627).
Coach (FJ55 YCM) is now (B12 PTL).


---
---
Stagecoach East Midlands
Chesterfield, Mansfield, Worksop
NEWS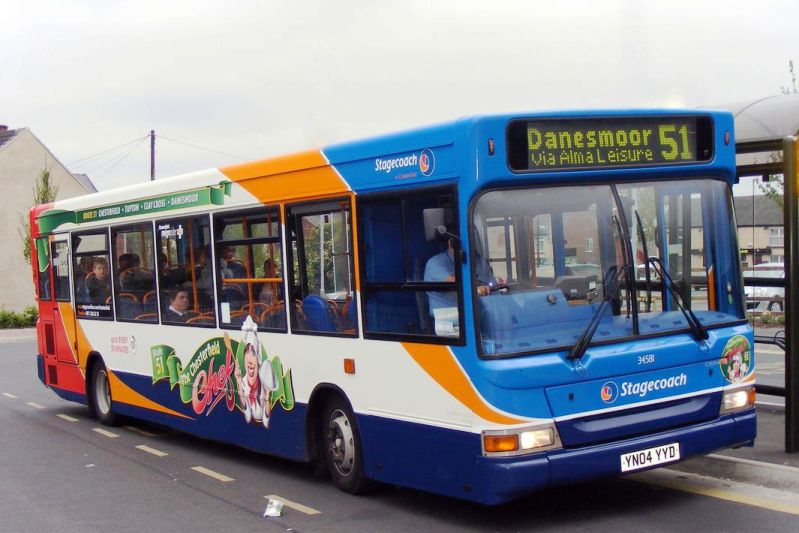 Route branding has been introduced on many routes around Chesterfield.
(C) Ian Moorcroft
To keep up to date with Stagecoach in Chesterfield, and many other operators in the area, take a look at the excellent Transpire website.
---
---
TM Travel


NEWS:
See Wellglade section.
---
---
Translinc
NEWS
:
---
---
---
The Wellglade group
trent barton, kinchbus, notts+derby and T M Travel.

NEWS
24th November:
Trent barton have today taken over the bus operations of Felix: see trent barton website for confirmation: trent barton website

24th November:
2 more TM Travel Excels have gone to Looms for scrap. Former Trent National 528 has also gone for scrap.

Excel 264, the one that was painted for the Skybus production, has now been repainted into trent barton red, with advertising for the Wetherspoons Mango discount (like 265).
Solo 413 (former Royal) has been painted into trent barton red, and is still based at Derby.
Optare Solo demo (YJ10 MBF) moved on a while back, and has since been used in Liverpool, Waltham and last week was in Helensburgh.
White Solo 449 is now in use with TM Travel, whilst Scania 663 was in use on the bargain bus route the other week.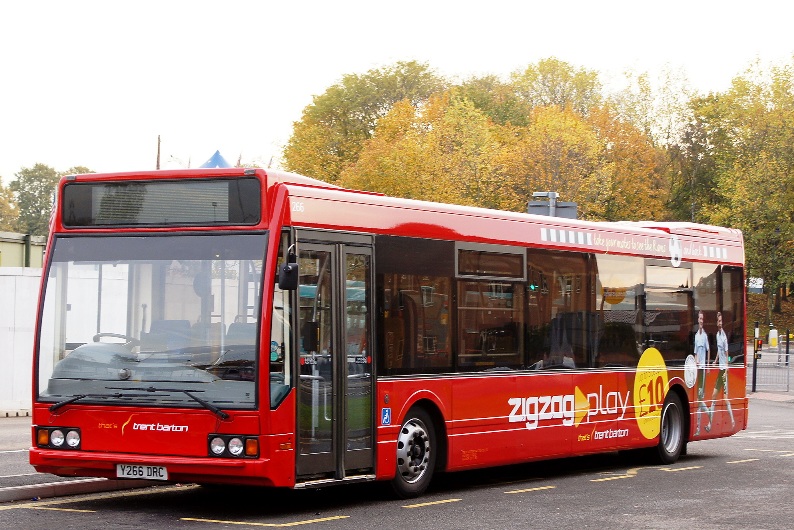 Excel 266 in Rams Zig Zag play livery, seen here in Derby Bus Station.
(C) Geoff Girling


3rd November:
Excel 266 now based at Derby in trent barton "zig zag play" "Rams" livery.
Coach 63 now painted for and in use with notts+derby.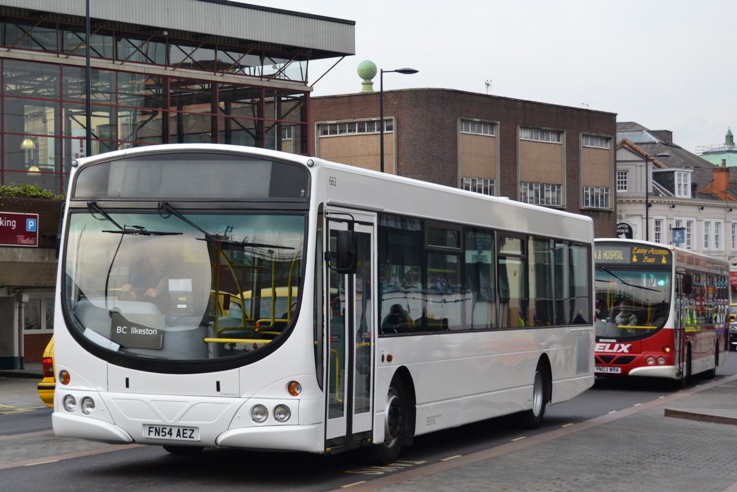 Former Rainbow 1 Scania 662 has been repainted white and is to be used on the additional Black Cat services for the next week and a half! The short term additional journeys run 5 minutes ahead of all Felix journeys on the same service which is jointly operated by trent barton and Felix. A Felix Scania on the same service can be seen in the background. Extra journeys are also being operated on the Ilkeston Flyer service, using a notts+derby Solo.
(C) John Moore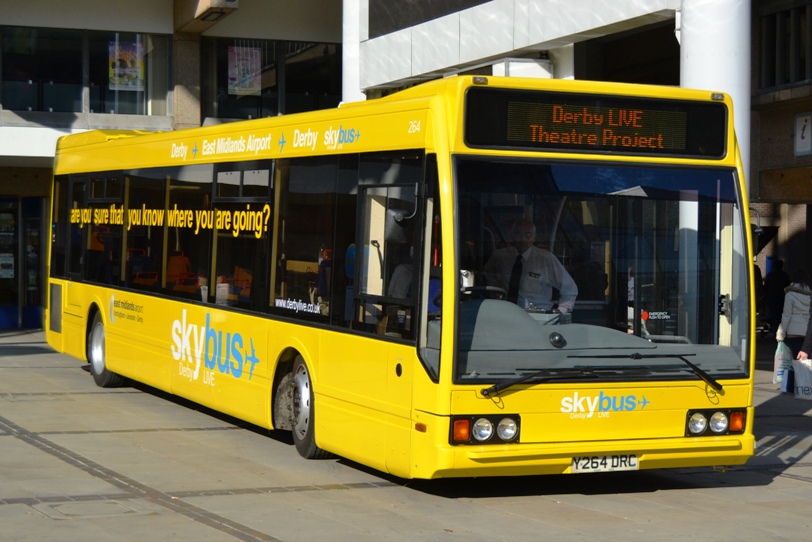 Are you sure where you are going? Excel 264 has been painted in Skybus livery and is used as a moving stage and theatre! For more details see www.derbylive.co.uk.
(C) John Moore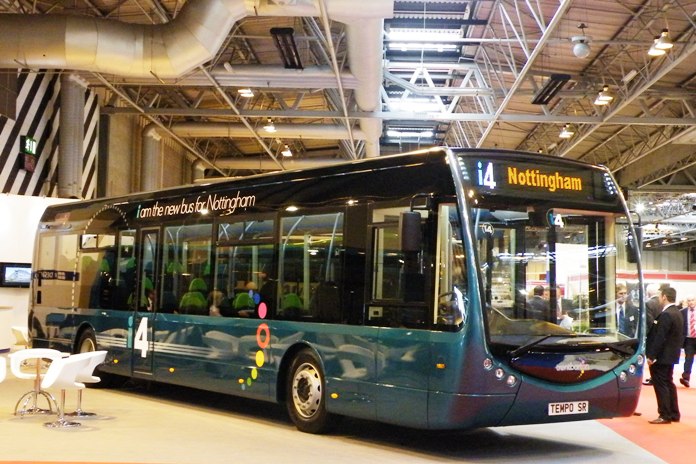 The Optare Tempo SR was launched at this years Coach and Bus Live. The example on show was one destined for trent barton, on their I4 service - the new name for Rainbow 4 from December.
(C) John Curtis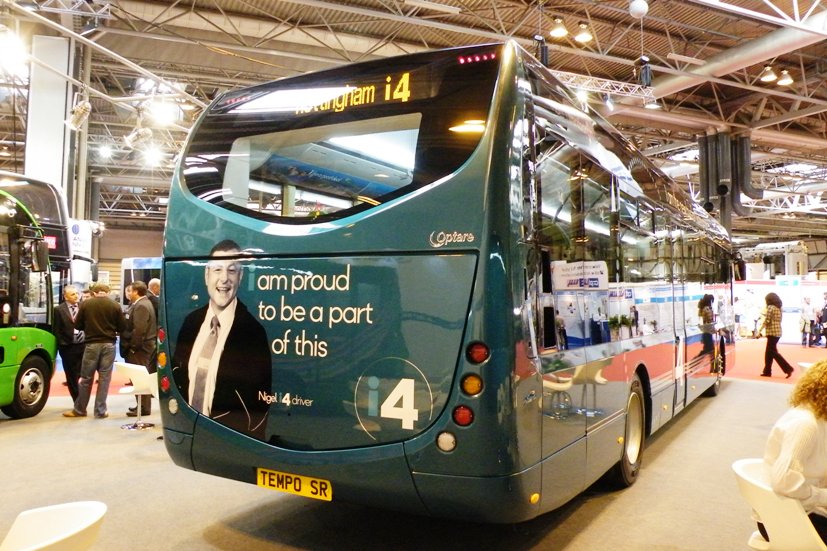 A rear view the new Tempo SR.
(C) John Curtis

15th October:
Scania 662/3 and Solo 449 have been painted white for use on the additional Black Cat and Ilkeston Flyer journeys.

Coach 60 now expected to go to N+D (not TM) along with 63 which is now in the paintshops.

The Traffic Commisioner approved an increase in the vehicle allowance on the Bowers Coaches O-license earlier this week, meaning they could be one step closer to the High Peak company being created.

9th October:
In a correction to an earlier report former Swift Excel 265 is now based at Derby, in red, with adverts promoting the 20% mango card discount at Wetherspoons. Similar 264 is in allover yellow (not 265 as previously stated) and currently at Kinchbus. This is being used as part of a play, see www.derbylive.co.uk for more details.

The new look Tempo, the Tempo SR, was unveiled at the NEC Bus and Coach show last week. The exhibit was one of trent bartons examples set to hit the road on the Rainbow 4 service later this year, when the service will be renamed "i4". For more information and photos see the excellent The Omnibus Blog.

Further north at TM Travel, Darts 899 and 938 have been withdrawn, along with the last Vario 1138 (T455 HNH).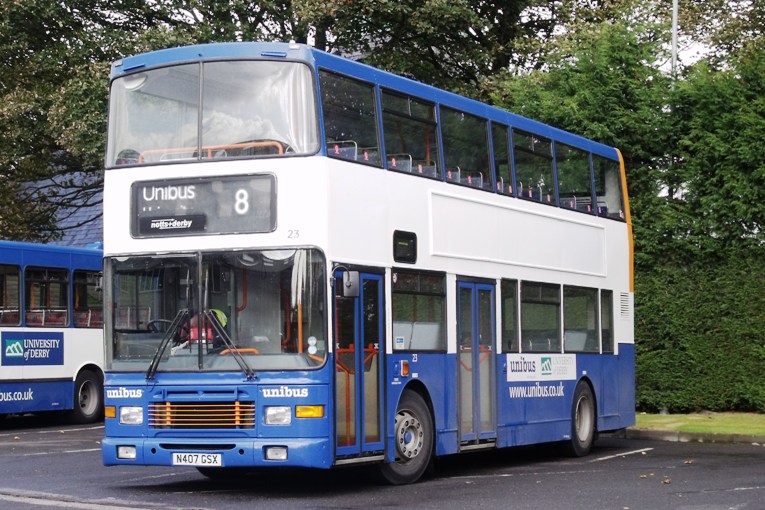 Olympian 23 in Unibus livery. Note the last Olympian in unibus livery was also 23!
(C) David Harrison
30th September: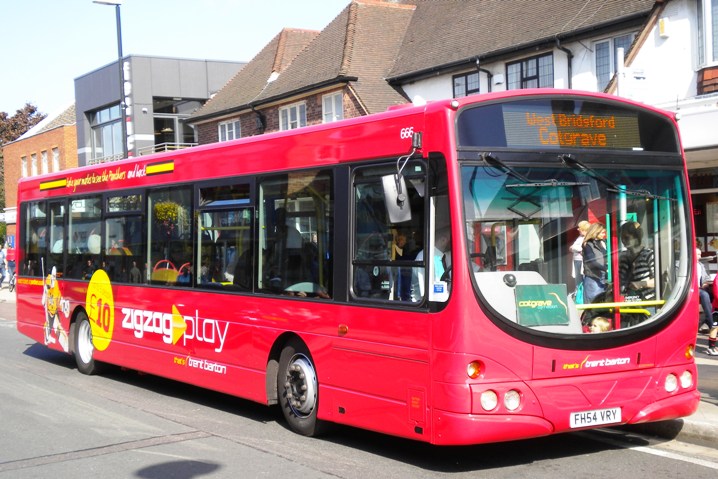 666 in "Panther" Zig Zag play livery, Central Avenue, West Bridgeford.
(C) John Whittingham

Scania 666 is now advertising Zig Zag play for the Panthers.
---
---
Yourbus, Nottingham
NEWS
A new yahoo group has been set up to keep up to date with Centrebus. CLICK HERE for more details.

6th July: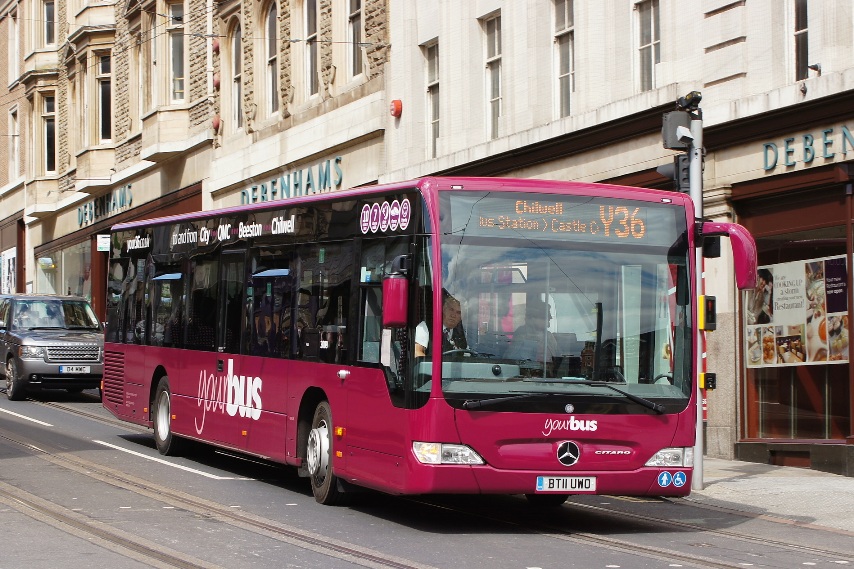 Citaro (BT11 UWO) in Nottingham.
(C) Geoff Girling

9 new Citaros for the Y36 arrived in June, they are:
3001 (BT11 UWF),
3002 (BT11 UWG),
3003 (BT11 UWH),
3004 (BT11 UWJ),
3005 (BT11 UWK),
3006 (BT11 UWL),
3007 (BT11 UWM),
3008 (BT11 UWN)
3009 (BT11 UWO).


---
---
Last Months News

News Index Page
---