Bus Fleet News 4 DERBY
November 2007
---
---
Latest News
---
Here you will find all the latest bus news and sightings for many bus operators in and around the Derbyshire area. If you have anything to report please contact me by clicking here.
---
---
NEWS
Sat 17th Nov:
New here is Volvo / Plaxton Panther (YN57 BWV). Thanks Ian.

Tue 18th Sept:
All white VOLVO / JONCKHEERE (N815 NHS) is in use here, presumably the coach on hire until their new coach is ready in November. Thanks Ian.

---
---
NEWS
Sat 17th November:
May have already mentioned this but Darts 2231 and 2236 are recent repaints.
Stanways (Stoke on Trent) have re -registered Citybus 4341 (B141 GAU) - it is now (BIG 2578).
Olympians (VRA124/125Y) have been sold by Chester City Transport to Howard, Great Sankey, Warrington. One of the two, thought to be 125, has since moved on to Liverpool operator Helms, Eastham. Thanks Chris.

Sat 10th November:
Latest repaint is Volvo B10BLE 3604. It has also had a new orange LED display fitted.
Dart 2216 has had a new orange LED displays fitted (front, back and side). Shame as the roll blinds looked new as they had hardly ever been used!
Olympian 4666 has had a dot matrix destination put in (like the newer Olympians at Derby have).
A Lynx driver training bus is also reported here.

Sun 4th November:
Former driver training Tiger / Plaxton Derwent (F603 CET) is now with TM Travel.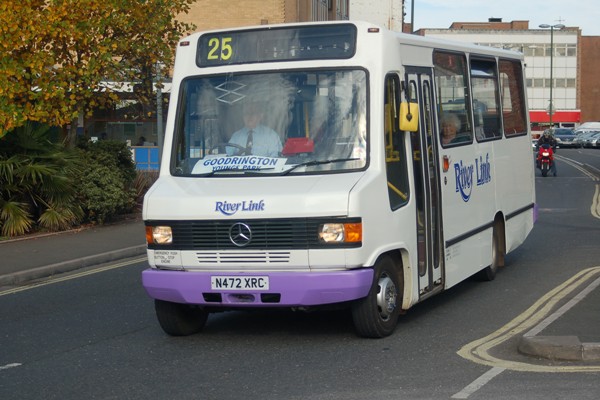 Former Derby minibus (N472 XRC).
(C) John Moore



Tue 23rd October:
Dart 2090 is on loan to Swad. Thanks Rich.

SIGHTINGS
Mon 26th Nov:
3605 on the 20, 3604 26 and an Excel on the 38. Thanks James.

Wed 21st Nov:
Excel 2998 on the 38 to Sinfin. Thanks Chris.

Thurs 15th Nov:
Minibus 1384 on the 109! Excel 2998 on the 37.

Wed 14th Nov:
2198 on the 29, 3604 26, 2236 on the 38.

---
---
NEWS
Wed 19th September:
Acquired here is (L172 CKG), a Scania K113CRL with Alexander Strider body and painted in full Bowers red livery.

---
---
NEWS & Sightings

Sat 10th November:
Solo (YN53 SVJ) is here - although this may be a re-registered (L50 LOW)!!

Sat 3rd November:
Solo (MX53 FDZ) has arrived here, aswell as (X791 NWX)!! Solo (L50 LOW) is another recent arrival.

Sat 20th Oct:
One of Doyles 147 branded MPD's has been repainted white! Both have been missing off the route this week. Thanks John.

---
---
NEWS
Thurs 17th Oct:
Despite recent rumours, Felix will continue operating coaches, although less Holiday trips will be undertaken due to a decline in demand.

---
---
G&J Holmes

NEWS
Tue 9th Oct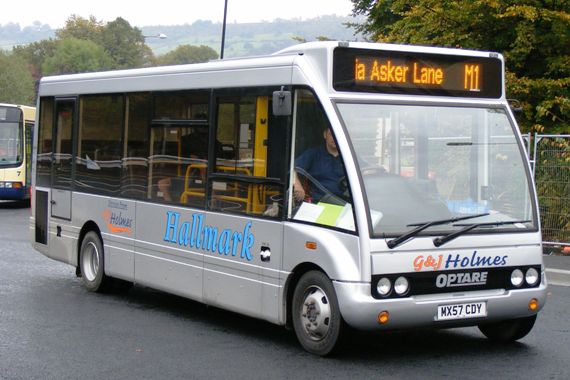 G&H Holmes new Optare Solo (MX57 CDY) in Matlocks wonderfull new bus station!
(C) Ian Moorcroft
---
---
Glovers of Ashbourne


NEWS
Sat 27th Sept
Volvo B10M Coach (N382 EAK) has been sold to Lowes Coaches, Nottingham.
Acquired here is Plaxton Cheetah (W635 MKY). Thanks Chris.

---
---
Harpurs Coaches


NEWS + SIGHTINGS

Wed 17th September
Olympian (G363 YUR) has now been painted into fleet livery.

---
---
Hawkes Coaches


NEWS + SIGHTINGS

Mon 14th May
Metrobus (KYV 647X) has been withdrawn.

---
---
Hulleys of Baslow

NEWS + SIGHTINGS
:
---
---
Johnson Bros / Redferns

NEWS & SIGHTINGS
:
---
---
Littles Travel

NEWS + SIGHTINGS
Mon 12th November.
A Scania decker (OUI 637*) on route 9 today later replaced by the Optare Metrorider. Solo has been missing for a while.

Sun 4th November.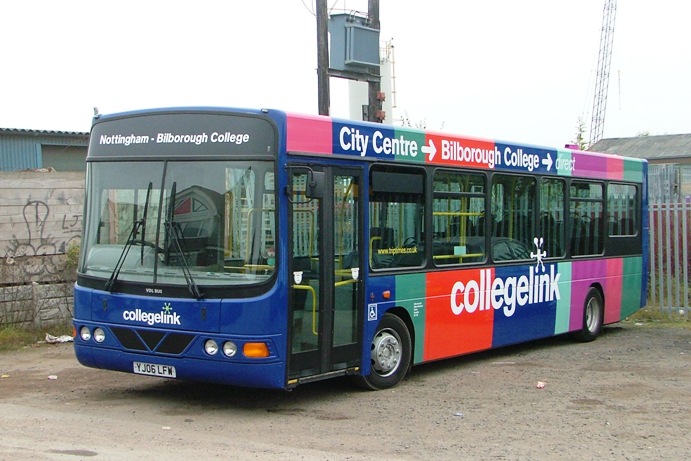 Littles Bilborough College branded (YJ06 LFW).
(C) John Moore



Fri 14th September.
Volvo /Plaxton Derwent (G728 JJC) on route 9 today. Thanks Chris.
Wright bodied VDL (YJ06 LFW) has arrived here for a Bilbourough College contract. its in a blue and white livery. Thanks Paul.
---
---
Midland Classic


NEWS
Saturday 3rd November:
Lynx (HXI 3009) and Metrobus (GBU 6V) have both been repainted and are now in service.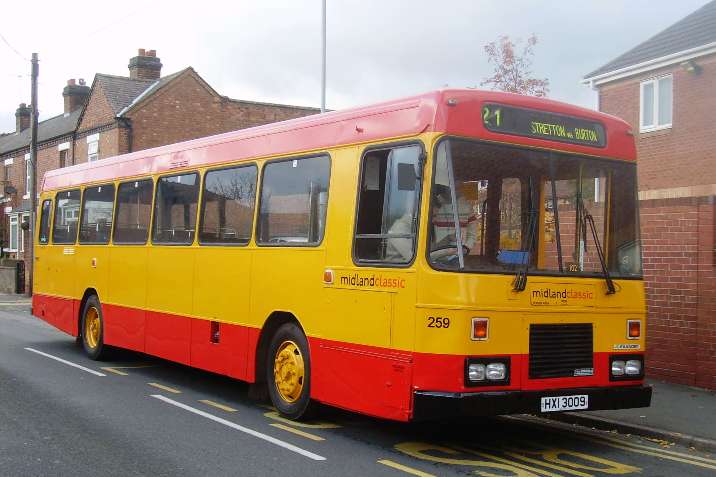 the rare Alexander bodied Lynx out on route 21.
(C) Daniel Stone



Saturday 20th October:
Former Stevensons Leyland Lynx / Alexander 1009 (HXI 3009) is the latest addition to the fleet.


---
---
Stagecoach East Midlands
Chesterfield, Mansfield, Worksop

NEWS
Sat 24th November:
Solo (YS02 XUP) is Here from Yorkshire.
Olympian 16582 (R582 JVA) is an addition to the Chesterfield fleet. Thanks Dave.

Sat 3rd November:
Dart (YN56 OMS) has arrived at Chesterfield from Yorkshire.
Stagecoach Chesterfield now have Solos 47292, 47285 and 47286. 47293 MAY be here too!
Remaining minibuses in service at Chesterfield are: (J214 AET), (J216 AET) & an N Reg example. The first two were new to Chesterfield. All should be withdrawn very shortly.
35235 has at Chesterfield on loan from Rawmarsh to cover for vehicle shortages.
3 Volvo B10M/Paladins have been transfered elsewhere, possibly Barnsley. These are: 20274 (M714KRH), 20275 (M715KRH) and 20279 (R719RPY).

Wed 17th October:
A secondhand Solo is to be acquired from S/C Yorkshire, which is planned to enter service on route 6.
The remaining 3 Mercedes minibuses still in service (N759CKU, J214AET and J216AET) are likely to be withdrawn in the coming weeks. Thanks Dave.

SIGHTINGS
Sat 17th November:
Dart (M68 VJO), B10M (L342 LCK) and 54 Branded Excel (YN51 VHK) all on route 25!
Route 10 Branded Dart (YN05 XOA) On Route 5, Olympian (S161 RET) on Trident route 77.
Dart (YN04 YXZ) on Solo Route 39. Thanks Jack.

Thurs 15th November:
Route 39 branded Solo 47318 on route 2. Darts (T802 DHL) and (K109 SRH) on the 39.
Route 10 branded Dart 34722 on route 5! Should cause confusion as the 5 and the 10 use the same stand at Chesterfield. Thanks Chris.

Mon 12th November:
Olympian (N141 AET) on Trident Route 77 and Dart (YN04 YXT) on Solo Route 39. Thanks Jack.

Thurs 8th November:
B-line liveried 20440 on route 97 to Alfreton. Minibus (J214 AET) on Solo route 39, with (J316 AET) on route 3.
Dart (P21 HMF) on Trident route 77.

Sat 3rd November:
Olympian (N144 AET) on 10, Coach (S672 RWJ) on 70, B10M (R719 RPY) on 25 and (L342 KCK) on 727. Thanks Jack.

Thurs 1st November:
Olympian 16496 (P146 KWJ) on route 39 in place of a Solo!

---
---
TM Travel


NEWS
Sat 3rd November:
Dart (T440 EBD) is here on loan.
New slimline Solos here for the Sheffield "Free Bee" City Clipper service are (YJ57 EHB/C), and (YJ57 KFE). A 4th Solo (YJ52 DHC) is the back up bus for the route.
Some Solos have arrived from Dawsons rentals - these include (W292 EYG), (W261 EWU), (Y867 PWT), and (W285 EYG). The last three are in white livery.
More exciting fleet developments are the additions of some Leyland Tigers. Former Arriva Derby trainer (F603 CET) is here in frontline service. Also the unique rear engined ECW bodied Tiger (Q723 GHG) is here, arriving from Amvale, Grimsby. it was new to OK Travel.
Also acquired is another coach, Volvo B10M/Van Hool (YXI 3416) which has come from Pearsons, Hull.
A new Mercedes/Plaxton Cheetah is here too - this is (YN57 BXG).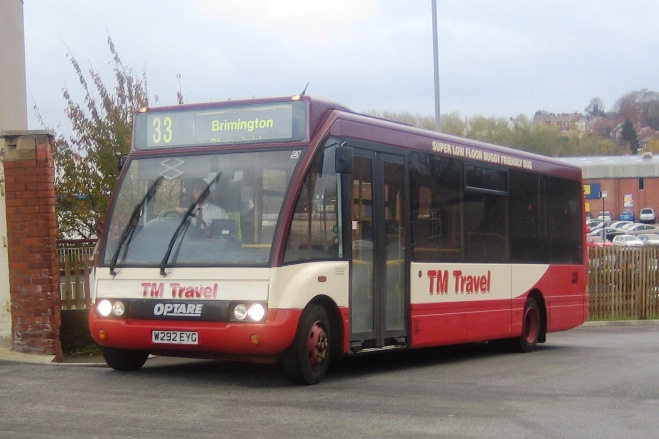 A new variation of the TM Travel livery is carried on one of the latest arrivals, Solo (W292 EYG) seen here at Chesterfield.
(C) Matthew Barker
TM Travels Tiger (F603 CET) leaves Sheffield Interchange!
(C) Ian Moorcroft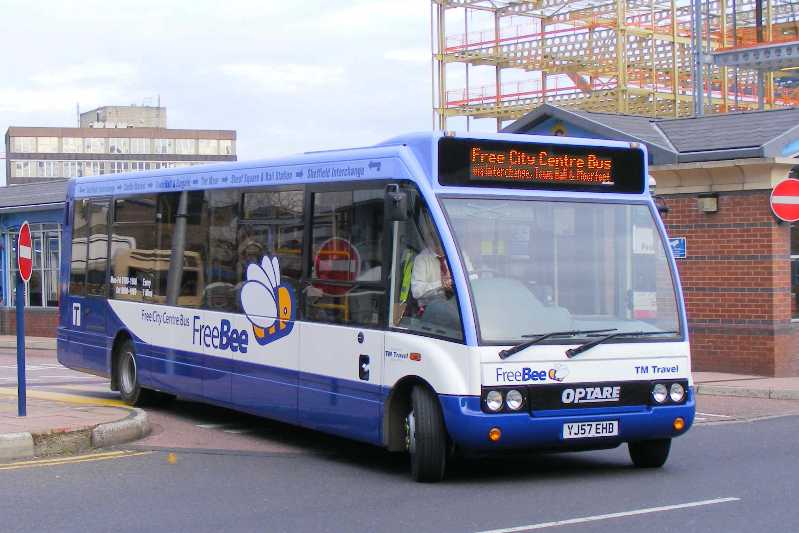 "Free Bee" branded Solo (YJ57 EHB) leaving Sheffield Interchange.
(C) Ian Moorcroft



Wed 17th October:
A further 2 slimline solos are expected this week, to be used on the City Clipper service in Sheffield alongside (YN57 KFE).
TM Travel are moving from their current base, a new place, at Halfway, Sheffield.
A Van Hool Coach, (YXI xxxx) has been acquired from an operator in Hull!
A former? Arriva training bus has turned up in their yard too - it is F reg - more soon! Thanks Dave

---
---
Translinc
NEWS
:
---
---
The Wellglade group

NEWS
Tue 27th November:
Felix Volvo / Plaxton coach (W709 PTO) parked up at Meadow Road today. Dart 934 back from repaint, it now carries standard N+D livery.
The Volvo coach (FL02 ZXH) that arrived here last month, was seen near Loughborough on Monday - perhaps it has gone back to the Volvo dealership? Both Skills and Patron Travel operated the coach previously.

Sat 24th November:
Nines services between Derby and Ripley are to be duplicated in the run up to Christmas, as the Solo's cannot cope with the crowds. Journeys on the 9.1 and 9.2 will be duplicated in one direction only, from Ripley to Derby until early afternoon, from which time journeys from Derby to Ripley will be duplicated. Dart 909 has transfered to Sutton Junction for use on the extra services. 2 buses are required for the additional operations.

Duplicates are also running on other routes in the run up to Christmas, including H1 and Red Arrow (Derby to Alfreton section).

Olympian 715 is now out in service after its front end repaint.

Sat 17th November:
Dart 936 is now with Notts + Derby and is branded for 111 Pride Park and Ride (same as 935/7).
Volvo B7 / Jonkheere (FL02 ZXH) has arrived here (ex Skills?). The vehicle is to be used on Red Arrow whilst the current vehicles on the service are refurbished one by one. The coach is currently at Langley Mill in a cream livery.

Sat 10th November:
The Scania Demonstrator has moved on already. It spent a few days on the Rainbow 1 route last week.
The Council have ordered Plaxton bodied buses for use on the Kinchbus airline shuttle. They are expected in service by April 2008.

Mon 5th November:
A second hand Volvo coach is reported at Langley Mill. It is expected to be painted up for use on the Red Arrow service, to cover for the Scania Irizar coaches as they are refurbished one by one. More details soon.

Sat 3rd November:
Scania /Wright Demonstrator (YN57 FZL) is on loan here. It is in plain white livery and based at Langley Mill.
Dart 934 and Excel 226 have been repainted, 934 for N+D and 226 into trent barton.
Darts 934/6 are to be repainted for notts + derby to replace 909/10.
Tempo's 317 and 318 has entered service on route 21 for which they are branded.
Citybus 739 is awaiting repair, it has problems with one of the axles! Olympian 715 still parked up at Langley Mill - the front has been repainted into N+D livery.
SIGHTINGS
Tues 27th Nov:
Olympian 715 on the X17 this morning (just one trip) - thanks Chris. 909 on the 19, and 934 on unibus 5. Paladin 115 on unibus 6.
Tempo 308 broke down on the A38, was towed back to Derby after being replaced by Solo 448. Thanks Geoff.
Dart 904 on Rainbow 3b. Thanks Dan.
930 on V1/3, 447 Allestree, 199 TP, 667 RA duplicate.
235 and 664 on H1.

Mon 26th Nov:
Unibus Olympian 723 on route 35! 119 on unibus 6.
Excel 235 on amberline. Dart 949 and Solo 414 on H1. Thanks Dan.
Olympian 717 on Unibus route 4! Minibus 49 at Meadow Rd, where 739 remains over the pitts.
Excel 234 on V1/3, Dart 930 on Allestree and Scania 667 and Excel 199 on Mickleovers. Coach 63 on Red Arrow duplicates. Thanks Chris.
Kinch slimline Solo 7 on Airline Shuttle.

Sat 24th Nov:
Darts 901 and 909 (now at Sutton) on the nines duplicates.
Unibus Paladin 106 on a Red Arrow duplicate, running from Derby to Alfreton. Excel 235 running as a duplicate bus on H1.
Scania 638 on BC.
665 X38, 667 Mickleover and 930 on Villagers. Thanks John.

Fri 23rd Nov:
Excel 235 and Dart 949 on route 15. Thanks Stuart.
Scania 637 on R2. Thanks Dan.

Thurs 22nd Nov:
Excel 900 working for N+D on their X17 route to Borrowash. Thanks Chris.
Solo 403 on the nines. Dart 895 on R3C. Thanks Dan.

Fri 16th Nov:
Nines Solo 407 on N+D route 146 in Sutton. Thanks Dan.

Thurs 15th Nov:
Frio Excel 199 on Mickleover.
Scania 637 on Black Cat.
Excel 152 on the 111.

Wed 14th Nov:
Excel 235 on BC, 199, 900 and 667 on Mickleover, 930 V2.
Solo 448 V1/3, 665 X38, 935 19 (936/7 on P&R).
Former Keyworth Dart 910 on X17.

Tue 13th Nov:
Coach 63 on the V2 later replaced by Frio Excel 199.
Solo 448 and Excel 900 on Mickleovers, 447 on Allestree. 234 the ONE, 665 X38, 930 V1/3.
667 on Spondon Flyer, later on Ileston Flyer (anyone see what was on IF in morning as 926 was in A garage).
Dan reports: 252 on R3b, 253 on pronto and 638 on BC.

Mon 12th Nov:
Frio Excel 199 on loan to N+D and in use on route 35.
Chris reports: 234 on Mickleover, 930 V1/3

Sat 10th Nov:
199 and 234 on Mickleover. 233 TP, 447 V2, 448 Allestree. 930 V1/3.

Fri 9th Nov:
235 on BC. 199 on Spondon Flyer, on TP earlier but replaced by 233.
667 on X38, Solo 448 on Mickleover and 930 on V1/3.
Olympian 716 did one trip on X17, 717 on Thursday. Thanks to Chris for much of the above.

Thurs 8th Nov:
637 on H1. Thanks Chris.
Excel 199 on X38, later both Scanias 665 and 667 on there. Dart 930 on Villagers once again. Thanks Geoff.

Mon 5th Nov:
2 Solo's incuding slimline number 7 on the Kinchbus Airline Shuttle along with Dart 899.
900 on TP again, Dart 930 on V1/3, 199 Mickleover. branded TP Excel 158 parked up at Meadow Rd alngside a TP coach. Thanks Chris.

Sun 4th Nov:
Excel 900 on Transpeak. Thanks Ian.

Sat 3rd Nov:
Scania 667 on V2, 665 on sixes 6.3.

Fri 2nd Nov:
Frio Excel 201 on the Skyline 199 service. Thanks John.
900 on the 71 to Belper, later replaced by 938.
Frio Excel 199 back out on Mickleovers. Paladin 111 on Unibus 6, Scania 667 on sixes 6.3 and vario 290 on X17.
Dart 946 on loan to Sutton and on route 90. 253 on R3b, Dart 933 on R3a and Solo 402 on nines 9.3. Thanks Dan.

Thurs 1st Nov:
252 on R3b, Dart 933 on R3a and Solos 402/4 on nines 9.3. Thanks Dan.
N+D Paladin 119 on unibus 6. Dart 910 on route 70.

---
---
Last Months News

News Index Page
---