Bus Fleet News
May 2009
---
Latest News
---
Here you will find all the latest bus fleet news for many bus operators in and around the Derbyshire area. If you have anything to report please contact me by clicking here.
---
Search this site.
Custom Search
---
---
NEWS
May 1st
DAF VAN HOOL registered (7529 UK) arrived here from Fraser Eagle late 2008.

Brand new Volvo B12 / Plaxton coach (YN58 NDF) has not yet been used, so has been re-registered as (YN09 AOT) ready for March.


---
---
NEWS
17th May:
A further 10 Solo SRs are due here very soon.
Dart 2011 (L511 BNX) has been withdrawn, after being in use at Derby very briefly.
Paladin Dart 2123 (L135 YVK) is currently at Ascot Drive, although it may not see service here.

6th May:
Scania deckers 4159/60/5 have been withdrawn.
Dart 2194 and 2196 are now withdrawn. The last of the (L**PNN) East Lancs Darts.
Olympian 4667 back in use.

1st May:
Olympian 4667 is back in use at Derby, mainly on schools. 3 Scania double deckers have been withdrawn - more soon.

Volvo B10BLE's 3604/5 are now withdrawn.

Olympians 4626/9/43 are now with Hedinghams.

Acquired Omnicity (YN55 RCF) has been painted into inter-urban livery, although it will probably not be operated in Derby.


---
---
NEWS
-----
---
---
NEWS & Sightings

22nd May
Scania (E228 FLD), Bedford (LTO 701W), and Leyland National Greenway (JIL 2195) have all been towed to Wigleys scrapyard.

7th May
(P301 HDP) is a second Plaxton Dart to be acquired. It also carries the new green livery.
Solo (Y812 KDP) has been painted into the new livery too.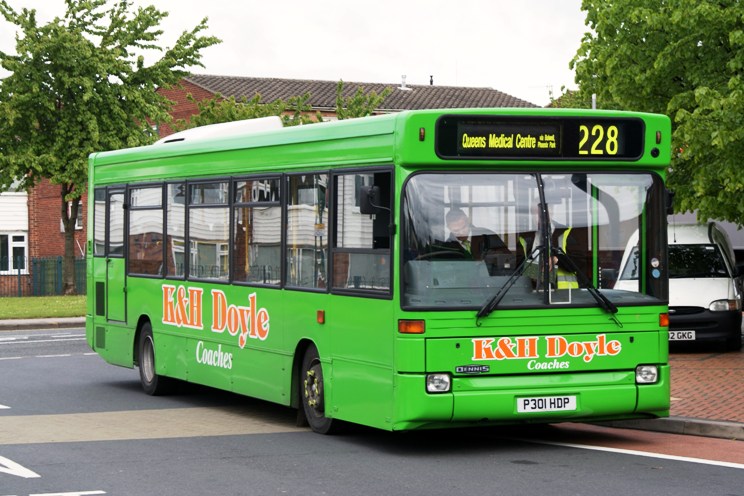 Following the start of 2 New routes in Nottinghamshire, recent acquisition (P301 HDP), a Plaxton Pointer Dart, is seen here in Bulwell, Nottingham.
(C) Perry Jest
---
---
NEWS
---------
---
---
G&J Holmes

NEWS
------
---
---
Glovers of Ashbourne


NEWS
1st May
the latest vehicle to join the fleet is (S602 ACT) a Mercedes Vario mini-"coach". Ex Slacks, Matlock?

---
---
Harpurs Coaches


NEWS + SIGHTINGS

1st May
2 northern Counties bodied olympians may have been acquired from East yorkshire.

---
---
Hawkes Coaches


NEWS
1st May
Another former TWM Metrobus has arrived here, thought to be (B846 AOP). It has been here a month or so now at least!

---
---
Hulleys of Baslow

NEWS + SIGHTINGS
1st May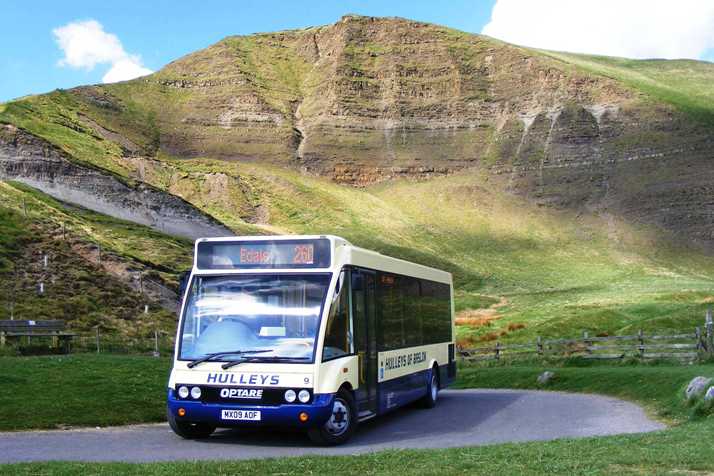 New MAN Solo number 9, near Blue John Cavern.
(C) Ian Moorcroft
---
---
Johnson Bros / Redferns


NEWS & SIGHTINGS
22nd May
Alexander bodied Olympian (G213 SSL) has been painted in Johnsons Bros livery. The destination blind has been removed and replaced with a fixed school bus display.
Coach (SF07 XNU) has arrived from Parks of Hamilton and carries revised Johnsons Bros names on a black and gold livery.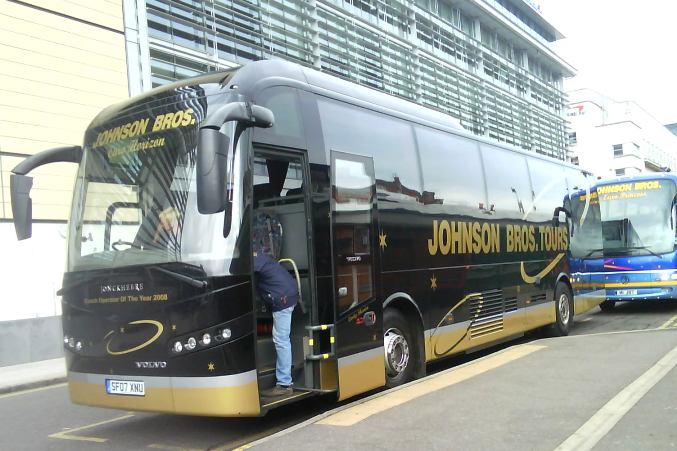 Johnsons coach (SF07 XNU) in the black and gold livery.
(C) L H Transpot photos



1st May
(J132/43-5 HMT) and (K846-8/51/8/60/2/71 LMK), Scania/Northern Counties, in Magic Bus blue (apart from J132 HMT in Stagecoach livery) have arrived from Stagecoach Manchester.
Olympian (G864 XDX) is here from Ensign (dealer). This was last with Aintree Coachline, Bootle but was new to Chambers of Bures.
Olympian (G102 AAD) is also here from Stagecoach West, along with (K355 DWJ).

5th April
5 Leyland Olympians have been acquired. They are:
(F708 SDL)
(G804 SMV)
(H807 XMY)
and (H548/550 VAT).
---
---
Linburg

NEWS + SIGHTINGS
9th May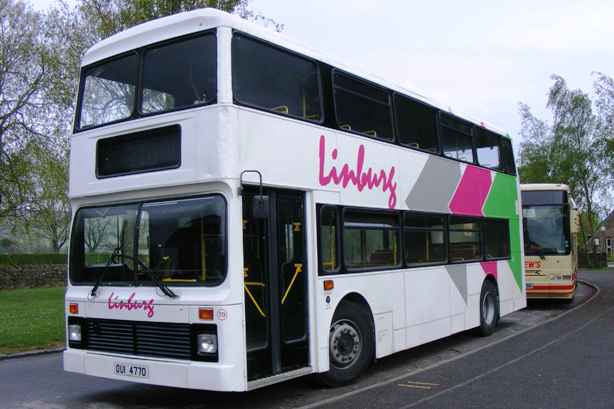 Linburgs Olympian (OUI 4770) seen here at Lady Manners school, Bakewell.
(C) Ian Moorcroft
---
---
Littles Travel

NEWS + SIGHTINGS
1st May
Former Trent ECW Olympians (B712 HVO) and (C715 HVO) have joined the fleet. 2 more may be on the way.

2 Titans and the two MAN double deck coaches are liekly to be withdrawn as a result of the recent arrivals. Subject to confirmation!
2 Daf/Marcopolo have also arrived here.
---
---
Midland Classic

NEWS
-----
---
---
Stagecoach East Midlands
Chesterfield, Mansfield, Worksop
NEWS
22nd May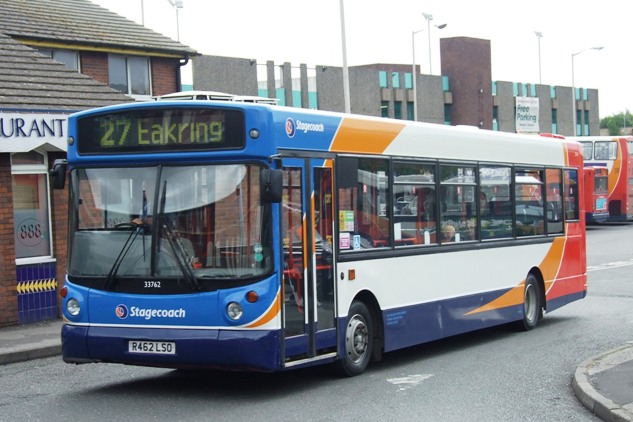 All of the former Pronto liveried Darts have now been repainted into standard livery.
(C) Daniel Stone

Former pronto Darts 33760/2/3/4/7 are all repainted into standard livery and are back in service. 33765/6 are now at Grimsby.
Dart 32820 is now withdrawn form service following an engine failure. 32427 still awaiting scrap due to the same problem.
Step Darts 32818/9 and 32422 have been withdrawn. 32419 remains.
Olympian 14350 is shortly to go to scunthope depot were it will wait for sale or disposal.
Olympian 14351 now withdrawn leaving 14352/3 still in use, although they are likely to be withdrawn soon. 10 more Tridents are due here later in the summer.
34182/3/4 (W182/3/4 DNO) have arrived form Lincoln and 33765/6 have been transfered to Grimsby.

7th May
Pointer Dart 32532 (R702 YWC) has arrived from Stagecoach Manchester and is now in service.
NC Dart 32932 (N108 CET) has been withdrawn due to Engine Failure.
Dart SLF 35236 (YN56 OMS) is currently on loan at Ecclesfield and should then transfer back to Rawmarsh.

New here are MAN Enviro 300s for the pronto service:
22772 (FX09 DCE)
22773 (FX09 DCF)
22774 (FX09 DCO)
22775 (FX09 DCU)
22776 (FX09 DCV)
22777 (FX09 DCY)
And spare bus (in standard stagecoach livery:
22778 (FX09 DCZ)

---
---
TM Travel


NEWS
7th May:
Marshall bodied Dart (W371 ABD) has arrived here, and is in use in all over white livery. It is thought to be on loan.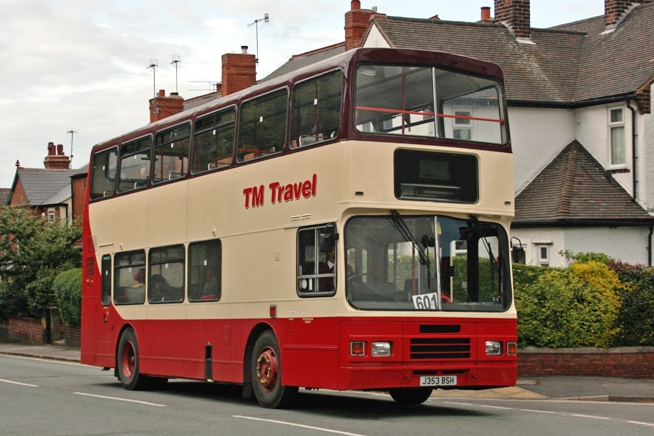 Former Arriva London Leyland Olympian/Alexander decker (J353 BSH) as it left Chesterfield through Boythorpe today, on one of the college routes. This was originally L 353.
(C) Tony Wilson

Another two Olympians here are (R977/83 KAR). Both carry the new livery. They join (R973/4 KAR).
(R983 KAR) was previously Dublin (98-D-20394).


---
---
Translinc
NEWS
:
---
---
The Wellglade group
NEWS
17th May: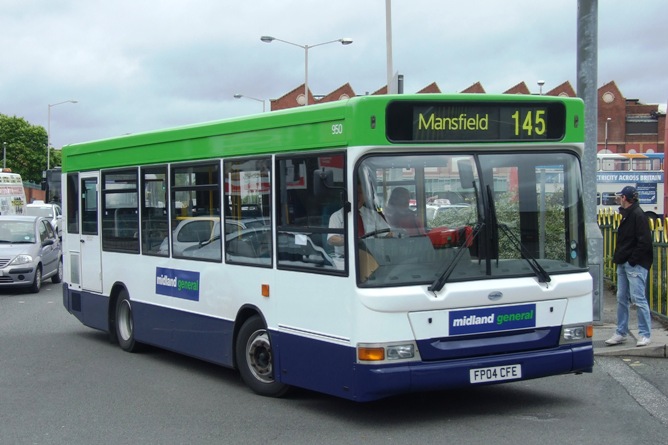 Former Hospital Hopper MPD 950 (FP04 CFE) has recently been repainted for use on the Midland General route in Mansfield.
(C) Daniel Stone

Villager Dart 942 (S942 UAL) has been sold to Procters, Hanley.
MPD 950 has been repainted into notts + derby livery. It has Midland General names applied for use on route 145 from Sutton. It has replaced 910, which is currently at Meadow Road.
Lothian Olympian 11 has returned from repaint into nott+derby livery.

Former nines Solos 443 and 445 are at Langley Mill for repaint into trent barton red. They should be continue to be based at Sutton.
Dart 898 is now withdrawn and advertised for sale. Mini Excel 900 has been withdrawn too.

9th May:
The remaining 3 Rainbow 5 Scanias, 620/1/2 are now destined for the Cotgrave Connection service.

All of the former Pronto and Mickleover Excels are to be retained for further use, more details soon....
Former nines Solos 443-6 are thought to be retained at Sutton, repainted into corporate livery to replace Darts.
Hospital route Solos 452/3/4/6 are set to join 455 on Radcliffe Line when new buses arrive for the hospital route.
MPD 950 is set to transfer to Midland General at Sutton, where it will replace 910.
Burnt out Rainbow 3 Excel 250 has gone to Looms, Spondon for scrap.

Buses for sale include Olympian 23, which is likely to be sold for preservation.
Darts 898, 908, 912/3/4/5 are also for sale. Former Ilkeston Flyer Dart 926, and Villager Darts 927, 942/3/4 are currently stored at Loughborough, whilst 940 remains at Meadow Rd garage. All are for sale.
Minibuses 38, 39, 44 and 821 also remain for sale, along with Excel 199, step Dart 891, Paladin 112 and the Volvo Citybus (B139 GAU).

1st May:
Solo 420 is now based with Kinchbus at Loughborough, and has been painted in their livery.

The new nines Solos, complete with really posh interiors, hit the road next week, replacing older Solos that will be re-used elsewhere within the company.

At least ECW Olympians 12 and 15 have been sold to Littles, Ilkeston. Ashall's coaches ex Trent Vario (R284 LNU) has been sold to Dobson's, Northwich for further service.

478_nines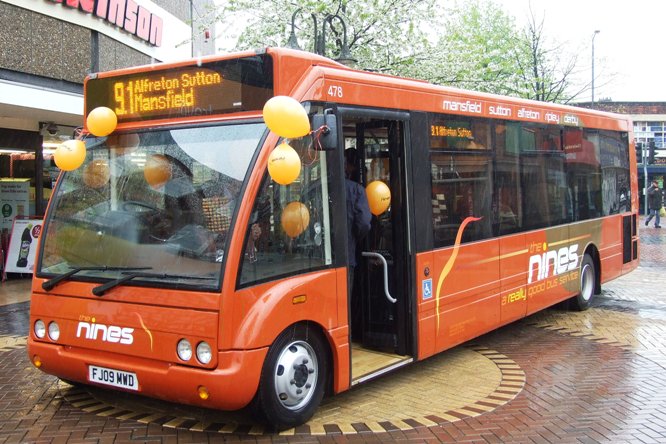 New "nines" Solo 478 (FJ09 MWD) is seen here on display in Sutton.
(C) Dan Stone
---
---
Last Months News

News Index Page
---