Bus Fleet News
April 2009
---
Latest News
---
Here you will find all the latest bus fleet news for many bus operators in and around the Derbyshire area. If you have anything to report please contact me by clicking here.
---
Search this site.
Custom Search
---
---
NEWS
February 26th
Brand new Volvo B12 / Plaxton coach (YN58 NDF) has not yet been used, so has been re-registered as (YN09 AOT) ready for March.


---
---
NEWS
22nd April:
Another Dart to arrive from Burton is 2011 (L511 BNX) to accompany 2012. This joins Plaxton Pointer Darts 2092/4. These buses are used on route 33 together with 2194/6 (L34/6 PNN)

The last of the Olympians have been withdrawn. This sees 4601/11/48, and 4630/1 withdrawn from service. Darts will be used on the 40/41.

All but two of the new Scania Omnicitys are on the road on the Chellaston services. 3567/74 are yet to be put into service.

Dart 2234 has been withdrawn, and 2216 has transfered to Burton. Oympian 4666 has also been withdrawn after its short use at Burton.

10th April:
Dart 2094 has arrived from Burton, replacing 2197 which is now withdrawn. Olympian 4667 has joined 4666 at Burton, 4665 is withdrawn.
Olympians 4626/7/9 have been sold to Ensign.

6th April:
Following the loss of 5 Chellaston school contracts to notts+derby, Olympians 4626/7/9/65 have been withdrawn.
Additions to the Midlands fleet are Scania Omnicities 3578 (YN55 RCF) and 3579? (YN05 HGC). The first Optare Versa for Burton garage has arrived too.
Olympian 4643 (R643 MNU) has appeared in service with Hedingham, via Ensign. 4642 has also gone to Ensigns.
Olympian 4666 is currently at Burton, in place of Dart 2092 which is at Derby.

24th March:
Dart 2195 has been withdrawn.
Dart 2092 (L302 NFA) is on loan here.

The following 11 new Omnicitys have arrived at Ascot Drive:

3567 (YT09ZBL),
3568 (YT09ZBN),
3569 (YT09ZBO),
3570 (YT09ZBP),
3571 (YT09ZBR),
3572 (YT09ZBU),
3573 (YT09ZBV),
3574 (YT09ZBW),
3575 (YT09ZBX),
3576 (YT09ZBY),
3577 (YT09ZBZ).


18th March:
Olympians 4625/39/41 are with Arriva North East (Darlington). 4640 is now at Cannock.
---
---
NEWS
7th April
A new arrival here is MPD (SN03 DZY). It is branded for "connect 19" Macclesfield - Prestbury, a service that has just been transfered to Bowers. The MPD was previously used by Arriva on services 392/3 Macclesfield - Stockport. Bakerbus now run these services with new Enviro 200s, leaving the two MPDs surplus to requirements. The second Arriva MPD (SN03 DZZ) has transfered to GHA coaches where it is used on the connect 88 service click here for a photo. Both buses are owned by Cheshire East Council.

609 and 612 have not been repainted as previously reported.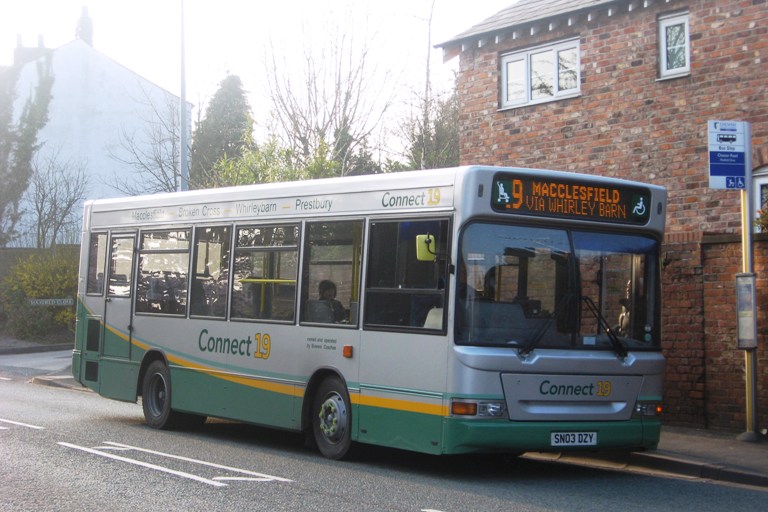 A recent arrival is MPD (SN03 DZY). The bus is operated on route 9 for Cheshire East Council .
(C) Nick Mannion



24th March
Varios (R823 MJU) appear to have been withdrawn. It was parked with (LKZ 3614) in the Centrebus yard at Hinckley early last week. Both retain Bowers fleet names.

---
---
NEWS & Sightings

14th April
Another addition to the fleet is Plaxton bodied Dart (P303 HDP). This carries the new green livery.
Dart (R556UOT) now carries the revised livery.

22nd February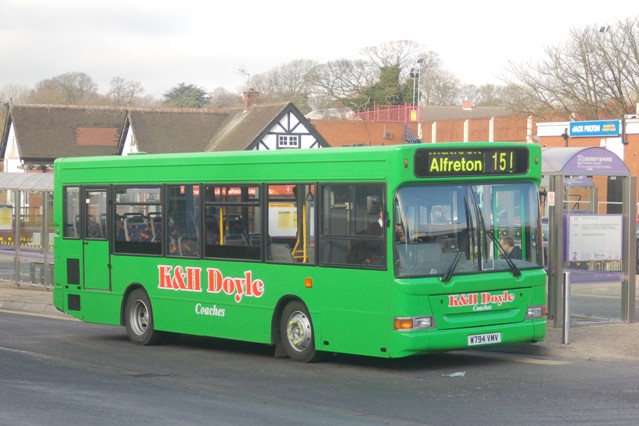 (W794 VMV), one of two MPDs purchased in February is seen here in Alfreton, painted in a new livery.
(C) John Moore

At least 2 green Mini Pointer Darts, (W793/4 VMV) have arrived here. Thanks to Mr Moore for this information.


---
---
NEWS

Tuesday 27th January


Felix the cat banished from the buses!

You may have noticed that the Felix the cat character, synonymous with the company for several decades, has begun to disappear from the Felix buses. The statement below explains:

"The cat logo is being removed from our buses, coaches and publicity material as a result of a threat of legal action by Felix the Cat Creations Inc. in the States. They have asserted that they own world copyright and trade mark for any feline image used with the name Felix. Although they have not provided documents to suppport their claim, we do not have the resources to go to court to prove the case either way. Therefore we have given in, and we shall no longer be using a cat logo".
---
---
G&J Holmes


NEWS
12th March
New here is Cheetah (YN09 AOJ). This has replaced (YN53 VBP).

---
---
Glovers of Ashbourne


NEWS
12th March
new here is (K661 VNF), a red Mercedes Benz mini coach.

---
---
Harpurs Coaches


NEWS + SIGHTINGS

18th Dec
Two more Volvo / Plaxton coaches have joined the fleet. (P51 JJU) is plain white, and the second is thought to be (P338 JJU). Both are from Yeates, Loughborough.

30th July
A new addition to the preserved fleet is former Derby Corporations Crossley 111(CRC 911)!

---
---
Hawkes Coaches


NEWS
2nd April
Another former TWM Metrobus has arrived here.

---
---
Hulleys of Baslow

NEWS + SIGHTINGS
10th April
New MAN Solo (MX09 AOF) has arived here, replacing the former Trent Vario.
MCV Dart 5a (PL06 TGE) now carries fleet livery.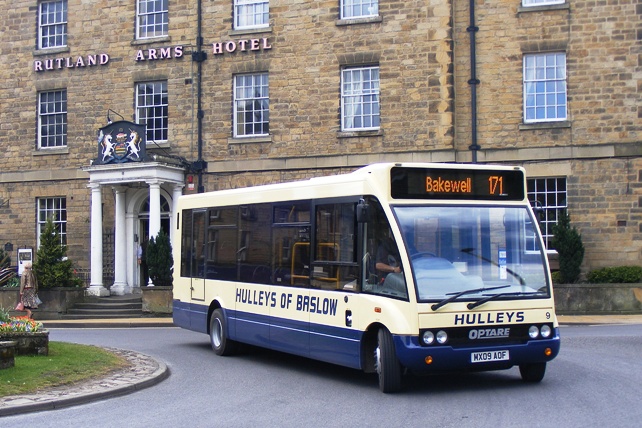 The new MAN Solo (MX09 AOF).
(C) Ian Moorcroft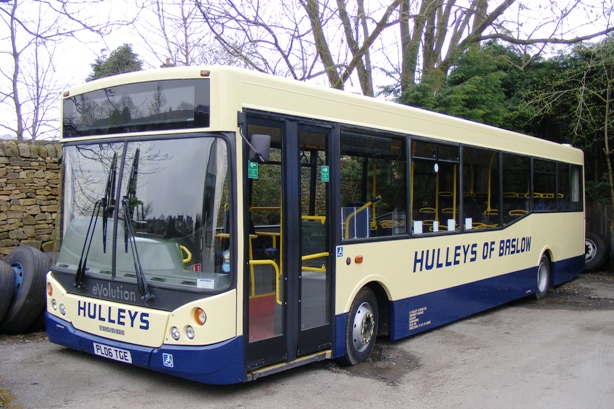 One of the latest additions to the fleet is this MCV Dart.
(C) Ian Moorcroft



9th March
The Scania / Van Hool number 3 (M222 DDY) has finally been sold in a part exchange for Dennis Dart SLF / MCV Evolution (B40F) (PL06 TGE). The later is currently painted white. It has been in use on schools, but should be painted before it is used on regular service work. The Optare Excel is likely to be withdrawn as a result of the MCVs arrival.

The Vario in the fleet should be replaced by a new Optare Solo (MAN) in April.
---
---
Johnson Bros / Redferns


NEWS & SIGHTINGS
5th April
5 Leyland Olympians have been acquired. They are:
(F708 SDL)
(G804 SMV)
(H807 XMY)
and (H548/550 VAT).

22nd February
3 Spectras have been sold to Beaverbus, Leicester (not Macphersons as reported last month).
A 4th Spectra, (K306 FYG), has been sold to M Travel, Huddersfield.
A new arrival at Mansfield Woodhouse is Alexander bodied Olympian (G213 SSL), which has arrived from Stagecoach bluebird.
Many thanks to Duncan Binghamfor the above.
---
---
Littles Travel

NEWS + SIGHTINGS
24th March
A low floor double decker has arrived here for the Nottingham college link contract. It is Volvo B7TL / East Lancs Lowlander (GX55 NHY). It was previously operated in Ireland as (06-D-22209) by Circleline, Naas, Ireland.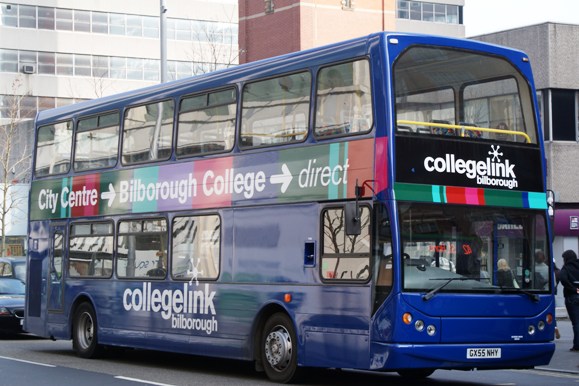 The latest addition to the fleet is (GX55 NHY).
(C) Perry Jest
---
---
Midland Classic


NEWS

2nd April
A new addition to the fleet is former Trent "Villager" Dart (S941 UAL). This is numbered 41.

Former Trent Darts 17,19,22 (R917/9/22 RAU),41 (S941 UAL), 53/54 (V4/700 CBC),and 55 (R505 SJM) now make up the front line service fleet. Dart 15 (J315 XVX) and Metrorider 31 (W675 DDN) are still in reserve for now too.

Former Reading Metrobus 79 (E468 SON) has left the fleet. Dart 12 (L112 YVK) and 64 (M64 HHB) ha$ve been withdrawn.
Metrobuses 76 and 78 (GBU 6/7V) have gone for scrap.

Lynx 72 (E72 KBF), Titan 74 (WDA 4T), Metrobus 80 (TOJ 592S), Lynx 259 (HXI 3009) and Dart 42 (H851 NOC) are all currently stored.

Lynx (J657 UHN) is no longer on loan.

---
---
Stagecoach East Midlands
Chesterfield, Mansfield, Worksop
NEWS
2nd April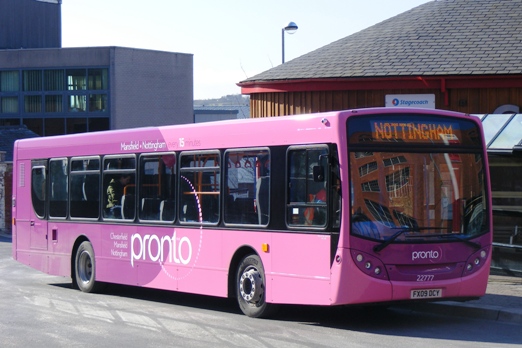 New MAN E300 22777 (FX09 DCY) is seen here in Chesterfield on its first day in service.
(C) Ian Moorcroft

20th March
The second ex Rapsons Excel, 35025 is now in service in Chesterfield.
Volvo/Jonkhere coach (S670 RWJ) is back at Chesterfield and repainted into unbranded training livery.

---
---
TM Travel


NEWS
10th April:
Another Olympian here is (K973 KAR). This also carries the new livery.

4th April: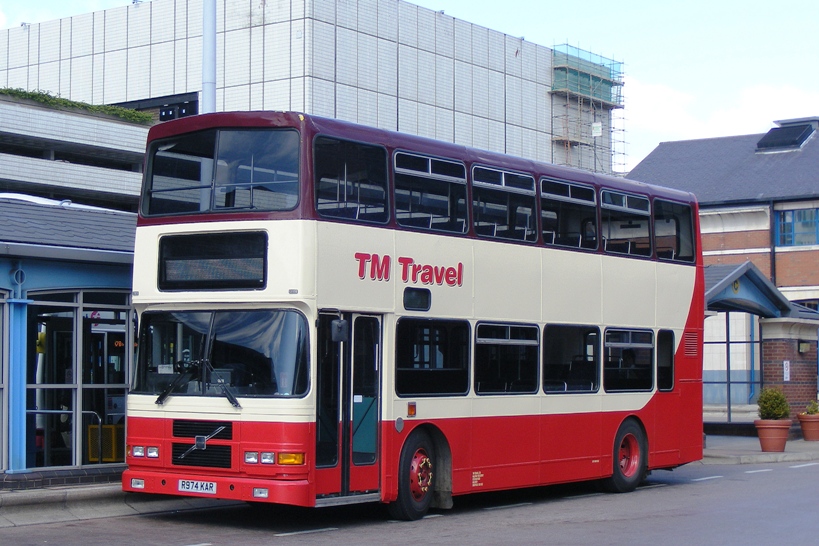 Olympian (R974 KAR) is the first decker to be painted in the new livery. It is seen here at Sheffield Bus Station.
(C) Ian Moorcroft

A white Enviro 300 registered (KW02 DRO)is currently in use here.
A new addition to the coach fleet is (YN09 AOS), a Dennis Javelin/Plaxton Prima.
DAF Ikarus coach (T112 AUA) now carries "the wavy" livery.

9th March:
An Olympian, with an Irish plate, reported at Halfway garage, painted in the new style livery thats carried on the majority of the single deck fleet.

---
---
Translinc
NEWS
:
---
---
The Wellglade group
NEWS
7th April:
Ashall's coaches ex Trent Vario (R284 LNU) has been sold to Dobson's, Northwich for further service.

5th April:
Former route 15 Solos 452/3/4/6 have had route branding applied for the Derby Hospital "H1" route, which trent barton will run from tomorrow. This consists of a white trent barton style circle, and white lettering on the bright orange livery. It is thought the vehicles will only be on the service in the short term, before new buses arrive later in the year. The future of MPD 950 and vario 276 is unclear. Solo 455 now carries Radcliffe Line branding.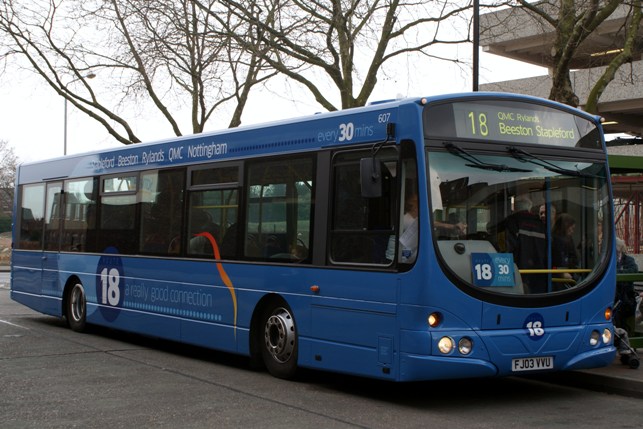 607 has been painted blue for route 18.
(C) Perry Jest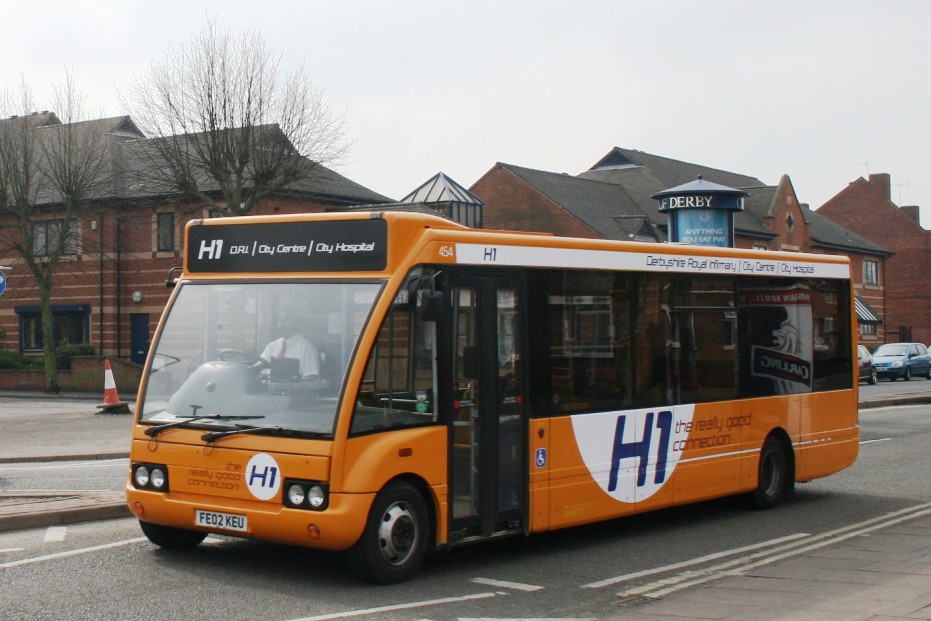 Solo 454 is one of 4 Solos now branded for the Derby Hospital service H1. It is seen here on Burton Rd.
(C) Dave Allen



2nd April:
Scania 637 has transfered from trent barton at Langley Mill to Kinchbus at Loughborough. It is painted yellow and branded for the Derby Skylink service (like the Centros), which has now been extended from Loughborough through to Leicester.

Villager Dart 941 (S941 UAL) sold to Midland Classic.

All of the ECW Olympians are now withdrawn.

Former R5 Scanias 609-12 are now in service, branded for the Pronto route.
605 to 608 are expected to be in service next week. They have been painted pale blue, and branded for Nottingham route 18.

Optare Delta 319 (J319 BVO) has been sold for scrap to a Barnsley company, by McKindless, Wishaw.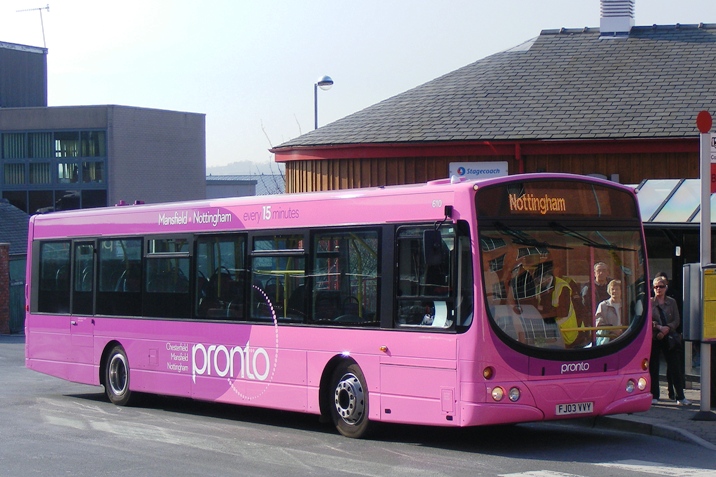 Former R5 Scania 610 is seen here in Chesterfield, freshly repainted for the pronto service.
(C) Ian Moorcroft



24th March:
2 new brown Solos have been delivered to Sutton garage - thought to be (FJ09 MVR/T) or similar.
Former trent Vario 283 (R283 RAU) is now in Glasgow with Morrow.
---
---
Last Months News

News Index Page
---