Fleet News
May 2007
---
Latest News
---
Here you will find all the latest bus news and sightings for many bus operators in and around the Derbyshire area. If you have anything to report please contact me by clicking here.
---
---
NEWS

Mon 12th March:
Leyland National (FTN 697W) has arrived here for rail replacement and school contracts. It was new to Northern General, and then Southern Transit (whose red and yellow livery it currently caries). It has more recently spent time in preservation. Thanks Ian.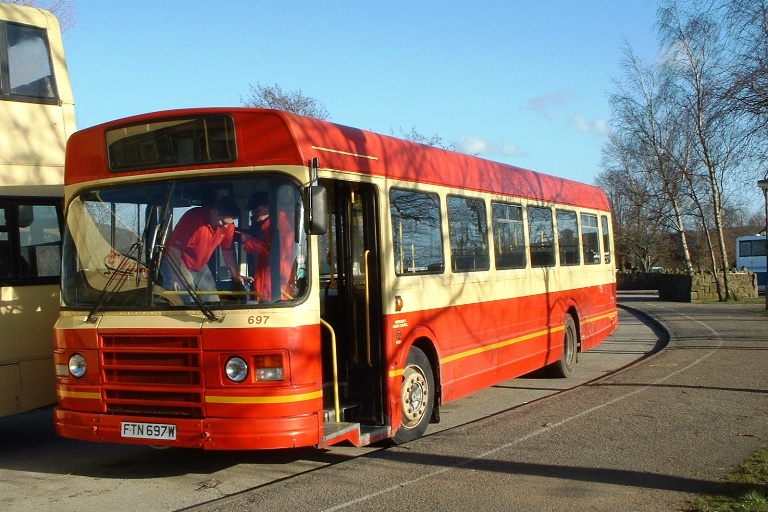 Andrews Leyland National (FTN 697W). (C) Ian Moorcroft.
---
---
NEWS

Thurs 31st May:
Dart 2232 has been fitted with a new (orange) LED display.

Sat 21st March:
Minibus 1387 has returned after repairs! 1160 and 1164 have moved on.

Tues 10th March:
Burtons X38 Dart 2999 was off today. Town linx Dart (P319 HOJ) covered until the speedo broke, when L809 BNX) was sent out.

Mon 26th March:
Dale Tringham has found Derby Fleetline (MTV 310W)!! It was hidden on a side street near the airport in Stoughton. it still carries the red livery which was applied when it was at Roberts.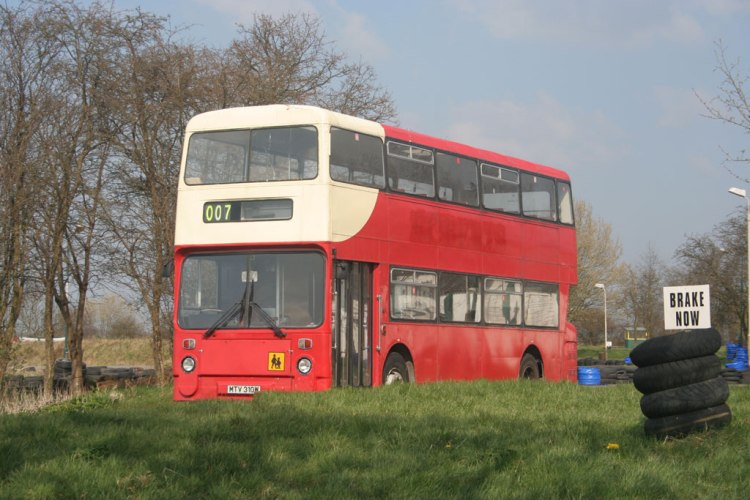 Former Derby Fleetline (MTV 310W). (C) Dale Tringham

SIGHTINGS
Thurs 31st May:
Citybus 4334 on route 26 for a time in place of 4718, which later returned. MPD 2222 on Chellastons. Thanks Dave.

Wed 30th May:
AMN had "town linx" branded Dart 2317 (P317 FEA) on the X38. Thanks Chris.
Olympian 4631 on the 68, Citybus 4335 on 45, 2089 on 36. Thanks Chris.

Tue 29th May:
MPD 2223 on the 61, 2226/8 on the 26.

Mon 28th May:
Dart 2198 on route 28!

Fri 25th May:
Burrows towed Citybus 4336 away from Babbington Lane at around midday after it broke down on route 40. Thanks Chris.
Dart 2252 on the 26, 3604 on the 24 and 3605 on 22.

Thurs 24th May:
Dart 2228 and 3605 on the 26, later joined by Citybus 4320. 2237 also on Oakwoods. 2090 on the 36.

Tue 22nd May:
Dart 2227 on the Pride Park & Ride, along with 3604. 3605 on the 26. 2196 and 2090 on the 20.

Mon 21st May:
3604 on the 111 Pride Park & Ride. 3605 on the 61.

Fri 18th May:
Dart 2196 and Citybus 4322 both reported on route 19 during the day before an Excel replaced them.
Citybus 4336 on 22, 3605 on 26, a MPD and a low floor Aleaxander Dart also on oakwood routes.
MPD 2222 on the 68, 2198 on 36, 2218 on the 33 and 4627 on 29.

Thurs 17th May:
Citybus 4325, 4342 and Dart 2236 on the 26 later in the day. 4330 on the 22. Thanks Simon.

Tue 15th May:
Excel 2999 on the 109. Dart 2198 on route 37.

Sat 12th May:
Excel 2998 on 111 pride Park & Ride, 2999 on route 22. Minibus 1384 on the 36 and Citybus 4325 on the 45.

Fri 11th May:
Dart 2231 on 26, Olympian 4631 on the 37. Thanks Dave.

Thurs 10th May:
Optare Excel 2999 and Dennis Dart 2228 on route 26. Thanks Dave.

Wed 9th May:
Olympian 4642 on the 26 replacing 2252. 2228 on the 22 and 3604 on the 24. Thanks Dave.
MPD 2224 on the 19, 2222 on the 60. Thanks Chris.

Tue 8th May:
Dart 2090 on the 19 - later working onto the 111 Pride Park & Ride. Thanks John.

Fri 4th May:
Citybus 4336 on the 24 to oakwood replacing a leaning DAF. 4322 on the 22. Dart 2228 on the 26 and 3604/5 on the Oakwood routes too!

Wed 2nd May:
Olympian 4630 on the 26 and 4626 on the 29 - both are branded for the Alvaston routes 44/45.
Olympian 4667 on the 60/61 to Chellaston.

Tue 1st May:
Dart 2252 on the 19. 2198 on the 109, 4627 on the 29, 2196 on the 38. Thanks Chris.
Dave reports 2999 on the 60/61, 2234 on the 26 and 3605 on 22.

Mon 30th April:
Citybus 4342 on the 22. Minibus 1388 on the 36, and Darts 2089 and 2090 on the 33.

---
---
NEWS
Thurs 17th May:
It has been reported that Centrebus have taken over the company. Thanks Chris.
---
---
NEWS & Sightings

Tue 15th May:
Solo (Y812 KDP) has been repainted into fleet livery. Thanks John.


---
---
NEWS

Mon 28th May
The V reg low floor Volvo and the Plaxton Centro on the Black Cat today.

Tue 21st May
Centro on the Black Cat and Lynx (J564 URW) on the 59.

Fri 27th April
A Lynx on the 59, and the VDL Plaxton Centro was on the Black Cat route today.

Tue 16th April
Lynx (J564 URW) on route 59 again today.

Fri 13th April
Lynx (J654 URW) on route 59 alongside the Vario - so both Solo's off!!


---
---
Glovers of Ashbourne

NEWS
-
---
---
Harpurs Coaches


NEWS + SIGHTINGS

14th May:
(NEH 103V) has made its final trip - to Barnsley!
Olympian (G362 YUR) has been repainted into fleet livery.

5th March:
Harpurs (NEH 103V), it is For Sale @ £850 + VAT.


---
---
Hawkes Coaches


NEWS + SIGHTINGS

Mon 14th May
Metrobus (KYV 647X) has been withdrawn.

---
---
Hulleys of Baslow


NEWS + SIGHTINGS

Wed 9th May
The Excel (number 5) is having a new Cummins engine fitted.
A Versa was viewed, but an order HAS NOT been placed, and there are no plans to alter this! Thanks Ian.
---
---
Johnson Bros / Redferns


NEWS & SIGHTINGS

Thurs 17th May:
Another 3 DAF/Optare Spectras have arrived here from Go North East (K304/5/8 FYG). This bings the total to 7: (K304-309 FYG) and (K316 FYG), which is Redfern green. These are for additional school contracts.
The Excel, (P274 NRH) is now painted in Redfern green.
A small operating centre has been set up in Chesterfield. This is located near to the site of the old Bryan Donkin factory near Horns Bridge. Two Olympians are based there, (B738 GCN) and (C672 LJR).

Tue 3rd April:
New coaches here are Scania K114EB / Irizar Century (YN56 NNO), and Scania K114EB / Irizar PB (YN56 NNP). Iveco EuroRider / Beulas (Y2/3 JBT) have been sold to Scania, Worksop in part exchange, being re-registered as (Y958/65 RKW) in the proccess. The two new coaches are both in the blue Johnsons livery.

4 Optare Spectras have arrived here from Go Gateshead, (K306/7/9/16 FYG). (K316 FYG) is now in Redferns green livery. They are needed due to extra school contracts being gained, and more are likely to follow.

Former Oxford Tube MAN 24.350 / Jonckheere Monaco (T617 DWL) (ex T55 UBE, and latterly running as Bluebird Buses 50055 in Megabus livery) was acquired from Plaxton in March. This bus will be re-registered (T3 JBT), the plate coming from a withdrawn Neoplan Cityliner which is now withdrawn.

A number of coaches have recently been re-registered, as follows:
(YR02 UNZ) to (P3 JBT) (May 06)
(YP52 KRV) to (M2 JBT) (March 06)
(YR52 MEV) to (M1 JBT) (March 06)
(FJ03 AAK) to (JBT 16S) (Nov 06)
(YN04 AUX) to (77 RT) (Feb 07)
(YN04 AXA) to (JBT 3S) (March 06)
(YN04 HJC) to (K1 JBT) (Nov 06)
(YJ05 XXC) to (B8 JBT) (Feb 07)
(YN05 HBB) to (123 RT) (Feb 07)
(YN06 CHO) to (4 JBT) (Feb 07)

Excel (P274 NRH) is expected to be repainted soon - into Redferns green livery.

An open day for the new depot at Mansfield Woodhouse is expected later this year with a Bristol VRs operating local tours!

Thanks to Duncan Bingham for the above information.

---
---
Littles Travel

NEWS + SIGHTINGS
Tue 21st May
Former Scottish City Link (Stagecoach) MAN / Jonckheere Monacos here are (T35 DFC) and (T41 BBW).


---
---
Midland Classic


NEWS
17th May
The Metrobus has been repainted into Stevensons livery.

11th May
Midland Classic are using Midland Rider Dart (H86 MOB) on loan this week. Thanks Duncan.
---
---
Stagecoach East Midlands
Chesterfield, Mansfield, Worksop

NEWS
Fri 25th May:
Dart 32116 (K116 SRH) and Mercedes/Alexander 41715 (J215 AET) and both stored at Stonegravels wituout engines and 32116 is also reported with a cracked chassis, can't see these being in service again. Another Merc, 40765 (N756 EWG) is reported withdrawn.
Thanks Chris.

Mon 14th May:
Olympian/ECW 14335 (C335 HWJ) has been sold to Ensign (dealer).
Volvo B10M/ Paladin 20278 (M718 KRH) has transfered from Hull to Worksop.

Wed 9th April:
Mansfield Miller Branded Dart 34455 (YN53ZSG) worked the Pronto today - the destination said sorry not in service but the bus WAS on the Pronto - It was seen leaving Chesterfield sporting the correct Pronto destination shortly after arrival.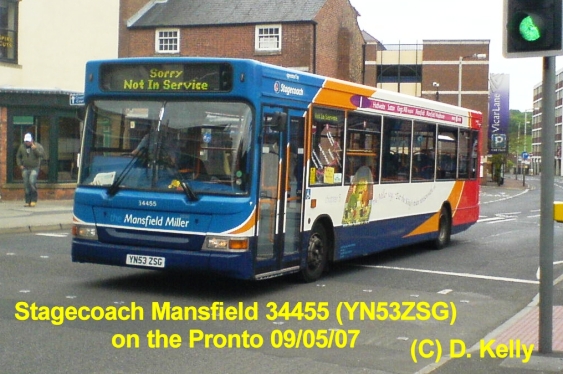 Tue 8th April:
Olympian 16458 (P158KWJ) on route 10. Thanks Jack.

Thurs 26th April:
The former Chesterfield Transport Spire Sprinters (Mercedes 811 / Alexander) (J21xAET), that are currently with Stagecoach Chesterfield are to be fully withdrawn within the next few weeks. These are 41714/5/6/7/9 in the fleet. Thanks Dave.

6 buses are on order for Mansfield for new services from Nottinghamshire to Doncaster Robin Hood Airport. These are 2 Enviro 400s, and 4 Enviro 200 single deckers. All are due by the end of May when the new services start. The services will be run under contract to Nottinghamshire Councy Council - who will own the buses.

Roadcar (Stagecoach Lincolnshire) Olympian 604 (OWG 604X) is currently based at Mansfield - still in Roadcar livery! There is also a decker in old Lincoln green livery, for 75 years of "Lincolnshire roadcar". This was in Mansfield garage, so i assume this is also in use here.
Dan reports a coach branded for a Fife-Edinburgh-Glasgow service in Mansfield too!

Former Chesterfield Dennis Dart/Alexander Dash pair (J506/7FPS) have not seen use in Chesterfield in recent months. The buses have instead been re-allocated to the former Terrier fleet in Sheffield, and have been working there recently. (J506 FPS) was noted working service 123 in Sheffield Wednesday. Thanks Dave.
SIGHTINGS
Thurs 17th May:
Mercedes minibus (N214 AET) on low floor route 10!
Due to 4 buses being involved on Wednesday there were a number of odd workings today: Volvo coach 52631 was on 74, Route 10 Dart 34720 on 70, and Dart 34575 on route 10.

Sat 28th April:
Jack reports:
33401 (T801OHL) on Route 10, 20441 (L341KCK) and 20274 (M714KRH) on 25, Dart 32415 (N415MBW) on solo route 39, 20412 (M412RRN) and 20275 (M715KRH) on 50/99, Darts 34584 (YN04YXT) and 34724 (YN05YCZ) on 51.

---
---
TM Travel


NEWS
Fri 25th May:
A second ex Stagecoach MAN/Jonckhere double deck coach here is (T53 BBW).
The unique ex Ringwood Mercedes O814 with Mellor body, (S276 LGA) has been withdrawn and repainted white prior to sale (not sold at the moment).

Tue 22nd May:
Former Metroline Volvo Olympian/Northern Counties (L201 SKD) is now here.

Mon 14th May:
UVG bodied Darts (R83 GNW) and (R561/562UOT) have all gone to the Arriva dealer at Cleckheaton. Thanks Chris.
Centros (YJ07 JVE) and (YJ07 JVC) have both been branded for the 505 Tesco Park and Ride route. Thanks Joseph.

Wed 25th April:
Centro (YJ07 JWU) and Plaxton coach have now arrived. The Centro is fitted with leather seats.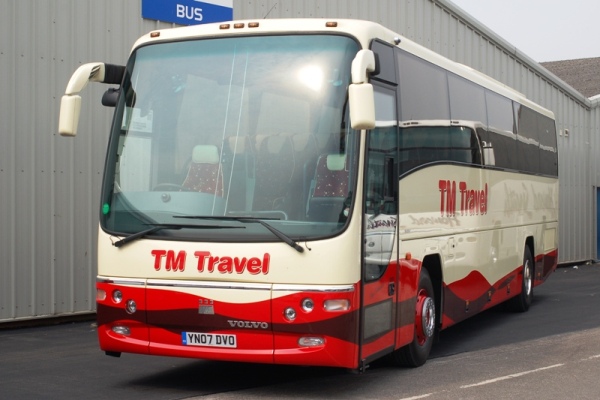 (C) JOHN MOORE.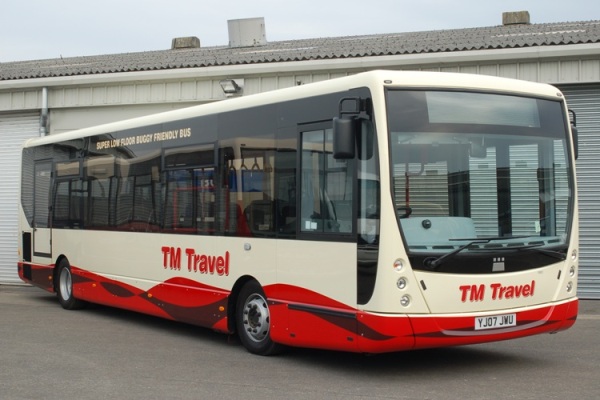 (C) JOHN MOORE.
---
---
The Wellglade group

NEWS
Tue 22nd May:
R5 Scania 602 currently off the road with fairly severe damage to the front end after hitting a pillar in Broadmarsh. Thanks Dave.
Paladin 125 has been painted white and grey for driver training duties.
Former Trent Sigma (N357 NRC) is now with Andybus at Dauntsey, still in Somerbus livery.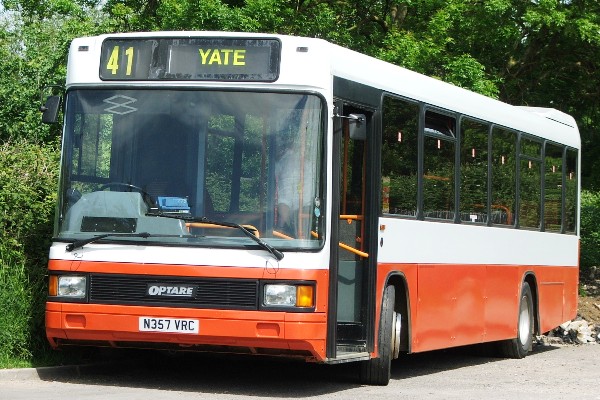 (C) Chris Maxfield



Wed 16th May:
X38 Tempo 307 is back.
The new "Black Cat" branded Optare Tempos are now in service. The Excels which they have replaced 216-9 are currently at Langley Mill, but will shortly be joining other ex trent vehicles at Konectbus, Dereham. They will replace Deltas.

Sat 5th May:
The Optare Tempo's for the Black Cat are due in the middle of next week. They are black, with a silver/grey trentbarton style circle. Slogans on the back include: "slinky and kinky" and "puss in boots".
The Kinchbus Tempos are due mid June - Solos will be on the road in September.
Solos 450 and 451 have been painted pink for the new look Harlequin service.
The Cotgrave Connection Excels 213/4/5 are to be painted in a green livery (like H1). 214/5 currently being done, 213 to follow soon.
Paladin 125 is being painted into Unibus livery next in the ongoing Sigma replacement scheme. 114, 116 and 118 are also being prepared for repaint.

Mon 30th April:
The Cotgrave Connection Excels 213/4/5 are currently being refurbished and repainted into a new livery (turquoise),(213 still at Nottingham). Darts 935 and 937 and Excel 900 are on loan whilst these are away. The Excels should return in June.
The Keyworth Connection is to go yellow in August - when the P reg Darts will be replaced by Scanias (off Calverton Connection).
The Harlequin service in Derby is to run every 15 minutes from the begining of May. Solo 451 is away for refurbishment, but which bus will be the second vehicle?

Wed 25th April:
Red Arrow coach 70 has been sent away to Mitchells to have its gear box sorted out.
X38 Tempo 307 is to be sent to Optare to have accident damage repaired.

Tue 24th April:
Tempo 307 was involved in an RTA on Curzon St, Derby today.
Sutton Excel 252 is off with accident damage again.
Vario 299 remains at the Mercedes place on West Meadows Industrial estate, Derby.
Former trent Titan / PD2 (KCH 106) (ex Whippet,exGrey Green,exBig Bus London) is now with Amberley Museum. it is being used for site tours.

Sat 21st April:
Vecta 813 is now used on a farm in Etwall - as an educational exhibit.

David Tapsell has sent a link to a photo of AEC Reliance (YRC 45). To see the photo click HERE.
The vehicle started with Trent in 1962, but was later used on overland bus trips from London to India! The bus is seen on the Khyber Pass in 1971.
If anyone has further details or photos of the vehicle please get in touch.

Wed 18th April:
Paladin 129 is now in Unibus livery and based at Derby.

Sat 14th April:
Citybus 738 is now withdrawn at Langley Mill.
Vecta 813 has been sold - for use as a mobile (or not so mobile!) cafe.
Vario 284 is also now stored at Langley Mill.

Tues 10th April:
The second X38 Tempo 308, should be in service tomorrow.

Fri 6th April:
Details of the new Optare Tempos on order (307 is the only one in service) are:

Route X38:

307 YJ07VSA
308 YJ07VSC

Route Black Cat:

309 YJ07VSD
310 YJ07VSE
311 YJ07VSF
312 YJ07VSG

Route Calverton Connection (WOW):

313 YJ07VSK
314 YJ07VSL
315 YJ07VSM
316 YJ07VSN
317 YJ07VSO
318 YJ07VSP

Route 11 / 12 (Kinch):

319 YJ07VST
320 YJ07VSV
321 YJ07VSX
322 YJ07VSY

Thanks Ken.
SIGHTINGS
Thurs 31st:
A Mickleover Excel reported on the Red Arrowin Kilburn in the evening! Thanks Ian.
Over in Nottingham Ruddington Conenction Solo reported on the Long Eaton Xprss in the evening peak workings.
Frio Excel 199, and 233/4 on the Mickleover.

Wed 30th:
Solos 447 and 448 reported on Mickleover (448 later replaced by 233)! 930 on V2. Thanks Chris.
Paladin 138 on the X17 and Olympian 723 on Unibus route 6. Scania 665 on X38, 667 "the sixes" 6.3.

Tue 29th:
Skyline Excel 261 on TransPeak!
Dart 934 on the Black Cat! Excel 234 on Villager, Solo 448 Scania 665, and Dart 930 on Mickleover.
666 on R5, 403 on 9.2. Paladin 119 on X17. Thanks Chris.

Sun 27th:
Spare coaches 62 dnd 63, Unibus Paladin 104, Frio banded 201, and spare Excl 233 all on transpeak today! Thanks Pete.

Sat 26th:
Frio Excel 201 replaced 156 on the Transpeak. Thanks Pete.
Dart 934 on the Amberline. 252/3 on the Rainbow 3. Thanks Chris.
Paladin 117 on the X17, Paladin 127 (Localbus) and Excels 161 (college) and 202 on D1 P&R. Thanks Dan.
199 on Mickleover, 466 on H1. Thanks Chris.

Fri 25th:
Dan reports trent barton Dart 936 on N+D route 35 to Littleover during the afternoon. Thanks Dan.
936 was on loan to Derby and in use on the Allestree during the morning where it replaced transpeak branded Excel 156! Thanks Chris.
Excels 199, 233 and 234 all on Mickleover. Dart 930 on V1/3. Thanks Chris.
Black Cat Tempo 312 replaced Scania 638. Dart 903 on the Rainbow 3.
Paladin 101 on X17, 135 on the 73. Both are still in red and cream livery.

Thurs 24th:
Scania 636 on R4, 637 on BC, 668 R5. Coach 62 on TP.
63, 234 and Scania 665 on Red Arrow.
Solo 424 on Amberline, 448 V1.
Park and Ride branded Excel 202 on route 35 (later on D1 P&R).

Tue 22nd:
Excel 900 and Scania 636 on the Rainbow 4. Excel 234 on Red Arrow.
665 on X38, 667 and 233 on Mickleover, Solo 447 on V2, 448 on Allestree.
Dart 930 replaced 236 on the Mickleover. Dart 897 on Airline Shuttle. 199 on Transpeak.
Unibus 107 on route 73 then Derby College Shuttle.

Mon 21st:
233 and 667 on Mickleover. 135 on the 35

Fri 18th:
Dart 930 on Allestree, then Villager. 949 Amberline. 47 on Allestrees, 448 on Mickleover along with 199.

Thurs 17th:
Perry reports: Dart 912 on the Rainbow 4, 930 on TP and Solo 401 on the H1 and 448 on V2.
Scanias 638 R1, 665 on SF, 666 R5, 667 X38 (replaced by tempo demo - 308 off).
Vario 290 on X17, Excel 199 on Mickleover, 252 Pronto, coach 63 RA.
Arriva liveried Citybus 739 on route 17 to Duffield.

Tue 15th:
Scania 665 on SF, 667 on X38. Solo 448 on HQ.
Dart 930 replaced 222 on the Mickleover, joining Frio Excel 199. Solo 414 on H1 and Unibus Paladin 138 on route 73. Thanks Chris.

Mon 14th:
930 on TP, replaced by Excel 234. 930 then replaced branded 926 on IF. Thanks Chris.

Sun 13th:
233 replaced by 234 on TP. A coach and a Dart also on the route. Thanks Peter.

Sat 12th:
199 on TP. Darts 934 and 949 on Solo route 15. Solo 441 on Ruddington Connection (a Solo on the shuttle too in place of 284). Dart 935 on Keyworths.

Thurs 10th:
Dart 937 on the Black Cat (so based at LM). Dart 933 on R3B, along with Solo 402 and Excel 252. TRhanks Dan.

Wed 9th:
Solo 457 and Dart 936 on the Black Cat.
Frio Excel 199 on the TP, 233 on Allestree, 665 and 234 on Mickleover, 667 on sixes 6.2. 930 on the 71, 939 on IF. Thanks Chris.
Kinch had Olympian 718 on the route 2 (Loughborough to Leicester). 436 on the 5 and 897 on routes 11/12! AL Dart 918 broke down in Derby too. Thanks Will.

Tue 8th:
Dan reports: Paladin 109 on the D1 P&R. P&R branded 202 on the College Shuttle (it has the required CCTV cameras). Excel 252 on R3B and Solo 404 on the 9.3.

Mon 7th:
Villager Dart 942 did at least one round trip on the sixes 6.3! Thanks Jim.
Dan reports 199 on TP, Solo 438 on Radcliffe Line and Scania 669 on the R5.

Fri 4th:
Excel 233 replaced the tempo Demonstrator on the X38.
N+D Dart 892 on the X17, later replaced by Vario 290 (which was on the Hospital Hopper earlier). Solo 448 on HQ.
Dan reports that R4 Scania 675 broke down near Bramcote island. Excel 252 and Dart 902 on the R3B.
Chris reports: 199 on Mickleover, 667 on the 6.1/4/X (689 off), Coach 62 and Dart 930 on the manchester TP, 63 on RA, 665 SF.
Tesco Paladin 110 on the 73 and Asda Paladin 117 on the College Shuttle in Derby.

Thurs 3rd:
930 on V1, 669 on R4. Citybus 739 on route 70. Thanks Chris.
Dan reports Dart 903 on the R3B and 898 on R3A.
Perry reports: 252 on Calverton Connection and 253 on Pronto. 667 on RA, 638 and 664 on R2.

Wed 2nd:
Chris reports Scania 665 on the HQ, 199 Mickleover.
Dan reports: Darts 898 and 902 on the Rainbow 3b and Solo 405 on the 3A along with Dart 936!

Tue 1st:
Dart 930 on Allestree, 199 on mickleover. 233 on the ONE, 668 R4, paladin 123 on the Unibus 5. 665 RA, 667 HQ. Thanks Chris.

Mon 30th April:
Scania 665 on SF, 667 on Sixes 6.1/4/X, 234 on TP, 233 and 199 on Mickleover and 930 on Allestree. Thanks Chris.
N+D had vario 298 on Hospital hopper and Dart 892 on X17.

Sat 28th:
Dan reports coach 63 on RA, Scania 665 on SF, 667 sixes 6.1 and Solo 447 on HQ. 897 on AL.

---
---
Last Months News

News Index Page
---