Bus Fleet News
June 2010
---
Latest News
---
Here you will find all the latest bus fleet news for many bus operators in and around the Derbyshire area. If you have anything to report please contact me by clicking here.
---
Search this site.
Custom Search
---
---
***East Midland "RE" for sale - buy one get 1 free!***

Here is an offer more usually to be found down your local supermarket - Buy One Get One Free - but on Bristol REs!!

Freddie Curry owns two fairly distressed REs which he is not going to get time to restore and would like to pass them on. By far the better of the two is former Colchester (OWC 720M) which is still in as-withdrawn condition from its last operator, the Blue Bus subsidiary of Busways Travel Services.

Anyone buying this one on is also invited to take rare on Marshall-bodied ex-East Midlands RELL6L (CRR 537J) absolutely FREE OF CHARGE.

Freddie is giving this away as a goodwill gesture to anyone willing to preserve and build it up to its former glory. It is not to be taken it for scrap. Presently located near Edinburgh, Scotland, whoever acquires this bus will need to arrange to move it at their expense, as soon as possible.

Needs one side window. Has no seats, but a full set is available in Nottingham. Front and rear corner panels are also supplied. Fibreglass mould for front panel supplied. Needs Leyland engine and 4 speed gear box.

Any enquiries please phone Freddie on 07718-305813.
---
NEWS
-
---
---
NEWS
16th June:
Dart 2237 has been repainted into the now standard inter-urban livery.

20th April:
MPD 2223 has been refurbished.


---
---
NEWS
9th May
Former Fox Vario (R154UAL) is in use here in Centrebus livery. 2 white Tempos have also been in use.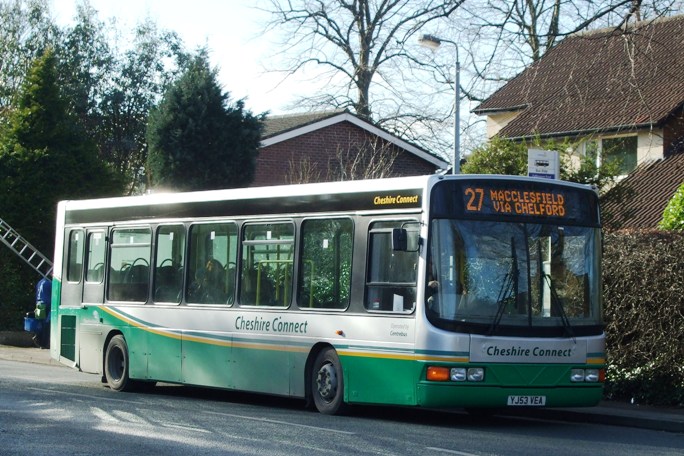 Bowers' 609 (YJ53 VEA) a VDL Bus SB120/Wright Cadet B39F has lost its obsolete blue/yellow Cheshire Bus livery in favour of Cheshire East Council's silver/green 'Connect' colours. 612 (YJ04 BZD) was repainted in January leaving only 610 (YJ53 VEB) of the trio left to be treated.
(C) Nick Mannion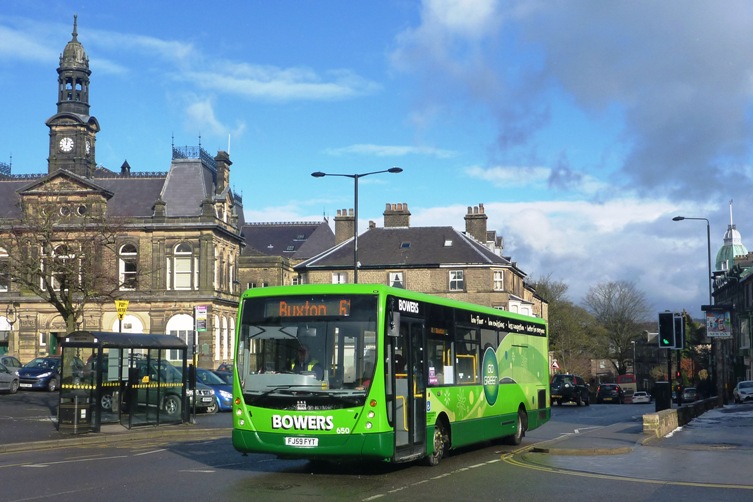 Brand new MAN / Plaxton Centro (FJ59 FYT) is seen here in Buxton Market place on route 61 to Glossop. It carries Huddersfield Bus Company livery, which like Bowers, is associated with Centrebus.
(C)

1st September
Dennis Lance 358 (N358 VRC) is now in Cornwall with Roselyn of Par.


---
---
NEWS & Sightings
18th Feb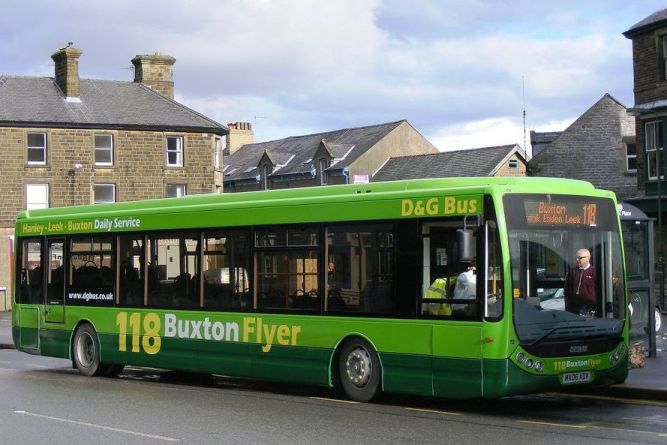 Optare Tempo (MX06 ADV) has arrived here, and has been branded for the 118 "Buxton Flyer" service which links Hanley, Leek and Buxton.
(C) Ian Moorcroft
---
---
NEWS & Sightings
26th May
Vecta (M801 PRA) has been re-taxed until October, so looks likely to stay within the fleet for a while longer.

9th May
Following the introduction of the MPDs, older Mercs (L323AUT), (M273URC), (M455EDH) and (M457UUR) were all withdrawn between mid March and very early April. All have now gone from the yard.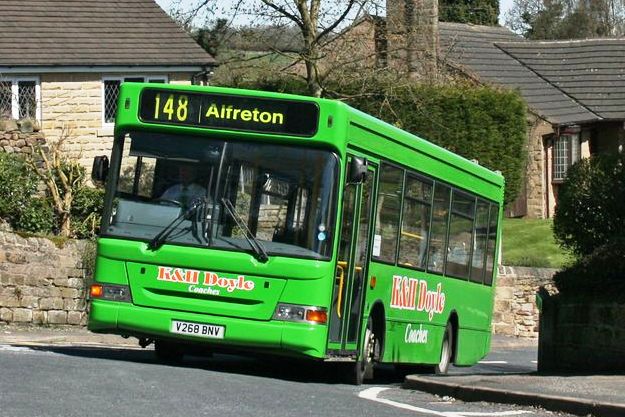 One of the recent Mini Pointer Darts to arrive here is (V268 BNV). It is seen here climbing the hill in Pentrich Village.
(C) Tony Wilson
---
---
NEWS

31st March
The new Volvo Centro is (FJ10 NFV),and is expected to be in service on the black cat service tomorrow.

4th March
The last Lynx in the fleet (J564 URW), is off the road with a seized engine. It is currently at the Hartshorne Volvo dealer nr Alfreton. It is unlikely to return.
---
---
Gills Travel

-:
---
---
G&J Holmes

NEWS
-
---
---
Glovers of Ashbourne


NEWS
30th October
Volvo coach (B252 KTO) is for sale on ebay. The coachwas bought new by the company: Click here to view.

11th October
Paladin (K123 BUD) has been re-registered (AIG 8338).
An Excalibur coach registered as (AIG 4114) is also now here. It has brown orange and yellow stripes in the livery! Anyone know its previous registration / history?


---
---
Harpurs Coaches

NEWS + SIGHTINGS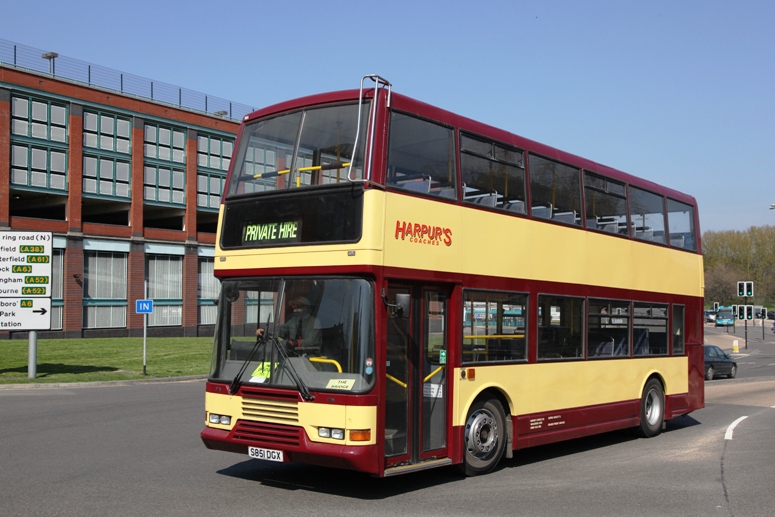 One of Harpurs most recent arrivals is (S851 DGX) looking smart here in Derby City Centre.
(C) R Hadfield http://www.thebusparade.fotopic.net/

11th November
East Lancs Olympian (S851 DGX) has arrived here via Ensign. The vehicle was recently with Chambers, and was previously with Metrobus, Orpington.

22nd September
Metrobus (B808 AOP) was sold for scrap to one of the Barnsley breakers some time ago. (B809 AOP) is being used for spares.
Ex London Metrobuses (B204 WUL) and (C317 BUV) are delicenced.


---
---
Hawkes Coaches


NEWS
1st May
Another former TWM Metrobus has arrived here, thought to be (B846 AOP). It has been here a month or so now at least!

---
---
Hulleys of Baslow

NEWS + SIGHTINGS
16th June
The new number 2 in the fleet is MAN / MCV EVOLUTION (AE05 EVC) from Alliance and Leicester (dealers rental fleet). It replaces (P881 PWW) which was written off in an rta last month.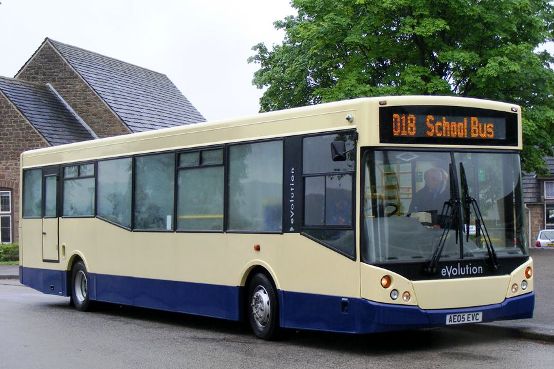 Hulleys latest addition to the fleet is MAN / MCV Evolution (AE05 EVC), seen here at Lady Manners School prior to having fleet names applied.
(C) Ian Moorcroft



17th May
Hulleys Plaxton bodied Dart no 2 (P881 PWW) is likely to be a write off after an RTA last Tuesday (11th May).

7th May
Dennis Lance / Plaxton Verde 18 (P959 BUB) was sold to OGDENS TRAVEL of ST HELENS where it is used for schools in a red and white livery applied in Hulleys style (red replacing the blue and white the cream).

---
---
Johnson Bros / Redferns


NEWS & SIGHTINGS
26th May
Two new plaxton Panther bodied coaches to arrive here are (YN10 AAE) and (YN10 AAF). Both are in white and carry coachholiday.com branding.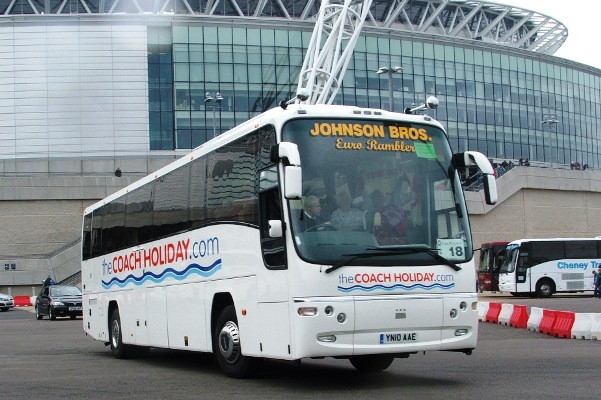 One of the 2 new Plaxton Panther bodied coaches with Johnsons is seen here at Wembley Stadium on Sunday 16th May.
(C) Simon Hussey
---
---
Linburg

NEWS + SIGHTINGS
-
---
---
Littles Travel

NEWS + SIGHTINGS
-

---
---
Midland Classic

NEWS
-
---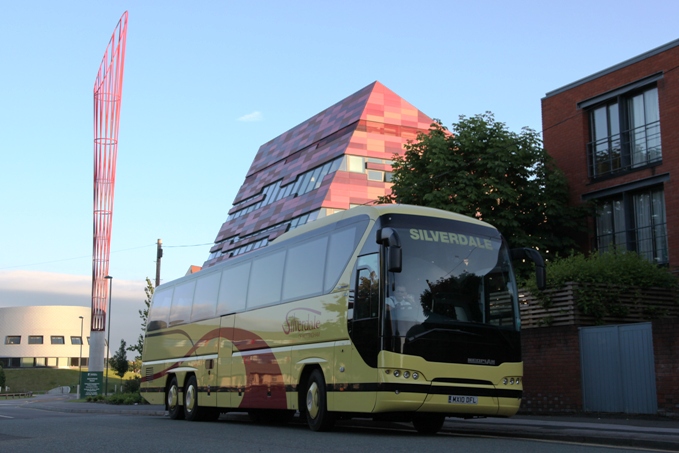 Silverdale of Nottinghams brand new Neoplan tri axle coach.
(C) R Hadfield http://www.thebusparade.fotopic.net/
---
---
Stagecoach East Midlands
Chesterfield, Mansfield, Worksop

NEWS

Preservation News: Dennis Falcon (TWJ 340Y)

Dennis Falcon (TWJ 340Y) has been purchased by Daniel Shaw and Steve Crossland for preservation. The vehicle will be moving to Sheffield where it will be restored back to its original green and cream, and hopefully being ready for the middle of next year (2010). Express Motors also operated number 42 (TWJ 342Y) aswell as 40 and 41.

2nd March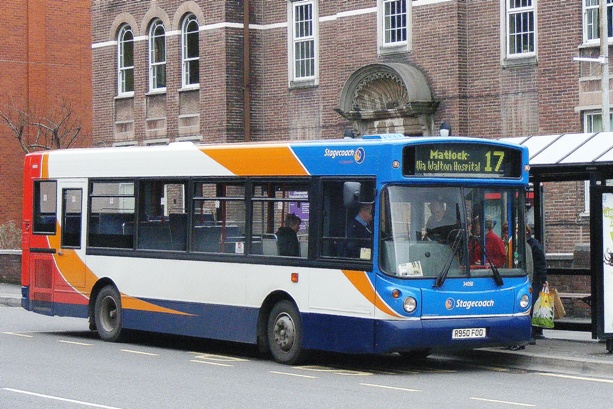 .
(C) Ian Moorcroft

10 Low Floor Darts have arrived at Chesterfield. Some, maybe all, are likely to stay here to replace step entrance Darts and MK1 Excels. The following 10 buses have arrived:

33081 (P547 HVM), ex Dennis's, Dukinfield.
33082 (P978 LNB), ex Dennis's, Dukinfield.
33083 (P979 LNB), Dennis's, Dukinfield.
33345 (R45 CDB), ex Mayne, Manchester.
33346 (R46 CDB), ex Mayne, Manchester.
33348 (R48 CDB), ex Mayne, Manchester.
33349 (R49 CDB), ex Mayne, Manchester.
34047 (R947 FOO), ex Stagecoach Selkent.
34050 (R950 FOO), ex Stagecoach East London.
34053 (R453 FVX), ex Stagecoach East London.

To keep up to date with Stagecoach in Chesterfield, and many other operators in the area, take a look at the excellent Transpire website.

9th September
Additions to the fleet are: DAFs 26121-3 (X851-3 HFE) from Skegness. Similar 26124-6 (X854-6 HFE) are set to follow.
Olympians 16486/8 (N136/8 AET) have gone to Skegness.


---
---
TM Travel


NEWS:
See Wellglade section.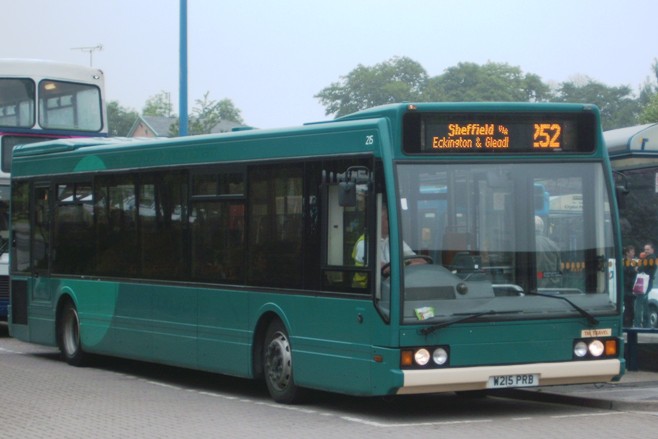 Former trent Excel 215 is now in service with TM travel. It is seen here, still in its former cotrave connection livery (plus fancy bumper) in Crystal peaks.
(C) Pete Gough
---
---
Translinc
NEWS
:
---
---
The Wellglade group
trent barton, kinchbus, notts+derby and T M Travel.
NEWS 16th June:
Paladin 133 has been painted into standard N+D livery (was in unibus).

TM Solo (MX03 YCN) is now in a branded livery for Chesterfields Orbital Link 33. (MX03 YCP) is set to follow.

5th June:
One of the new Red Arrow coaches should be in Derby next week for type training / testing.

Dart 931 is another Dart transfer to TM. 938 is still undergoing repair work, and has not yet entered service.
Former Kinch Dart 899 has been repainted, and now carries fleet numbers 411!

30th May:
Excel 231 has been repainted into transpeak livery as a replacement for 158. 232 is expected to be done too, as a replacement for 157.

Solo 418 has been repainted into standard trent barton red and is based at Sutton. 416 is also stored at Sutton with branding removed. this may go into service here after repaint, as a Dart replacement. 417 stored at Langley Mill with defects.

A surprise transfer is Plaxton Cheetah minibus 1178 (YN06 CYP) which has moved from the TM Travel fleet to notts and derby! It is due a repaint, and a new fleet number, in time.




26th May:
Excel 230 has been repainted into unibus livery, along with Excels 221 and 222, although the later two will not enter service until June.
Vario 290 is withdrawn, in store at kinchbus. 297 sold to...??
Paladin 115 said to be For Sale.
Excels 258 and 259 are now both in Derby College livery along with 161. 263 remains in use, although 264 appears to have moved on.
The last "pre Wellglade" Excel, 1133 (R374 DJN) has been withdrawn. Ex trent 213 has arrived.

Last Saturdays auction at the Kinchbus yard never took place, it has been postponed until July.

19th May:
Dart 938 is now at TM Travel (ex Belper). It is currently being prepared for service, including a repaint.
Dart 899 has transfered from Kinchbus to TM Travel. Two more Darts are to follow.

9th May: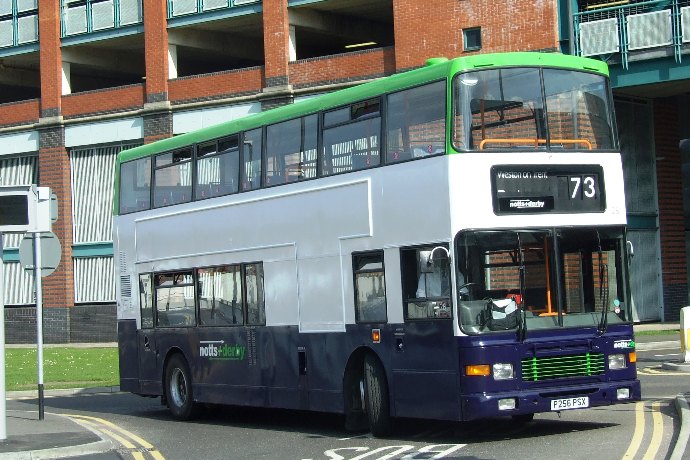 Former Lothian Olympian 28 at Derby Bus Station. The livery is slightly different!
(C) Dan Stone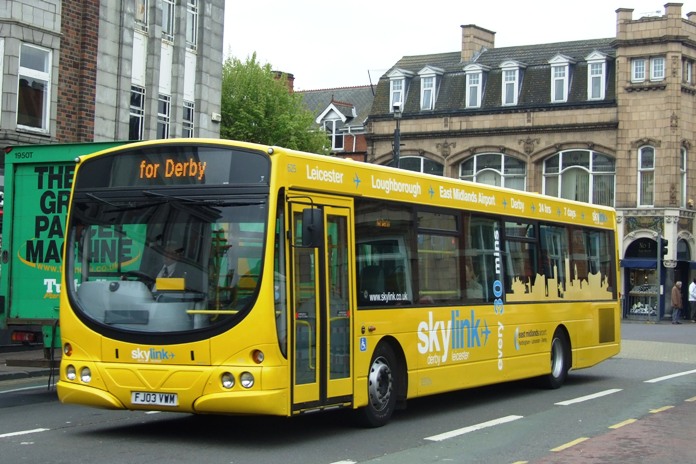 Former trent barton Scania 625 has now transfered to Kinchbus, and has been branded for the Derby to leicester Skylink service. it is seen here in Loughborough.
(C) Dan Stone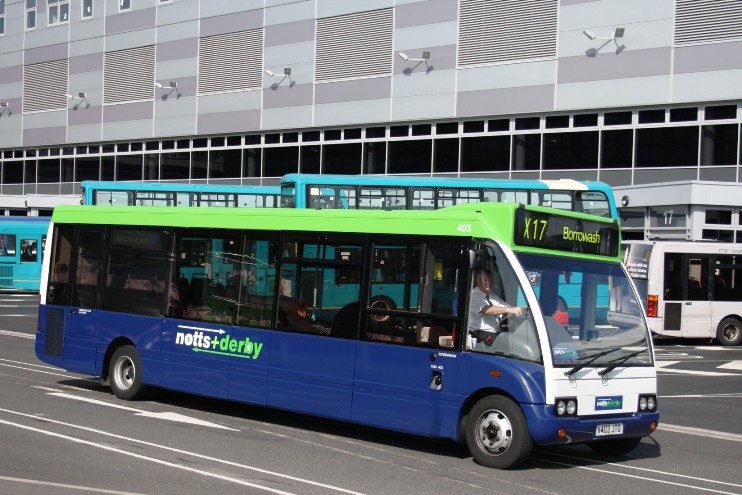 Former Derby "shopper hopper" Solo 403, has recently been repainted into another variation of the notts+derby livery. It is seen here departing Derby Bus Station on the X17 to Borrowash.
(C) John Milnes

Scania 625 is now in service with Kinchbus in Skylink livery for the Derby to leicester service. 618 is painted in standard Kinch livery as spare.
New additions to the Derby Community Transport fleet are 1016 (reg unknown), Mercedes 1017 (WX05 XWT). There is also a 1018 expected shortly!
Rumours are abound that there is at least one "new" tri axle coach for the red arrow service at Langley Mill!!
Minibuses 39 (L809 CJF) and 44 (L814 DJU) have both moved on (a while back). 44 is taxed until March next year, whilst 39 is currently off the road (wherever it may be!).


---
---
Yourbus, Nottingham
NEWS
June 5th :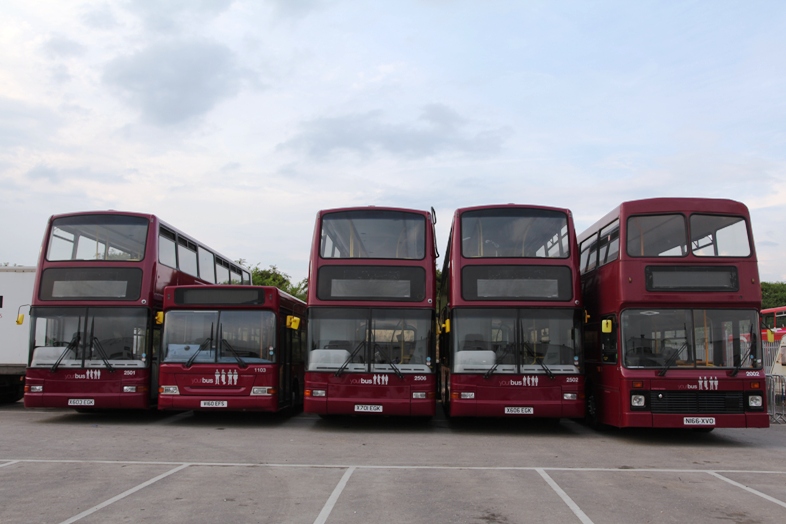 This lineup of vehicles shows (X603 EGK), (V160 EFS), (X701 EGK), (X606 EGK), and ex Derby (N166 XVO).
(C) R Hadfield http://www.thebusparade.fotopic.net/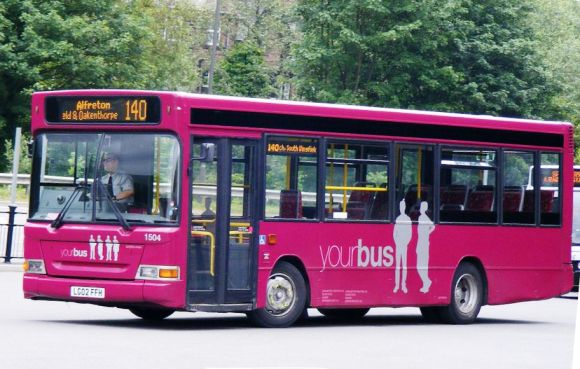 Yourbus MPD (LG02 FFH) seen here in Matlock bus station (the new one) on service 140.
(C) Ian Moorcroft

Darts currently on loan from Diamond bus are:

483 (R407 FFC),
484 (R409 FFC,
485 (R410 FFC),
487 (W338 WGX).

Recent arrivals from Ensign are:
Pointer Darts (ex Lothian):

1101 (V153 EFS),
1102 (V156 EFS),
1103 (V160 EFS).

Tridents:

2501 (X603 EGK),
2502 (X606 EGK),
2503 (C607 EGK),
2504 (X609 EGK),
2505 (X611 EGK),
2506 (X701 EGK).

The following Scanias have been sold to Ensign:
3101 (RDZ 1708)
3103 (RDZ 1710)
3105 (RDZ 1714)
3106 (RDZ 1711).

MPDs acquired a while back include:

1501 (LG02 FFC),
1502 (LG02 FFC),
1503 (LG02 FFE),
1504 (LG02 FFH),
1505 (LG02 FFJ).
---
---
Last Months News

News Index Page
---