Bus Fleet News
May 2010
---
Latest News
---
Here you will find all the latest bus fleet news for many bus operators in and around the Derbyshire area. If you have anything to report please contact me by clicking here.
---
Search this site.
Custom Search
---
---
***East Midland "RE" for sale - buy one get 1 free!***

Here is an offer more usually to be found down your local supermarket - Buy One Get One Free - but on Bristol REs!!

Freddie Curry owns two fairly distressed REs which he is not going to get time to restore and would like to pass them on. By far the better of the two is former Colchester (OWC 720M) which is still in as-withdrawn condition from its last operator, the Blue Bus subsidiary of Busways Travel Services.

Anyone buying this one on is also invited to take rare on Marshall-bodied ex-East Midlands RELL6L (CRR 537J) absolutely FREE OF CHARGE.

Freddie is giving this away as a goodwill gesture to anyone willing to preserve and build it up to its former glory. It is not to be taken it for scrap. Presently located near Edinburgh, Scotland, whoever acquires this bus will need to arrange to move it at their expense, as soon as possible.

Needs one side window. Has no seats, but a full set is available in Nottingham. Front and rear corner panels are also supplied. Fibreglass mould for front panel supplied. Needs Leyland engine and 4 speed gear box.

Any enquiries please phone Freddie on 07718-305813.
---
NEWS
-
---
---
NEWS
20th April:
MPD 2223 has been refurbished.

17th January:
Fowlers have sent Citybus 127 (YAU127Y) for scrap after it failed shortly before it was due for withdrawal. It now resides at Wigleys, Barnsley. 126 and 128 remain in use and are for sale. Any one interested should contact Andrew Fowler www.fowlerstravel.com.

24th December:
Former Derby Citybuses 126/7 (YAU 126/7Y) are now for sale. Anyone interested in purchasing these should contact Andrew Fowler at Fowlers travel.


---
---
NEWS
9th May
Former Fox Vario (R154UAL) is in use here in Centrebus livery. 2 white Tempos have also been in use.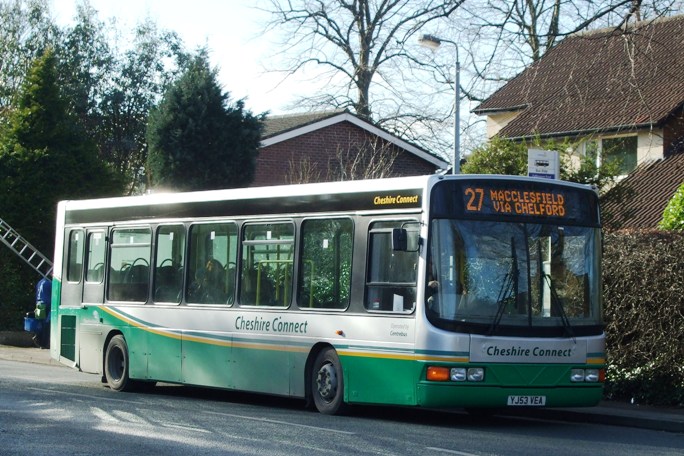 Bowers' 609 (YJ53 VEA) a VDL Bus SB120/Wright Cadet B39F has lost its obsolete blue/yellow Cheshire Bus livery in favour of Cheshire East Council's silver/green 'Connect' colours. 612 (YJ04 BZD) was repainted in January leaving only 610 (YJ53 VEB) of the trio left to be treated.
(C) Nick Mannion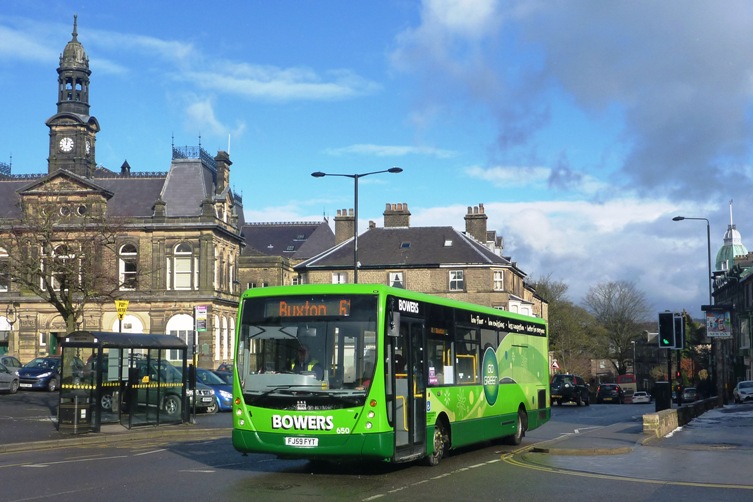 Brand new MAN / Plaxton Centro (FJ59 FYT) is seen here in Buxton Market place on route 61 to Glossop. It carries Huddersfield Bus Company livery, which like Bowers, is associated with Centrebus.
(C)

1st September
Dennis Lance 358 (N358 VRC) is now in Cornwall with Roselyn of Par.


---
---
NEWS & Sightings
18th Feb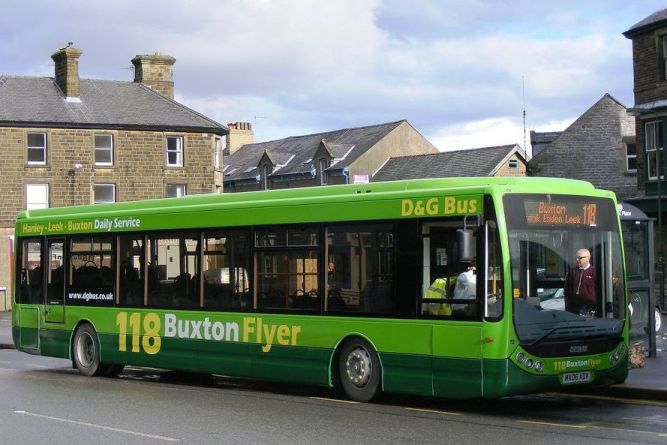 Optare Tempo (MX06 ADV) has arrived here, and has been branded for the 118 "Buxton Flyer" service which links Hanley, Leek and Buxton.
(C) Ian Moorcroft
---
---
NEWS & Sightings
26th May
Vecta (M801 PRA) has been re-taxed until October, so looks likely to stay within the fleet for a while longer.

9th May
Following the introduction of the MPDs, older Mercs (L323AUT), (M273URC), (M455EDH) and (M457UUR) were all withdrawn between mid March and very early April. All have now gone from the yard.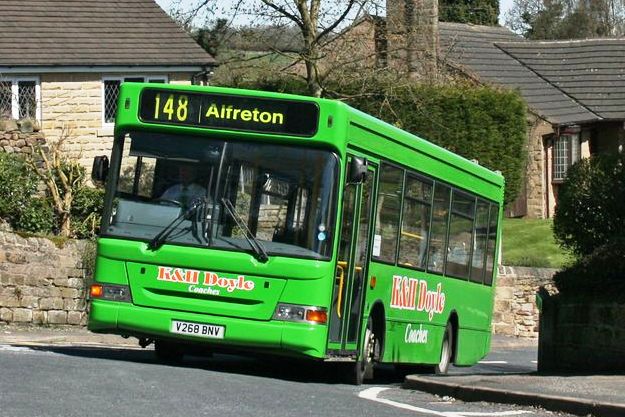 One of the recent Mini Pointer Darts to arrive here is (V268 BNV). It is seen here climbing the hill in Pentrich Village.
(C) Tony Wilson



31st March
MPD (X712 CCA) is now in service after repaint. MPD (W365 ABD) has been painted too.

27th March
The 4th MPD in use is (V331 CVV).

21st March
MPDs (V268 BNV), and (V264 BNV) are now also in service.
MPD (V264 BNV) is the second to be painted, and is now in service.

2nd March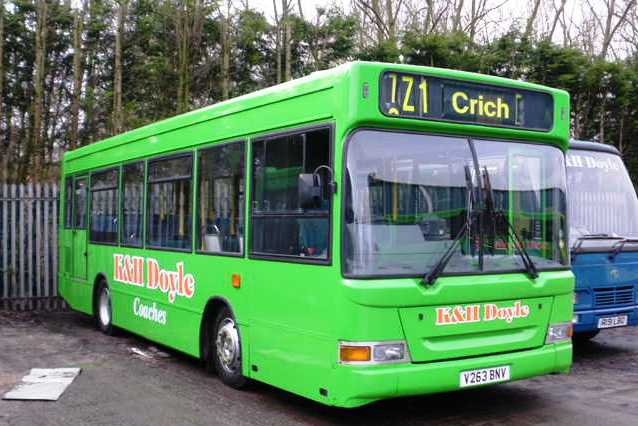 (V263 BNV) is the first of the 6 MPDs to be repainted.
(C) Chris Elkin

6 former Super Travel (Liverpool) MPDs have arrived here, to replace the remaining Mercedes 811Ds:

(V263 BNV), in Doyles livery and in service.
(V264 BNV), super travel livery, not yet in use.
(V268 BNV), as above
(V331 CVV), "
(W365 ABD), "
(X712 CCA). "

Mercs (L27 LSG), (M460 EDH) & (L953 MBH) have been sold to a 'theme park' at Doncaster.

Long withdrawn Ivecos (L525 BDH) (L526 BDH) , LDV (P568 PRE) and Optare (G697 NUB) have been sold for scrap. The remains of (L430 CPJ) have been removed from site too.
Merc (L323 AUT) is still running, but has no ticket machine fitted (used as staff taxi).

9th October
Minibus (L430 CPJ) has been cut to pieces in the yard.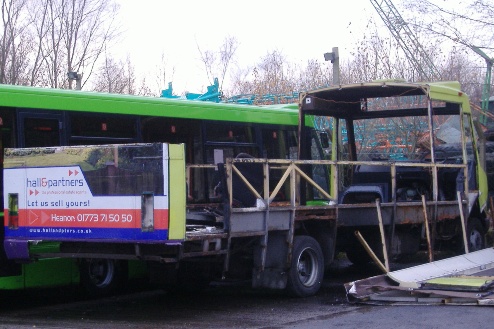 Minibus (L430 CPJ) in the yard.
(C) Guy

Plain red Dart/Marshall (T428 AGP) ex Go NE597 has been present in the yard. A possible addition to the fleet?
Minibuses (L323 AUT) and (M460 MDH) are back in use.
Minibus (L27 LSG) has been withdrawn, and Vecta 801 appears to have been put into reserve (still taxed but not been used for weeks).

9th October
Former Trent Vario (S287 UAL) has been repainted in the new bright green livery.

---
---
NEWS

31st March
The new Volvo Centro is (FJ10 NFV),and is expected to be in service on the black cat service tomorrow.

13th March
A new Volvo /plaxton Centro has arrived in all over white. It is currently away for repaint. Reg unknown.

4th March
The last Lynx in the fleet (J564 URW), is off the road with a seized engine. It is currently at the Hartshorne Volvo dealer nr Alfreton. It is unlikely to return.
---
---
Gills Travel


13th March:
A new Dart here is (N612LCG).

December 2nd:
Gills Travel are a new operator in the area. Three vehicles are known to be here:
(M146 VVS), Dennis Dart / Wright Handybus,
(M147 VVS), Dennis Dart / Wright Handybus,
(L134 YVK), Dart.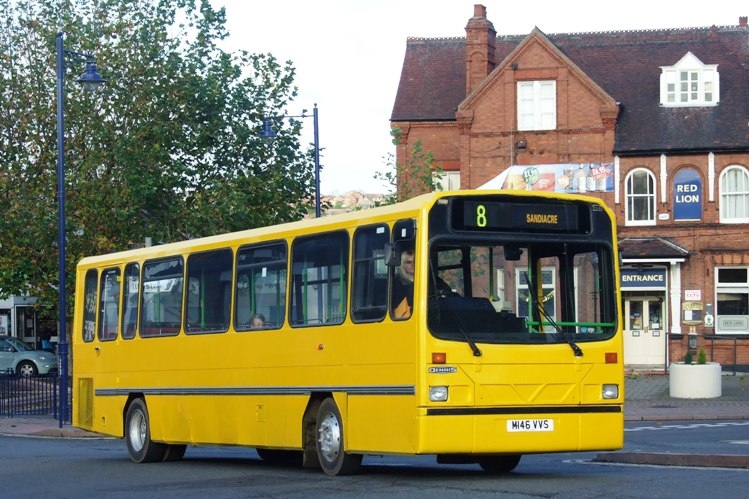 Wright Handybus Dart (M146 VVS) in Sandiacre.
(C) D J Stone

One service is operated, aswell as offering private hire.

Daytime service 8 links Sandiacre with Long Eaton, serving both the Asda and Tesco supermarkets. The service charges a £1 flat fare.

---
---
G&J Holmes

NEWS
20th April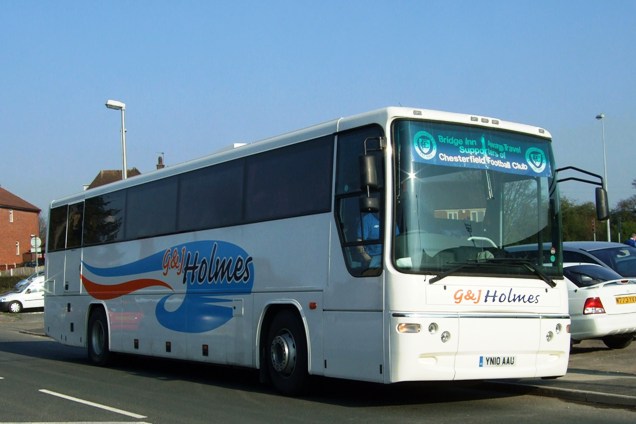 New coach (YN10 AAU) is seen here in Macclesfield.
(C) Nick Mannion



13th March
Volvo B7R (YN56 OSM) has been part exchanged for a new Plaxton Profile, C57F, Volvo B7R (YN10 AAU).

February 12th
A brand new Volvo B7R is due in March. Thanks Andy.

---
---
Glovers of Ashbourne


NEWS
30th October
Volvo coach (B252 KTO) is for sale on ebay. The coachwas bought new by the company: Click here to view.

11th October
Paladin (K123 BUD) has been re-registered (AIG 8338).
An Excalibur coach registered as (AIG 4114) is also now here. It has brown orange and yellow stripes in the livery! Anyone know its previous registration / history?


---
---
Harpurs Coaches

NEWS + SIGHTINGS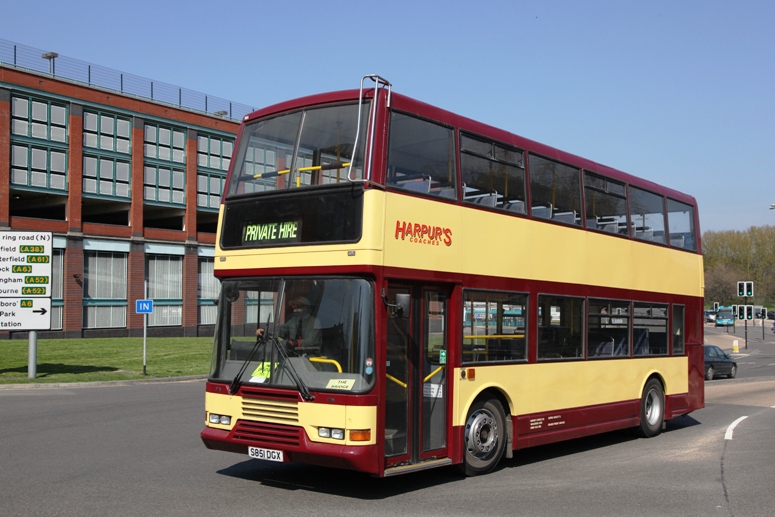 One of Harpurs most recent arrivals is (S851 DGX) looking smart here in Derby City Centre.
(C) R Hadfield http://www.thebusparade.fotopic.net/

11th November
East Lancs Olympian (S851 DGX) has arrived here via Ensign. The vehicle was recently with Chambers, and was previously with Metrobus, Orpington.

22nd September
Metrobus (B808 AOP) was sold for scrap to one of the Barnsley breakers some time ago. (B809 AOP) is being used for spares.
Ex London Metrobuses (B204 WUL) and (C317 BUV) are delicenced.


---
---
Hawkes Coaches


NEWS
1st May
Another former TWM Metrobus has arrived here, thought to be (B846 AOP). It has been here a month or so now at least!

---
---
Hulleys of Baslow

NEWS + SIGHTINGS
17th May
Hulleys Plaxton bodied Dart no 2 (P881 PWW) is likely to be a write off after an RTA last Tuesday (11th May).

7th May
Dennis Lance / Plaxton Verde 18 (P959 BUB) was sold to OGDENS TRAVEL of ST HELENS where it is used for schools in a red and white livery applied in Hulleys style (red replacing the blue and white the cream).

One of the latest deliveries to Hulleys is Dennis Dart SLF / MCV 19 (PL 06 TFZ), seen here at Ogston Reservoir on Saturday 11th April.
(C) Ian Moorcroft


21st March
Dart (PL06 TGF) is now numbered 18.
Hulleys Dennis Lance 18 has been sold to a Preston area operator for schools and is due to be collected on Saturday 6 March.


---
---
Johnson Bros / Redferns


NEWS & SIGHTINGS
26th May
Two new plaxton Panther bodied coaches to arrive here are (YN10 AAE) and (YN10 AAF). Both are in white and carry coachholiday.com branding.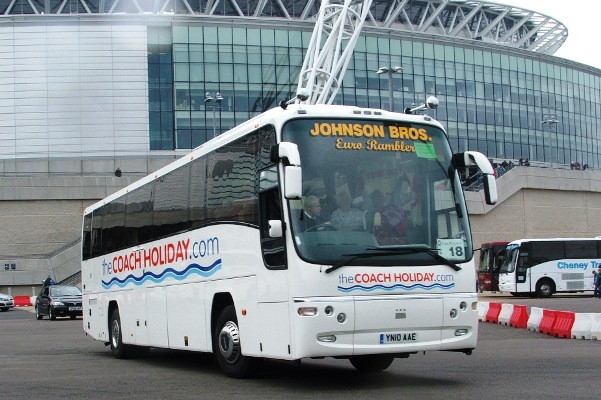 One of the 2 new Plaxton Panther bodied coaches with Johnsons is seen here at Wembley Stadium on Sunday 16th May.
(C) Simon Hussey



10th January
Acquired here from Ensign are ex Stagecoach East Kent Northern Counties bodied Olympians (L826-830 BKK).
The ex NCT Atlantean, (RTV 438X) is currently off the road being refurbished and repainted.

---
---
Linburg

NEWS + SIGHTINGS
-
---
---
Littles Travel

NEWS + SIGHTINGS
-

---
---
Midland Classic

NEWS
21st March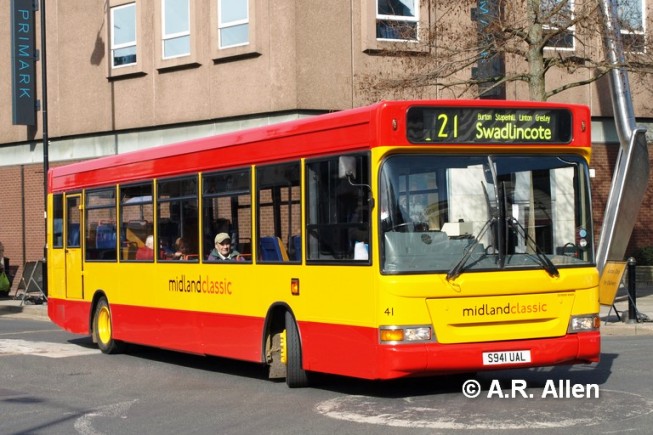 Former trent "villager" Dart has recently been repainted into fleet livery. It is seen here in Burton Town Centre.
(C) Andy Allen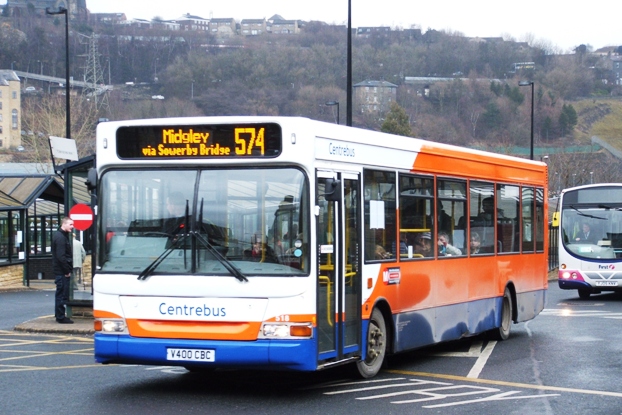 Former Midland Classic Dart (V400 CBC) is now in service with Centrebus. It is seen here in Halifax.
(C) Dave Kelly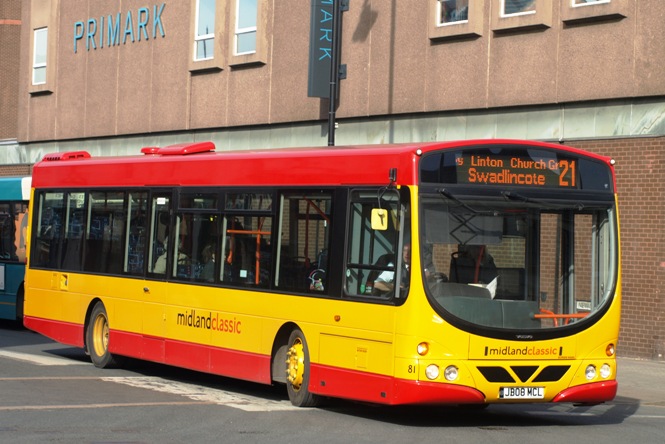 Volvo 81 now carries private plate (JB08 MCL). .
(C) Richard Woodhead



2nd March
A correction to last months news, is that Dart 54 (V700 CBC) has moved to Midland (associated with D&G) - not centrebus as previously reported. This requires a new engine before it enters service as number 2700. Thanks Jack.

Darts 53 (V400 CBC), and 55 (R505 SJM) have moved on to Centrebus, following the arrival of the 3 new Volvos. 53 and 55 have been repainted and are in use with Huddersfield Bus Company.
New Volvo 81 (MX08 NNU) has been re-registered with personal plate (JB08 MCL). Two more Wright bodied Volvos have arrived here. 82 (AE57 FXW) is now in service after being painted into fleet livery, and 83 (KX57 MTE) is currently away being painted.



---
---
Stagecoach East Midlands
Chesterfield, Mansfield, Worksop

NEWS

Preservation News: Dennis Falcon (TWJ 340Y)

Dennis Falcon (TWJ 340Y) has been purchased by Daniel Shaw and Steve Crossland for preservation. The vehicle will be moving to Sheffield where it will be restored back to its original green and cream, and hopefully being ready for the middle of next year (2010). Express Motors also operated number 42 (TWJ 342Y) aswell as 40 and 41.

2nd March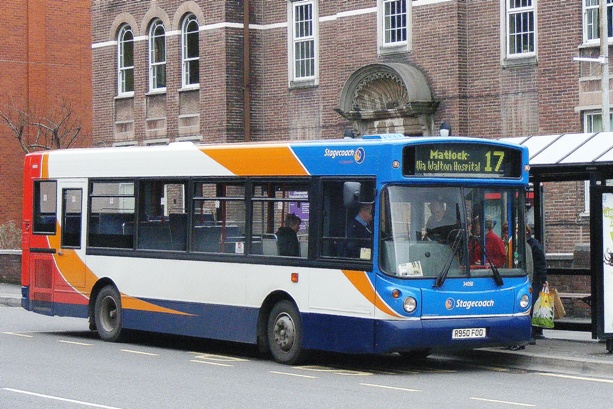 .
(C) Ian Moorcroft

10 Low Floor Darts have arrived at Chesterfield. Some, maybe all, are likely to stay here to replace step entrance Darts and MK1 Excels. The following 10 buses have arrived:

33081 (P547 HVM), ex Dennis's, Dukinfield.
33082 (P978 LNB), ex Dennis's, Dukinfield.
33083 (P979 LNB), Dennis's, Dukinfield.
33345 (R45 CDB), ex Mayne, Manchester.
33346 (R46 CDB), ex Mayne, Manchester.
33348 (R48 CDB), ex Mayne, Manchester.
33349 (R49 CDB), ex Mayne, Manchester.
34047 (R947 FOO), ex Stagecoach Selkent.
34050 (R950 FOO), ex Stagecoach East London.
34053 (R453 FVX), ex Stagecoach East London.

To keep up to date with Stagecoach in Chesterfield, and many other operators in the area, take a look at the excellent Transpire website.

9th September
Additions to the fleet are: DAFs 26121-3 (X851-3 HFE) from Skegness. Similar 26124-6 (X854-6 HFE) are set to follow.
Olympians 16486/8 (N136/8 AET) have gone to Skegness.


---
---
TM Travel

NEWS
9th May: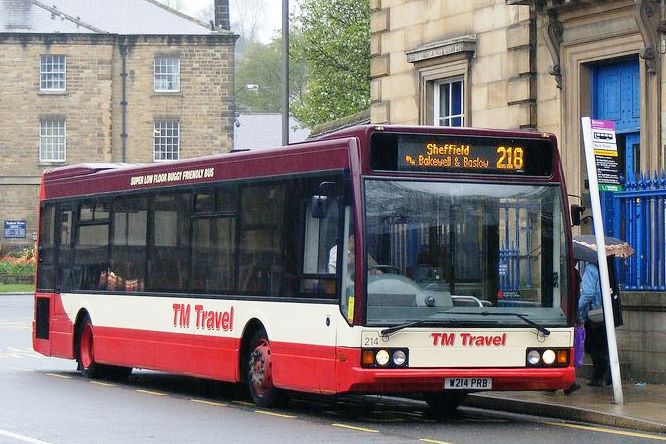 Former Cotgrave Connection Excel 214 is a recent transfer from the trent barton fleet. It is seen here in Bakewell.
(C) Ian Moorcroft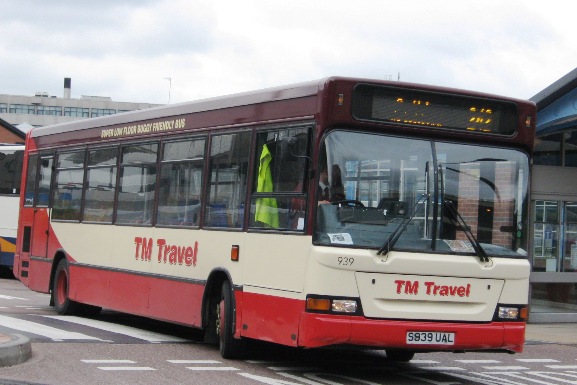 Dart 939 is another recent transfer from trent barton, seen here in Sheffield.
(C) Ben Goodman


22nd April:
Tigers (A784 YGL), (UJN 883Y), (BSG 550W), (KSP 329X), (KGS 489Y), and (G472 EKV) have all been sold to Fletcher, Chesterfield for scrap.
Tiger (F603 CET) has been sold to Pearson, Whittington for further use.
Doyen (CBV 775Y) has gone to Workington Transport Heritage Trust for preservation.
Tiger (FRN 816W) has gone to Dave Kelly, Brimington for preservation.

Most of the withdrawn fleet is to be sold at an auction at Kinchbus on 22nd May.

Many thanks to Paul for providing the above information.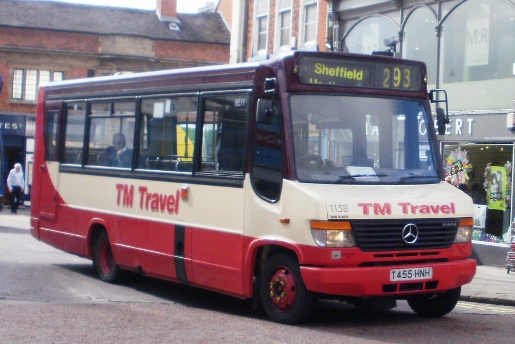 One of the recent repaints into TM Travel livery is Mercedes 1138 (T455 HNH).
(C) L H Transport Photos

13th March:
Paladin 122 is now on loan, 112 is back with N+D.
Darts 924/928 have arrived and are in service. 924 retains Kinch livery, 928 trent barton livery.
Merc (T455 HNH) has been painted into fleet livery.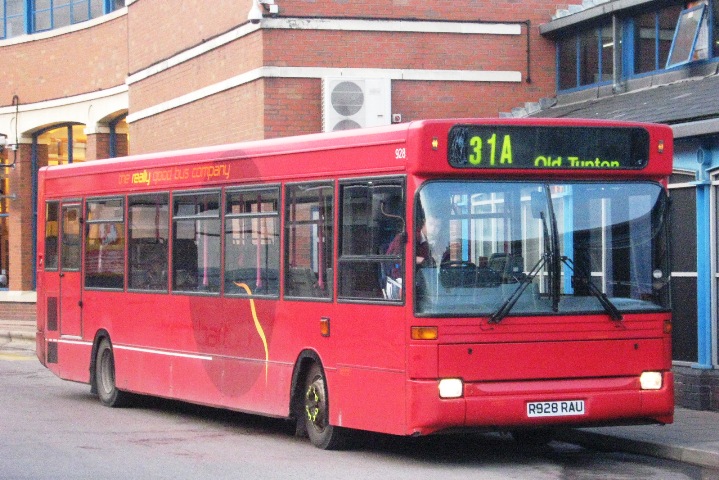 928 in service with TM travel.
(C) Ben Goodman
---
---
Translinc
NEWS
:
---
---
The Wellglade group

NEWS


It has been announced that Wellglade are to take over TM Travel from 1st January 2010. The TM Travel name is to be retained.



30th May:
Excel 231 has been repainted into transpeak livery as a replacement for 158. 232 is expected to be done too, as a replacement for 157.

Solo 418 has been repainted into standard trent barton red and is based at Sutton. 416 is also stored at Sutton with branding removed. this may go into service here after repaint, as a Dart replacement. 417 stored at Langley Mill with defects.

A surprise transfer is Plaxton Cheetah minibus 1178 (YN06 CYP) which has moved from the TM Travel fleet to notts and derby! It is due a repaint, and a new fleet number, in time.

PD3 1054 is another vehicle to obtain notts and derby legal lettering!


26th May:
Excel 230 has been repainted into unibus livery, along with Excels 221 and 222, although the later two will not enter service until June.
Vario 290 is withdrawn, in store at kinchbus. 297 sold to...??
Paladin 115 said to be For Sale.
Excels 258 and 259 are now both in Derby College livery along with 161. 263 remains in use, although 264 appears to have moved on.
The last "pre Wellglade" Excel, 1133 (R374 DJN) has been withdrawn. Ex trent 213 has arrived.

Last Saturdays auction at the Kinchbus yard never took place, it has been postponed until July.

19th May:
Dart 938 is now at TM Travel (ex Belper). It is currently being prepared for service, including a repaint.
Dart 899 has transfered from Kinchbus to TM Travel. Two more Darts are to follow.

9th May: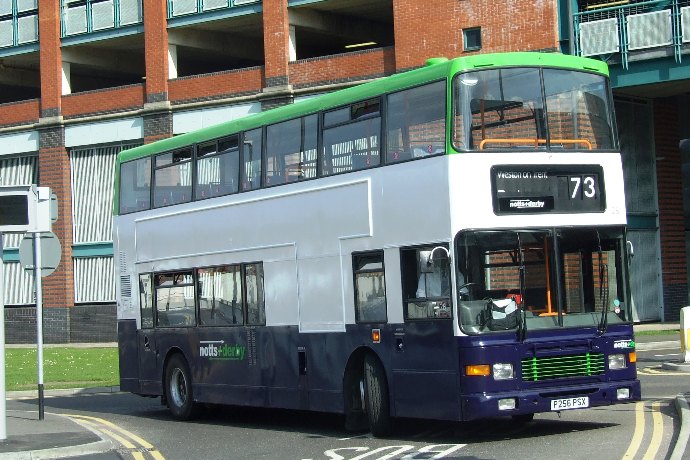 Former Lothian Olympian 28 at Derby Bus Station. The livery is slightly different!
(C) Dan Stone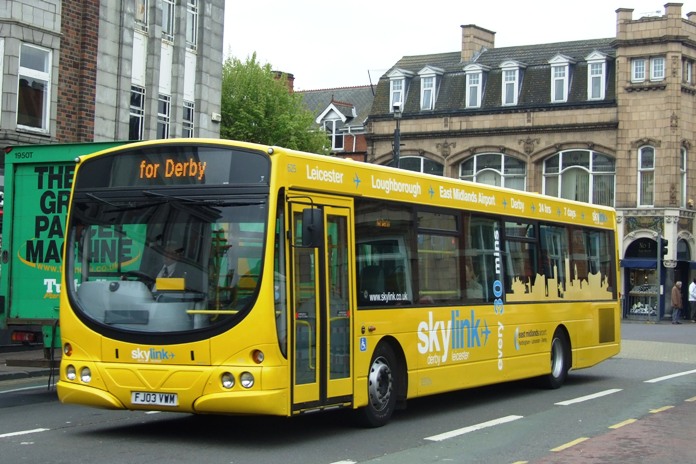 Former trent barton Scania 625 has now transfered to Kinchbus, and has been branded for the Derby to leicester Skylink service. it is seen here in Loughborough.
(C) Dan Stone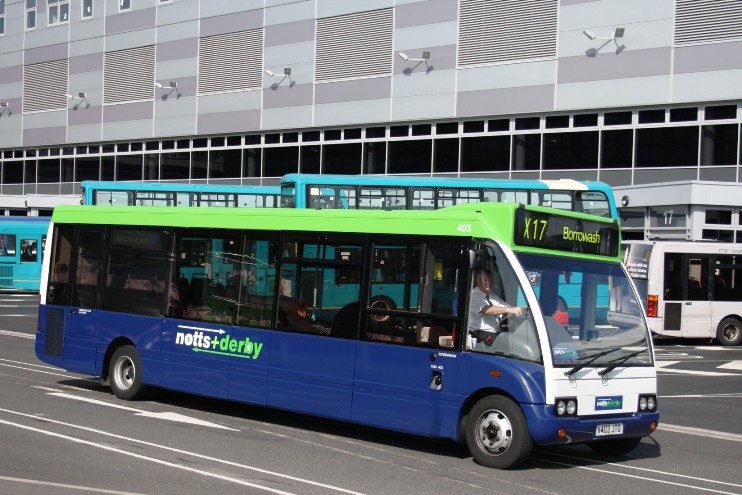 Former Derby "shopper hopper" Solo 403, has recently been repainted into another variation of the notts+derby livery. It is seen here departing Derby Bus Station on the X17 to Borrowash.
(C) John Milnes

Scania 625 is now in service with Kinchbus in Skylink livery for the Derby to leicester service. 618 is painted in standard Kinch livery as spare.
New additions to the Derby Community Transport fleet are 1016 (reg unknown), Mercedes 1017 (WX05 XWT). There is also a 1018 expected shortly!
Rumours are abound that there is at least one "new" tri axle coach for the red arrow service at Langley Mill!!
Minibuses 39 (L809 CJF) and 44 (L814 DJU) have both moved on (a while back). 44 is taxed until March next year, whilst 39 is currently off the road (wherever it may be!).

2nd May:
Solo 403 has been repainted in a different variation of the notts+derby livery!
Coach 63 is back in service following its RTA earlier this year.
Dart 949 is now based at Sutton.

TM Tesco branded Centro 1186 was destroyed by fire last week.
Dart 939 and Excel 214 have been repainted into TM Travel livery. 215 is in service in "Cotgrave green" livery.

20th April:

End of the road for the last Olympian, former 723?
Leyland Olympian 17 (C723 NNN) is now for sale. The asking price is £3500.
All is sound apart from the engine which has begun to smoke, and although the vehicle still runs, this will require replacement. The cost of a replacement engine including fitting would cost from £2400.
Anyone interested contact Kyle at trent barton: ktesto@trentbarton.co.uk

Former Lothian Olympian 28 (P256 PSX), is here as a replacement for number 17.

Solos 438 (Nottingham) and 457 (Langley Mill) now both carry Mango advertising liverys.

Short Excel 900 is now with Richards Bros, Cardigan, Wales.
Mercs 49 (Daisy), 276, 298 and 299 have all gone to S and A Coaches, Erkine (north of the border, neary Paisley i believe). Former trent 283 is here too.

Scania 625 has been painted in Skylink livery for the enhanced Derby to Leicester service (all go on to Leicester now). This has transfered from trent barton.
Scania 618 is expected at Kinch shortly (ex radcliffe Line).

A new arrival to the Derby Community Transport "door to door" fleet is 1016 (GK51 NGN), from Kent County Council.

Primo (YN55 YSC) is for sale!
Former Lothian Olympian 1204 (P274 KSX) has arrived for TM Travel, via Ensign.
Dart 939 is in service with TM Travel after repaint. 938 to follow.
Excel 214 has been repainted into TM Travel livery. Similar 215 is also in service, although this still carries its green Cotgrave Connection livery. 213 is also expected to go to TM.
Brown, former Radcliffe Line Solo, 415 has also been in service at TM.
Excel (R211 DKG) is now withdrawn at Langley Mill, but Excel (P505 OUG) has been put back into service.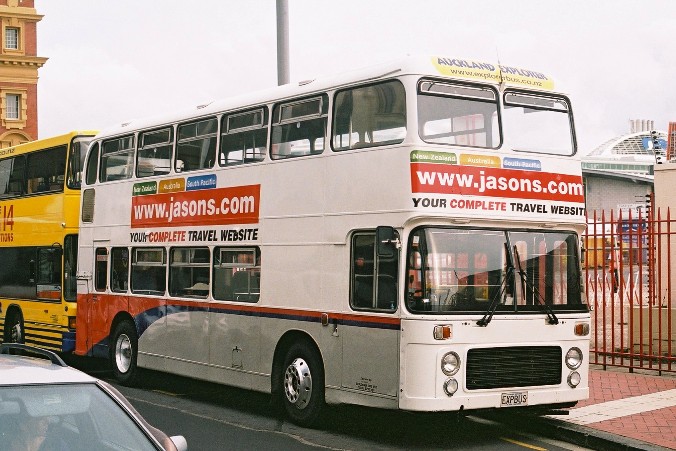 Former Trent VR (WRC 832S) is seen here in New Zealand in February 2009. New Zealand "cherished" and "special" registration numbers are unusual. Yes, normal NZ registrations are six characters but "specials" can be ANY six characters with no formatting rules at all. Hence EXPBUS.
(C) John Whittingham
484 is the brand new, bright pink Solo dedicated to the new "dash" service in Burton.
(C) Andrew Steer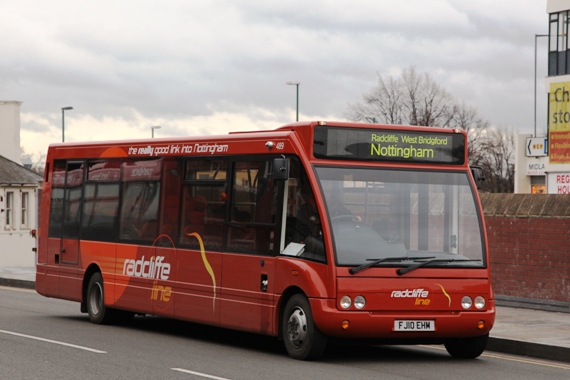 New Radcliffe Line Solo 489 seen here in Nottingham.
(C) R Hadfield http://www.thebusparade.fotopic.net/


21st March:
484 (FJ10 EHF), is a brand new Solo painted in a purple/pink livery for the new "Dash" service in Burton.

6 brand new Radcliffe Line Solos hit the road on Sunday 28th March. The vehicles are in a similar livery to "the nines", and also feature leather seating and wood effect floors. The 6 are:
485 (FJ10 EHG),
486 (FJ10 EHH).
487 (FJ10 EHK).
488 (FJ10 EHL).
489 (FJ10 EHM).
490 (FJ10 EHN).

Radcliffe Line Scania 618 is expected to transfer to Kinchbus, Loughborough.


---
---
Yourbus, Nottingham
NEWS
March 21st :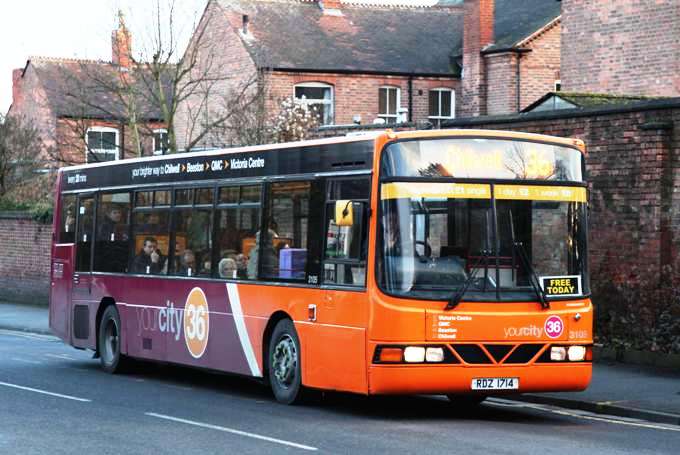 Yourbus Scania (RDZ 1714) is seen here in the short lived orange livery. The orange was removed less than a week after the vehicles went into service due to concerns that it was too similar to NCTs orange line livery.
(C) R Hadfield http://www.thebusparade.fotopic.net/

8 low floor Wright Bodied Scania N113 (ex Arriva?) are expected here for route 36 (Nottingham - Beeston - Chilwell). The route starts on Monday 22nd February, but services will be running free on Friday 19th February as a pre-launch special.

The 6 buses to arrive so far are:
3101 (RDZ 1708)
3102 (RDZ 1709)
3103 (RDZ 1710)
3104 (RDZ 1712)
3105 (RDZ 1714) 3106 (RDZ 1711) - plain yourbus magenta

15th November:
Please note 3004 is (M566 YEM) not "556".

Recent arrivals here are 5 ex Arriva North West Volvo B10B/Wright Endurance, for use on Derbyshire routes 140/1/2. They are:
3001 (M517 WHF),
3002 (M549 WTJ),
3003 (M526 WHF),
3004 (M566 YEM),
3005 (M556 WTJ)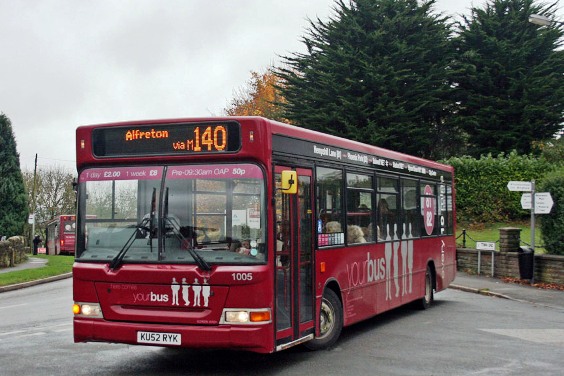 Route 81/2 branded Dart 1005 (KU52 RYK) is seen here near Crich Tramway Village on route 140. 27/10/09
(C) Tony Wilson
---
---
Last Months News

News Index Page
---