Bus Fleet News
July 2009
---
Latest News
---
Here you will find all the latest bus fleet news for many bus operators in and around the Derbyshire area. If you have anything to report please contact me by clicking here.
---
Search this site.
Custom Search
---
---
NEWS
June 6th
Former TM travel coach (HF51 CGG) has been re-registered (J2 AOT). Thanks Ian.


---
---
NEWS
26th July:
(P168 BTV) now with Bullocks of Cheadle by 6/09.
(VRA 124Y) to Ensignbus Purfleet (dealer) 6/09 ex Cherry Bootle and then on to a new owner in Cambridge for conversion into a mobile home.

MPD 2246 has moved to Cannock.
Volvo B10BLE 3606 has moved from Cannock to Burton.

24th June:
Fleetline 301 (GTO 301) performed a few "farewell" run this Saturday 27th June.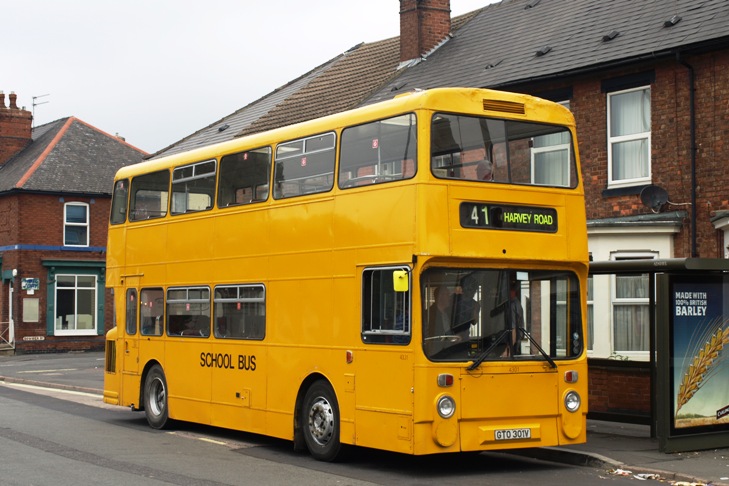 301 on route 41.
(C) Mr Richard Woodhead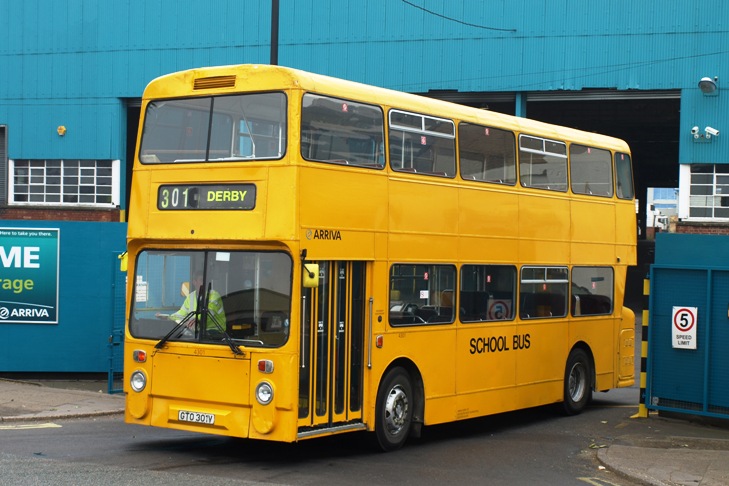 301 leaving Ascot Drive.
(C) Mr Richard Woodhead


301 has been sold for preservation, and it is hoped it will reappear in a historic livery soon..........

All 10 of the latest batch of Solos are now in service. They are:
2913 (YJ09 MLL),
2914 (YJ09 MLN),
2915 (YJ09 MLO),
2916 (YJ09 MLV),
2917 (YJ09 MLX),
2918 (YJ09 MLY),
2919 (YJ09 MLZ),
2920 (YJ09 MMA),
2921 (YJ09 MME),
2922 (YJ09 MMF).

Omnilinks 3810/1/2 have moved to Wigston.

23rd June:
Ensign have sold former Derby Citybus 135 (B135 GAU) to Fowlers, where it joins other DCT vehicles.


---
---
NEWS
27th July
solo 233 (X233 MBJ) had arrived here.
---
---
NEWS & Sightings
7th July
Solos (W678 DDN) and (X791 NWX) now carry the new green livery.

2nd June
Two more Darts here are (P304/8 HDP), both painted in fleet livery.


---
---
NEWS
---------
---
---
G&J Holmes

NEWS
------
---
---
Glovers of Ashbourne


NEWS
7th July
Former Blue Star Volvo B10B / Northern Counties Paladin 623 (K123 BUD) has arrived here.

1st May
the latest vehicle to join the fleet is (S602 ACT) a Mercedes Vario mini-"coach". Ex Slacks, Matlock?

---
---
Harpurs Coaches


NEWS + SIGHTINGS

7th July
Metrobus (B809 AOP) is now in reserve.

6th June
Olympians (N594 BRH) and (N595 BRH) have been acquired from East Yorkshire. Both now carry fleet livery. **(N593 BRH) is still at EY not here as previously reported**

---
---
Hawkes Coaches


NEWS
1st May
Another former TWM Metrobus has arrived here, thought to be (B846 AOP). It has been here a month or so now at least!

---
---
Hulleys of Baslow

NEWS + SIGHTINGS
1st May

---
---
Johnson Bros / Redferns


NEWS & SIGHTINGS
4th July
Bristol VRs now withdrawn are ex Crosville Mark 2 (HTU 159N) and ex Yorkshire Traction Mark 3s (OWE 854R) and (OWE 857R).


---
---
Linburg

NEWS + SIGHTINGS
9th May
---
---
Littles Travel

NEWS + SIGHTINGS
5th June
4 former Trent Olympians are here 12 (B712 HVO), 15 (C715 HVO), 16 (C716 LTO) and 17 (C717 LTO). All have been repainted, and re-registered as follows:
12 (LHZ 6351),
15 (LHZ 6352),
16 (LHZ 6353),
17 (LHZ 6354).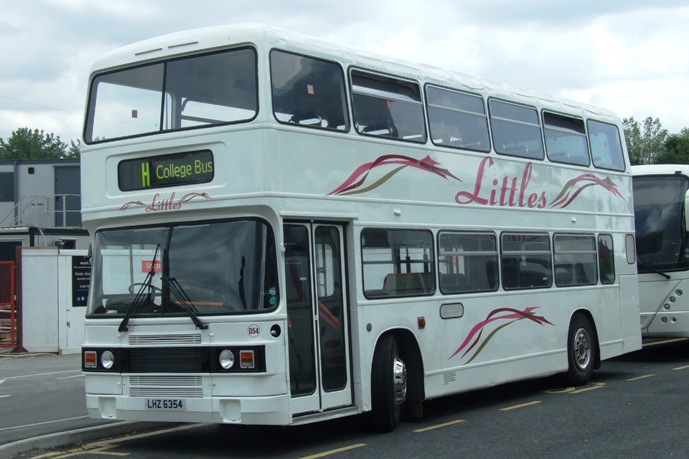 Former Trent Olympian (C717 LTO) now (LHZ 6354) seen here in Derby.
(C) Daniel Stone
---
---
Midland Classic

NEWS
-----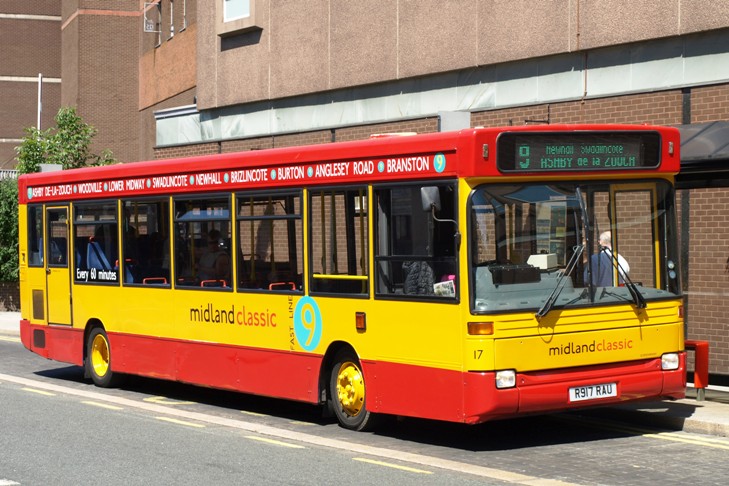 Route 9 branded Dart (R917 RAU) in Burton town centre. .
(C) Richard Woodhead
---
---
Stagecoach East Midlands
Chesterfield, Mansfield, Worksop

NEWS
24th July
East Lancs bodied Darts 33226 (R126TWF) and 33096 (Y951XRN) have been transfered from Yorkshire.
Olympian/Northern Counties 16877 (R253LGH) is on loan from Yorkshire.

7th July
Mansfield: Olympians sold are 14340 (G340 KKW) to Go Whippet and 14355 (K355 DWJ) to Johnson Bros. (P148 KWJ) is now at Skeggy (ex Chesterfield).

Worksop: Some Volvo B10M/Paladins and MAN/Alexanders have been transfered to Worksop from Gainsborough and Grimsby.

---
---
TM Travel


NEWS
26th June:
Olympian(R32LHK) is apprently only on loan here, from Ensign.

5th June:
A further ex Dublin Olympian has arrived here, (R32 LHK).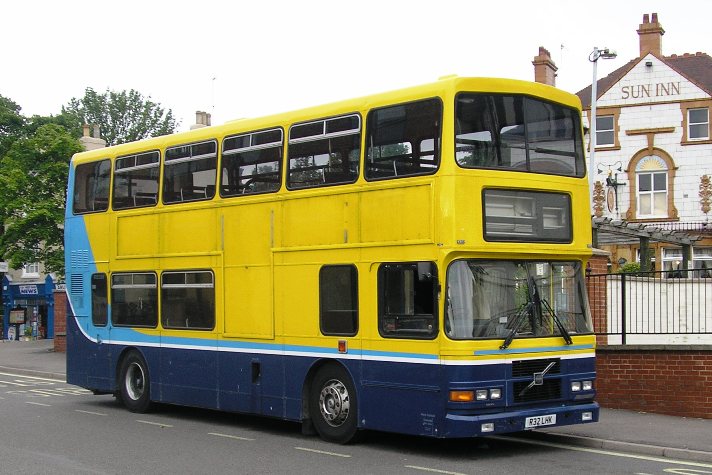 Olympian (R32 LHK) in use in Chesterfield.
(C) L H Transpot photos
---
---
Translinc
NEWS
:
---
---
The Wellglade group
NEWS
26th July:
Solos 406-10 are reported as sold to Nottingham City Transport!
Paladin 107 has been repainted into notts + derby livery.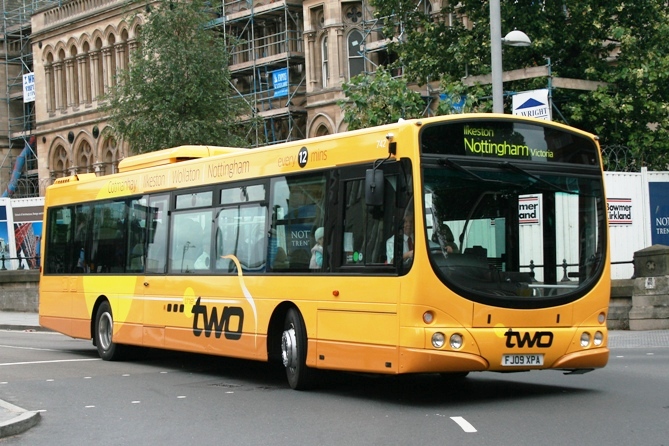 "the TWO" is now the new name for the Rainbow 2 route. 742 is seen here on its first day in service.
(C) South Yorkshire Transport Photos

17th July:
914 has been repainted in notts+derby livery. 2 other P reg Darts are expected to join the notts+derby fleet soon.
The 9 new "the two" Volvos are due to be in service a week on Sunday 26th July.
The 6 new Mercedes Citaros for the Calverton Connection service are due to enter service on 9th August.

7th July:
Dart 910 has been repainted in notts + derby livery.

10 new Wright bodied Volvos have been delivered to Langley Mill. 9 are in yellow for the TWO (replacing Rainbow 2 from Sunday 26th July):
742 (FJ09 XPA),
743 (FJ09 XPB),
744 (FJ09 XPC),
745 (FJ09 XPD),
746 (FJ09 XPE),
747 (FJ09 XPF),
748 (FJ09 XPG),
749 (FJ09 XPH),
750 (FJ09 XPK).

and in trent barton red:
751 (FJ09 XPL).

5th July:
4 brand new Solos have arrived for the "Royal Derby" hospital service. The for Solos are:
480 (FJ09 MWF),
481 (FJ09 MWG),
482 (FJ09 MWK),
483 (FJ09 MWL).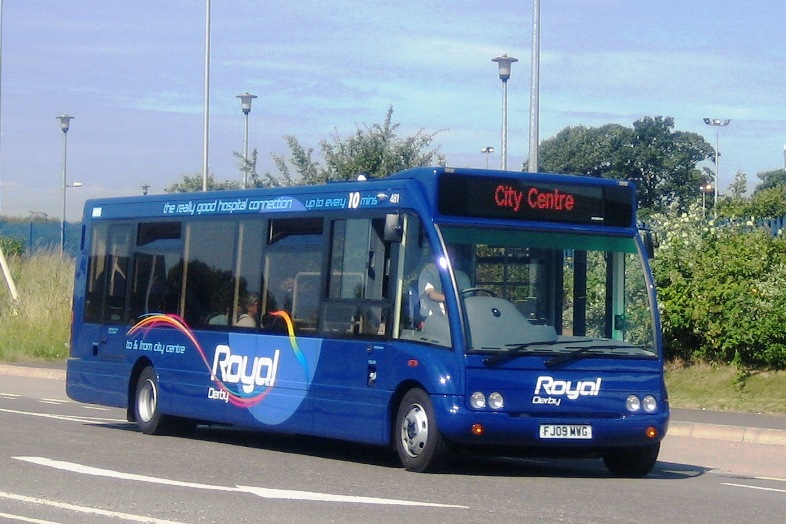 New "Royal" Solo 481 on the first day of the service.
(C) --

The 6 black Mercedes Citaros for the Calverton Connection service have now begun to be branded for the service. The registrations are as follows.
801 (BN09 FXL)
802 (BN09 FWV)
803 (BN09 FWW)
804 (BN09 FWX)
805 (BN09 FWY)
806 (BN09 FWZ).

9 new Wright bodied Volvos have arrived for "the TWO", the new name for Rainbow 2. More details soon.

Excel 224 now carries transpeak livery.

Former Nines solos 443 and 445 have been repainted in trent barton red, and continue to be based at Sutton.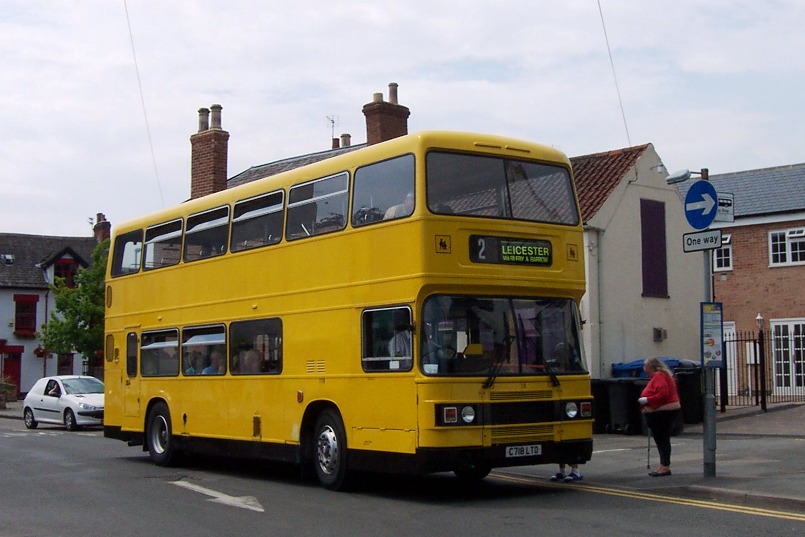 Kinchbus Olympian 18 on route 2 to Leicester.
(C) Chris Cooper

16th June:
Former H1 Solos 432 and 435 are now painted into trent barton red, joining 433 and 434 at Langley Mill.
Solos 402 and 404 have transfered from LM to Sutton.

Darts 896/8, 905 and 909 are fairly recent withdrawals.
Many withdrawn Darts re-appeared in operation with notts+derby whilst Download Festival shuttles were in operation last weekend. These included Villager branded 927!

Goodwins have sold former Trent Lances 363 and 368 to W E Jones Llanrchymedd.
---
---
Last Months News

News Index Page
---