Bus Fleet News
July 2008
*Sightings of buses on unusual routes will no longer appear on this page. They can be posted by anyone in the sightings area of the Forum. This can be accessed by clicking here (will open in new window). Hopefully this will make the Fleet News more prominant on this page!
---
Latest News
---
Here you will find all the latest bus fleet news for many bus operators in and around the Derbyshire area. If you have anything to report please contact me by clicking here.
---
---
NEWS
30th July
A 2nd 12.8 metre Volvo B Plaxton is due for delivery in September (58 reg). A Beulas/ Iveco, ex Yorks is on hire until then..Thanks Ian.


---
---
NEWS
30th July:
Olympian 4648 (S648 KJU) has arrived here (may be on loan). On 44 today. Thanks Ian.
Scania decker 4165 (M165 GRY) has arrived and is now in service.

22nd July:
Minibus 1381 (N481 XRC) and Citybuses 4345 (C145 NRR) and 4354 (F114 TML) are at Stafford Bus Centre.
Minibus 1390 (P490 CAL) - laterly at Wellington - is also at Stafford Bus Centre. Thanks Rich.

18th July:
4301 has moved into the workshops at Ascot Drive.
The three remaining B reg Citybuses, 135, 142 and 143 are still going strong.
Scania decker 4165 should be arriving at Derby shortly (from Cannock), joining the other 4.
Olympians 4629 and 4639 have gone up north to Liverpool, for use on a boat festival shuttle this this week.


3rd July:
Spectra 4699 (816 DYE) is now in use here, although 4698 is now off with accident damage.
All three Scania / East Lancs Saloons 3467/9/71 (N167/9/71 PUT) have entered service, all of the above are in the inter-urban livery.
All three Marshall bodied Citybuses 4335, 4342/3 still remain in use.
Fleetline 4301 (GTO 301V) is withdrawn, awaiting repair.

9th June:
Fleetline 4301 (GTO 301V) is awaiting repair. It should be fixed before it is sold on, whether it sees further service with Arriva is another matter.
Scanias 3467 (N167 PUT), and 3471 (N171 PUT) are set to join 3469 (N169 PUT) at Derby.
All four Scania deckers have entered service at Derby, 4159 and 4194 were off the road today though.
RAM FM Citybus 4354 seems to have disapeared.
Citybus 4336 it at Staford Bus Centre (not scrapped!) along with Citybus 4397.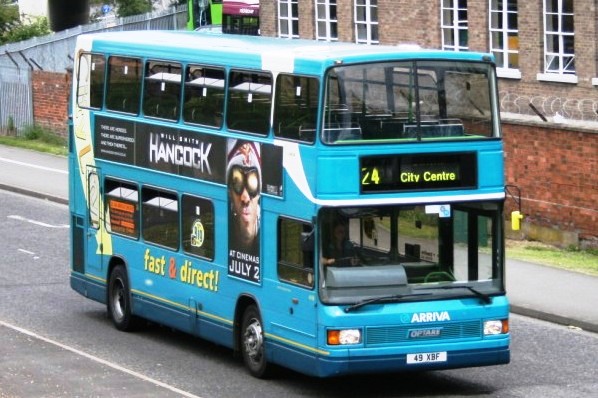 Spectra 4698 is one of the recent arrivals at Derby.
(C) David Allen
SIGHTINGS
Sightings will no longer appear on this page. They can be read and reported by clicking HERE
---
---
NEWS
Sat 3rd May:
Former Trent Varios 823 (R823 MJU) - the one that received trent barton livery - has transfered here from the Centrebus fleet. It still carries centrebus colours.


---
---
NEWS & Sightings

3rd May
LDV Convoy (P568 PRE) has been withdrawn and is stored at the Ripley yard along with Minibus (L525 BDH) and national greenway (JIL 2195).


---
---
NEWS

July 21st:
The latest Centro is away for suspension repairs, plain white Centro (YJ57 BCU) is here on loan until its return.

May 8th:
Lynx (E260 TUB) has been sold to W E Jones Llanerchymedd (Wales).
The new Centro is now in service and has fleet names applied.


---
---
G&J Holmes


NEWS
Fri 29th Feb
Two more slimline Solos are expected here later this year. They would replace Vario (YN54 XXP) and long Solo (YG55 YGZ). Thanks Andy.

---
---
Glovers of Ashbourne

NEWS
-
---
---
Harpurs Coaches


NEWS + SIGHTINGS

30th July
A new addition to the preserved fleet is former Derby Corporations Crossley 111(CRC 911)!

---
---
Hawkes Coaches

NEWS
-
---
---
Hulleys of Baslow

NEWS + SIGHTINGS
-

---
---
Johnson Bros / Redferns


NEWS & SIGHTINGS

16th July
Olympians (G754/755/762 UYT) have been painted into Redferns green livery.
VR (ODL 664R) has now been painted green too.

---
---
Littles Travel

NEWS + SIGHTINGS
-

---
---
Midland Classic


NEWS

9th June
Darts 917, 919 and 922 (R917/9/22 RAU) have arrived here from trent via Stafford Bus Centre.

---
---
Stagecoach East Midlands
Chesterfield, Mansfield, Worksop

NEWS
30th July

Worksop
New Alexander Dennis buses at Worksop, in the "green" Stagecoach livery are:

Enviro 300 (B44F): 27594/5 (FJ08 VRC/D),
Enviro 200 (B37F): 36005-7 (FJ08 FZX/VPY/FZZ),
Enviro 200 (B29F): 36008/9 (FN08 AYE, FJ08 FZY).

Mansfield
Dennis Tridents 18034/7/9/45 have arrived from Manchester.
MANs 39676-9 (FX08 HFA/B/C/D)are now branded for the Clipstone Clipper.
Darts 34455-9/62-5 hav had new "Mansfield Miller" branding applied, complete with Windy Miller characters.

18th July
Worksop:

The Mercedes 709's, and many of the step entrance darts have left the fleet, being replaced by brand new Enviro's (200 and 300s) for the Worksop 'Bus About Town' network. These carry Nottingham Colours of Light/Dark Green, Red and White applied in stagecoach style, like some of the original Enviros delivered last year.

The B10M's are still in service, including M602VHE (the former Sherwood Arrow), now repainted into full Stagecoach livery. However, the dark blue has been painted too far up the bus, and it looks very unusual compared to other B10Ms in the Worksop fleet.

Thanks to Dave for the above report.

3rd June
9 more MAN Enviro 300's are apparantly due this month to replace the remaining Step-Entrance Darts at Chesterfield.
All Chesterfield's remaining B10m's (L339 KCK), (L340 KCK), (L344 KCK), (M412 RRN), and (M606 VHE) have now been transferred to Doncaster.
Doncaster Step Dart (R714 YWC) has arrived here. This has replaced Pointer Dart 32068.
32118 (K118 SRH) was sold, and 32415 (N415 MBW) was also withdrawn following 32073 (M73 VJO)s reinstatement to service in Chesterfield.
SIGHTINGS
Sightings will no longer appear on this page. They can be read and reported by clicking HERE

---
---
TM Travel


NEWS
18th July:
DAF / EL (X685 REC) now carries the new livery.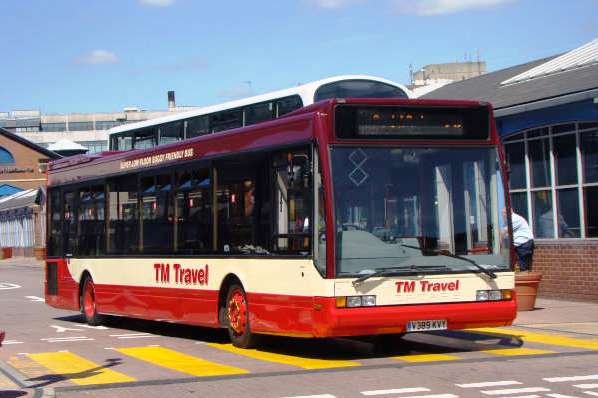 Excel (V389 KVY) leaves Sheffield Transport Interchange, looking smart in the new style livery.
(C) South Yorkshire Bus Photos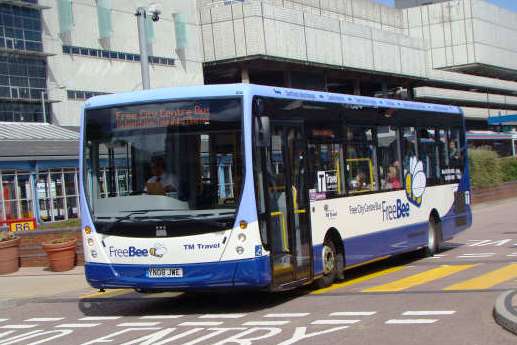 The three white MAN Centros are to be branded for Free Bee, Sheffields Free City Shuttle bus service. () is the first to be done, and is seen here leaving Sheffields bus station.
(C) South Yorkshire Bus Photos


18th July:
Solos (YL02FKU/V) will arrive soon from Stagecoach, the vehicles will be leased to the company whilst they operate the 120 contract. They are in yellow, white and blue rural links livery.

The three MAN Centros are to go onto the Free Bee service soon. All three have been painted into the South Yorkshire livery (were delivered white), and at least one has had Free Bee branding applied. The Solos will be kept for use on other services.
A new Solo to arrive here is (LA02 WMZ) - seen in service in Matlock today. Thanks John.
4 deckers are still kept at Fan Road, Staveley, but the rest of the operational fleet has now moved to the Halfway garage.
Another Excel here is (V389 VVY).
The 3 Lothian Olympians J844/50/4 TSC) all painted and converted to single door.
Solo (YN03 ZXE) has been painted ito new livery.
Solo (W288 EYG) has been put back together, passed it's test and ready for painting too!

June 20th: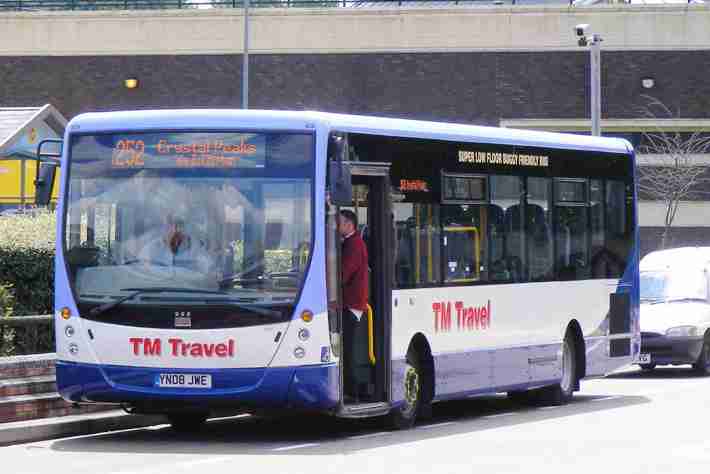 MAN Centro (YN08 JWE) now carries Travel South Yorkshire livery.
(C) Ian Moorcroft



June 6th:
Excels (R211/2 DKG) have arrived here. One of the two is in service in all over white livery.

June 3rd:
Several vehicles have now moved to the new halfway garage in Sheffield. More details soon.
Van Hool Alizee T8 bodied DAF SB3000 (YIL 4058) (former (R256FBJ) has appeared at Bob Vale Coach Sales in High Wycombe.


---
---
Translinc
NEWS
:
---
---
The Wellglade group
NEWS
30th July :
New trent barton liveried Volvos 626/7 (FJ08 WHR/S) have entered service at Nottingham.
Darts 916 and 931 have transfered to Sutton garage.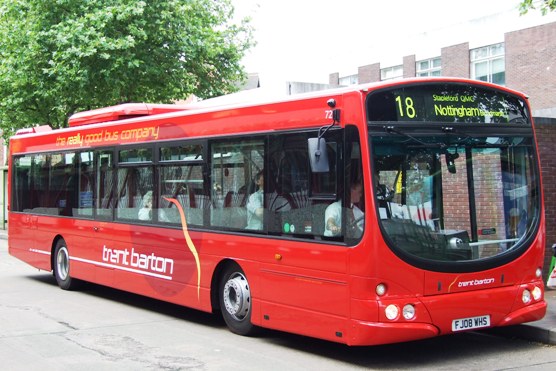 Wright bodied Volvo 727 in Beeston on its first day out in service.
(C) Daniel Stone


Former Lothian Olympians, 13 and 14, are said to have gone to Bestwood for a repaint. 252 may be there too (for repaint into R3 livery).
Volvo saloon (FJ08 WHR) has arrived at Manvers Street and should be in service this week.

18th July :
Two Red Volvos,(FJ08 WHR/S) have arrived at Langley Mill, They should be numbered 701 and 702, and will enter service at Nottingham soon.
Rainbow 5 Volvos delivered to Langley Mill so far are: (FJ08 WJA/M/N/O/U/V/X/Y/Z) and (FJ08 WKA/B) - no fleet numbers yet, but they will be 703 onwards. 26 should be branded for the service, which will have a new name when re-launched on Sunday 31st August.

Former Lothian Olympians 13 and 14 are at Langley Mill for repaint into notts and derby livery. The centre doors may be removed at a later date, as the buses will be needed in service soon. Further Olympians are likely to be purchased from lothian in the fairly near future.

A new style Solo is on loan, although it has no registration yet. It is likely to be in use from Sutton soon.

Solo 440 is to be repainted into a livery for the connect 5.

Excel 201 is to be repainted into trent barton livery, and is expected to transfer to Sutton. 252 is likely to be painted into Rainbow 3 soon after, due to a service revision that will require an extra vehicle.

16th July :
The Lothian Olympians have been numbered 13 and 14.
The new Volvos that have begun to arrive are numbered in the 700 series (701 onwards?). The deckers currently in the 700 series have been re-numbered. 712 is now 12, 715 is now 15 etc...

14th July :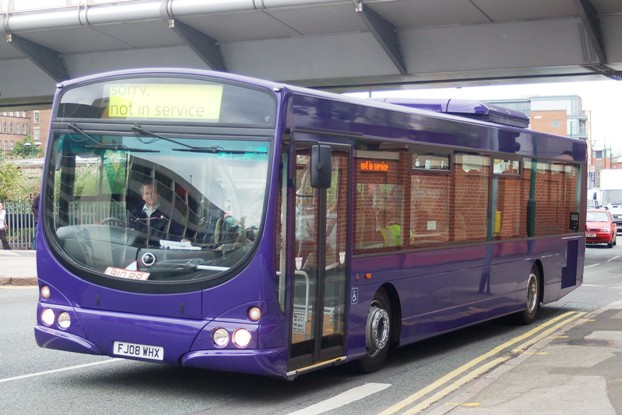 New, Volvo / Wright (FJ08 WHX) in Nottingham on type training. Note the large air con pod.
(C) John Moore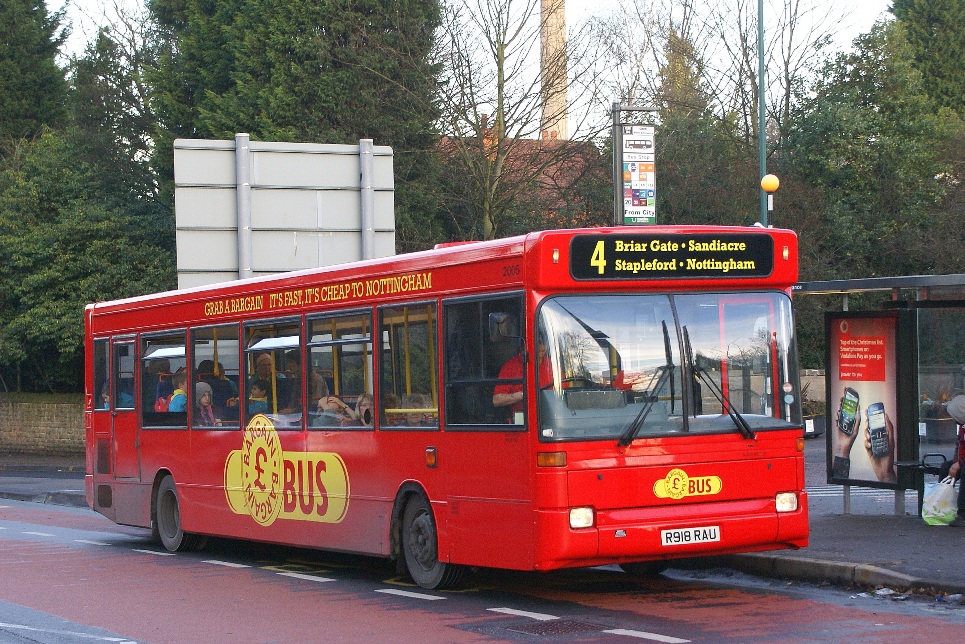 Dart 918 shortly after repaint back into trent barton livery.
(C) Daniel Stone



12th July :
Derby Community Transport is said to have been taken over by Wellglade!

2 Olympians, (K883 CSF) and (K894 CSF) have arrived from Lothian and are now at Meadow Rd.
Solo 439 has been fitted with LED destinations!
Dart 918 is now at Sutton.

11th July :
6 Olympians are due here from Lothian. Some are expected to replace the current Olympians, which will be retained for spares, whilst others are for additional contracts. More soon.....

A good proportion of the new Volvo / Wright for nRainbow 5 have turned up at Langley Mill. They carry the same base livery as the current buses, and are fitted with similar interiors to the Black Cat Tempos (leather seat, air con, wood look floor etc). The service will also be given a new name!

Solos 423/4/5 are being painted for the Ruddington Connection service, joining 421/2. The frequency is being doubled and the route extended at the end of the month.
Some of Suttons Solos are expected to transfer to Langley Mill (to replace 423-5). Sutton are expected to get more Darts - 918 - more soon!!

25th June :
Dart 911 (P911 CTO) has now been painted into trent barton livery too (aswell as 918).

25th June :
Former kinchbus Airline Shuttle Dart 918 (R918 RAU) has been repainted into trent barton livery. it is now based at Sutton Junction.
Some purple Volvo saloons have arrived at Langley Mill - these are destined for use on the Rainbow 5 route later this year.
Red Arrow coach 68 is the 4th of the 8 coaches back in service after repaint and refurbishment, 66 is away now.
X38 branded Tempos 307/8 have been fitted with LED destinations. Scania 638 was on loan to Derby whilst this was done.

Ex Trent Olympian 713 (B713 HVO) and Delta 351 (K651 FAU) have been sold for scrap, passing to Wigley, Carlton.
Olympian 721 (C721 NNN) has been loaned to Grimsby Fire ans Rescue Service!



SIGHTINGS
Sightings will no longer appear on this page. They can be read and reported by clicking HERE
---
---
Last Months News

News Index Page
---