Bus Fleet News
June 2008
*Sightings of buses on unusual routes will no longer appear on this page. They can be posted by anyone in the sightings area of the Forum. This can be accessed by clicking here (will open in new window). Hopefully this will make the Fleet News more prominant on this page!
---
Latest News
---
Here you will find all the latest bus fleet news for many bus operators in and around the Derbyshire area. If you have anything to report please contact me by clicking here.
---
---
NEWS
-
---
---
NEWS
9th June:
Fleetline 4301 (GTO 301V) is awaiting repair. It should be fixed before it is sold on, whether it sees further service with Arriva is another matter.
Scanias 3467 (N167 PUT), and 3471 (N171 PUT) are set to join 3469 (N169 PUT) at Derby.
All four Scania deckers have entered service at Derby, 4159 and 4194 were off the road today though.
RAM FM Citybus 4354 seems to have disapeared.
Citybus 4336 it at Staford Bus Centre (not scrapped!) along with Citybus 4397.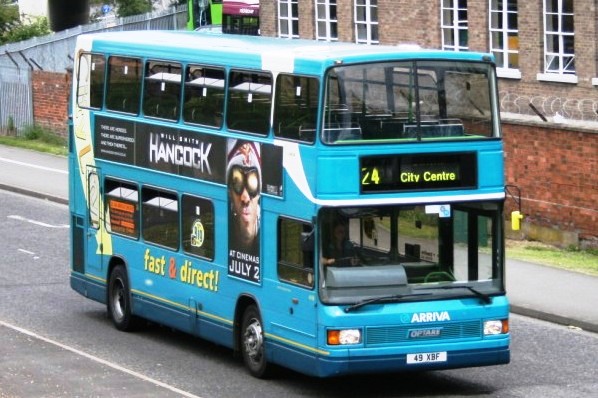 Spectra 4698 is one of the recent arrivals at Derby.
(C) David Allen



6th June:
Fleetline 4301 (GTO 301V) has been withdrawn from service.
Citybus 4397 (G647 BPH) has been sold.
Scania / East Lancs single decker 3469 (N169 PUT) has arrived at Derby from Southgates, and was out on the 109 today. Another two are expected here.
Citybus 4336 (B136 GAU) has gone fro scrap.

3rd June:
Fleetline 4301 has continued in service so far this week, but broke down on station approach this afternoon, and was stuck there for a few hours! The end of Fleetline operation in Derby?
Here is an updated summary of the expected forthcoming fleet developments:

IN (in service / in service soon

Scania Omniciti:
3810 (YN08 HZX)
3811 (YN08 HZY)
3812 (YN08 HZZ)

Scania deckers:
4159 (M159 GRY)
4160 (M160 GRY)
4194 (M834 SDA)
4195 (M835 SDA)

Optare Spectras:
4698 (49 XBF)
4699 (816 DYE)

OUT (withdrawn / to be withdrawn)

Fleetline:
4301 (GTO 301V)

Marshall bodied Volvo Citybus:
4335 (B135 GAU)
4336 (B136 GAU)
4342 (B142 GAU)
4343 (B143 GAU)

Northern Counties Volvo Citybus:
4345 (C145 NRR) - withdrawn after RTA.

Alexander bodied Citybus:
4354 (F114 TML)

SIGHTINGS
Sightings will no longer appear on this page. They can be read and reported by clicking HERE

---
---
NEWS
Sat 3rd May:
Former Trent Varios 823 (R823 MJU) - the one that received trent barton livery - has transfered here from the Centrebus fleet. It still carries centrebus colours.


---
---
NEWS & Sightings

3rd May
LDV Convoy (P568 PRE) has been withdrawn and is stored at the Ripley yard along with Minibus (L525 BDH) and national greenway (JIL 2195).


---
---
NEWS

May 8th:
Lynx (E260 TUB) has been sold to W E Jones Llanerchymedd (Wales).
The new Centro is now in service and has fleet names applied.


---
---
G&J Holmes


NEWS
Fri 29th Feb
Two more slimline Solos are expected here later this year. They would replace Vario (YN54 XXP) and long Solo (YG55 YGZ). Thanks Andy.

---
---
Glovers of Ashbourne

NEWS
-
---
---
Harpurs Coaches

NEWS + SIGHTINGS
-
---
---
Hawkes Coaches

NEWS
-
---
---
Hulleys of Baslow

NEWS + SIGHTINGS
-

---
---
Johnson Bros / Redferns

NEWS & SIGHTINGS
-
---
---
Littles Travel

NEWS + SIGHTINGS
-

---
---
Midland Classic


NEWS

9th June
Darts 917, 919 and 922 (R917/9/22 RAU) have arrived here from trent via Stafford Bus Centre.

---
---
Stagecoach East Midlands
Chesterfield, Mansfield, Worksop

NEWS
3rd June
9 more MAN Enviro 300's are apparantly due this month to replace the remaining Step-Entrance Darts at Chesterfield.
All Chesterfield's remaining B10m's (L339 KCK), (L340 KCK), (L344 KCK), (M412 RRN), and (M606 VHE) have now been transferred to Doncaster.
Doncaster Step Dart (R714 YWC) has arrived here. This has replaced Pointer Dart 32068.
32118 (K118 SRH) was sold, and 32415 (N415 MBW) was also withdrawn following 32073 (M73 VJO)s reinstatement to service in Chesterfield.
SIGHTINGS
Sightings will no longer appear on this page. They can be read and reported by clicking HERE

---
---
TM Travel

NEWS
June 20th: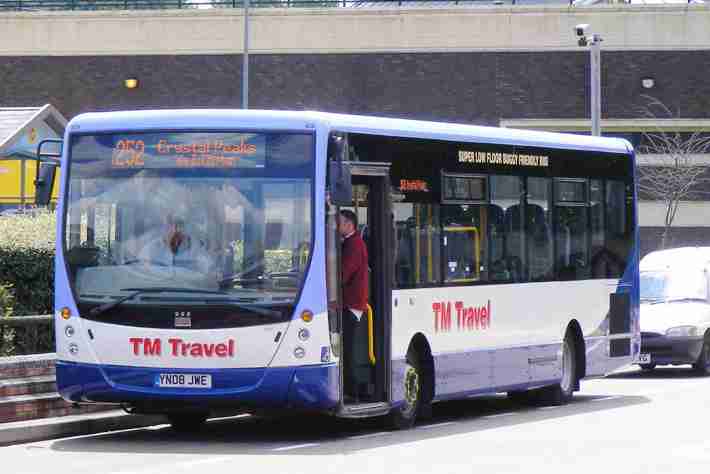 MAN Centro (YN08 JWE) now carries Travel South Yorkshire livery.
(C) Ian Moorcroft



June 6th:
Excels (R211/2 DKG) have arrived here. One of the two is in service in all over white livery.

June 3rd:
Several vehicles have now moved to the new halfway garage in Sheffield. More details soon.
Van Hool Alizee T8 bodied DAF SB3000 (YIL 4058) (former (R256FBJ) has appeared at Bob Vale Coach Sales in High Wycombe.


---
---
Translinc
NEWS
:
---
---
The Wellglade group

NEWS
25th June :
Former kinchbus Airline Shuttle Dart 918 (R918 RAU) has been repainted into trent barton livery. it is now based at Sutton Junction.
Some purple Volvo saloons have arrived at Langley Mill - these are destined for use on the Rainbow 5 route later this year.
Red Arrow coach 68 is the 4th of the 8 coaches back in service after repaint and refurbishment, 66 is away now.
X38 branded Tempos 307/8 have been fitted with LED destinations. Scania 638 was on loan to Derby whilst this was done.

Ex Trent Olympian 713 (B713 HVO) and Delta 351 (K651 FAU) have been sold for scrap, passing to Wigley, Carlton.
Olympian 721 (C721 NNN) has been loaned to Grimsby Fire ans Rescue Service!



18th June :
Solo 466 is now at Derby as a replacement for 419.

4th June :
Sixes Solo 419 caught fire in Blackbrook on Tuesday evening and as a result whats left of it has been withdrawn.

3rd June :
Barton celebrate 100 years in October. For more details of the planned celebrations CLICK HERE.
Red Arrow coach 68 is away for refurbishment (not 70!).
Former Kinch minibus 818 (N818 RFP) is now with Bankfoot Buses of Perth.
Heartlands Travel have purchased Vario 275 (R275 RAU). It is now all over white livery.

1st June :
Red Arrow coach 71 back after refurbishment and repaint.
Paladins 132/3 have been fitted with seat belts and also have tachographs fitted. Olympian 723 has also had a tachograph fitted, and are available for private hire work.
transpeak coach 60 is having alot of welding done to pass MOT.
SIGHTINGS
Sightings will no longer appear on this page. They can be read and reported by clicking HERE
---
---
Last Months News

News Index Page
---