Bus Fleet News
January 2009
---
Latest News
---
Here you will find all the latest bus fleet news for many bus operators in and around the Derbyshire area. If you have anything to report please contact me by clicking here.
---
Search this site.
Custom Search
---
---
NEWS
December 29th
Brand new Volvo B12 / Plaxton coach (YN58 NDF) has been delivered ready for service in January.


---
---
NEWS
28th January:
New Volvo deckers 4212/5/8/9 have now arrived at Ascot Drive.
4210 has now arrived.
Fleetline 4301 (GTO 301V) is still at Ascot Drive. It is expected to leave under its own power and go into preservation. It may appear at some bus rallys later in the year.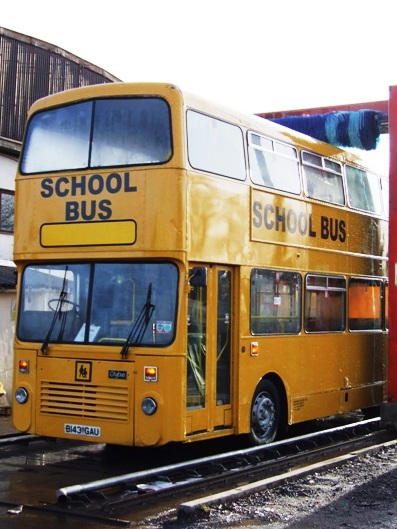 Former Derby Volvo Citybus 143 (B143 GAU) goes through the wash at the premises of its new owner Edwards Coaches, of Llantwit Fardre, South Wales.
(C) Gareth Evans, Coach & Bus Weekly magazine www.cbwonline.com
14th January: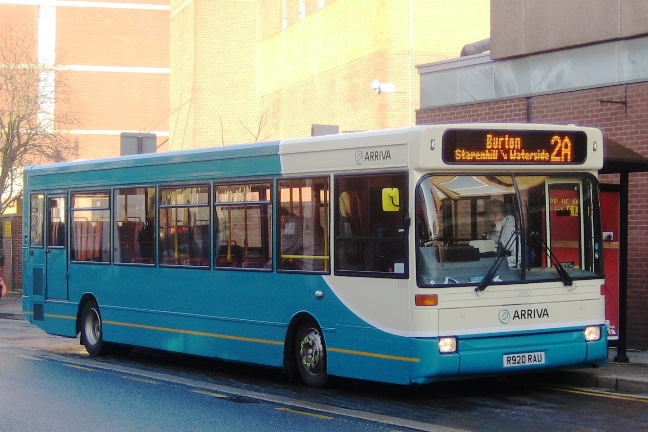 Not Derby, but Burton garage has recently acquired former Trent Dart (R920 RAU) from Stafford Bus Centre. Now numbered 2392, it is seen here operating in Burton.
(C) -

New Volvo / Wright deckers 4208/9 and 4213 are now at Ascot Drive.
Olympian 4669 has moved to Southgates garage.
Citybuses (C144 NRR) and 4329 (H671 GPF) have been sold to Sun Fun, Earith (South of Peterborough).
4351 and 4321 have been sold to Stafford Bus Centre.
Mercedes mini 1378 is now with M & M, Accrington.
Merseyside operator Helms of Eastham have put Fleetline 313 (MTV313W) up for sale, £1,000!

7th January:
The new Volvo / Wright Gemini deckers have begun to arrive. Two have been delivered to Ascot Drive. These are:
4208 ()
4209 (FJ 58 KXG)

Others delivered are being stored at Cannock garage:
4210 ()
4211 (FJ 58 KXK)
4212 (FJ 58 KXL)
4213 (FJ 58 KXM)
4214 (FJ 58 KXN)
4215 (FJ 58 KXO)
4217 (FJ 58 KXR)

17 are due in total. All shall be in service by the spring.

The last 2 Citybuses, former London 4324/6 have been withdrawn.

29th December:
143 (B143 GAU) is now with Edwards Coaches, Llantwit Fardre (South Wales).
More double deckers (Citybuses and Scanias) due to fewer school services being operated in the new year.
Minibuses 1383 (P483 CAL), 1387 (P487 CAL) and 1388 (P488 CAL) have gone to a Glasgow operator re-joining 1384 (P484 CAL).
10 more Solo SRs are due in March.

---
---
NEWS
14th January
Ex Woods Vario / Alexander (LKZ 3614) is here. Bowers names are applied on the blue livery.

29th December
Vario (Y131 TBF) has had new style "Bowers buses" names applied to the Centrebus livery.


---
---
NEWS & Sightings
-
---
---
NEWS

Tuesday 27th January


Felix the cat banished from the buses!

You may have noticed that the Felix the cat character, synonymous with the company for several decades, has begun to disappear from the Felix buses. The statement below explains:

"The cat logo is being removed from our buses, coaches and publicity material as a result of a threat of legal action by Felix the Cat Creations Inc. in the States. They have asserted that they own world copyright and trade mark for any feline image used with the name Felix. Although they have not provided documents to suppport their claim, we do not have the resources to go to court to prove the case either way. Therefore we have given in, and we shall no longer be using a cat logo".

Sat 13th December
Scania (YN04 AGY) is away for repaint into the revised Ilkeston Flyer livery (pale blue).
Vario (V707 ENN) has been sold to an operator in the Aylesbury area.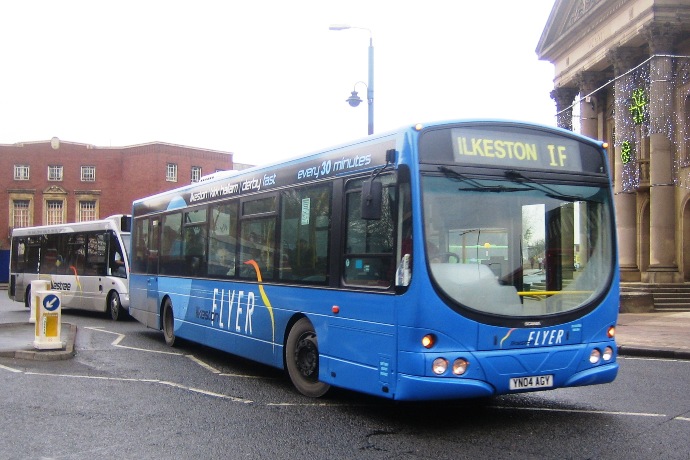 Not a trent bus - but Felix! (YN04 AGY) has been painted in this trent barton style livery for use on the joint Ilkeston Flyer route between the town and Derby.
(C) -
---
---
G&J Holmes


NEWS
Sun 30th November
The order for two more Solos has been cancelled.
Mercedes 0814 / Plaxton Cheetah (YN58 FYJ) is the latest arrival, in the smart silver livery. Berkhof bodied Volvo B10M (N901 ABL) has gone to Kirkby dealer in part exchange.
Optare Solo (YJ55 YGZ) is back after extensive accident repairs, following an incident during September.
Thanks to Andy bagshaw for the above.

---
---
Glovers of Ashbourne

NEWS
-
---
---
Harpurs Coaches


NEWS + SIGHTINGS

18th Dec
Two more Volvo / Plaxton coaches have joined the fleet. (P51 JJU) is plain white, and the second is thought to be (P338 JJU). Both are from Yeates, Loughborough.

30th July
A new addition to the preserved fleet is former Derby Corporations Crossley 111(CRC 911)!

---
---
Hawkes Coaches

NEWS
-
---
---
Hulleys of Baslow

NEWS + SIGHTINGS
-

---
---
Johnson Bros / Redferns


NEWS & SIGHTINGS
25th January
3 Spectras have been sold to Machpearsons, Donisthorpe. These have been replaced by Scania/Northern Counties double deckers from Stagecoach Manchester.
---
---
Littles Travel

NEWS + SIGHTINGS
28th January
Delta (RIB 7017) has left the fleet, and is currently for sale on ebay. This vehicle was in service with TM travel prior to going to Littles.
Van Hool coach (S53 VGV) and Beaulas (FJ03 ZZT) have also departed.
The new Scania PB, that was to PB58 LTL is delayed and will now be (PB09 LTL).
A recent addition to the fleet is Scania PB, (YN08 OBX).

17th Dec
The former stagecoach double deck coach (T35DFC) is now in fleet livery.
---
---
Midland Classic


NEWS

28th January
A new addition to the fleet is 12 (L112 YVK), a Dennis Dart/NC Paladin, ex South Eastern Coachworks.
Lynx (J657 UHN) is currently here on loan.

7th January
A new addition to the fleet is Metrorider 31 (W675 DDN), ex Lewis Coaches, Greenwich.
Darts 53 (V400 CBC) and 54 (V700 CBC) both carry fleet livery. Both were previously operated by Gibson, Paisley.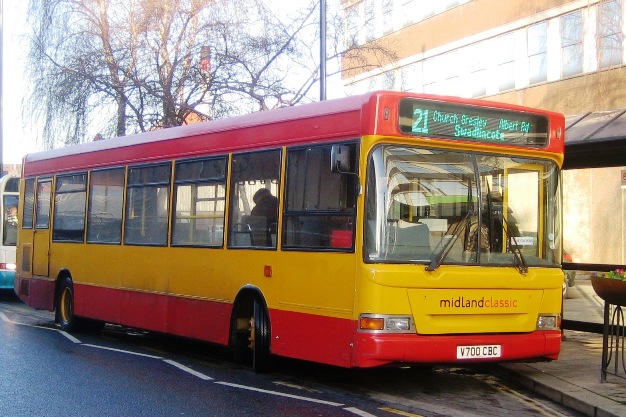 Dart (V700 CBC), complete with green LED display in Burton.
(C) -
---
---
Stagecoach East Midlands
Chesterfield, Mansfield, Worksop

NEWS
19th January
Olympians 16490/91/93 (N140/41/43AET) and 16497 (P152KWJ) have been transfered to Lincolnshire. Of these, 16491/43 are at Skegness.
Dart/Plaxton Pointer 32364 (R714YNC) has been reinstated and is used for PCV CPC training.


---
---
TM Travel


NEWS
19th January:
Two Van Hool bodied Tigers have been acquired from Mulley's, Ixworth, Suffolk. These are (A784 YGL) and (B42 FCV).
Vario (S582 RGA) has been withdrawn and sold to Plaxton, Anston (dealer) whilst ex London Olympian (D191FYM) is also withdrawn and for sale.
Varios (YN53 EJX), (YN54 WWU), (YN54 WWV) and (MX04 VMK) have all been put up for sale but remain in service.
Excel (R213 DKG) has been repainted intio new livery, this was white. 1st January:
.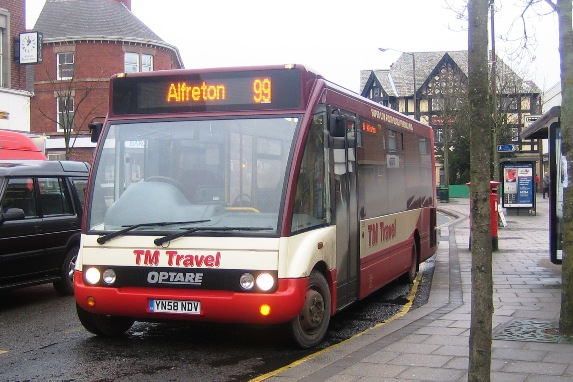 Solo (YN58 NDV) is seen here in Alfreton.
(C) -
---
---
Translinc
NEWS
:
---
---
The Wellglade group
NEWS
30th January:
South Lancs Travel have sold former Trent Volvo / Alexander Q type 52 (M52 PRA) to "Coach Services" of Thetford.
Unibus names have been removed from Paladins 105/7 and Olympian 23, which carry the "old style livery". notts+derby names have been applied in their place.
Citybus 39 is stored at Langley Mill, and is thought to be For Sale.

25th January:
Kinch Mercs 816 (N816PJU) and 820 (N820RFP) have been sold to Stott's, Milnsbridge, West Yorkshire.

20th January:
Mercedes Citarios are on order for the Calverton Connection. These should enter service during the summer.
Former Rainbow 5 Scanias 609, 611, 620 and 621 are currently on loan to notts+derby. They are expected to be used on the graduation day shuttles over the weekend.
H1 Solos 432/5 (replaced on H1 by Scanias) are currently on loan to Kinchbus.

19th January:
Excel 253 has been painted into Rainbow 3 livery to replace fire victim 250.

14th January:
It has been reported in the local press that new Volvo / Wrights are on the way for Rainbow 2 in the summer. 13 new standard Solos are on order for the nines too.
The new orders are on top of those palced last year, which will see Volvo / Wright single deckers introduced on the Mickleover in March, and other for Route 15 which is expected to be extended to East Midlands Airport at some point in the near future. All will have leather seats and wood look floors. The Volvos will also feature air conditioning.

7th January:
Paladin 134 has been painted white and grey for use on driver training duties.
Paladin 102 is being painted into blue and white unibus livery.
Former H1 Solo 434 has been painted in trent barton red. The other 3 are currently stored at Langley Mill.

transpeak Excel 156 has been sold to Norfolk Green. Former IF Dart 926 also reported as sold.

Dart 914 has returned to Nottingham - it was on loan to Derby.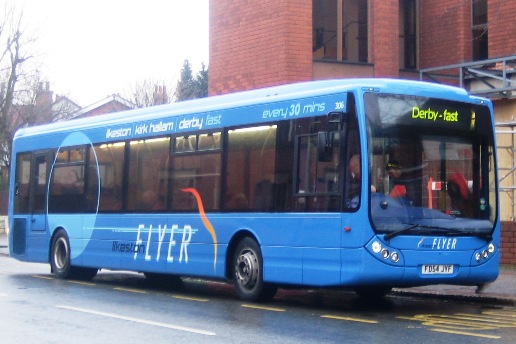 Former Rainbow 5 (and Radcliffe Line before that) Tempo 306 () is now branded for the Ilkeston Flyer route. The service connects the town with Derby, and is jointly operated with Felix. 306 is seen here in Ilkeston.
(C) -



29th December:
Paladin 113 is now painted in blue and white Unibus livery.

17th December:
Dart 920 (R920 RAU) has been sold to Arriva Midlands, via Stafford Bus Centre.

13th December:
Three new Volvos have been delivered to a local dealership - they are (FJO8 WHZ/WJC/WJF) - these are either for the Mickleover or route 15 - more soon.
Excel 250 is now withdrawn following a fire.
Sixes Scania 687 has been sent away to Yates at Loughorough for repairs, following an accident in Wirksworth.
Scanias 601-3 (ex R5) now carry H1 livery. 604 should be out next week.
---
---
Last Months News

News Index Page
---