| | | | | |
| --- | --- | --- | --- | --- |
| | Merry xmas & happy new year | Bus Fleet News | Merry xmas & happy new year | |
December 2008
---
Latest News
---
Here you will find all the latest bus fleet news for many bus operators in and around the Derbyshire area. If you have anything to report please contact me by clicking here.
---
Search this site.
Custom Search
---
---
NEWS
December 29th
Brand new Volvo B12 / Plaxton coach (YN58 NDF) has been delivered ready for service in January.


---
---
NEWS
29th December:
143 (B143 GAU) is now with Edwards Coaches, Llantwit Fardre (South Wales).
More double deckers (Citybuses and Scanias) due to fewer school services being operated in the new year.
Minibuses 1383 (P483 CAL), 1387 (P487 CAL) and 1388 (P488 CAL) have gone to a Glasgow operator re-joining 1384 (P484 CAL).
10 more Solo SRs are due in March.

17th December:
Gemini 4208 reported at Fleetwood docks.
Former trent Dart 920 (R920 RAU) has been acquired. This should be based at Burton.

26th November:
4353 (E153 BTO) is now with Dews Coaches, Cambridge, (not 152 as previously reported) where it re-joins former 134/8 (B134/8 GAU).
Olympians 4668/9 are now back at Derby.
Scania decker 4181 (N161 VVO) has also arrived, but may just be on loan.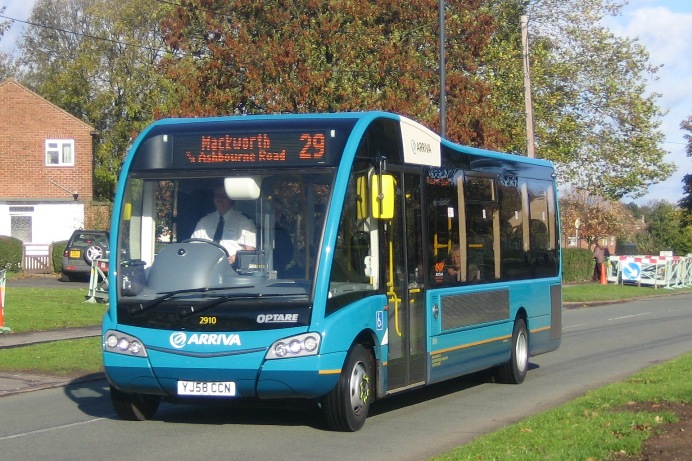 New Solo 2910 seen here on Prince Charles Avenue, Mackworth.
(C) -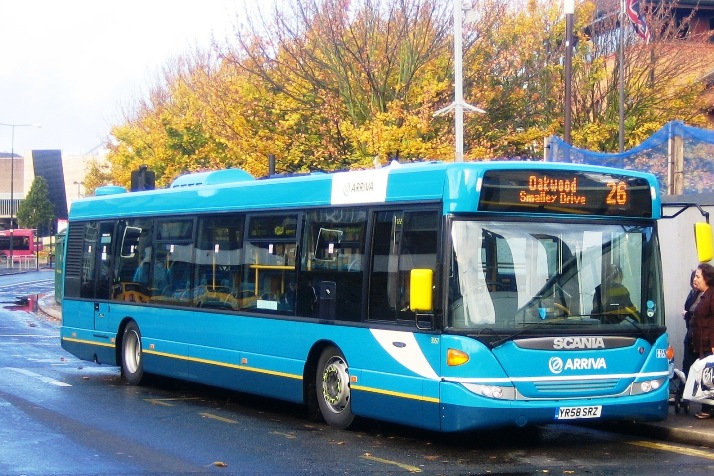 New Scania Omniciti 3557 in Derby City Centre on its first day in service.
(C) -
---
---
NEWS
29th December
Vario (Y131 TBF) has had new style "Bowers buses" names applied to the Centrebus livery.


---
---
NEWS & Sightings
-
---
---
NEWS

Sat 13th December
Scania (YN04 AGY) is away for repaint into the revised Ilkeston Flyer livery (pale blue).
Vario (V707 ENN) has been sold to an operator in the Aylesbury area.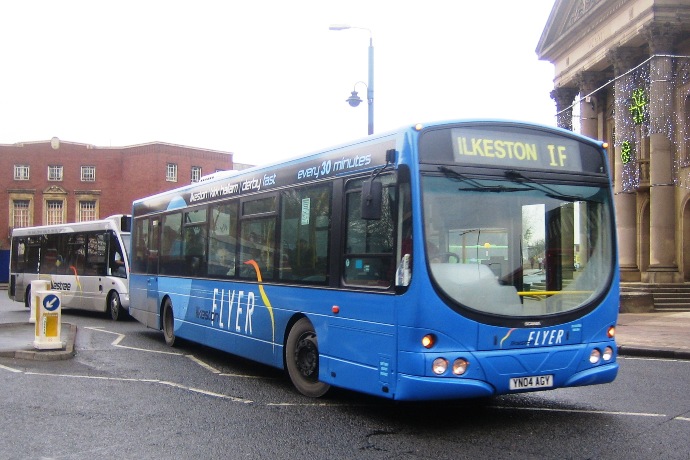 Not a trent bus - but Felix! (YN04 AGY) has been painted in this trent barton style livery for use on the joint Ilkeston Flyer route between the town and Derby.
(C) -
---
---
G&J Holmes


NEWS
Sun 30th November
The order for two more Solos has been cancelled.
Mercedes 0814 / Plaxton Cheetah (YN58 FYJ) is the latest arrival, in the smart silver livery. Berkhof bodied Volvo B10M (N901 ABL) has gone to Kirkby dealer in part exchange.
Optare Solo (YJ55 YGZ) is back after extensive accident repairs, following an incident during September.
Thanks to Andy bagshaw for the above.

---
---
Glovers of Ashbourne

NEWS
-
---
---
Harpurs Coaches


NEWS + SIGHTINGS

18th Dec
Two more Volvo / Plaxton coaches have joined the fleet. (P51 JJU) is plain white, and the second is thought to be (P338 JJU). Both are from Yeates, Loughborough.

30th July
A new addition to the preserved fleet is former Derby Corporations Crossley 111(CRC 911)!

---
---
Hawkes Coaches

NEWS
-
---
---
Hulleys of Baslow

NEWS + SIGHTINGS
-

---
---
Johnson Bros / Redferns


NEWS & SIGHTINGS

22nd November
The Spectras are thought to be sold soon, to be replaced by some Northern Counties Scanias from Stagecoach Manchester.
Thanks to Adrian Healey for the above.

Former Roadcar Olympians (B503 FFW) and (B516 UWW) are now here. Thanks Chris.
---
---
Littles Travel

NEWS + SIGHTINGS
17th Dec
The former stagecoach double deck coach (T35DFC) is now in fleet livery.

22nd Nov
(T35 DFC) has been painted white.
The Scania coach reported as (YN07 LDZ) is in fact (YN07 L"J"Z) - the former belongs to NCT!

---
---
Midland Classic


NEWS

2nd November
New additions to the fleet are 2 SLF Darts with Plaxton bodies. They are 53 (V400 CBC) and 54 (V700 CBC). 53 is being repainted, whilst 54 has already entered service.
Both were previously operated by Gibson, Paisley.
---
---
Stagecoach East Midlands
Chesterfield, Mansfield, Worksop

NEWS
26th November:
Chesterfield Market Festival Olympian 16485 (N135AET) has been repainted into fleet livery and transfered to Skegness.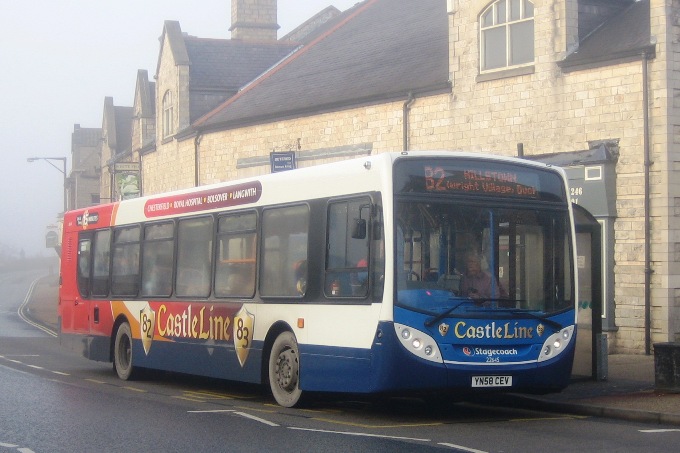 22645 seen here in Bolsover.
(C) -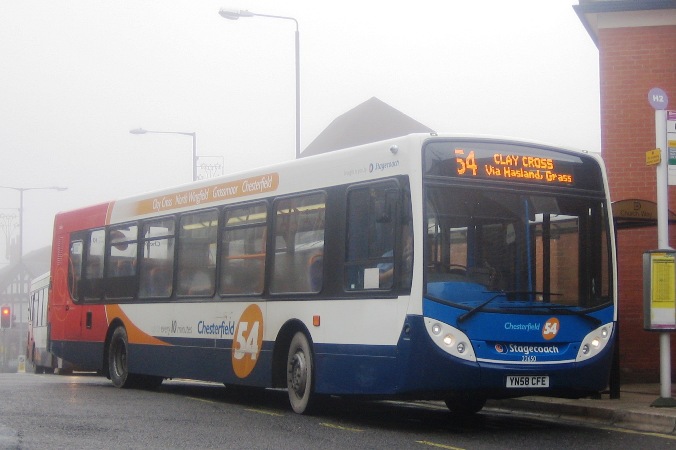 22650 seen here in Chesterfield.
(C) -
---
---
TM Travel


NEWS
1st December:
Optare Versa (YJ57 EHU) is here. It is / was a demonstrator, and is currently in a silver livery.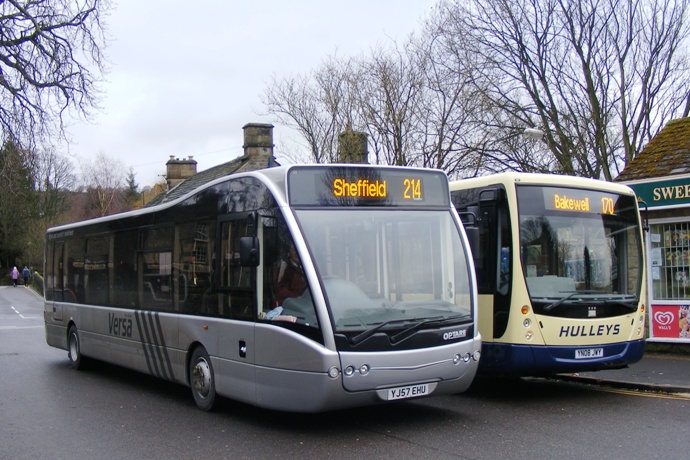 Versa (YJ57 EHU) is seen here in Baslow.
(C) Ian Moorcroft



22nd November:
New Optare Solo (YN58 NDV) has arrived and carries full livery.
Former Dublin Olympian (P487 SWC) is now here.
The Demo Primo has returned to the lease company.
Dart (S779 RNE) is in the new livery style. Thanks to Adrian Healey for the above.

East Lancs re-bodied Tigers (BSG 550W) and (KSP 329X) are here. Thanks Chris.

12th November: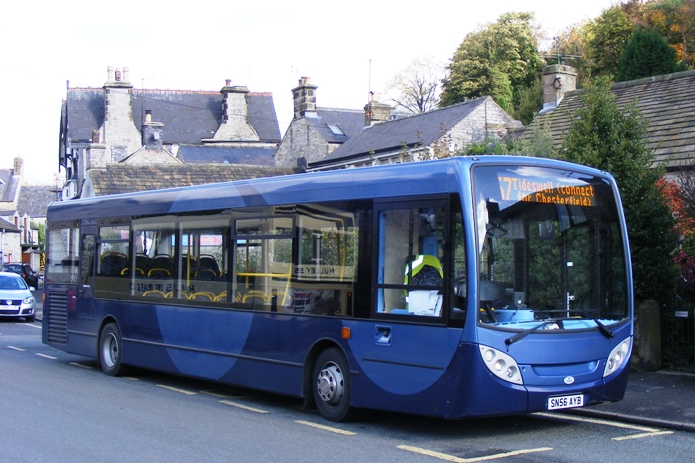 The Enviro 200 demonstrator in service with TM Travel.
(C) Ian Moorcroft
---
---
Translinc
NEWS
:
---
---
The Wellglade group
NEWS
29th December:
Dart 914 (P914 CTO) is now based at Meadow Road, Derby.
Paladin 113 is now painted in blue and white Unibus livery.

17th December:
Dart 920 (R920 RAU) has been sold to Arriva Midlands, via Stafford Bus Centre.

13th December:
Three new Volvos have been delivered to a local dealership - they are (FJO8 WHZ/WJC/WJF) - these are either for the Mickleover or route 15 - more soon.
Excel 250 is now withdrawn following a fire.
Sixes Scania 687 has been sent away to Yates at Loughorough for repairs, following an accident in Wirksworth.
Scanias 601-3 (ex R5) now carry H1 livery. 604 should be out next week.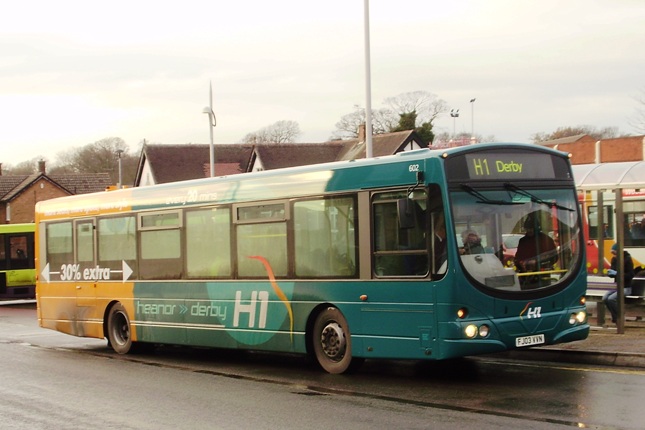 Former Rainbow 5 Scania 602 now carries H1 livery. It is seen here in Alfreton.
(C) John Moore

Transpeak Excel 156 remains at Meadow Road garage along with 199, so it may not have been sold. Both are withdrawn.

Tempo 306 is away for repaint into a pale blue livery for the Ilkeston Flyer route. it shall be in service from December 7th.

Scanias 601-4 are being painted for the H1. The green livery will be retained, although the section beyond the rear wheel arches shall be bright orange, to advertise the extra capacity compared to the Solos! Each bus will be out as soon as they are ready, the complete set out by mid December.

Former Rainbow 5 Scanias 623, 624 and 625 have all been repainted into standard trent barton livery. All have had LED displays fitted too, and are currently based at Nottingham.

Kinchbus are no longer expecting any of the rainbow 5 Scanias. Routes expected to be upgraded using these vehicles include: H1 (see above), Villager, amberline, and route 18.

14 more Wrightbus Volvos have yet to be delivered. 8 will be based at Derby for the Mickleover, and 6 at Langley Mill for route 15. Route 15 is being extended to serve East Midlands Airport, on an hourly frequency from January.

Orders for more buses on order for 2009 have not been confirmed, but are thought to include the Solo+ and Mercedes Citarios.
---
---
Last Months News

News Index Page
---