Bus Fleet News
November 2008
---
Latest News
---
Here you will find all the latest bus fleet news for many bus operators in and around the Derbyshire area. If you have anything to report please contact me by clicking here.
---
---
NEWS
-
---
---
NEWS
26th November:
Olympians 4668/9 are now back at Derby.
Scania decker 4181 (N161 VVO) has also arrived, but may just be on loan.
4352 (E152 BTO) is now with Dews Coaches, Cambridge, where it re-joins former 134/8 (B134/8 GAU).

14th November:
Citybus 4321 has now been withdrawn. This leaves 4324 and 4326 left in service.

11th November:
Citybus 4351 has been withdrawn. This was the last Derby City Transport vehicle in use here.

10th November:
Olympians 4601, 4607 and 4611 (P601/7/11 CAY) are now at Derby.

5th November:
A number of Volvo Citybuses have been sold to Ensign. These are: Marshall: 4335 (B135 GAU), Northern Counties: 4344 (C144 NRR), 4348 (C148 NRR), 4349 (E149 BTO), 4352 (E152 BTO), 4353 (E153 BTO) and East Lancs: 4322 (H653 GPF), 4325 (H659 GPF), 4327 (H664 GPF), 4329 (H671 GPF), 4333 (H682 GPF), 4334 (H684 GPF), 4389 (H649 GPF), 4391 (H656 GPF), and 4393 (H658 GPF).

Scania 4195 is thought to be withdrawn too. 3467 is currently in the workshops, and is likely to move on soon.

4th November:
The remaining Citybuses in the fleet are 4351 (E151 BTO), 4321, 4324 and 4326 (H652/5/63 GPF). All of the other have been withdrawn from service.
Scania 4191 has left the fleet.
MPD 2246 is now at Derby.
Minibuses 1159 and 1170 have now been withdrawn.

1st November:
Olympians 4607 and 4611 (P607/11 CAY) have arrived here. Scanias 3469 and 3471 have transfered to Coalville.
Spectra 4699 withdrawn after use on Thursday.
All of the "Derby" minibuses, 1377/8/9/83/4/7/8 are withdrawn. Varios 1159 and 1170 remain in use as spares for the minibus routes.
A number of other older double deckers have been withdrawn, including 4335 (B135 GAU).

28th October:
Spectra4698and Excel 2999 have been withdrawn. 4699 is still in use.
Citybus 4321 and Scania deckers 4160/1 in use today.
MPD 2249 (W249 SNR) also now at Derby.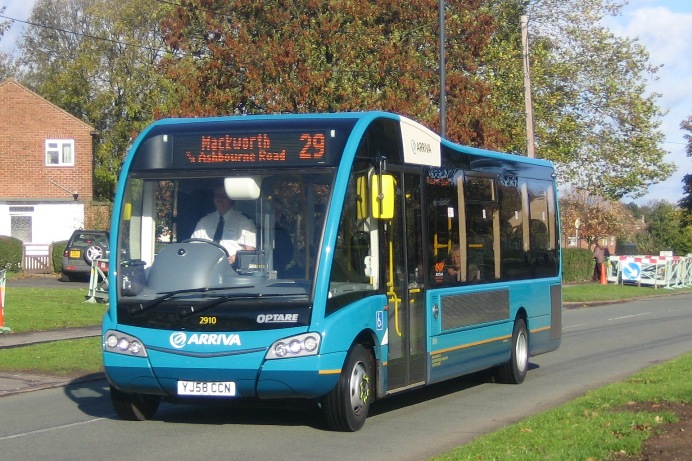 New Solo 2910 seen here on Prince Charles Avenue, Mackworth.
(C) -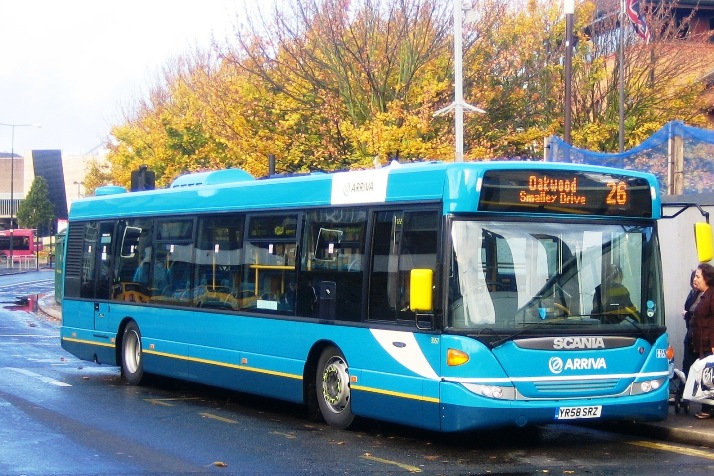 New Scania Omniciti 3557 in Derby City Centre on its first day in service.
(C) -



26th October:
The last Marshall bodied Citybus 135 (B135 GAU) is amongst the buses that have now been withdrawn, details of others are not yet known.

23 new buses have arrived and shall be in service this week. They are:

15 Scania Omnicities: 3552 - 66 (YR58 SRO/U/V/X/Y/Z, YR58 SSJ/K/O/U/V/X/Z, YR58 STX/Z). These will mainly be used on routes 20, 22, 24 and 26 (Chaddesden and Oakwood).

8 Optare Solos: 2905-12 (YJ58 CCA/D/E/F/K/N/O/U). These will be used on Mackworth routes 28 and 29.

MPDs 2221 (T51 JJF), 2242 (W242 SNR) and 2274 (FK52 MML) are now here as the extra buses for routes 36/42/43.

After a short stint here, at least 2 of the East Lancs European bodied Scania single deckers have been took out of service.

19th October:
Citybuses 4325, 4329 and 4333 have all been sold to Ensign (dealer), who have loaned 4325 and 4329 to Geldard's Coaches, Leeds.
MPD 2274 (FK52 MML) has arrived here from Burton. Dart 2215 has gone to Burton in its place. More of Burtons MPDs are set to be transfered in.
3 of the new Scania Omnicities had arrived at Ascot Drive on Saturday. At least a further 6 are in the country (arrived at Hull from Poland). 15 are due as part of the first batch.
East Lancs Dart 2198 (L38 PNN) has gone for scrap.
The website for the Derby operations has been launched and can be found at: www.arrivaderby.co.uk

1st October:
Excel 2999 still in use today - although it shouldn't have long left here!
Citybus 4320 has been withdrawn.
7 of the 8 Solos expected here are now at Ascot Drive. They are (YJ58 CCA/D/E/F/K/N/O).

---
---
NEWS
-
---
---
NEWS & Sightings
-
---
---
NEWS

Sat 30th November
Scania (YN04 AGY) is away for repaint into the revised Ilkeston Flyer livery (pale blue).
Vario (V707 ENN) has been sold to an operator in the Aylesbury area.
---
---
G&J Holmes


NEWS
Sun 30th November
The order for two more Solos has been cancelled.
Mercedes 0814 / Plaxton Cheetah (YN58 FYJ) is the latest arrival, in the smart silver livery. Berkhof bodied Volvo B10M (N901 ABL) has gone to Kirkby dealer in part exchange.
Optare Solo (YJ55 YGZ) is back after extensive accident repairs, following an incident during September.
Thanks to Andy bagshaw for the above.

---
---
Glovers of Ashbourne

NEWS
-
---
---
Harpurs Coaches


NEWS + SIGHTINGS

30th July
A new addition to the preserved fleet is former Derby Corporations Crossley 111(CRC 911)!

---
---
Hawkes Coaches

NEWS
-
---
---
Hulleys of Baslow

NEWS + SIGHTINGS
-

---
---
Johnson Bros / Redferns


NEWS & SIGHTINGS

22nd November
The Spectras are thought to be sold soon, to be replaced by some Northern Counties Scanias from Stagecoach Manchester.
Thanks to Adrian Healey for the above.

Former Roadcar Olympians (B503 FFW) and (B516 UWW) are now here. Thanks Chris.
---
---
Littles Travel

NEWS + SIGHTINGS
22nd Nov
(T35 DFC) has been painted white.
The Scania coach reported as (YN07 LDZ) is in fact (YN07 L"J"Z) - the former belongs to NCT!

19th Oct
3 recent additions to the fleet are Scania coaches (YN08 DDJ), (SN03 CLZ), and (YN07 LFZ) (a Scania I4 59 seater, believed the only other one operated in the UK belongs to Jacksons Travel at Blackpool).

Brand new Scania coach (PB58 LTL), a PB K340EB, is due very soon. Thanks Steve.
---
---
Midland Classic


NEWS

2nd November
New additions to the fleet are 2 SLF Darts with Plaxton bodies. They are 53 (V400 CBC) and 54 (V700 CBC). 53 is being repainted, whilst 54 has already entered service.
Both were previously operated by Gibson, Paisley.

28th October
Former Trent Darts 17, 19 and 22 have all been repainted along with former Reading Metrobus 79.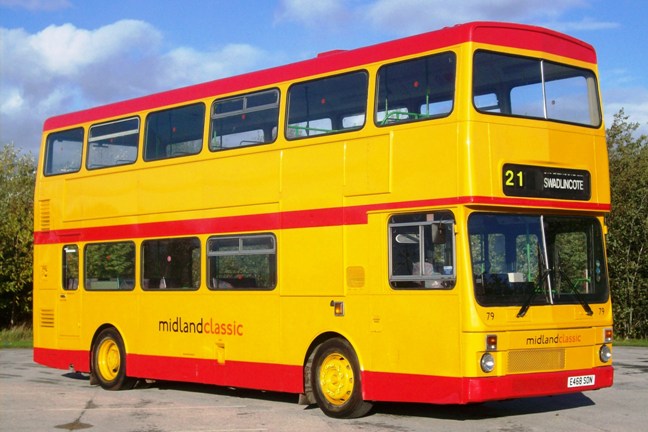 Former Reading Metrobus (E468 SON) after repaint into fleet livery.
(C) James Boddice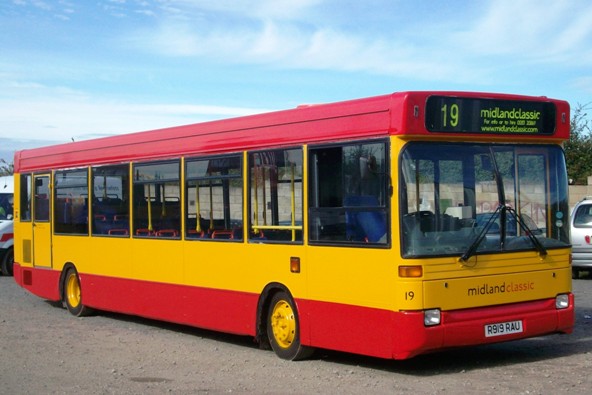 Former Trent Dart 19 (R919 RAU) after repaint.
(C) James Boddice



1st October
Dart 22 (R922 RAU) has been repainted into fleet livery.

---
---
Stagecoach East Midlands
Chesterfield, Mansfield, Worksop

NEWS
26th November:
Chesterfield Market Festival Olympian 16485 (N135AET) has been repainted into fleet livery and transfered to Skegness.

22nd November:
Two Optare Excels 35023 & 35025 (P937SSK & JAZ9851) have arrived from Scotland after Stagecoach takeover of Rapsons. These are expected to replace the two ELC Sprytes which will return to Sheffield. However, these may not see service for a while yet because of various problems, one of them even has fungi growing inside the passenger saloon!

The third Rapsons Excel 35024 (GAZ 4632) has been sold to Dunsmore, Larkhill (dealer). All three were new to Easy Yorkshire.

2nd November: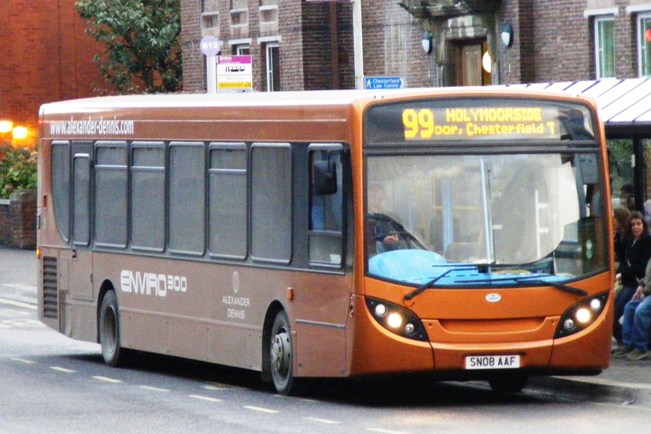 The Enviro 300 demonstrator in Chesterfield.
(C) Ian Moorcroft

2nd November:
Chesterfield: Olympians 16485, 16490, 16491, 16493, 16497, 16582, 16583, 16584, 16586 & 16719 - (N135/140/141/143AET), (P152KWJ), (R582-586JVA), (N719LTN) have all been withdrawn and are due to be transferred to other garages in the area.
All Enviro 300's are now in service (22640-22654) except from 22654 - (YN58 CFK). Some have been branded for "Castle Line" (82/83) and some for Route 54.
Solo 47423 - (YN53 ZWD) is now in service at Chesterfield.
Burnt Orange coloured MAN Enviro 300 demonstrator (SN08 AAF) is currently on loan to Chesterfield.

Mansfield: 7 MAN Enviro 300's in the next few months for the Nottingham - Mansfield - Chesterfield Pronto Service.

19th October:
Enviro 300's 22640, 22641, 22642, 22643, 22644, 22645, 22646, 22647 and 22650 have all been noted in service in Chesterfield. The Enviro's are expected to be allocated to 54/82/83 when all have arrived and the service changes have taken place later this month.
All Remaining Step-Entrance Pointer Darts have been withdrawn. These are (N416/417/418/421MBW, M59/67/69/73VJO, R714YWC). Olympian 16719 - N719LTN has also been withdrawn.
Thanks to Jack for the above.
SIGHTINGS
Sightings will no longer appear on this page. They can be read and reported by clicking HERE

---
---
TM Travel


NEWS
22nd November:
New Optare Solo (YN58 NDV) has arrived and carries full livery.
Former Dublin Olympian (P487 SWC) is now here.
The Demo Primo has returned to the lease company.
Dart (S779 RNE) is in the new livery style. Thanks to Adrian Healey for the above.

East Lancs re-bodied Tigers (BSG 550W) and (KSP 329X) are here. Thanks Chris.

12th November: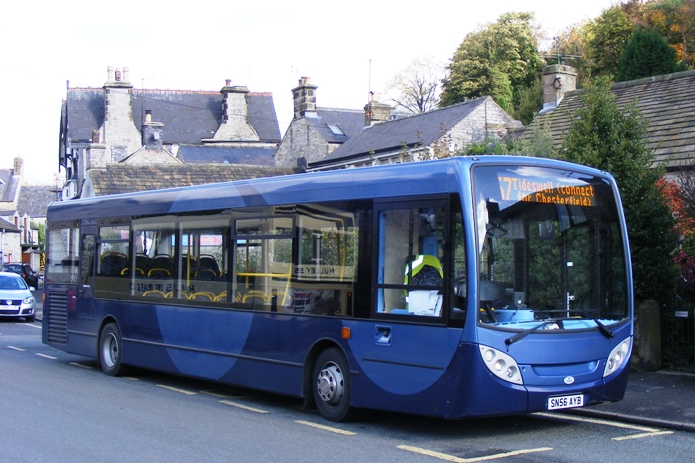 The Enviro 200 demonstrator in service with TM Travel.
(C) Ian Moorcroft

19th October:
Enviro 200 demonstrator (SN56 AYB) is on loan whilst both Plaxton Primos are away for repairs.
Man Monoco double deck coach (W66 BBW) has been sold to Plaxton, Anston.
Tiger coach (UJN 893Y) has been acquired. This was originally (NYS 57Y).
Leyland Olympian (H48 MJN) is expected from Ensign soon. This was new to Colchester.
Solo (W261 EWU) is away at Plaxton, Anston for repairs.
Thanks to Adrian for much of the above.

3 Leyland Royal Tiger Doyen coaches have been acquired here, one of which is for the preserverd fleet, the other 2 will be stripped for spares.

An ex Roadcar/Stagecoach Lincolnshire Tiger, an East Lancs rebody, is also at Fan Road at the moment.

1st October:
A recent addition to the fleet is DAF / Ikarus coach (T112 AUA). It is in use painted white with red fleet names. Thanks Ian.

---
---
Translinc
NEWS
:
---
---
The Wellglade group
NEWS
26th November:
Transpeak Excel 156 remains at Meadow Road garage along with 199, so it may not have been sold. Both are withdrawn.

Tempo 306 is away for repaint into a pale blue livery for the Ilkeston Flyer route. it shall be in service from December 7th.

Scanias 601-4 are being painted for the H1. The green livery will be retained, although the section beyond the rear wheel arches shall be bright orange, to advertise the extra capacity compared to the Solos! Each bus will be out as soon as they are ready, the complete set out by mid December.

Former Rainbow 5 Scanias 623, 624 and 625 have all been repainted into standard trent barton livery. All have had LED displays fitted too, and are currently based at Nottingham.

Kinchbus are no longer expecting any of the rainbow 5 Scanias. Routes expected to be upgraded using these vehicles include: H1 (see above), Villager, amberline, and route 18.

14 more Wrightbus Volvos have yet to be delivered. 8 will be based at Derby for the Mickleover, and 6 at Langley Mill for route 15. Route 15 is being extended to serve East Midlands Airport, on an hourly frequency from January.

Orders for more buses on order for 2009 have not been confirmed, but are thought to include the Solo+ and Mercedes Citarios.

21st November:
Unibus Paladin 104 has been repainted in the revised livery (blue and white).
Excel 225 was involved in an RTA in Disley on Thursday.
Scania 623 (ex R5) has been repainted into trent barton red and is in use at Nottingham. An LED display has been fitted too.
Transpeak Excel 156 has been withdrawn, and is said to have been sold.
Tempo 306 is away for repaint for the Ilkeston Flyer. The livery is expected to be two tone blue.


4th November:
Coach 72 has been repainted white and sold back to the Volvo dealership.
N+D Darts 891/2 continue in use whilst Paladins continue to be painted. More have been fitted with seatbelts too.

26th October:
Transit Magazine reports that trent barton have placed an order for 13 Optare Solos. They are of the new variety, that has yet to be officially launched. The Solos are thought to be fitted with hi-spec interiors, now becoming standard in this well respected fleet.

1 journey per hour on Route 15 is to be extended to East Midlands Airport from 25th January.

N+D Darts 891 and 892 have been on loan to Sutton, after a number of buses were damaged after coming under attack by locals with missiles.

Paladins 114 and 116 now carry Unibus livery. The later shall be based at Sutton for a high peak contract. 106 has returned to Dove Holes. 103 and 113 are being repainted into the new style Unibus livery (blue and white).

Indigo is due to be launched on Sunday 9th November.

19th October :
Indigo is expected to be launched mid November.
Dart 909 has been repainted in trent barton livery.

14th October :
Paladin 126 repainted into Unibus livery and working from Meadow Road.
Coach 72 now withdrawn at Langley Mill.
Former Trent Vario (R824 MJU) has been scrapped.

1st October :
Minibus 39 has not been scrapped, as previously reported. Sorry!

Some news on Wellglade buses that are now with other operators:

Vario 284 is now with Ashall's Coaches, Gorton, Manchester. It arrived in June, and can be seen on GMPTE tendered route 243 from Partington to Trafford Park. It has been repainted white.
OR Jones of Llanfaethlu have acquired Delta (J303 BVO). This was previously with Tyrer in Lancsashire.
Deltas 300 (G600NRC), 346 (K346FAL) and Metrorider 218 are with Ellie Rose, Hull.
Citybus 609 (F609GVO) now at Isle Coaches, Owston Ferry.
Metrorider 216 with is now with Hanson, Pontefract whilst 219 is with a Jazz Band in Barnsley!
---
---
Last Months News

News Index Page
---