| | | | | |
| --- | --- | --- | --- | --- |
| | Merry xmas & happy new year | Fleet News | Merry xmas & happy new year | |
December 2007
---
Latest News
---
Here you will find all the latest bus news and sightings for many bus operators in and around the Derbyshire area. If you have anything to report please contact me by clicking here.
---
---
NEWS
Tue 18th Dec:
Andrews latest coach is Volvo B12B (YN57VWV).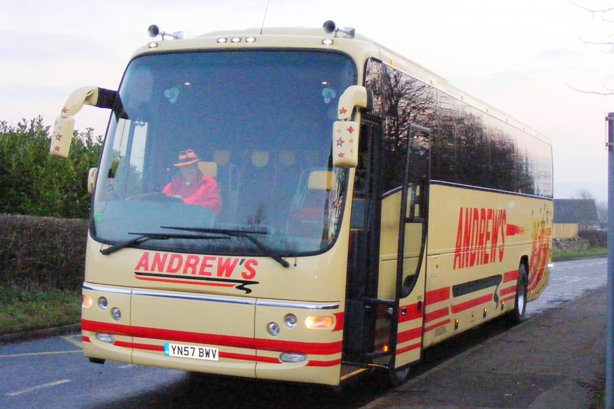 Andrews latest coach.
(C) Ian Moorcroft


Sat 17th Nov:
New here is Volvo / Plaxton Panther (YN57 BWV). Thanks Ian.

---
---
NEWS
Fri 21st December:
DAF 4739 has had new orange LED displays fitted all round.
4355 (F111 TML) may have left the fleet, sold on outside the Arriva group. 4397 the replacement.
A Northern Counties Citybus, 4397 (G497 BPH) has arrived here. Volvo single decker 3302 (H******) may also be here from Cannock.
Dart 2089 has had an LED display fitted and is now based at Tamworth. 2090 is at Swadlincote garage. Thanks Rich.

Sat 15th December:
Dart 2237 is another recent repaint.

Wed 12th December:
Most Arriva services will operate on a 30 minute frequency on Boxing day, between roughly 10am and 6pm.

Sat 17th November:
May have already mentioned this but Darts 2231 and 2236 are recent repaints.
Stanways (Stoke on Trent) have re -registered Citybus 4341 (B141 GAU) - it is now (BIG 2578).
Olympians (VRA124/125Y) have been sold by Chester City Transport to Howard, Great Sankey, Warrington. One of the two, thought to be 125, has since moved on to Liverpool operator Helms, Eastham. Thanks Chris.

SIGHTINGS
Fri 28th
Dart 2226 on the 22, MPD 2217 on route 60.
4343 on the 20.

Fri 21st
Dart 2236 on Sinfins.

Thurs 20th
A minibus on the 40!

Tue 11th
Minibus 1384 seen on suspended tow in Derby.
MPD 2217 on the 44 on Monday when a Minibus was also on Sinfins. Thanks Chris.

---
---
NEWS
Tue 18th December:
Another minibus has arrived here from the Centrebus fleet. This is Mercedes / Plaxton Beaver (N70 TGM). It was new to Tellings Golden Miller. Thanks Chris.

Fri 7th December:
Former trent Mercedes minibus (L811 CJF) has moved here from the Centrebus fleet. It is in Bowers red livery.

Wed 19th September:
Acquired here is (L172 CKG), a Scania K113CRL with Alexander Strider body and painted in full Bowers red livery.

---
---
NEWS & Sightings

Sun 2nd December:
MPD (KU52 YJS) have gone to Wessex Connect. Thanks John.

---
---
NEWS
-
---
---
G&J Holmes

NEWS
-
---
---
Glovers of Ashbourne

NEWS
-
---
---
Harpurs Coaches


NEWS + SIGHTINGS

Tues 18th Dec
New here from Burtons, Haverhill is Volvo B10M / Plaxton (T300 BCL). It still carries its former operators livery. Thanks Chris.

---
---
Hawkes Coaches

NEWS + SIGHTINGS
-
---
---
Hulleys of Baslow

NEWS + SIGHTINGS
:
---
---
Johnson Bros / Redferns


NEWS & SIGHTINGS

Wed 2nd January 2008:
Redferns new garage at Mansfield Woodhouse will be open to the public this Saturday. For more details see the following document from Coach and Bus Weekly bu clicking HERE.
Further details also available in the "Rallies" section on the forum, or on the events page on this site.

---
---
Littles Travel

NEWS + SIGHTINGS
Fri 21th December.
Scania Irizar (R11 OAM) and Van Hool (S53 VGV) are new arrivals here.

Mon 12th November.
A Scania decker (OUI 637*) on route 9 today later replaced by the Optare Metrorider. Solo has been missing for a while.
---
---
Midland Classic


NEWS
Mon 3rd December
Dennis Dart / Plaxton Pointer (R505 SJM) has been acquired. The bus was previously operated by Travel London. Seating is B36F.
It is now in service, with Midland Classic fleet names applied to the smart livery (diamond bus).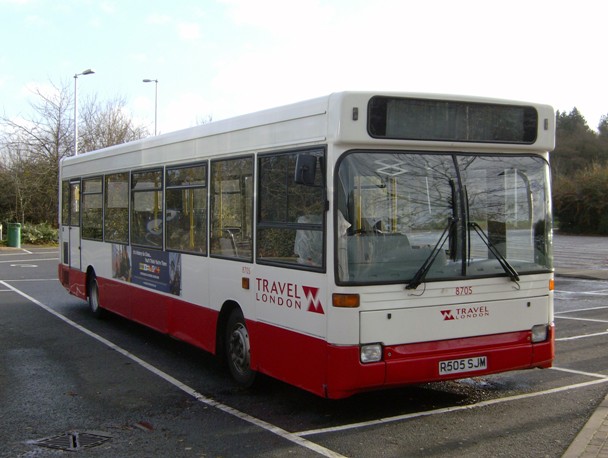 The latest addition to this interesting fleet is shown here prior to entering service.
(C) James Boddice
---
---
Stagecoach East Midlands
Chesterfield, Mansfield, Worksop

NEWS
Fri 7th December:
Olympian 16583 (R583JVA) has been repainted and is now in service. Thanks Jack.
Mercedes (J214 AET) is reported withdrawn.
All 3 of the recently acquired Solos - 47292, 47285 and 47286 are now in service.

Sun 2nd December:
20281 the only B10\Northern Counties still at Chesterfield. Thanks Rob.

Sat 24th November:
Solo (YS02 XUP) is Here from Yorkshire.
Olympian 16582 (R582 JVA) is an addition to the Chesterfield fleet. Thanks Dave.

SIGHTINGS
Tue 18th Dec
Due to problems at the garage: 35016 (N297LCK) on the 39 amongst others, an unbranded second hand solo on the 10.
02 plate solo and a 10 branded dart on the 74 ,Olympians on the 77 , a Decker on the 2 ! thanks Dave.
Route 10 Dart YN05XNZ on 74, Olympian P145KWJ on 25. Thanks Jack.

Tue 11th Dec
Olympians (R582 JVA) & (N133 AET) on Dart Route 51.
Olympian (P152 KWJ) on Solo route 39, whilst route 39 branded Solo (YN06 UGO) was on the 1. thanks Jack.
Sherwood Arrow livered Volvo B10M/Alexander, (M602 VHE) on the 77 instead of a Trident. Thanks Chris.

Tue 11th Dec
Dan reports Volvo 20497 and olympian (N347 MPN) on the 1 - Mansfield Miller.
Olympian (P159 KAK) and Excel (YN51 VHJ) on Dart route 10.
Route 10 Dart (YN05 XOB) and Dart (YN05 YCZ) on 54, Solo (YN06 UGW) on 3.
B10M Coach (S673 RWJ) has been repainted and was on Trident route 77 today. Thanks Jack.

Sat 8th Dec
Olympians (N139 AET) on 727, (N142 AET) on 99 and (S167 RET) on 77.
Solo (YN03 ZXM) on 39 and Excel (R11 ABC) on 2.

Wed 5th Dec
Darts (X841 HHE) on 727, (YN05 YCZ) on 51 and B-line branded B10M (L340 KCK) on 90. Thanks Jack.

---
---
TM Travel


NEWS
Fri 28th December:
Solo (YL02 FKW) is now in service in the new livery.

Fri 21st December:
3 Varios due for the chop here are (R107 GNW), (R933 AMB) and (R938 AMB). (Y161 HWJ) and (Y162 HWJ) to follow later. These are all manual.

Tue 18th December:
Solos in the new livery so far are: (X941 NUB), (X732 FPO) , (YL02 FKW) and (W292 EYG).
Solos (W288/295 EYG), (W261 EWU) and (Y867 PWT), have also been acquired, are in white livery and not yet in use. Some are not anywhere near fit for use, and may even be used for spares.
Rare Tiger (Q723 GHG) has been repainted but remains untaxed.

Sun 2nd December:
A number of Solos, in various states, have been acquired from Dawson rentals. Thanks Ian.
At least 3 Solos now carry the new livery as shown on the Solo below. These are 2 "W" reg Solos and (X941 NUB).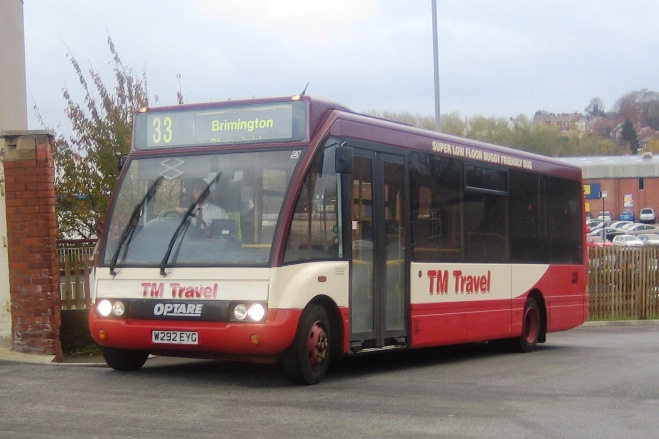 A new variation of the TM Travel livery is carried on one of the latest arrivals, Solo (W292 EYG) seen here at Chesterfield.
(C) Matthew Barker
---
---
Translinc
NEWS
:
---
---
The Wellglade group

NEWS
Sat 29th December:
The recently purchased Volvo coach 72 has been painted into Red Arrow livery is now in service.

Sat 15th December:
199 and 201 still in use here.
5 Paladins are For Sale for around £16000 each.
Solo 436 now based at Ashfield (Sutton Junction).

Wed 12th December:
It has been said, that 199 and 201 are sold. 201 MAY have already left, although 199 was working out of Dove Holes earlier this week. More soon.
The recently acquired coach, Volvo / Jonkheere (FL02 ZXH) is numbered 72. It has been painted into red arrow livery, so should be on the road soon.
Excel 226 is on loan to Dove Holes.
College Paladin 121 back in service.
Volvo B10B/Paladins have been advertised as for sale.

Sun 2nd December:
A different coach is thought to have been purchased for use on the Red Arrow, whilst the current coaches are fitted with Wi Fi, and seats re-trimmed. More soon.
Nines services between Derby and Ripley are to be duplicated in the run up to Christmas, as the Solo's cannot cope with the crowds. Journeys on the 9.1 and 9.2 will be duplicated in one direction only, from Ripley to Derby until early afternoon, from which time journeys from Derby to Ripley will be duplicated. Dart 909 has transfered to Sutton Junction for use on the extra services. 2 buses are required for the additional operations.

Duplicates are also running on other routes in the run up to Christmas, including H1 and Red Arrow (Derby to Alfreton section).

Olympian 715 is now out in service after its front end repaint.
SIGHTINGS
Sat 29th December:
Solo 426 on Rainbow 2! Thanks Dan.
234 on Villagers. Solo448 on 71. Thanks Chris.
Excel 252 on the nines 9.3.

Fri 28th December:
667 and 63 on RA. 930 on 71 (replaced 900), 938 on V2 along with 234. 715 on D1 P&R. 636 and 666 on R5. Thanks Dan.

Thurs 27th December:
900 on IF, later V1/3. Dart 930 on Allestrees - now has no destination blind fitted.
234 replaced coach 71 on RA. 636 R5
297 X17, 712 D1 for a time, 152 and 161 also seen on there. 2 Unibus Paladins on Hospital Hopper H1.

Mon 24th December:
900 on Villagers, 234 RA duplicatations.
930 on 71 with no destination blind fitted.

Fri 21st December:
Excel 235 on route 15, 949 amberline, 252 nines. Scania 664 on BC, later on r1, 667 SF. Thanks Dan.
63 on RA duplicates, 946 H1 duplicates and 909/10 on nines duplicates.
N+D - 152 on D1, 934 route 35 (then 111), 127 X17. Paladin 115 on Hospital Hopper H1, and stripy college branded 121 on the 73.

Wed 19th December:
199 on TP to Manchester, 900 on shorts. 665 X38.
Excel 235 on amberline. 234 and 667 Mickleover.
Unibus Paladin 135 on the 73 and 138 on X17.
739 on X17, later route 17/A. 934 on 35.

Tue 18th December:
Scania 665 on X38, 667 on sixes 6.1/4/X.
234 on Mickleover, 900 on V2. Thanks Chris.
Citybus 739 on the X17 to Borrowash then later on the 17/17A to Duffield.

Mon 17th December:
199 on Mickleovers.
637 on route 23! 639 R1, 949 on H1 duplicates. Excel 253 on the 90, 403 on 9.3. Thanks Dan

Sat 15th Dec:
Paladin 122 on transpeak, along with Excels 199 and 233 (157 was the branded one that was on). Thanks Dan.
201 still in use from Dove Holes on Buxton town services. 225 on Skyline.
Excels 234 and 900 on Villagers.

Fri 14th Dec:
Scania 667 TP. 233 X38, 448 on V1/3, 900 on V2. Thanks Geoff
N+D had Olympian 715 on the 73, Dart 934 on 35, Unibus Paladin 132 on the 73. 128 on Unibus 6

Thurs 13th Dec:
448 on X38. Thanks Geoff.
Solo 436 on "the nines" 9.3. Thanks John.

Wed 12th Dec:
Dart 915 on the Rainbow 5! Thanks Chris.
Scania 667 on transpeak, Solo 447 on Mickleovers, 448 on V2. Thanks Chris.
234 on V1/3. Thanks Geoff.
121 back in service!

Tue 11th Dec:
916 on tow in Nottingham and 930 on Red Arrow. Thanks Geoff.
Paladin 111 reported on 111 PP&R. Thanks John.
637 amberline, 638 H1 and 667 RA. Thanks Chris.
Spare Solos 402/3/4 on the nines 9.3. 403 later on 141 where it replaced Dart 895. Thanks Dan.

Sun 9th Dec:
104 on Transpeak to Manchester following the breakdown of Excel 199 in the Stockport area.
transpeak Excel 156 replaced by 201.

Fri 7th Dec:
Olympian 712 on the 73 to Weston on Trent in the afternoon. Thanks Dan.
Citybus 739 on the 17A, Scania 665 X38, 667 Mickleover and Frio 199 on TP. Thanks Chris.

Thurs 6th Dec:
665/7 X38, 666 R4. Thanks Chris.

Wed 5th Dec:
930 V2, 234 Mickleover, 152 on D1.

Mon 3rd Dec:
Paladin 110 on D1 P&R, later replaced by 152. 63 on RA duplicates, 900 on Mickleovers, 930 V1/3, 199 TP, 115 Unibus 6, 233 "the ONE", 669 R5. Thanks Chris.

Sun 2nd Dec:
Dart 912 on the Rainbow 4.

Sat 1st Dec:
Excel 252 on the nines! 665 on RA, 667 X38, 199 TP. Thanks Dan.

Fri 30th Nov:
252 on the Rainbow 3b. Darts 909/10 on the nines duplicates. Thanks Dan.
123 on Unibus 6 again. 930 on RA duplicates, 235 on H1 duplicates. 637 on amberline. 199 TP. Thanks Chris.

Thurs 29th Nov:
252 on R3b, 253 on the nines. 669 R1. 946 on Amberline (replaced by branded 948 later). Thanks Dan.
667 X38. Thanks Geoff.

Wed 28th Nov:
Paladin 123 on Unibus route 6.
897 on ALS, 448 Allestree. 946 and 902 on nines duplicates.
Both 665 and 667 on the X38. 233 V1/3, 199 TP. Thanks Chris.
252 and 898 on Raiinbow 3b. Thanks Dan. 664 and 457 on H1. Thanks Ian.

---
---
Last Months News

News Index Page
---