Bus Fleet News
August 2012
---
Latest News
---
Here you will find all the latest bus fleet news for many bus operators in and around the Derbyshire area. If you have anything to report please contact me by clicking here.
---
---
NEWS
2nd July 28th April
Volvo B9R / Plaxton Panther (YN11 AXX) is here.
---
---
NEWS
16th July:
Burton has acquired 4 ex London Geminis, 4015-8.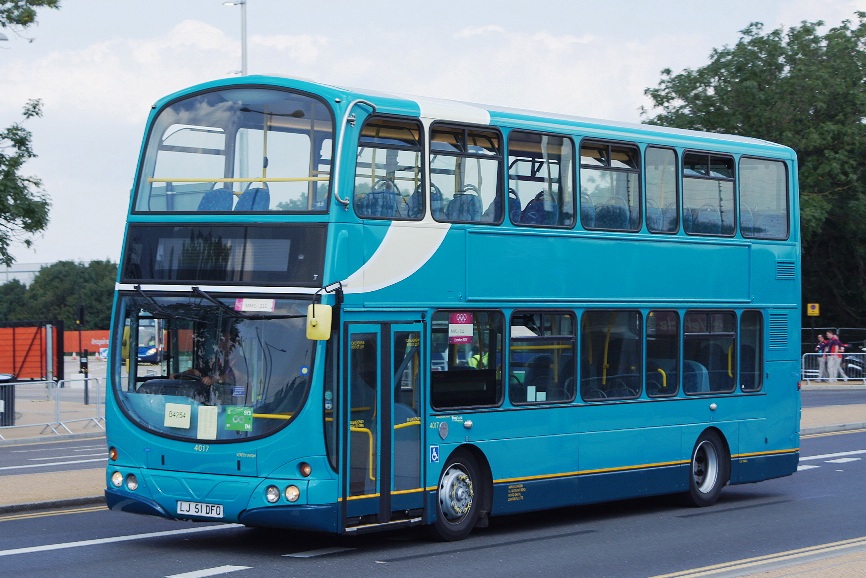 Gemini (LJ51 DFO) on Olympic work in London prior to moving to Burton.
(C) Geoff Girling


Former Derby Citybuses 4220/1 (H650/2 GPF) have been scrapped.
Minibus (N478 XRC) has moved (but not far) from M&M to Iqbal Travel, Accrington.

16th July:
MPD 2285 (V205 KDA) is here. 2210 off.

18th May:
Former Arriva Derby Citybus (F114 TML) and Scania (M831 SDA) have both been sold by Heartlands Travel to Pygalls Travel, Hutton Henry, Durham.


---
---
NEWS
27th August
Excel 689 (X232 WRA) is bound for Hinckley, with Scania 748 (YN08 MRO) set to replace it on transpeak.
Excel 686 (X226 WRA) was towed away by Bull, Tideswell for further component recovery.
Excel 683 (S158 UAL) still at Dove Holes, not in use though still taxed.

Darts 514 (T949 BNN) and 535 (S939 UAL) are also to leave High Peak to be replaced by Solos (cuts to certain contracts in the autumn may release two Solos from current High Peak fleet).

16th July
Scania Decker 904 (YN07 LHT) has arrived here from Huddersfield Bus Company for transpeak. It is in Centrebus livery complete with High Peak fleet names.
Scania Wright Solar 748 (YN08 MRO) is currently in the paintshop for repaint into transpeak livery.
Excel 686 is being taken apart to repair 685 and all reusable parts are being removed to stores. 683 is still here but not on the High Peak allocation list.

16th July
Scania / Wright Solar 704 (YN08 OAJ) is now in service here. Decker 907 has left, but a similar replacement with better seating is due very soon.
Solo 226 (V261 HEC) now in fleet livery.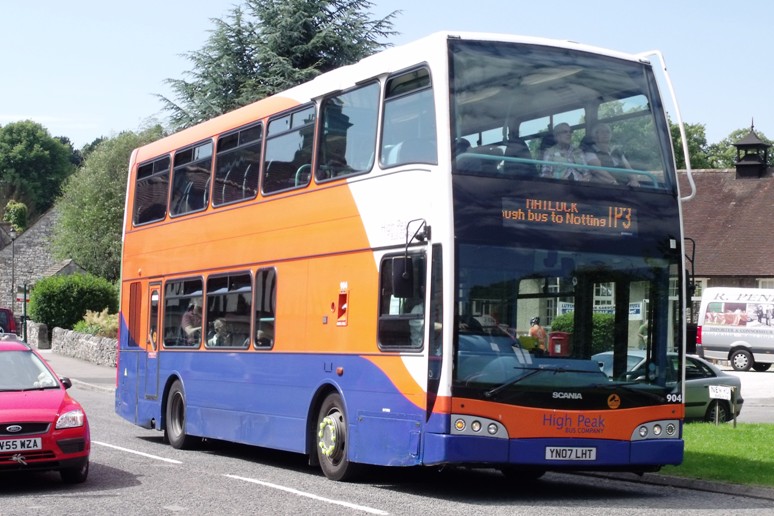 Scania decker 904 on the transpeak in Ashford in the Water.
(C) David Harrison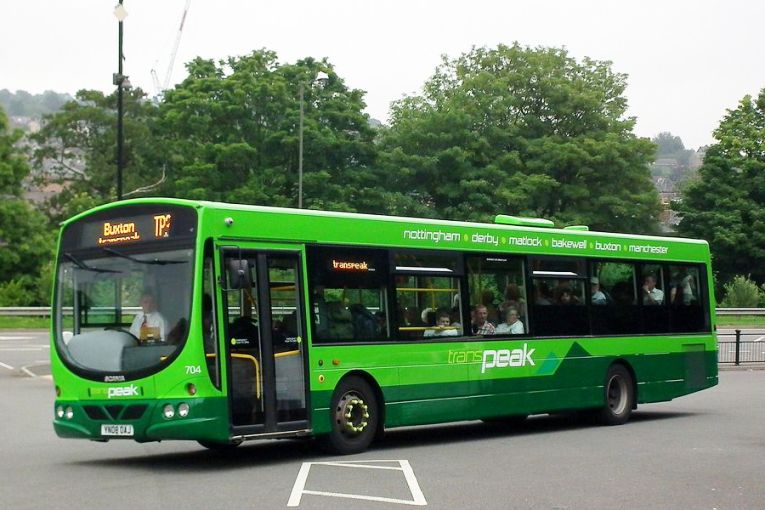 Scania 704 leaves Matlock on the transpeak.
(C) Ian Moorcroft
21st June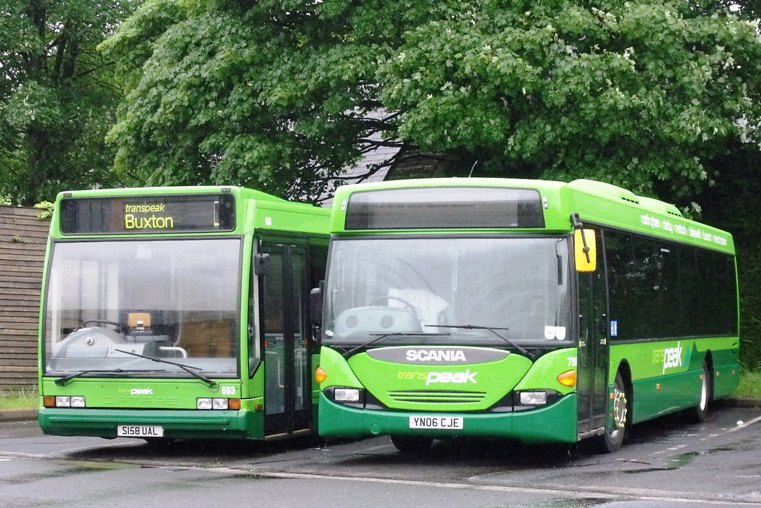 Scania Omnicity 788 (YN06 CJE) has arrived after repaint into transpeak livery. It has also been upseated to 42.
(C) David Harrison

Scania Omnicity 788 (YN06 CJE) has arrived in transpeak livery and should now be in service. Scania / Wright Solar 704 (YN08 OAJ) is currently being painted into transpeak livery. 789 is expected to be repainted (and possibly refurbished) for transpeak soon.

The two former NCT Scanias acquired by Centrebus are now expected to go elsewhere (to replace two 08 reg Solars which will go on TP).

Excel 684 (V109 LVH) has been withdrawn and is being broken for spares, it never carried its new number. Transpeak Excel 683 (S158 UAL) appears to be withdrawn too, or at least it hasn't been used for several weeks.

Solos 332/3 (X232/3 MBJ) and 263 (B6 WER) have all been painted in High Peak livery.
Also note the Paladins are not numbered in a logical order. 679 (L103 LRA), 680 (L104 LRA) and 681 (L102 LRA).

28th May
Scania Olympus 907 (YN07 LHP) has arrived here for use on transpeak. It is still in Centrebus livery.

Centrebus Omnicity 788 is being repainted for transpeak.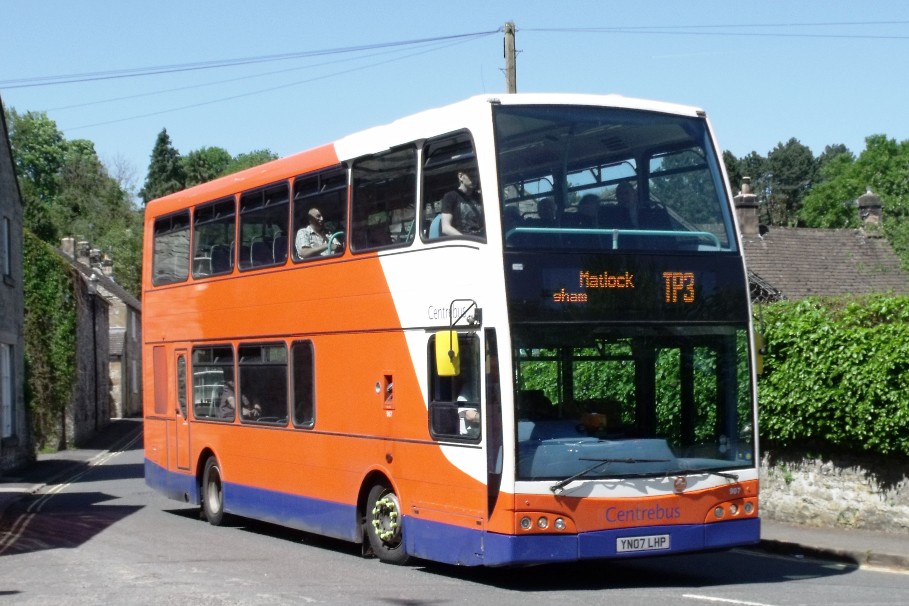 Centrebus Scania Olympus 907 (YN07 LHP) passing through Ashford in the Water on the transpeak.
(C) David Harrison



6th May
Solos 262 and 269 now carry High Peak fleet names on centrebus livery.

2 Scania / Wright Solars may be due for transpeak, but this remains unclear. Scania Omnicity 788 remains in service in Leicester, so plans may have changed.

Meanwhile, the usual mish mash of vehicles have been used on the service this week, including the loan of coach 60 (back on old ground, and the best the routes seen in a while!) and Paladin 112 from notts+derby.


---
---
NEWS & Sightings
-
---
---
NEWS & Sightings
30th July:
Solos (YJ54 UBP) and (YJ54 UBT) entered service in June / July respectively.
Another new bus in service is (W296 EYG) Optare Solo M850 B23F, originally HAD of Shotts.
Darts withdrawn are (W793 VMV) and (X712 CCA) both last used early May and declared SORN from June, but still at the depot.

18th May:
Doyles are confirmed to have ex Willfreda Beehive Solo (YJ54 UBU), now painted in fleet livery with fleet number 116 and also (YJ54 UBP) and (YJ54 UBT), both are still in Travel SY colours and receiving workshop attention.

8th March:
Solo (YN53 SVJ) was destroyed by a fire in Pinxton last Friday.
---
---
NEWS

28th May
The two red Iveco coaches have been sold. The W reg Volvo coach is now on loan to Swiftsure in its place. The Bova below was purchased by Swiftsure to be used on the acquired Felix work.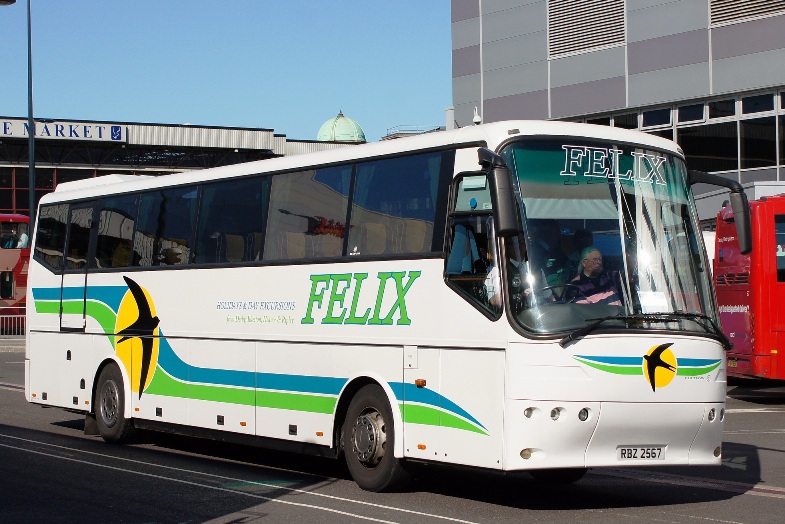 This Swiftsure Travel Bova (RBZ 2567) now carries the Felix name.
(C) Geoff Girling

21st April
Strider (M301 KRY) has been preserved.

Volvo (V708 GRY) has passed to Harrogate Coach Travel who have named the bus Felix: Photo of Felix

One of the coaches has been on loan to Swiftsure, all others are thought to be stored since operations ceased.



---
---
Gills Travel


16th April 2012:
Former Trent Dart 931 (R931 RAU) is here. It was recently with Belle Vue, Stockport.
---
---
G&J Holmes

NEWS
-
---
---
Glovers of Ashbourne


NEWS
28th May 2012
Coach (AIG 1346) is here. It was formerly (L776 LUJ) with Welsh operator Owens of Four Crosses.

18th August 2011
Former Winsons Volvo Plaxton coach (FJU 973) arrived here in June.
A Mercedes Plaxton Cheetah is also here.
---
---
Harpurs Coaches

NEWS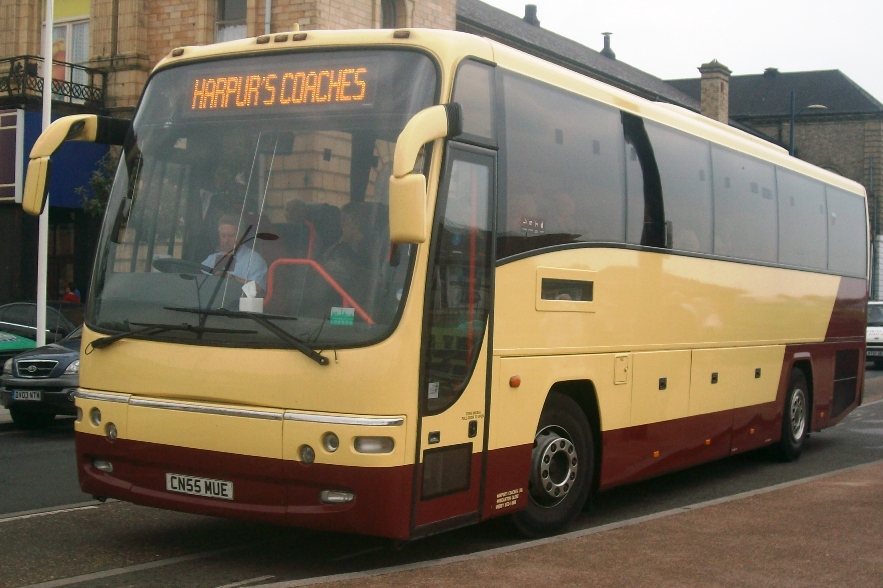 Harpurs (CN55 MUE) looking smart after repaint into fleet livery in Great Yarmouth.
(C) J Armstrong Jamie Armstrong's Photostream

16th July 2012
(G363 YUR) has been sold to Routemaster Travel of Lymm. Cheshire.

28th May 2012
Volvo coach (S315 SRL) has been painted and ready for the road, the third Dublin decker is also nearly ready.

(D922 UOD) has been sold for scrap and (RIL 5084) is expected to go soon. (G379 REG) is expected to stay on until schools finish at the end of July.

Olympians (N595 BRH_ and (G362 YUR) are now withdrawn.


---
---
Hawkes Coaches


NEWS
5th July:
A third PS to arrive here is (R978 XVM).

10th May:
The two Alexander PSs have been painted into blue fleet livery.

21st April:
One of the Volvo Alexander PS has been painted blue.

8th Feb:
Former Stagecoach Manchester Volvo / ALexander PS (P851 GND) is reported here from Ensign.

1st December:
Former Stagecoach Volvo / ALexander PS (P134 XCN) is here, still in stagecoach livery. The vehicle has arrived from Stagecoach Cumbria, and was originally fleet number 472 in the Ribble fleet.
---
---
Hulleys of Baslow

NEWS + SIGHTINGS
-

---
---
Johnson Bros / Redferns

NEWS & SIGHTINGS
-
---
---
Linburg

NEWS + SIGHTINGS
17th January
Former T M Travel Tiger (G435 EWU) is here, and is expected to be used in service!
---
---
Littles Travel

NEWS + SIGHTINGS
21st April
The Solo that was used on route 9 has passed to Centrebus (high peak).
---
---
Midland Classic


NEWS
16th July
Both former Felix Solos have now been painted into fleet livery.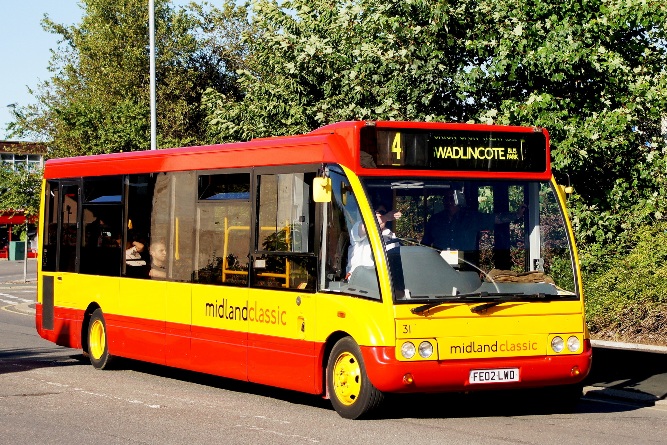 Former Felix Solo 31 in Burton.
(C) Geoff Girling
---
---
Premiere, Nottingham


NEWS
18th August 2012
Gemini 4637 (FJ57 CZB) is a new arrival here from Wessex Connect. It is to be branded for the University of Nottingham contract joining the two that are already used on there.
Enviro 300 3340 (SN10 CDK) is to be branded for a University of Nottingham route to Derby Medical School.

8 Scania Omnicities are due for the Red 5 with an enhanced frequency from the end of September, and a new look / livery for the route! Red 8 is also having the frequency increased aided by the addition of two Enviro 300s. More details to follow.

The ex Brighton Tridents have been sold, but will remain in service until the latest vehicles arrive to replace them.

21st June 2012
Olympian 4633 (R633 MNU) written off.

3322 is now in standard Premiere red. 3306, 3307, 3310 and 3322 are to be branded for Red8.

4618 is now de-branded for Red8 and is running on Red5.

---
---
Stagecoach East Midlands
Chesterfield, Mansfield, Worksop
NEWS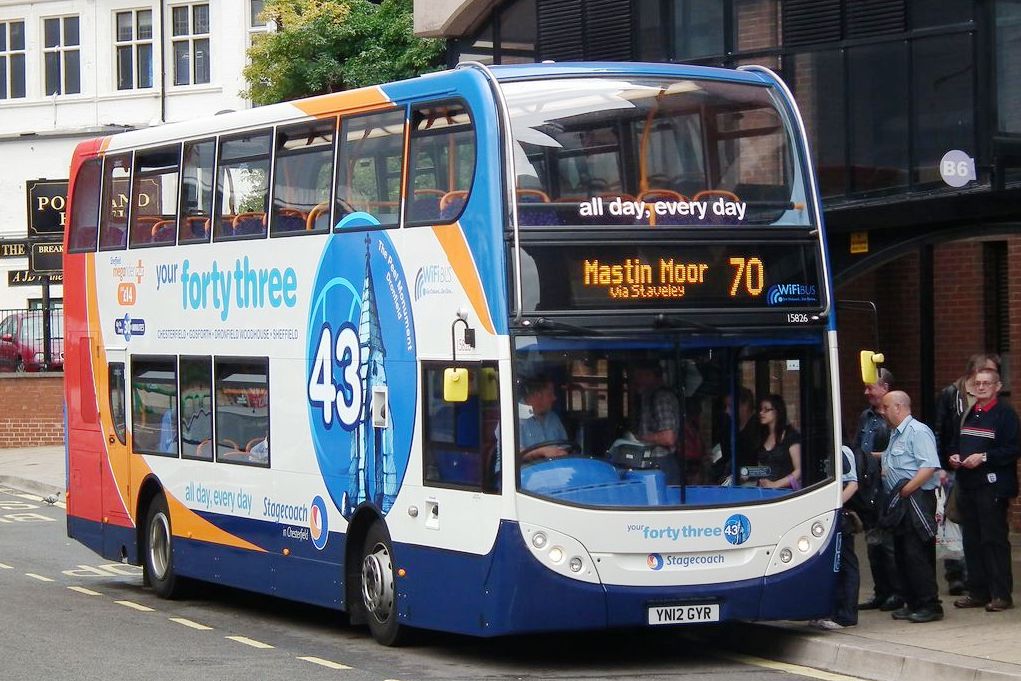 6 new Enviro 400 deckers have entered service at Chesterfield, 4 of which are branded for service 43. (YN12 GYR) is seen here in Chesterfield on route 70.
(C) Ian Moorcroft
To keep up to date with Stagecoach in Chesterfield, and many other operators in the area, take a look at the excellent Transpire website.
---
---
TM Travel


NEWS:
See Wellglade section.
---
---
Translinc
NEWS
:
---
---
---
The Wellglade group
trent barton, kinchbus, notts+derby and T M Travel.

NEWS 27th August 2012:
The final two i4 Tempo SRs should be in use later this week, they are 334 (YJ12 GWP) and 335 (YJ12 GWU).
Solo 418 has moved to TM Travel.
Olympians 19 and 20 have moved from N+D to TM Travel.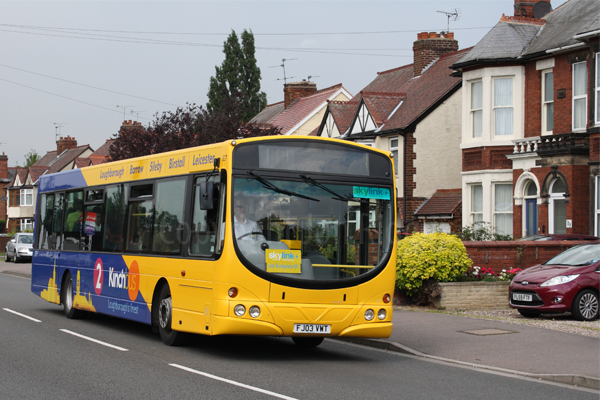 Route 2 branded Scania 627 on the Skylink service to Derby.
(C) JM Media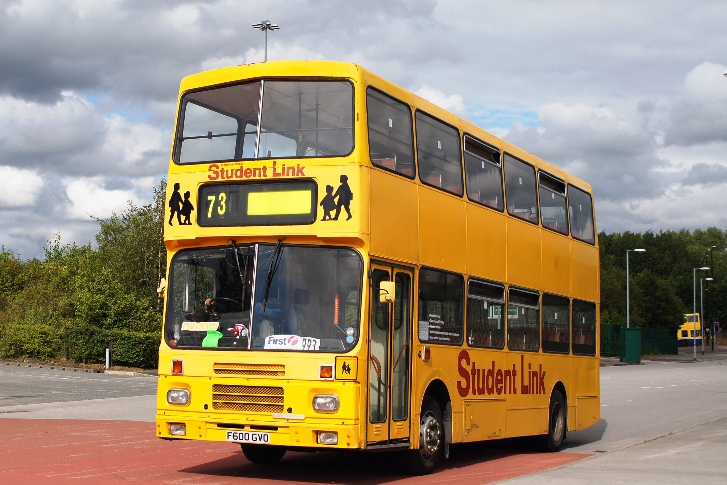 Ex Trent Citybus (F600 GVO) on hire to First for Olympic duties
(C) Geoff Girling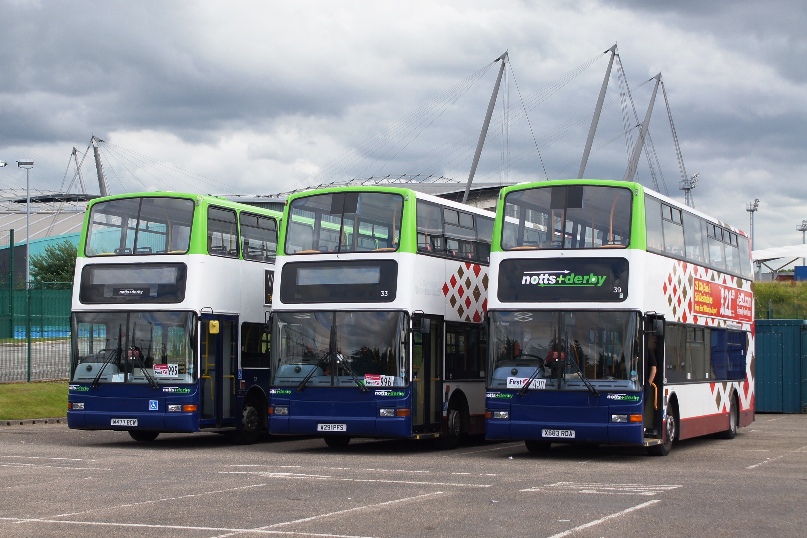 A number of notts+derby vehicles were used on Olympic shuttle duties in Manchester.
(C) Geoff Girling


18th August 2012:
A new corporate livery for trent barton is set to appear in the coming days, replacing the current standard trent barton red livery.

Dart 896 has been withdrawn at Kinchbus after failing in service. Former R4 Scania 673 has become the second temp vehicle branded for Skylink, whilst the branded fleet are repainted and refurbished.

29th July 2012:
Former Rainbow 4 Scania 672 has had skylink branding applied to cover whilst the Kinch Skylink vehicles are repainted and refurbished.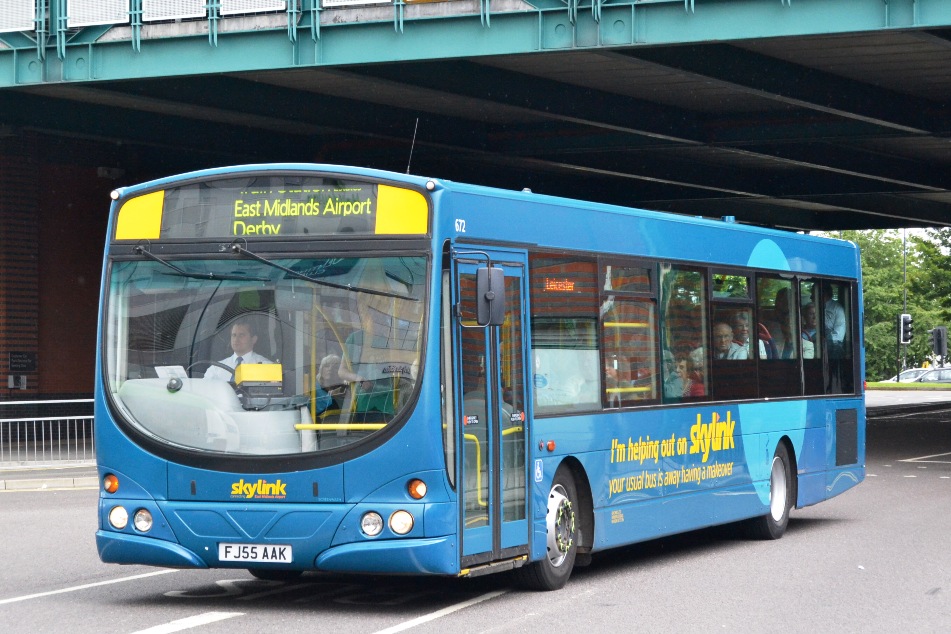 Former Rainbow 4 Scania has had temporary Skylink branding applied to its Rainbow 4 livery, proclaiming its helping out on Skylink whilst the regular vehicles are having a makeover
(C) John Moore
---
---
Yourbus, Nottingham
NEWS
27th August 2012:
6 Mercedes Benz Citaro's from Epsom Coaches as follows:
3501 (BU53 AWX),
3502 (BU53 AWW),
3503 (BU53 AWY),
3504 (BU53 AWZ),
3505 (BU53 AXA),
3506 )BW03 ZMY).
2 for Heanor Depot 4 for Tuxford Depot.

Vehicles to be withdrawn are as follows:-
Darts 1011,1012,1013,1101,1102,1103,1104,1105,1106,1107,1108 & Trident 2503 (All sold to Weaden PSV).

2507 is now transferred to Tuxford following end of 228 service.

Dart 1010 is being converted for use as a driver training vehicle.
---
---
Last Months News

News Index Page
---