Bus Fleet News
June 2012
---
Latest News
---
Here you will find all the latest bus fleet news for many bus operators in and around the Derbyshire area. If you have anything to report please contact me by clicking here.
---
---
NEWS
2nd July 28th April
Volvo B9R / Plaxton Panther (YN11 AXX) is here.
---
---
NEWS
18th May:
Former Arriva Derby Citybus (F114 TML) and Scania (M831 SDA) have both been sold by Heartlands Travel to Pygalls Travel, Hutton Henry, Durham.


---
---
NEWS
21st June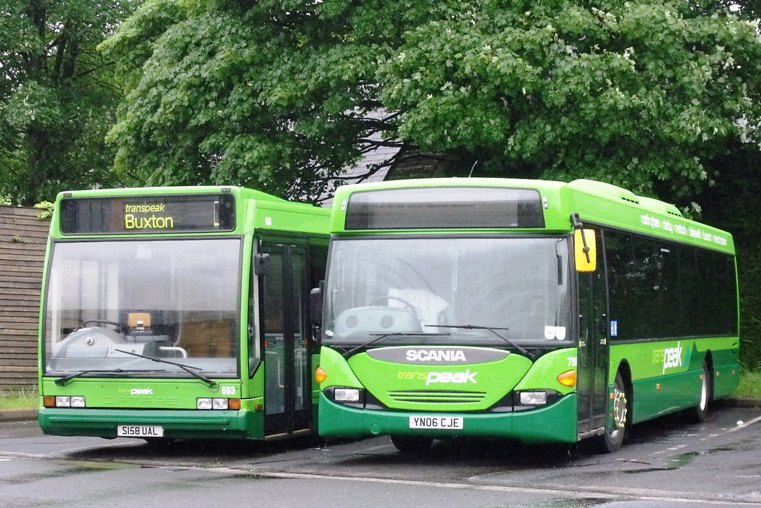 Scania Omnicity 788 (YN06 CJE) has arrived after repaint into transpeak livery. It has also been upseated to 42.
(C) David Harrison

Scania Omnicity 788 (YN06 CJE) has arrived in transpeak livery and should now be in service. Scania / Wright Solar 704 (YN08 OAJ) is currently being painted into transpeak livery. 789 is expected to be repainted (and possibly refurbished) for transpeak soon.

The two former NCT Scanias acquired by Centrebus are now expected to go elsewhere (to replace two 08 reg Solars which will go on TP).

Excel 684 (V109 LVH) has been withdrawn and is being broken for spares, it never carried its new number. Transpeak Excel 683 (S158 UAL) appears to be withdrawn too, or at least it hasn't been used for several weeks.

Solos 332/3 (X232/3 MBJ) and 263 (B6 WER) have all been painted in High Peak livery.
Also note the Paladins are not numbered in a logical order. 679 (L103 LRA), 680 (L104 LRA) and 681 (L102 LRA).

28th May
Scania Olympus 907 (YN07 LHP) has arrived here for use on transpeak. It is still in Centrebus livery.

Centrebus Omnicity 788 is being repainted for transpeak.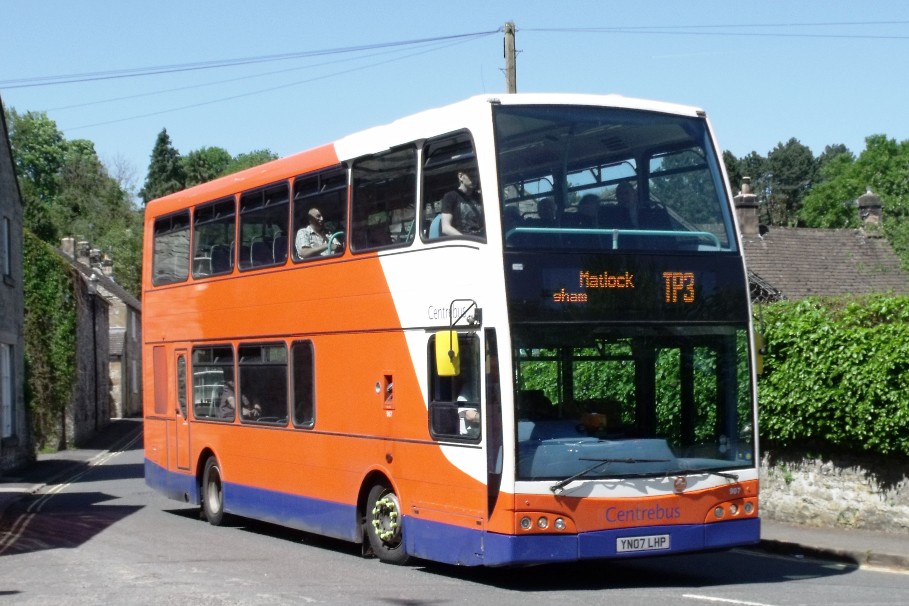 Centrebus Scania Olympus 907 (YN07 LHP) passing through Ashford in the Water on the transpeak.
(C) David Harrison



6th May
Solos 262 and 269 now carry High Peak fleet names on centrebus livery.

2 Scania / Wright Solars may be due for transpeak, but this remains unclear. Scania Omnicity 788 remains in service in Leicester, so plans may have changed.

Meanwhile, the usual mish mash of vehicles have been used on the service this week, including the loan of coach 60 (back on old ground, and the best the routes seen in a while!) and Paladin 112 from notts+derby.


---
---
NEWS & Sightings
-
---
---
NEWS & Sightings
18th May:
Doyles are confirmed to have ex Willfreda Beehive Solo (YJ54 UBU), now painted in fleet livery with fleet number 116 and also (YJ54 UBP) and (YJ54 UBT), both are still in Travel SY colours and receiving workshop attention.

8th March:
Solo (YN53 SVJ) was destroyed by a fire in Pinxton last Friday.
---
---
NEWS

28th May
The two red Iveco coaches have been sold. The W reg Volvo coach is now on loan to Swiftsure in its place. The Bova below was purchased by Swiftsure to be used on the acquired Felix work.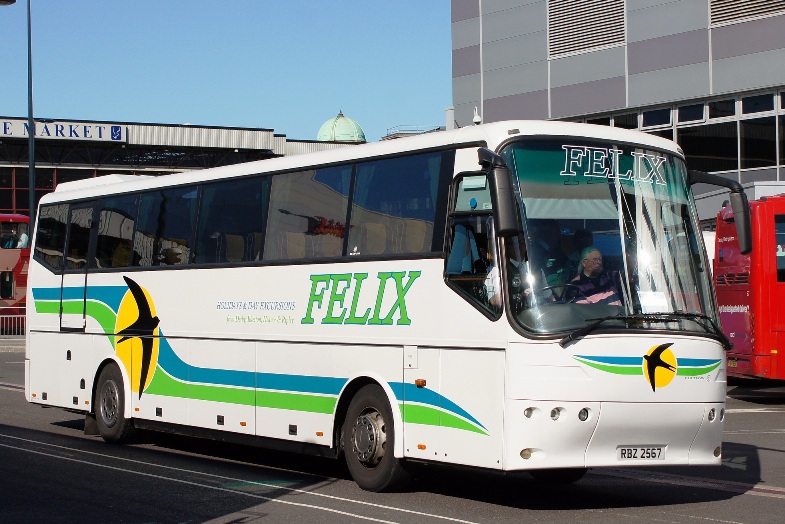 This Swiftsure Travel Bova (RBZ 2567) now carries the Felix name.
(C) Geoff Girling

21st April
Strider (M301 KRY) has been preserved.

Volvo (V708 GRY) has passed to Harrogate Coach Travel who have named the bus Felix: Photo of Felix

One of the coaches has been on loan to Swiftsure, all others are thought to be stored since operations ceased.



---
---
Gills Travel


16th April 2012:
Former Trent Dart 931 (R931 RAU) is here. It was recently with Belle Vue, Stockport.
---
---
G&J Holmes

NEWS
-
---
---
Glovers of Ashbourne


NEWS
28th May 2012
Coach (AIG 1346) is here. It was formerly (L776 LUJ) with Welsh operator Owens of Four Crosses.

18th August 2011
Former Winsons Volvo Plaxton coach (FJU 973) arrived here in June.
A Mercedes Plaxton Cheetah is also here.
---
---
Harpurs Coaches


NEWS

28th May 2012
Volvo coach (S315 SRL) has been painted and ready for the road, the third Dublin decker is also nearly ready.

(D922 UOD) has been sold for scrap and (RIL 5084) is expected to go soon. (G379 REG) is expected to stay on until schools finish at the end of July.

Olympians (N595 BRH_ and (G362 YUR) are now withdrawn.

20th March 2012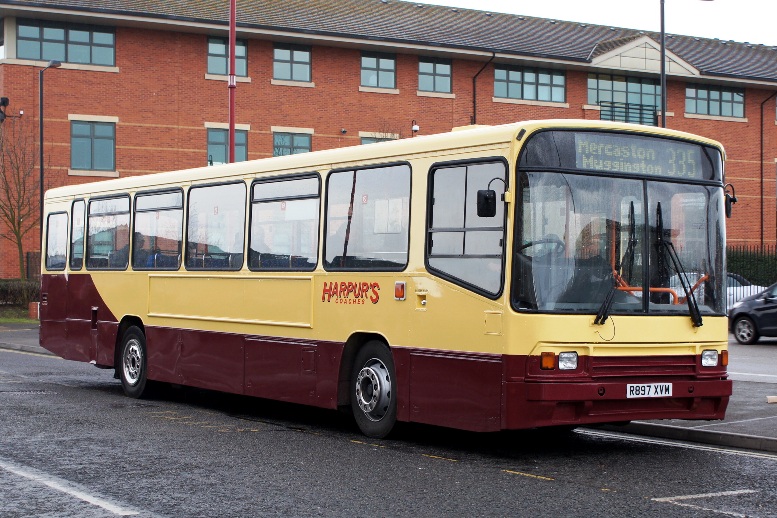 Former Stagecoach Volvo B10M / Alexander (R897 XVM) looking smart after repaint into fleet livery.
(C) Geoff Girling
---
---
Hawkes Coaches


NEWS
5th July:
A third PS to arrive here is (R978 XVM).

10th May:
The two Alexander PSs have been painted into blue fleet livery.

21st April:
One of the Volvo Alexander PS has been painted blue.

8th Feb:
Former Stagecoach Manchester Volvo / ALexander PS (P851 GND) is reported here from Ensign.

1st December:
Former Stagecoach Volvo / ALexander PS (P134 XCN) is here, still in stagecoach livery. The vehicle has arrived from Stagecoach Cumbria, and was originally fleet number 472 in the Ribble fleet.
---
---
Hulleys of Baslow

NEWS + SIGHTINGS
28th May
Former Woods of Barnsley VDL VAN HOOL (YJ06 JFD) was on hire from Arriva (dealer) for two days last week, to cover for VDL MARCO POLO 6 (YJ06 LDF) which had gone back to Arriva for warranty work.

13th March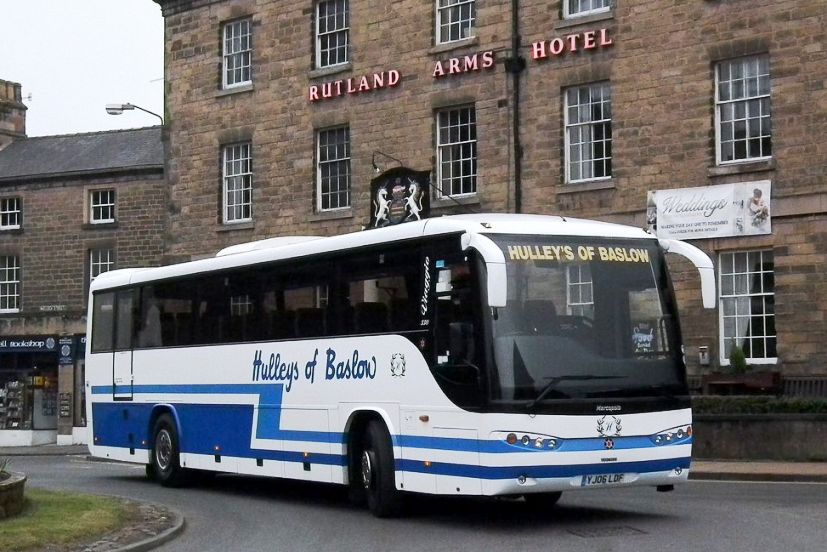 New here is VDL SB3000 / MARCO POLO, which is 6 (YJ06 JDF).
(C) Ian Moorcroft
---
---
Johnson Bros / Redferns

NEWS & SIGHTINGS
-
---
---
Linburg

NEWS + SIGHTINGS
17th January
Former T M Travel Tiger (G435 EWU) is here, and is expected to be used in service!
---
---
Littles Travel

NEWS + SIGHTINGS
21st April
The Solo that was used on route 9 has passed to Centrebus.

27th March
Two former NCT Tridents here are (V427/31 DRA).
Former trent barton "bargain bus" Dennis Dart Plaxton Pointer (R932 RAU) is here being operated in red livery.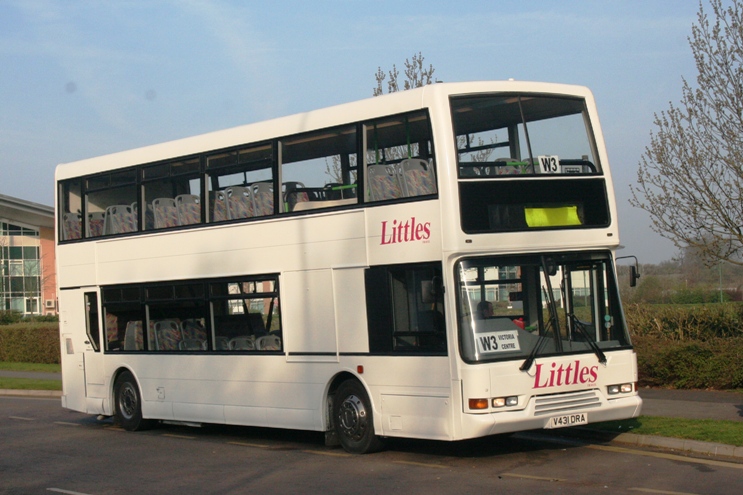 One of the two former NCT Tridents with Littles.
(C) Richard Dobbie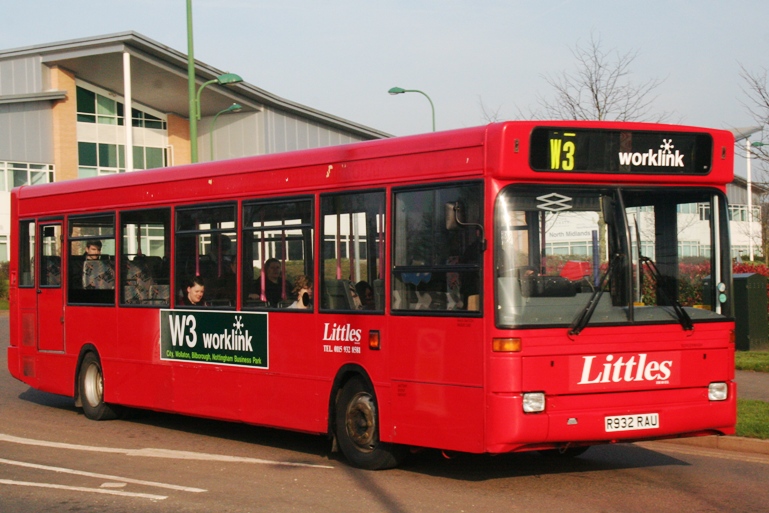 Former Trent Dart 932 with Littles. The vehicles carries the Bargain Bus red livery.
(C) Richard Dobbie
---
---
Midland Classic


NEWS
21st June
Another Scania/Wright Solar here is (Y336 VST), ex WJC Coaches via Invincible.

24th May
Tridents 94 and 95 now carry fleet livery.

29th March
Volvos 81 and 82 have been branded for the X12.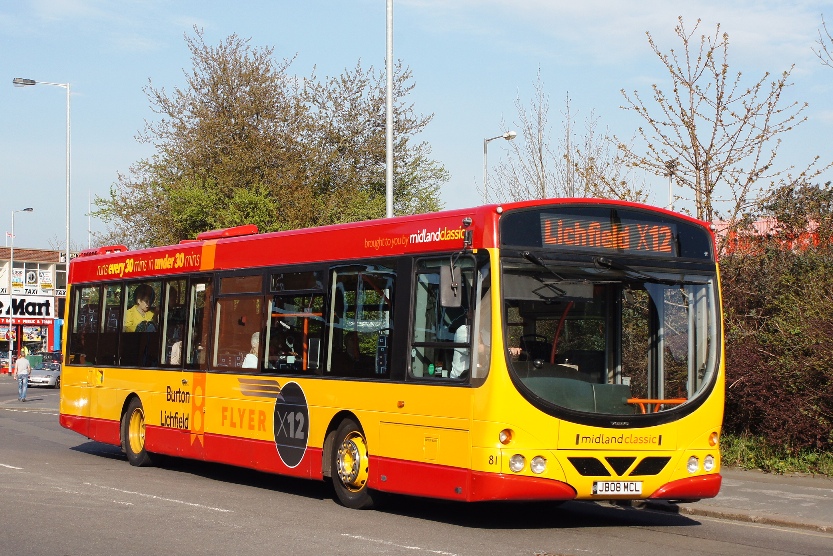 Volvo 81 is one of the buses branded for the X12.
(C) Geoff Girling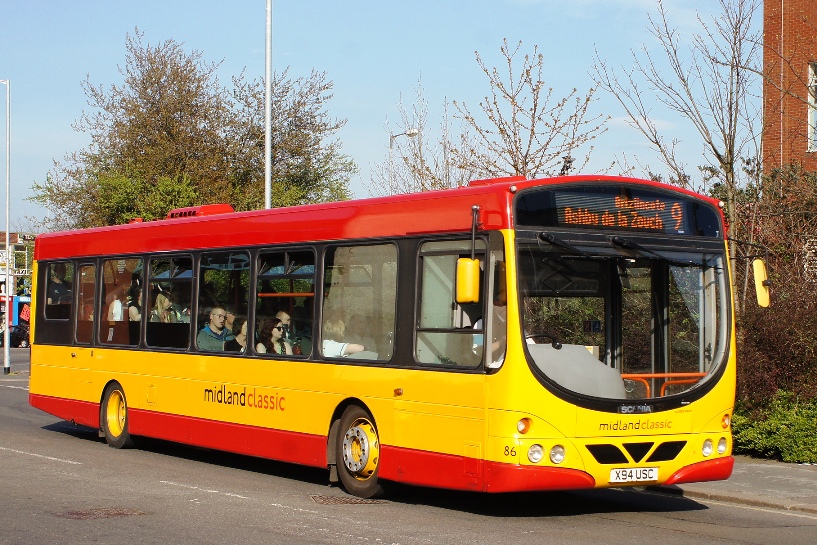 Former NCT Scania 86.
(C) Geoff Girling



27th February
Olympian (L649 MYG) is fleet number 90.
Ex trent Dart (R919 RAU) has been sold to P&C buses, Newmains, Scotland.

16th February
Former NCT Scania (X94 USC) is now in use after repaint.
MAN (RX53 LNJ) should be appearing in a few weeks time!
Dart 22 has left the fleet, and Olympian (L649 MYG) is now with the company long term.

22nd December
Former NCT Scania / Wright (X94 USC) is here, although not yet in use.

---
---
Premiere, Nottingham


NEWS
21st June 2012
Olympian 4633 (R633 MNU) written off.

3322 is now in standard Premiere red. 3306, 3307, 3310 and 3322 are to be branded for Red8.

4618 is now de-branded for Red8 and is running on Red5.

28th May 2012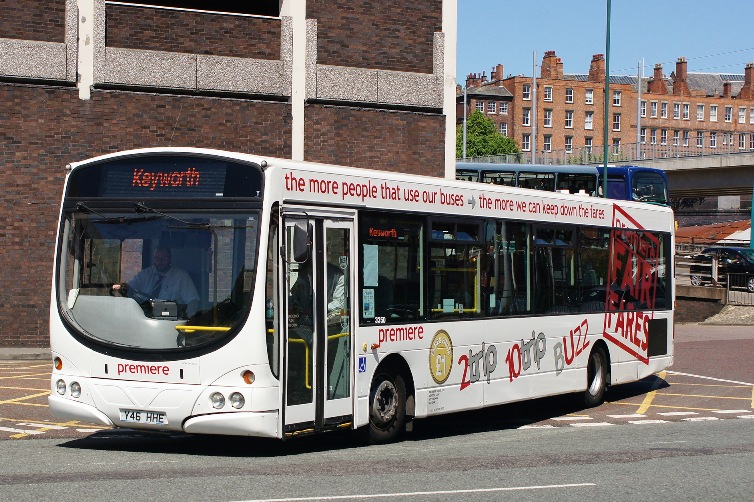 Scania (Y46 HEE) advertises the fairs fare promotion. It is seen here leaving Broadmarsh Bus Station.
(C) Geoff Girling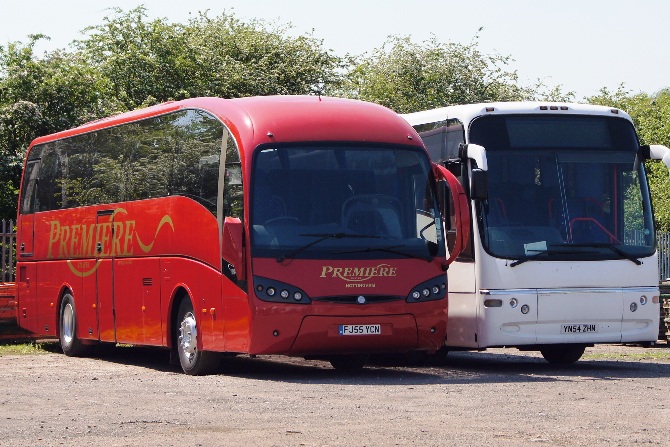 Former Veolia (FJ55 YCN) after repaint into Premiere red livery.
(C) Geoff Girling
---
---
Stagecoach East Midlands
Chesterfield, Mansfield, Worksop
NEWS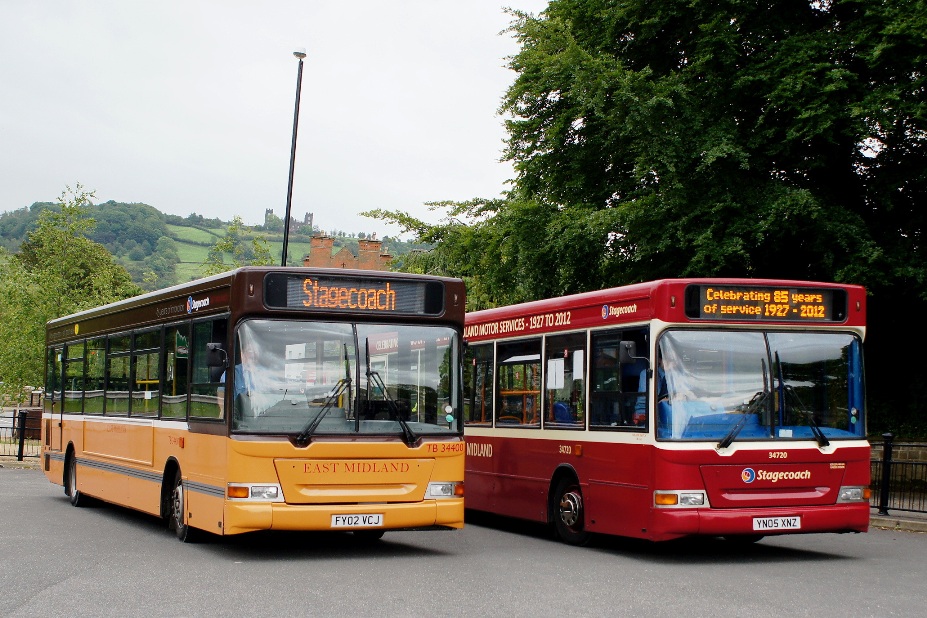 Stagecoach have painted Darts (FY02 VCJ) and (YN05 XNZ) to celebrate 85 years of East Midlands Motor services.
(C) Geoff Girling
To keep up to date with Stagecoach in Chesterfield, and many other operators in the area, take a look at the excellent Transpire website.
---
---
TM Travel


NEWS:
See Wellglade section.
---
---
Translinc
NEWS
:
---
---
---
The Wellglade group
trent barton, kinchbus, notts+derby and T M Travel.

NEWS
4th July:
The new Versas for the threes are:
810 (YJ12 PHU),
811 (YJ12 PHV),
812 (YJ12 PHX),
813 (YJ12 PHY),
814 (YJ12 PHZ),
815 (YJ12 PJO),
816 (YJ12 PJU),
817 (YJ12 PJV),
818 (YJ12 PJX),
819 (YJ12 PJY),
820 (YJ12 PKA),
821 (YJ12 PKD),
822 (YJ12 PKE),
823 (YJ12 PKF),
824 (YJ12 PKK),
825 (YJ12 PKN),
826 (YJ12 PKO),
827 (YJ12 PKU).

246 is the third branded Rainbow 3 Excel to be withdrawn, joining 240 and 256.

TM Travel (K482 GNN) has been withdrawn. (R983 KAR) is currently off after an RTA (roof damage). This may be repaired!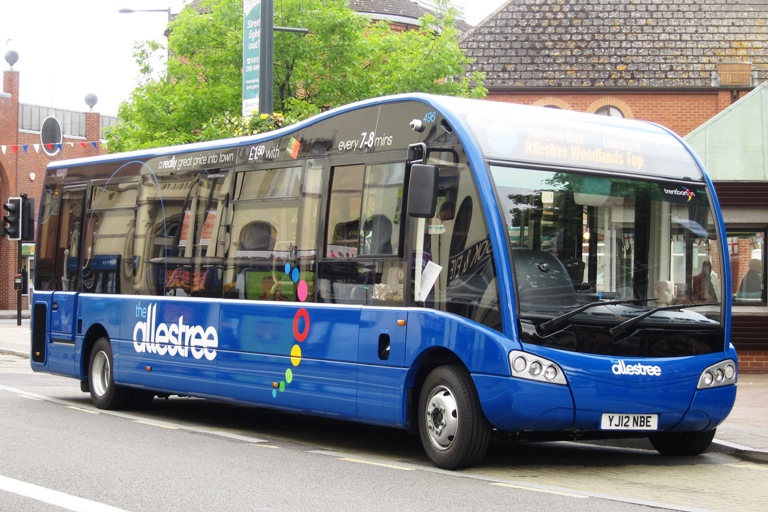 New Allestree Solo SR 496 in Derby.
(C) Andrew Cowell



21st June:
notts+derby 18 is said to have moved to TM Travel.
D1 P&R Excel 202 & Dart 935 are now in store at Langley Mill.

37 has been painted light blue for the Drayton Manor service, 38 has been painted dark blue for the Alton Towers service.

TM Travel coach 59 has been withdrawn with corrosion.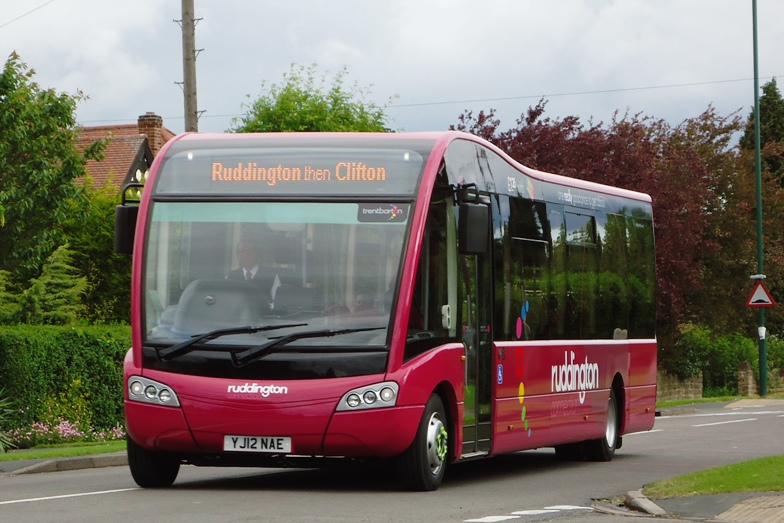 New Ruddington Connection Solo SR 498 in Wilford.
(C) John Whittingham



13th June:
New Solos SRs have arrived for the Allestree and Ruddington Connection services. The pink Ruddington Solos should be in service on 17th, whilst the blue Allestree Solos should be in service from 24th June.

493 (YJ12 NBA) Allestree,
494 (YJ12 NBB) Allestree,
495 (YJ12 NBD) Allestree,
496 (YJ12 NBE) Allestree,
497 (YJ12 NBF) Allestree,
498 (YJ12 NAE) Ruddington,
499 (YJ12 NAO) Ruddington,
500 (YJ12 NAU) Mango.

Centro 1184 (YJ07 JWW) is now with notts+derby, still in TM livery as is 792. Centro 791 has returned painted in notts+derby livery. Olympian 1109 has moved back to TM Travel.

Tempo SRs 334/5 have not yet been delivered, hence the number of spare vehicles appearing on the i4 route.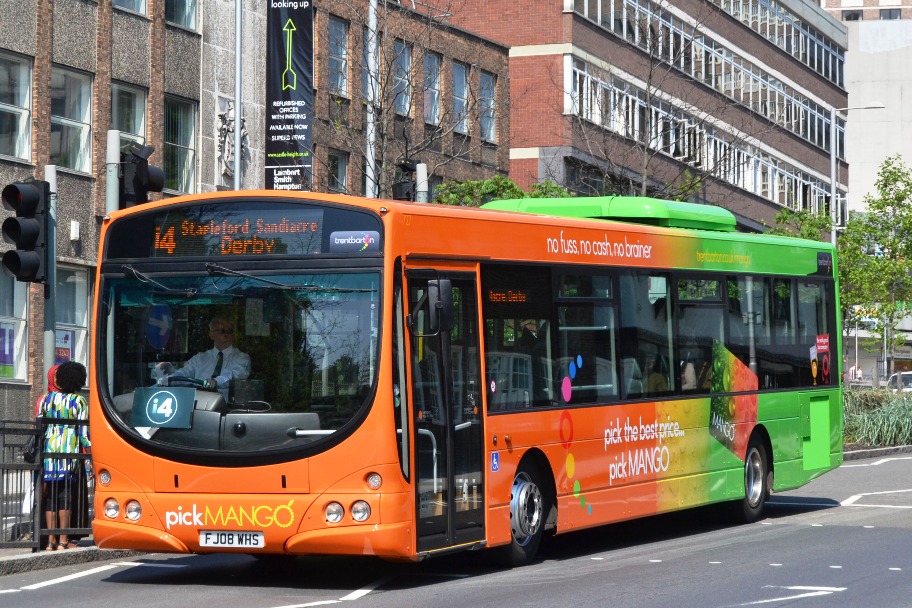 Volvo 727 has been repainted into a new mango livery, and carries the new trent barton logo. It is seen here in Nottingham covering for one of the new Tempo SRs on the i4.
(C) John Moore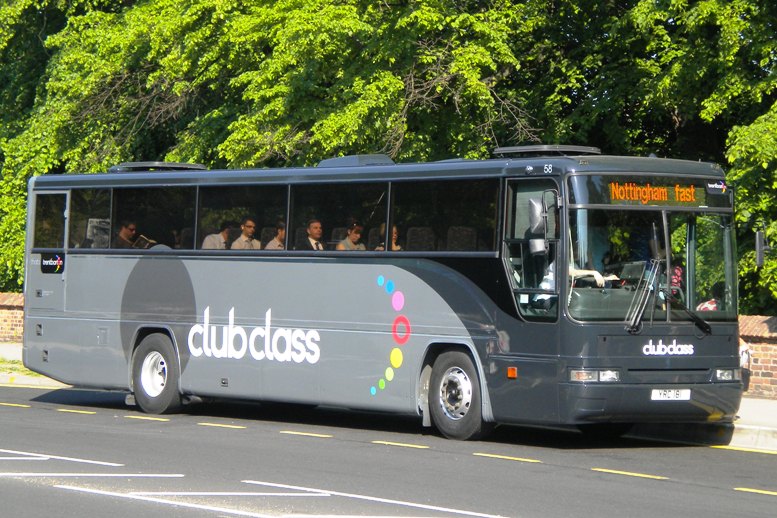 New Tempo SRs have been introduced on the i4 service which has now replaced rainbow 4. The Commuter Xprss which complimented this route by offering fast peak time journeys from and to Stapleford and Sandiacre has been re-branded as "club class" using coaches 57 and 58. 58 is ssen here near QMC.
(C) John Whittingham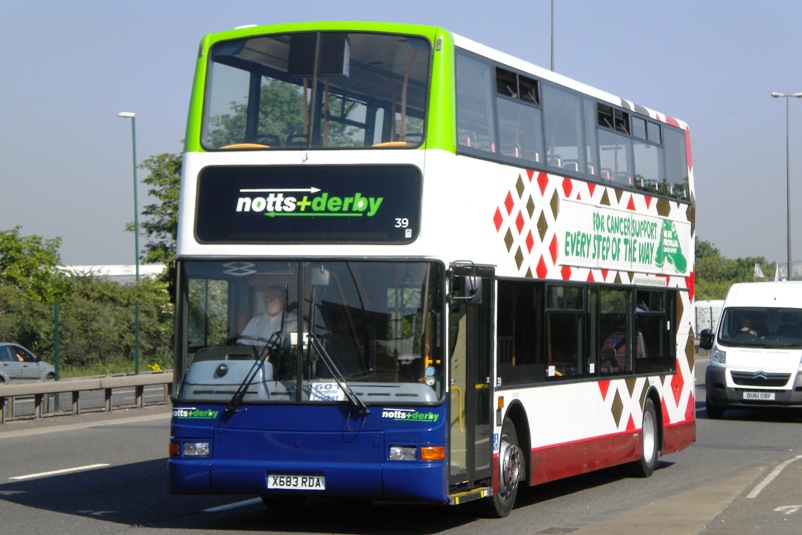 Former Lothian Volvo 39 in Nottingham for the Cricket P&R services.
(C) John Whittingham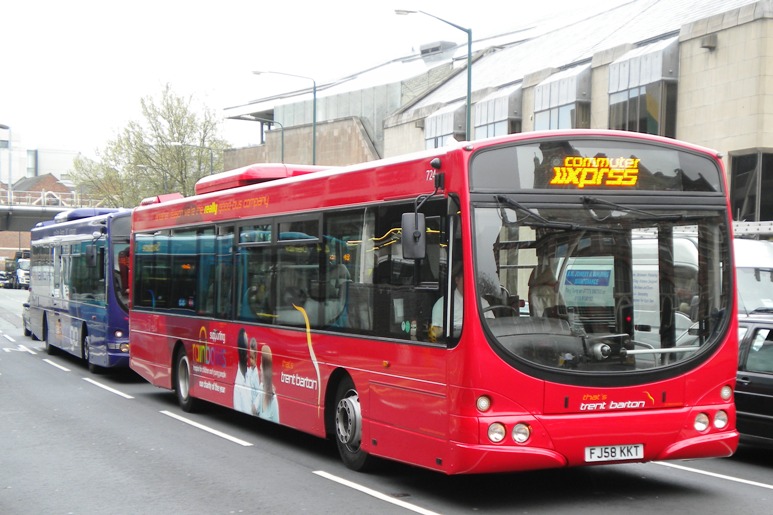 Former Indigo Volvo 724 now carries this version of the trent barton livery.
(C) John Whittingham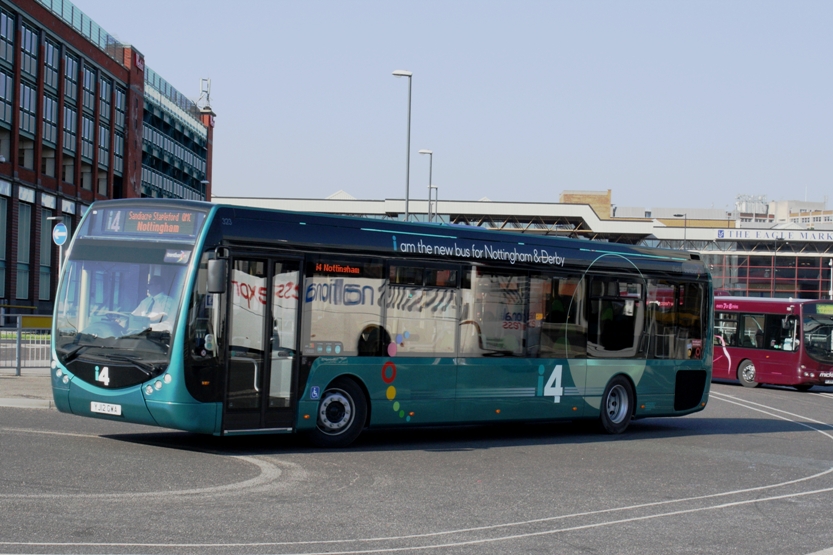 Tempo SR 323, the new bus for Derby and Nottingham, leaves Derby bus station on the first i4 departure last Sunday.
(C) Jon Ridge


18th May:
Red Arrow coach 69 has been involved in a mishap with Allestree Solo 462. The Solo may be a write off.

Volvo 725 is in service in Nottingham in trent barton livery.

The Tempo SRs are set to be on the road on 27th May, Some have been branded up already, whilst others are still being prepared. The ones that appeared for at the promotional events have now been renumbered, the correct details are:
323 (YJ12 GWA),
324 (YJ12 GWC),
325 (YJ12 GWD), was 335
326 (YJ12 GWE),
327 (YJ12 GWF),
328 (YJ12 GWG),
329 (YJ12 GWK), was 334
330 (YJ12 GWL),
331 (YJ12 GWM),
332 (YJ12),
333 (YJ12),
334 (YJ12),
335 (YJ12).

10th May:
Volvo 724 has returned to Nottingham in trent barton red livery with branding for the Rainbow charity.

6th May:
Former Lothian Volvo B7TL/Plaxton President 291-7 (H45/30F 297 is H45/29F) have arrived here for notts+derby. They are to be partially repainted very soon, and may be out in service later next week. They are:

33 (W291 PFS),
34 (W292 PFS),
35 (W293 PFS),
36 (W294 PFS),
37 (W295 PFS),
38 (W296 PFS),
39 (X683 RDA), (was WDF 297 with Lothian, ex Conn, Rathcoole (N.I.)).

Two ex Lothian Olympians (driver trainers) have been acquired for spares only. These have been allocated fleet numbers for record keeping, but are not to be operated in service. They are:

8 (E318 MSG),
9 (E319 MSG).


---
---
Yourbus, Nottingham
NEWS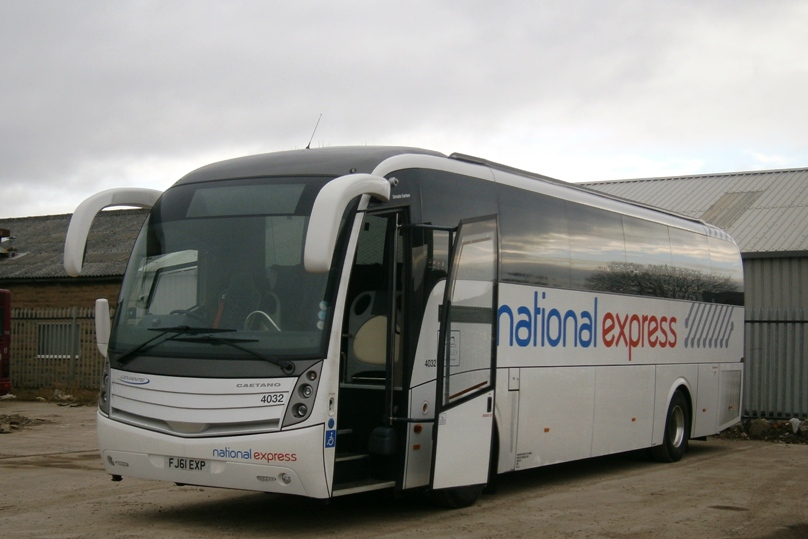 New Levante 4032.
(C) Dan Louch



24th December:
Many thanks to Stephen and the Yourbus Yahoo Group for the info below.

Please see below regs and fleetnumbers for the 15 new Volvo B9R / Caetano Levante II that will enter service on 9th January.

4029 (FJ61 EXM),
4030 (FJ61 EXN),
4031 (FJ61 EXO),
4032 (FJ61 EXP),
4033 (FJ61 EXR),
4034 (FJ61 EXS),
4035 (FJ61 EXT),
4036 (FJ61 EXU),
4037 (FJ61 EXV),
4038 (FJ61 EXW),
4039 (FJ61 EXX),
4040 (FJ61 EXZ),
4041 (FJ61 EYA),
4042 (FJ61 EYC),
4043 (FJ61 EYD).

4029 - 4039 are all at Heanor, with 4040 - 4043 due for delivery on January 3rd. These vehilces are to increase PVR with extra diagrams being taken over from Arriva Midlands & Classic Coaches on services

040 Bristol - London,
310 Southsea - Bradford,
324 Bradford - Paington,
425/435 Newcastle - London,
440 Derby - Leicester - London.

These extra diagrams mean that Yourbus will be operating 10% of the entire National Express network and takes our NX fleet upto 55 vehilces. 4041 will also be the 50th brand new vehilce purchased by the company and is part of 52 brand new vehilces bought this year.

Dennis Darts 1104-1108 have been moved to Tuxford depot for storage.
---
---
Last Months News

News Index Page
---