Bus Fleet News
August 2009
---
Latest News
---
Here you will find all the latest bus fleet news for many bus operators in and around the Derbyshire area. If you have anything to report please contact me by clicking here.
---
Search this site.
Custom Search
---
---
NEWS
June 6th
Former TM travel coach (HF51 CGG) has been re-registered (J2 AOT). Thanks Ian.


---
---
NEWS
16th August:
MPDs 2217/8, 2221/2/3/4 remain in use at Derby. 2223 has had an orange LED fitted. The others have moved elsewhere:

2242 to Burton,
2246/9 to Cannock,
2274 to Shrewsbury (or Wellington).

Olympian 4667 now withdrawn at Derby after its brief spells in both Coalville and Thurmaston.

Scania deckers 4161 and 4194 are on loan to Cannock, and 4161 and 4181 are on loan to Burton. All are short term loans to release single deckers for use on the Shrewsbury Flower Show (route has a low bridge i believe). The future of these buses at Derby is doubtful, as they now operate very few, if any school contracts from Derby.

26th July:
(P168 BTV) now with Bullocks of Cheadle by 6/09.
(VRA 124Y) to Ensignbus Purfleet (dealer) 6/09 ex Cherry Bootle and then on to a new owner in Cambridge for conversion into a mobile home.

MPD 2246 has moved to Cannock.
Volvo B10BLE 3606 has moved from Cannock to Burton.

24th June:
Fleetline 301 (GTO 301) performed a few "farewell" run this Saturday 27th June.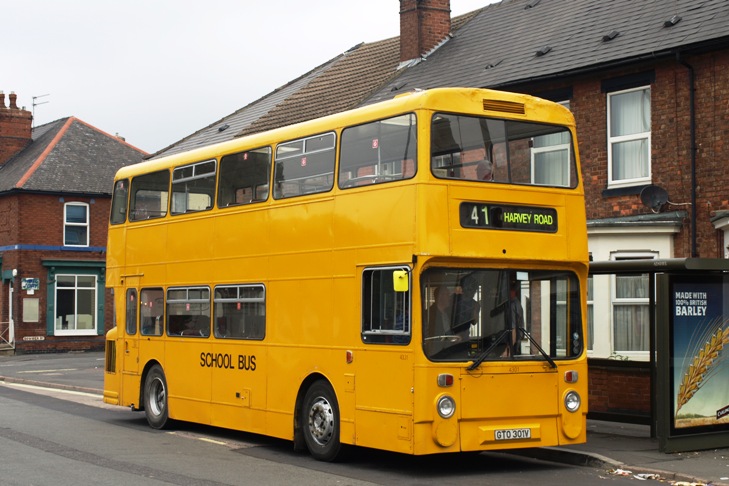 301 on route 41.
(C) Mr Richard Woodhead
---
---
NEWS
6th August
Former Ipswich Solo (X233 MBJ) repainted allover red and numbered 333 is currently being used by Centrebus subsidiary Bowers of Chapel-en-le- Frith on the 27 group of services (Macclesfield- Knutsford) in place on one of the regular SB120/Wright Cadets.

27th July
solo 233 (X233 MBJ) had arrived here.
---
---
NEWS & Sightings
12th August
Dennis Dart SLF / Marshall (R695 MEW) and (R697 MEW) have arrived here. The first still carries legal lettering of former operator Click Services of Skelmersdale, both carry their former red livery with a blue skirt (Metroline).
Solo (MX53 FDZ) has just recently been repainted in the new Bright Green livery.

7th July
Solos (W678 DDN) and (X791 NWX) now carry the new green livery.

2nd June
Two more Darts here are (P304/8 HDP), both painted in fleet livery.


---
---
NEWS
---------
---
---
G&J Holmes

NEWS
------
---
---
Glovers of Ashbourne


NEWS
7th July
Former Blue Star Volvo B10B / Northern Counties Paladin 623 (K123 BUD) has arrived here.

1st May
the latest vehicle to join the fleet is (S602 ACT) a Mercedes Vario mini-"coach". Ex Slacks, Matlock?

---
---
Harpurs Coaches


NEWS + SIGHTINGS

7th July
Metrobus (B809 AOP) is now in reserve.

6th June
Olympians (N594 BRH) and (N595 BRH) have been acquired from East Yorkshire. Both now carry fleet livery. **(N593 BRH) is still at EY not here as previously reported**

---
---
Hawkes Coaches


NEWS
1st May
Another former TWM Metrobus has arrived here, thought to be (B846 AOP). It has been here a month or so now at least!

---
---
Hulleys of Baslow

NEWS + SIGHTINGS
1st May

---
---
Johnson Bros / Redferns


NEWS & SIGHTINGS
22nd August
Several coaches have been acquired:
From West Coast Coaches, Kirkaldy: Volvo B10M/Jonckhere (L942 LBV) and (M667 VAJ) and Scania/Irizaars (SK07 BNF) and (SN57 BMV).
DAF coach (YJ51 EKK) has come from Weaverway, Newbury.
And finally, not a coach, but Olympian (K879 XGS) and a Ford Transit mini (EN08 ECF).

4th July
Bristol VRs now withdrawn are ex Crosville Mark 2 (HTU 159N) and ex Yorkshire Traction Mark 3s (OWE 854R) and (OWE 857R).


---
---
Linburg

NEWS + SIGHTINGS
9th May
---
---
Littles Travel

NEWS + SIGHTINGS
5th June
4 former Trent Olympians are here 12 (B712 HVO), 15 (C715 HVO), 16 (C716 LTO) and 17 (C717 LTO). All have been repainted, and re-registered as follows:
12 (LHZ 6351),
15 (LHZ 6352),
16 (LHZ 6353),
17 (LHZ 6354).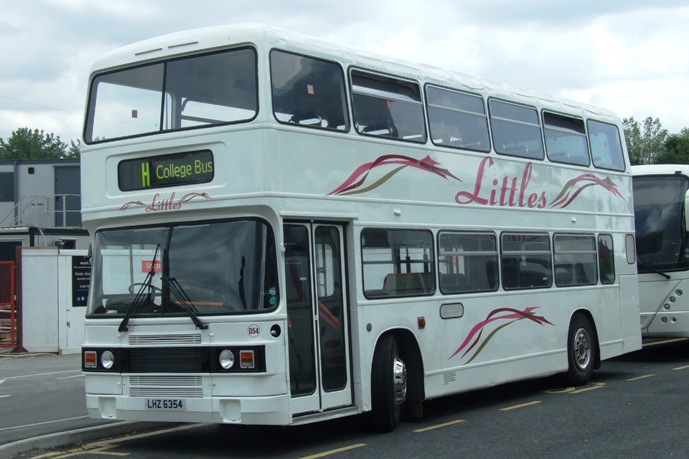 Former Trent Olympian (C717 LTO) now (LHZ 6354) seen here in Derby.
(C) Daniel Stone
---
---
Midland Classic

NEWS
-----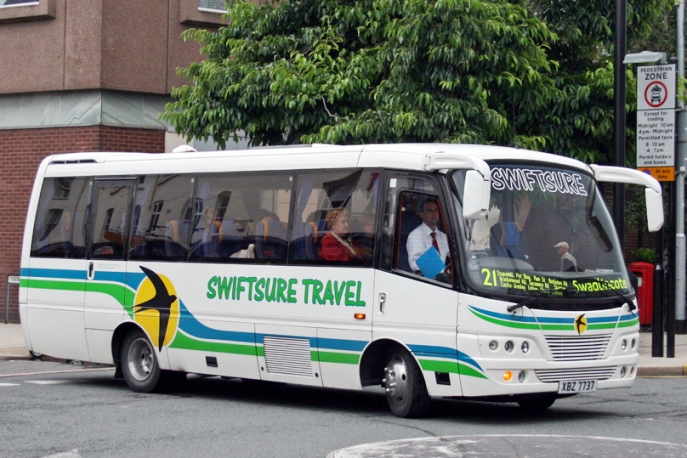 (XBZ 7737) was on loan from Swiftsure on Wednesday 5th August. It is seen here in Burton .
(C) Tony Wilson
---
---
Stagecoach East Midlands
Chesterfield, Mansfield, Worksop

NEWS

Preservation News: Dennis Falcon (TWJ 340Y)

Dennis Falcon (TWJ 340Y) has been purchased by Daniel Shaw and Steve Crossland for preservation. The vehicle will be moving to Sheffield where it will be restored back to its original green and cream, and hopefully being ready for the middle of next year (2010). Express Motors also operated number 42 (TWJ 342Y) aswell as 40 and 41.

22nd Aug

Chesterfield:
More Darts transfered from Yorkshire (one of the Sheffield depots) are Plaxton Pointer 33095 (T965PVR) and East Lancs Spryte 33097 (Y952XRN).

Mansfield:
Former Sheffield Omnibus/Roadcar Olympian/Alexander 14994 (L604 NOS) has been transfered from Lincolnshire.
16719 now transferd to Mansfield, freshly repainted.

Worksop:
16818 (M818 KRH) has had a repaint and transfered to Worksop.

Ten Volvo B10Ms have been acquired from Stagecoach Warwickshire to replace older examples in the the Stagecoach East Midlands Fleet. 5 of these at Worksop are:
20541 (P541 ESA),
20557 (P557 ESA),
20558 (P558 ESA),
20559 (P559 ESA),
20560 (P660 ESO).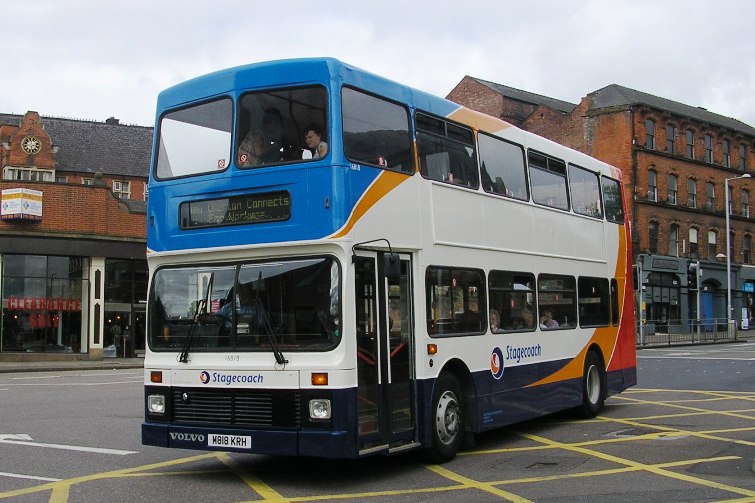 Olympian 16818.
(C) L H Transpot photos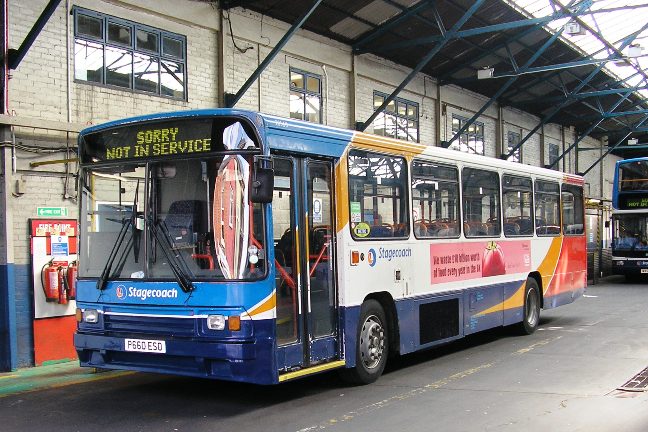 Volvo B10M 20560 (P660 ESO).
(C) L H Transpot photos
---
---
TM Travel


NEWS
6th August:
Olympian (R32 LHK) is here to stay. It is currently being painted.

5th June:
A further ex Dublin Olympian has arrived here, (R32 LHK).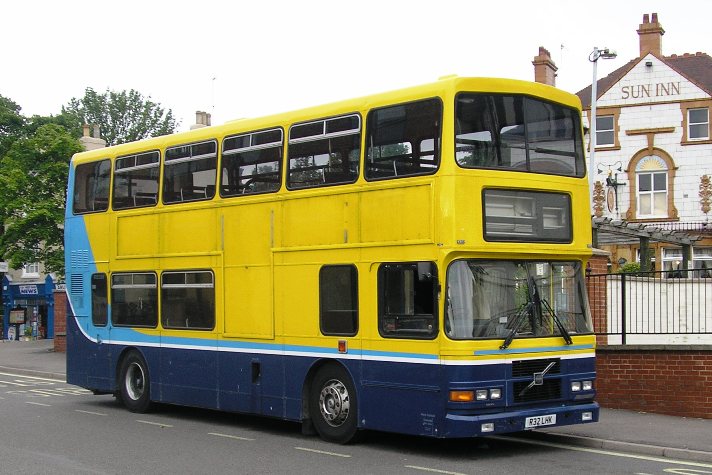 Olympian (R32 LHK) in use in Chesterfield.
(C) L H Transpot photos
---
---
Translinc
NEWS
:
---
---
The Wellglade group
NEWS
22nd August:
A surprise sale is of Dart 946 (T946 BNN) to Redline, Aylesbury. Sold straight out of service.

Calverton Scania 627 has been at Loughborough, but has not yet been painted. All 6 former Calverton Scanias are to transfer to Kinch in the next few weeks.

Vario 290 has recieved 288s engine. 288 is being broken for parts after its (very) low bridge incident.

Villager Dart 943 at Meadow Road in A garage - being prepared for sale or further service perhaps?

All 9 former R2 Scanias are expected to go to Dove Holes for the Skyline 199 service, 7 branded 2 spare. The current spares, Excels 225/6 can then be used on the town services displacing Darts 928/32.

932 is back in use at Dove Holes (for now - reported withdrawn last week). It had no destination blind fitted, believed to be in 901 which is on loan to Dove Holes.

Former pronto Excel 254 repainted red and based at Sutton. 255-7 should be going onto amberline soon.

16th August:
456 is at Langley Mill being repainted for the Royal for the extra peak time journeys. Solo 423 is on loan whilst this is away (one less bus needed on Ruddington Connection now the City loop is not operated).

Lothian Olympians 22, 23 and 25 have had the front ends painted by hand at Meadow Rd - they may be fully painted by September!

905 being broken for spares.

Barton are to operate a new "Centre Link" service in Nottingham from 7th September, linking the Victoria and Broadmarsh shopping centres via Old Market Square.

12th August:
The 6 Citaros entered service last Sunday on the Calverton Connection service.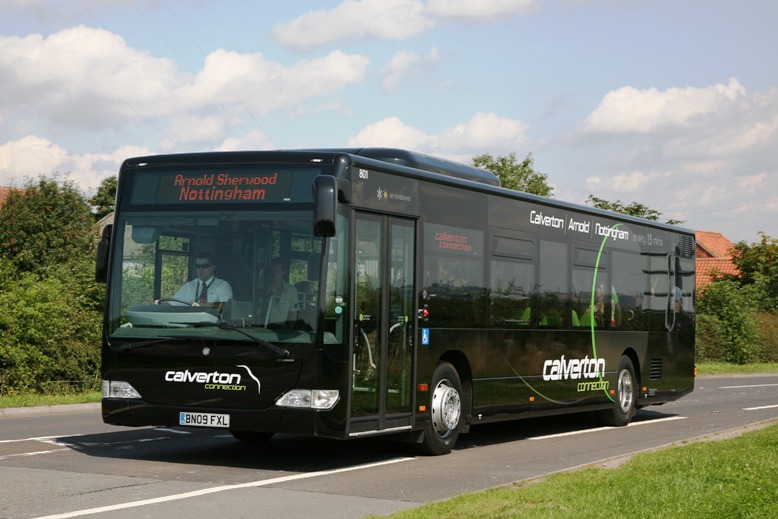 Citaro 801 (BN09 FXL) on its first day in service.
(C) Stephen Whiteley

5 Volvo Olympians with Alexander Royale bodywork have arrived from Lothian. They are:
21 (N402 GSX)
22 (N404 GSX), (406 not here as previously listed)
23 (N407 GSX).
24 (P409 KSX),
25 (P410 KSX),

The former 23, ECW Olympian (C723 NNN) is now numbered 17.
Citybus 39 (B139 GAU) has been renumbered as number 9.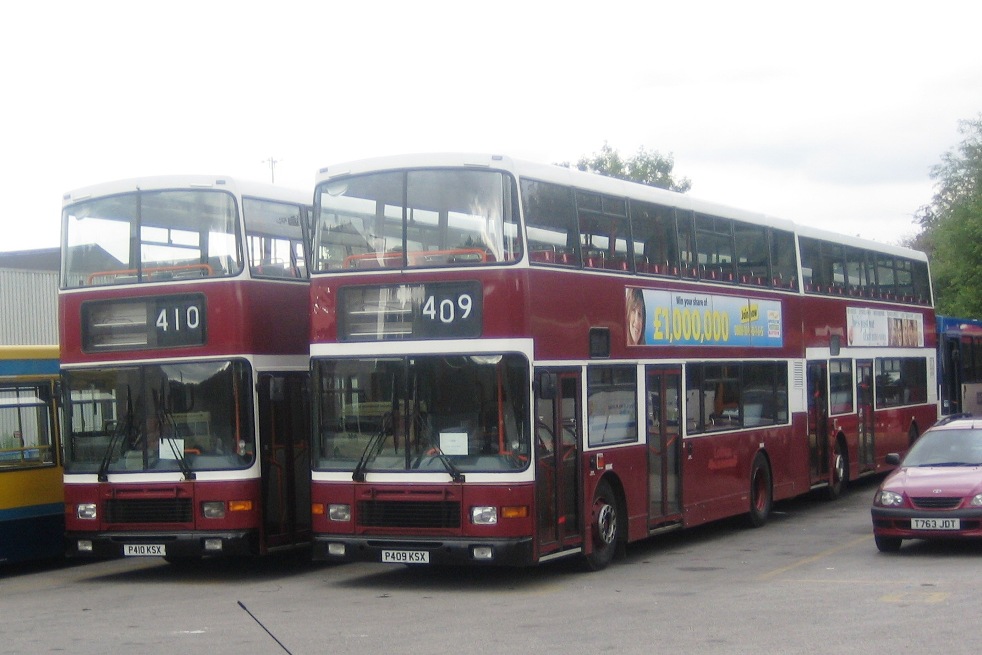 Former Lothian Olympians (P409/10 KSX) at Meadow Road.
(C) DBD

The 6 black Mercedes Citaros for the Calverton Connection service hit the road this Sunday, 9th August. The 6 buses are:
801 (BN09 FXL)
802 (BN09 FWV)
803 (BN09 FWW)
804 (BN09 FWX)
805 (BN09 FWY)
806 (BN09 FWZ).

Sixes Scania 690 was involved in an RTA on Tuesday 4th August - the bus ended up in a ditch and has suffered some accident damage. It is expected to be off the road for a few months. Thankfully no one was injured too seriously in the incident.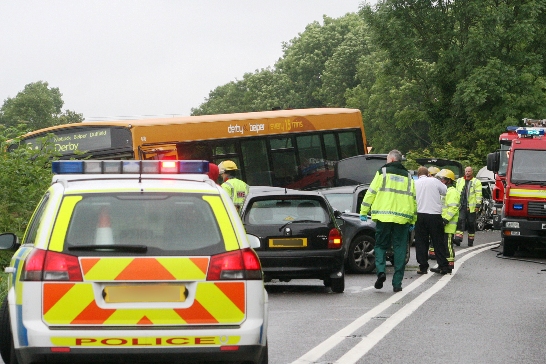 690 following its accident.
(C) Matlock Mercury Click here for more on this story



Excel 235 is on loan to Nottingham.

26th July:
Solos 406-10 are reported as sold to Nottingham City Transport!
Paladin 107 has been repainted into notts + derby livery.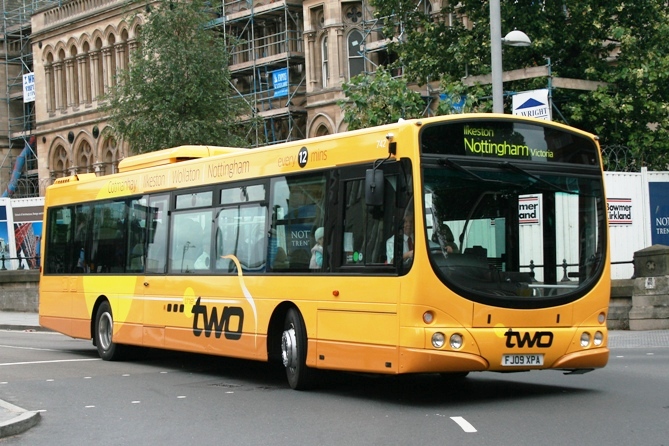 "the TWO" is now the new name for the Rainbow 2 route. 742 is seen here on its first day in service.
(C) South Yorkshire Transport Photos
---
---
Last Months News

News Index Page
---