Bus Fleet News
March 2009
---
Latest News
---
Here you will find all the latest bus fleet news for many bus operators in and around the Derbyshire area. If you have anything to report please contact me by clicking here.
---
Search this site.
Custom Search
---
---
NEWS
February 26th
Brand new Volvo B12 / Plaxton coach (YN58 NDF) has not yet been used, so has been re-registered as (YN09 AOT) ready for March.


---
---
NEWS
24th March:
Dart 2195 has been withdrawn.
Dart 2092 (L302 NFA) is on loan here.

The following 11 new Omnicitys have arrived at Ascot Drive:

3567 (YT09ZBL),
3568 (YT09ZBN),
3569 (YT09ZBO),
3570 (YT09ZBP),
3571 (YT09ZBR),
3572 (YT09ZBU),
3573 (YT09ZBV),
3574 (YT09ZBW),
3575 (YT09ZBX),
3576 (YT09ZBY),
3577 (YT09ZBZ).


18th March:
Olympians 4625/39/41 are with Arriva North East (Darlington). 4640 is now at Cannock.

22nd February: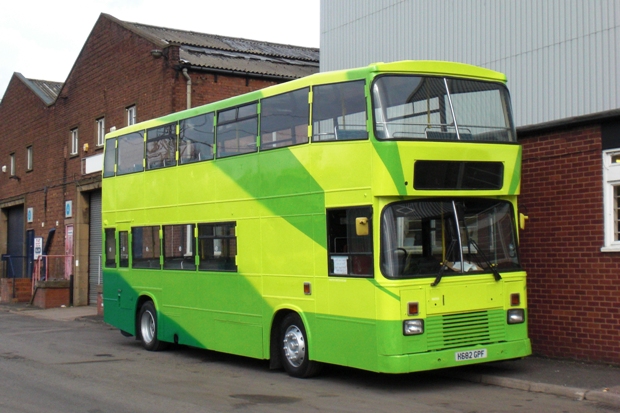 Two of the former London & Country Volvo Citybuses 4393/4333(H658/82 GPF) have been sold to the green transport company. (H682 GPF) is shown above.
(C) Tom Graham http://bus.fotopic.org.uk/

Other former Derby Citybuses have also moved on:
4331 (H674 GPF) is now with Cass, Moreton, Wirral - acquired via Stafford Bus Centre.

As an aside, ex Midlands Scanias (M168/74/5 GRY) are now with Vale Travel.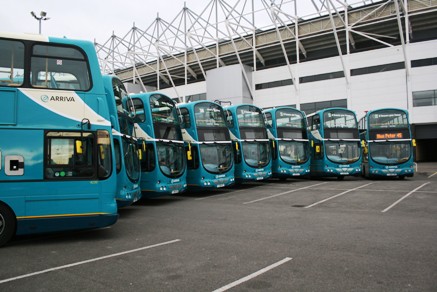 New Volvo / Wrights at Pride Park. From left to right, 4220/21/22/19/08/11/09/13.
(C) Dave Allen

The 9 DAF/ East Lancs Lowlanders have been withdrawn, and are expected totransfer to Soutgates garage (Leicester).
Olympian 4607 has been withdrawn. 4625, 4639, 4640, 4641, 4642, 4643, 4653 and 4668 should also now be withdrawn.

The 17 new Volvo / Wright deckers now in service here are:

4208 (FJ58 KXF)
4209 (FJ58 KXG)
4210 (FJ58 KXH)
4211 (FJ58 KXK)
4212 (FJ58 KXL)
4213 (FJ58 KXM)
4214 (FJ58 KXN)
4215 (FJ58 KXO)
4216 (FJ58 KXP)
4217 (FJ58 KXR)
4218 (FJ58 KXS)
4219 (FJ58 KXT)
4220 (FJ58KXU)
4221 (FJ58KXV)
4222 (FJ58KXW)
4223 (FJ58KXX)
4224 (FJ58KXY)

---
---
NEWS
24th March
609, 610 and 612 have been repainted into a revised Cheshirebus livery.
Varios (R823 MJU) appear to have been withdrawn. It was parked with (LKZ 3614) in the Centrebus yard at Hinckley early last week. Both retain Bowers fleet names.

14th January
Ex Woods Vario / Alexander (LKZ 3614) is here. Bowers names are applied on the blue livery.

29th December
Vario (Y131 TBF) has had new style "Bowers buses" names applied to the Centrebus livery.


---
---
NEWS & Sightings
22nd February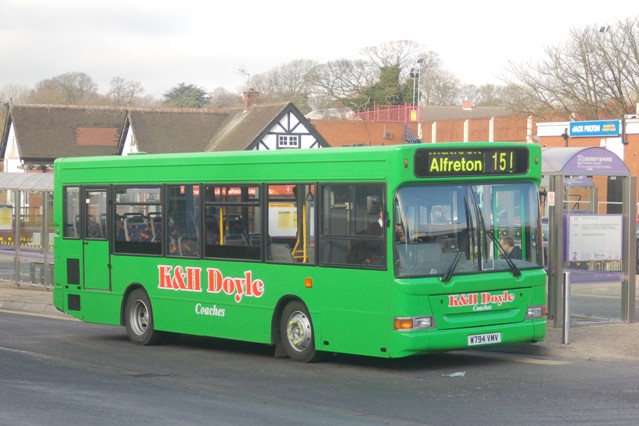 (W794 VMV), one of two MPDs purchased in February is seen here in Alfreton, painted in a new livery.
(C) John Moore

At least 2 green Mini Pointer Darts, (W793/4 VMV) have arrived here. Thanks to Mr Moore for this information.


---
---
NEWS

Tuesday 27th January


Felix the cat banished from the buses!

You may have noticed that the Felix the cat character, synonymous with the company for several decades, has begun to disappear from the Felix buses. The statement below explains:

"The cat logo is being removed from our buses, coaches and publicity material as a result of a threat of legal action by Felix the Cat Creations Inc. in the States. They have asserted that they own world copyright and trade mark for any feline image used with the name Felix. Although they have not provided documents to suppport their claim, we do not have the resources to go to court to prove the case either way. Therefore we have given in, and we shall no longer be using a cat logo".
---
---
G&J Holmes


NEWS
12th March
New here is Cheetah (YN09 AOJ). This has replaced (YN53 VBP).

Sun 30th November
The order for two more Solos has been cancelled.
Mercedes 0814 / Plaxton Cheetah (YN58 FYJ) is the latest arrival, in the smart silver livery. Berkhof bodied Volvo B10M (N901 ABL) has gone to Kirkby dealer in part exchange.
Optare Solo (YJ55 YGZ) is back after extensive accident repairs, following an incident during September.
Thanks to Andy bagshaw for the above.

---
---
Glovers of Ashbourne


NEWS
12th March
new here is (K661 VNF), a red Mercedes Benz mini coach.

---
---
Harpurs Coaches


NEWS + SIGHTINGS

18th Dec
Two more Volvo / Plaxton coaches have joined the fleet. (P51 JJU) is plain white, and the second is thought to be (P338 JJU). Both are from Yeates, Loughborough.

30th July
A new addition to the preserved fleet is former Derby Corporations Crossley 111(CRC 911)!

---
---
Hawkes Coaches

NEWS
-
---
---
Hulleys of Baslow

NEWS + SIGHTINGS
9th March
The Scania / Van Hool number 3 (M222 DDY) has finally been sold in a part exchange for Dennis Dart SLF / MCV Evolution (B40F) (PL06 TGE). The later is currently painted white. It has been in use on schools, but should be painted before it is used on regular service work. The Optare Excel is likely to be withdrawn as a result of the MCVs arrival.

The Vario in the fleet should be replaced by a new Optare Solo (MAN) in April.
---
---
Johnson Bros / Redferns


NEWS & SIGHTINGS
22nd February
3 Spectras have been sold to Beaverbus, Leicester (not Macphersons as reported last month).
A 4th Spectra, (K306 FYG), has been sold to M Travel, Huddersfield.
A new arrival at Mansfield Woodhouse is Alexander bodied Olympian (G213 SSL), which has arrived from Stagecoach bluebird.
Many thanks to Duncan Binghamfor the above.
---
---
Littles Travel

NEWS + SIGHTINGS
24th March
A low floor double decker has arrived here for the Nottingham college link contract. It is Volvo B7TL / East Lancs Lowlander (GX55 NHY). It was previously operated in Ireland as (06-D-22209) by Circleline, Naas, Ireland.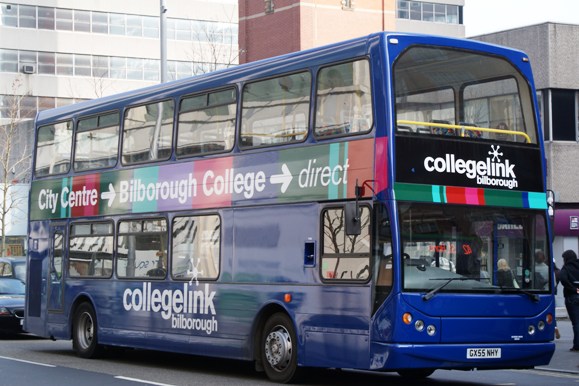 The latest addition to the fleet is (GX55 NHY).
(C) Perry Jest



28th January
Delta (RIB 7017) has left the fleet, and is currently for sale on ebay. This vehicle was in service with TM travel prior to going to Littles.
Van Hool coach (S53 VGV) and Beaulas (FJ03 ZZT) have also departed.
The new Scania PB, that was to PB58 LTL is delayed and will now be (PB09 LTL).
A recent addition to the fleet is Scania PB, (YN08 OBX).

17th Dec
The former stagecoach double deck coach (T35DFC) is now in fleet livery.
---
---
Midland Classic


NEWS

28th January
A new addition to the fleet is 12 (L112 YVK), a Dennis Dart/NC Paladin, ex South Eastern Coachworks.
Lynx (J657 UHN) is currently here on loan.


---
---
Stagecoach East Midlands
Chesterfield, Mansfield, Worksop

NEWS
20th March
The second ex Rapsons Excel, 35025 is now in service in Chesterfield.
Volvo/Jonkhere coach (S670 RWJ) is back at Chesterfield and repainted into unbranded training livery.

17th February
Former Rapsons Excel 35023 (JAZ 9851) is now in use at Chesterfield. The second one, 35025 (P937 SSK), should be out soon. Thanks Dave.

Chesterfield Transports Spire Sprinter 16 (J216 AET) is now preserved. It should be painted in Spire Sprinter livery later this year - look out for it at rallies.

The Stagecoach Yorkshire National Express Fleet and Operations have moved to Chesterfield Depot. This has meant that most if not all vehicles in store at Chesterfield have been moved on elsewhere, or in most cases scrapped. Vehicles scrapped include Mercedes Varios, Mini Mercs & Plaxton Pointer Darts. The tri-axle Olympians have been moved for store at Holbrook.

19th January
Olympians 16490/91/93 (N140/41/43AET) and 16497 (P152KWJ) have been transfered to Lincolnshire. Of these, 16491/43 are at Skegness.
Dart/Plaxton Pointer 32364 (R714YNC) has been reinstated and is used for PCV CPC training.


---
---
TM Travel


NEWS
9th March:
A new coach here is (YN09 AOS).
An Olympian, with an Irish plate, reported at Halfway garage, painted in the new style livery thats carried on the majority of the single deck fleet.

4th March:
Former Arriva, Alexander bodied Leyland Olympian (J353 BSH) has arrived here in Arriva livery.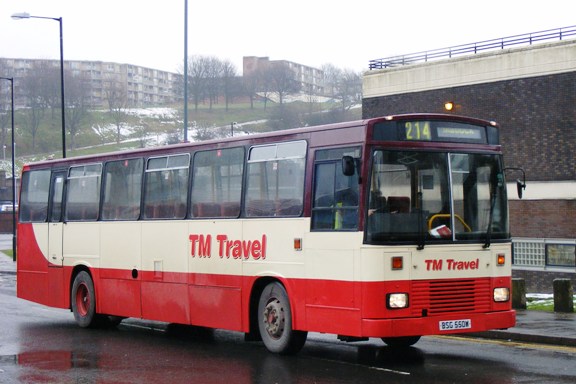 The latest repaint is Leyland Tiger (BSG 550W), re-bodied by East Lancs, seen here in Sheffield.
(C) Ian Moorcroft

.
---
---
Translinc
NEWS
:
---
---
The Wellglade group
NEWS
24th March:
2 new brown Solos have been delivered to Sutton garage - thought to be (FJ09 MVR/T) or similar.
Former trent Vario 283 (R283 RAU) is now in Glasgow with Morrow.

18th March:
ECW Olympians 15 and 17 remain in service.
The 8 new, posh Wrightbus Volvos entered service last Sunday on the Mickleover.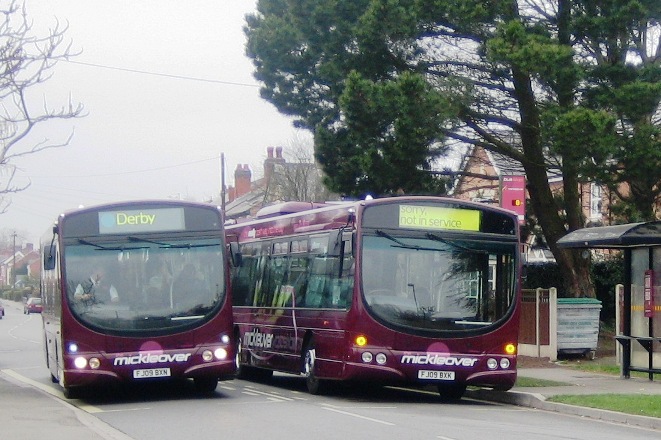 733 passes 730 in Mickleover. (C) -
12th March: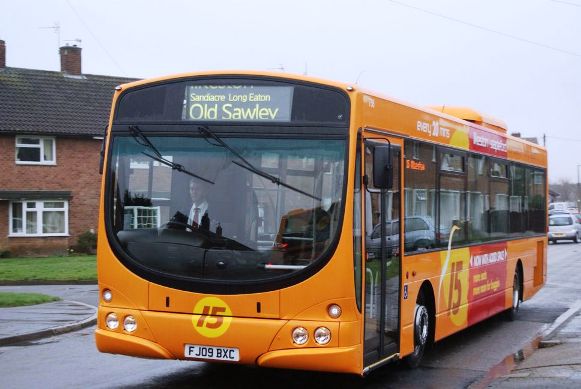 The new Wrightbus bodied Volvos entered service on route 15 this week. Here is 738. Just in case you didn't realise, part of the new vehicles are painted red. This is to promote the extra space available when compared to the Solos that were used previously.
(C) Perry Jest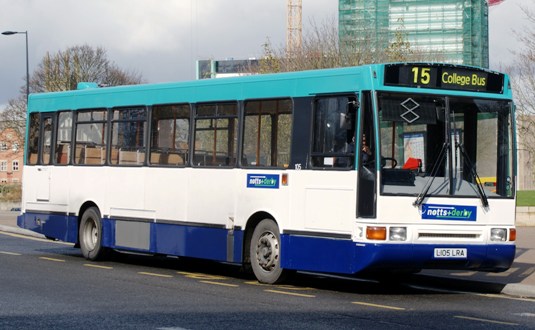 Paladin 105 has recently had a partial repaint at Meadow Rd. This is the result.
(C) Perry Jest

9th March:
The 5 Olympians purchased from Lothian are:

10* (J864 TSC),
11* (J865 TSC),
12 (J871 TSC),
15* (M212 VSX),
16 (M214 VSX). (*=fleet number not confirmed)
16 (M214 VSX), one of the latest arrivals from Lothian, seen here in Derby.
(C) John Moore

Former H1 Solo 433 has been painted into trent barton livery. This remains in service at Langley Mill.

4th March:
5 Olympians have been purchased from Lothian. 4 are currently at Langley Mill, whilst 1 (M214 VSX) is at Meadow Rd.

The Leicester Skylink service will be operated by Kinchbus from the begining of April. The service will be incorporated into the Skylink Derby Loughborough service, with one journey per hour extended to Leicester. At least one additional vehicle will be required. The new service, named Derby Leicester Skylink, starts on April 1st - and its not an April fools!

Route 15 is to be re-launched this Sunday, 8th March, with 5 brand new Volvo single deckers with the familiar Wrightbus bodywork. These will be numbered 736 - 740 (FJ09 BXA-E). They are fitted out to the same specification as the Indigo vehicles including leather seats, air con, and wood look floors. The Mickleover is to receive 8 vehicles from the same batch (728 - 735) later this month.

22nd February:
Volvo / Alexander Q type (ex Transpeak) 51 (M51 PRA) has been reunited with 52 at Coach Services, Thetford.
---
---
Last Months News

News Index Page
---