Bus Fleet News
April 2008
*Sightings of buses on unusual routes will no longer appear on this page. They can be posted by anyone in the sightings area of the Forum. This can be accessed by clicking here (will open in new window). Hopefully this will make the Fleet News more prominant on this page!
---
Latest News
---
Here you will find all the latest bus fleet news for many bus operators in and around the Derbyshire area. If you have anything to report please contact me by clicking here.
---
Former Hulley's of Baslow MCW B47D bodied Leyland Panther (PSUR1A/1), (RKA 955G) which for the last quarter of a century has been in use as a roadside cafe alongside the A6 between Ambergate & Whatstandwell has been sold to the Merseyside Transport Trust for £500. It was collected on the morning of Thursday 7th February and is believed to be used as a source of spares to assist in the restoration of Liverpool Corporation 1054, (FKF 933G). (RKA 955G) was of course new to Liverpool Corporation as a total of 110 new to that operator.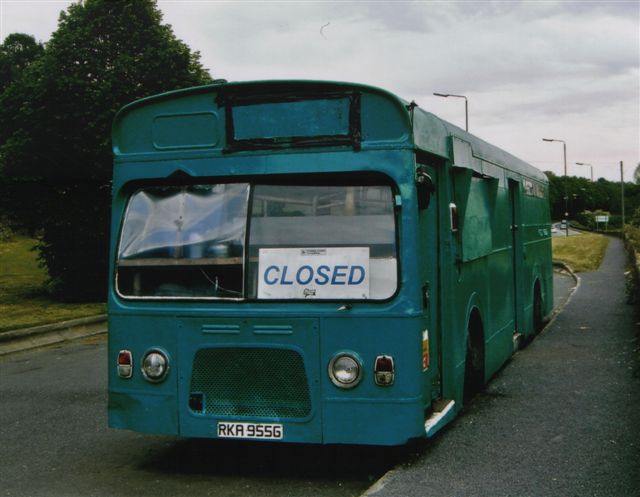 Leyland Panther (RKA 955G) in its final year as a roadside cafe in Ambergate.
(C) Andrew Bagshaw
---
---
NEWS
Wed 9th Jan:
Setra (VIL 7179) has been traded in for TM Travel Volvo Plaxton (HF51 CGG).
Volvo Plaxton (EAZ 2598) is shortly to be repainted into fleet colours.

The latest bus here is Scania K93 / Plaxton Derwent (RIL 4615). Its in a dark blue livery. Thanks Ian.
---
---
NEWS
22nd April:
Citybus 4336 (B136 GAU) has been withdrawn.
Minibus 1381 has also been withdrawn and replaced by Vario 1159 (R159 UAL).

5th April:
Blue Enviro 400 demonstrator (SN56 AWW) is on loan here, and has ben in use on the 40 / 41.

1st April:
DAF 4745 has returned from repaint, and has also had new orange LED destination displays installed. 4739 and 4742 have had the same treatment. All 9 should be completed ready for use on the 44/45 in October.

30th March:
The first three Omnilinks reported at Ascot Drive are thought to be numbered 3810-2 (YN08 HZX/Y/Z).
Fleetline 4301 is expected to be withdrawn before the summer.

21st March:
It has been announced that a total of 59 new buses will enter service in Derby within the next year.

23 Scania Omnilink single deckers will be in service by October, a quantity of which are intended for use on the Nottingham Road corridor to Chaddesden and Oakwood (currently routes 20, 22, 24 and 26). The displaced DAF / EL Lowlander deckers are expected to be used on 44 and 45 to Alvaston.

8 "midibuses", likely to be slimline Optare Solos, are also expected to arrive in time for October for use on routes 28 to Mackworth and 32 to Littleover.

By February 2009, 17 new double deckers are expected to have arrived for use on Sinfin routes 37 and 38, and also route 29 to Mackworth. 11 brand new single deck buses are due at the same time for Chellaston services 60 and 61.

The official press release can be found HERE

SIGHTINGS
Sightings will no longer appear on this page. They can be read and reported by clicking HERE

---
---
NEWS
Mon 25th February:
The Mercedes Plaxton beavers here is in fact (M70 TGM), from the Centrebus fleet, NOT (N70 TGM)!
---
---
NEWS & Sightings

9th April
Minibus (H198 JVT) has been withdrawn (engine now in (M455 EDH)!) and replaced by former Fox County Vario (R167 UAL).

---
---
NEWS

April 22nd:
The new Centro is now in service and has fleet names applied.

April 16th:
The new VDL Plaxton Centro here is (YJ08 EFL). It is now in service minus fleet names. The fleet names will be similar to those on the 56 plate Centro.
Lynx (E263 TUB) is now officially withdrawn. (E260 TUB) is still in use, but For Sale.

March 1st:
A new VDL / Plaxton Centro is due here this month.
Lynxs (E260/3 TUB) are for sale.

---
---
G&J Holmes


NEWS
Fri 29th Feb
Two more slimline Solos are expected here later this year. They would replace Vario (YN54 XXP) and long Solo (YG55 YGZ). Thanks Andy.

---
---
Glovers of Ashbourne


NEWS
March 29th
Acquired is Volvo B10M/Plaxton coach (L979 UAH).
Cheetah (W635 MKY) is new here.

---
---
Harpurs Coaches


NEWS + SIGHTINGS

Tues 18th Dec
New here from Burtons, Haverhill is Volvo B10M / Plaxton (T300 BCL). It still carries its former operators livery. Thanks Chris.

---
---
Hawkes Coaches


NEWS + SIGHTINGS

March 2nd
Metrobus (ROX 646Y) has arrived here from Travel West Midlands.

---
---
Hulleys of Baslow

NEWS + SIGHTINGS
Wed 16th April
The new MAN Centro here is (YN08 JWY).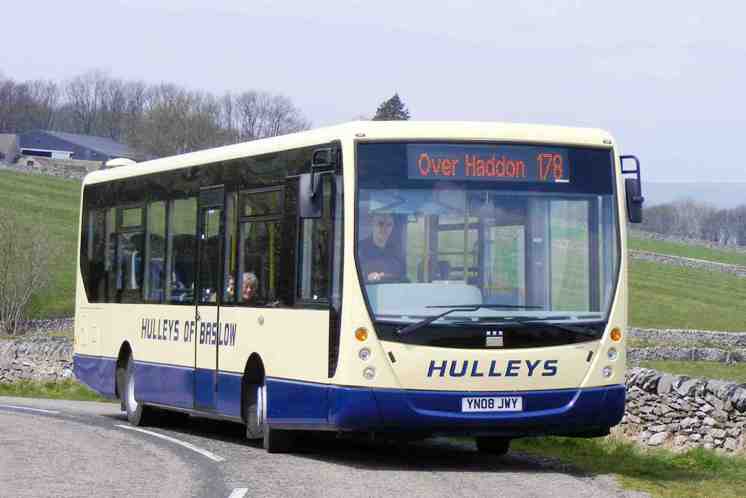 Hulleys new MAN / Plaxton Centro, on 178 to Over Haddon.
(C) Ian Moorcroft



Sat 15th March
The new Centro is now not due until week commencing 7th April.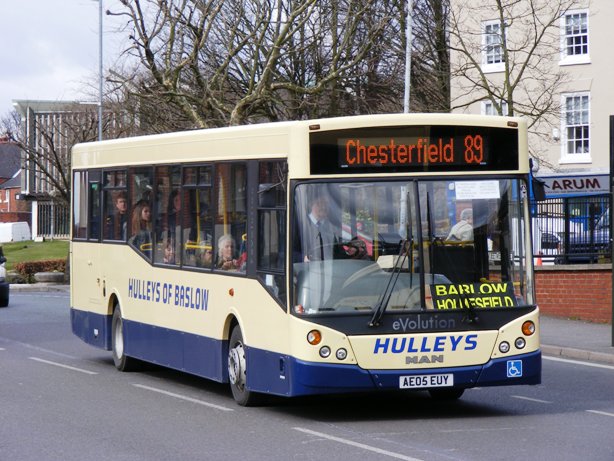 Hulleys now operate route 89.
(C) Ian Moorcroft

A new MAN / Plaxton Centro is due here by the end of next week. It will be number 3 in the fleet, replacing the Scania / Van Hool coach.
Dennis Lance 15 is currently away at CSG for extensive repairs following an RTA.
Thanks Ian.
---
---
Johnson Bros / Redferns


NEWS & SIGHTINGS

19th April
MAN double deck coach (T616 DWL) is due to be painted green soon. Olympian (G762 UYT) has gone for painting.
The remaining (TSO-X) Olympian appears to have been dragged to the edge of the field suggesting imminent disposal. Only one scrap (OWG-X) Olympian remains with (OWG 607X) still in service. Many thanks to Adrian for the above information.

---
---
Littles Travel

NEWS + SIGHTINGS
-

---
---
Midland Classic


NEWS
5th March
Dart 55 (R505 SJM) has returned to service following repaint.
Metrobus 78 (GBU 7V) is now in service after being repainted.


---
---
Stagecoach East Midlands
Chesterfield, Mansfield, Worksop

NEWS
22nd April
The 6 new MANs due at Chesterfield will be numbered 22612-22617
6 tridents are expected for the Mansfield fleet.

18th April
Chesterfield
Some single deck Enviros are due here soon. They will be branded for the improved service 43. They should be on the road by 28th April.
28th April also sees route 243 transfer from Chesterfield to hobrook garage (Sheffield). This is likely to see some of the older salloons leave the Chesterfield fleet.
Volvo B10M (L340 KCK) has lost its all over B line advert, and has been repainted in to Stagecoach livery. Thanks Jack.
The remaining K1xxSRH darts have been withdrawn, save for (K118 SRH). Thanks Dave.

Worksop
Of particular interest in Worksop is the arrival of Dennis Dart/Alexander Dash (K713 PCN) to the fleet. Some may remember that this vehicle worked in Chesterfield during 2006 before re-allocation alongside other Dart/Dash combinations (J506 FPS) and (J507 FPS). Thanks Dave.

SIGHTINGS
Sightings will no longer appear on this page. They can be read and reported by clicking HERE

---
---
TM Travel


NEWS
April 22nd:
Another new coach here is (YN08 NKW).
Vario (S276 LGA) is now in service with Vales of Manchester.
Olympian (G531 VBB) has had a repaint (same livery as before).
Varios (R668/71 LFV) have been withdrawn and are likely to depart soon.

April 19th:
Further news is that Wessex Connect Olympian (P350 ROO) has arrived here.
The move to the Sheffield Halfway depot is now scheduled to take place in May - some vehicles are already in store there. Thanks Adrian.

April 18th:
The ex-Lothian Olympian here is (J854 TSC). This still wears Lothian Maroon and White livery.
ALexander ALX100 Vario (T455 HNH) may be set to have a repaint!
Fleet names have been applied to at least one of the plain white MAN / Centros that recently arrived here. They will be painted into TM livery eventually.
The Numberplate from Volvo B10M/Van Hool Coach (1294 RU) has now been given to VDL DB250 / ELC Lowlander (YJ53 VBM). Thanks Jack.

April 5th:
The coach fleet is expected to be cut back very soon.
Two former Cardiff bus Excels (R*** DKG) have arrived here (via another operator).
Northern Counties Olympian (P335 ROO) has arrived here, but has been returned to the dealer.
A former Lothian J reg Olympian arrived here, with 2 more expected soon.
Ex Nottingham Volvo B10B Alexander Strider (M664 KHP) and Plaxton Verde (N779 DRH) have gone to Ensigns (dealer), along with DAF SB220/Paladin (KUI 9267).
Olympian/Optare (E152 OMD) has been sold for scrap.
Tiger/Plaxton (A111 TRP) was withdrawn through engine failure and us currently engineless.

April 1st:
New buses here are: Optare Versa (YJ08 PFN) (B40F) in new style livery, and MAN/Plaxton Centros (YN08 JWC/D/E), (B38F).
Solo (R13 DBY), (B27F), has arrived from Redby, Sunderland. Thanks Adrian.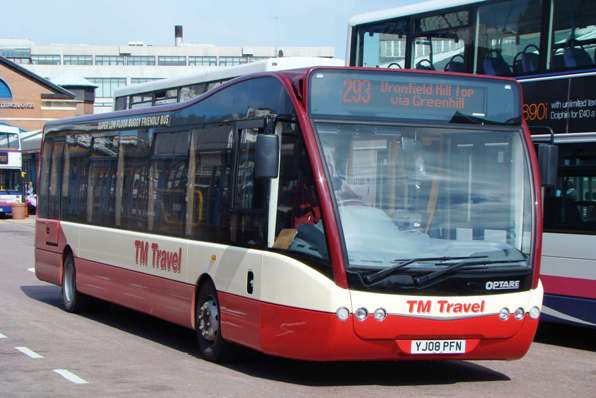 TM Travels new Optare Versa in Sheffield.
(C) South Yorkshire Bus Photos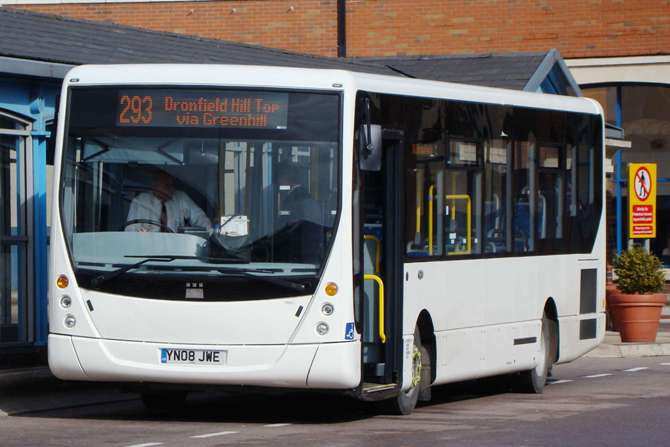 MAN / Plaxton Centro (YN08 JWE) entered service in plain white livery, along with two others. All will be painted soon!
(C) South Yorkshire Bus Photos



March 23rd:
New white Plaxton coach (YN08 DNU) has arrived here.
Tiger coach (A111 TRP) is now withdrawn.
Former South Notts (K482 GNN) has been repainted into the same livery it was in before (not new style).
Excel (R379 DJN) is off with engine trouble!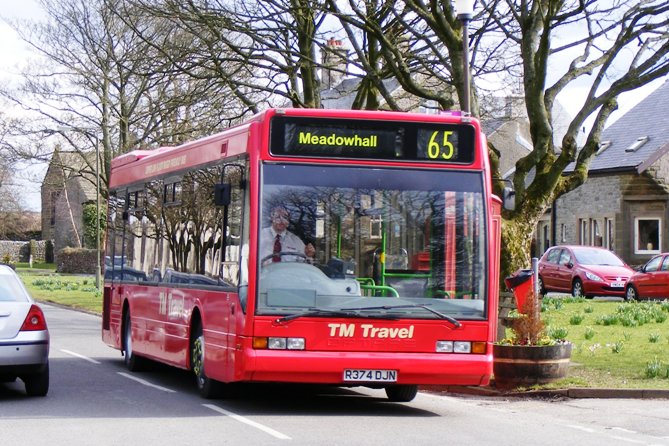 TM Travel Excel (R374 DJN).
(C) Ian Moorcroft
---
---
Translinc
NEWS
:
---
---
The Wellglade group

NEWS
22nd April:
Former Kinch Airline Shuttle Darts 907 and 922 are on loan to Derby due to a bus shortage. Excel 900 is on loan to Sutton (Ashfield).
Vectas 808 and 811 are going to carry passengers again! Maythorne Farm, Southall are to use them as passenger carrying trailers - pulled by a tractor.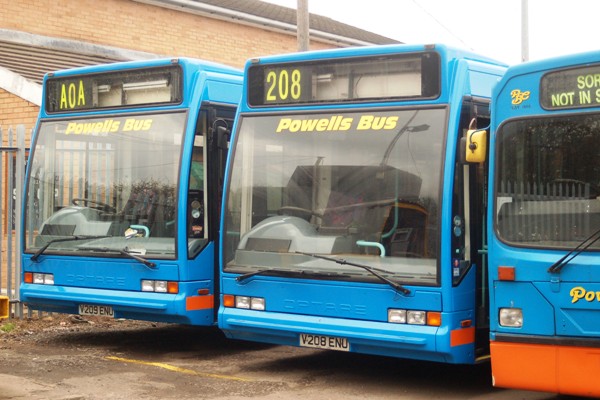 Excels 208/9 (V208/9 ENU) are now with Powells.
(C) John Moore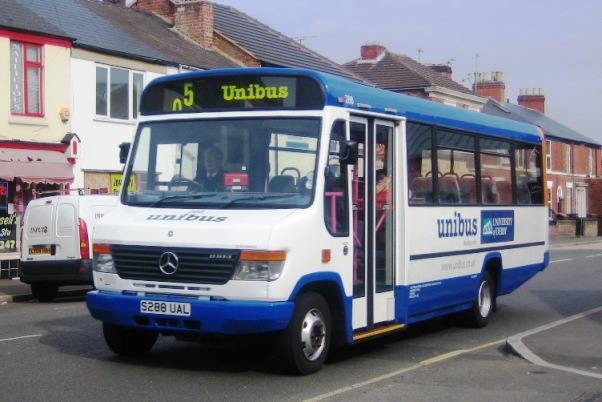 Former Kinch Vario 288 (S288 UAL) has been painted into Unibus livery for route 5. It is seen here on Ashb ourne Road in Derby.
(C) DBD



16th April:
Excels 208/9 (V208/9 ENU) have turned up at Powells. They have been painted in their blue and orange livery, but are not yet in service.
It is still not known where Paladin 120 (L120 LRA) has been sold to. Ideas anyone?
For those interested, the former Trent Excel shown operating in New Zealand in buses mag, is former Rainbow 1 185 (T185 LCH) - now registered (CQU 981) and fleet number 136 in NZ.

16th April:
Kinch minibus 822 is on loan to notts + derby.
Minibuses 288 and 49 have returned from repaint, and carry the blue, white and orange Unibus livery..
The regular sixes Scanias are now back on the 6.1, after last weeks road closure.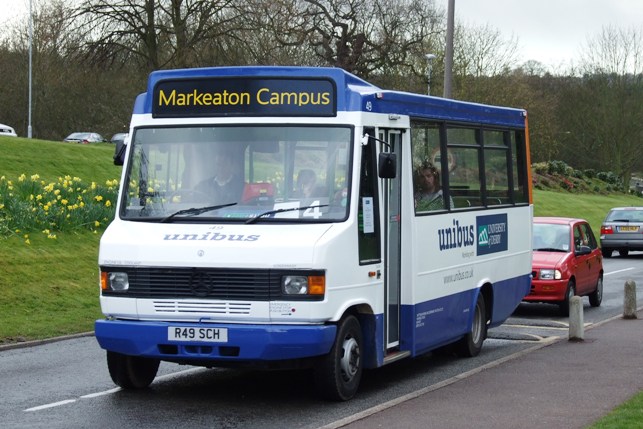 Daisy at University - yes Minibus 49 is Daisy....
(C) Daniel Stone



2nd April:
One of the Kinchbus Centros on Airline shuttle has crashed into a skip.
Minibus 49 should re-appear in Unibus livery for route 4. 44 may be painted too. Vario 288 may also be painted, into N+D livery.
Due to a road closure in Blackbrook, smaller buses will be used on the 6.1 sixes service from 7th April, for aprrox a week and a half.

30th March:
891/2, the 2 step entrance Darts that were with N+D, are now withdrawn at Langley Mill.
Excel 227 is again off the road, after another RTA. Tempo 307 is back in service.
Airline Shuttle Darts are stored in the yard at Loughborough garage. Minibus 822 is still there operating in service!

Anyone know where Paladin 120 is now? It has been sold. Excels 208/9 have also been sold (Powells?).

26th March:
Minibus 49 has gone for repaint! It should return in N+D or Unibus livery.
Dart 910 is now withdrawn, and parked up at the Kinch garage in Loughborough.
The new livery for Red Arrow has been revealed. It can be seen by clicking HERE. Coach 67 has been painted in this livery, and work is currently being carried out on the interior.
Paladin 120 is thought to have been sold.
Varios 297 and 298 and step entrance Darts 891/2 are also for sale. SIGHTINGS
Sightings will no longer appear on this page. They can be read and reported by clicking HERE
---
---
Last Months News

News Index Page
---