Bus Fleet News
March 2008
*Sightings of buses on unusual routes will no longer appear on this page. They can be posted by anyone in the sightings area of the Forum. This can be accessed by clicking here (will open in new window). Hopefully this will make the Fleet News more prominant on this page!
---
Latest News
---
Here you will find all the latest bus fleet news for many bus operators in and around the Derbyshire area. If you have anything to report please contact me by clicking here.
---
Former Hulley's of Baslow MCW B47D bodied Leyland Panther (PSUR1A/1), (RKA 955G) which for the last quarter of a century has been in use as a roadside cafe alongside the A6 between Ambergate & Whatstandwell has been sold to the Merseyside Transport Trust for £500. It was collected on the morning of Thursday 7th February and is believed to be used as a source of spares to assist in the restoration of Liverpool Corporation 1054, (FKF 933G). (RKA 955G) was of course new to Liverpool Corporation as a total of 110 new to that operator.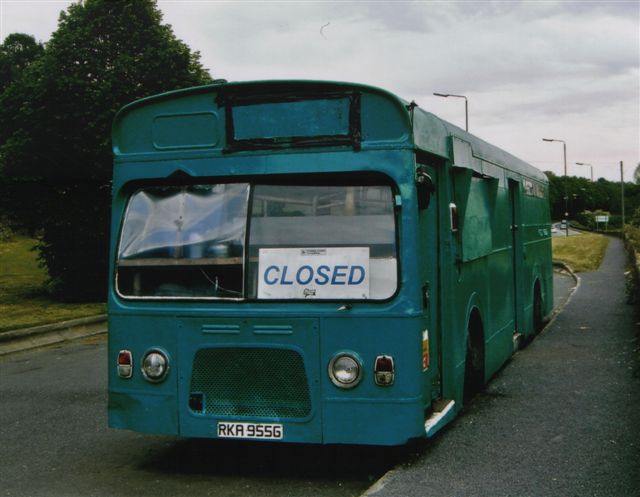 Leyland Panther (RKA 955G) in its final year as a roadside cafe in Ambergate.
(C) Andrew Bagshaw
---
---
NEWS
Fri 4th Jan:
The latest bus here is Scania K93 / Plaxton Derwent (RIL 4615). Its in a dark blue livery. Thanks Ian.
---
---
NEWS
30th March:
The first three Omnilinks reported at Ascot Drive are thought to be numbered 3810-2 (YN08 HZX/Y/Z).
Fleetline 4301 is expected to be withdrawn before the summer.

21st March:
It has been announced that a total of 59 new buses will enter service in Derby within the next year.

23 Scania Omnilink single deckers will be in service by October, a quantity of which are intended for use on the Nottingham Road corridor to Chaddesden and Oakwood (currently routes 20, 22, 24 and 26). The displaced DAF / EL Lowlander deckers are expected to be used on 44 and 45 to Alvaston.

8 "midibuses", likely to be slimline Optare Solos, are also expected to arrive in time for October for use on routes 28 to Mackworth and 32 to Littleover.

By February 2009, 17 new double deckers are expected to have arrived for use on Sinfin routes 37 and 38, and also route 29 to Mackworth. 11 brand new single deck buses are due at the same time for Chellaston services 60 and 61.

The official press release can be found HERE

19th March:
3 brand new Scania Omnilinks have arrived at Ascot Drive. They currently have no registration plates, and will be stopping at Derby. A further 10 are set to arrive, but these are for Tamworth.
DAF 4745 is away for repaint.
Volvo B10BLE 3605 should be back in service soon after a lengthy spell off the road.

5th March:
DAF 4742 has been repainted and had new orange LED destination displays fitted all round.

SIGHTINGS
Sightings will no longer appear on this page. They can be read and reported by clicking HERE

---
---
NEWS
Mon 25th February:
The Mercedes Plaxton beavers here is in fact (M70 TGM), from the Centrebus fleet, NOT (N70 TGM)!
---
---
NEWS & Sightings
-
---
---
NEWS

March 27h:
The new VDL Plaxton Centro here is (YJ08 EFL). It should be on the road next week.
Lynx (E263 TUB) is now officially withdrawn.

March 1st:
A new VDL / Plaxton Centro is due here this month.
Lynxs (E260/3 TUB) are for sale.

---
---
G&J Holmes


NEWS
Fri 29th Feb
Two more slimline Solos are expected here later this year. They would replace Vario (YN54 XXP) and long Solo (YG55 YGZ). Thanks Andy.

---
---
Glovers of Ashbourne


NEWS
March 29th
Acquired is Volvo B10M/Plaxton coach (L979 UAH).
Cheetah (W635 MKY) is new here.

---
---
Harpurs Coaches


NEWS + SIGHTINGS

Tues 18th Dec
New here from Burtons, Haverhill is Volvo B10M / Plaxton (T300 BCL). It still carries its former operators livery. Thanks Chris.

---
---
Hawkes Coaches


NEWS + SIGHTINGS

March 2nd
Metrobus (ROX 646Y) has arrived here from Travel West Midlands.

---
---
Hulleys of Baslow

NEWS + SIGHTINGS
Sat 15th March
The new Centro is now not due until week commencing 7th April.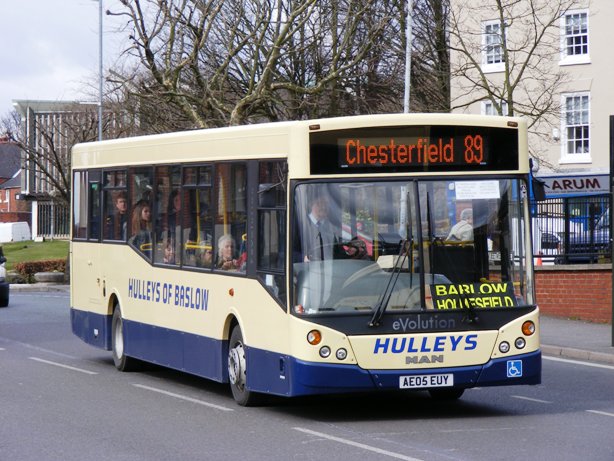 Hulleys now operate route 89.
(C) Ian Moorcroft

A new MAN / Plaxton Centro is due here by the end of next week. It will be number 3 in the fleet, replacing the Scania / Van Hool coach.
Dennis Lance 15 is currently away at CSG for extensive repairs following an RTA.
Thanks Ian.
---
---
Johnson Bros / Redferns

NEWS & SIGHTINGS
-
---
---
Littles Travel

NEWS + SIGHTINGS
-

---
---
Midland Classic


NEWS
5th March
Dart 55 (R505 SJM) has returned to service following repaint.
Metrobus 78 (GBU 7V) is now in service after being repainted.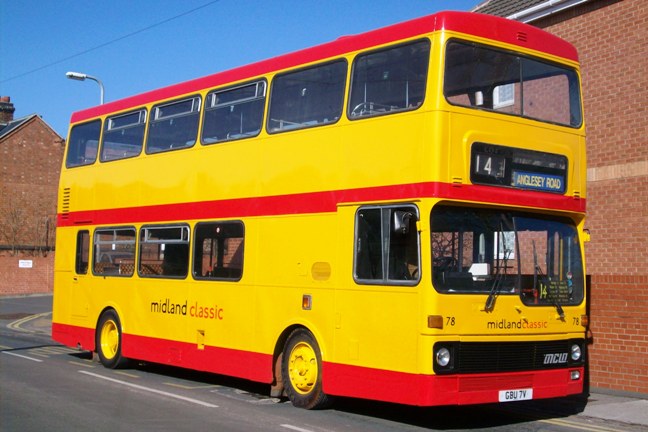 (GBU 7V) on service in Stretton shortly after repaint.
(C) James Boddice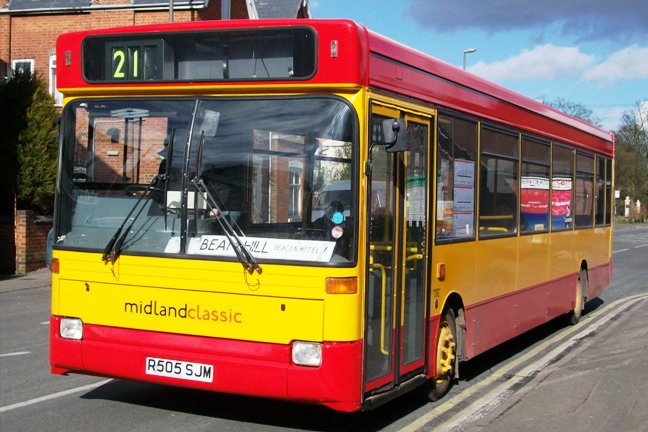 Dart (R505 SJM) repainted into fleet livery. Seen here in Church Gresley.
(C) James Boddice
---
---
Stagecoach East Midlands
Chesterfield, Mansfield, Worksop

NEWS
21st March:
East Lancs "Spryte" Dart (S135 WKY) is one of a few to arrive here.
A few other changes have been made to this fleet recently - more info on this soon.

8th March:
Due any time are 6 MAN/Enviro 300 single decks for route 43, which is being revamped and increased to 30 minute frequency from next month.
Over at Mansfield, 4 MAN/Enviro 400 double decks are on order and some secondhand Dennis Tridents are due here too.
The vast selection of buses stored at Stonegravels garage (Chesterfield) as said to have been sold to Ensign.

25th February:
Dart (K110 SRH) 32148 has been withdrawn, joining 32115/6 (K115/6 SRH).
Olympian 16586 is now in service.
Open top Fleetline 15513 is now back on the road. Thanks Dave.

SIGHTINGS
Sightings will no longer appear on this page. They can be read and reported by clicking HERE

---
---
TM Travel


NEWS
March 30th:
New buses here are: Optare Versa (YJ08 PFN) (B40F) in new style livery, and MAN/Plaxton Centros (YN08 JWC/D/E), (B38F).
Solo (R13 DBY), (B27F), has arrived from Redby, Sunderland. Thanks Adrian.

March 23rd:
New white Plaxton coach (YN08 DNU) has arrived here.
Tiger coach (A111 TRP) is now withdrawn.
Former South Notts (K482 GNN) has been repainted into the same livery it was in before (not new style).
Excel (R379 DJN) is off with engine trouble!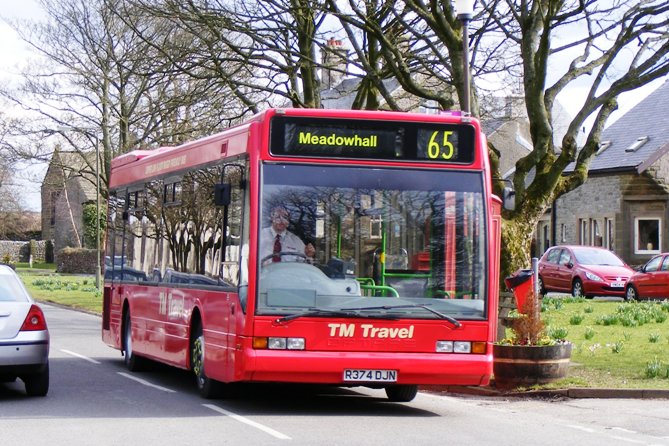 TM Travel Excel (R374 DJN).
(C) Ian Moorcroft



March 21st:
Ex Trent Varios (R277 RAU) and (R283 RAU) have been sold to Dawson Rentals.
DAFSB220/Paladin (KUI 9267), went to ADT Auctions, Manchester - and came back again!
Volvo B10M coach (YXI 3416) has been sold to M Pearson, Chesterfield.
Volvo B10M/Plaxton coach (YS02 UGY) which has gone to Plaxton, Anston (dealer).
Former Bexley Bus Olympian (E915 KYR) has also been withdrawn.

March 12th:
White Solo (X385 VVY) has arrived here and is in service.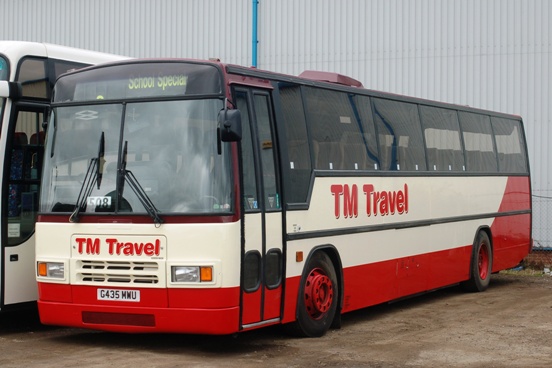 (G435 MWU) repainted into fleet livery.
(C) John Moore




February 19th:
The two Excels are now in service in all over red.
The latest Dublin Olympian (91 D 1089) has been re-registered (H784 PVW).

February 19th:
A second Excel (R379 DJN) has arrived here joining (R374 DJN). Neither are in service yet.
The 30th Solo to join the fleet is (X385 VVY).
A 5th ex Dublin Olympian/Alexander has been acquired from Ensign's. it has yet to be re-registered but was (91 D 1089). It is here to replace Olympian/Optare (E152 OMD), which has been withdrawn following engine failure.
Varios (R933 AMB), (R938 AMB), (W444 TMT) and (Y161 HWJ) have all been sold to Dawson Rentals. (R107 GNW) has been sold to Mistral, Knutsford and Volvo B7/Plaxton coach (YN03 WXS) has been sold to Plaxton, Anston.
The Q reg Tiger should be in use in March.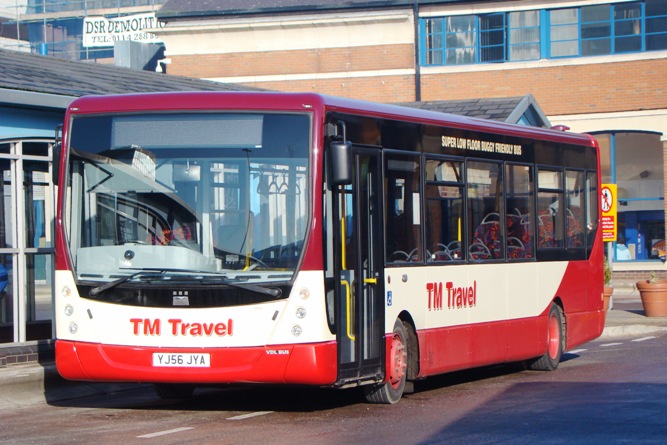 Centro (YJ56 JYA) has been repainted in the new style livery.
(C) South Yorkshire Bus Photos
---
---
Translinc
NEWS
:
---
---
The Wellglade group

NEWS
30th March:
891/2, the 2 step entrance Darts that were with N+D, are now withdrawn at Langley Mill.
Excel 227 is again off the road, after another RTA. Tempo 307 is back in service.
Airline Shuttle Darts are stored in the yard at Loughborough garage. Minibus 822 is still there operating in service!

Anyone know where Paladin 120 is now? It has been sold. Excels 208/9 have also been sold (Powells?).

26th March:
Minibus 49 has gone for repaint! It should return in N+D or Unibus livery.
Dart 910 is now withdrawn, and parked up at the Kinch garage in Loughborough.
The new livery for Red Arrow has been revealed. It can be seen by clicking HERE. Coach 67 has been painted in this livery, and work is currently being carried out on the interior.
Paladin 120 is thought to have been sold.
Varios 297 and 298 and step entrance Darts 891/2 are also for sale.

15th March:
Andrews of Tideswells Leyland National was on hire to Trent at Dove Holes for a few hours mid week.
The Volvo /Centros for Kinchbus are numbered 501 onwards, and will enter service on Easter Sunday.
Excels 208/9 may have been sold to someone in the Rotherham area (Powells??).
Vectas 808 and 811 which left Langley Mill in January are now parked up on Maythorne Farm, near Southwell.
VR open topper, 757 (DRB 307H) is now at London Bus Exports at Lydney in Gloucstershire.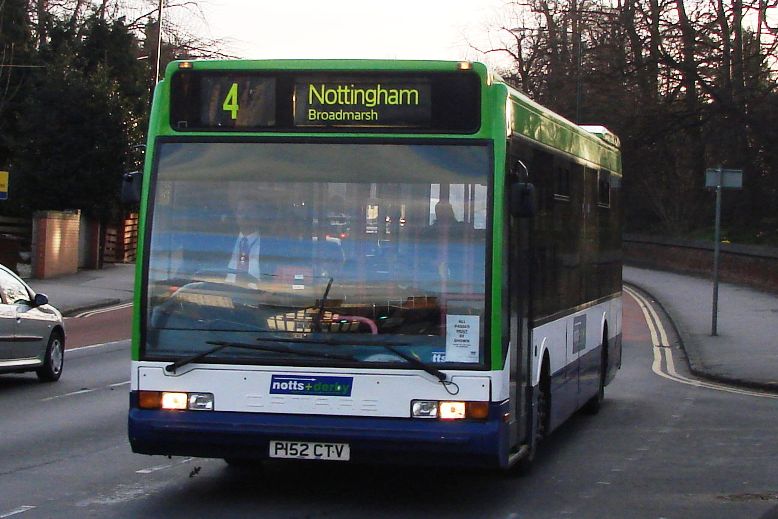 notts + derby Excel 152 (P152 CTV) made a surprise appearance on trent bartons Rainbow 4 service on 12th March 2008. It is seen here on Derby Rd near the QMC on route to Nottingham from Derby.
(C) Robin Hadfield The Bus Parade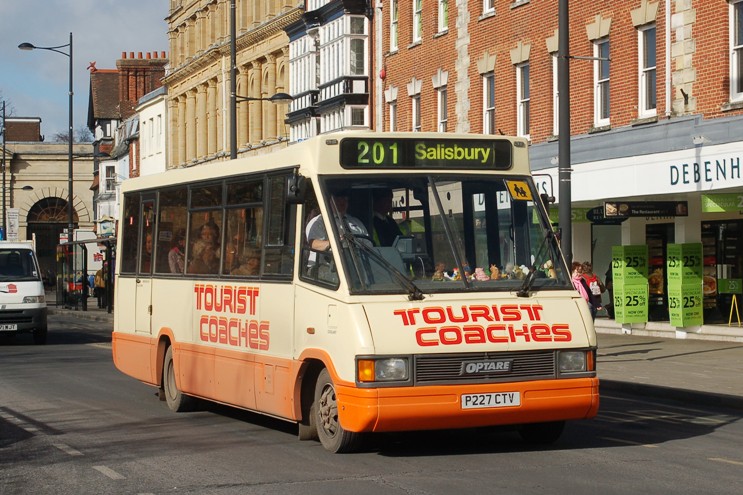 Former Trent Optare Metrorider (P227 CTV) is now in service with Tourist Coaches, Salisbury.
(C) John Moore



5th March:
X38 Tempo 307 is off again following an RTA, spookily similar to the one it had last year!
Excel 227 is back after accident repairs. ONE branded Excel 265 is still away at Plaxton along with Dart 949. Both sustained damage in recent RTAs.
Radcliffe Solo 415 may be back next week after having a new floor fitted!

27th February:
The Volvo / Plaxton Centros for the Kinchbus Skylink Derby Loughborough service are:

(YN08 CWT)
(YN08 CWU)
(YN08 CWV)
(YN08 CWW)
(YN08 CWX)
(YN08 CWY)

Numbers soon......

19th February:
41 Wright bodied Volvos are due here over the next 12 months. New vehicles will appear in the autumn on flagship route Rainbow 5, and later on services to Calverton in Nottingham and Mickleover in Derby. The buses will feature leather seats and air conditioning. The displaced buses will be used on other routes, allowing the Darts to be sold, and reducing the average age of the fleet to just 5 years.

2 of the new yellow Volvo / Plaxton Centros, destined for the Kinchbus Skylink Derby Loughborough service (SDL), have arrived at Langley Mill.

Coach 67 is at Langley Mill for refurbishment.

Minibus 44 has re-entered service with notts + derby. It is used on Unibus 4.

Withdrawn Radcliffe Solo 415 has been moved from Manvers St for repair - it may be at Langley Mill. It has corrosion around the windows and a problem with the floor. It has been used for spares, although its not yet known if it will be scrapped or repaired.
Former Keyworth Dart 910, complete with notts and derby liveried front end remains on loan as cover.

Excel 227 is currently away for repair after an Arriva Dart crashed into the back of it on The Wardwick in Derby on Wednesday. 226 is currently operating from Derby in its place, complete with dark red bumper at the front. Excel 199 has joined 201 at Dove Holes.

Kinchbus shall shortly receive 6 new Plaxton Centro bodied Volvos, for the Derby Skylink service. The new yellow buses will be on the road from March 23rd. The service will replace the Airline Shuttle. The Darts currently on the service are expected to be sold.

Early indications are that a number fo Wright bodied Volvo single deckers are to arrive in the later half of the year. The new buses are expected to be allocated to Rainbow 5 and "Mickleover". This information is not confirmed, so please don't take it too seriously :) !

All the Vectas except 815 have gone from Langley Mill! SIGHTINGS
Sightings will no longer appear on this page. They can be read and reported by clicking HERE
---
---
Last Months News

News Index Page
---