Bus Fleet News
September 2018
---
Many thanks to all who have contributed news and photos to the website. Without this the site would not be possible.
---
Latest News
---
Here you will find all the latest bus fleet news for many bus operators in and around the Derbyshire area. If you have anything to report please contact me by clicking here.
---
---
NEWS
9th January 2018
A new addition to the fleet is Trident (LX51 FJA) from Hulleys, Baslow 2/1/18.


---
---
NEWS
15th September 2018
Enviro 400 MMC 4536 to 4544 are now based at Derby in Nottingham Hopper bus livery for the University of Nottingham contract. Mercedes minibus 1001 is also based at Derby for this and carries the same livery.

2704 was back in use at Derby at the end of August.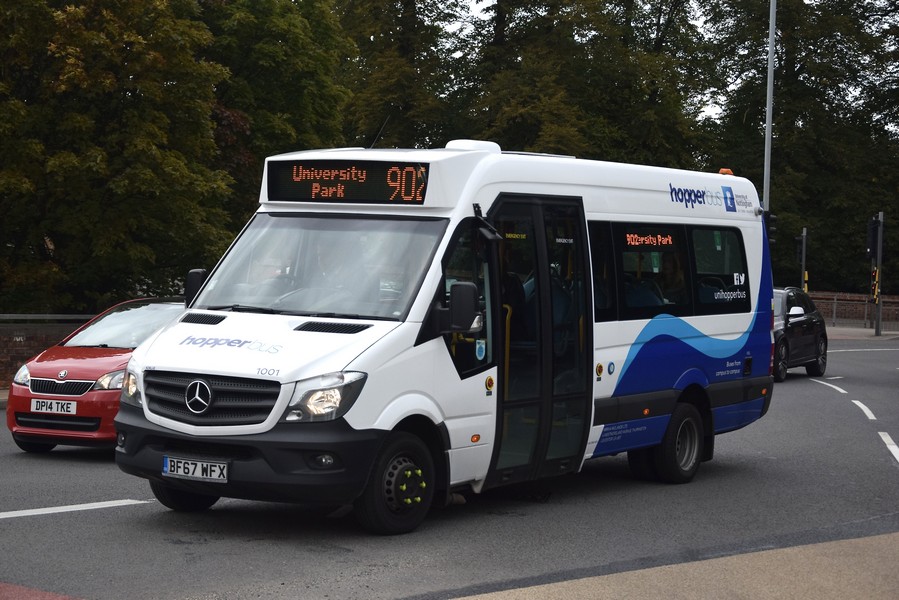 Arriva Mercedes minibus 1001 has also been painted for Hopper bus work at Nottingham.
(C) Geoff Girling



10th August 2018
A number of E400 MMCs are now in use/painted for the Nottingham University Hopper Bus contract. A Mercedes minibus (67 plate) is also used.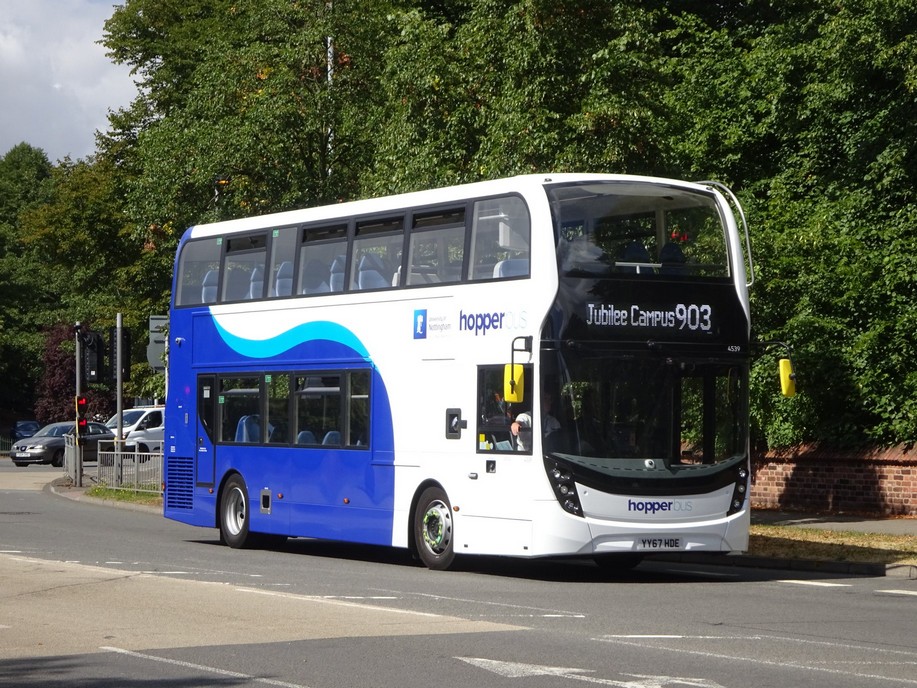 4539 passes QMC in Nottingham.
(C) Chris Gaskin

A number of vehicles are also on loan for rail replacements, and have also appeared in service on regular routes. These include a number of VDL/Wright Pulsars, 2 Streetlites, Citaros and at one point an E200 MMC. Arriva are operating a regular service between Derby and Burton until later this month due to signaling work at Derby. Stagecoach are also operating between Chesterfield and Derby with an interesting selection of mainly Scottish coaches in various liveries. Viking coaches are covering the service to Uttoxeter and a selection of coaches (Johnson often) covering the Express Derby to Nottingham. The stations between Derby and Nottingham appear to be served by notts and derby or Tiger European minibus. There will also be replacements to East Midlands Parkway and Matlock next week...

3rd July 2018
A batch of E400 MMCs have tranfered here from Leicester for use on the Nottingham University Hopper bus routes from September. They are in Sapphire livery and many were branded for the 31 in Leicester when new just a few months ago! They will be repainted in hopper bus livery. 4545 (YJ67 HDL) has however entered service at Derby, still in Sapphire livery, and has been on the F1 most days.

Streetdeck Hybrid Demo (SK18 TKX) was in use here for around a week mid June. It was in use on the F1 route most days.

10th June 2018
MPD 2159 and Cadet 2746 have now been withdrawn.

Arriva will operate the Nottingham University Hopper bus service from September. 2 E400 MMC including Sapphire liveried 4538 (YY67 HDD) have arrived at Derby for use on these services. There are expected to be 11 in total. They are transfering from Wigston, Leicester despite only being introduced and branded for the 31 route last year. Some vehicles from elsewhere, possibly NW, are set to replace them at Leicester.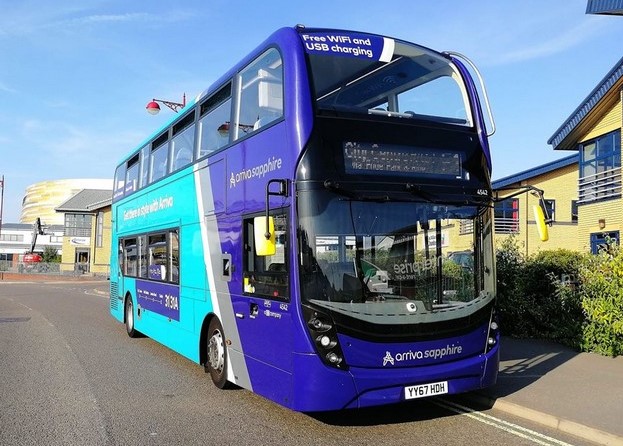 4542 was in service in Derby on Wednesday 4th July, still complete with branding for route 31 in leicester. 4542 is seen here on the F1 route.
(C) Shaun Chambers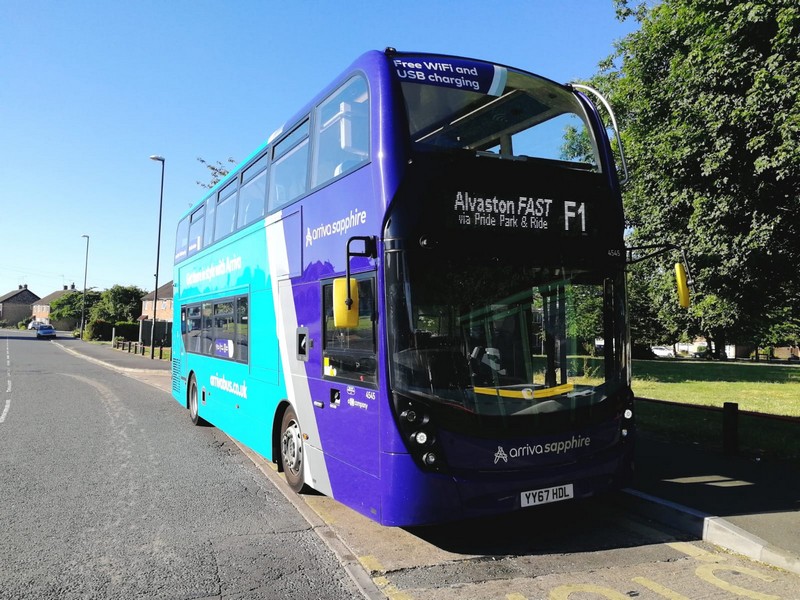 4545 is one of the Sapphire liveried E400s now at Derby for the Nottingham Hopper bus service which Arriva will operate from September. 4545 is seen here on the F1 route.
(C) Shaun Chambers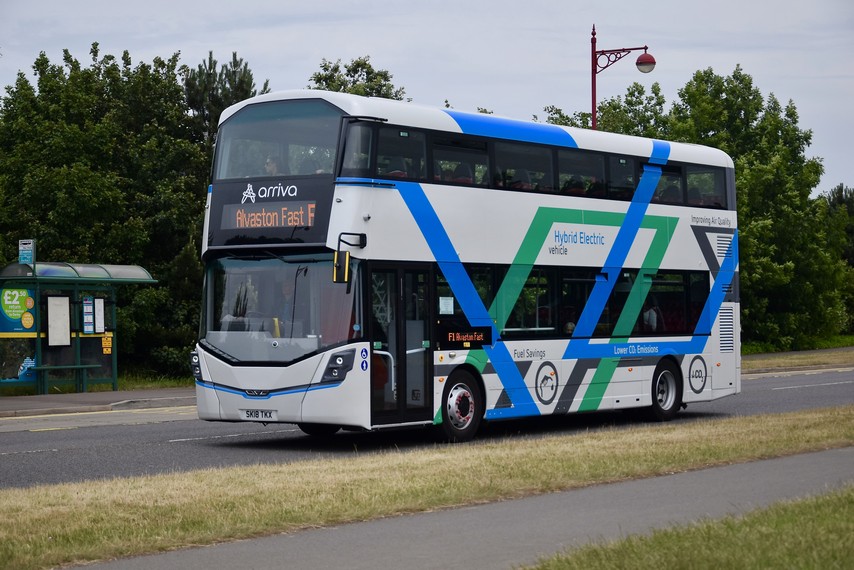 E400 Hybrid Demo seen here on Pride Park.
(C) Geoff Girling

25th May 2018
Solo 2403 (FJ58 PKN) is on loan here from Cannock.
Gemini 4204 was also in use here last week.

3571 now carries revised livery.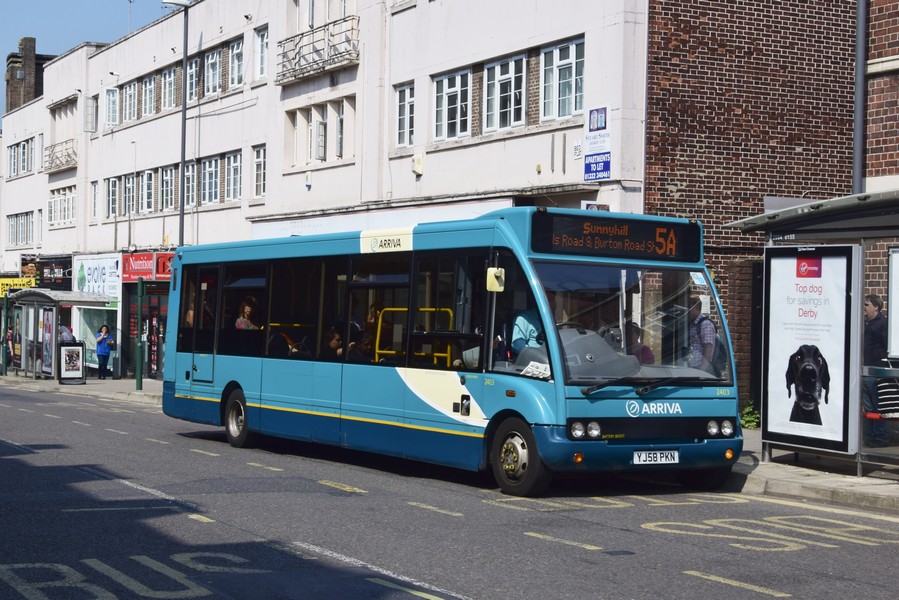 Solo 2403 in Derby.
(C) Geoff Girling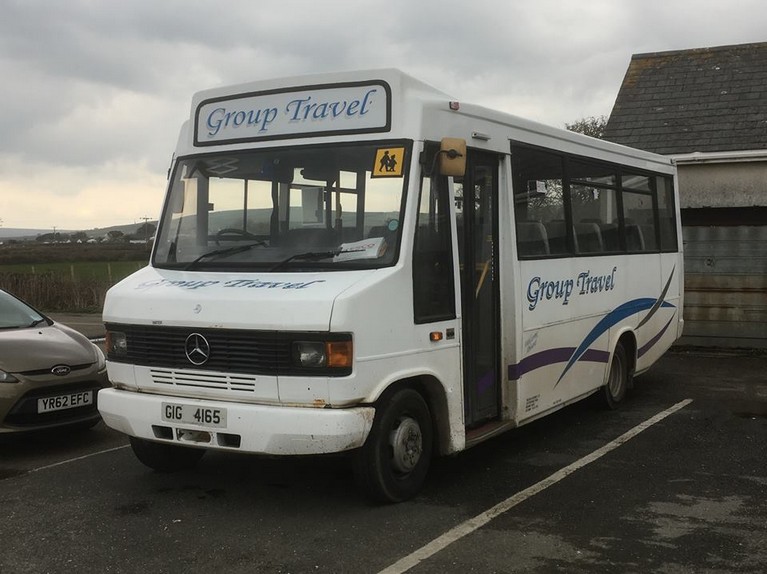 Former Derby Mercedes minibus (P485 CAL). Now reregistered as GIG 4165 with Group Travel, seen here in Tintagel.
(C) Chris Thorn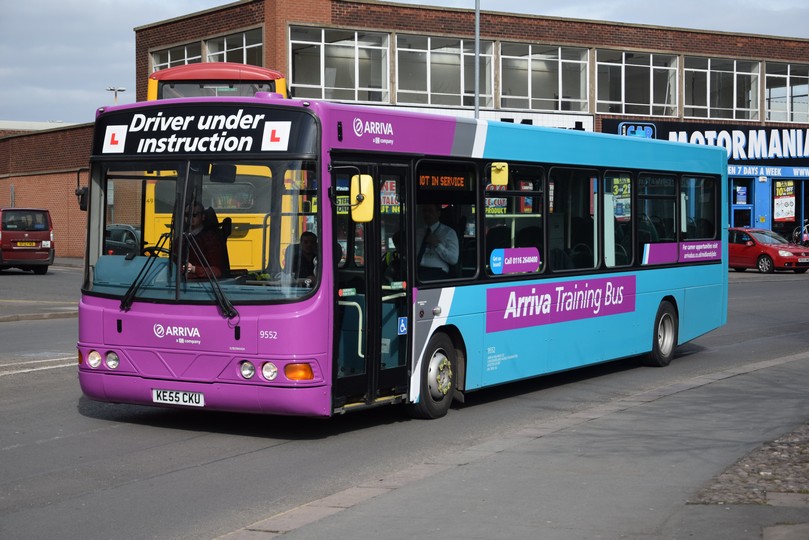 Training bus 9552 carries the new training fleet livery. Seen here in Burton.
(C) G Girling
---
---
NEWS
-
---
---
NEWS
-
---
---
G&J Holmes


NEWS
9th September 2017
Yje last two Solos have been sold. (LJ60 LTY) is now with Stephensons, Easingwold and (MX59 AVT) is now with Llew Jones, Llanrwst.

---
---
Glovers of Ashbourne

NEWS
---
---
Harpurs Coaches


NEWS

5th May 2018
The final Volvo/Alexander ALX 400 here has been registered (X945 DDA).

15th January 2018
Volvo/Alexander ALX 400 (X811 DDA), the former Dublin AV112 is now in use here.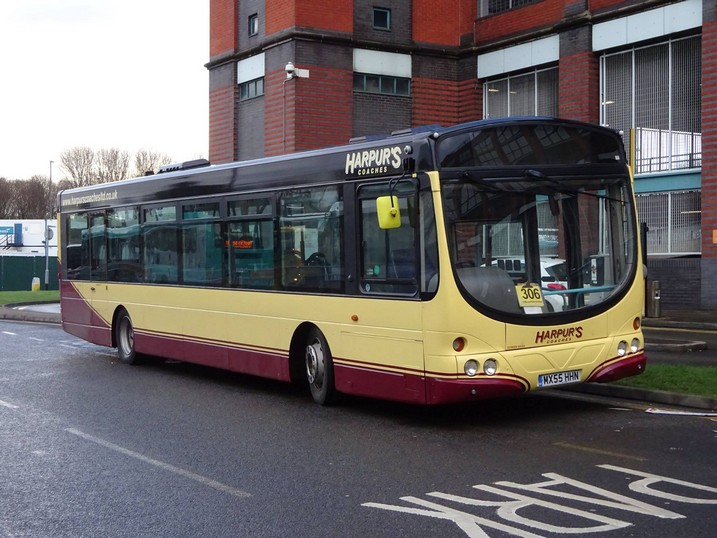 Volvo / Wright (MX55 HHN) in new style livery.
(C) Chris Gaskin
---
---
Hawkes Coaches


NEWS 10th April 2018
A second former Mass Dennis Condor is here. (F330 UJN).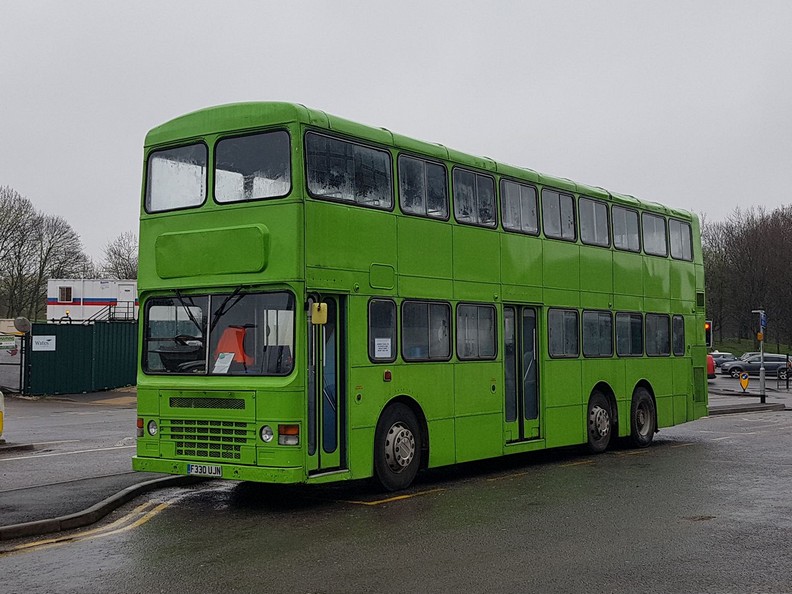 Dennis Condor (F330UJN) in Derby.
(C) Chris Gaskin
---
High Peak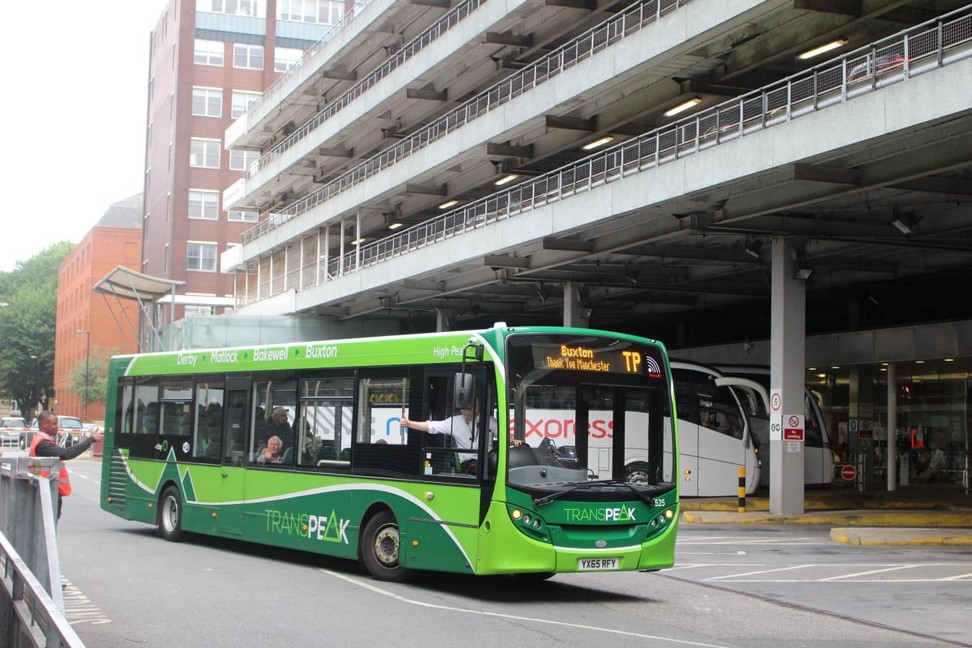 E200 525 departs Manchester for the last time on Saturday 21st July 2018.
(C) Dan Stone
---
---
Hulleys of Baslow

NEWS + SIGHTINGS
15th September 2018
A new addition to the fleet is former Wolvehampton University Optare Tempo (YJ60 LSL) and has been numbered 19. It was acquired through Stafford Bus Centre entering service on September 10th already painted in fleet livery minus fleet names.

The former Bournemouth Dart (SN55 HTD) is away for repaint.

ADL Enviro 200/MCV (WW58 BLU) is now here and is set to become the new number 3. This is still in stagecoach livery but is set to be repainted, once other faults have been fixed, before entering service at some point in the future.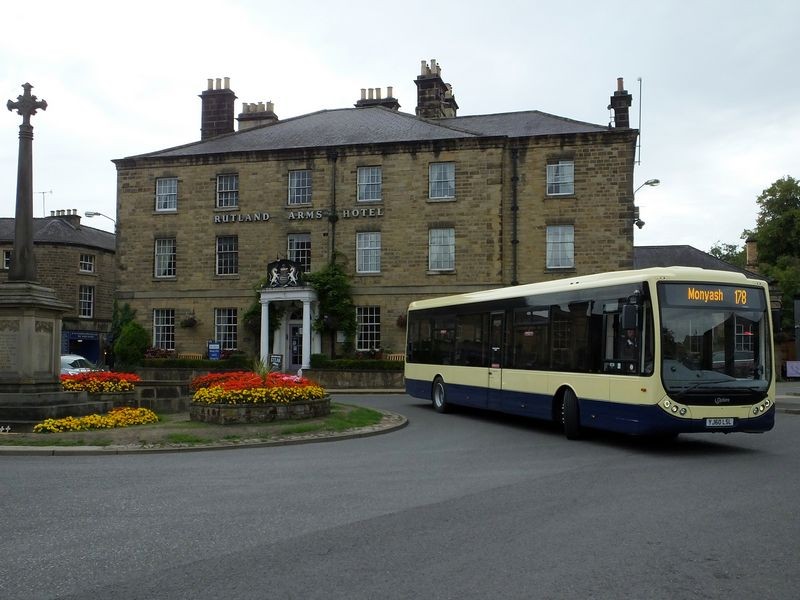 Optare Tempo 19 is seen here in Bakewell.
(C) Ian Moorcroft



10th August 2018
Dart MCV Evolution 19 (PL06 TFZ) has been withdrawn after an RTA on 6th July. It is set to be scrapped.

Dart 22 (EK51 XXE) has also been withdrawn, following engine faliure. The engine from 19 may be used to repair this at some stage.

A new addition to the fleet, numbered 22, is MPD (HW54 BUV). It has arrived in Hulleys livery from Ensign. It was new to Sothern Vectis, but was more recently with Emsworth and District.

Scania Irizar 8 (SCZ 7109) is currently withdrawn (last used in March) but remains in store, along with withdrawn Centro number 3.

3rd July 2018
MAN Centro 8 has been withdrawn. It was returned to service, after being off the road for over a year, but only lasted a few days before developing a fatal fault.

5th May 2018
MAN Evolution 20 (AE55 EHL) is being used for spares following an engine failure last month. A new addition, as the new 20 is E200/MCV Evolution (VV08 BLU). This entered service, in plain white livery, on 23rd April 2018. Ex D Jones and son, Wrexham.

Andrews Optare Excel (FD02 SFL) has been on loan here recently.

MAN Centro number 8 is due back soon. It is currently having work completed at Redferns. It was last in use here on 7th April 2017!

11th April 2018
Acquired here is Dart/Plaxton Pointer (SN55 HTD) from Yellow buses. New to Manchester Airport.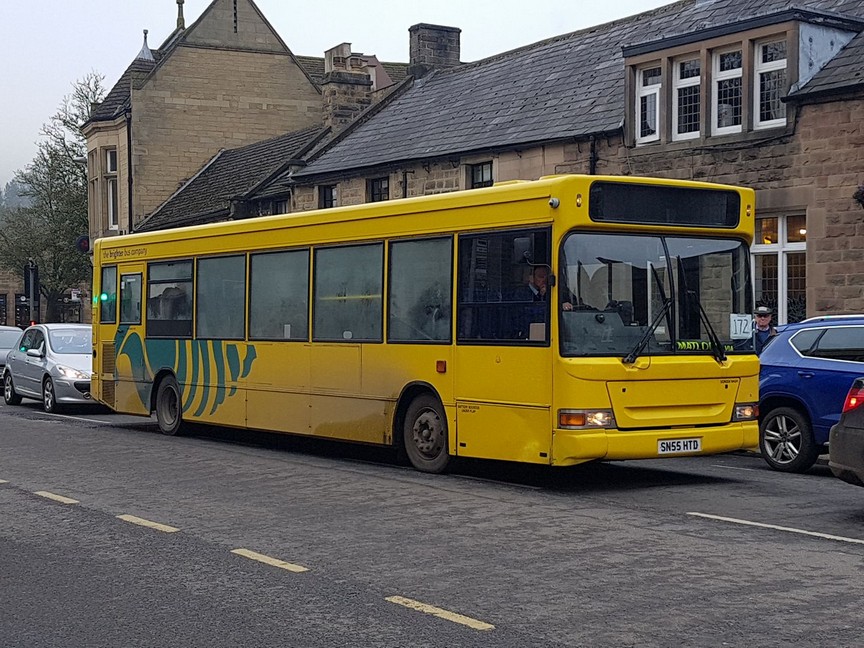 Former Bournemouth Dart (SN55 GTD).
(C) Chris Gaskin
---
---
Johnson Bros / Redferns

NEWS & SIGHTINGS
26th February 2017

---
---
Linburg

NEWS + SIGHTINGS

---
---
Littles Travel

NEWS + SIGHTINGS
5th May
Solo (W409 YAL) has been re-registered as (AGZ 9365). Solo (W301 YAL) to (AGZ 9364).


---
---
Midland Classic


NEWS

15th September 2018
E400, 214 (SN11 BMU), is here on loan for around 2 weeks.

Former Centrebus (and Paul James) Solo (YN03 ZXC) is here but not yet on the road.

The last Commander in use is 106, although this is expected to be withdrawn once the MOT expires.

Olympian 96 should be back in use soon.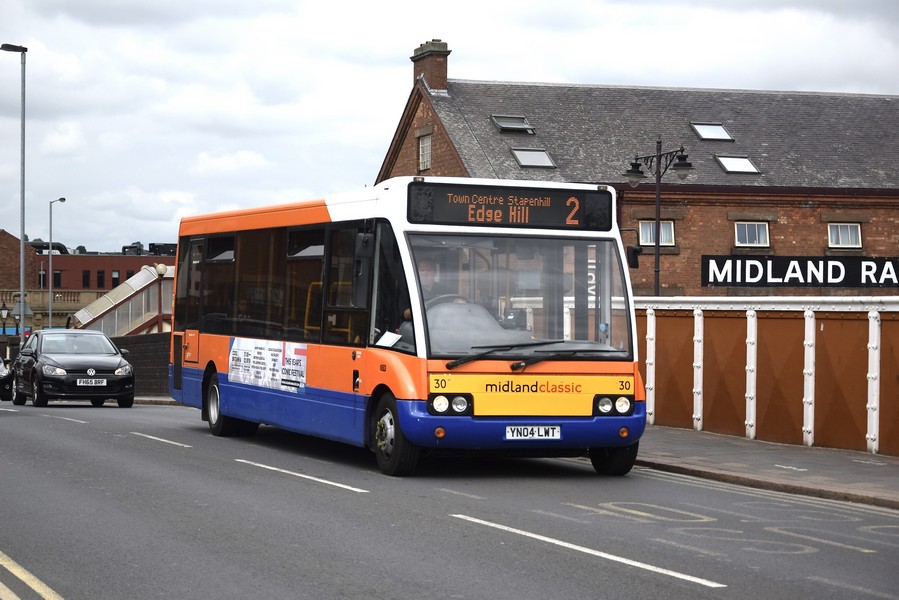 Solo 30.
(C) Geoff Girling



13th August 2018
A new addition to the fleet is former Centrebus Optare Solo 30 (YN04 LWT). This carries Centrebus livery with a yellow front panel and entered service on 13th August. Similar (YN04 LWU) was here but did not see use and is not part of the fleet.

5th May 2018
74 has been repainted.

10th April 2018
Former AOT Scania (YN05 GXG) has been acquired. It is to be painted before entering service and should be numbered 74.


---
---
Nottingham buses
6th April 2016
---
---
---
Skills, Nottingham

NEWS
---
---
TM Travel


NEWS:
See Wellglade section.
---
---
---
The Wellglade group
trent barton, kinchbus, notts+derby and T M Travel.

NEWS
15th September
I4 Enviro 200 MMCs due for delivery soon are as follows:

(YX68 ULB),
(YX68 ULC),
(YX68 ULD),
(YX68 ULE),
(YX68 ULF),
(YX68 ULG),
(YX68 ULH),
(YX68 ULJ),
(YX68 ULK),
(YX68 ULL),
(YX68 ULM),
(YX68 ULN),
(YX68 ULO).

Notts and Derby Scania 620 is now in an all over black livery with advertising for a new university of Derby route connecting the campus with student accomodation.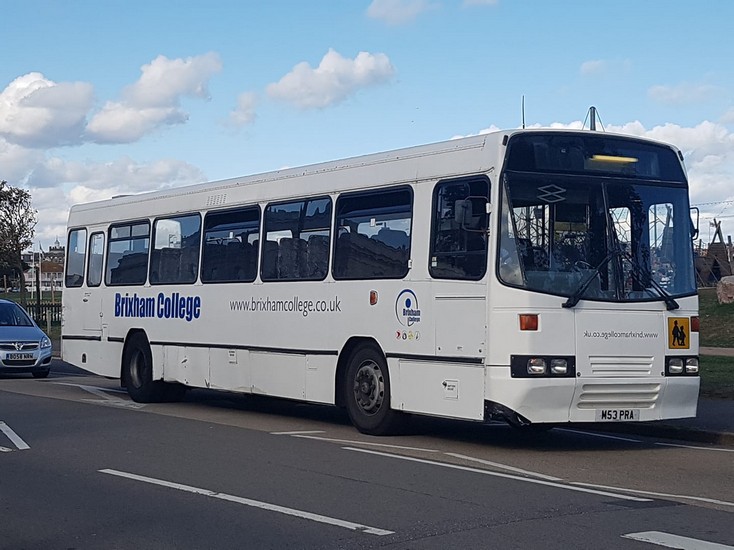 Former Transpeak Volvo 53 remains in use with Brixham College. Seen here in Paignton.
(C) C Gaskin
10th August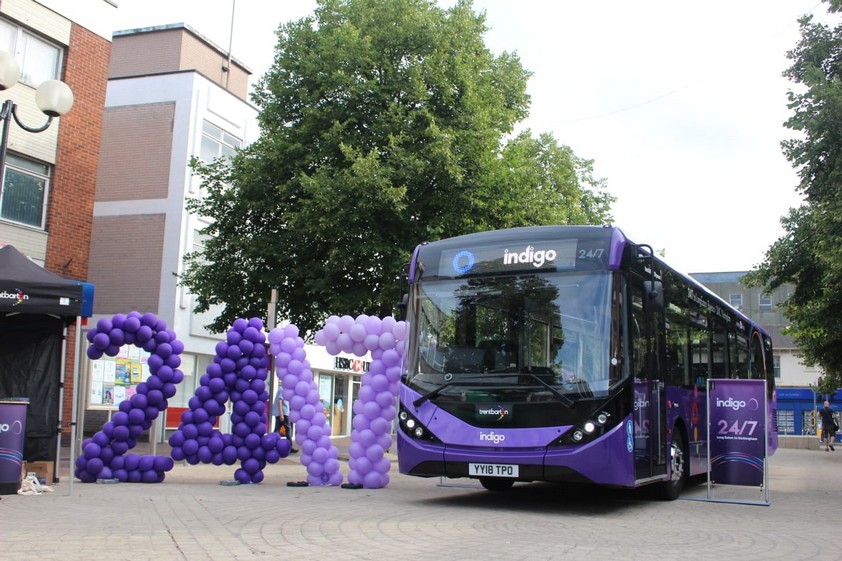 New Indigo Enviro 200 MMC number 207 is seen here promoting the route ahead of the new buses being introduced.
(C) Mr D Stone

The 15 new E200 MMCs for Indigo have arrived and should be in use later this month:

201 (YY18 TOA),
202 (YY18 TOH),
203 (YY18 TOJ),
204 (YY18 TOU),
205 (YY18 TOV),
206 (YY18 TPF),
207 (YY18 TPO),
208 (YY18 TPU),
209 (YY18 TPV),
210 (YY18 TPX),
211 (YY18 TPZ),
212 (YY18 TRV),
213 (YY18 TRX),
214 (YY18 TRZ),
215 (YY18 TSO).

Mango spare:
216 (YY18 TSU),
217 (YY18 TSV.

Former Skylink Express Irizars 72/3/6 have passed to notts+derby and have seen use on rail replacement duties.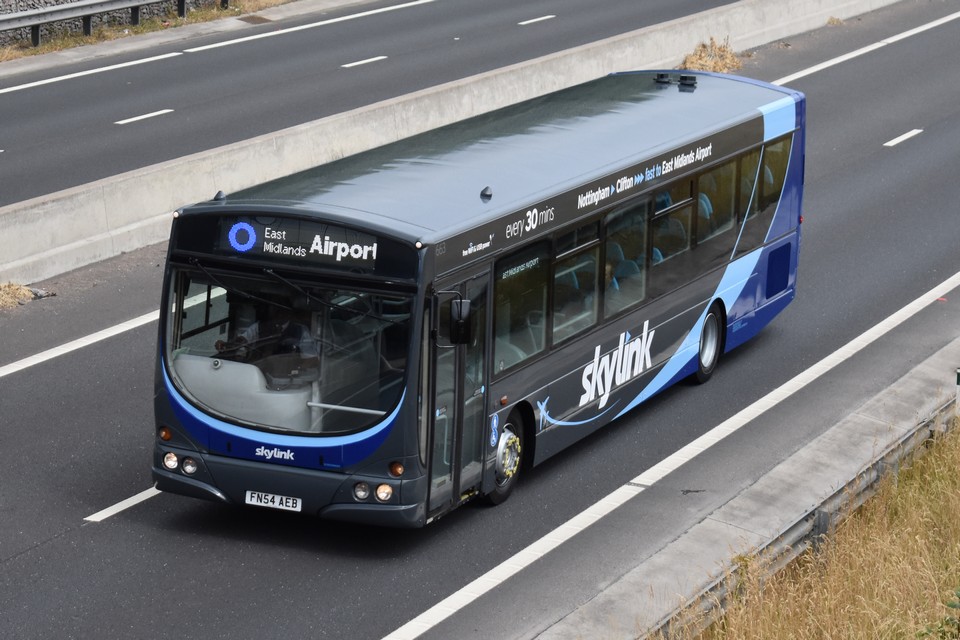 Scania 663 is seen here on the A453 heading to EMA on the Skylink Clifton service on its first day of operation.
(C) Calum Maclennan

21st July
The new E200 MMCs for Indigo have begun to arrive at Langley Mill. So far we have: (YY18 TOA),
(YY18 TOH),
(YY18 TOJ),
(YY18 TOU),
(YY18 TOV),
(YY18 TPF),
+9 more.

3 Scanias are being refurbished for the Clifton Skylink Express service which will replace the Nottingham Skylink Express. 625, 662/3 are being branded for this service and will replace the 3 coaches.

Former i4 Scanias 613, 617, 619, 667 and Skylink Nottingham 631 are going/have gone to TM Travel after having the seats re trimmed.

Former Mainline branded Tempos 309/10/11, and route 21 branded 317/8 remain for sale at Langley Mill.

Solos 429, 439, 440 and 452 are also withdrawn, stored, and for sale.

Several Solos are set to be scrapped. Some have been off some time and used for parts. At Langley Mill are: 428, 449, 450, 457, 459, 464. At TM: 427, 444, 447, and 466.

Also due to be scrapped are Scanias 602 and Kinch 623/4.
Scania Omnidekka 1177 is also being stripped for parts at TM.

Paladins 1118 amd 9124 are also set to be scrapped. All of the Volvo B10B Paladins are now withdrawn after being part of the training fleet for many years. They have recently been replaced by Tempos and Scanias.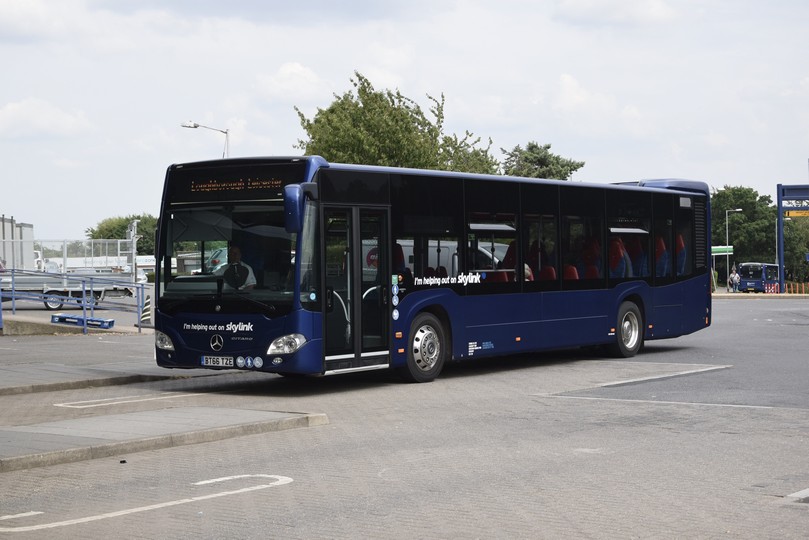 Citaro demo (BT66 TZE) has been on loan to Kinchbus and is expected to stay for a while whilst some of the Skylink examples are modified.
(C) Geoff Girling

3rd July 2018
Notts+Derby Excel 264 has been withdrawn.

New buses are on there way this summer/autumn for indigo and i4. Some of the buses for indigo are just about ready, so should be delivered first:
17 E200 MMC 11.5M 4 Cylinder 15 for indigo plus 2 spare (mango).
13 E200 MMC 11.8 6 Cylinder for I4.

Volvos 726 and 727 now carry new Rapid 1 livery.

Versa 801 now carries trent barton livery, and fleet names, the first to carry these for a while! It is currently in use at Derby. It was to be dedicated to a shuttle service for the Villager, for 10 weeks, whilst Burton Bridge is closed. However the diversion route the Villager was taking created more of a delay that using the usual route through the roadworks!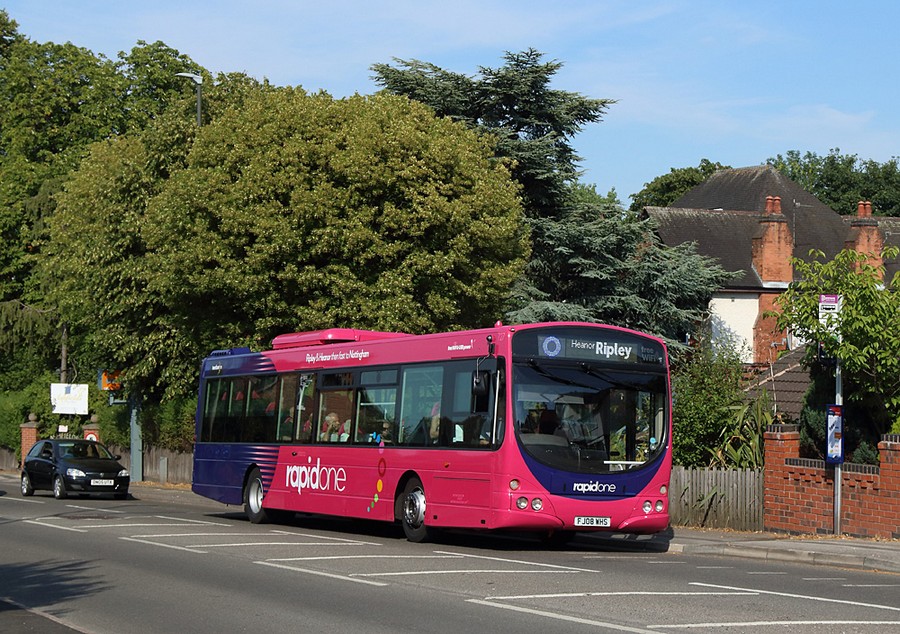 726 and 727 are now branded for the Rapid One and carry this new livery.
(C) Shane Ross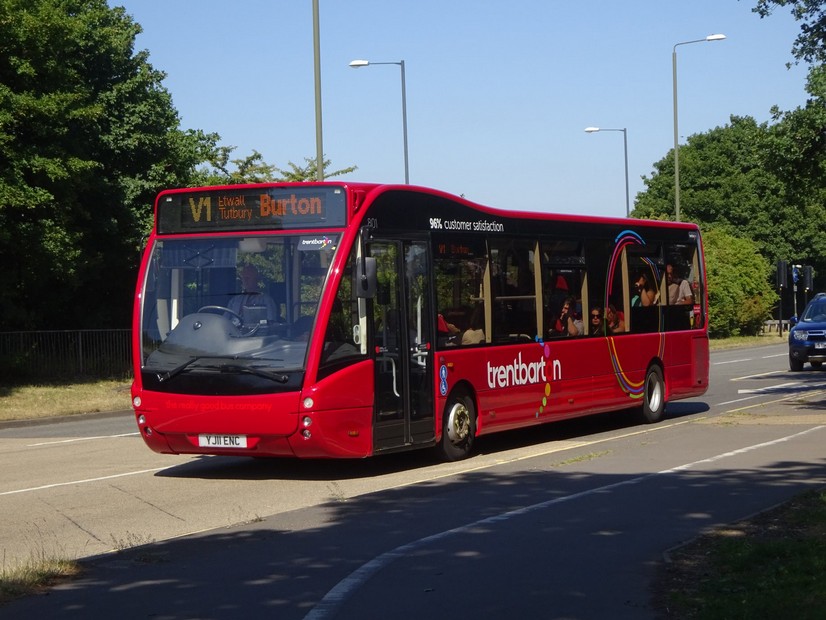 Versa 801 is seen here on the V1.
(C) Chris Gaskin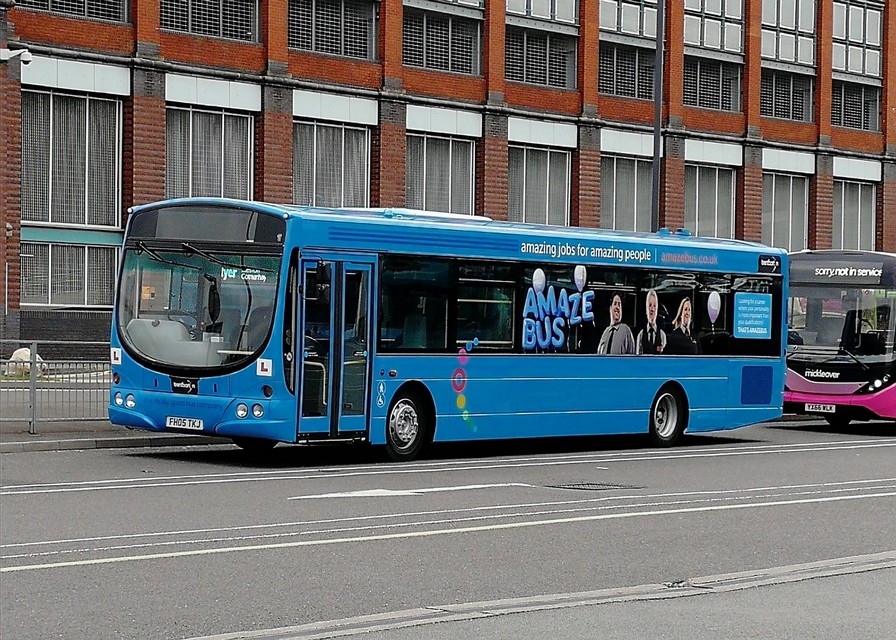 Former Skylink Scania 668 has been repainted for use as a driver trainer and renumbers 9311. Two or 3 more Scanias are expected to recieve the same treatment. The end of the Paladins?
(C) Shaun Chambers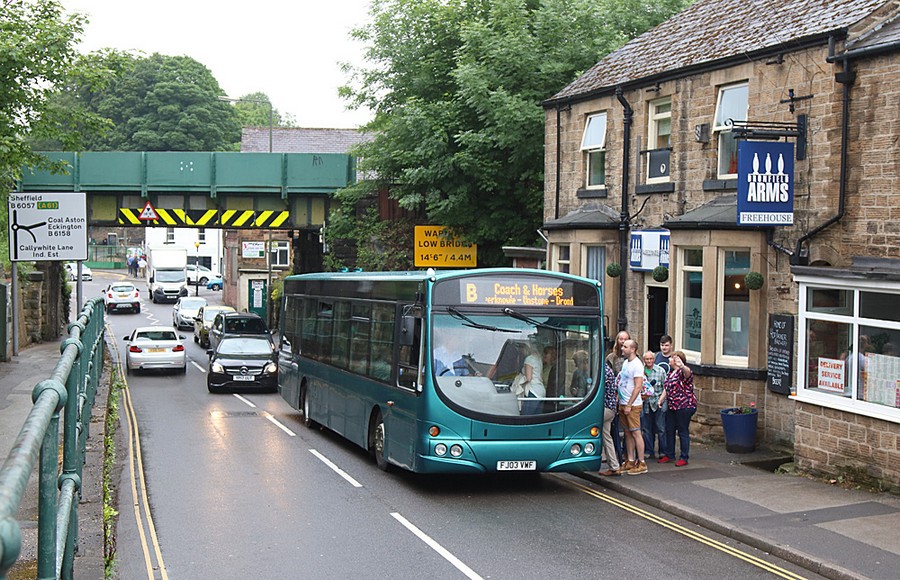 Former i4 Scania 617 is seen here in Dronfield operating the free shuttle service at the 3 Valleys beer festival.
(C) Shane Ross

10th June 2018
609 is now back in use at Sutton along with Scania 669 which has been refurbished and now carries trent barton livery.

25th May 2018
Kinch have Evobus Mercedes Citaro Demo (BT66 TZE) on loan.

Volvos 726 and 727 are currently being repainted.

Sutton Scanias 602 and 609 have been withdrawn.




---
---
Vallances
NEWS
-

---
Yourbus, Nottingham
NEWS
15th September 2018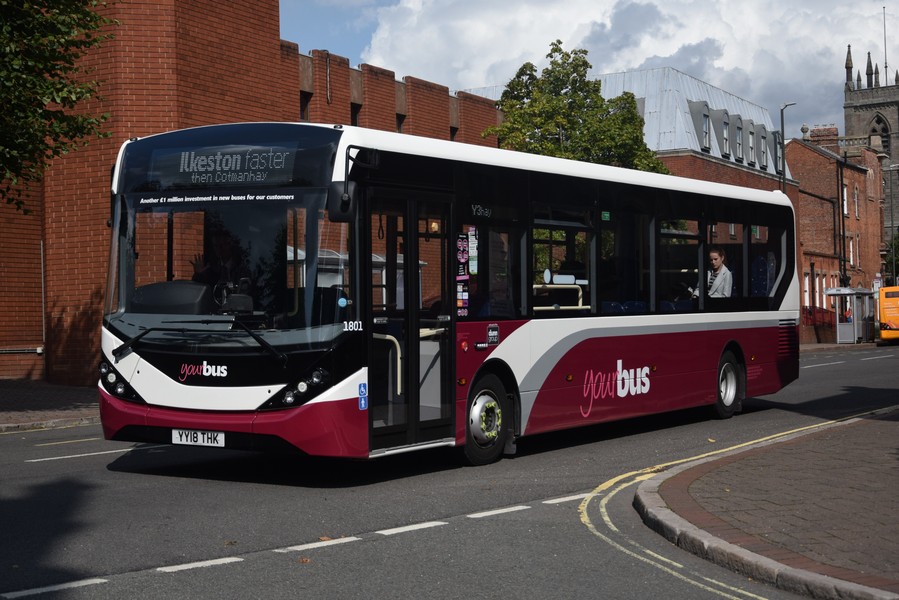 Enviro 200 MMC 1801 seen here on the Y3 in Ilkeston, displaying Ilkeston faster on the detination!
(C) Geoff Girling

6 new E200 MMCs reported here. At least one has been repainted and reported in use around Alfreton yesterday. All were delivered in plain white.

1801 (YY18 THK),
1802 (YY18 THN),
1803 (YY18 THU),
1804 (YY18 THV),
1805 (YY18 THX),
1806 (YY18 THZ).

10th June 2018
Three new E200 MMCs have arrived here as (YY18 THN/U/V). All are plain white but are expected to be painted before they enter service. More may also be on the way.

10th April 2018
Driver training Dart (PJ02 RHA) has been repainted bright green.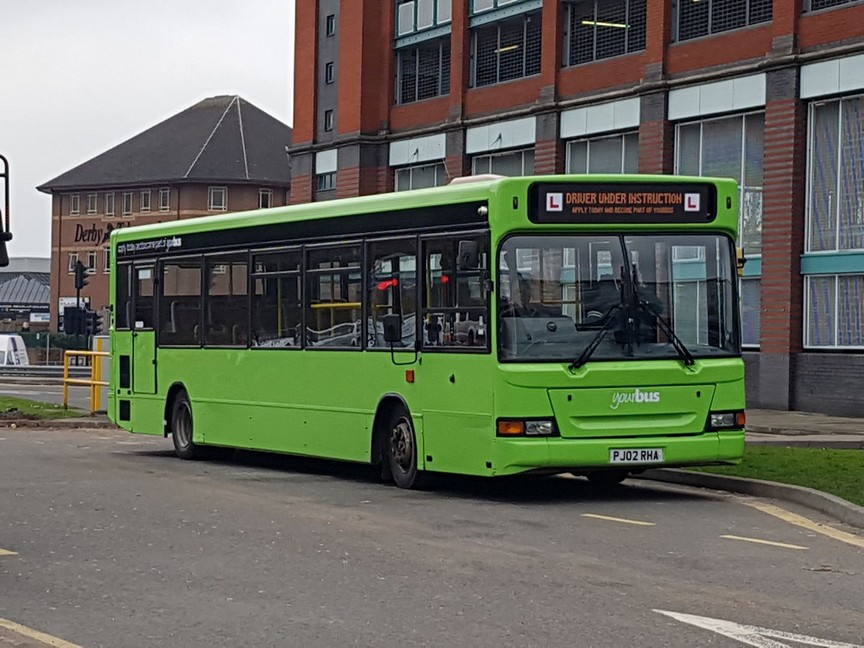 Training Dart (PJ02 RHA) carries this new bright green livery. Seen here in Derby.
(C) Chris Gaskin
---
---
Last Months News

News Index Page
---