Bus Fleet News
September 2014
---
Latest News
---
Here you will find all the latest bus fleet news for many bus operators in and around the Derbyshire area. If you have anything to report please contact me by clicking here.
---
---
NEWS
11th July
Volvo B9R Plaxton Panther (YX14 SDO) joined the fleet earlier this year.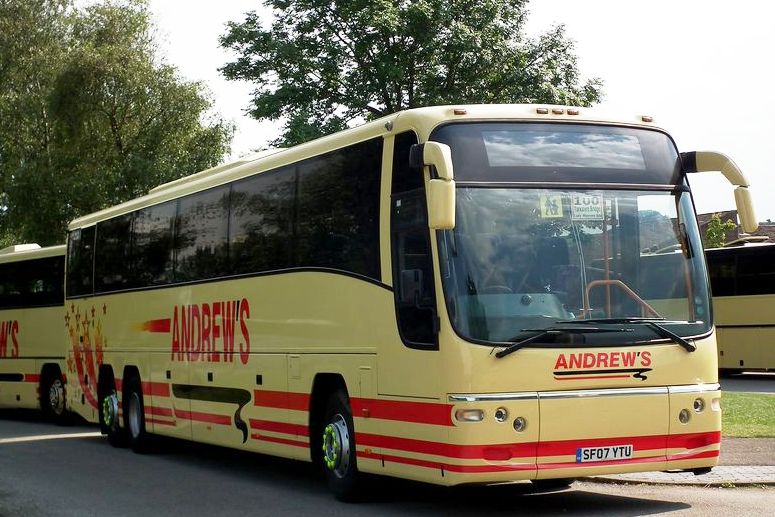 Former Scottish Citylink (SF07 YTU) is here. The vehicle has had a metre removed from the rear overhang, reducing it from 15m to 14m.
(C) Ian Moorcroft
---
---
NEWS
10th September:
Dart 2227 which was at Burton has been sold. 2226 has replaced it at Burton!

Versas 2947/8 have moved to Thurmaston.
4211 is another Gemini that has moved to Wigston.
MPD 2222 has returned to Derby from Hinckleybus, where it was on short term loan.

19th August:
The 7 new E400s are now in service on Sapphire route 38.

Geminis 4015/6/7/8 and 4208/9 have all gone to Wigston. MPD 2222 has gone to Hinckley.

Service changes in September should see 3 more buses leave the Derby fleet as there will be a lower PVR.

14th August: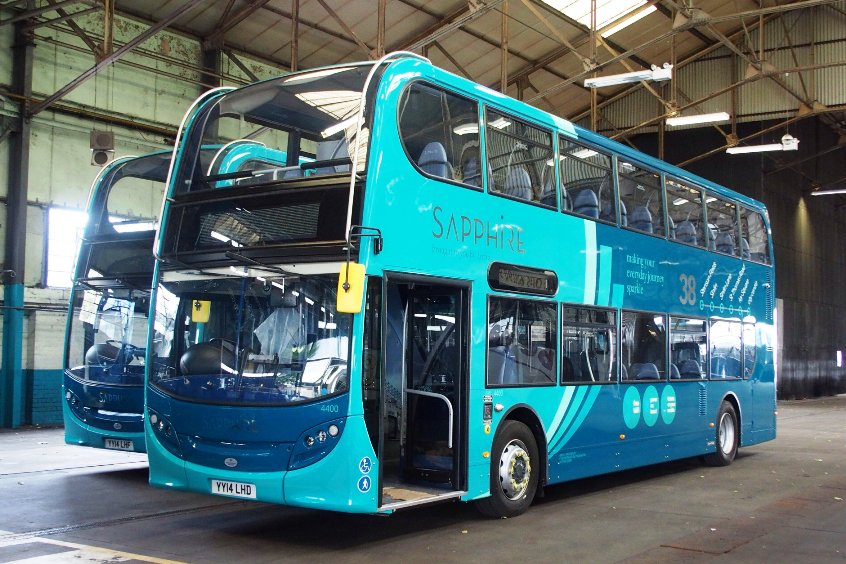 Sapphire E400 4400 (YY14 LHD) branded ready for use on route 38 from Monday 18th August.
(C) Richard Woodhead

26th June:
7 new E400 are due in early July. They will be to Sapphire specification, and are to be introduced on route 38 to Sinfin in August. The PVR for route 38 is now 8, with the 8th vehicle only required at peak times. It is thought one of the Geminis at Derby will be refurbished to Sapphire spec.
The 7 Enviro 400s are:

4400 (YY14 LHD),
4401 (YY14 LHE),
4402 (YY14 LHF),
4403 (YY14 LHG),
4404 (YY14 LHH),
4405 (YY14 LHJ),
4406 (YY14 LHK).

Dart 2252 is now at Thurmaston and 2237 is currently on loan to Wigston.
---
---
NEWS
22nd November:
(T179 AUA) has returned to Warringtons of Ilam.

20th October:
(SN57 VPL) Setra S415HD has left the fleet.
SCZ9652 (T179AUA) DAF SB3000 / Van Hool Alizee T8 is currently on loan from Warringtons Coaches of Ilam.


---
---
NEWS
10th September
Former NCT Excel 772 (FD51 EYY) has joined the fleet.

730 and 742 have left the fleet.

The E200s for Transpeak are due around November.

13th July
4 41 seat Enviro 200 are on order for the transpeak route.

904 is now in use with Centrebus in Grantham.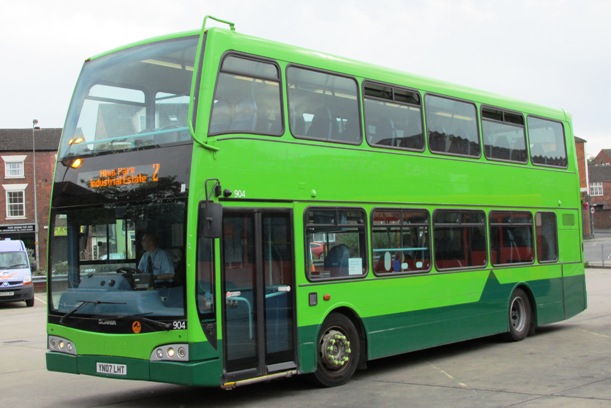 Former Transpeak decker 904 is now based at Grantham.
(C) Paul Gaunt
---
---
NEWS & Sightings
6th June
The two former Doyles Tridents (T183/4 CLO) are both now with Compass Bus, Worthing. They are in use in Doyles livery.

Tuesday 1st April
Most vehicles ended up at Stafford Bus Centre. McEwens have Solo (X791 NWX). (YJ55 BYD/F) are believed to have been sold the GHA, Wales.

Tuesday 14th January
Doyles coaches ceased trading at the end of Monday 13th January 2014. Many services in and around Mansfield have been taken over (in the short term at least) by Stagecoach. Service 228 in Hucknall is being operated by Littles. A&S Coaches are operating a reduced 331 service (Selston to Phoenix Park).

The 332 and services around Alfreton are not operating today (Tuesday 14th). Derbyshire County Council are looking into alternatives.
---
---
NEWS
10th September:
Northern Counties Palatine bodied Leyland Olympian (JIG 2164) (originally K669UNH) has arrived here.

19th August:
Dennis Dart SLF / Plaxton Mini Pointer (V256 BNV) has been joined the fleet from VIP Contracts of Birmingham.

14th August: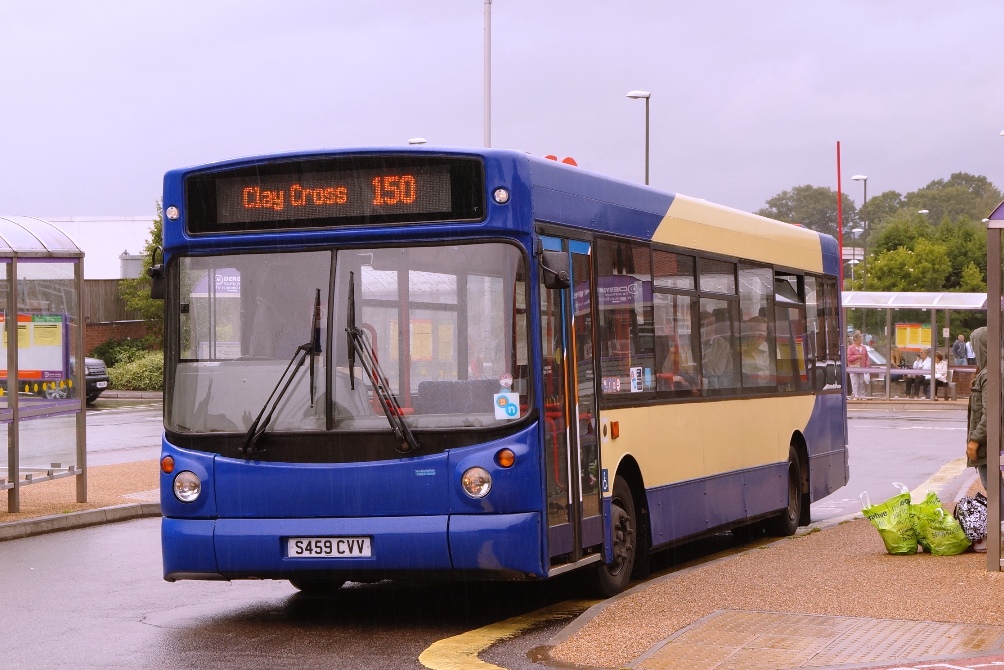 Dart (S459 CVV) is another addition to the fleet.
(C) Geoff Girling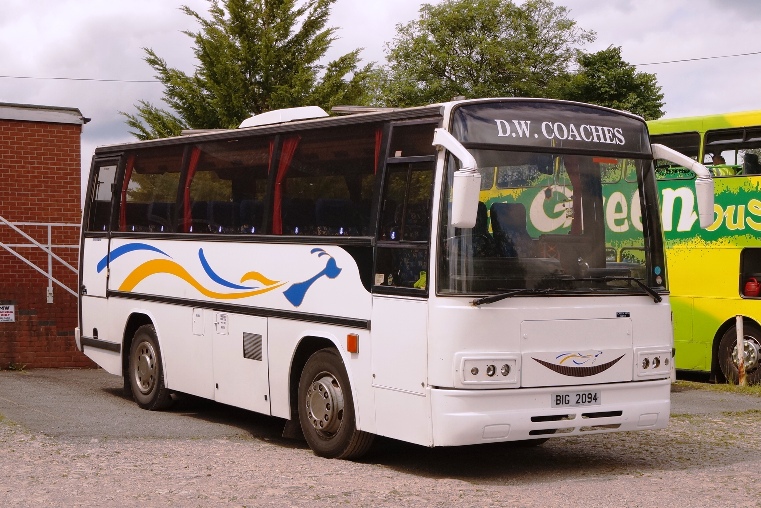 Plaxton bodied Javelin (BIG 2094).
(C) Geoff Girling

Dennis Javelin (P885 USU) has joined the fleet and is being prepared for use.
Scania L94 (W354 MKY) has joined the fleet.
Dennis Dart SLF (S459 CVV) has joined the fleet.

Dennis Javelin (AJZ 9206) has been re-registered as (H160 DJU).
Volvo B10M (B10 AVT) has been repainted into fleet livery.
Dennis Javelin (F137 SPM) has been re-registered (SUI 8162).
Leyland Olympian (K240 NHC) has left the fleet.
Volvo Olympian (P939 MKL) has been partly repainted into fleet livery.
Volvo Olympian (P943 MKL) has been partly repainted into fleet livery.

Dennis Dart SLF (W575 XRO) has been withdrawn.

6th June:
Another Dart here is former Stagecoach United Counties (S459 CVV). This is Alexander bodied.

1st April:
Alexander bodied Olympian (G654 UPP) is here. This was last operated with Arriva the Shires, but has been preserved into blue and yellow Aylesbury and the Vale livery for some time.

23rd January:
Former Stagecoach Western Darts 33443/4 (X613/4 JCS) have arrived here. 613 is awaiting repaint. Dart (T131 MGB) has left the fleet, and (V327 ) will follow once 613 is in service. Both are from Stagecoach South, at Aldershot via Hardwick (dealer).


---
---
G&J Holmes


NEWS
12th May
Another Enviro 200 here is (YX14 RZB).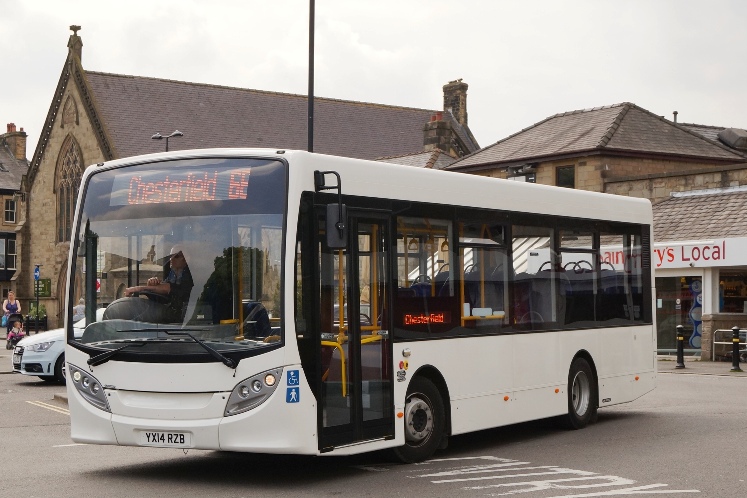 Enviro 200, (YX14 RZB) in Buxton.
(C) Geoff Girling



26th December
The 2 new Enviro 200s here are (MK63 WZZ) and (YX63 GYK). Solo (MX59 AVR) has been sold to PC Coaches, Lincoln.

---
---
Glovers of Ashbourne


NEWS
26th June
Scania Irizar (XJI 2964) is here in plain white livery. This Coach is Ex Winns Coaches.

1st April
Former Roy McCarthy, Macclesfield Volvo B12M/Plaxton Paragon (YN05 VRX) is here. The two Primos have left the fleet. There are rumours that one may be on its way to Malta soon!
---
---
Harpurs Coaches


NEWS

10th September 2014
Metrobus (C373 BUV) is back in use.

11th July 2014
(J723 EUA) is back in use here.
Former Lothian Olympian (M234 VSX) has been repainted.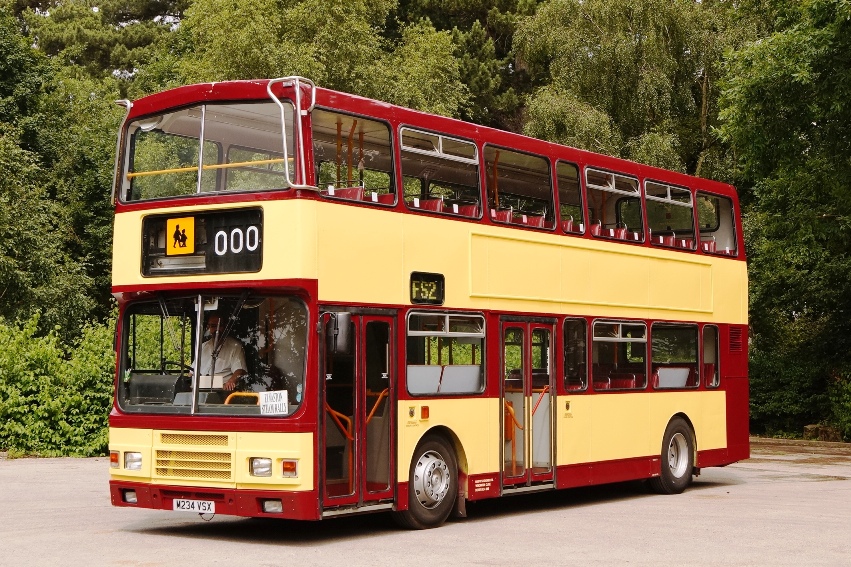 (M234 VSX) at Elvaston Castle.
(C) Geoff Girling

16th March 2014
The last Metrobus (C373 BUV) has been withdrawn along with Volvo B10M (J723 EUA)

15th March 2014
Another Volvo B12M has been added to fleet, it is (MX04 AEM)
Volvo B10M/Plaxton (T300 BCL) has been withdrawn and sold.

26th February 2014
A new arrival here is former National Holidays (new to Shearings) Volvo B12M / Plaxton Panther (MX04 AEV). C48ft seating.
Volvo B10M (S79 AUP) has been withdrawn and sold.

3rd February 2014
Olympians (N594 BRH) and (R319 WVR) have been sold on for further service.

Restoration of former Derby Corporation Daimler Fleetline (XCH 425G) has begun inm partnership with Derby Museums.

7th November 2013
(R309 WVR) has been painted and now in service. Similar (R319 WVR) is currently in stock, but not prepared for use.


---
---
Hawkes Coaches

NEWS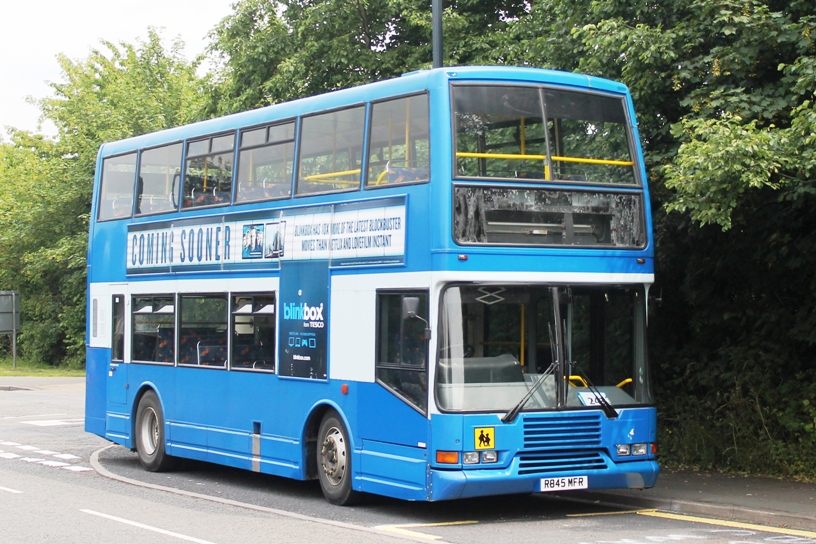 Olympian (R845 MFR) is a recent addition to the fleet.
(C) DBD

2nd January:
An arrival in the last few months is East Lancs bodied Olympian (R343 MFR), ex Metrobus, Orpingdon and still in their blue/grey livery.


---
---
Hulleys of Baslow

NEWS + SIGHTINGS
Former Trent Dennis Lance / Optare Sigma 12 is for sale. If anyone is interested in preserving this vehicle, please contact Hulleys. If a buyer is not found soon, it will be scrapped.

12th May
Solo 9 (MXO9 AOF) returned to service on 4th May, after some 7 months off the road, with a Cummins engine in place of its original MAN unit. The VDL SB200 on hire from Arriva, (YJ62 JZT), has been purchased and numbered 12.

24th March
The latest new addition is (YJ62 JZT) - a VDL SB200 with Wright Pulsar B44F bodywork. Previously an ARRIVA lease vehicle with Reays of Cumbria, it is currently here on loan, although it may be purchased (possibly as a replacement for Lance 12, which is currently out of use).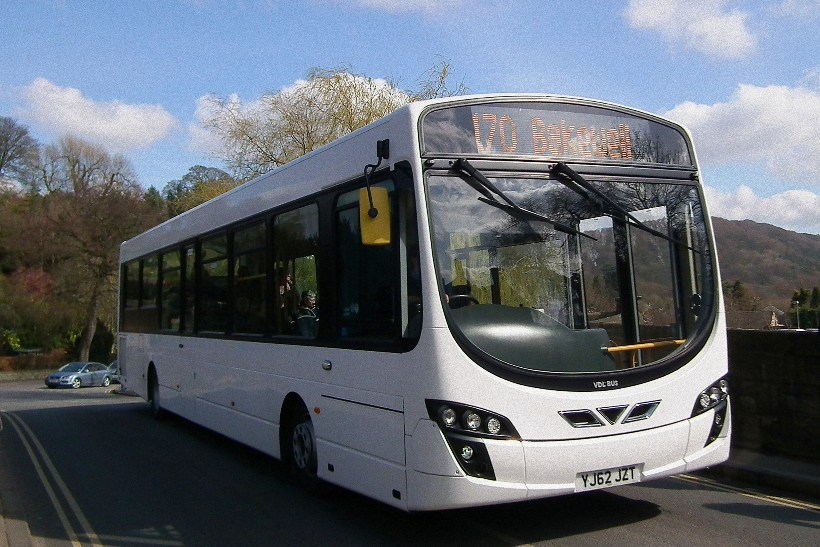 VDL Wright Pulsar (YJ62 JZT) in Bakewell.
(C) Ian Moorcroft



15th March
Enviro 200 demonstrator (YX62 EEY) arrived here on 4th March, scheduled for a 2 week stay.

26th February
Volvo decker 4 has been towed away for scrap after being involved in an RTA a while back.
Solo 9 is being sent to Smiles in Newcastle to have the MAN engine replaced with a Cummins one. A number of former NCT Versas are having the same proccess done at the same place.
Lance 12 is currently off the road with gearbox issues. This may lead to an earlier withdrawal than first planned.


---
---
Johnson Bros / Redferns

NEWS & SIGHTINGS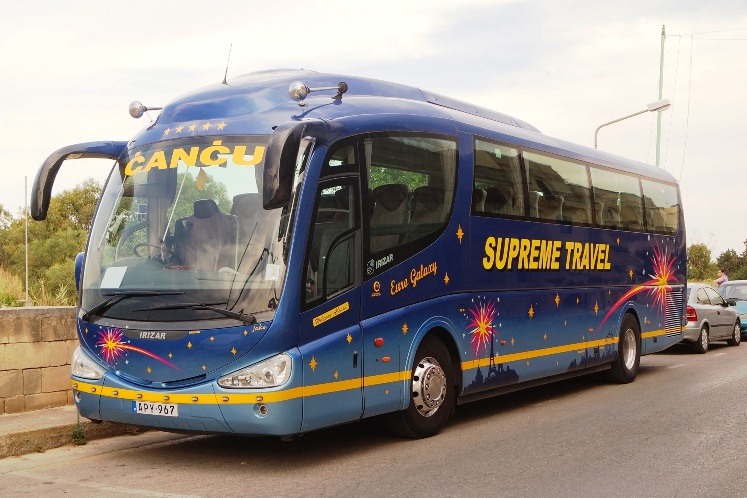 Former Scania Irizar (6 JBT), (YN56 NNP) is now in Malta with Cancu, Supreme Coaches.
(C) Geoff Girling


18th February
3 Van Hool's have joined the fleet, these are: (YJ08 EBG), (YJ58 FHT) and (YJ58 FHU).
---
---
Linburg

NEWS + SIGHTINGS
26th June
4 Northern Counties Olympians are here from London Suburbian:

(L204 SKD) now (OUI 4770),
(L205 SKD) now (BUI 471),
(L210 SKD) (not yet reregistered),
(L215 TWM) (not yet reregistered).

Former Yorkshire Traction ECW Olympian (C669 GET) (this was BUI 471) and ex Cambus (F513 NJE) and (G757 UYT) have all been withdrawn.

Two Darts to join the fleet are ex Stagecoach London Plaxton Pointer bodied examples which have also be re-registered!

(V173 MVX) is now (OUI 9980),
(V175 MVX) is now (IIG 9382).
---
---
Littles Travel

NEWS + SIGHTINGS
26th June
Ex London United Dart / Plaxton Pointer (Y552 XAG) is here painted in battleship grey.
---
---
Midland Classic


NEWS
11th September
E300H 203 (SN62 DNJ) has been returned with E200 204 (YX14 RXB) being on loan in its place.

19th June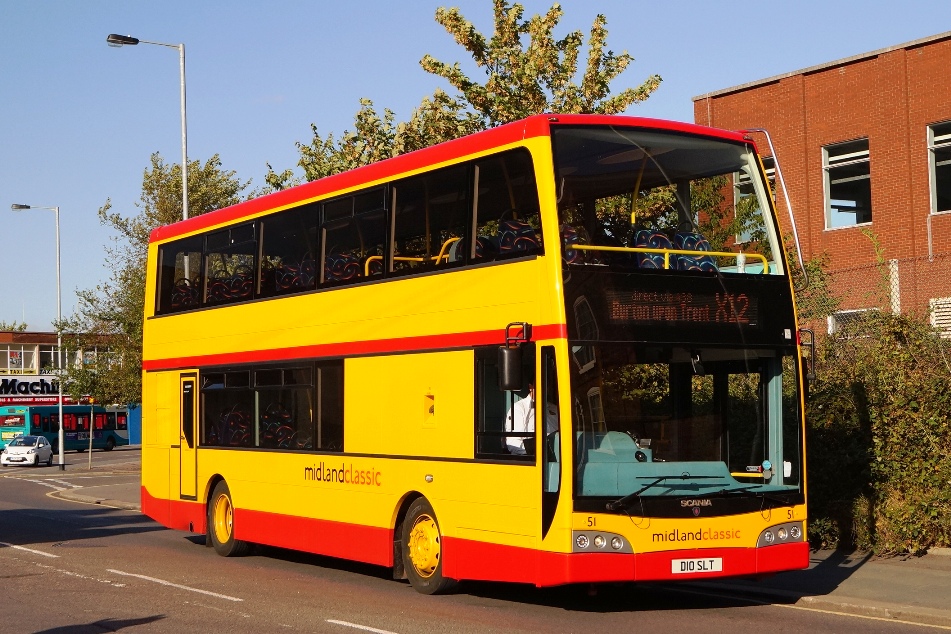 Optare Olympus 51.
(C) Geoff Girling

14th June
Scania / Optare Olympus (D10 SLT) has arrived here from South Lancs Travel. it has been repainted into fleet livery.

2 Brand new Enviro 200s are here as (JB14 MCL) and (KW14 MCL).
Alexander Dennis E350H (SN62 DNJ) is currently on loan. Fleet number 203.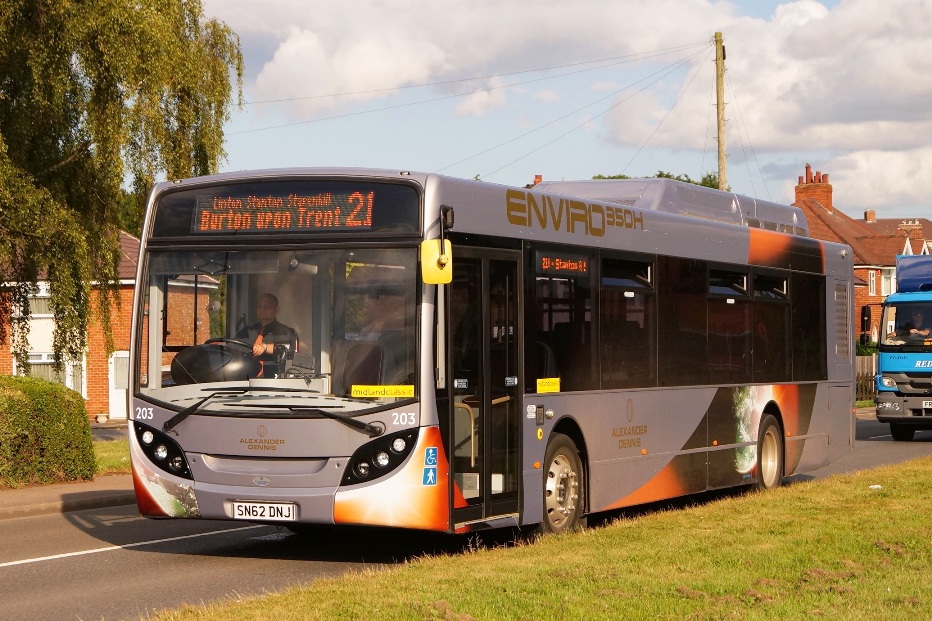 Alexander Dennis E350H demo is currently on loan. Seen here on Stanton Rd.
(C) Geoff Girling

21st May
Two Scanias have arrived here from Reading buses. They are 78 (YN05 GXH) and 79 (YN05 GXJ). 79 has been repainted, and 78 is now away being painted.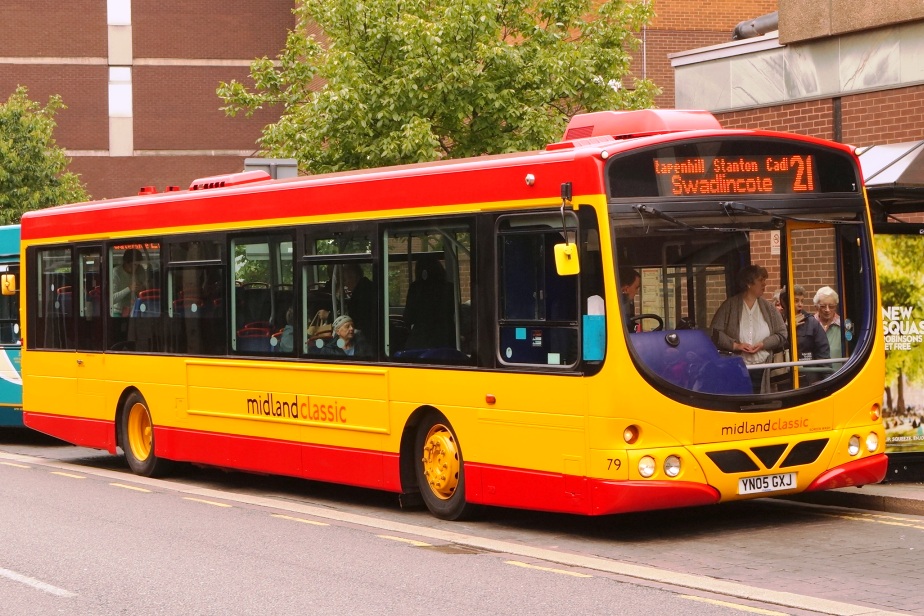 Scania 79 (YN05 GXJ) after repaint.
(C) Geoff Girling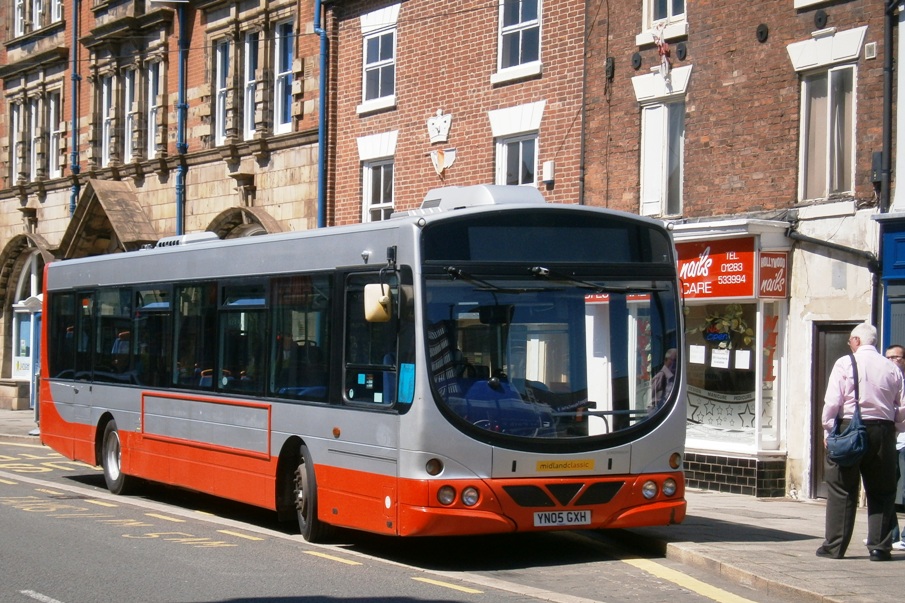 Scania 78 (YN05 GXH).
(C) Dan Louch
---
---
Paul S Winson


14th August
Olympian (G129 NRC) is now preserved with Nottingham Heritage Vehicles. NEWS

---
---
Skills, Nottingham

NEWS
-
---
---
TM Travel


NEWS:
See Wellglade section.
---
---
Translinc
NEWS
---
---
The Wellglade group
trent barton, kinchbus, notts+derby and T M Travel.
NEWS
11th September: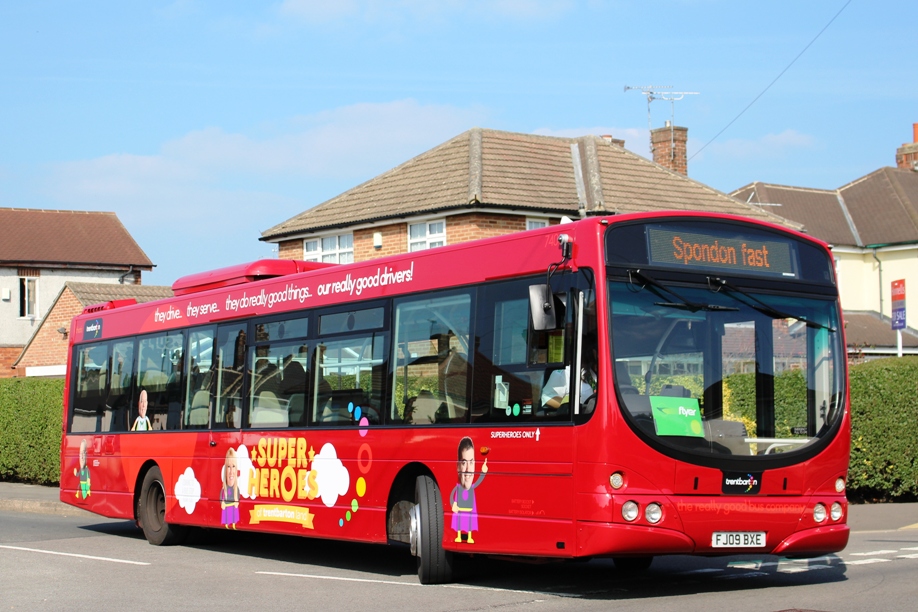 Former Rapid 1 Volvo 740 seen in Spondon in its new super heroes livery.
(C) Matt Burley

Former Rapid 1 Volvo 739 is now in trent barton red and based at Langley Mill. 740 is also now in red and based at Derby replacing 265.

Scania 602 has moved to Sutton to replace an Excel.

The 8 Kinchbus Citaros for the Derby - EMA - Leicester Skylink service are:
907 (BX64 WHU),
908 (BX64 WHV),
909 (BX64 WHW),
910 (BX64 WHZ),
911 (BX64 WJA),
912 (BX64 WJC),
913 (BX64 WJD),
914 (BX64 WJE).

Former Rainbow 1 Scania 664 is currently at TM Travel for evaluation.

19th August:
Solo 429 now in trent barton red based at Langley Mill.

The former Rainbow 1 and Rapid one Volvos are expected to be re-allocated as follows:
649/650/651 Skylink Derby alongside the new Citaros as the frequency is to be increased to every 20 minutes.
652/653/654 for Zoom replacing the Solos.
655-661 for Villager.
664 spare?.
739/40 - spare.

The current villager Scanias are expected to transfer to notts and derby.

TM Solos 1193 (YJ57 EHB) and 1194 (YJ57 EHC) are now in a bright yellow livery foir Line 31 Rotherham to Meadowhall.
Solo 425 repainted to TM red.
Solo 1161 (YG52 DHC) is red with Line 4 branding.
Solo 402 has been withdrawn.

14th August:
Recent repaints are Solo 428 to trent barton Sutton, 430 to trent barton Langley Mill, and 450 to trent barton Derby.

Tempo 306 has been repainted into Rushcliffe Greens livery as an extra vehicle is needed for the revised services.

The Rainbow one / Rapid one Versas (listed below) are now in use. The Scanias and the Volvos they replaced are currently in the process of being cascaded.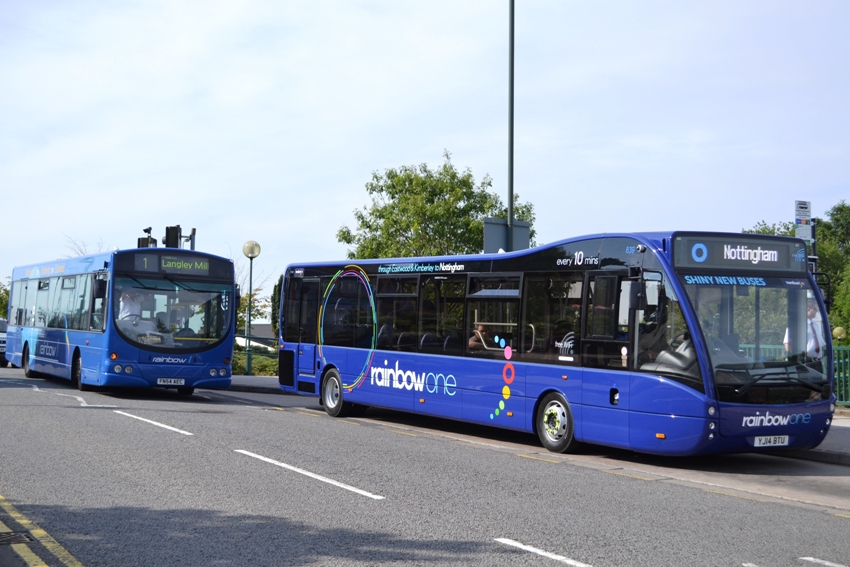 Versa 839 on its first day in service.
(C) Calumbus



11th July:
trent barton
The Versas for Rainbow 1 have started to arrive. A series of events and publicity roadshows are being held throughout the month: Rainbow reloaded. Details for the vehicles are below:

836 (YJ14 BTE),
837 (YJ14 BTF),
838 (YJ14 BTO),
839 (YJ14 BTU),
840 (YJ14 BTV),
841 (YJ14 BTX),
842 (YJ14 BTY),
843 (YJ14 BTZ),
844 (YJ14 BUA),
845 (YJ14 BUE),
846 (YJ14 BRF),
847 (YJ14 BRV),
848 (YJ14 BRX),
849 (YJ14 BRZ),
850 (YJ14 BSO),
851 (YJ14 BSU).


The Rainbow 1 Scanias are likely to be cascaded to replace the remaining Excels, and possibly the Villager Scanias.

Solos 428/9/30/50 are all being painted into trent barton livery.

The Calverton Connection Citaros have been renumbered as follows:

693 is now 901.
694 is now 902.
695 is now 903.
696 is now 904.
697 is now 905.
698 is now 906.

Former 53 (M53 PRA) now (909 HKK) is now with Fowlers (ex Autocar, Kent).
Former Trent and notts+derby Olympian 716 is now somewhere in California as a Bageti Sandwiches cafe.

kinchbus
New Mercedes Citaros are due soon for the Derby - Loughborough - Leicester Skylink route. More details to follow soon.
Most if not all of the route 11/12 Tempos have been repainted.
Solo 420 has gone to Looms for scrap.

notts+derby
Solo 427 has joined the fleet repainted in notts+derby livery.

Four Excels, 221/2 and 230/6 have been withdrawn and parked at Kinch (for sale or scrap).
Paladins 113 and 123 have gone to Looms for scrap.

Former Lothian 33-39 are set to be converted to full DDA standards with manual ramp fitted, hopefully over the summer. The 4 London deckers (29-32) are going for the same treatment and having the centre doors removed.

1153 is set to be withdrawn soon. Some Excels and Scanias are expected to be cascaded from trent barton later in the year.

26th June:
Solo 444 is now back with Trent (from TM Travel).

21st May: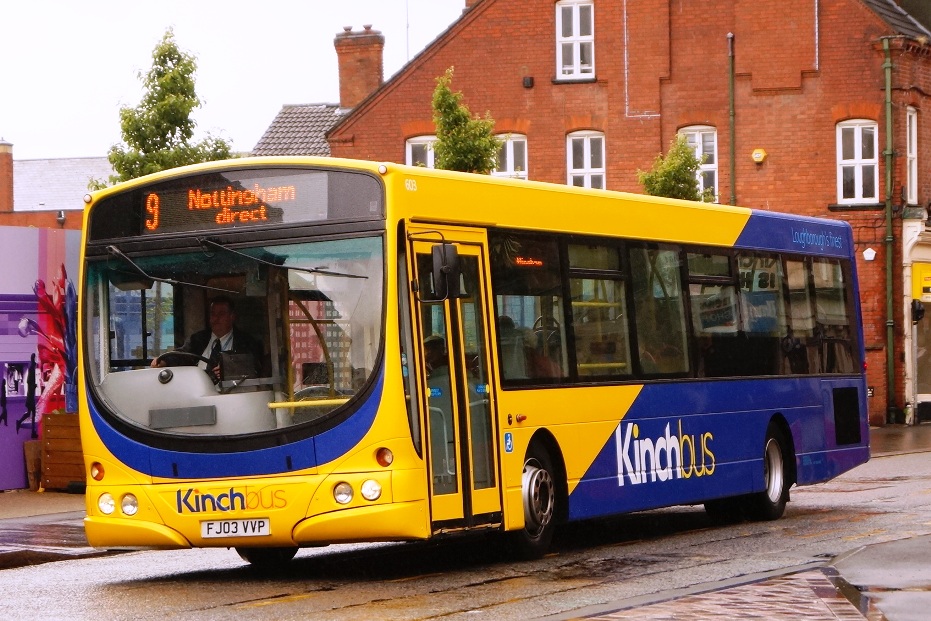 Former H1 Scania 603, in the revised kinchbus livery.
(C) Alf Cundy
---
---
Yourbus, Nottingham
NEWS
11th July 2014:
The Citylink service (Derby to Nottingham) will be withdrawn from 27th July.
From 17th August the Y1 route is extended to Langley Mill, Eastwood (3 per hour) and Alfreton (1 per hour).
---
---
Last Months News

News Index Page
---