Bus Fleet News
October 2019
last update 26th October

Many thanks to all who have contributed news and photos to the website. Without this the site would not be possible.
---
Latest News
***Midland Classic: Two E200s branded for X12 ***Yourbus: Citaros sold to Diamond ***Arriva: 19 Streetlites now in use.

---
Here you will find all the latest bus fleet news for many bus operators in and around the Derbyshire area. If you have anything to report please contact me by clicking here
.
---
---
Andrews of Tideswell
NEWS
9th January 2018
A new addition to the fleet is Trident (LX51 FJA) from Hulleys, Baslow 2/1/18.
---
---
Arriva Derby
NEWS
26th October 2019
VDLs 3767/8/9 have all recently been repainted.

VDL Centros (YJ57 BWA), 3845 (YJ57 BWE), 3846 (YJ56 BWF), Streetlite (FJ64 EVM) and Cadet (CX04 EHY) have all been in use at Derby over the last week.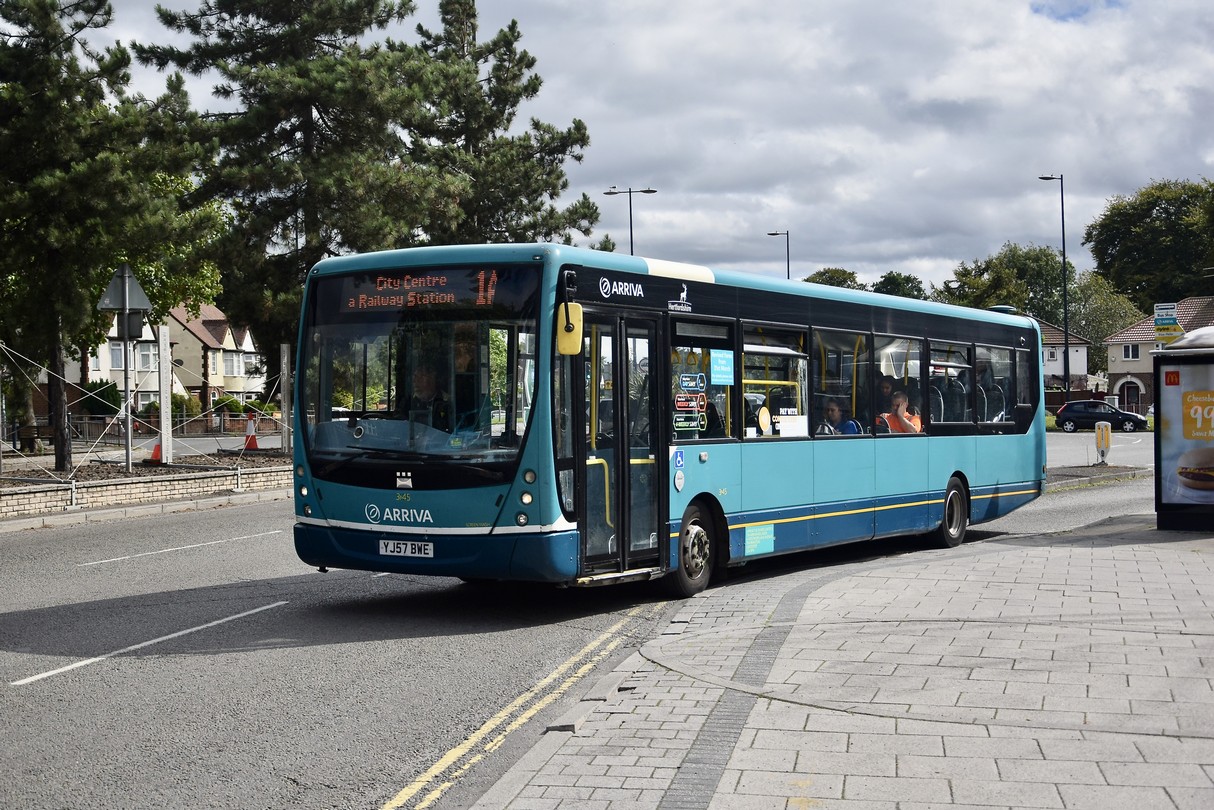 A number of Centros are currently in use in Derby including 3845 seen here in Alvaston.
(C) Geoff Girling


8th July 2019
Some vehicles are currently on loan here whilst the exhaust systems are upgraded on certain vehicles in the fleet. Volvo B7RLE 3927 (KE05 FMM) and Wright Commanders 3702/3/4. Cadet 2745 was in use here last week too.

5th June 2019
Tamworth based Wright bodied Volvo 3927 (KE05 FMM) is in use here.

23rd April 2019
Scanias Omnicities 3581 and 3582 have joined the training school fleet renumbered 9561 and 9562.

4600 has moved to Tamworth some weeks ago, but has not seen service there. Currently VOR. 4200 remains at Tamworth but may move to Derby once 4600 is in use there.

Most/all of the Solos have now moved on to elsewhere within Arriva:

2505 - Telford,
2506 - Oswestry,
2507 - Shrewsbury,
2508 - Cannock,
2509 - High Wycombe,
2510 - Cannock,
2511 - Telford,
2512 - ??,
2513 - Cannock,
2514 - Cannock,
2515 - ??,
2516 - Cannock,
2517 - ??,
2618 - Telford,
2519 - Shrewsbury?,
2520 - Telford,
2521 - Telford,
2522 - Shrewsbury.


---
---
Bakewell Coaches
NEWS
-
---
---
Derby minibus
---
---
G&J Holmes

NEWS
9th September 2017
The last two Solos have been sold. (LJ60 LTY) is now with Stephensons, Easingwold and (MX59 AVT) is now with Llew Jones, Llanrwst.
---
---
Glovers of Ashbourne
---
---
Harpurs Coaches


17th July 2019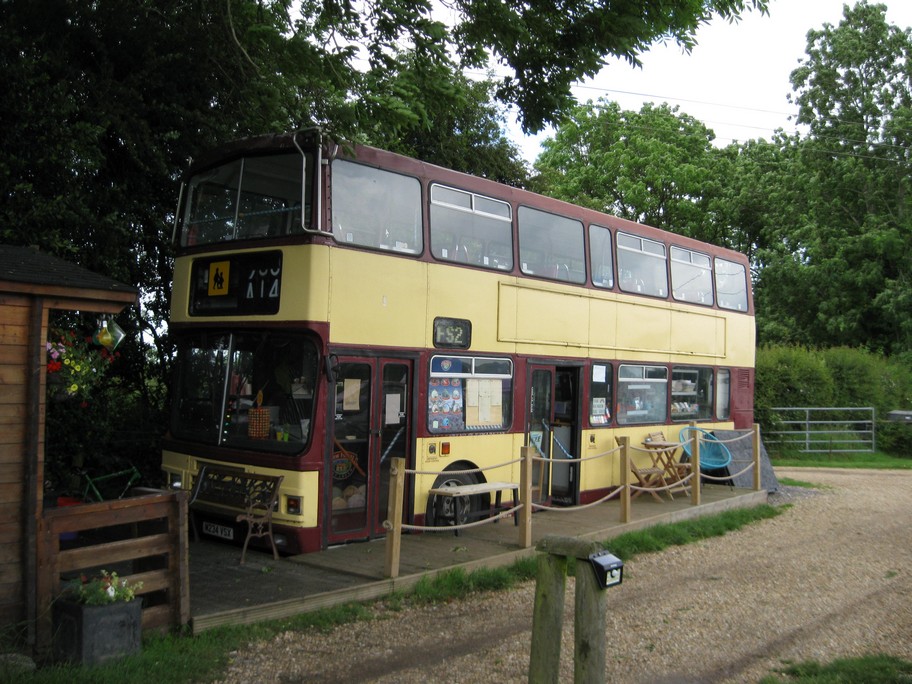 Former Harpurs Olympian (M234 VSX) has been converted into a Cafe at a camp site on the outskirts of Warminster in Wiltshire. The owners of the camp site said that they acquired it from the Manchester area about 6 months ago.
(C) Phil G
1st June 2019
All over yellow Volvo B7TL, Alexander ALX400 (LJ03 MXL) arrived here in April, thought to be last operated by Richardson Travel of Midhurst, West Sussex after they cesed trading in February. Formerly with Arriva London..

8th November 2018
A new addition here is B12M (B204 COX) from Cox of Belper.
---
---
Hawkes Coaches
NEWS

---
High Peak

News
26th October 2019
Citaro 804 (BN12 EOX) has arrived, here and has been painted for Skyline 199. More are expected.

Former Yellow buses Versa 786 (T23 TYB) also became part of the fleet during the summer.
696 is believed to have been withdrawn following an RTA.
---
---
Hulleys of Baslow

NEWS + SIGHTINGS
2nd October 2019
A new addition to the fleet is former Stagecoach Dart/Plaxton 11 (PX55 EGC).

MCV Dart no 14 went for scrap last month.

The last coach in the fleet is to be sold at the end of the month.

Service X70 will connect Bakewell and Chesterfield via Baslow every 30 minutes from 4th November.

15th September 2019
Alf Crofts took ownership of Hulleys at the end of August. 2 former Stagecoach Dennis Darts have been acquired through Ensign, and should appear within the next week or so, in fleet livery with fleet names.

8th July 2019
The first of the two ex Bournemouth Darts 509, has become number 8 (SN55 DVO), and entered service last week. 511 (SN55 HSX) is due for delivery this week. Both carry Hulleys livery without fleet names.

Number 11 is being used for spares following last months fire, and will be going for scrap soon.

18th June 2019
11 (MX09 HJF) caught fire on Monday and is unlikely to see further service.


---
---
Johnson Bros / Redferns
NEWS & SIGHTINGS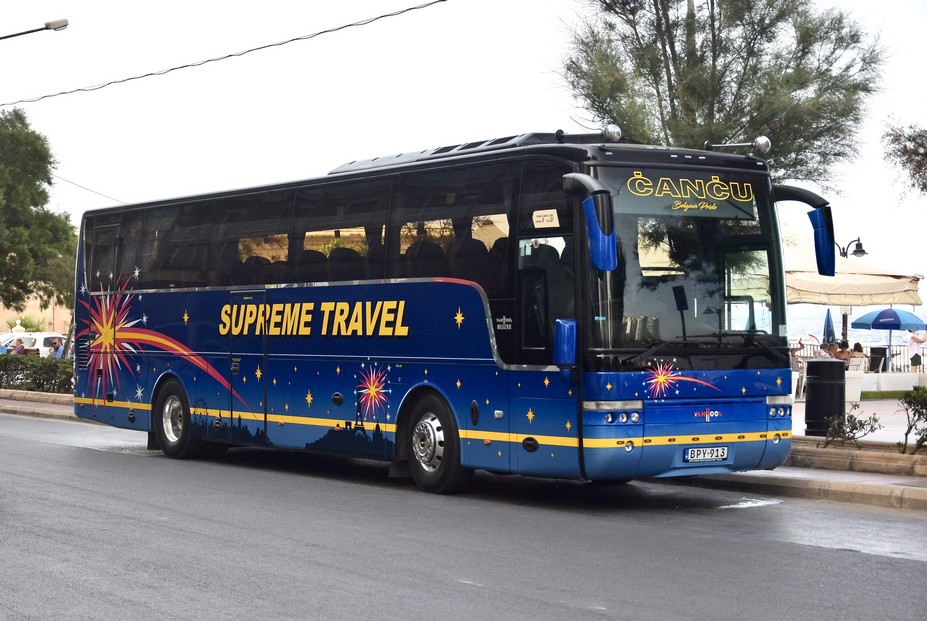 This VDL was new as (YJ58 FHT) and then became (97 RT) with Johnsons, Derbyshire. It was used on Rail Reps at Derby last summer. Now with Supreme Travel of Zejtun and seen here on Tower Road, Sliema.
(C) William Debono
---
---
Linburg
---
---
Littles Travel

NEWS + SIGHTINGS

26th October 2019 Former Lothian Volvo B7 Gemini (VIL 9334) is now in use here still in Lothian livery. Ex Lothian 727 (SN55 BMZ).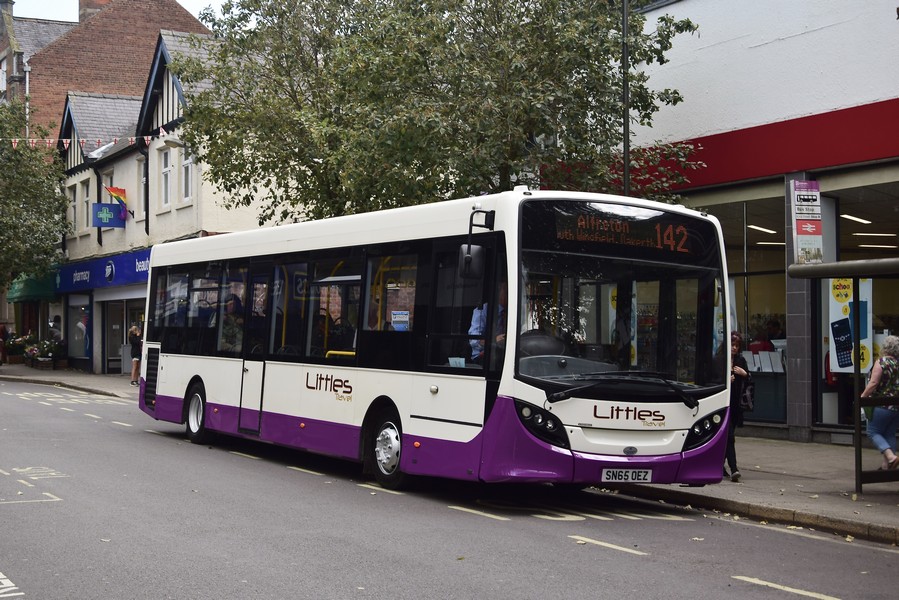 Littles have started to apply a purple skirt onto their buses. Two E200s are reported in this livery so far, including (SN56 OEZ) ssen here in Belper.
(C) Geoff Girling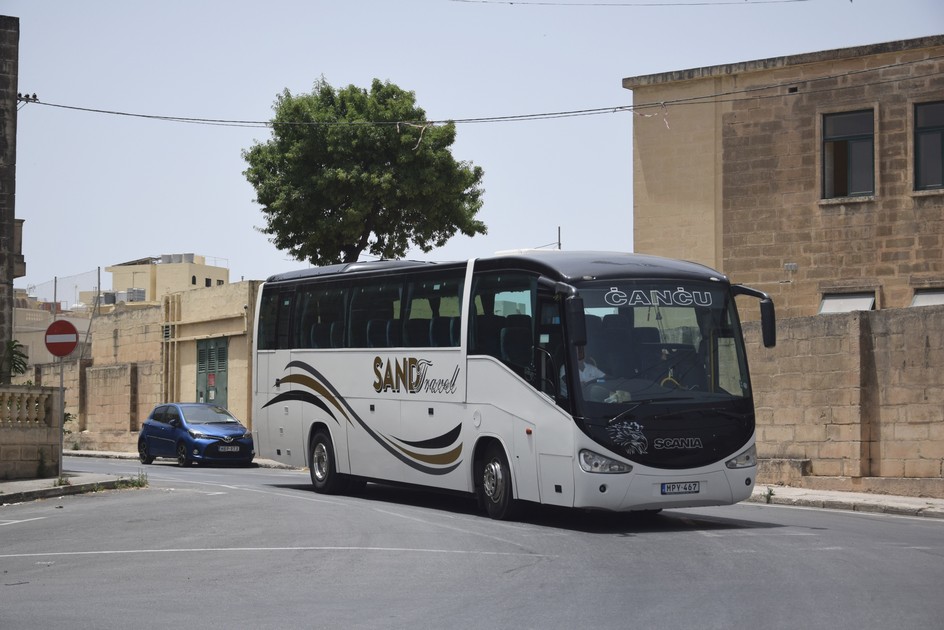 New as (YN08 DDJ) this then became (M60 LTL). Now with Sandro Abela (Sand Travel) of Zejtun, part of the Cancu operation. It is seen here in Zejtun on school duties.
(C) William Debono
31st January 2019
New here are Scania / Higer coaches E2 (YT68 GWO) and E3 (YT68 GWP).

---
---
Midland Classic
NEWS
2nd October 2019
3 E400s have joined the fleet as:
91 (LK56 FHE),
92 (LK57 AXJ),
93 (LK57 AXM).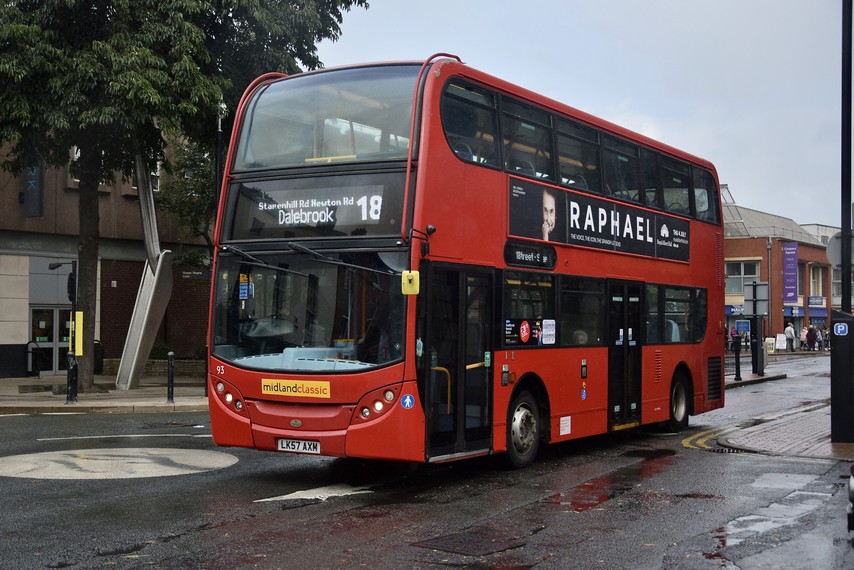 E400 93 (LK57 AXM) can be seen here in Burton still looking smart in London red.
(C) Geoff Girling



15th September 2019
Scania/Wright (K7 YCL) is on loan from Centrebus. It has fleet number 218 whilst here (centrebus 702).

Former Metroline E400 (LK56 FHE) has been reported here, currently away for repaint. Scania 82 has been repainted.

Scanias 87 (Y336 VST) and 88 (YL51 ZUD) have been sold. 88, which was new to Dunn Line, is now with Alpha Coaches, Honiton.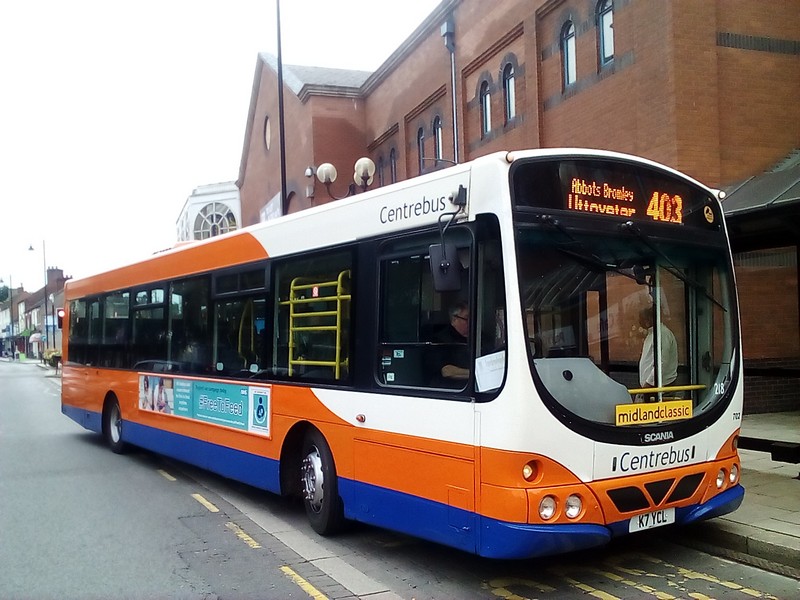 Scania (K7 YCL) is on loan from Centrebus, seen here in Burton.
(C) Chris Broom
18th July 2019
E200s 1 and 2 have been branded for the X12 service.

Gemini 47 has returned to service after previously passing to a dealer where it was advertised for sale.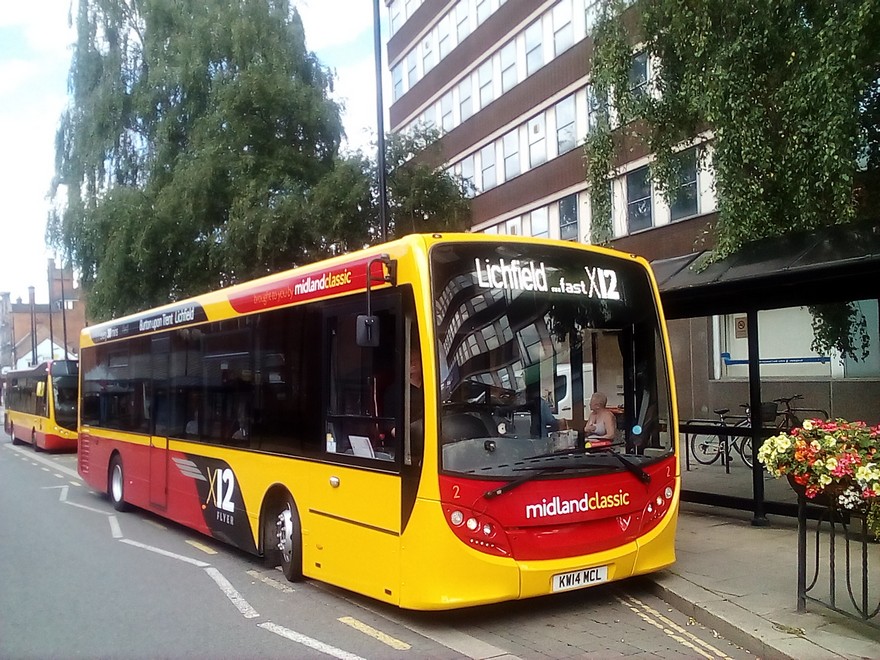 Number 2 (KW14 MCL) now carries the new X12 livery. Seen here in New Street, Burton.
(C) Chris Broom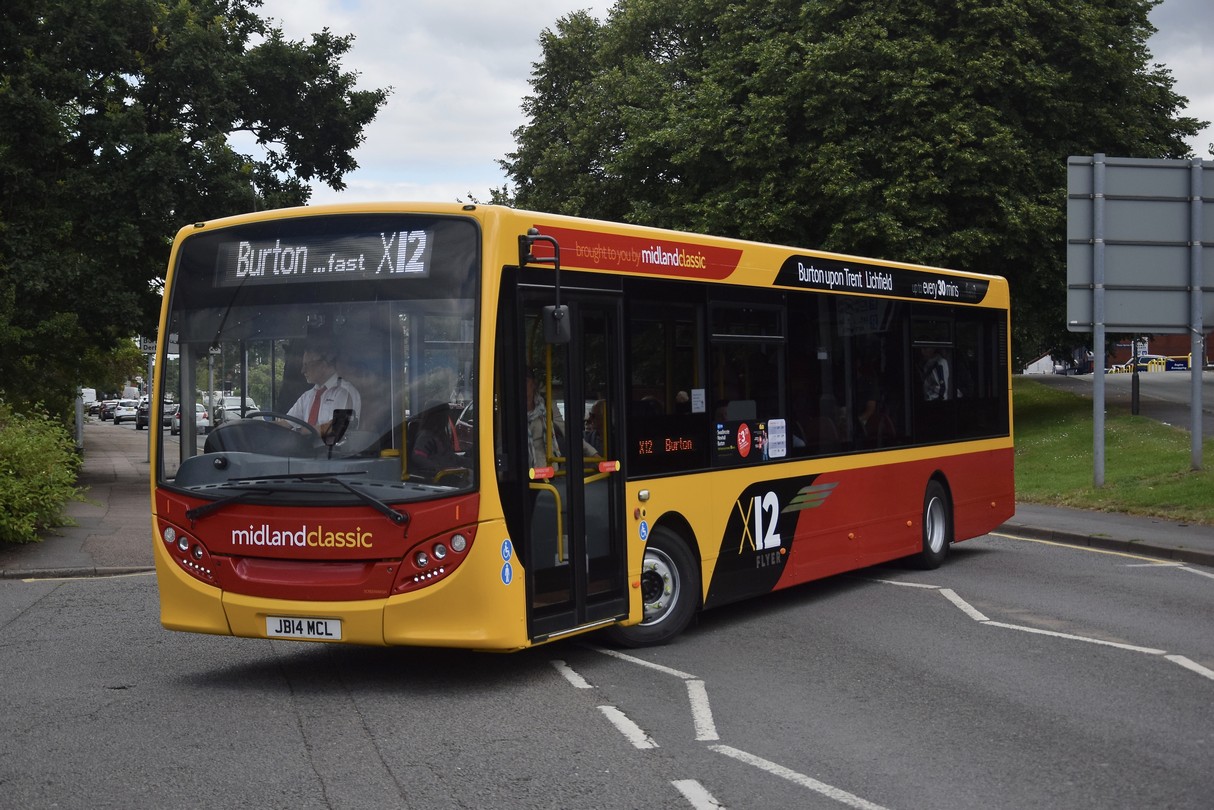 Number 1 (JB14 MCL) now carries the new X12 livery. The yellow is a different shade to the standard fleet livery, very similar or the same a trent barton villager yellow.
(C) Geoff Girling
---
---
Nottingham buses

6th April 2016
---
---
---
Skills, Nottingham
NEWS
8th October 2019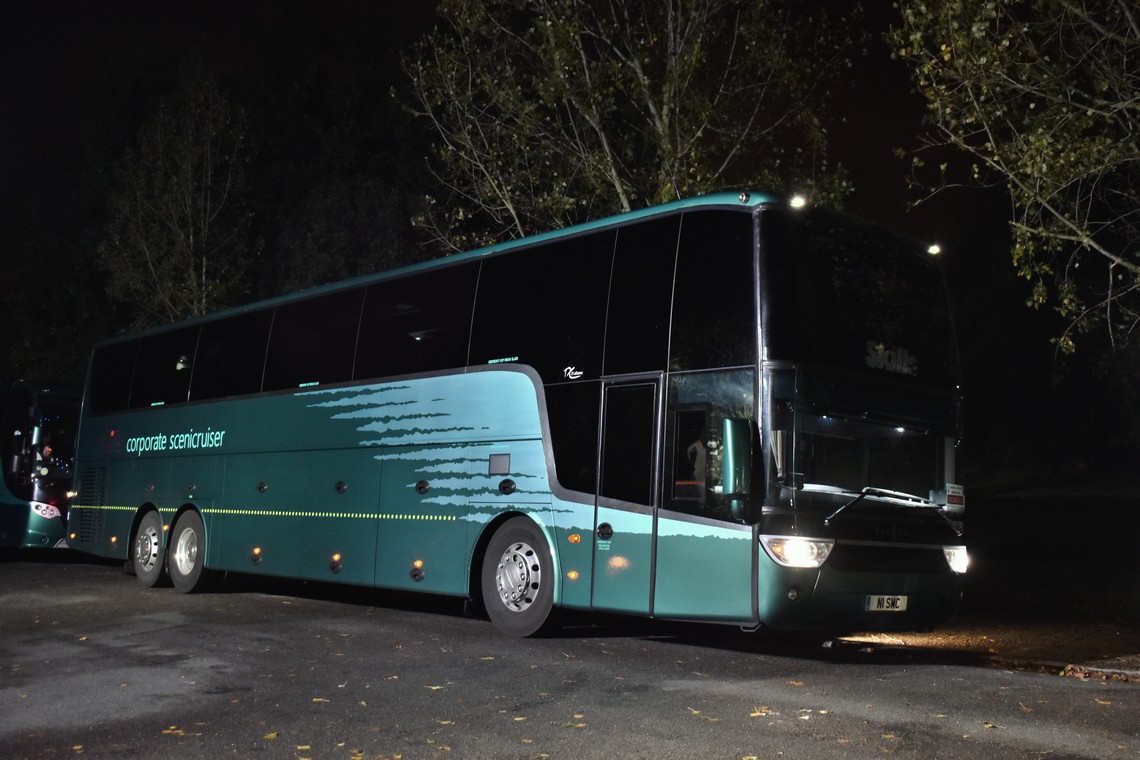 MAN powered Van Hool Altano, bought for corporate work, it sees use as the Nottingham Panthers team coach, picture taken at Finsbury park for the Nottingham Forest V Arsenal match. .
(C) Calum Maclennan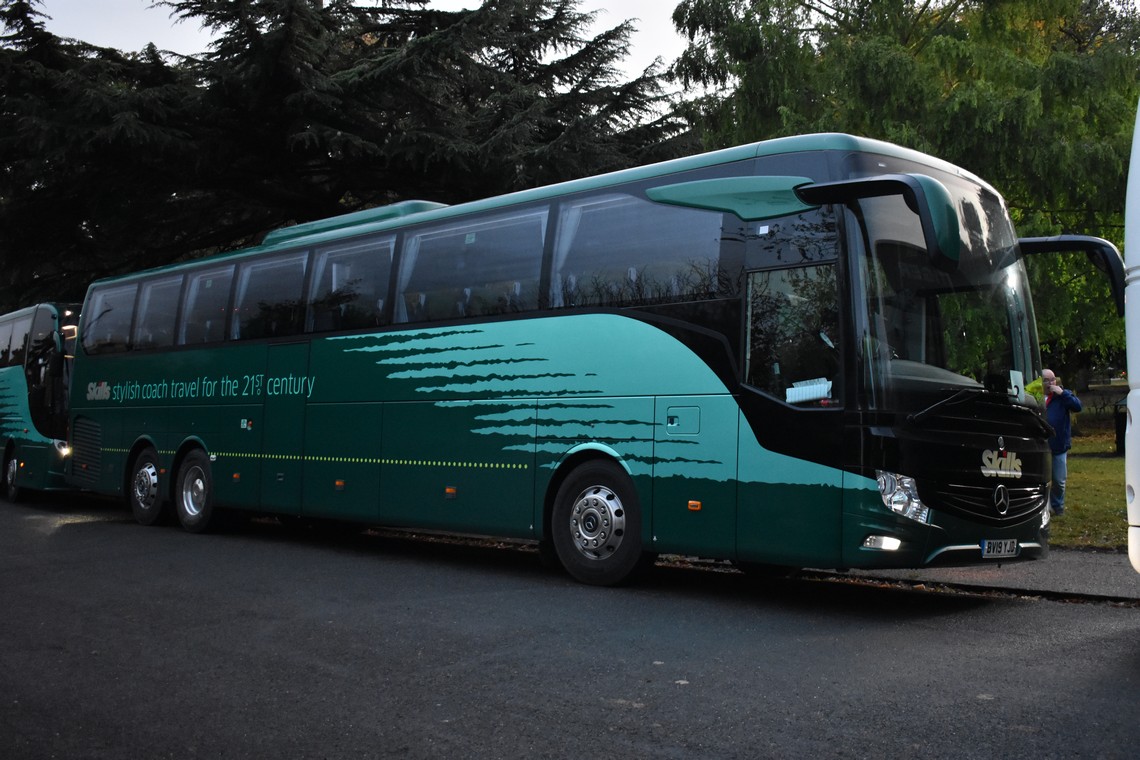 Mercedes Tourismo with 61 seats also seen at Finsbury Park.
(C) Calum Maclennan

15th September 2019

Trident (SN04 ABZ) is now (SFZ 5770). The final two have yet to be reregistered.

(BV19 LNE) is now in use with Silverdale, and Skills have similar (BV19 LNH). Neoplans (SIL 7028) and (SIL 7947) have left.

(FJ09 DXU) is now a 70 seater.

2 35 seat Yutongs have arrived, a 15 plate and 65 plate. More soon.

18th July 2019

2 new MCV bodied Volvo B11R coaches are here as (BV19 LNF/G). Both have entered service in plain white. 2 Neoplans (MF11 LVJ/K), in use here as (SIL 7024/5) have left the fleet in part exchange. Another MCV is due for Skills and 5 for Silverdale later in the year.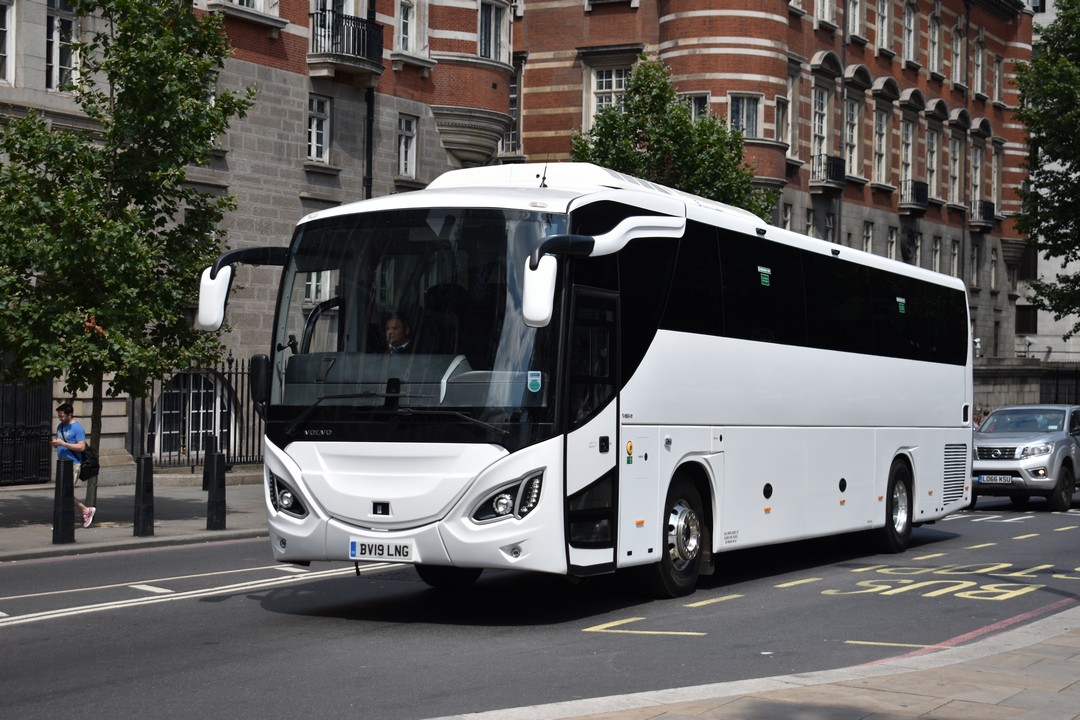 Skills brand new MCV521 Volvo B11R is seen here on Victoria Embankment.
(C) Calum Maclennan
30th June 2019

2 new Levante 3s are here as (BV19 XPO/P), with a third expected soon.

Van Hool coach (YD14 GDU) has arrived here, has been repainted and now carries registration (N1 SMC).

Former (N1 SMC) has been registered (UJI 6312).

New Tourismos here are (BV19 YJC/D). Both have been painted. (BV19 YCA/B) are in plain white at Silverdale. (SFZ 5770/1) reverted to registrations (YT11 LPJ/K) before going to Evobus in part exchange. The private plates will go on the ex Lothian Tridents.

Olympian (M421 UKN) is another to go to freeway, joining 418/9/20.

S451 is now in Norfolk in use as a fruit picker and W301 to an operator in Staffordshire.

Ex Lothian Tridents here are:
(SN04 ABV), now (SIL 7025) - still in Lothian livery.
(SN04 ABX), now (SIL 6434),
(SN04 ABZ), now (SFZ 5770),
(SN04 ACV), now (SIL 6435),
(SN04 ACU), now (SIL 7024),
(SN04 ACY), now (SIL 7032),
(SN04 ADX),
(SN04 AEA), now (SFZ 5771)
(SN04 AEK), now (SIL 9126),
(SN04 AEL).

Olympians (M218/9/20 UKN) are now with Freeway.

(KJZ 8508) has reverted back to (FJ04 SNX) has been sold for export. Trident (SN04 AEL) will be an 82 seater and fully DDA as back up for (SN17 MVV).

(M419/21 UKN) and (S451 ATV) have been sold. (W301 MKY) thought to have gone. (W302/3 MKY) remain in use.

---
---
TM Travel
NEWS:
See Wellglade section.
---
---
---
The Wellglade group
trent barton, kinchbus, notts+derby and T M Travel.

NEWS



26th October
The H1 is to operate at a 10 minute frequency from next Monday.

Solos 1160 and 1165 have moved from TM Travel to notts and derby. Notts and Derby now operate former yourbus route 59 (Derby to Ilkeston).

TM have acquired some former Uno Scanias, 2 Omnilinks 1207/8 (YN57 FZA/B) and 2 Omnicities 1209/10 (YN56 NRY/Z). They have entered service in Uno livery.


15th September 2019

Two former Sanders of Holt Dennis Javelins to arrive at notts+derby are (YU05 ZKL) and (YU05 ZKV)and are expected to become 55 and 56.

Scania 604 has been sold for preservation with the white rose bus group.

14th August 2019

Solo 484 is now orange for the Hucknall Connect. An extra bus is now required to operate 2 new services in the area.

Notts and Derby Scania 622 now carries notts+derby livery.

Volvo 740 is to be repainted for the Ilkeston Flyer, which will operate every 12 minutes from 1st September.

. Former Cotgrave Connection Scania 622 has been repainted into Notts+Derby livery. Seen here in Derby bus station.
(C) Geoff Girling



---
---
Vallances
NEWS
-

---
Yourbus, Nottingham
NEWS
YOURBUS ceased trading on Friday 4th october 2019

4th October 2019

Yourbus ceased trading on Friday 4th October 2019. Some vehicles are understood to have been sold to Rotala last Thursday, old style E200s and Citaros.

14th August 2019

3101 to 3110 are now with Diamond North West at Bolton garage.
19th July 2019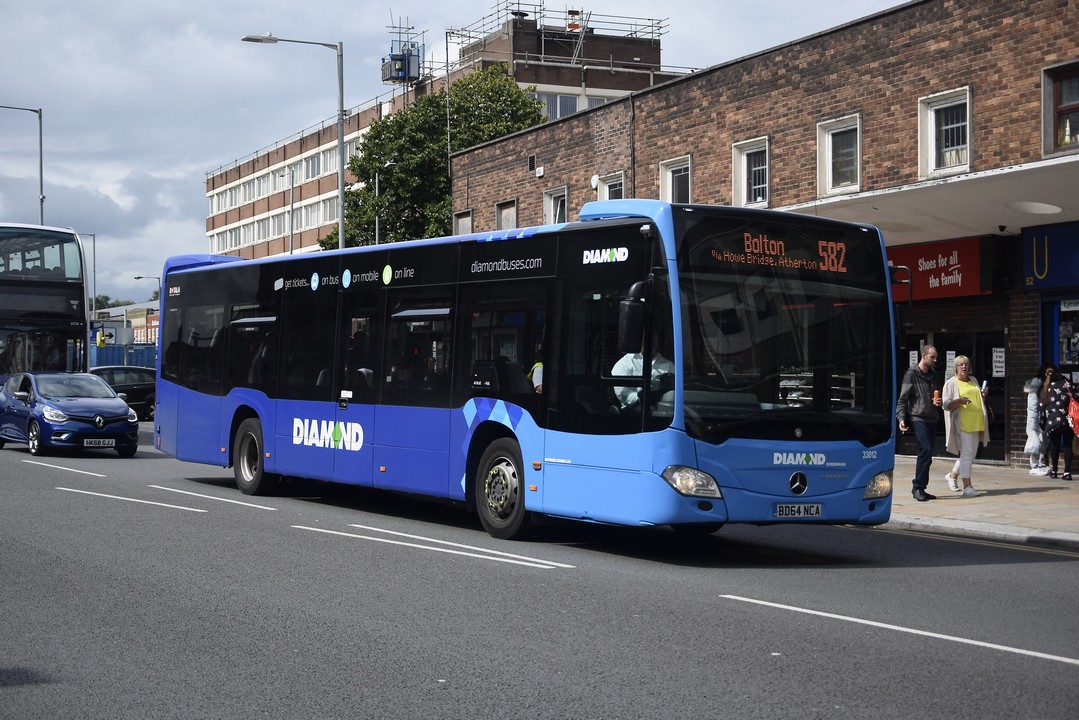 Former Yourbus Citaro (BD64 NCA) seen here operating with Diamond NW.
(C) Geoff Girling

At least two (3107/8) of the 64 plate Citaros have been painted blue ready for their move to Diamond North Wests Bolton garage where they are set to take over the First bus operations.

A bit of confusion around the Tourismos. I understand 5101 now carries registration (BF68 ZHV) although it appeared to be (BF68 ZFW) when new.
Two more Tourismos reported are (BA19 OXH) and (BA19 OXJ) - not sure of fleet numbers.

---
---
Last Months News

News Index Page
---