Bus Fleet News
October 2009
---
Latest News
---
Here you will find all the latest bus fleet news for many bus operators in and around the Derbyshire area. If you have anything to report please contact me by clicking here.
---
Search this site.
Custom Search
---
---
NEWS
9th September
All over white Neoplan Skyliner has been re-registered (J1 AOT) (former (SF56 UAE)). Thanks Ian.
Andrews Scania/Plaxton Derwent (RIL 4615) departed their yard this afternoon on the back of Trevor Wigleys tow truck.

June 6th
Former TM travel coach (HF51 CGG) has been re-registered (J2 AOT). Thanks Ian.


---
---
NEWS
30th October:
Wellglade have scrapped former Derby Volvo Citybus (B139 GAU). It is now in Looms scrapyard.

9th October:
One of the optare Solos has recieved accident damage after an RTA on Monday afternoon.


---
---
NEWS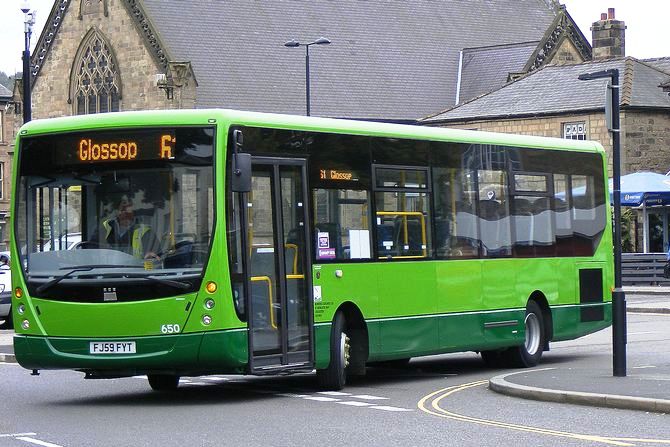 Brand new MAN / Plaxton Centro (FJ59 FYT) is seen here in Buxton Market place on route 61 to Glossop. It carries Huddersfield Bus Company livery, which like Bowers, is associated with Centrebus.
(C) Ian Moorcroft

1st September
Dennis Lance 358 (N358 VRC) is now in Cornwall with Roselyn of Par.


---
---
NEWS & Sightings
9th October
Former Trent Vario (S287 UAL) has been repainted in the new bright green livery.

---
---
NEWS
---------
---
---
G&J Holmes


NEWS
October 20th
Three brand new Solos have arrived here:
(MX59 AVP),
(MX59 AVR),
(MX59 AVT).

Due to a number of issues, (MX59 AVS) was returned and replaced by (MX59 AVT).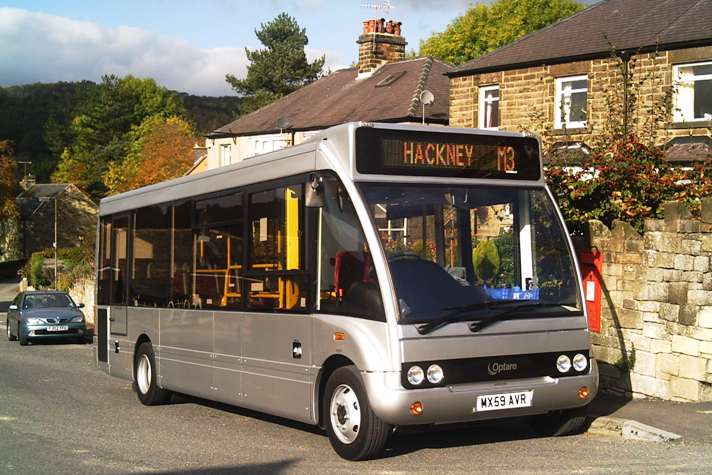 Brand new Solo (MX59 AVR) seen here at the Hackney terminus on its first day in service, Saturday 17th October.
(C) Andy Bagshaw



October 9th
Solos (YJ55 YGX/Y) passed to Hatts Travel on Tues 1st September.

---
---
Glovers of Ashbourne


NEWS
30th October
Volvo coach (B252 KTO) is for sale on ebay. The coachwas bought new by the company: Click here to view.

11th October
Paladin (K123 BUD) has been re-registered (AIG 8338).
An Excalibur coach registered as (AIG 4114) is also now here. It has brown orange and yellow stripes in the livery! Anyone know its previous registration / history?


---
---
Harpurs Coaches

NEWS + SIGHTINGS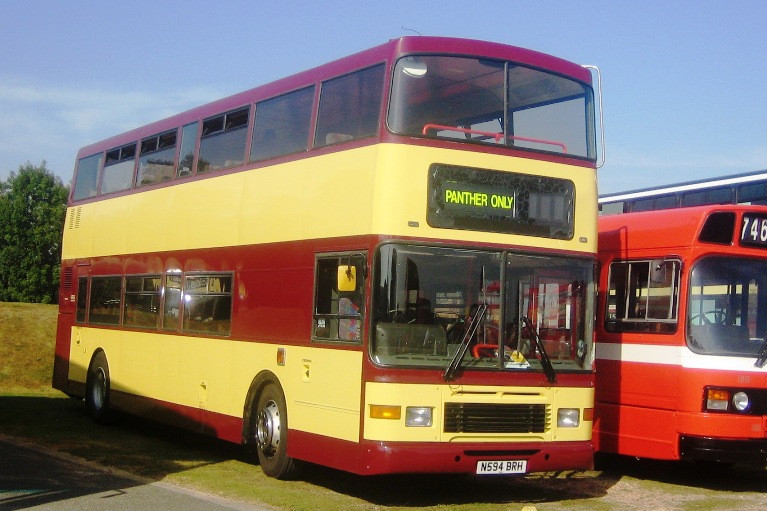 Former East yorkshire Olympian (N594 BRH) at showbus.
(C) DBD



22nd September
Metrobus (B808 AOP) was sold for scrap to one of the Barnsley breakers some time ago. (B809 AOP) is being used for spares.
Ex London Metrobuses (B204 WUL) and (C317 BUV) are delicenced.


---
---
Hawkes Coaches


NEWS
1st May
Another former TWM Metrobus has arrived here, thought to be (B846 AOP). It has been here a month or so now at least!

---
---
Hulleys of Baslow

NEWS + SIGHTINGS
30th October
Optare Excel 5 (P273 NRH) has been sold to M Travel, Normanton, West Yorkshire.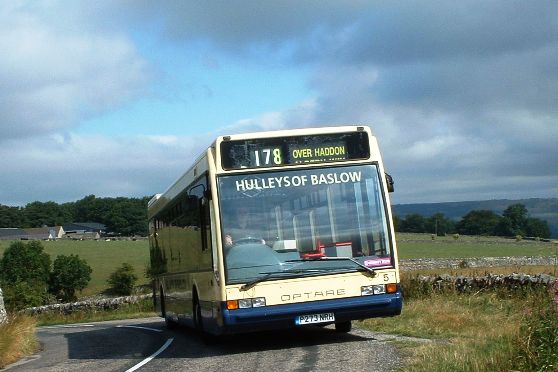 Hulleys former number 5 seen in Over Haddon.
(C) Ian Moorcroft
---
---
Johnson Bros / Redferns


NEWS & SIGHTINGS
22nd September
Ex Roadcar VR (LVL 804V) is now in service following refirbishment and repaint into Redfern green. This vehicle should appear at Showbus 2009.

1st September
The coaches previously reported here were just stored prior to auction:
From West Coast Coaches, Kirkaldy: Volvo B10M/Jonckhere (L942 LBV) and (M667 VAJ) and Scania/Irizaars (SK07 BNF) and (SN57 BMV), DAF coach (YJ51 EKK).
Olympian (K879 XGS) and a Ford Transit mini (EN08 ECF) are recent arrivals.

4th July
Bristol VRs now withdrawn are ex Crosville Mark 2 (HTU 159N) and ex Yorkshire Traction Mark 3s (OWE 854R) and (OWE 857R).


---
---
Linburg

NEWS + SIGHTINGS
9th May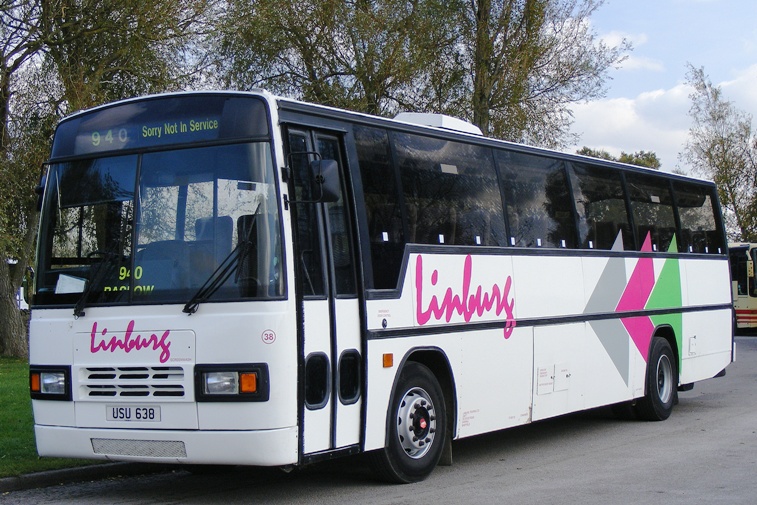 Linburg of Sheffield Cummins engined Leyland Tiger (USU 638) seen here in Bakewell.
(C) Ian Moorcroft
---
---
Littles Travel

NEWS + SIGHTINGS
20th October
Lance 370 is currently on loan to notts + derby.

5th June
4 former Trent Olympians are here 12 (B712 HVO), 15 (C715 HVO), 16 (C716 LTO) and 17 (C717 LTO). All have been repainted, and re-registered as follows:
12 (LHZ 6351),
15 (LHZ 6352),
16 (LHZ 6353),
17 (LHZ 6354).
---
---
Midland Classic


NEWS

9th September
Metrorider 31 (W675 DDN) now carries fleet livery.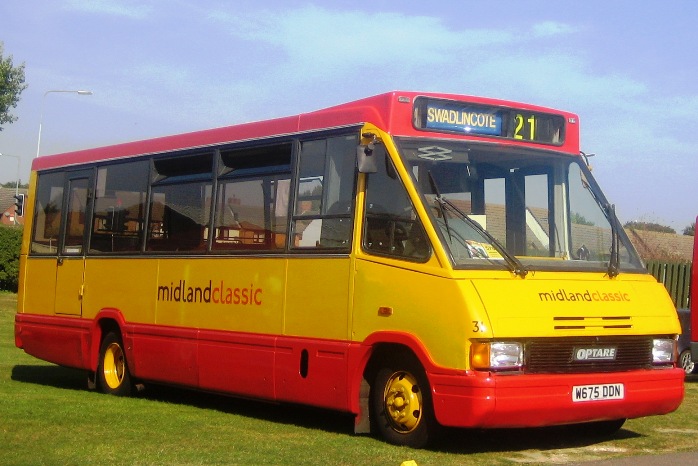 Metrorider (W675 DNN) at Showbus 2009.
(C) DBD
---
---
Stagecoach East Midlands
Chesterfield, Mansfield, Worksop

NEWS

Preservation News: Dennis Falcon (TWJ 340Y)

Dennis Falcon (TWJ 340Y) has been purchased by Daniel Shaw and Steve Crossland for preservation. The vehicle will be moving to Sheffield where it will be restored back to its original green and cream, and hopefully being ready for the middle of next year (2010). Express Motors also operated number 42 (TWJ 342Y) aswell as 40 and 41.

9th September
Additions to the fleet are: DAFs 26121-3 (X851-3 HFE) from Skegness. Similar 26124-6 (X854-6 HFE) are set to follow.
Olympians 16486/8 (N136/8 AET) have gone to Skegness.

---
---
TM Travel


NEWS
9th October:
2 Dublin Olympians acquired are (R93 LHK) (97-D-368) and (R94 LHK) (97-D-371), both still in Dublin livery.

9th September:
Solo (MX53 FDD) is now with Norfolk Green.


---
---
Translinc
NEWS
:
---
---
The Wellglade group
NEWS
30th October:
Former Derby Volvo Citybus 9 (B139 GAU) has been scrapped. It is now in Looms scrapyard in Spondon, Derby.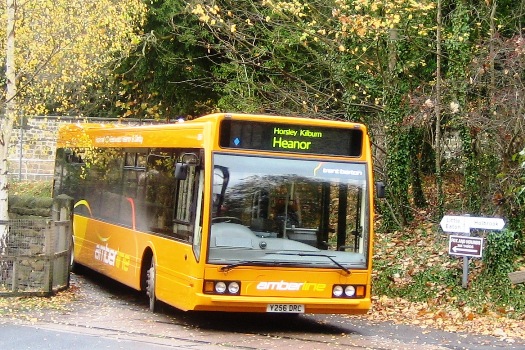 256, one of the three former "Pronto" Excels now branded for "amberline", is seen here passing through Coxbench.
(C) DBD



20th October:
Former Derby Citybus 9 (B139 GAU) is to be scrapped.

Solo 413 has been painted blue for "the Royal" service in Derby, to operate alongside newer Solos purchased earlier in the year. Solos 411/2 are to be used on the nines until the end of December, to cover extra journeys into Derby. In the new year they should replace the two Darts at Belper on routes 71/2.

Amberline Excels 255/6/7 (ex Pronto) are expected to go into service this Sunday (25th). The Darts they replace are expected to be sold.

Former Rainbow 2 Scanias 640-6 have been painted into skyline livery and should be in service at Dove Holes soon. 647/8 will also be at Dove Holes painted in trent barton red livery, allowing Excels 225/6 to replace Darts 928/32 on the Buxton town services.

Former Villager Darts 940, 943 and 944 are now in Edinburgh with E&M Horsburgh Coaches. They have now been painted in their fleet livery.

Former Trent lance 370 is currently on loan to notts+derby, from Littles, Ilkeston. The loan is to cover for accident damaged Paladin 128.

Ex Trent Metrorider 219 (N219 VRC), last with Wirral area operator Huggins, is now for sale at Stafford Bus Centre for £3,450.

9th October:
Paladin 128 has been involved in an RTA, and received damage to the front nearside, damaging the doors and platform.
Ex Trent Rainbow 5 Excel 168 (S168 UAL) is now in mid-Wales with Lloyd's, Machynlleth.


---
---
Yourbus, Nottingham
NEWS
30th October:
Recent arrivals here are 5 ex Arriva North West Volvo B10B/Wright Endurance, for use on Derbyshire routes 140/1/2. They are:
3001 (M517 WHF),
3002 (M549 MTJ),
3003 (M526 WHF),
3004 (M556 YEM),
3005 (M556 MTJ)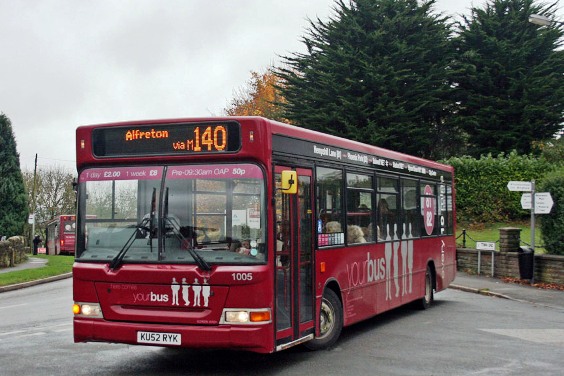 Route 81/2 branded Dart 1005 (KU52 RYK) is seen here near Crich Tramway Village on route 140. 27/10/09
(C) Tony Wilson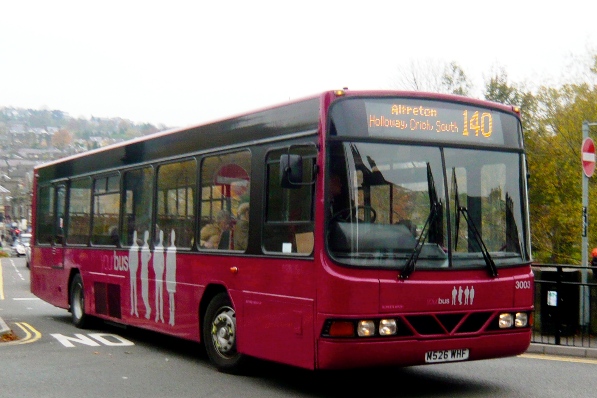 3003 (M526 WHF) is seen here leaving Matlock on route 140.
(C) Dennis Basford
---
---
Last Months News

News Index Page
---