Bus Fleet News
November 2014
---
Latest News
---
Here you will find all the latest bus fleet news for many bus operators in and around the Derbyshire area. If you have anything to report please contact me by clicking here.
---
---
NEWS
11th July
Volvo B9R Plaxton Panther (YX14 SDO) joined the fleet earlier this year.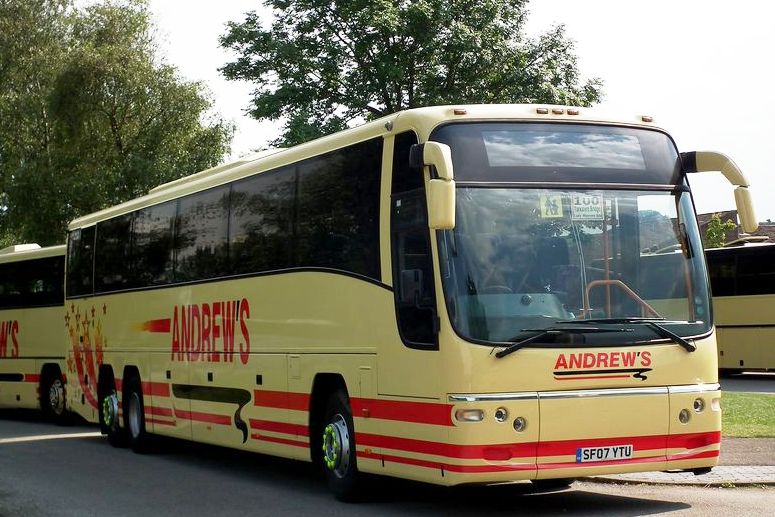 Former Scottish Citylink (SF07 YTU) is here. The vehicle has had a metre removed from the rear overhang, reducing it from 15m to 14m.
(C) Ian Moorcroft
---
---
NEWS
20th November:
Streetdeck 4600 has been registered as (FJ64 ETZ). For those interested the chassis number is: SA9DDRSXX14141004.

DAF / East Lancs decker 4720 is in use here as a driver trainer.

MPD 2210 has had Rail Link branding removed. The service will no longer operate after the end of November due to the re opening of London road bridge.

4th November:
A new Wright Streetdeck is due here in December. It is branded for route 38 as the 8th Sapphire vehicle and will be numbered 4600.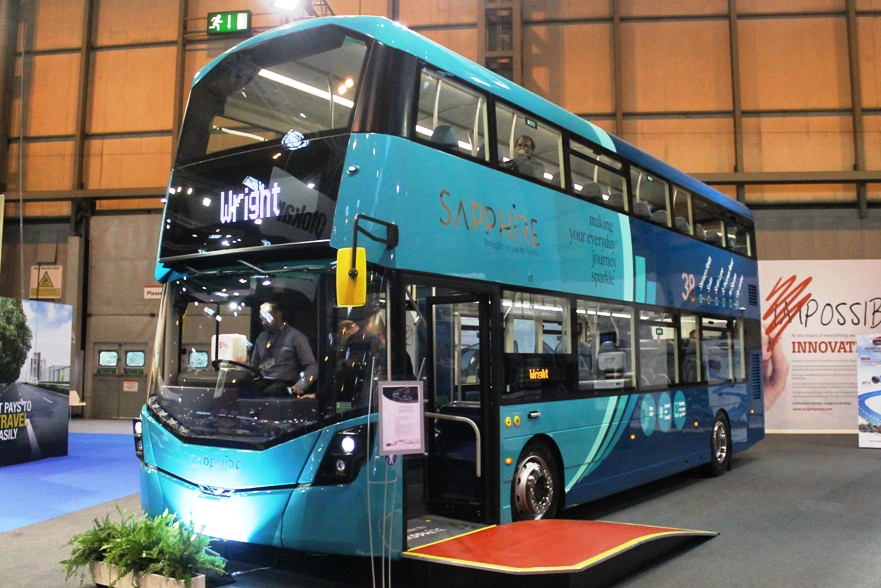 Brand new Wright Streetdeck 4600 will be in service in Derby during December. This vehicle will be used alongside Sapphire branded E400s on route 38.
(C) DBD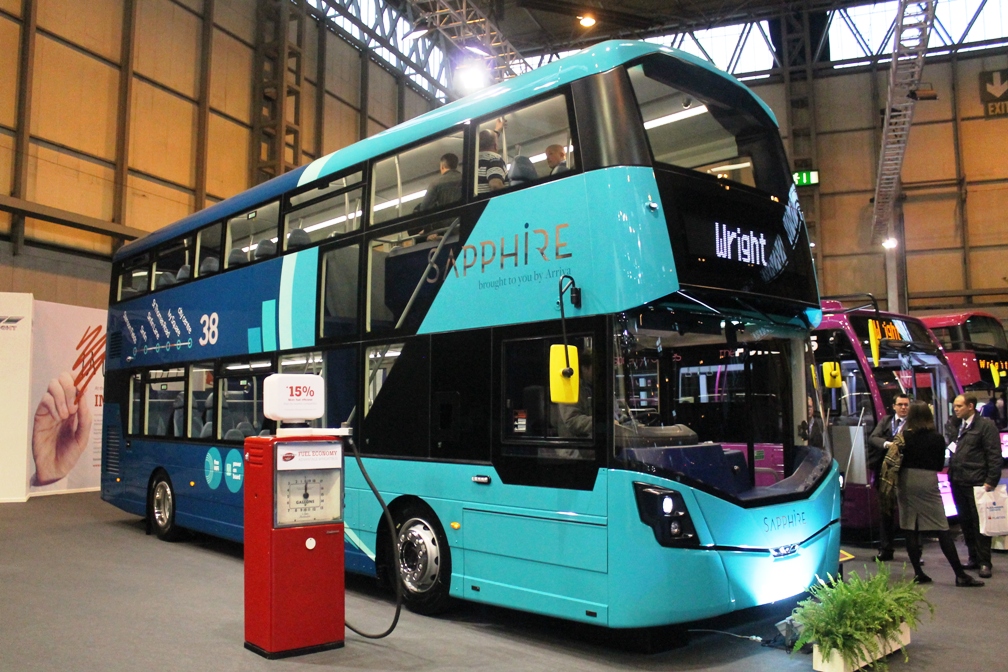 An offside view shows the optional glazed staircase.
(C) DBD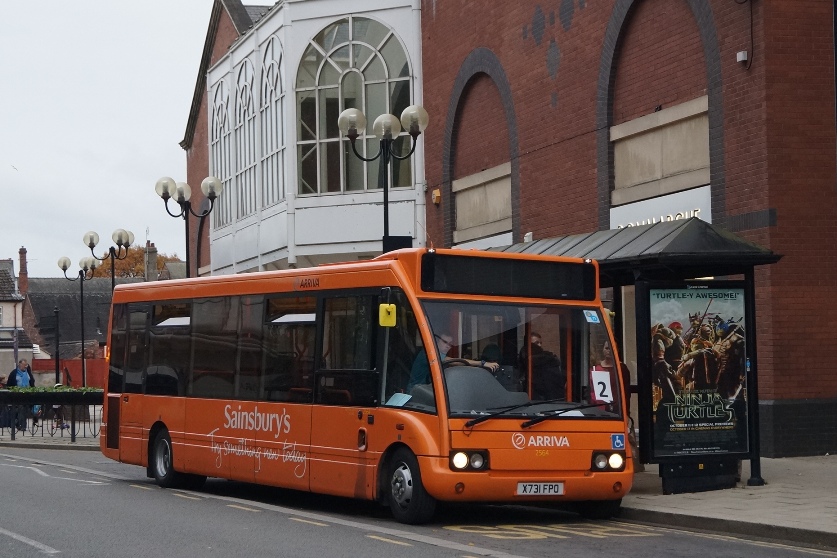 Solo (X731 FPO) is on loan to Burton. Seen here in the town centre on the 2.
(C) Alf Cundy

10th September:
Dart 2227 which was at Burton has been sold. 2226 has replaced it at Burton!

Versas 2947/8 have moved to Thurmaston.
4211 is another Gemini that has moved to Wigston.
MPD 2222 has returned to Derby from Hinckleybus, where it was on short term loan.

19th August:
The 7 new E400s are now in service on Sapphire route 38.

Geminis 4015/6/7/8 and 4208/9 have all gone to Wigston. MPD 2222 has gone to Hinckley.

Service changes in September should see 3 more buses leave the Derby fleet as there will be a lower PVR.

14th August: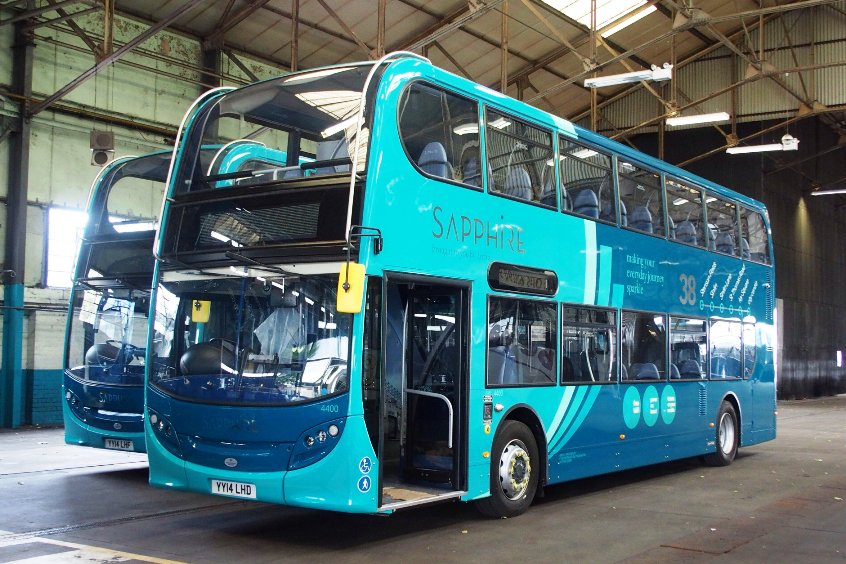 Sapphire E400 4400 (YY14 LHD) branded ready for use on route 38 from Monday 18th August.
(C) Richard Woodhead

26th June:
7 new E400 are due in early July. They will be to Sapphire specification, and are to be introduced on route 38 to Sinfin in August. The PVR for route 38 is now 8, with the 8th vehicle only required at peak times. It is thought one of the Geminis at Derby will be refurbished to Sapphire spec.
The 7 Enviro 400s are:

4400 (YY14 LHD),
4401 (YY14 LHE),
4402 (YY14 LHF),
4403 (YY14 LHG),
4404 (YY14 LHH),
4405 (YY14 LHJ),
4406 (YY14 LHK).

Dart 2252 is now at Thurmaston and 2237 is currently on loan to Wigston.
---
---
NEWS
22nd November:
(T179 AUA) has returned to Warringtons of Ilam.

20th October:
(SN57 VPL) Setra S415HD has left the fleet.
SCZ9652 (T179AUA) DAF SB3000 / Van Hool Alizee T8 is currently on loan from Warringtons Coaches of Ilam.


---
---
NEWS
3rd October
Solo 352 (MX05 EXT) has joined the High peak fleet.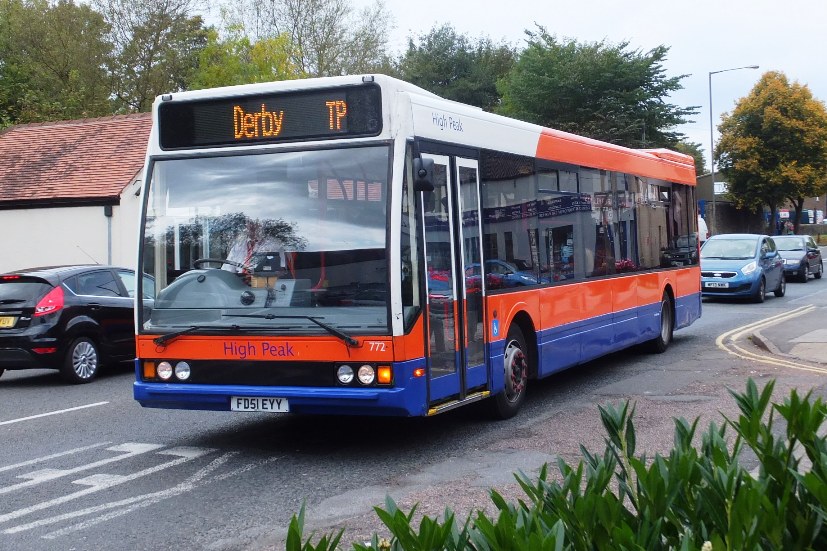 Former NCT Excel 772 is now with High Peak. Seen here in Matlock on the transpeak service.
(C) Guy Guy Arab UF on Flickr.



10th September
Former NCT Excel 772 (FD51 EYY) has joined the fleet.

730 and 742 have left the fleet.

The E200s for Transpeak are due around November.
---
---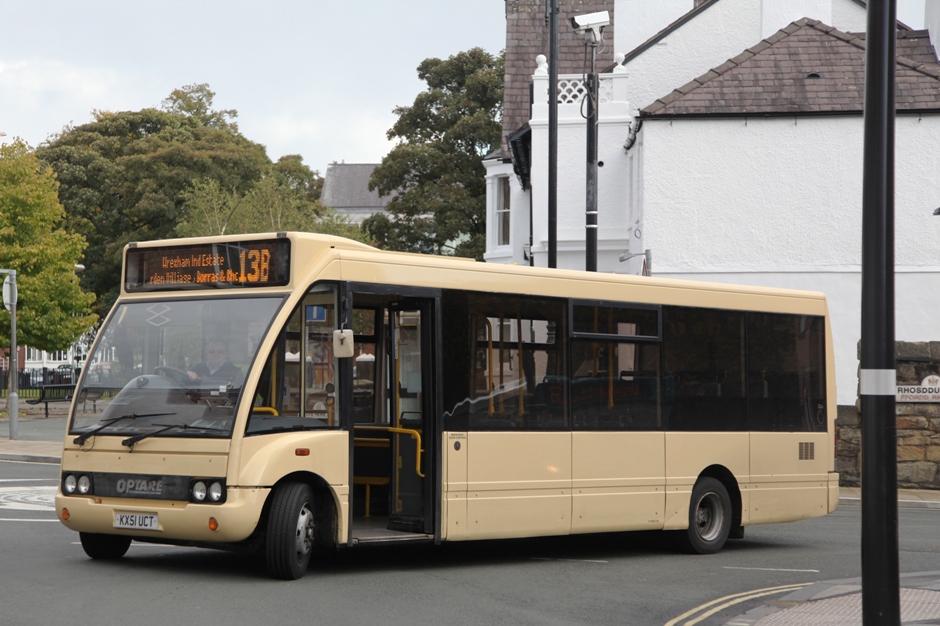 Former Clowes Solo (KX51 UCT) operating with D Jones and Son, Wrexham.
(C)Rob Hadfield.
---
NEWS & Sightings
6th June
The two former Doyles Tridents (T183/4 CLO) are both now with Compass Bus, Worthing. They are in use in Doyles livery.

Tuesday 1st April
Most vehicles ended up at Stafford Bus Centre. McEwens have Solo (X791 NWX). (YJ55 BYD/F) are believed to have been sold the GHA, Wales.

Tuesday 14th January
Doyles coaches ceased trading at the end of Monday 13th January 2014. Many services in and around Mansfield have been taken over (in the short term at least) by Stagecoach. Service 228 in Hucknall is being operated by Littles. A&S Coaches are operating a reduced 331 service (Selston to Phoenix Park).

The 332 and services around Alfreton are not operating today (Tuesday 14th). Derbyshire County Council are looking into alternatives.
---
---
NEWS
10th November:
Olympian (P939 MKL) has gone for scrap after suffering accident damage.
Olympian (P654 UPP) is currently off the road too, and may be scrapped.
MPD (V256 BNV) has gone for scrap after a brief spell in service here.

Arrivals are former Liverbus Olympian (M218 YKC). This was last with Geldards, Leeds. It is painted blue.
From Stagecarriage, Middlesborough is former Manchester Alexander PS (R895 XVM), in red.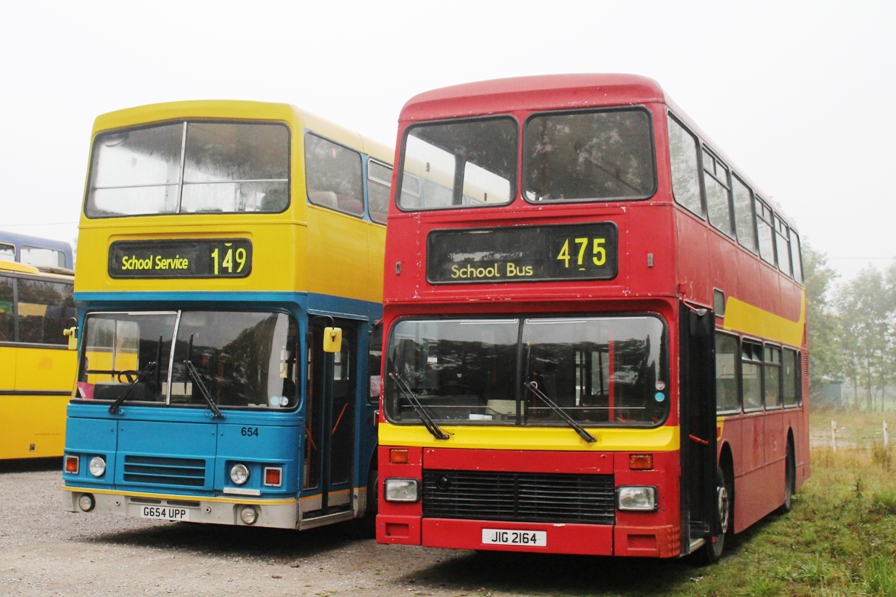 Two additions to the fleet during this year are Olympians (G654 UPP) and (JIG 2164).
(C) DBD



10th September:
Northern Counties Palatine bodied Leyland Olympian (JIG 2164) (originally K669UNH) has arrived here.

19th August:
Dennis Dart SLF / Plaxton Mini Pointer (V256 BNV) has been joined the fleet from VIP Contracts of Birmingham.


---
Freeway
24th October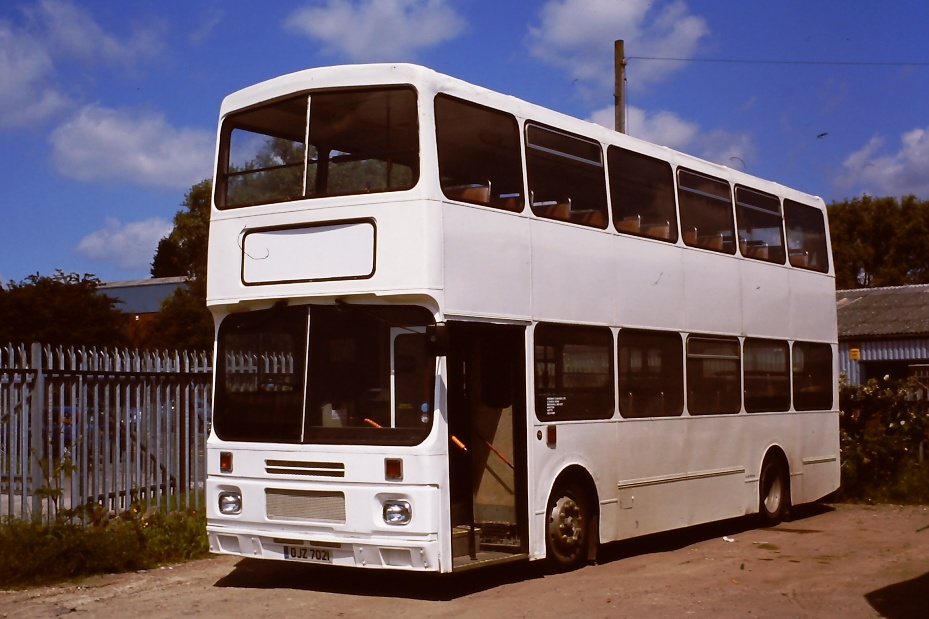 Former Trent Citybus (G622 OTV) is seen here with Freeway. It is now registered as (OJZ 021).
(C) Adrian Healey
---
---
G&J Holmes


NEWS
12th May
Another Enviro 200 here is (YX14 RZB).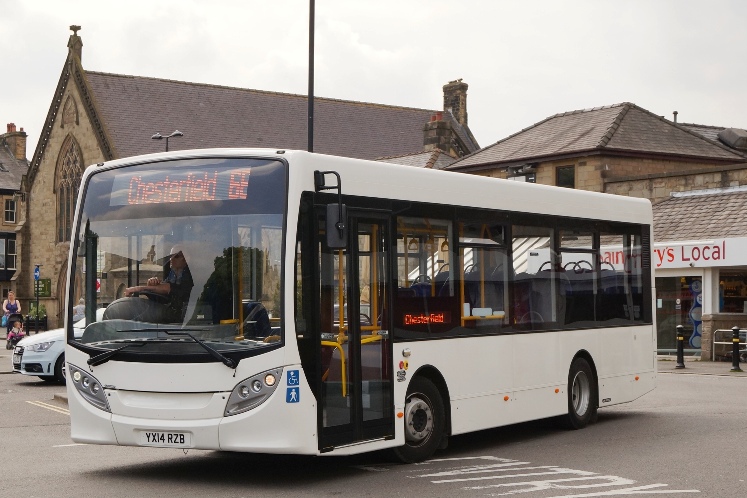 Enviro 200, (YX14 RZB) in Buxton.
(C) Geoff Girling



26th December
The 2 new Enviro 200s here are (MK63 WZZ) and (YX63 GYK). Solo (MX59 AVR) has been sold to PC Coaches, Lincoln.

---
---
Glovers of Ashbourne


NEWS
26th June
Scania Irizar (XJI 2964) is here in plain white livery. This Coach is Ex Winns Coaches.

1st April
Former Roy McCarthy, Macclesfield Volvo B12M/Plaxton Paragon (YN05 VRX) is here. The two Primos have left the fleet. There are rumours that one may be on its way to Malta soon!
---
---
Harpurs Coaches


NEWS

10th September 2014
Metrobus (C373 BUV) is back in use.

11th July 2014
(J723 EUA) is back in use here.
Former Lothian Olympian (M234 VSX) has been repainted.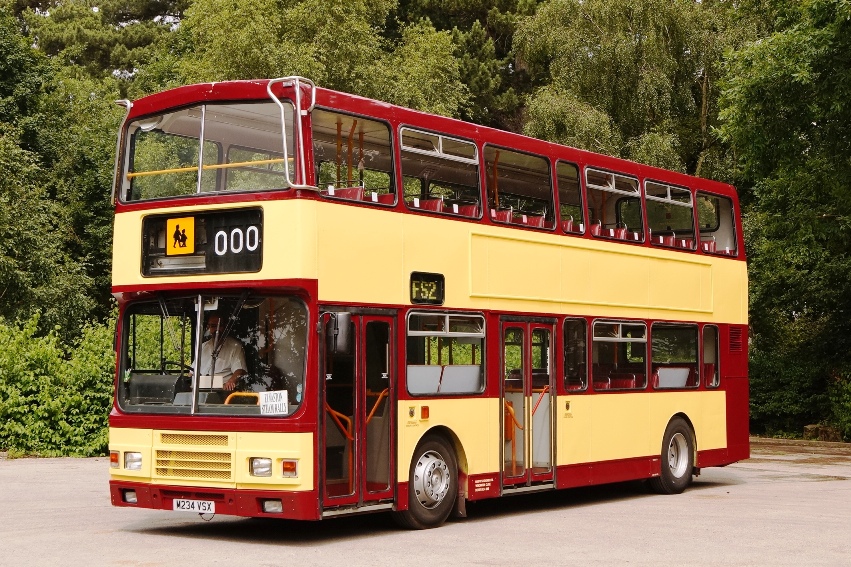 (M234 VSX) at Elvaston Castle.
(C) Geoff Girling

16th March 2014
The last Metrobus (C373 BUV) has been withdrawn along with Volvo B10M (J723 EUA)

15th March 2014
Another Volvo B12M has been added to fleet, it is (MX04 AEM)
Volvo B10M/Plaxton (T300 BCL) has been withdrawn and sold.

26th February 2014
A new arrival here is former National Holidays (new to Shearings) Volvo B12M / Plaxton Panther (MX04 AEV). C48ft seating.
Volvo B10M (S79 AUP) has been withdrawn and sold.

3rd February 2014
Olympians (N594 BRH) and (R319 WVR) have been sold on for further service.

Restoration of former Derby Corporation Daimler Fleetline (XCH 425G) has begun inm partnership with Derby Museums.

7th November 2013
(R309 WVR) has been painted and now in service. Similar (R319 WVR) is currently in stock, but not prepared for use.


---
---
Hawkes Coaches

NEWS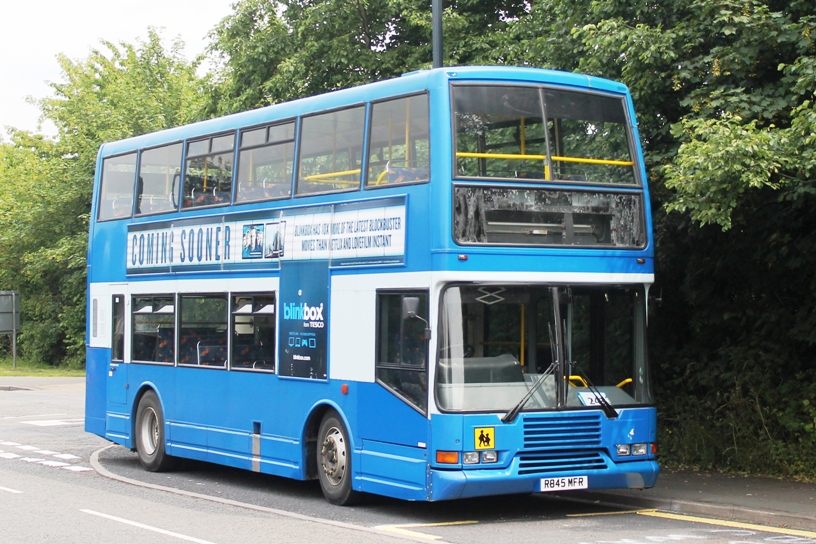 Olympian (R845 MFR) is a recent addition to the fleet.
(C) DBD

2nd January:
An arrival in the last few months is East Lancs bodied Olympian (R343 MFR), ex Metrobus, Orpingdon and still in their blue/grey livery.


---
---
Hulleys of Baslow

NEWS + SIGHTINGS
15th November
Dennis Lance 12 (N362 VRC) went for scrap on 7th November. Its engine lives on in a recovery truck.

From January 22nd 2015 Hulleys will take over the operation of service M17 (Jordanthorpe - Dore) from TM Travel under contract to SYPTE using one solo.

14th October
New here on 7th October albeit a temporary addition for 10 weeks to allow a solo to work a shuttle service on services 171 and 172 between Bakewell and Youlgreave is (YJ62 JWF) VDL SB180 / MCV (B34F) on hire from Arriva (dealer) operating in all white and numbered 22.
Despite being only 2 years old this bus has seen service with Reays of Wigton, Edinburgh Coach Lines, Watersons of Pontefract and Weardale.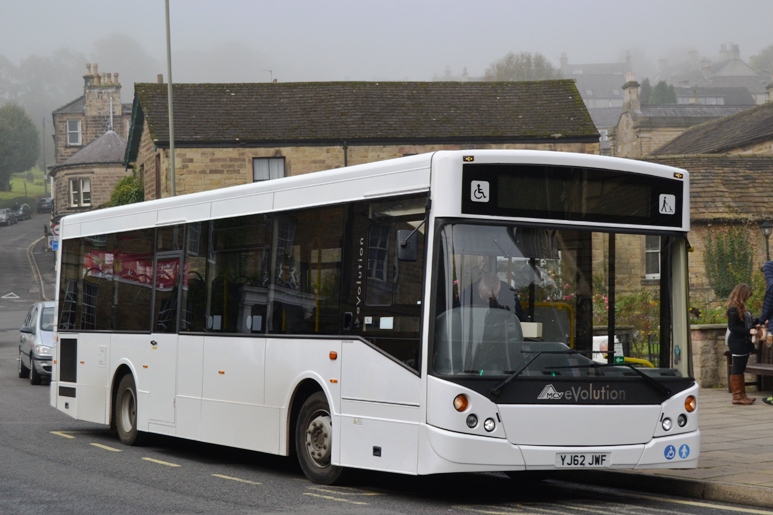 (YJ62 JWF) is on hire to Hulleys.
(C) John Moore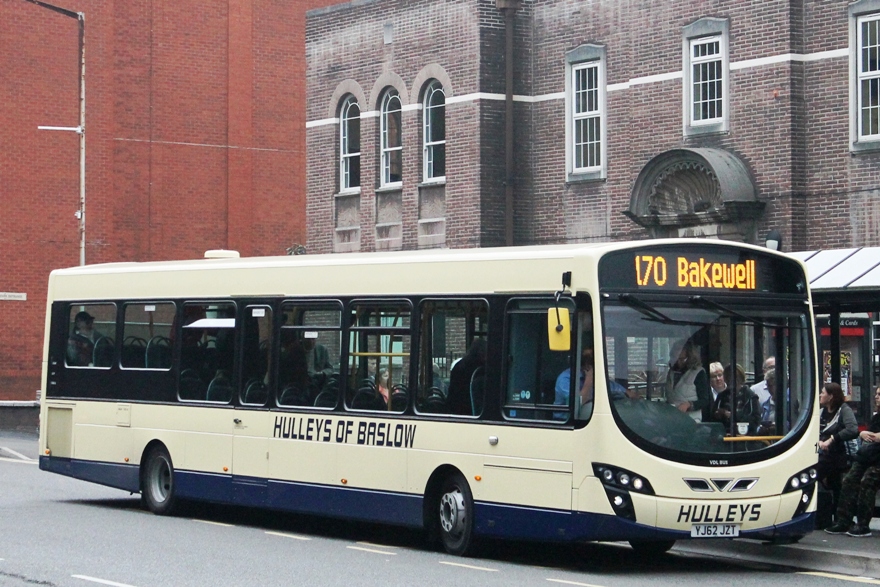 VDL 12 () has recently been painted into fleet livery. It is seen here in Chesterfield .
(C) DBD



12th May
Solo 9 (MXO9 AOF) returned to service on 4th May, after some 7 months off the road, with a Cummins engine in place of its original MAN unit. The VDL SB200 on hire from Arriva, (YJ62 JZT), has been purchased and numbered 12.
---
---
Johnson Bros / Redferns

NEWS & SIGHTINGS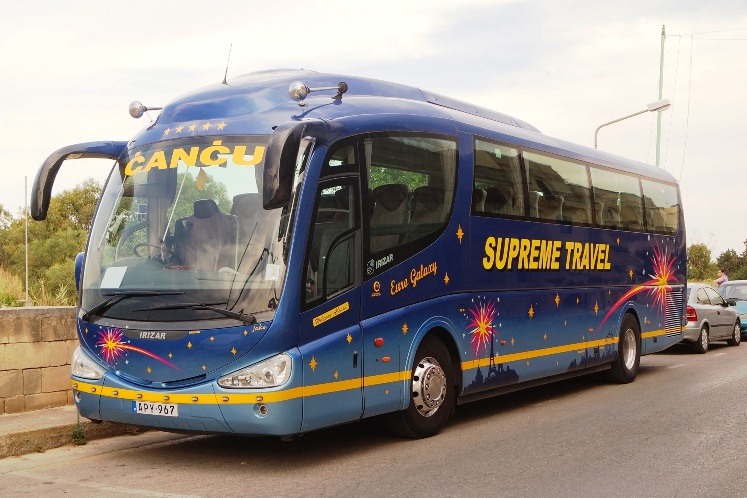 Former Scania Irizar (6 JBT), (YN56 NNP) is now in Malta with Cancu, Supreme Coaches.
(C) Geoff Girling


18th February
3 Van Hool's have joined the fleet, these are: (YJ08 EBG), (YJ58 FHT) and (YJ58 FHU).
---
---
Linburg

NEWS + SIGHTINGS
26th June
4 Northern Counties Olympians are here from London Suburban:

(L204 SKD) now (OUI 4770),
(L205 SKD) now (BUI 471),
(L210 SKD) (not yet reregistered),
(L215 TWM) (not yet reregistered).

Former Yorkshire Traction ECW Olympian (C669 GET) (this was BUI 471) and ex Cambus (F513 NJE) and (G757 UYT) have all been withdrawn.

Two Darts to join the fleet are ex Stagecoach London Plaxton Pointer bodied examples which have also be re-registered!

(V173 MVX) is now (OUI 9980),
(V175 MVX) is now (IIG 9382).
---
---
Littles Travel

NEWS + SIGHTINGS
14th October
Merc Sprinter (BU14 SZL) has been here for a while. Ex Evobus demo, C19F seating.
King Long M1 (BX14 KNW) arrived here at the end of July replacing Cheetah (YN61 AXB), which carried the same fleet number.

Former Trent Dart 932 (R932 RAU) has been withdrawn.

26th June
Ex London United Dart / Plaxton Pointer (Y552 XAG) is here painted in battleship grey.
---
---
Midland Classic


NEWS
20th November
The former South Lancs Scanias have been re-registered as follows:

81 (S24 SLT) is now (FX55 VKH),
82 (S25 SLT) is now (FX55 VLO),
83 (S26 SLT) is now (FX55 VKG),
88 (S200 SLT) is now (YL51 ZUD),
89 (S27 SLT) is now (YN51 MGU),


11th November
The Olympus now carries registration (JB10 MCL).

15th October
Trident 94 (X264 NNO) has been withdrawn. Olympus 51 (D10 SLT) has replaced it.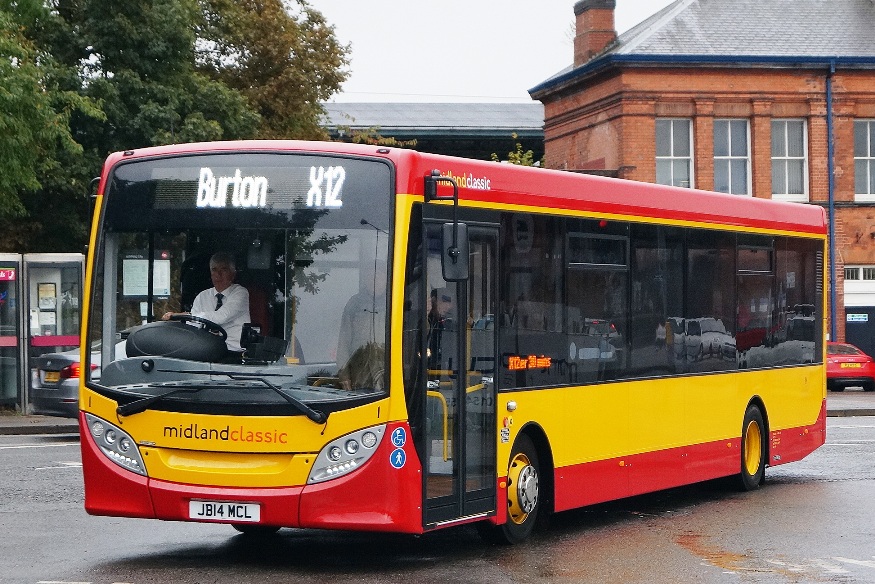 The two new Enviro 200s, fleet numbers 1 and 2 are now in service.
(C) Geoff Girling



11th September
E300H 203 (SN62 DNJ) has been returned with E200 204 (YX14 RXB) being on loan in its place.

19th June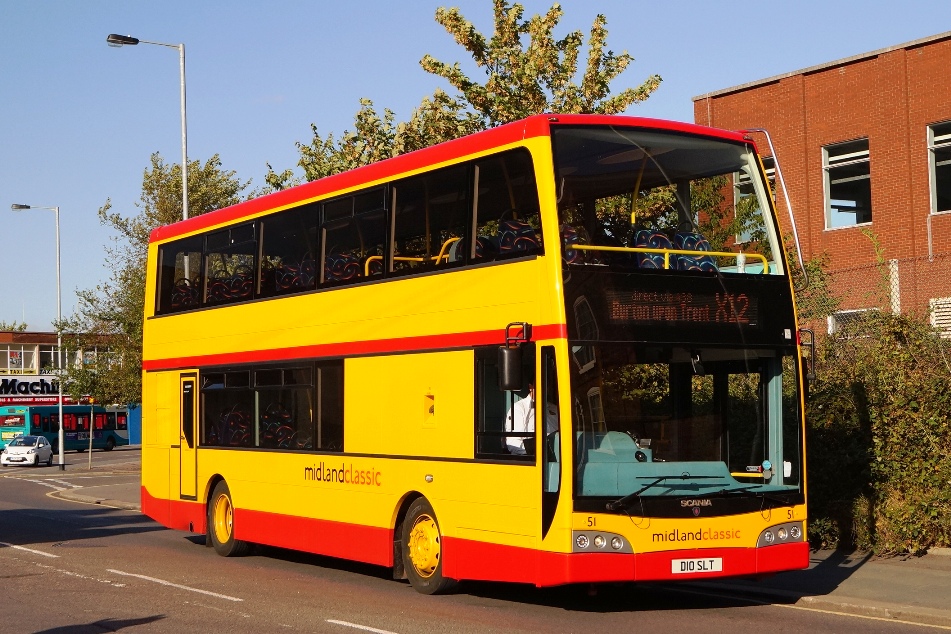 Optare Olympus 51.
(C) Geoff Girling
---
---
Paul S Winson


10th November
Former Paul S Winson of Loughborough ADL Dart SLF / ADL Mini Pointer (DW05 PSW) is now in use with Travel Wright of Newark.

14th August
Olympian (G129 NRC) is now preserved with Nottingham Heritage Vehicles. NEWS

---
---
Skills, Nottingham

NEWS
-
---
---
TM Travel


NEWS:
See Wellglade section.
---
---
Translinc
NEWS
---
---
The Wellglade group
trent barton, kinchbus, notts+derby and T M Travel.
NEWS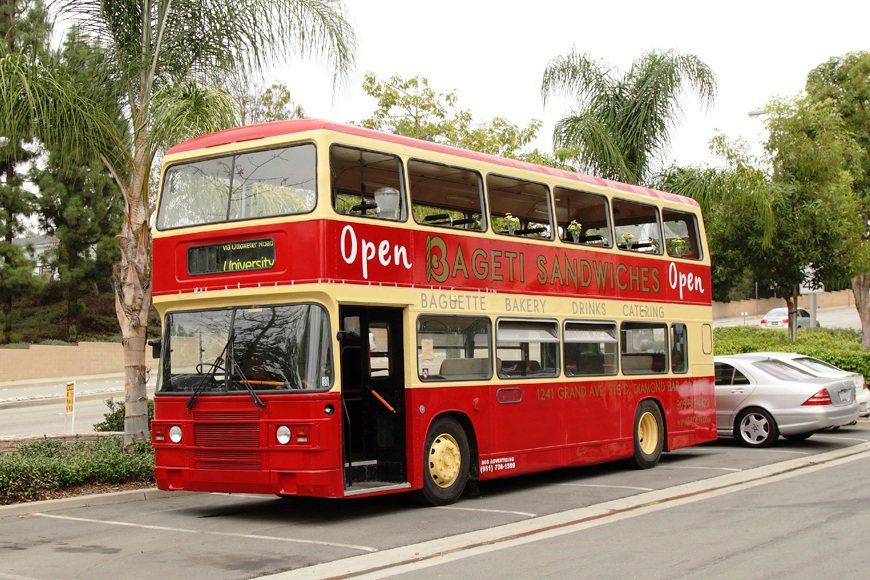 Trent Olympian (C716 LTO) is now owned by Bageti Sandwiches at Diamond Bar on the outskirts of Los Angeles. It is used as a restaurant to the shop located in the same complex with the top windows removed and tables in place.
(C) Shane Ross



15th November:
Scania 650 is now in service in Derby / Leicester Skylink livery.

10th November:
Former Trent Excel 199 (V199 ERA) is now with Shropshire bus and coach.
Former 243 is now with Abus of Bristol. It was previously with North Somerset. 251 is now with Kirkby Lonsdale Coach Hire.
Former 203 (V203 ENU) has moved to Essex operator Panther Travel.
Former 204 now carries (WJZ 2894) and has now been sold to Shropshire Bus and Coach.
Former Transpeak Volvo / Q types 52, 53 and 54 are now all with Brixham college.

Midland General /Trent FLF 534 (534 ERB) is coming back to the UK soon. It has been in Canada for many years.

15th October:
Scanias 634 and 636 are now at Langley Mill for repaint.
437 repainted into new livery with zig zag adverts.

14th October:
Scanias 655 and 656 are now painted red and based at Nottingham.

Former Derby Skylink Scania 625 is being painted blue for Nottingham Skylink. It is expected to replace 631 on the skylink, as this and 601 are not fitted with luggage racks.

Paladins 105 and 117 have gone for scrap.

Former Trent Solos 406 and 407 are reported with Goodwins.
Anglian have withdrawn former trent "black cat" excels 216/7/8. 229 is still in use with Anglian. The other Black Cat Excel 219 is still in use with Konect.
Norfolk coachways have sold former trent excel 204.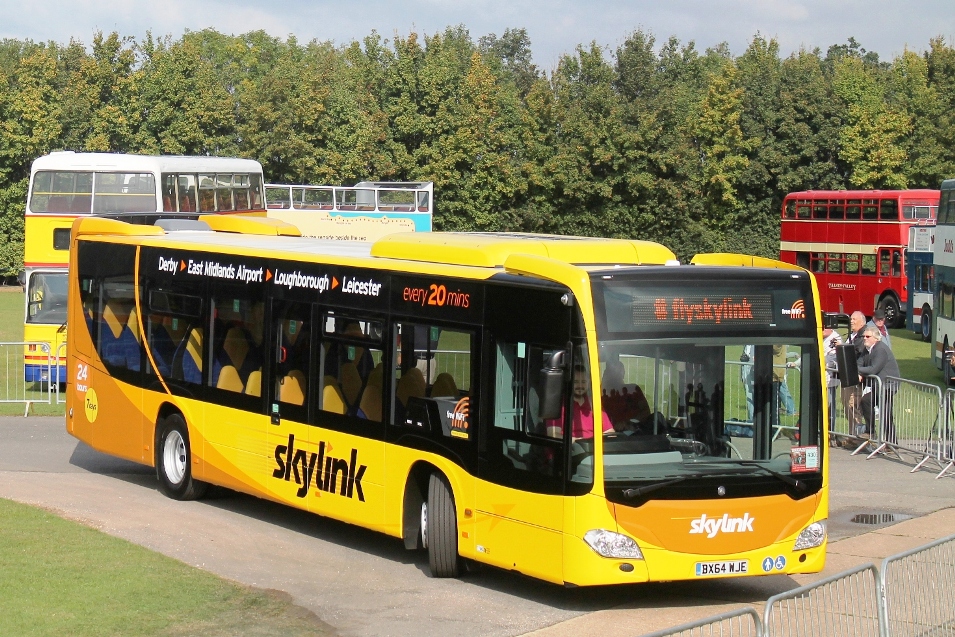 Citaro (BX64 WJE) arrives at Showbus.
(C) DBD



3rd October:
Former Kinch Skylink Centro 761 has moved to notts and derby. The others are expected to follow, once refurbished Scanias replace them on the Skylink, alongside the brand new Citaros which are already in use.

1153 and Centro 1198 are now withdrawn.

Excel 265 has moved from Derby to Nottingham.
Former Rainbow 1 Scania 655 has been reported painted red, with 656 set to follow. Some are also expected to be refurbished for the villager. The former Rainbow 1 and Rapid one Volvos are expected to be re-allocated as follows: 649/650/651/652/653/654 - ? 655/6 - red? 657-661 ? 664 spare? 739/40 - red.

11th September: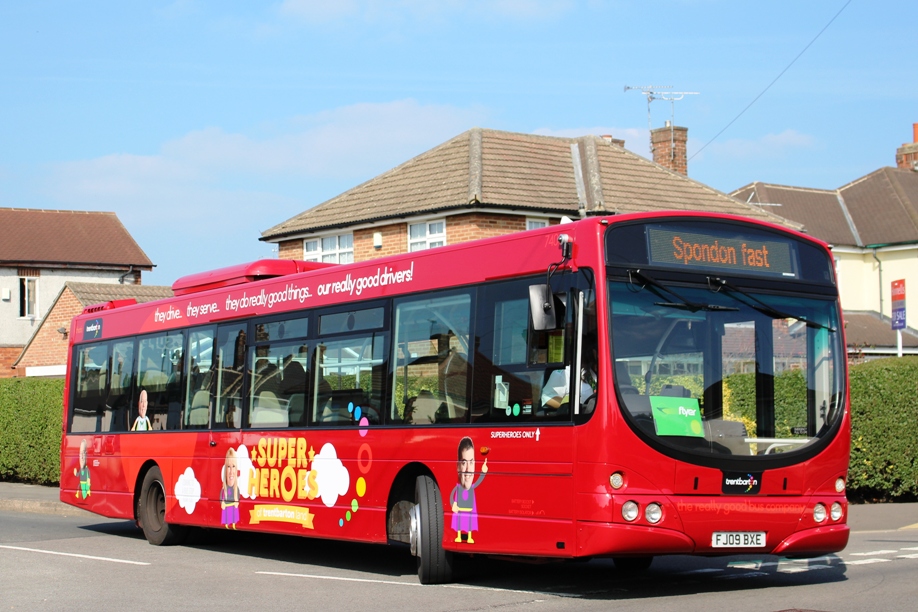 Former Rapid 1 Volvo 740 seen in Spondon in its new super heroes livery.
(C) Matt Burley

Former Rapid 1 Volvo 739 is now in trent barton red and based at Langley Mill. 740 is also now in red and based at Derby replacing 265.

Scania 602 has moved to Sutton to replace an Excel.

The 8 Kinchbus Citaros for the Derby - EMA - Leicester Skylink service are:
907 (BX64 WHU),
908 (BX64 WHV),
909 (BX64 WHW),
910 (BX64 WHZ),
911 (BX64 WJA),
912 (BX64 WJC),
913 (BX64 WJD),
914 (BX64 WJE).

Former Rainbow 1 Scania 664 is currently at TM Travel for evaluation.

19th August:
Solo 429 now in trent barton red based at Langley Mill.

The former Rainbow 1 and Rapid one Volvos are expected to be re-allocated as follows:
649/650/651 Skylink Derby alongside the new Citaros as the frequency is to be increased to every 20 minutes.
652/653/654 for Zoom replacing the Solos.
655-661 for Villager.
664 spare?.
739/40 - spare.

The current villager Scanias are expected to transfer to notts and derby.

TM Solos 1193 (YJ57 EHB) and 1194 (YJ57 EHC) are now in a bright yellow livery foir Line 31 Rotherham to Meadowhall.
Solo 425 repainted to TM red.
Solo 1161 (YG52 DHC) is red with Line 4 branding.
Solo 402 has been withdrawn.

14th August:
Recent repaints are Solo 428 to trent barton Sutton, 430 to trent barton Langley Mill, and 450 to trent barton Derby.

Tempo 306 has been repainted into Rushcliffe Greens livery as an extra vehicle is needed for the revised services.

The Rainbow one / Rapid one Versas (listed below) are now in use. The Scanias and the Volvos they replaced are currently in the process of being cascaded.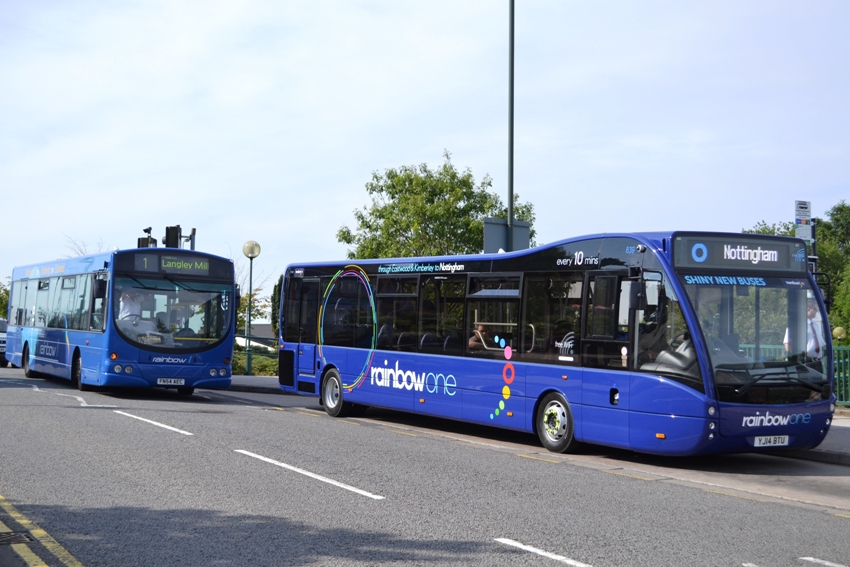 Versa 839 on its first day in service.
(C) Calumbus
---
---
Yourbus, Nottingham
NEWS
20th November 2014:
New Citaro 3101 (BD64 NBO) has been delivered, and is now in service.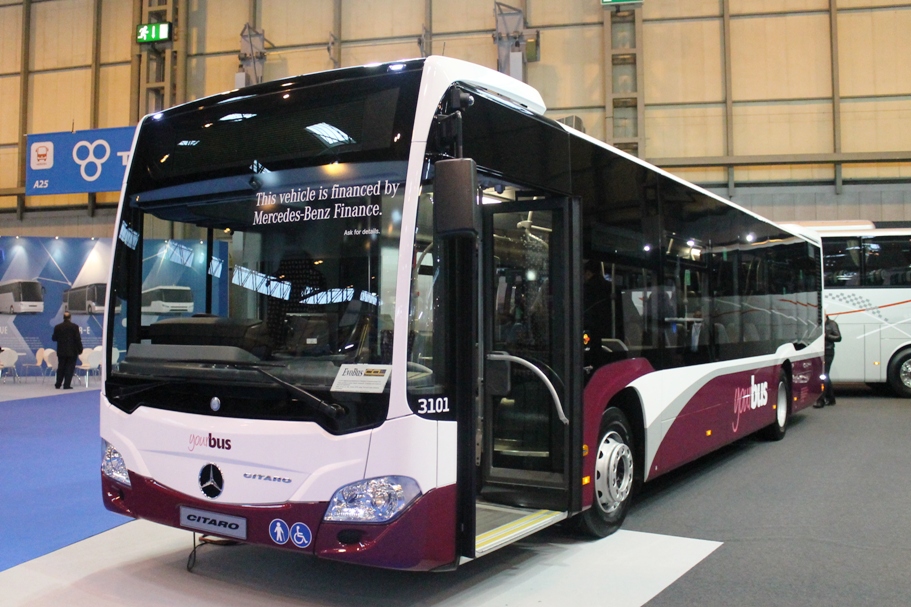 More new style Mecedes Citaros are on the way soon. 3101 is seen here. The new vehicles have a simple seat layout, leather head rests and wood look flooring.
(C) DBD

15th October 2014:
The Y1 service will serve Ripley instead of Alfreton from the end of November.
---
---
Last Months News

News Index Page
---