Bus Fleet News
May 2014
---
Latest News
---
Here you will find all the latest bus fleet news for many bus operators in and around the Derbyshire area. If you have anything to report please contact me by clicking here.
---
---
NEWS
-
---
---
NEWS
15th March:
Gemini 4224 "zippy" carries an advert for Sapphire. Part of the vehicle is in sapphire livery, and part in current arriva livery - separated by a zip. Route 38 is set to become a Sapphire route this summer (July/August), using new high spec vehicles.
Dart 2236 has been in use at Burton. 2237 and 2252 remain in use at Derby.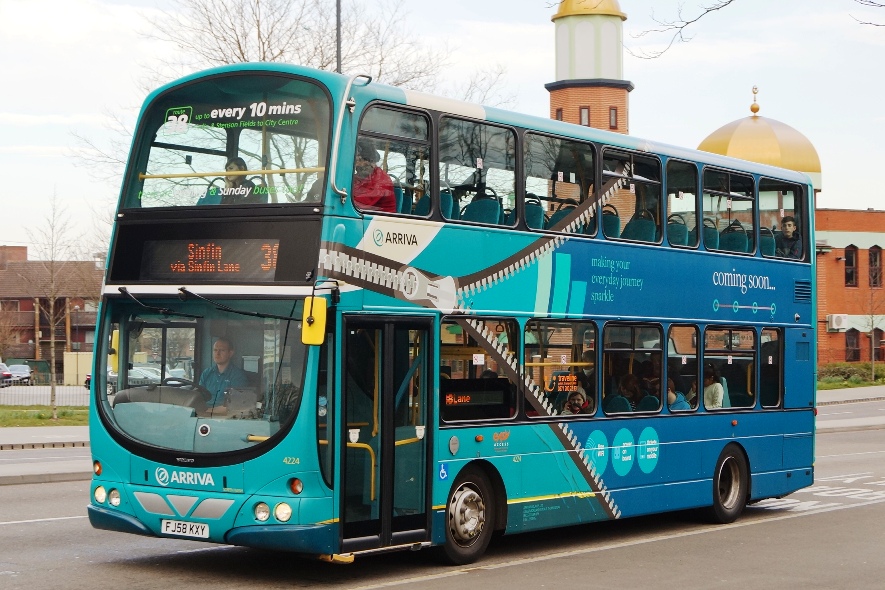 4224 (Zippy) promoting Sapphire. Route 38 will become a Sapphire route over the summer.
(C) Geoff Girling
---
---
NEWS
22nd November:
(T179 AUA) has returned to Warringtons of Ilam.

20th October:
(SN57 VPL) Setra S415HD has left the fleet.
SCZ9652 (T179AUA) DAF SB3000 / Van Hool Alizee T8 is currently on loan from Warringtons Coaches of Ilam.


---
---
NEWS
1st April
Decker 904 is reported to be for sale, so is unlikely to see further use at High Peak.

Solo SR 284 (YD63 VEW) is now in use here (previously on loan to Corby).

25th March
Decker 904 is back at High Peak, although it is not known what for!

15th March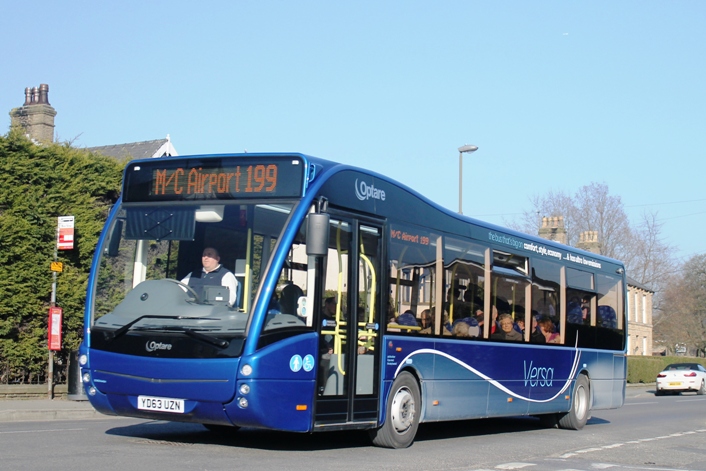 Versa demonstrator (YD63 UZN) in Chapel en le Frith.
(C) DBD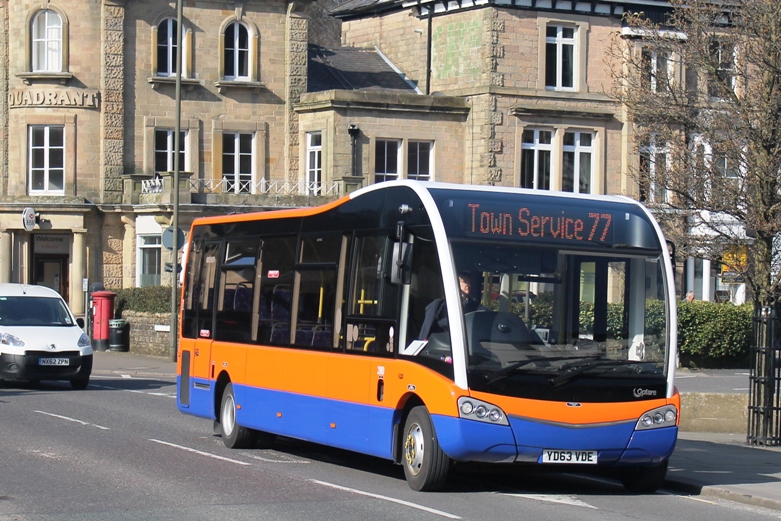 New Solo SR (YD63 VDE) in Buxton.
(C) DBD

Versa demonstrator 999 (VD63 UZN) is here.
White Centro 998 (YJ58 FFO) is also in use here (on loan).

2 more Solos SRs have arrived as 282/3 (YD63 VFH/J). The 5th 284 (YD63 VEW) is currently on loan to Corby.

Solos 261 (B8 ERS) and 331 (S276 AOX) have gone to Grantham for further use or for spares.
Both Darts have now been withdrawn. 535 (S939 UAL) was still in use on Wednesday, but towed for scrap on Thursday! 514 (T949 BNN) set to follow soon.

2nd March
Dart 514 (T949 BNN) has been withdrawn (tax expired). Solo 377 is also now back at Dove Holes.

---
---
NEWS & Sightings
Tuesday 1st April
Most vehicles ended up at Stafford Bus Centre. McEwens have Solo (X791 NWX). (YJ55 BYD/F) are believed to have been sold the GHA, Wales.

Tuesday 14th January
Doyles coaches ceased trading at the end of Monday 13th January 2014. Many services in and around Mansfield have been taken over (in the short term at least) by Stagecoach. Service 228 in Hucknall is being operated by Littles. A&S Coaches are operating a reduced 331 service (Selston to Phoenix Park).

The 332 and services around Alfreton are not operating today (Tuesday 14th). Derbyshire County Council are looking into alternatives.
---
---
NEWS
1st April:
Alexander bodied Olympian (G654 UPP) is here. This was last operated with Arriva the Shires, but has been preserved into blue and yellow Aylesbury and the Vale livery for some time.

23rd January:
Former Stagecoach Western Darts 33443/4 (X613/4 JCS) have arrived here. 613 is awaiting repaint. Dart (T131 MGB) has left the fleet, and (V327 ) will follow once 613 is in service. Both are from Stagecoach South, at Aldershot via Hardwick (dealer).


---
---
G&J Holmes


NEWS
12th May
Another Enviro 200 here is (YX14 RZB).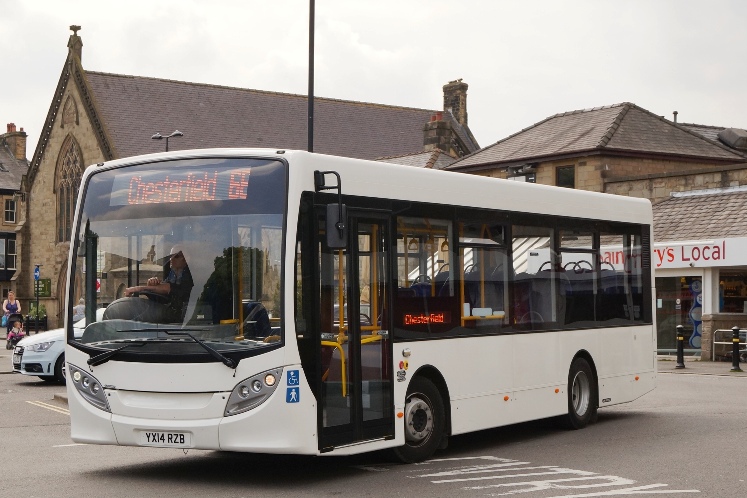 Enviro 200, (YX14 RZB) in Buxton.
(C) Geoff Girling



26th December
The 2 new Enviro 200s here are (MK63 WZZ) and (YX63 GYK). Solo (MX59 AVR) has been sold to PC Coaches, Lincoln.

---
---
Glovers of Ashbourne


NEWS
1st April
Former Roy McCarthy, Macclesfield Volvo B12M/Plaxton Paragon (YN05 VRX) is here. The two Primos have left the fleet. There are rumours that one may be on its way to Malta soon!
---
---
Harpurs Coaches


NEWS

16th March 2014
The last Metrobus (C373 BUV) has been withdrawn along with Volvo B10M (J723 EUA)

15th March 2014
Another Volvo B12M has been added to fleet, it is (MX04 AEM)
Volvo B10M/Plaxton (T300 BCL) has been withdrawn and sold.

26th February 2014
A new arrival here is former National Holidays (new to Shearings) Volvo B12M / Plaxton Panther (MX04 AEV). C48ft seating.
Volvo B10M (S79 AUP) has been withdrawn and sold.

3rd February 2014
Olympians (N594 BRH) and (R319 WVR) have been sold on for further service.

Restoration of former Derby Corporation Daimler Fleetline (XCH 425G) has begun inm partnership with Derby Museums.

7th November 2013
(R309 WVR) has been painted and now in service. Similar (R319 WVR) is currently in stock, but not prepared for use.


---
---
Hawkes Coaches


NEWS
2nd January:
An arrival in the last few months is East Lancs bodied Olympian (R343 MFR), ex Metrobus, Orpingdon and still in their blue/grey livery.


---
---
Hulleys of Baslow

NEWS + SIGHTINGS
Former Trent Dennis Lance / Optare Sigma 12 is for sale. If anyone is interested in preserving this vehicle, please contact Hulleys. If a buyer is not found soon, it will be scrapped.

12th May
Solo 9 (MXO9 AOF) returned to service on 4th May, after some 7 months off the road, with a Cummins engine in place of its original MAN unit. The VDL SB200 on hire from Arriva, (YJ62 JZT), has been purchased and numbered 12.

24th March
The latest new addition is (YJ62 JZT) - a VDL SB200 with Wright Pulsar B44F bodywork. Previously an ARRIVA lease vehicle with Reays of Cumbria, it is currently here on loan, although it may be purchased (possibly as a replacement for Lance 12, which is currently out of use).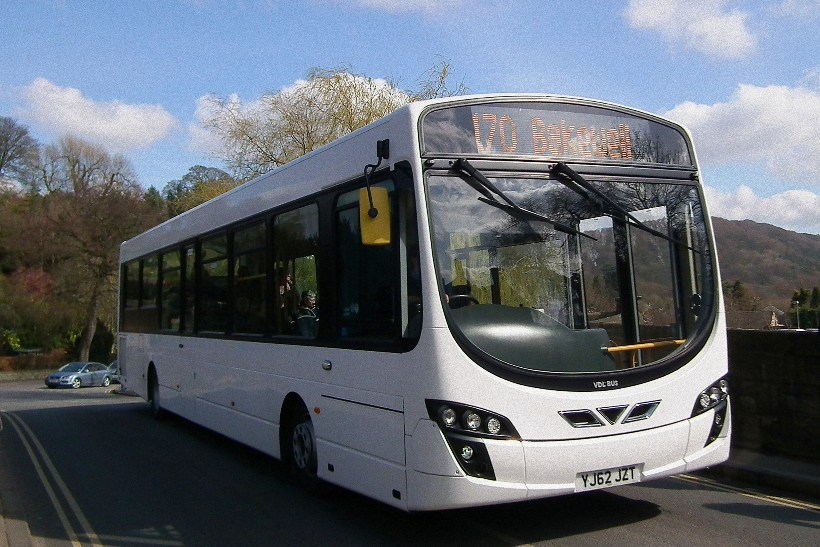 VDL Wright Pulsar (YJ62 JZT) in Bakewell.
(C) Ian Moorcroft



15th March
Enviro 200 demonstrator (YX62 EEY) arrived here on 4th March, scheduled for a 2 week stay.

26th February
Volvo decker 4 has been towed away for scrap after being involved in an RTA a while back.
Solo 9 is being sent to Smiles in Newcastle to have the MAN engine replaced with a Cummins one. A number of former NCT Versas are having the same proccess done at the same place.
Lance 12 is currently off the road with gearbox issues. This may lead to an earlier withdrawal than first planned.


---
---
Johnson Bros / Redferns


NEWS & SIGHTINGS
18th February
3 Van Hool's have joined the fleet, these are: (YJ08 EBG), (YJ58 FHT) and (YJ58 FHU).
---
---
Linburg

NEWS + SIGHTINGS
-

---
---
Littles Travel

NEWS + SIGHTINGS
-

---
---
Midland Classic


NEWS
21st May
Two Scanias have arrived here from Reading buses. They are 78 (YN05 GXH) and 79 (YN05 GXJ). 79 has been repainted, and 78 is now away being painted.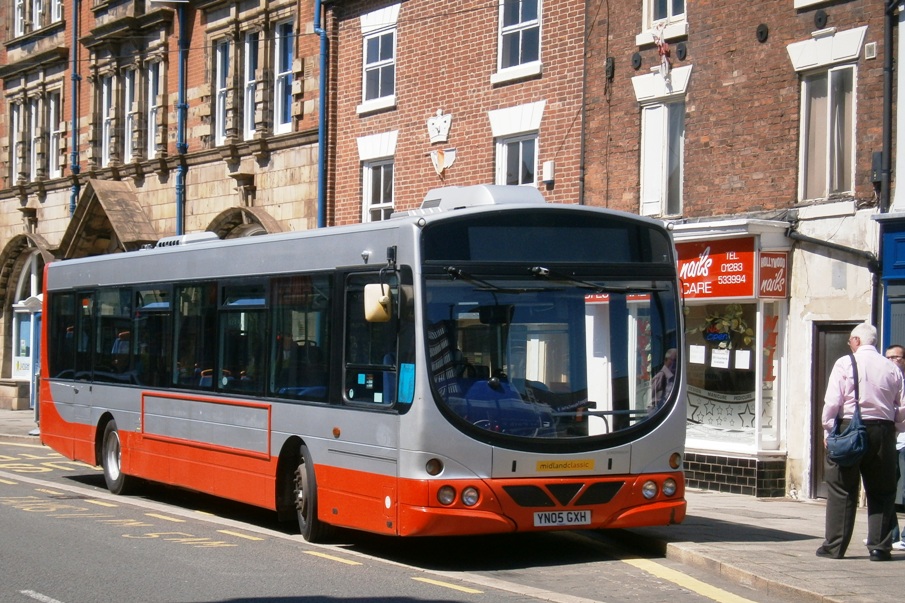 Scania 78 (YN05 GXH).
(C) Dan Louch

28th April
Two vehicles are currently on loan here Streetlite (MX12 DYM) and Enviro 200 (MX60 BWW).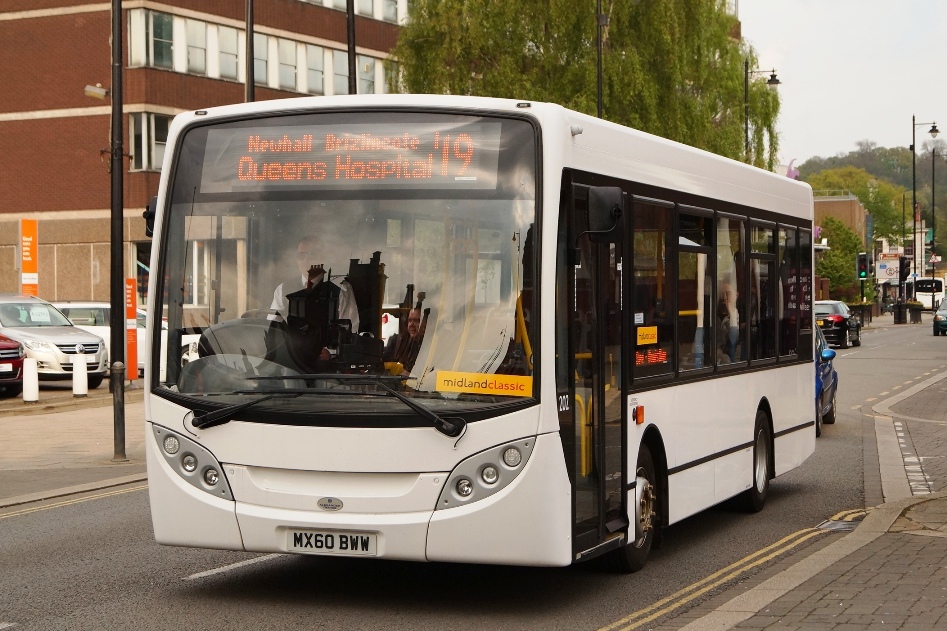 Enviro 200, 202 (MX12 DYM).
(C) Geoff Girling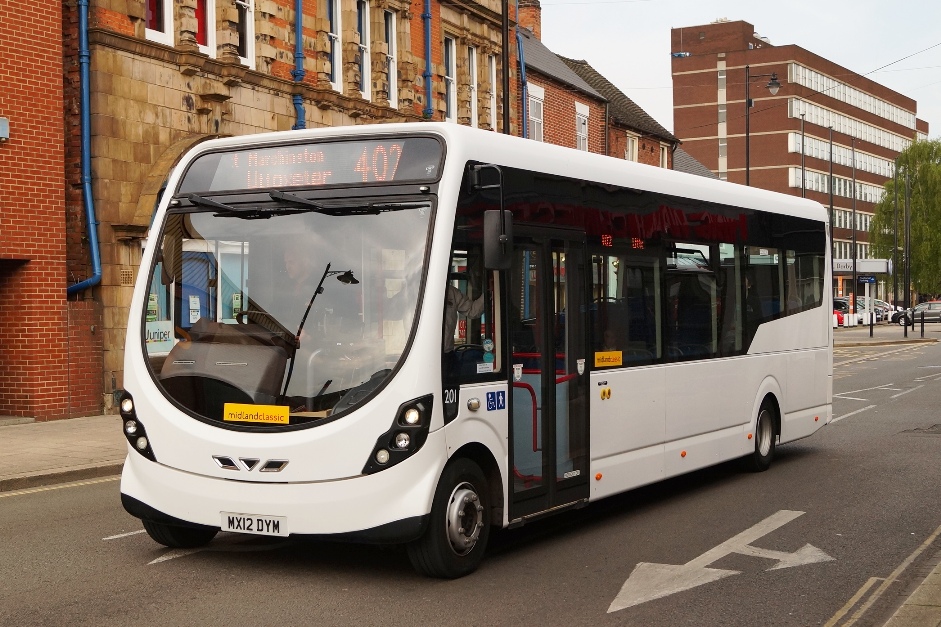 Streetlite 201 (MX60 BWW).
(C) Geoff Girling



25th March
Enviro 200 demo (YX14 RXB) is here.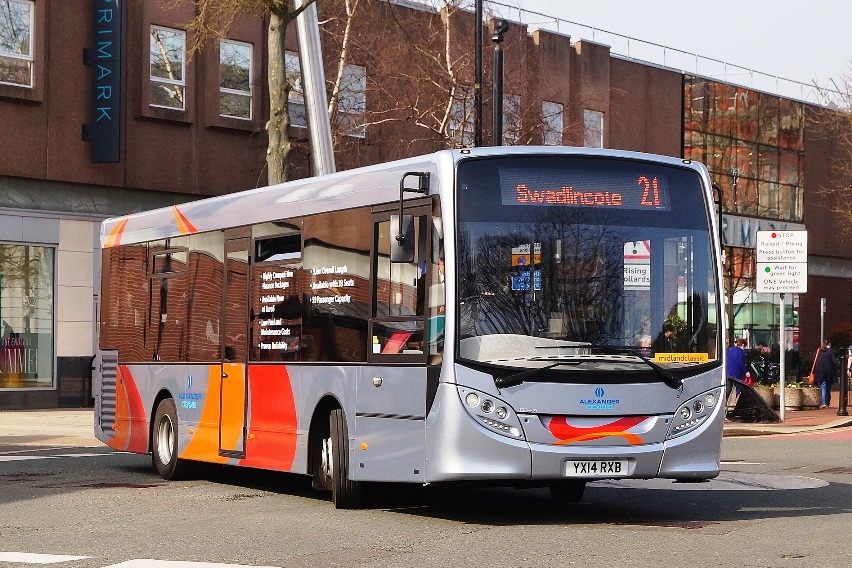 Enviro 200 demo (YX14 RXB).
(C) Geoff Girling



26th December
Olympian 90 (L649 MYG) is said to be withdrawn.


---
---
Paul S Winson
-
NEWS
---
---
Skills, Nottingham

NEWS
-
---
---
TM Travel


NEWS:
See Wellglade section.
---
---
Translinc
NEWS
---
---
The Wellglade group
trent barton, kinchbus, notts+derby and T M Travel.
NEWS
21st May: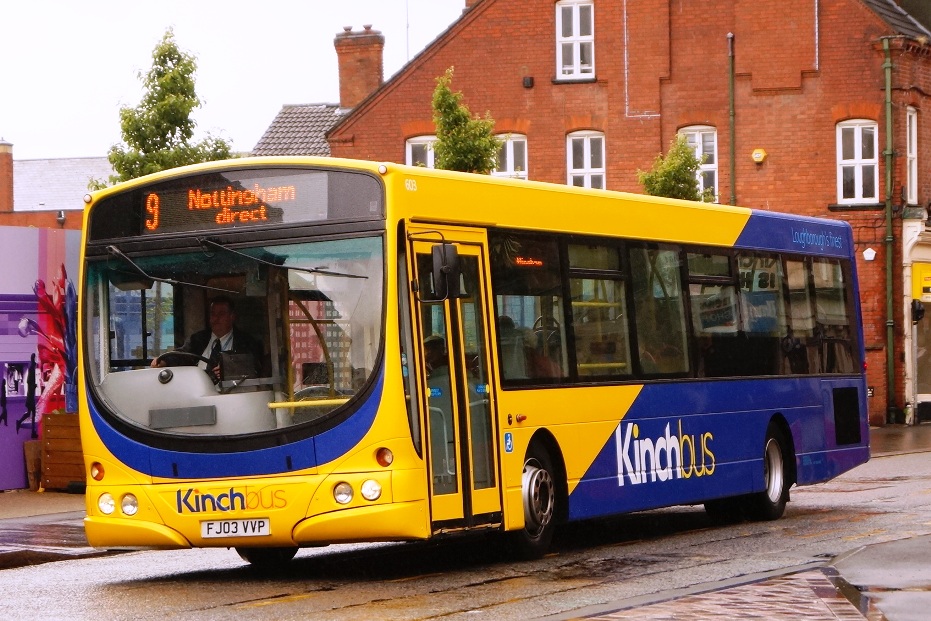 Former H1 Scania 603, in the revised kinchbus livery.
(C) Alf Cundy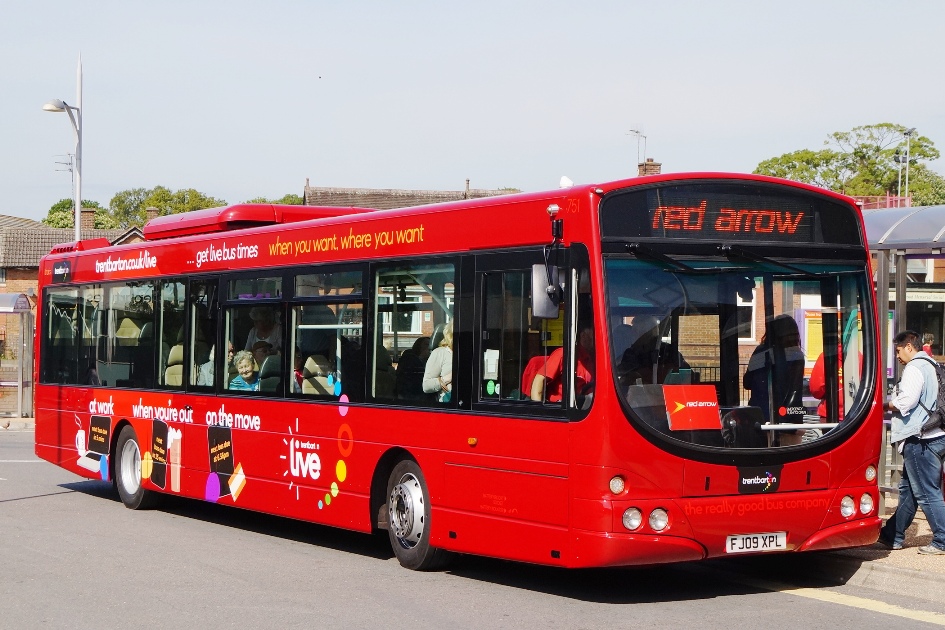 751 in Alfreton on the red arrow.
(C) Geoff Girling

Excels 222 and 236 are back in use at notts+derby.

Solo 460 has been painted in Kinchbus livery.

751 has been repainted into the new trent barton red.

Dart 931 (R931 RAU), last with Gills, was bought by JPT. It is now Stagecoach Manchester 33878, following Stagecoach's recent takeover of JPT.

Paladin 112 is now in use with TM in normal service. Still in N+D livery.
Olympian 1114 (J844 TSC) has gone to Ripleys (dealer) for scrap.

28th April:
14 Versas are said to be on order for the Rainbow 1 route.

Former Radcliffe Solos 485-487 are being repainted for the Hucknall Connect, and 488-90 for amberline (start Mon 5th May).

At Kinchbus Solo 420 has been withdrawn. 427 and 450 are expected to join their fleet soon (currently amberline). 412 will most likely go to TM.

Scania 602 is now in trent barton livery. 603 and 604 are now in Kinchbus livery.

At notts+derby Excels 222 and 236 are now withdrawn.

935 continues in use with trent barton as a spare. On X38 mon 28th April.

1st April:
All refurbished buses are now out on the Sixes and Rushcliffe Green routes.

Former Radcliffe line Solos 488 to 490 are destined for Amberline, replacing older Solos. It is not yet known where the other 3 Solos will be allocated.

TM, DAF Northern Counties 1124 (P337 ROO) has been sold for preservation. It was new to Harris Bus, and is off back home down Essex way.

Former Excel 164 (S164 UAL) is now a non PSV with Key 103 FM, Manchester.
Delta 303 (J303 BVO) has been withdrawn by Jones, Llanflithlu (Anglesey).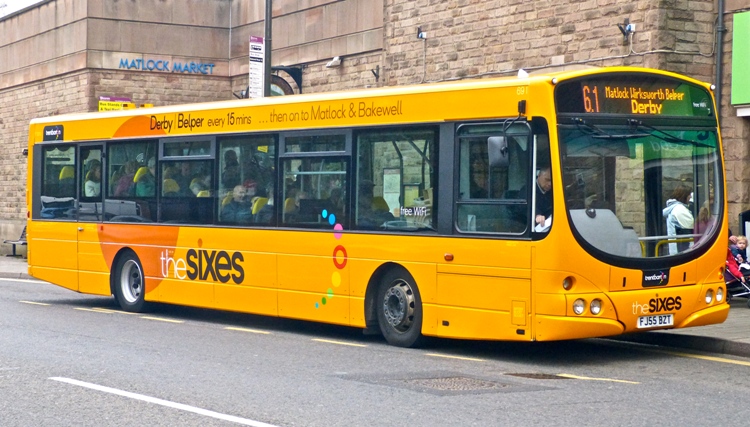 Scania 691 in the new sixes livery.
(C) Dennis Basford Rails Roads and Runways blog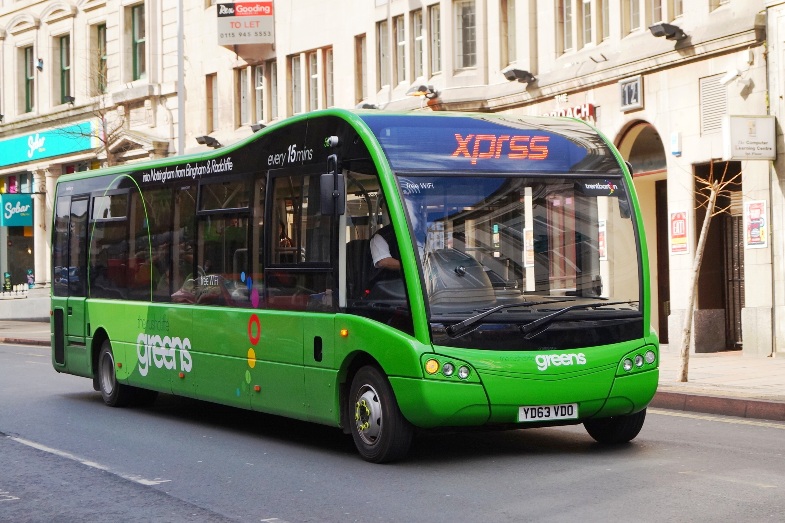 Solo SR 504 branded for the Rushcliffe Greens.
(C) Geoff Girling

15th March:
All of the sixes Scanias have now been repainted and refurbished. The buses will be on show at the "launch party" on Thursday 27th March, 10 til 2 on Derby Market Place.

Radcliffe line and Bingham Xprss will be relaunched as the Rushcliffes greens from 30th March. A mix of new Solo SRs and the current Xprss Tempos will be branded for the service.

Dart 937 has been withdrawn. MAN Centros 1198 and 1200 are both in unibus livery for the 6. 1199 is away for painting into the same livery.

26th February:
Former H1 Scania 602 is now in use at Derby.

23rd February:
Centro 1199 is now with notts+derby.
Solo 466 is now in use at Matlock after repaint into "little sixes" livery.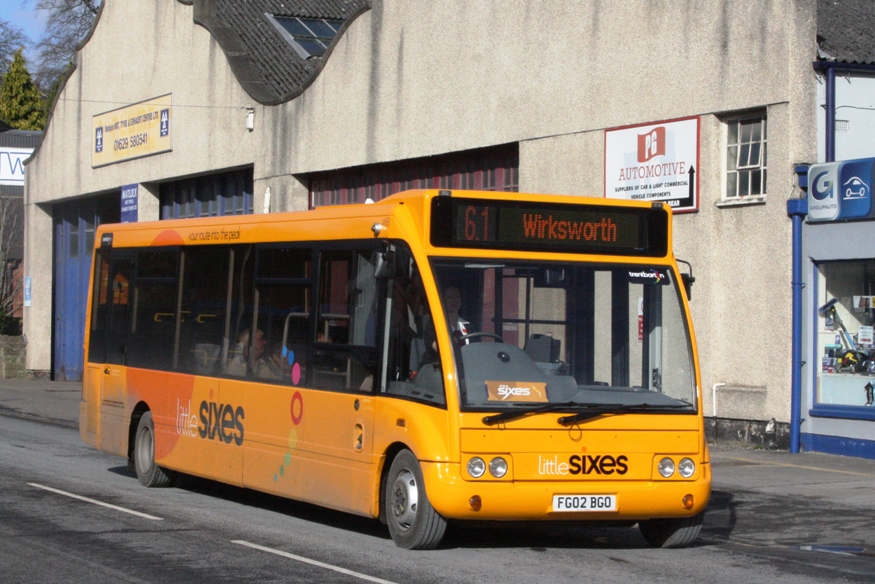 "Little sixes" Solo 466 in Matlock.
(C) Dan Stone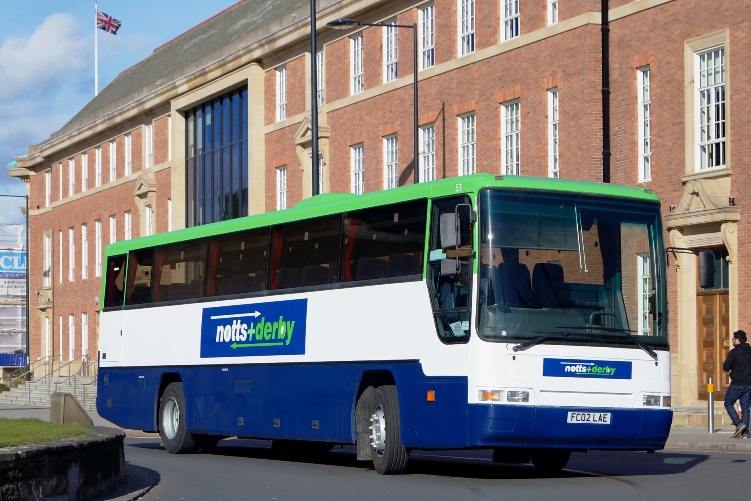 Javelin 53 in Derby City Centre.
(C) Geoff Girling
---
---
Yourbus, Nottingham
NEWS
3rd February 2014:
E300 1403 (SN10 CDK) now in Yourbus livery.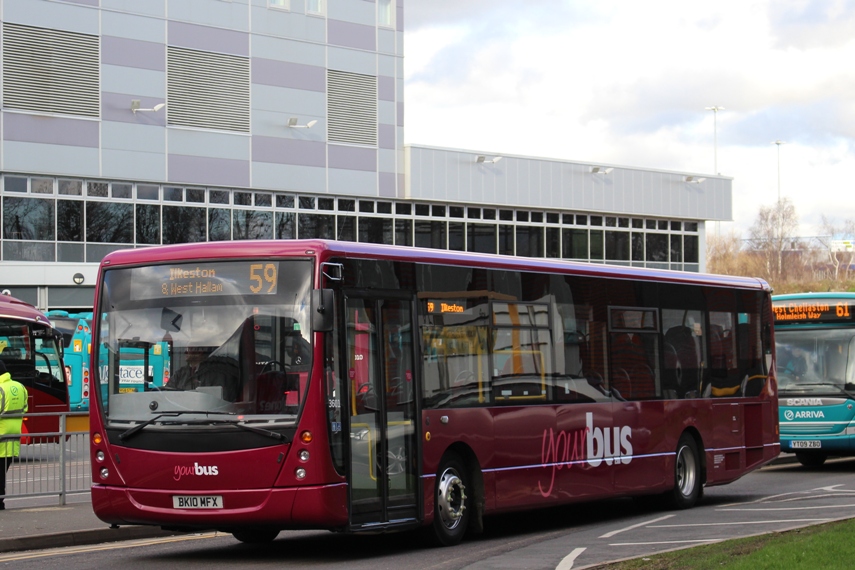 Centro 3601 now carries Yourbus livery.
(C) Matt Burley Matt Burley on flickr.



23rd January 2014:
Volvos 3605/3606 have been withdrawn. 3603/3604 should be withdrawn very soon (if not already).

Centros 3601/3602 are now regularly allocated to service 59, and E300s 1402/1403 to service 140/141.

The Citaro demo 3032 is now allocated to the 114 (Derby to Ashbourne) most of the time.

Using larger buses on these routes has allowed 4 DF streetlites to be used on the former Doyles services around Alfreton.

Keep up to date on the Yourbus Yahoo Group.

15th January 2014:
A number of routes have been acquired in the Alfreton area, building on the Derbyshire network, following the demise of Doyles coaches on Monday.
Former University Hopper Centros 3601/2 (BK10 MFX/Y) and E300s 1402/1403 (SN10 CDF/K) are all back in use here. All will be repainted soon.
Enviro 1402 now back in service with Yourbus.
(C) Dennis Basford Rails, roads, and runways blog.



5th December 2013:
Enviro 200 1401 Has now been repainted in fleet livery.

Levante 4002/05/09/13/14/15/16 have now passed to Go North East along with some NX Diagrams.

Durham Depot has now closed (November).

4021 was written off In January 13 after an RTA.

4101/02/03/04/05/06/08/09/10 along with 4201/02 have been sold To Ensign Bus.

4107 has been scrapped after it caught fire at Gatwick in August.

Mercedes Citaro Demonstrator (BF60 OEZ) is due to join the fleet shortly and will become 3032.
---
---
Last Months News

News Index Page
---