Bus Fleet News
May 2011
---
Latest News
---
Here you will find all the latest bus fleet news for many bus operators in and around the Derbyshire area. If you have anything to report please contact me by clicking here.
---
---
NEWS
17th May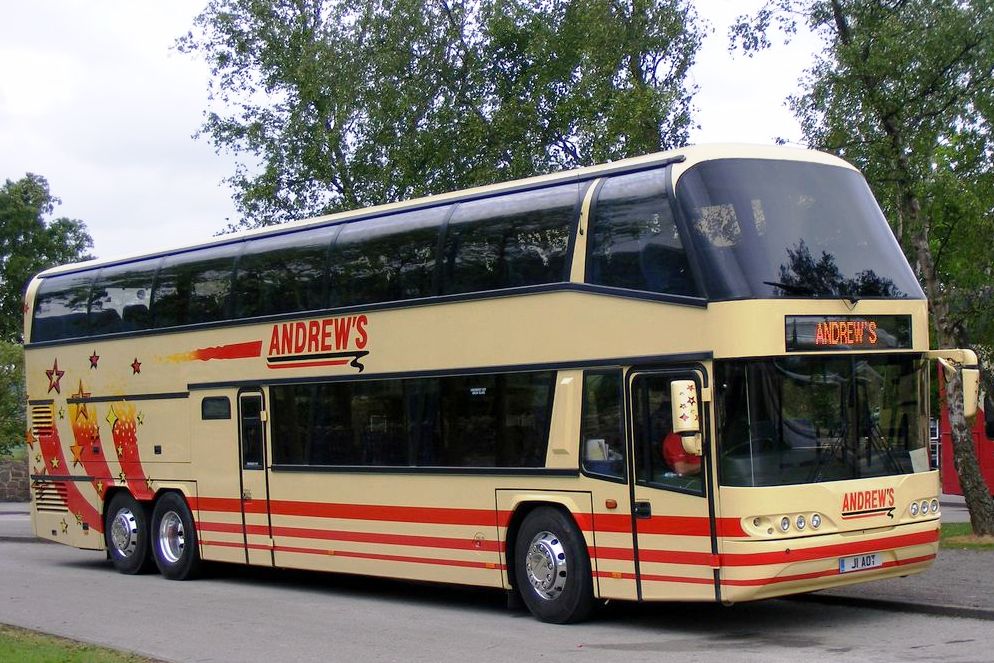 New as (SF56 UAE) this Neoplan Skyliner is now (J1 AOT) in the Andrews of Tideswell fleet. It is seen here on Monday waiting for the afternoon school departure from lady Manners School in Bakewell. .
(C) Ian Moorcroft

28th April
Volvo B9R / Plaxton Panther (YN11 AXX) is here.
---
---
NEWS
8th May:
MPD 2222 has had a repaint into the now standard inter urban livery.

4th April:
Omnilinks 3811 and 3812 are now based at Derby (again).
Dart 2227 has gone to Burton.

15th Feb:
Omnicity 3580 and Omnilinks 3809/10 are now in service. All three have transfered from Wigston.
Darts 2228/9 have gone to Burton garage, whilst 2231 has gone to Stafford.

---
---
NEWS
8th May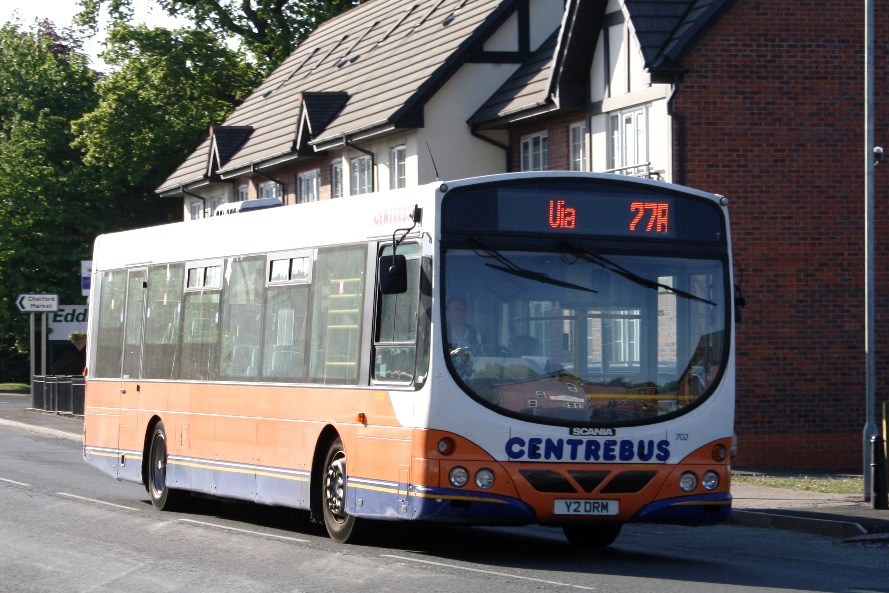 Scania 702 (Y2 DRM) is currently with Bowers, seen here on route 27 (Macclesfield - Knutsford).
(C) Nick Mannion

Scania L94UB/Wright (Y2 DRM) is now in use here.

9th Feb
Former Travel Coventry Solo (S276 AOX) is expected here soon. It should be painted in the new style livery that (CE52 UFX) carries. It was previously with the Centrebus operation in the Luton area.


---
---
NEWS & Sightings
-
---
---
NEWS & Sightings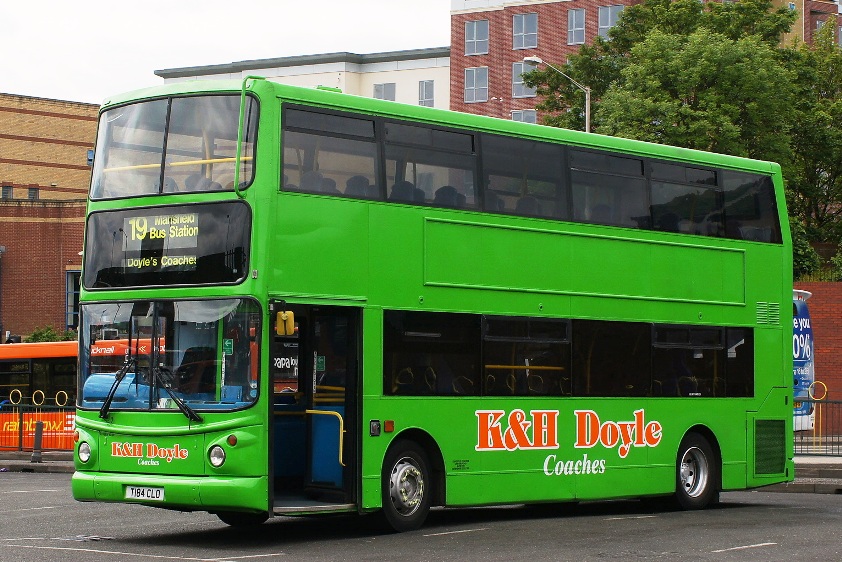 Doyles Trident (T184 CLO) in Mansfield.
(C) Geoff Girling

4th April
The 4 former Go Ahead MPDs here are: (Y863/4/5/6 TGH).

27th March
3 of the 4 former Go Ahead MPDs to arrive here are said to be (Y863/4/5 TGH).

22nd March
Bus Eireann DPC3 (00D84191) is now registered (W975 ETW).
4 former Go Ahead London MPDs are expected here on Wednesday.

17th March
Two Plaxton Pointer Darts are here from Bus Eireann:

DPC3 (00D84191) has just been repainted (no UK reg yet).
DPC10 (00D89227) is now (W973 ETW) and is in full livery.

(T183/4 CLO) are both now in full livery, 183 awaits fleet names.

5th March
Bus Eireann Dart/Plaxton Pointer (00-D-89227) in the yard today. Acquired?

One of the two tridents (no plates) has now been painted and converted to single door. It is thought to be (T184 CLO) as the other example was untouched earlier this week.

Darts (P301/8 HDP) now back in use and (R556 UOT) re-licenced but not yet in use.

Former Fox County Merc (R167 UAL) remains in store, Trent Vecta 801 left early Feb and remains untaxed, whilst ex Trent Vario 287 (S287 UAL) is now on the road elsewhere.


---
---
NEWS

31st March
The new Volvo Centro is (FJ10 NFV),and is expected to be in service on the black cat service tomorrow.

---
---
Gills Travel


26/03/2011:
Former NCT, and more recently Littles, Optare Metrorider (R232 SCH) is now here.
---
---
G&J Holmes


NEWS
13th December
The recently acquired Vario, (T95 GGO) has left the fleet.

---
---
Glovers of Ashbourne

NEWS
---
---
Harpurs Coaches


NEWS + SIGHTINGS

17th March 2011
Dennis Dominator (F638 BKD) and Metrobus (C317 BUV) have gone to PVS for scrap.

27th Jan 2011
Metrobus (C317 BUV) has been withdrawn. This leaves 3 left in service here, although some former DUblin Olympians may replace them in the near future. (C373 BUV) may be retained.
---
---
Hawkes Coaches

NEWS
---
---
Hulleys of Baslow

NEWS + SIGHTINGS
9th April
New here is Dennis Dart SLF / MAN Evolution 14 (AE56 MDN). The vehicle was new to Cavalier. As a result Optare Vecta 14 (M803 PRA) saw its last day in use yesterday. The vehicle is still stored and could be used, but is for sale for £1800, and is likely to be scrapped if a buyer is not found.

Former Hulleys Dart (P881 PWW) has been sold to GHA, Corwen for spares after being written off in an accident last year.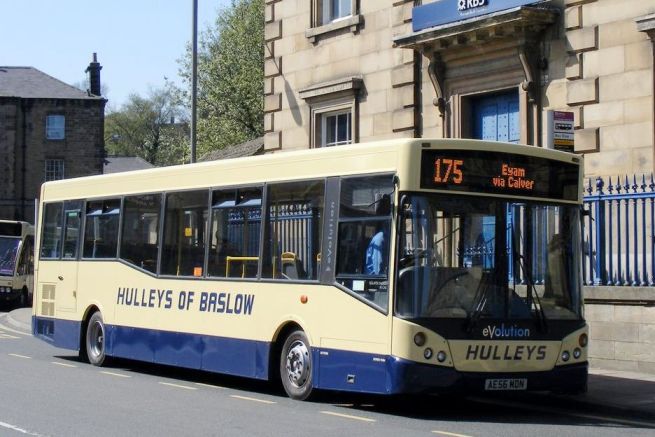 14 (AE56 MDN) in Bakewell.
(C) Ian Moorcroft



6th March
Vecta (M802 PRA) has been withdrawn following the arrival of 38 seater Enviro 200 (MX11 CZM). It entered service on Friday afternoon. (M803PRA) is due to be taken out of service soon, so itis likely there will be another new addition to the fleet soon...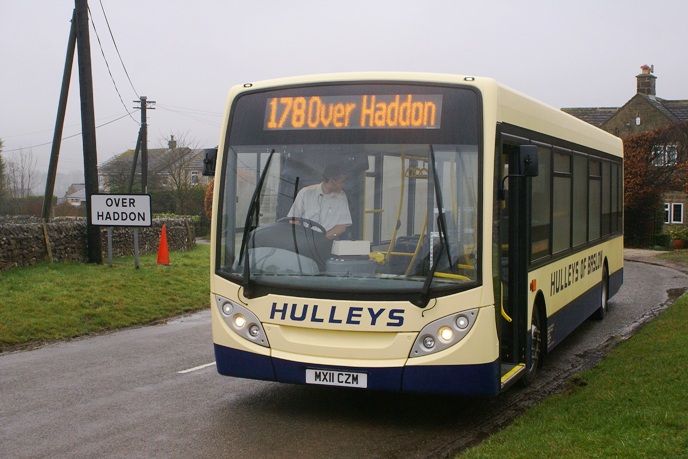 Enviro 200 (MX11 CZM) in Over Haddon.
(C) Geoff Girling
---
---
Johnson Bros / Redferns

NEWS & SIGHTINGS
-
---
---
Linburg

NEWS + SIGHTINGS
-
---
---
Littles Travel

NEWS + SIGHTINGS
26th March 2011
Metrorider (R232 SCH) has gone to Gills Travel.

Thurs 14th October
Two Metrobuses have arrived here from Skills, one of which is ex Harrow (E476 SON).
---
---
Midland Classic


NEWS
11th May:
The 4 Tridents to recently arrive here are:
92 (V302 KGW),
93 (V306 KGW),
94 (X264 NNO),
95 (X265 NNO).

92 is currently away to have the centre door removed and a repaint.

8th May:
A further 2 Tridents are reported here bringing the total to 5.

29th Aprilh:
Former Stagecoach London Tridents 17264/17265 (X264/265 NNO) are now here.

22nd March:
Enviro 400 demo (SN59 AWX) is here for a few weeks.

Two former Travel London/Abeillo Tridents are due in the next few weeks.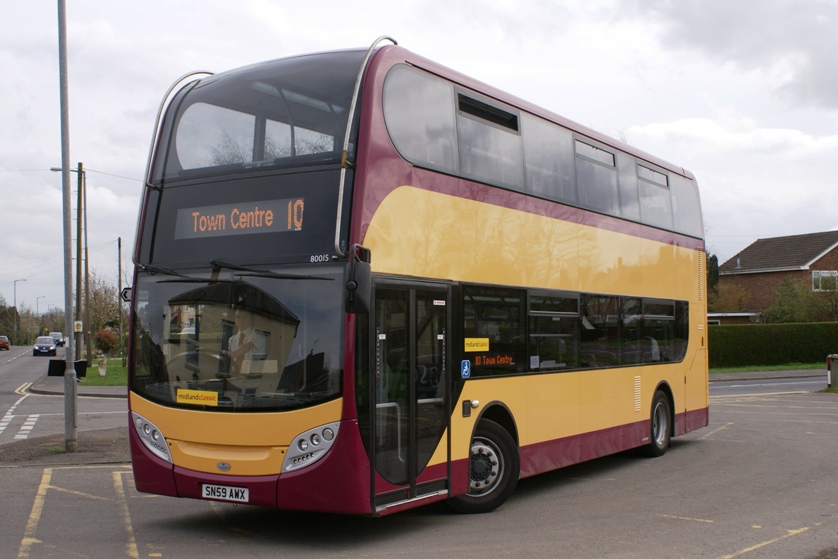 Enviro 400 (SN59 AWX) on route 10.
(C) Geoffrey Girling
---
---
Premiere, Nottingham


NEWS
29th May
New here is former Abellio Trident 4202 (KV02 UST), in plain white. This may be on loan from Dawson rentals.
MAN Evolution 3326 (AE05 EVB) is now in fleet livery.

28th April
Enviro 300 3340 (SN10 CDK) is back after repaint.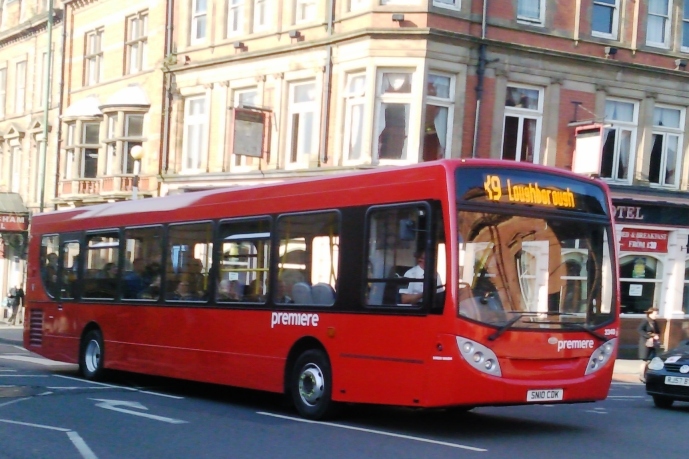 Enviro 300, 3340 (SN10 CDK) after repaint.
(C) Miles Williams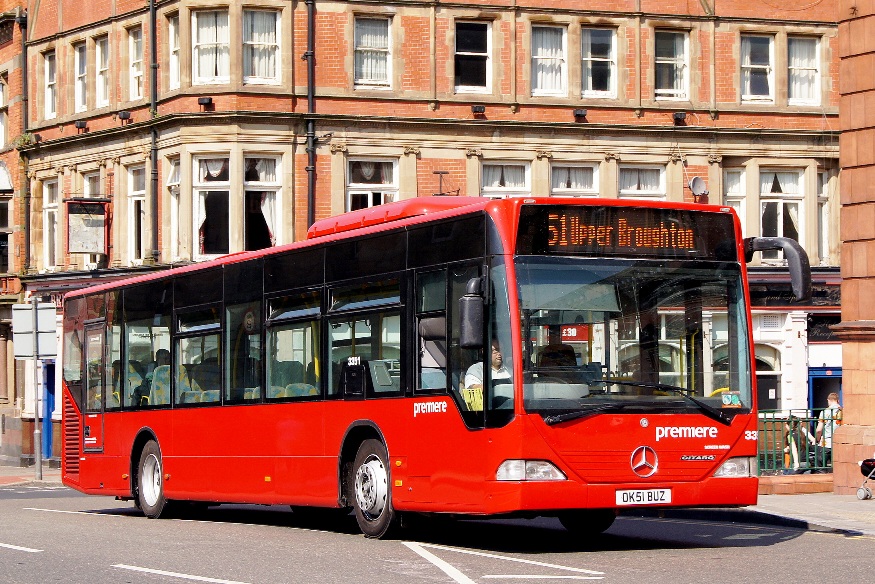 Mercedes Citaro (OK51 BUZ) looking smart after a repaint.
(C) Geoffrey Girling



23rd April
Citaro 3351 (OK51 BUZ) is now in red livery. Enviro 300 3340 (SN10 CDK) away for repaint into Premiere red (was branded spare for Uni). Decker 4636 in for repaint next.


10th April
The 3 tri axle Scania Omnilinks 3323/4/5 (YN07 LDX/Y/Z) have departed. A number of buses have been freed up to replace them, due to many of the Mansfield contracts now being operated by Doyles.

Olympians 4637 (J823 CEV), and 4639 (L209 SKD) have been sold to a fruit farm in Staffordshire! 4640 (L918 SNO) and 4638 (K230KNO) have been sold to 1st bus stop, Essex.

(P490 MBY) has been sold to a local bus and coach dealer, whilst former National Express coach (FJ54 ZDE) has gone to Lewis of Grenwich.

12th Feb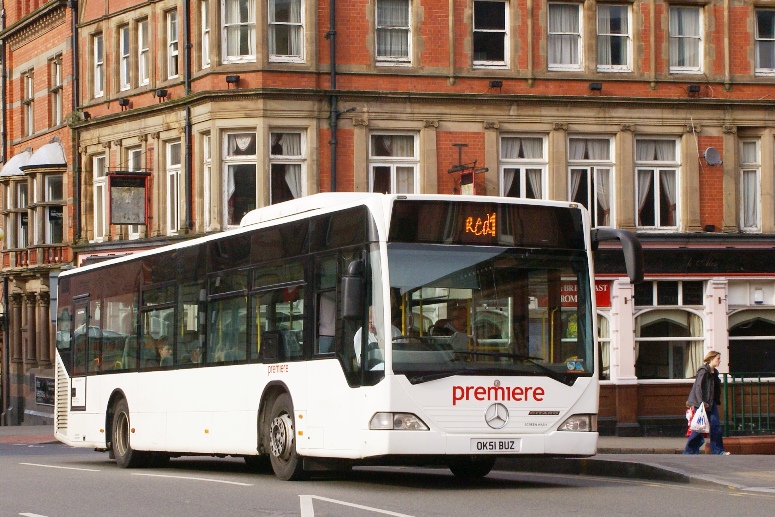 Mercedes Citaro (OK51 BUZ) on the popular Red 1 service.
(C) Geoffrey Girling

Volvo B12M / Sunsundegui 964/5 (FJ55 YCG/K) are not in the fleet, they remain with Veolia.

Premiere currently have former Veolia National Express Volvo B12B / Plaxton Paragon (FJ54 ZDD/E/H) in store. These may move on soon, unless a use is found.

Ledger coach 966 (YJ06 GKO) now in full Premiere livery as part of the coach fleet, and 963 (YX53 AEN) is to be painted in the black livery for use as a team coach.

The Event link Scania tri axles are expected to be sold soon. These are owned by the council.


---
---
Stagecoach East Midlands
Chesterfield, Mansfield, Worksop
NEWS
To keep up to date with Stagecoach in Chesterfield, and many other operators in the area, take a look at the excellent Transpire website.
---
---
TM Travel


NEWS:
See Wellglade section.
---
---
Translinc
NEWS
:
---
---
---
The Wellglade group
trent barton, kinchbus, notts+derby and T M Travel.

NEWS
29th May:
Former Spondon Scania 634 now carries trent barton live livery and is based at Nottingham.
Transpeak coach 61 has been withdrawn and debranded. Rumoured to be going to N+D. Darts 931/9 are at Derby ready for the Download festival shuttles.
Solos 484 (former Dash Solo) and new Solo 492 will be on the Harlequin from Tuesday replacing 450/1.
Volvos 739 and 740 have been branded for the rapid 1.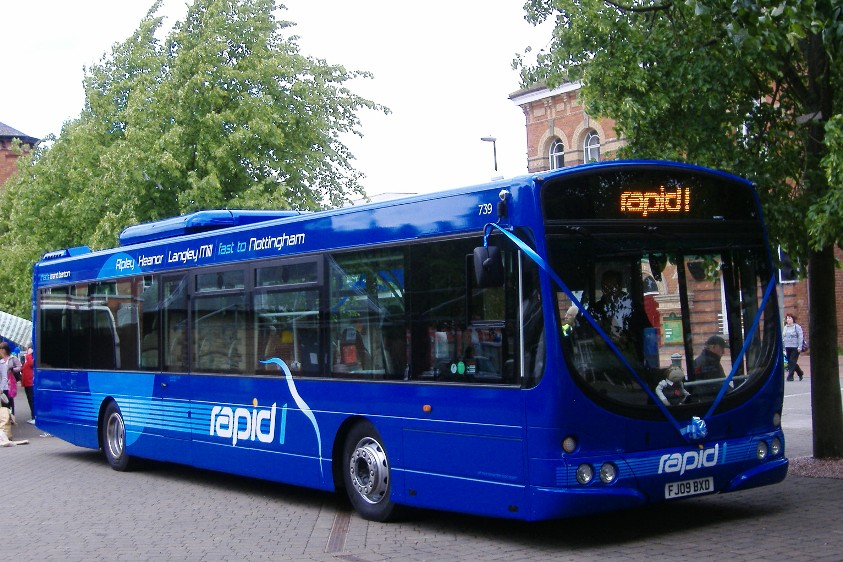 Volvo 739 has been branded for the new rapid 1 service designed to compliment the Rainbow 1 by offering quicker journeys into Nottingham.
(C) Guy Guys flickr site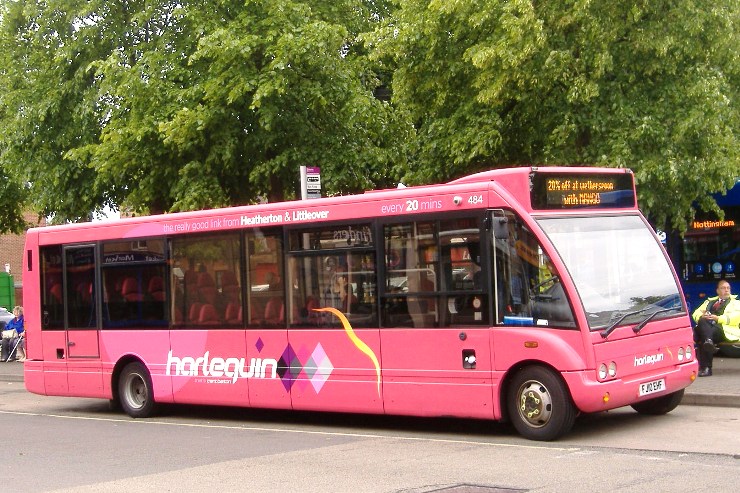 Former Dash Solo 484 is now branded for the Harlequin service along with new Solo 492. 484 is seen here in Heanor at a promotional showing for the rapid 1.
(C) Guy Guys flickr site



27th May:
Excel 227 has had a repaint (still trent barton red).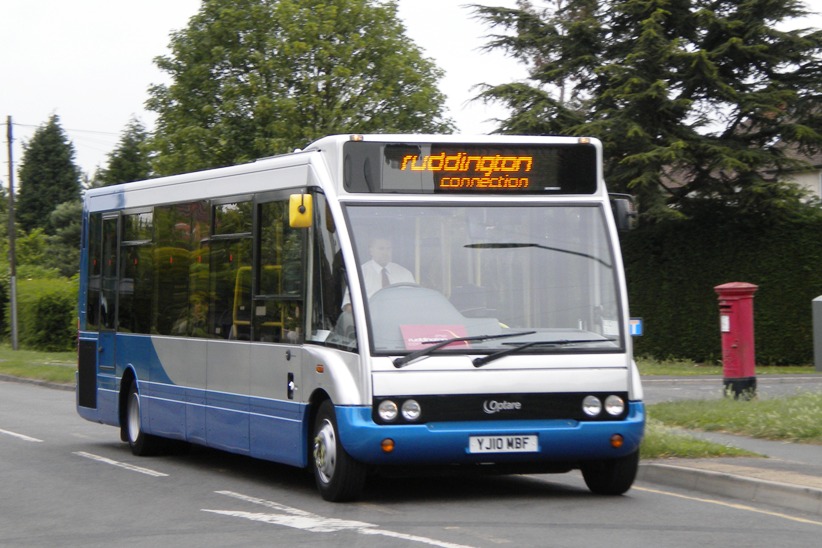 Solo 400 (YJ10 MBF) seen here on the Ruddington Connection.
(C) John Whittingham

Solo demo (YJ10 MBF) is currently at Nottingham, fleet no 400. The 59 reg one (that spent time at Kinch) has gone back.

The operations of Bowers and Trents Dove Hole garage (inc transpeak) are set to be undertaken by a new company from late summer, High Peak buses ltd! The company will be 50% owned by trent barton, 50% owned by centrebus. The registered company address is that of centrebus Leicester, and vehicles will be operated from the current trent garage in Dove Holes.

17th May: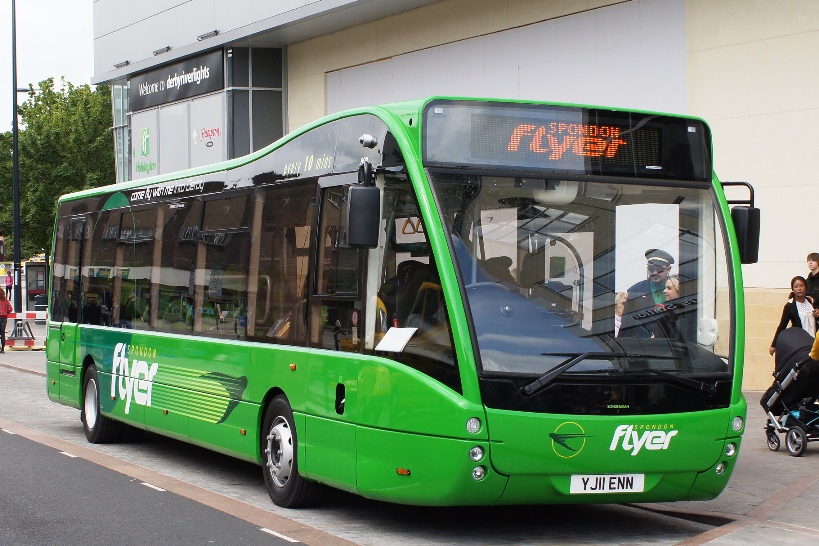 Versa 808 ready for service on the Spondon Flyer.
(C) Geoff Girling

New Versas on the Spondon Flyer are:
806 (YJ11 ENL),
807 (YJ11 ENM),
808 (YJ11 ENN),
809 (YJ11 ENO).

Darts 931 and 939 said to be withdrawn from the TM Travel fleet. SOme vehicles should also have been withdrawn from the Midland General "bargain bus" fleet as the operation has been scaled down.

14th May:
Versa 806-9 should be on the Spondon Flyer from 1pm today.
Unibus Excel 223 was involved in an RTA with Tempo 308 on Monday evening. Former swift Excel 264 has been debranded and is currently in use at Derby as a temporary replacement for 308. 223 may be a write off.

8th May:
Spondon Flyer Versas 806-9 should enter service on Saturday.
The 3 Volvos (736/7 and ???) for Swift are ready for service on Monday replacing Excels 264-6.
Former Dash Solo 484 has been used as a spare at Derby this week. It is expected to be branded for Harlequin along with new Solo 492 soon.
There is also now a spare Allestree Solo at Derby, now that the pvr has been reduced from 6 to 5. Both have proved valuable spares!
227 said to be away for repaint.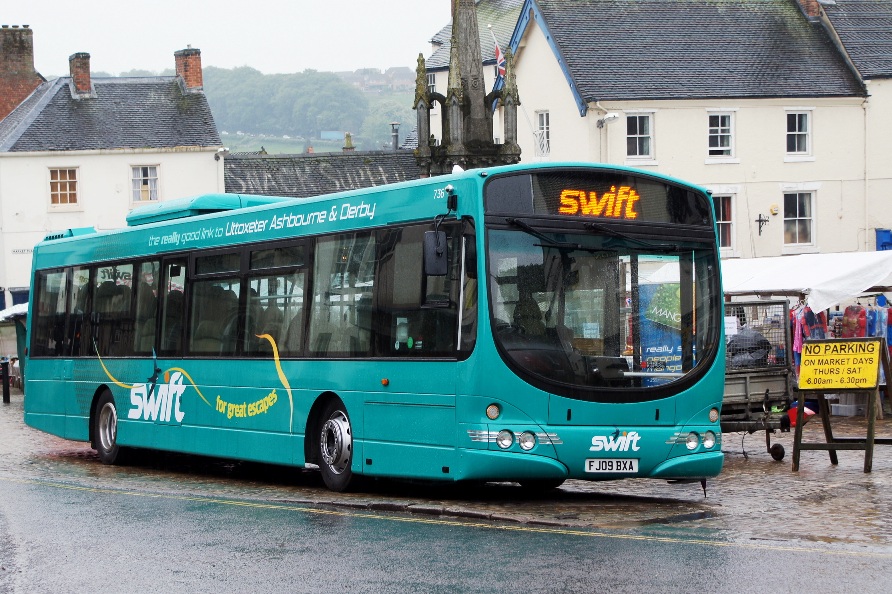 Volvo 736 has been branded for the swift.
(C) Geoff Girling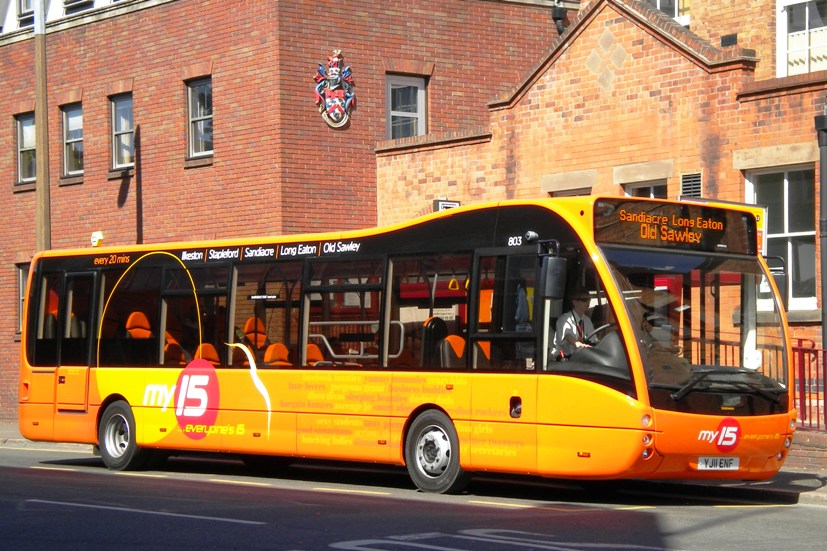 New route 15 Versa 803 in Ilkeston.
(C) John Whittingham

28th April:
New Versas here for route 15 are:

801 (YJ11 ENC),
802 (YJ11 ENE),
803 (YJ11 ENF),
804 (YJ11 ENH),
805 (YJ11 ENK).


The Versas should be out in service on Saturday. 3 of the Volvos they replace are going onto Swift (Derby - Ashbourne - Uttoxeter), with the other two expected to go on the new Rapid 1 route, a sped up version of Rainbow 1.

TM travel have lost the Sheffield Freebie service to First.

23rd April:
Darts 914 and 926 have been scrapped (914 at least at Looms).
N+D Olympian 21 withdrawn (bad chassis). Very unlikely to return, parked up at LM.
Route 15 Volvo 736 painted up for the Swift service. The Versas for the 15 have been delivered, and will start in service on Saturday 30th April. One will be on display in Long Eaton on Wednesday, then Ilkeston on Thursday. No confirmed details of the buses yet.
225 and 235 to be painted for TP once other vehicles available for cover. 235 now appears to be based at Derby - this was the first bus in trent barton livery.

Training Lance 367 has turned up with TM Travel, reason unknown. Probably not for service as taxed at PLG at Trent.

15th April: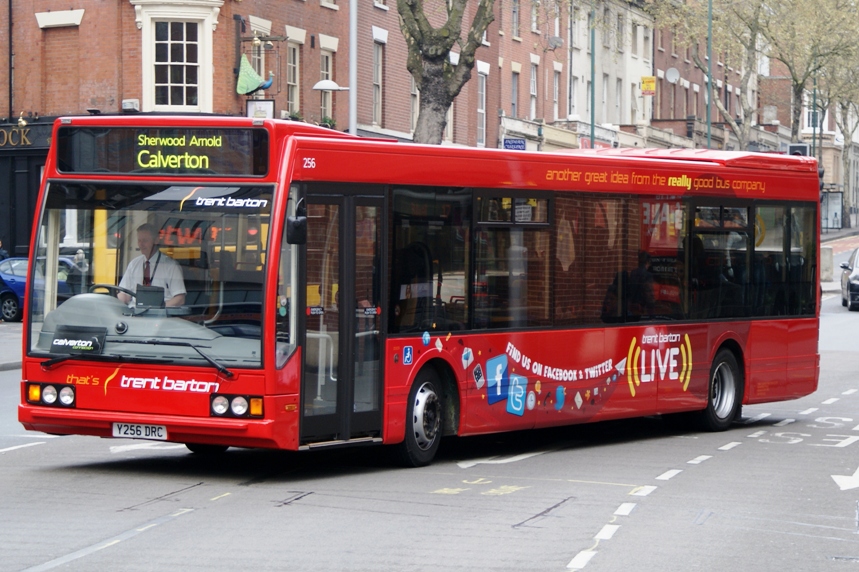 Former amberline Excel 256 has been repainted in an advertising livery for their trent barton live website, another great idea from the really good bus company. The vehicle is now based at Sutton.
(C) Perry J Jest
---
---
Yourbus, Nottingham
NEWS
10th April:
9 Citaros said to be on order for use0 on the Y36 from June.
---
---
Last Months News

News Index Page
---