Littles
Hallam Field Road, Ilkeston.
www.littlestravel.co.uk
Tel: (0115) 9328581 | Fax: (0115)9325163
---
Littles Travel of Ilkeston operate a variety of buses and coaches. Holiday Tours, School bus services and special Hire work is all undertaken. Pride Park and Ride is operated by the company, under contract to Derby City Council.
The Littles company was formed by one man, Iain Little, in July 1990, using the name LittlebuS. From being a small company with 1 minibus, the company has grown to become a sizable bus and coach operator.
---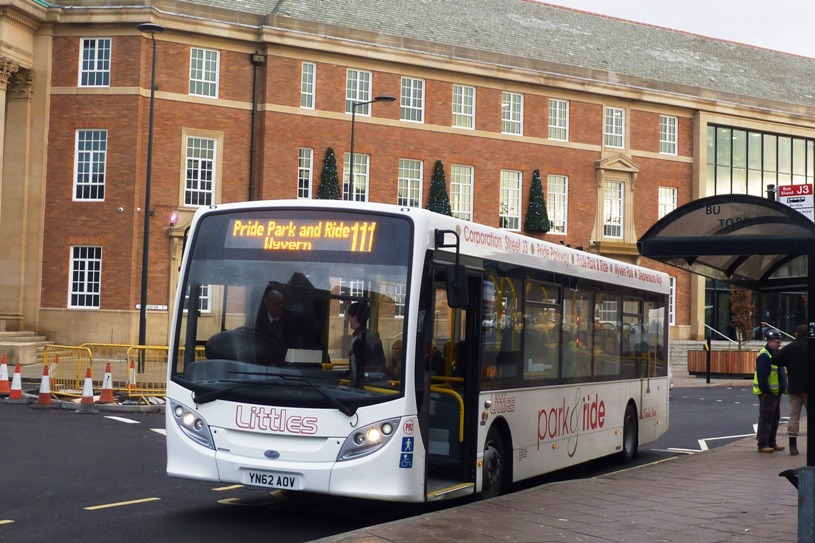 (YN62 AOV) is one of three brand new Enviro 200s used on the Pride Park and Ride. Seen here in Derby city centre on the same day the council house (in background) was reopened after a costly refurbishment. 17/12/12.
---
Fleet List
Fleet N0
Registration
livery
Description
Seating
Other
Park and Ride
PR1
YN62 AOH
Pride Park and Ride
ADL Enviro 200
38
new
PR2
YN62 AOV
Pride Park and Ride
ADL Enviro 200
38
new
PR3
YN62 AOD
Pride Park and Ride
ADL Enviro 200
38
new
Single deck bus
B2
R932 RAU
Red
Dennis Dart / Plaxton Pointer
35
ex trent
B9
V202 ENU
Littles
Optare Excel
42
ex trent
-
FJ54 ZTX
-
VDL/Wright
30
ex London Central
-
YAZ 8645
-
Dennis Dart / Wright
ex Gills
Double deck bus
D3
V427 DRA
Littles
Dennis Trident
80
ex NCT
D4
V431 DRA
Littles
Dennis Trident
80
ex NCT
D63
R63 LHK
Littles
Volvo Olympian / Alexander
78
ex Dublin
D98
R98 LHK
Littles
Volvo Olympian / Alexander
78
ex Dublin
Coaches
C1
YN08 DDJ
Littles
Scania Century
53
C2
FH06 OPS
Littles
DAF Marcopolo
53
C3
FH06 OPR
Littles
DAF Marcopolo
53
C4
VIL 9334
Littles
Dennis Plaxton
70
C6
R753 RWU
Littles
Plaxton Premiere
53
-
GT09 LCT
Littles
Scania
49
ex Leons, Stafford
-
BX13 CYY
Hino
King Long Coach
30
Executive coaches
E1
PB09 LTL
Littles
Scania PB
49
E2
YT10 WLG
Littles
Scania Century
49
E3
YR10 BFX
Hino
Scania Omni
55
E4
YR10 DKV
Littles
DAF Temsa
53
E5
YT10 WLK
Littles
Scania Omni
55
E6
FJ04 ETU
Littles
Volvo Berkhoff
51
E7
DX06 HUY
Littles
Neoplan Starliner
48
ED1
L60 LTL
Littles
Scania Berkhoff
74
ED2
M60 LTL
Hino
Scania Berkhoff
74
EX1
VIL 9335
white
Scania / Caetano Levante
49
Minibuses
M1
YN61 AXB
Littles
Mercedes / Plaxton Cheetah
29
M2
YN61 EPX
Hino
Mercedes / Plaxton Cheetah
29
M3
BX61 VLL
Littles
Mercedes Sprinter
16
M4
YN62 AKO
Littles
Mercedes Sprinter
29
---
Other operators pages: