Bus Fleet News
June 2021
last update 30th June



Many thanks to all who have contributed news and photos to the website. Without this the site would not be possible.
---
Latest News
Hulleys: More fleet additions, and a heritage livery. ***Trent: Versa start to enter service on the sixes. ***Midland Classic: 6 additional buses arrive. ***Yourbus: Where the fleet has gone, list updated.

---
Here you will find all the latest bus fleet news for many bus operators in and around the Derbyshire area. If you have anything to report please contact me by clicking here
.
---
---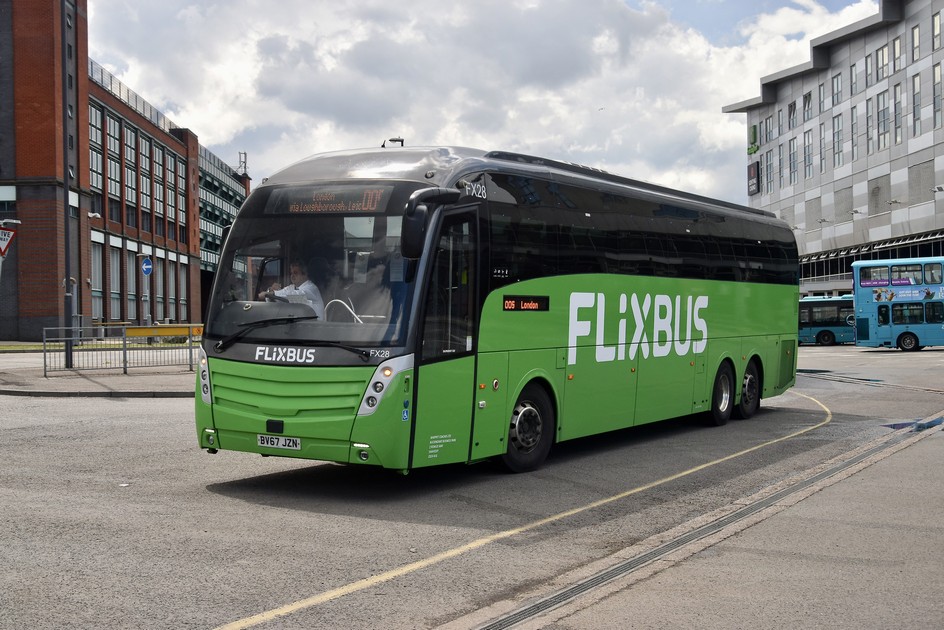 Whippets now operate Flixbus services that pass through Derby, often using former National Express Levantes. (BV67 JZN) is seen here in Derby bus station.
(C)Geoff Girling
---
Andrews of Tideswell
NEWS
-
-

---
---
Arriva Derby
NEWS
7th April 2021
Services are expected to return to December 2020 levels in Derby next week.

The Fast 1 VDLs have had the route branding removed.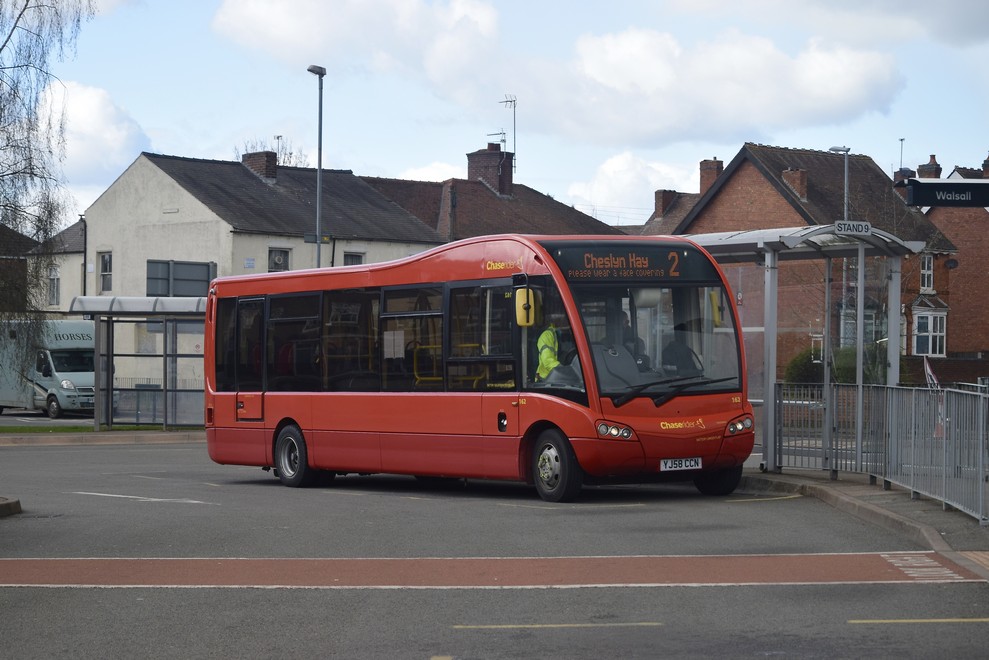 New to Derby this Solo SR in now in use with Chaserider following their takeover of the Cannock operations, and has recently been repainted in their livery.
(C) Geoff Girling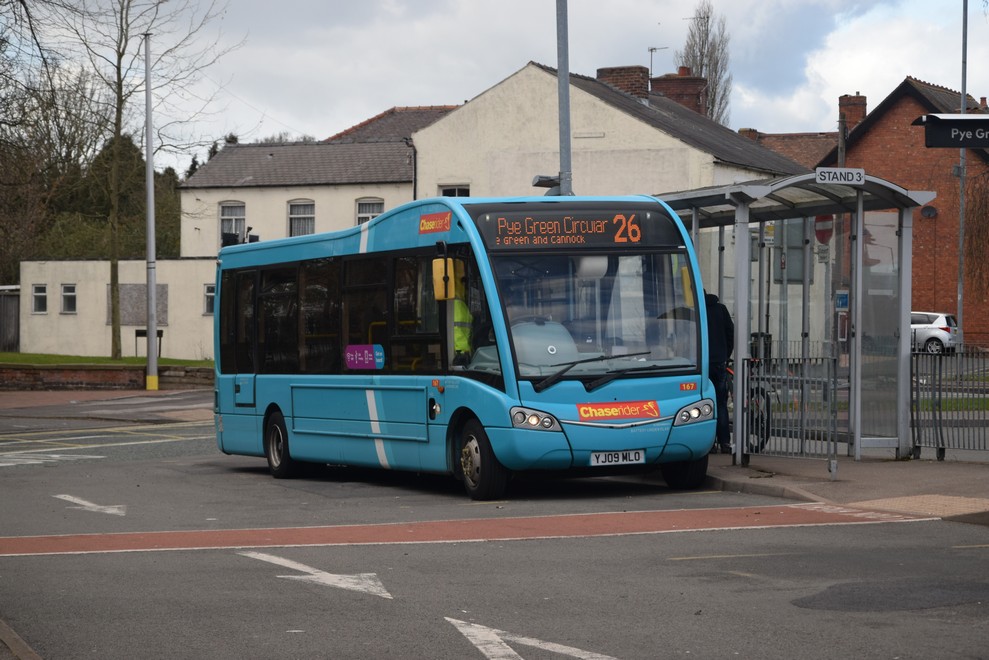 New to Derby this Solo SR in now in use with Chaserider following their takeover of the Cannock operations, but has yet to be repainted.
(C) Geoff Girling
---
---
CT4N
NEWS
-
---
---
Derby minibus




27th May 2020 Derby Minibus has now closed following the passing of David Mansfield on 5th May 2020. Starting in 1995 the company operated 7 vehicles.


---
DW Coaches, Clay Cross




23rd September 2020 New additions to the fleet here are ex Stagecoach London Trident ALX 400 (LX03 BZC) and ex Arriva London Volvo B7 ALX 400 (LJ05 BJU).


---
---
G&J Holmes

NEWS
9th September 2017

---
---
Glovers of Ashbourne

NEWS

26th January 2021.

A new arrival here later last year was Volvo B12M (W V02 EUP), which has gained registration (AIG 4549), Ex Panther Travel, Parkeston. It was (AB02 PAN) for a while at Panther Travel.

The Volvo B10M that was (AIG 4549) has reverted back to (W898 RRU) before being withdrawn and possibly sold?

23rd September 2020.

Former Burnley and Pendle Volvo B10BLE/Wright Renown (Y162 HRN) is here. Last operated by Square Peg, Leeds.

---
---
Harpurs Coaches



17th May 2021

Volvo Gemini (LX53 AZU) is here and in fleet livery. New to London General is was previously with Xelabus.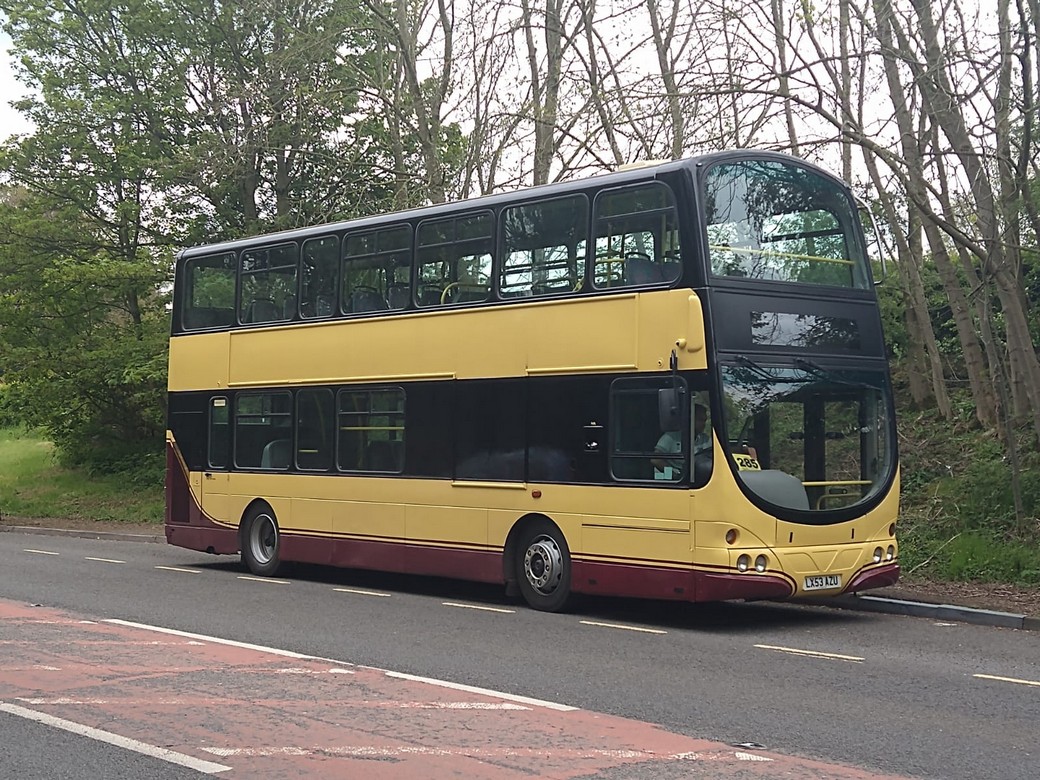 Volvo Gemini (LX53 AZU) on the A6 near Allestree.
(C) Adrian Healey
31st March 2021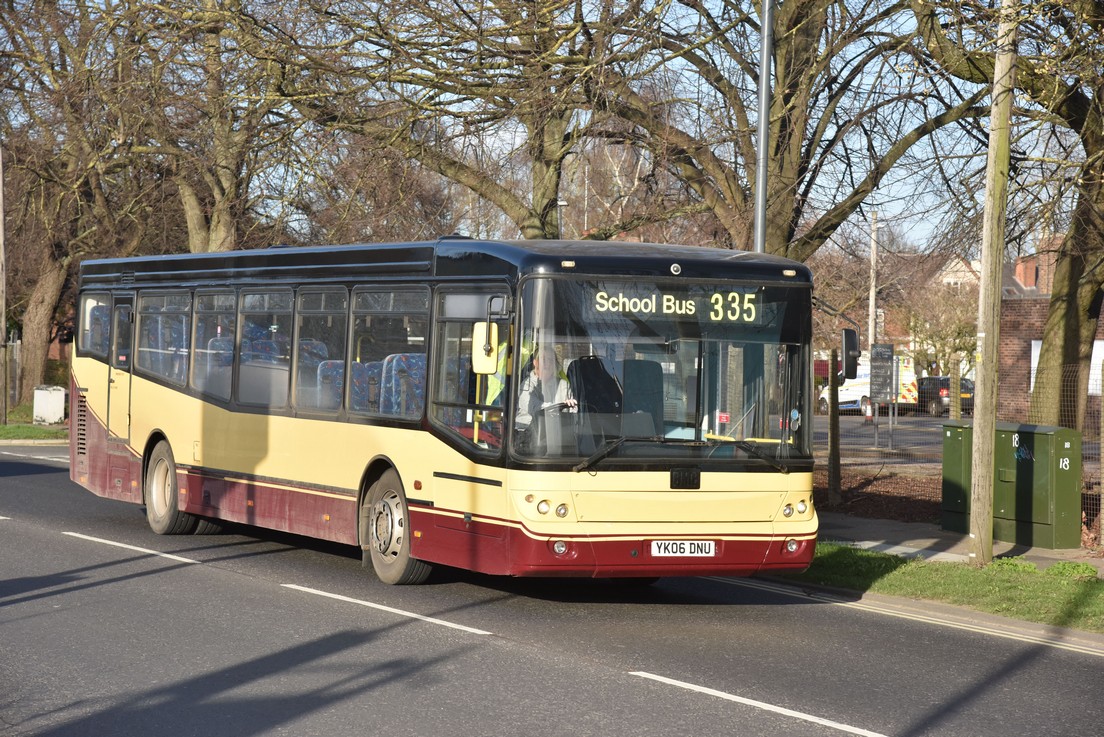 (YK06 DNU) now carries fleet livery. Seen here on Ascot Drive.
(C) Rob Hadfield

7th March 2021 A new arrival here is MPD (BU05 HFA), ex Abellio.

17th February 2021 New additions to the fleet reported here are DAF Geminis (LJ05 BHP/V) and Volvo Gemini (LF52 UTJ).


---
---
Hawkes Coaches

NEWS


7th March
Two new additions to the fleet are Autosan Eagle coaches (BX06 NZV/U).

Condor (E10 MDC) reported to have been sold for preservation, whilst the second example is withdrawn.


---
High Peak

News
17th February 2021
Versa (T23 TYB) reported to now be with D&G, repainted in their livery.

26th January 2021
A number of services are reduced or suspended from 27th January 2021. The 2 hourly Sunday timetable will be in use every day on the transpeak service. Hulleys are covering route 113 (Belper to Ashbourne) and the 394, whilst Andrews are covering the 442 (Ashbourne to Buxton).

23rd September 2020
A fairly new addition to the fleet, in new centrebus livery, is Optare Solo SR 296 (KX14 FHT). This was used in Malta when new.

Scanias 690 (high Peak) and 691/2 (skyline) remain in use here. Others from the batch have moved elsewhere in the centrebus group, including 693 which has had a repaint and in use on the busway in Luton.


---
---
Hulleys of Baslow

NEWS + SIGHTINGS
21st May 2021
A third former Manchester Volvo B7RLE has joined the fleet as number 5 (MX55 FHH), replacing the Solo destroyed by fire. It has entered service in as acquired livery, mainly for use on schools.

19th May 2021
Solo number 5 was destroyed by fire at the garage on Monday evening, Omni 24 also likely to be beyond repair.

A third former First Manchester Volvo B7RLE is expected to join the fleet.

Solo 25 is being used for spares (never entered service here).

18th May 2021
A second former First Manchester Volvo B7RLE has joined the fleet. Numbered 25 (MX55 UAA) is in use in fleet livery.

3rd May 2021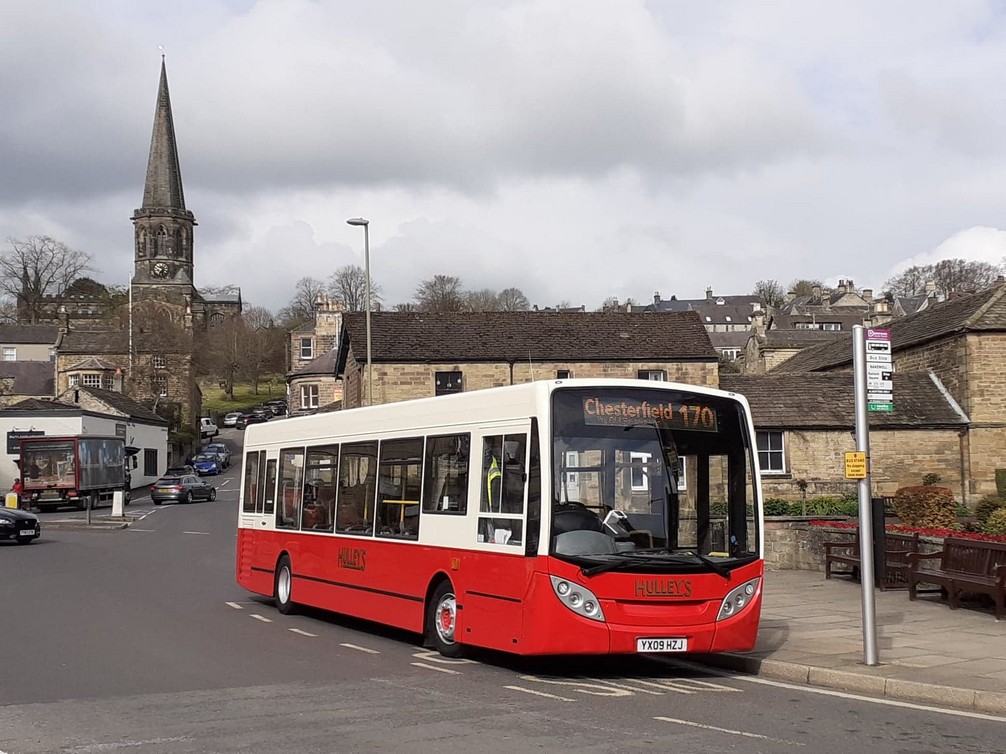 Enviro 200 has been painted into this former Hulleys livery to mark 100 years of operation. Seen here in Bakewell on Thursday 29th April 2021, 100 years since services first began.
(C) Ian Moorcroft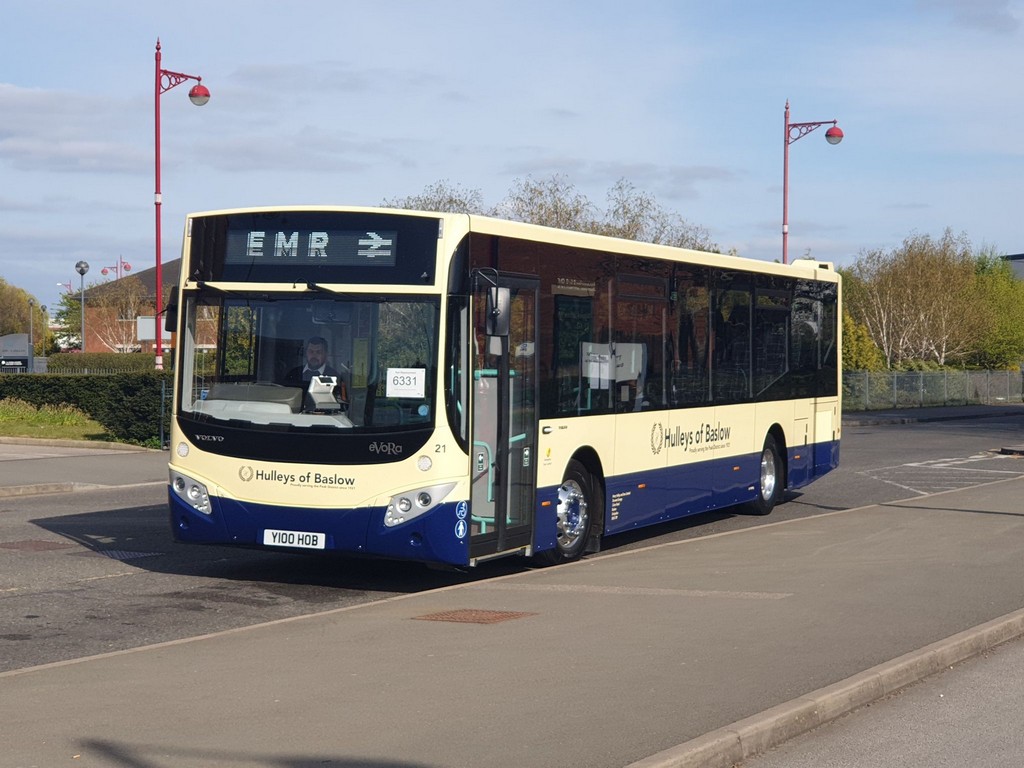 A brand new addition to the fleet is Volvo MCV Evora 21 (Y100 HOB). Seen here in Derby on Rail Replacement work, on its first day in use, Sunday 25th April 2021.
(C) Chris Gaskin

28th April 2021
A brand new Volvo MCV Evora has joined the fleet as number 21 (Y100 HOB). 29th April marks 100 years of Hulleys of Baslow.

Another addition is former First Manchester/Go NW Volvo B7RLE / Wright number 14 (MX55 FFZ). This is now in fleet livery.

E200 (YX09 HZJ) now carries the historic red and cream Hulleys livery, as part of the 100 year celebrations.

6th April 2021
Versa number 5 has left the fleet.

New arrivals are two former Newbury buses Solos:
5 (YN53 ZWV) - in service in Newbury livery.
25 (YN53 ZWP) - not yet in use.

Solo SR 13 now back in fleet livery, with former Leasks Streetlite 12 and Enviro 7 away for painting. Number 4 also now in fleet livery.

The former accident damaged 13 has gone for scrap.

7th March 2021
Solo SR (WK11 APY) is a new addition to the fleet as number 13. This was new to Western Greyhound, and was more recently in use in Scotland with Blue bus, Shotts.

17th February 2021
Former Leasks of Lerwick Streetlite (W60 JLS) reported to be here, although not expected to enter service straight away.


---
---
Johnson Bros / Redferns

NEWS & SIGHTINGS


8th August 2020 A recent addition is (YN55 NHZ), ex London Sovereign as SLE40626 still in London red livery. Omnidekka (YN56 FFU) has recently been repainted into it's base silver livery and will soon receive West Nottinghamshire College branding. (YN56 FFV) is also due to get the same treatment soon, currently in Brighton & Hove livery.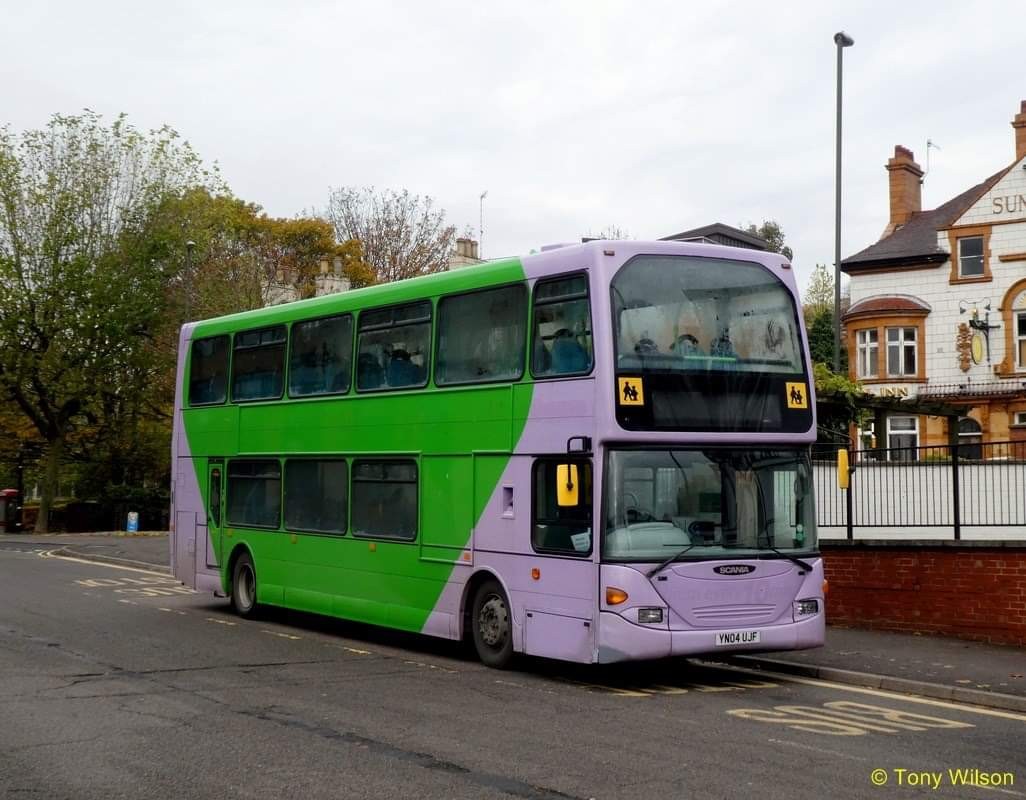 Former Nottingham City Transport (YN04 UJF) is now in operation with Redferns and is seen here in Chesterfield.
(C) Tony Wilson
---
---
Linburg
21st May 2021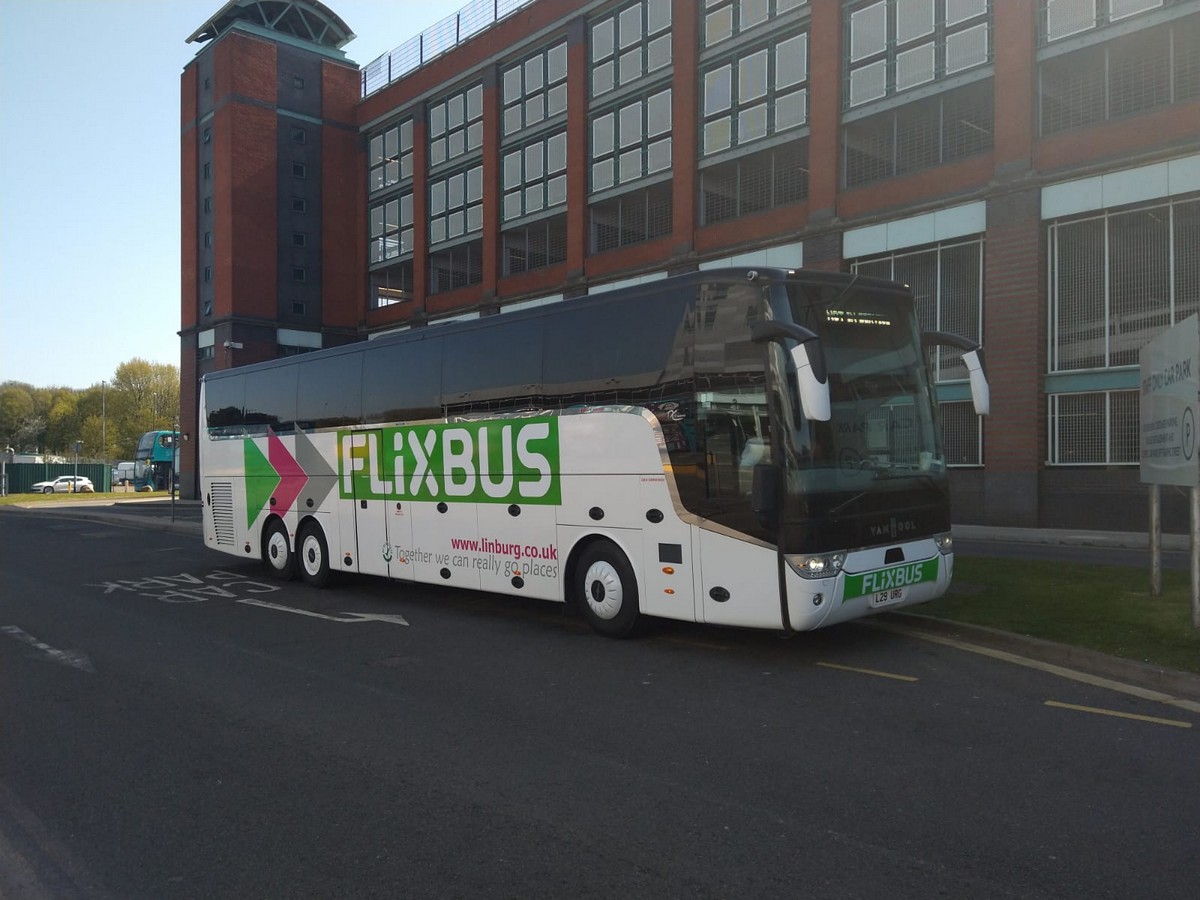 Van Hool (L29 URG) now carries joint Flixbus / Linburg branding for use on the expanding Flixbus network of routes. Whippets are another operator that now pass through Derby on these services, often using former National Express Levantes.
(C)Adrian Healey
---
---
Littles Travel
NEWS + SIGHTINGS
-
---
---
Midland Classic
NEWS
30th June 2021

Scania i3 fleet numbers 24 and 26 are now in use here.

18th June 2021

Scania i3 number 26 now in use, with a second not too far behind.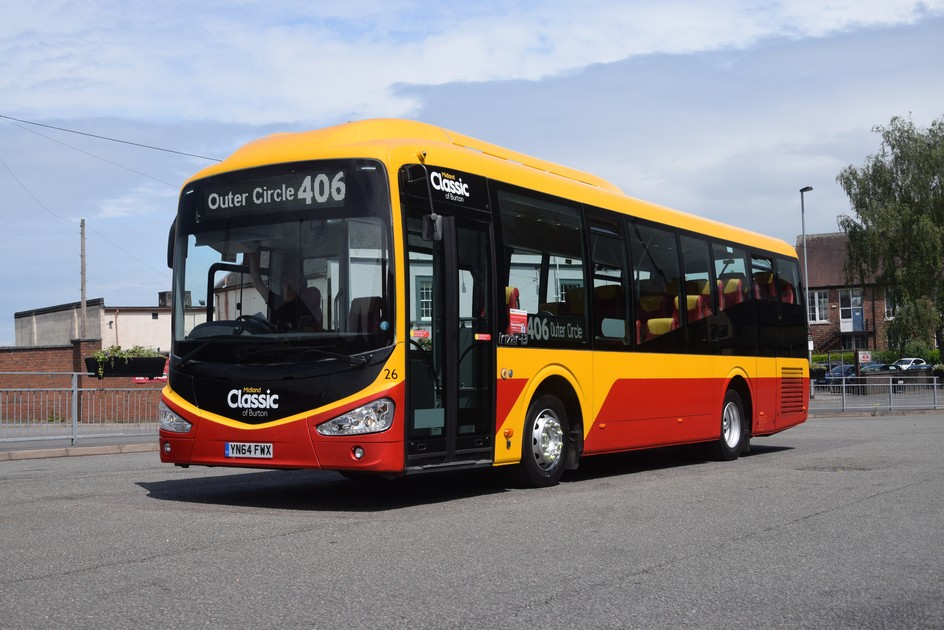 The first of 6 Irizar i3 Scanias has entered service in the form of fleet number 26, seen here in Uttoxeter. Previously used on airport work, it now has a new seating configuration, with this example having high back seats, as seen through the nearside windows. The seats towards the back are very high, with most having an elevated position. It will be interesting to see how these unusual short heavyweight vehicles perform. From the passenger point of view, personally i think they portray a more upmarket image, somewhere between the regular bus and a coach, which has to be a good thing.
(C)Geoff Girling
17th May 2021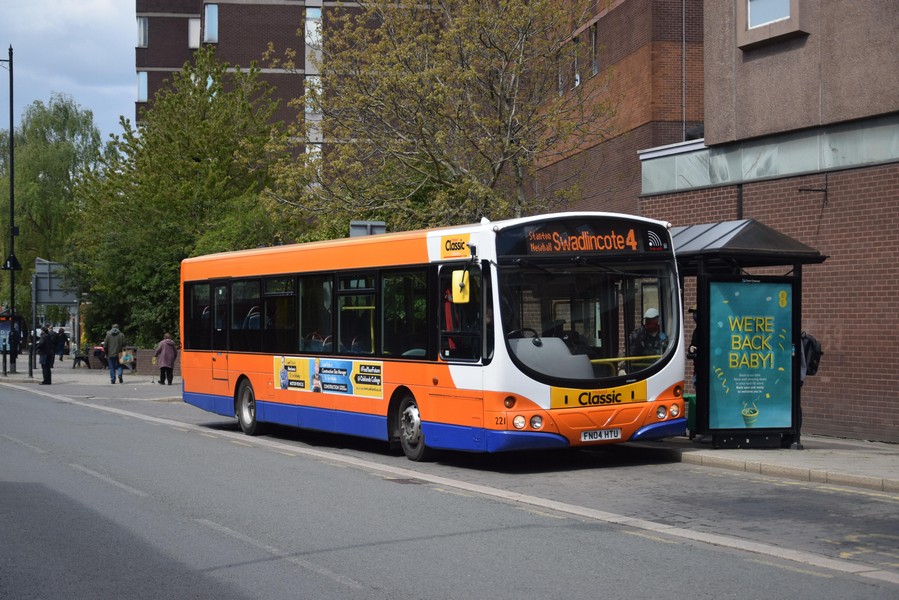 Former Trent and High Peak Scania 221 (FN04 HTU) is currently on loan.
(C)Geoff Girling

22nd April 2021

Scania (FN04 HTU) reported in Burton but has not been in use.


Dart 222 (DE54 LUX) is currently here on loan.
(C)Mark Kinson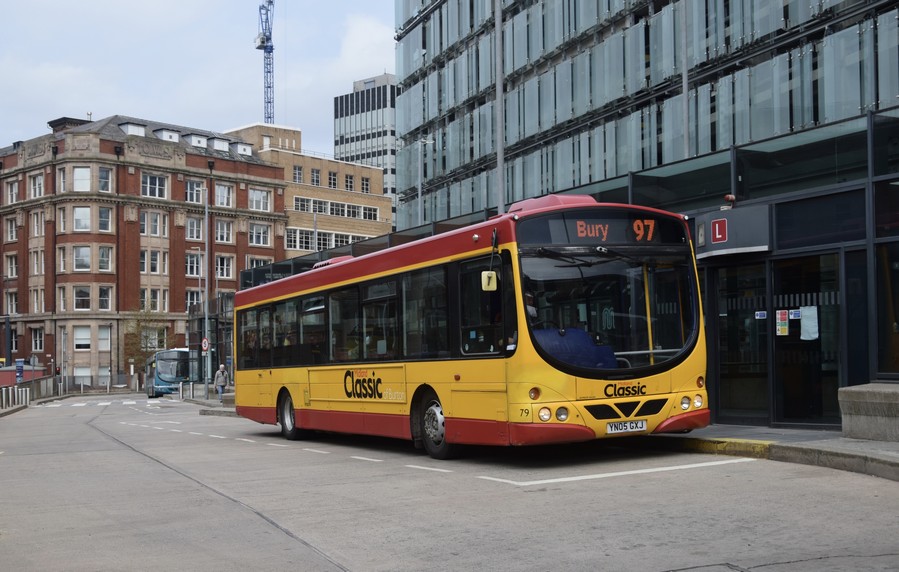 Scania 79 seen here working in Manchester, at Shudeshill Interchange.
(C) Geoff Girling

Some vehicles are currently on loan here.Near normal school day timetables resuming this week and three vehicles are still being used in Manchester daily, covering services effected by the ongoing Go North West strike. Vehicles on loan are:
Dart Plaxton Pointer 222 (DE54 LUX) - White (from Deluxe coach hire).
DAF Wright Commander 220 (FD52 GGV) - Arriva livery (ex Chase, now privately preserved).
VDL Centro 120 (FJ56 YBW) - Centrebus livery.

the former Ipswich Versa is number 20 (YK08 EPA).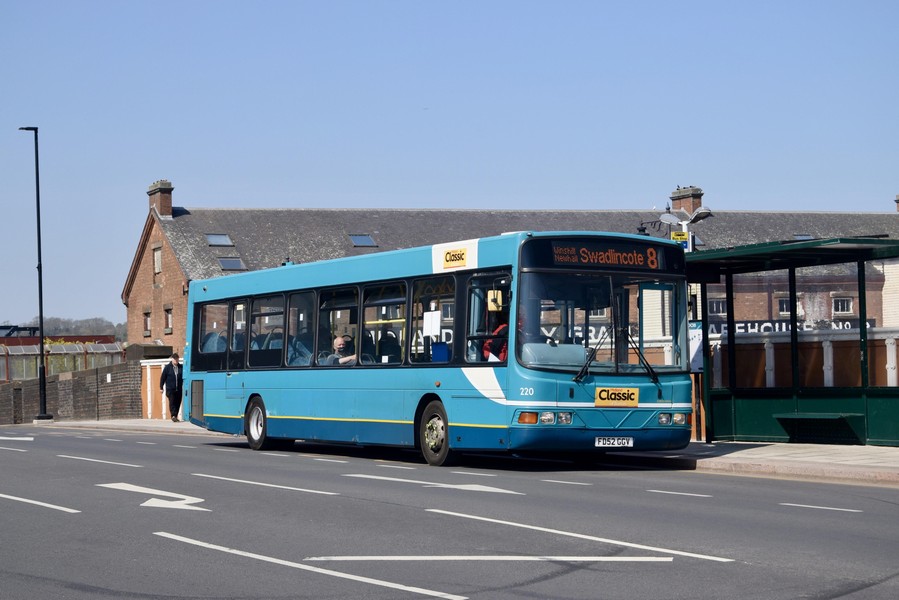 Commander 220 (FD52 GGV) is currently on loan to Midland Classic. Previously operarated by Arriva, then Chaserider, it understood to now be preserved.
(C) Geoff Girling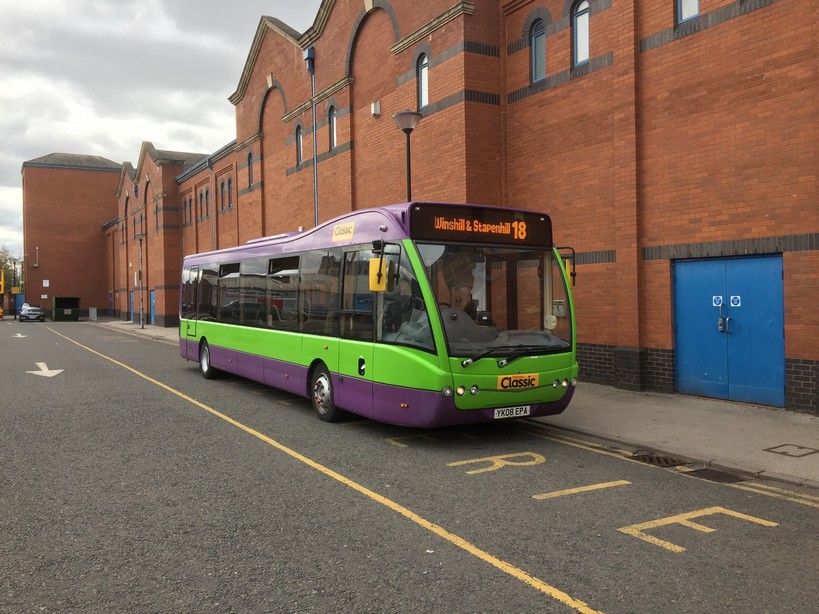 A new addition to the fleet is former Ipswich buses Optare Versa (YK08 EPA). It entered service yesterday, Thursday 8th April 2021.
(C) Keith West
---
---
Nottingham buses

6th April 2016
---
---
---
Paul S Winsons Loughborough
NEWS
16th August 2020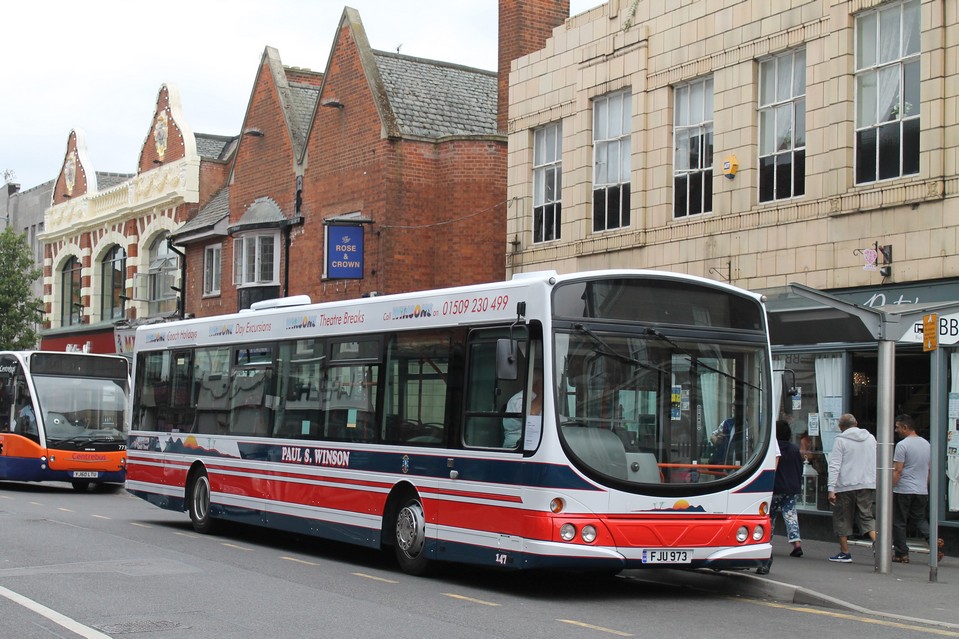 Volvo (FJU 973) seen here in Loughborough. New to Anglian,Beccles as (AU06 BPK), it was recently acquired from Blackpool Transport.
(C) DBD
---
Skills, Nottingham
NEWS
16th June 2021
4 DAF / Geminis have arrived here for school contracts. New to London they were last operated by Copelands. The 4 are:
(LJ05 BNB), (LJ05 BNE), (LJ05 BNL), (LJ05 GKX) .

Lots of vehicles going for scrap. Many were advertised for sale last year, and others have been vandalised whilst being stored:

Olympians (T437/9/77 JJF).

(W752 DOE) - next to last Olympian chassis.

Olympians (S456 ATV) , (EIG 4331).

(R471/4 RRA),

(SFZ 5768) former (X198 FOR), and (RUI 8263) ,

Beaulas (YN55 KWR) former (SIL 7029) and (SIL 9543) former (ET06 LCT).

22nd April 2021
Former Bilborough College owned B7TL GX55 NHY is now registered SIL 7029 and in the fleet livery.

Olympians (S457 ATV) and (T438 JJF) still see use.

8th December 2020
(SIL 7025) now carries fleet livery.

(SN53 EUZ) has been reregistered as (SIL 7947), this and (S457 ATV) are now back in use.

SKills have purchased former Bilborough college owned (GX55 NHY).

(YD14 GDU) has bee registered as (PUJ 925).

All the 61 plate levantes plus (BK15 AHN) are now in the Skills fleet.

19th October 2020
Forest team coach (YD14 GDU) now carries (N1 SMC). (L8 GER) now carries fleet livery, ex Luxuria as Forest director coach.

One vehicle remains in Lothian livery, (SIL 7025).

Skills have the 16 vehicle contract to run the NEC shuttles, once they start operating again. The 16 vehicle contract was previously operated by De Courcey, Coventry who went into administration in August. The 16 Citaros have transfered to Skills. They will be outstationed at NEC, but maintained in Nottingham.

5th October 2020
(regs corrected from last week)
(SIL 7028) now carries fleet livery.

(BV19 LNJ), (BV69 XYO) and (BV69 XYR) are now in the new Shearing livery, ready to start work in October.

Scania Higers (YT15 AVO/M/N/) and (YN15 ENC/E/F) are returning to Scania off lease.

The Volvo team coach for Forest is reported to be (N11 SMC).

All the 61 plate leavantes are now in use on schools.



---
---
TM Travel
NEWS:
See Wellglade section.
---
---
---
The Wellglade group
trent barton, kinchbus, notts+derby and T M Travel.

NEWS


16th June 2021
Scania 654 currently based at Derby.

21st May 2021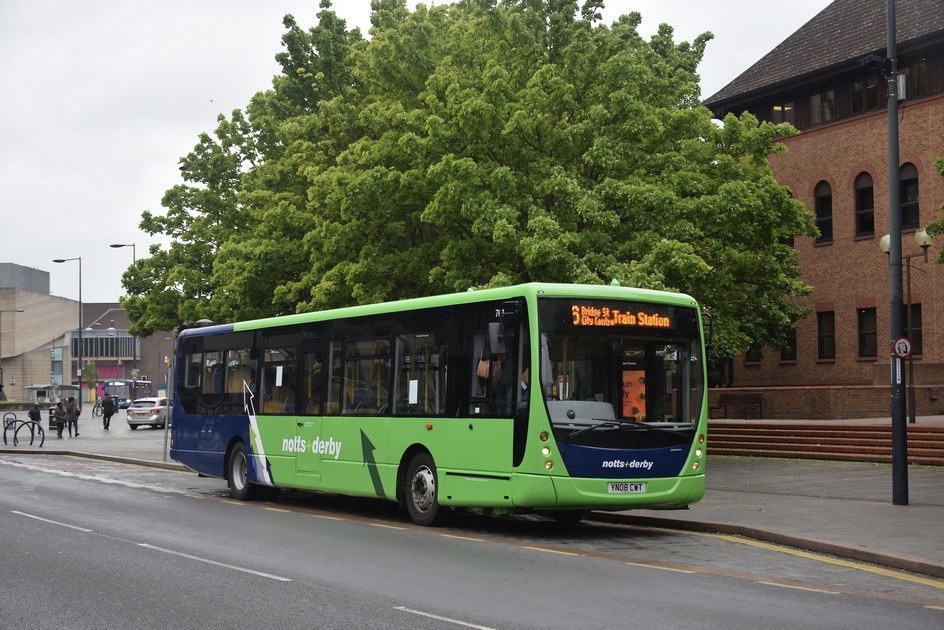 Centro 761 now carries the new style notts and derby livery.
(C)Geoff Girling

17th May 2021
Centro 761 should return in new notts and derby livery soon.

Swift and the Sixes to Bakewell are having improved Sunday services from the end of May.

22nd April 2021
Scania 679 is now based at Langley Mill as an additional spare for school duplicates. Former Sixes Scanias remain in use for the same reason, 657 (Nottingham, 659 (Sutton) and 685 (Derby).
Versa 851 in service at Sutton.

16th March 2021
All of the sixes Scanias have now been replaced by Versas on this route. 686 was being used as a spare at Derby, primarily for the Villager dupe, but has since been withdrawn, replaced by 685. 685 was the last Scania to be used on the sixes, making one last trip from Belper to Derby early on Thursday 11th March 2021. Unbranded 657/9 continue in use as spares at Nottingham and Sutton.

Scanias 670 and 680 are recent additions to the TM Travel fleet. 676 is also now there. Former i4 Scania 667 has been withdrawn with a major fault. Any surplus newer Scanias seem likely to replace the slightly older ones here if and when it is unviable to repair them.



7th March 2021
670 and 674 now withdrawn at Langley Mill. 679 withdrawn at Derby.

Sixes Scania 686 has been debranded and now carries the "im helping out" message like 657/9 - for use as a temporary "covid spare". It is likely to be based at Derby for the Villager duplicate.

Versa 850 has entered service at Sutton.

685 remains the last sixes Scania in use, with 840 set to be its replacement any day now.

Former sixes Scania 688 has entered service with Connextions (not sold to Cumbria Classic Coaches as previously reported).

Former Kinch Optare Tempo 322 (YJ07 VSY) reported in use on rail replacements with Rambler coaches.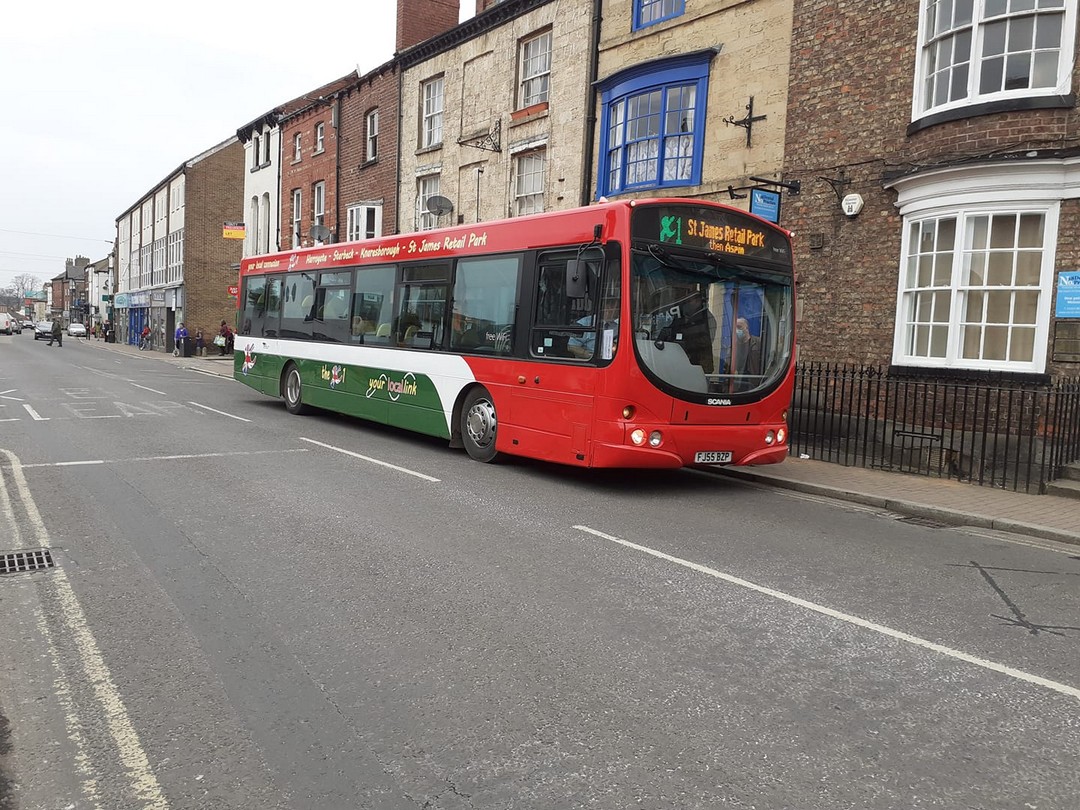 Former Sixes Scania 688 is now in use with Connexions branded for the X1 Harrogate to Knaresborough route. it is seen here on its first day in service.
(C) David Russell

24th February 2021
Volvo 735 has moved from Sutton to Langley Mill, swapping places with Scania 654.

Versas 850/1 also now in Mango livery, but not in use / allocated yet. Volvos 746/7 are also currently being repainted.

17th February 2021
57 has been sold for preservation locally.

Versa 849 now in Mango livery and in use at Sutton.

58 left Meadow Rd for scrap last week.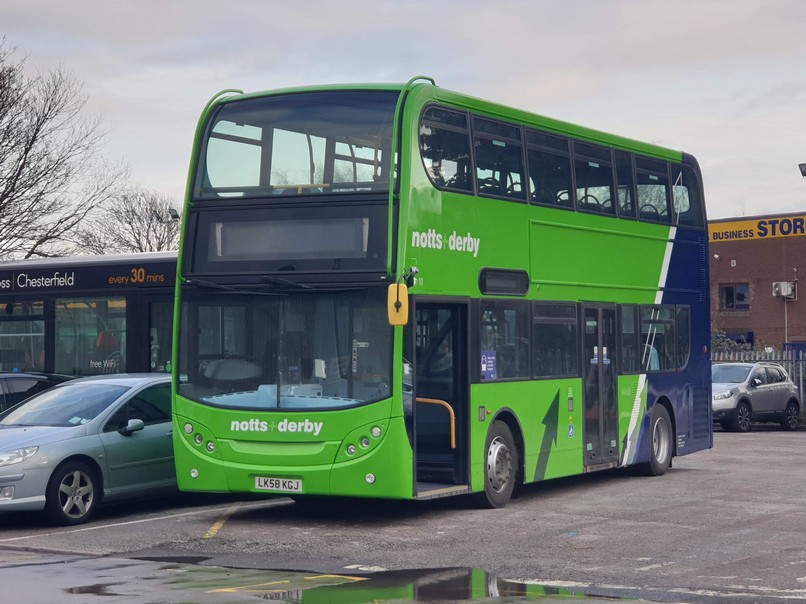 E400 number 11 in the new notts + derby livery.
(C) Chris Gaskin
---
Yourbus, Nottingham
NEWS
YOURBUS ceased trading on Friday 4th october 2019
For a list of former vehicles, where they moved on to, and one or two photos see previous news pages. Last Months News




---
---
Last Months News

News Index Page
---