Bus Fleet News
June 2018
---
Many thanks to all who have contributed news and photos to the website. Without this the site would not be possible.
---
Latest News
---
Here you will find all the latest bus fleet news for many bus operators in and around the Derbyshire area. If you have anything to report please contact me by clicking here.
---
---
NEWS
9th January 2018
A new addition to the fleet is Trident (LX51 FJA) from Hulleys, Baslow 2/1/18.

29th April 2017
Two new arrivals here are Volvo / Plaxton coaches (YX17 NGU) and (YX17 NGV).

15th October
Former NCT Excels (Y546 DTO) and (FD02 SFK) have arrived here from Go Goodwins.


---
---
NEWS
10th June 2018
MPD 2159 and Cadet 2746 have now been withdrawn.

Arriva will operate the Nottingham University Hopper bus service from September. 2 E400 MMC including Sapphire liveried 4538 (YY67 HDD) have arrived at Derby for use on these services. There are expected to be 11 in total. They are transfering from Wigston, Leicester despite only being introduced and branded for the 31 route last year. Some vehicles from elsewhere, possibly NW, are set to replace them at Leicester.

25th May 2018
Solo 2403 (FJ58 PKN) is on loan here from Cannock.
Gemini 4204 was also in use here last week.

3571 now carries revised livery.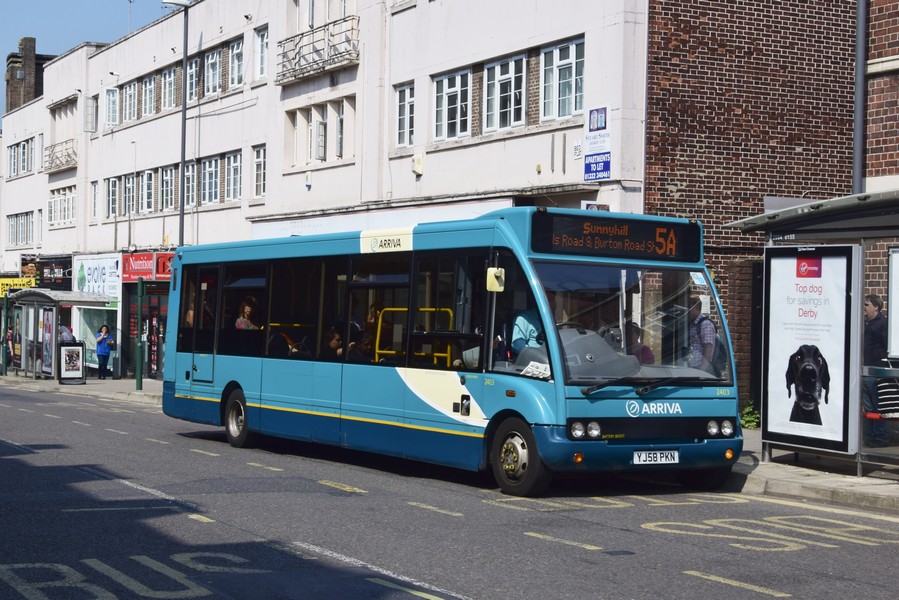 Solo 2403 in Derby.
(C) Geoff Girling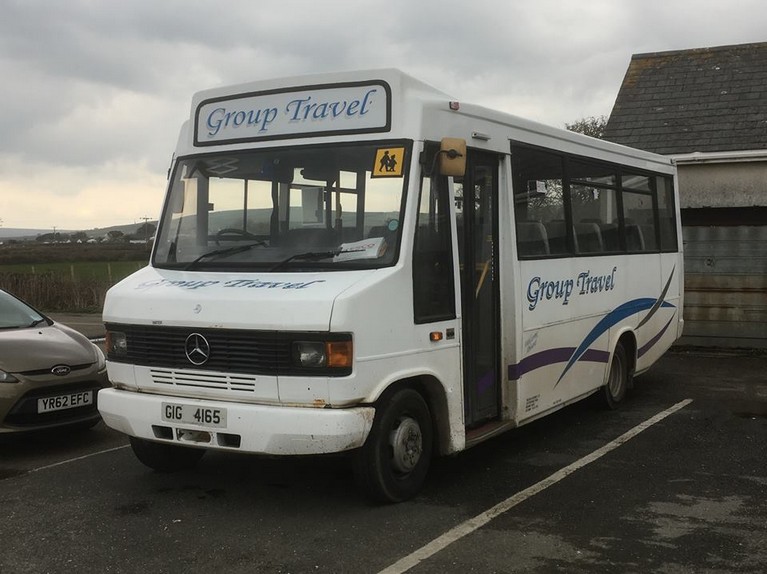 Former Derby Mercedes minibus (P485 CAL). Now reregistered as GIG 4165 with Group Travel, seen here in Tintagel.
(C) Chris Thorn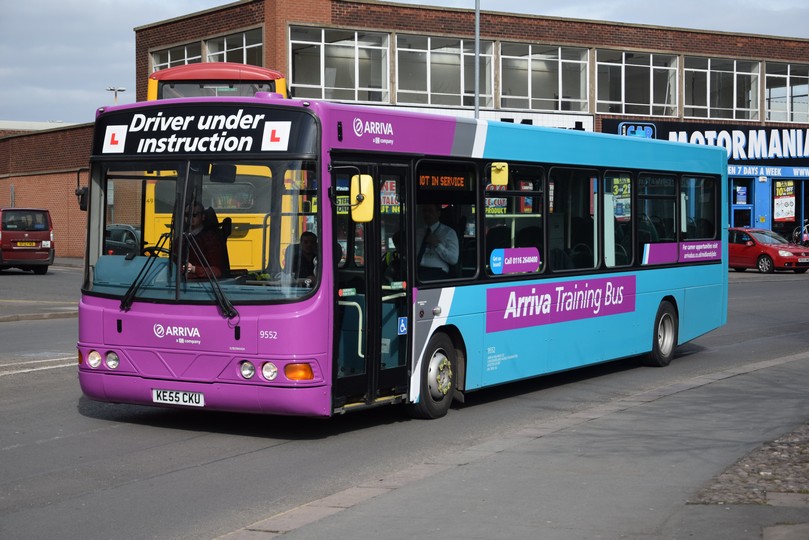 Training bus 9552 carries the new training fleet livery. Seen here in Burton.
(C) G Girling

10th April 2018
Omnicity 3580 has recently been repainted. Recent Solo repaints include 2510/1/4.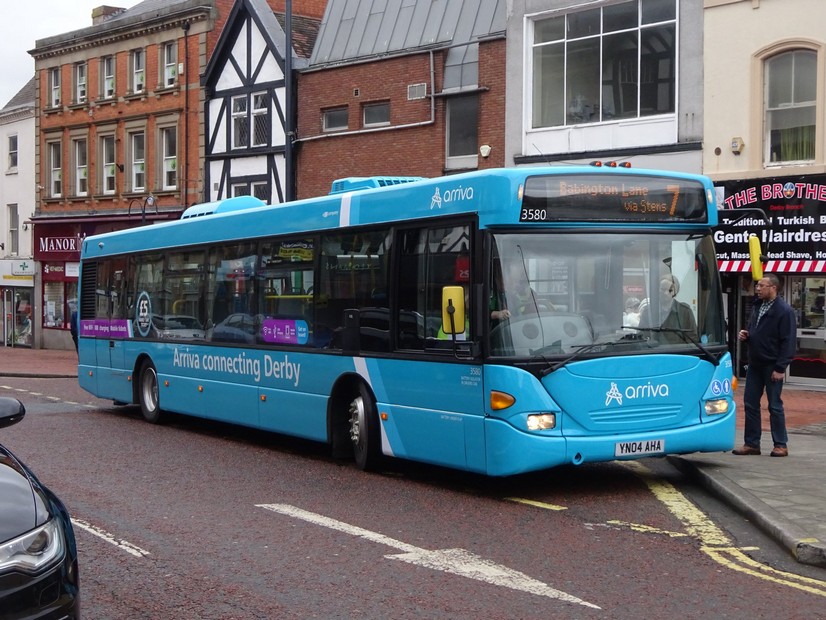 Omnicity 3580 (YN04 AHA) is one of the latest repaints. Seen here on London Rd, Derby before departing on route 7.
(C) Chris Gaskin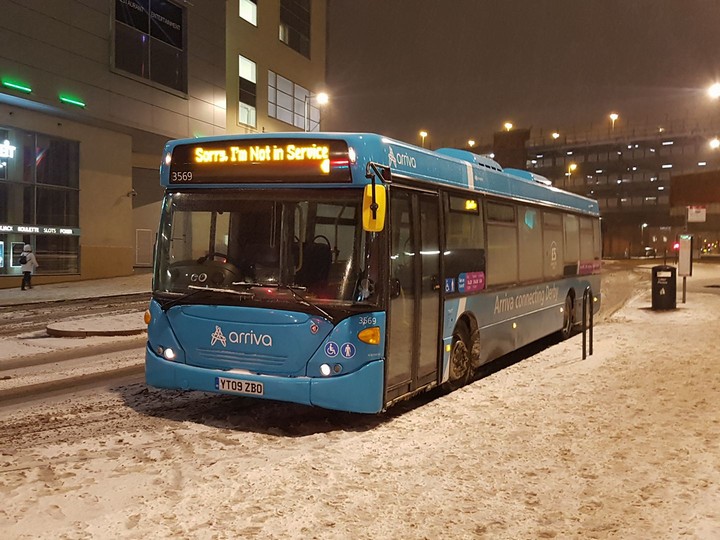 Omnicity 3569 seen here on the Morledge in the snow.
(C) Chris Gaskin

2nd Febuary 2018
Omnicity 3565 now carries the revised livery.

Solo 2510 has been repainted in the revised livery and has become the first Derby vehicle to carry the new Arriva logo.

20th January 2018
Omnicity 3574 has been repainted into the new livery.

14th January 2018
The Streetlite demo is currently back in use at Derby, although parked at the garage yesterday morning.

9th January 2018
2 Wright hybrid demonstrators were here in December, but returned early January. They were Streetdeck (SK17 HHC) and Streetlight (SK17 HHL).

Solo 4521 now carries the revised livery. The second Solo painted here.

Arriva are expected to be using some deckers on the X38 over the next few weekdays due to a temporary increase in demand from Derby College students. Sapphire E400s 4400, 4401 and Gemini 4220 reported on there on Monday 8th.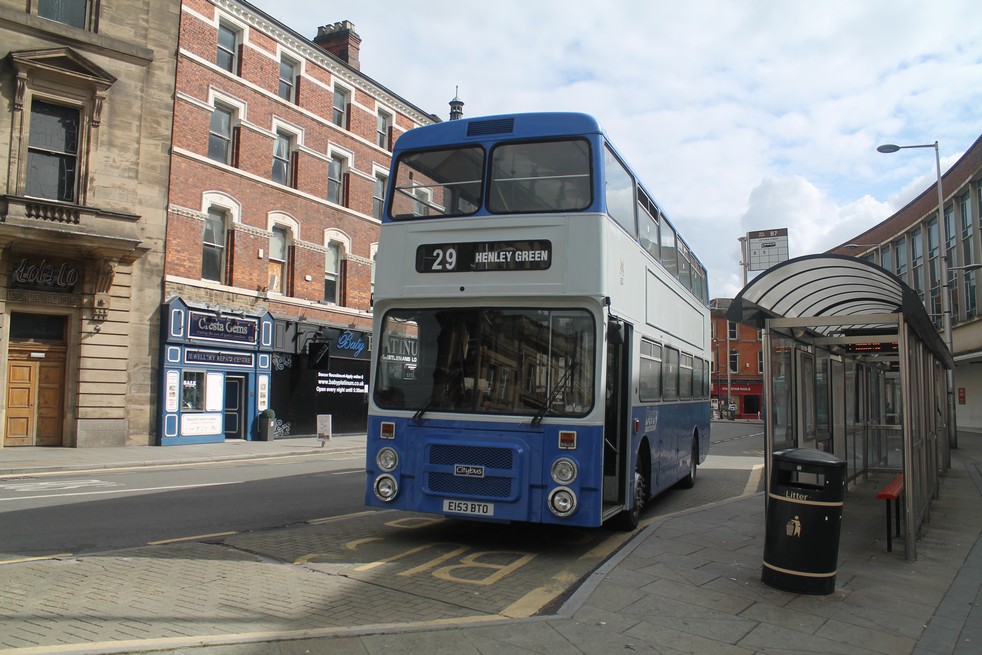 A Citybus back in Derby. Preserved 153 returned to Derby on Saturday 16th September 2017.
(C) DBD
---
---
NEWS
-
---
---
NEWS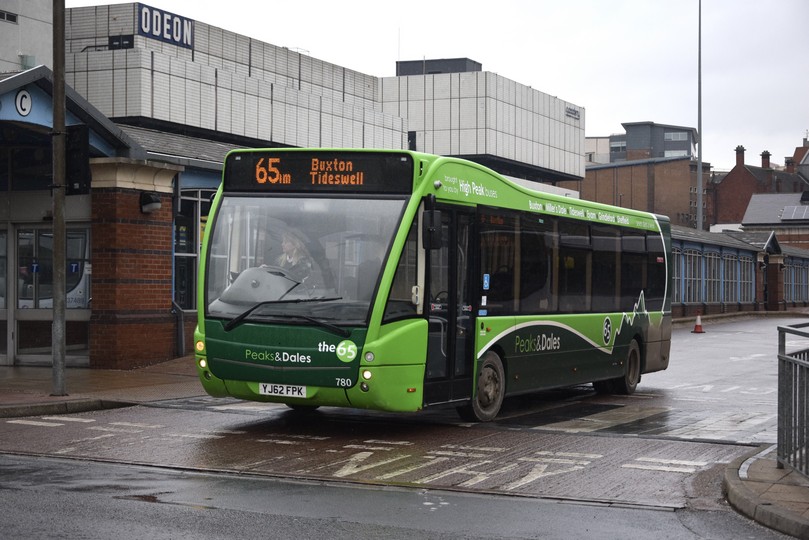 Versa 780 seen here in Sheffield.
(C) Geoff Girling

2nd February
Brand new Solos 292/3 (YJ66 AOG/H) arrived here in November. Seating B31F.
Ex Kimes Scania 703 (YN51 MJE) is now (TIL 4051).
Solo 332 (X232 MBJ) formerly (B5WER) moved to Centrebus East in November.
Solo 347 (VU52 UEC) was also withdrawn in November.


---
---
NEWS & Sightings
---
---
NEWS
8th April 2017
A further DAF/Alexander ex Arriva London is (X427 FGP).
---
---
G&J Holmes


NEWS
9th September 2017
Yje last two Solos have been sold. (LJ60 LTY) is now with Stephensons, Easingwold and (MX59 AVT) is now with Llew Jones, Llanrwst.

---
---
Glovers of Ashbourne

NEWS
---
---
Harpurs Coaches


NEWS

5th May 2018
The final Volvo/Alexander ALX 400 here has been registered (X945 DDA).

15th January 2018
Volvo/Alexander ALX 400 (X811 DDA), the former Dublin AV112 is now in use here.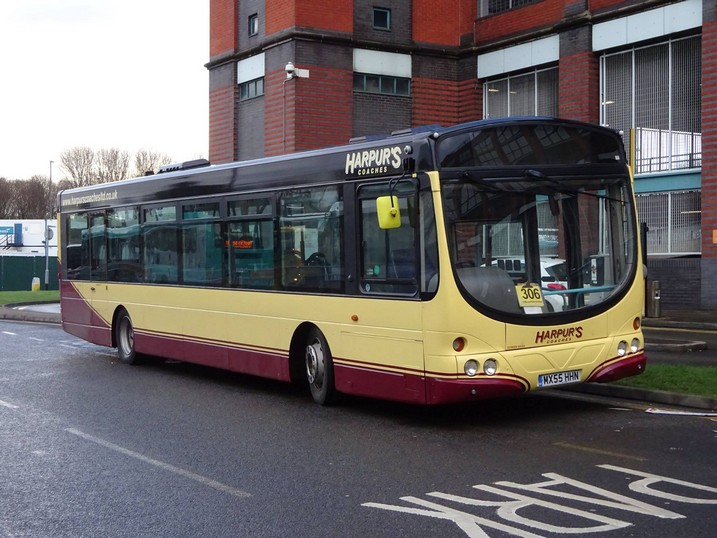 Volvo / Wright (MX55 HHN) in new style livery.
(C) Chris Gaskin



29th September 2017
(S315 SRL) has been sold for scrap.

9th September 2017
Two new additions to the fleet are former Stagecoach Volvo B7RLE / Wright Eclipse (MX55 HHM/N). The first (HHM) has been repainted into fleet livery, with the second due back shortly.

13th May 2017
Olympian (N297 CKB) departed for PVS Barnsley on 2nd May.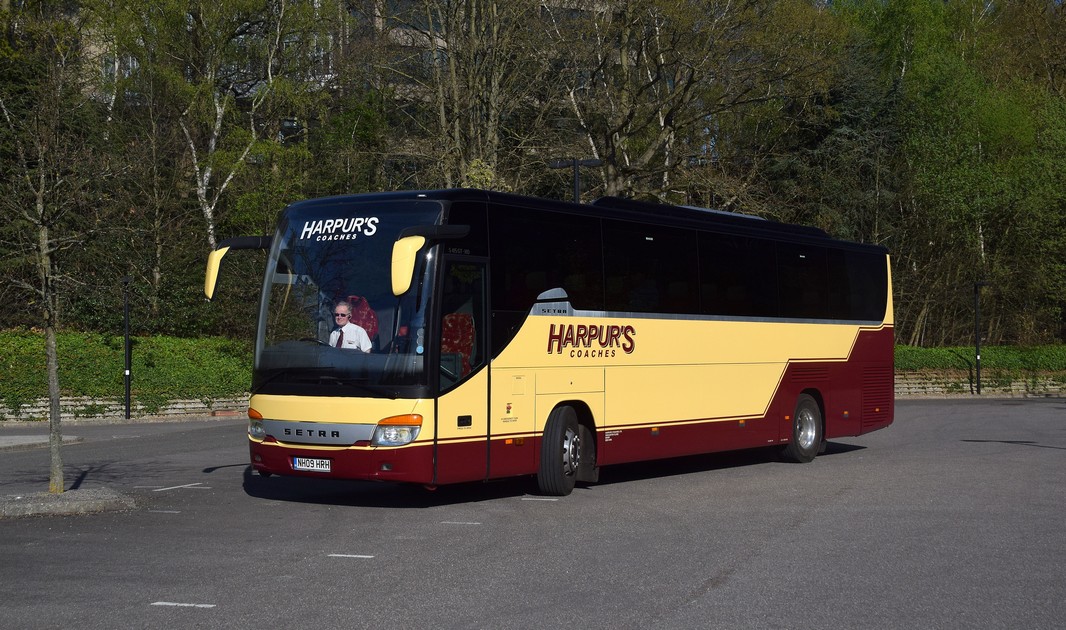 Setra (NH09 HRH) looking smart in the sunshine at Brooklands. Coincidentally the "NH" in the registration, for National Holidays, still has relevance today with the current owner being Nick Harpur.
(C) Geoff Girling
---
---
Hawkes Coaches


NEWS 10th April 2018
A second former Mass Dennis Condor is here. (F330 UJN).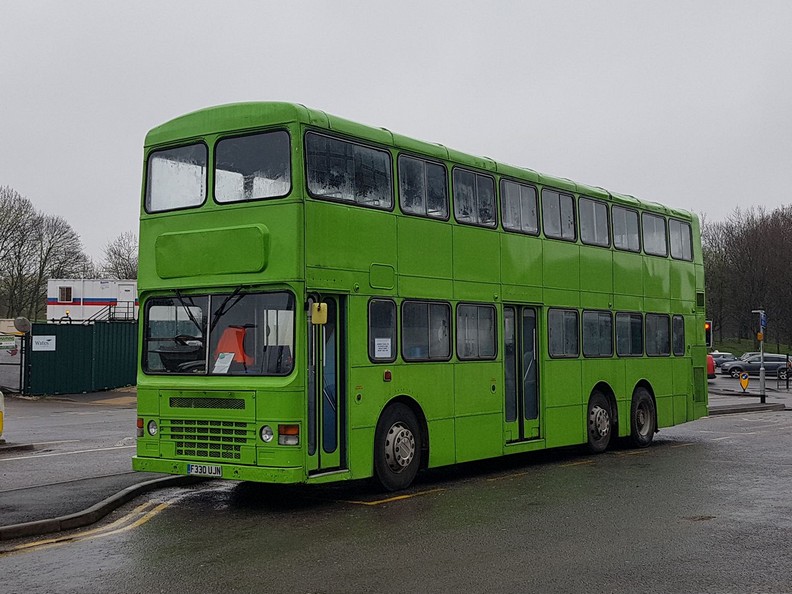 Dennis Condor (F330UJN) in Derby.
(C) Chris Gaskin



9th January 2018
Starliner (DH63 DEH) remains in use here although it is expected to be sold. Correct reg for former Mass transit tri axle Dennis Condor is (B10 MDC) - (not MDO - it looks like this from a distance because of how no plate is attached).

4th December 2017
New here is Neoplan Tourliner (DH67 DEH). Painted in full livery replacing the Starliner (DH63 DEH).

9th September 2017
Former Mass transit tri axle Dennis Condor (B10 MDO) is here! A second example also reported here.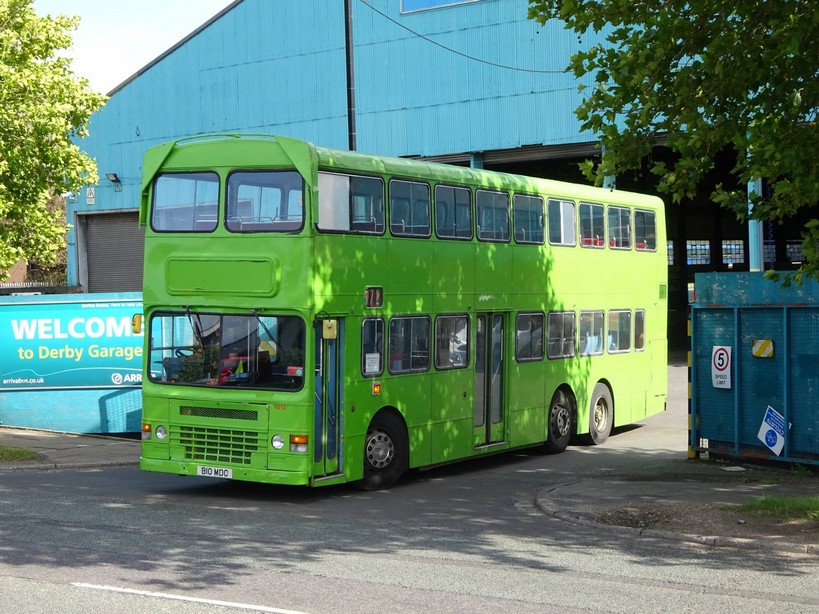 Dennis Condor (B10 MDO) seen leaving Ascot Drive.
(C) Chris Gaskin
---
---
Hulleys of Baslow

NEWS + SIGHTINGS
5th May 2018
MAN Evolution 20 (AE55 EHL) is being used for spares following an engine failure last month. A new addition, as the new 20 is E200/MCV Evolution (VV08 BLU). This entered service, in plain white livery, on 23rd April 2018. Ex D Jones and son, Wrexham.

Andrews Optare Excel (FD02 SFL) has been on loan here recently.

MAN Centro number 8 is due back soon. It is currently having work completed at Redferns. It was last in use here on 7th April 2017!

11th April 2018
Acquired here is Dart/Plaxton Pointer (SN55 HTD) from Yellow buses. New to Manchester Airport.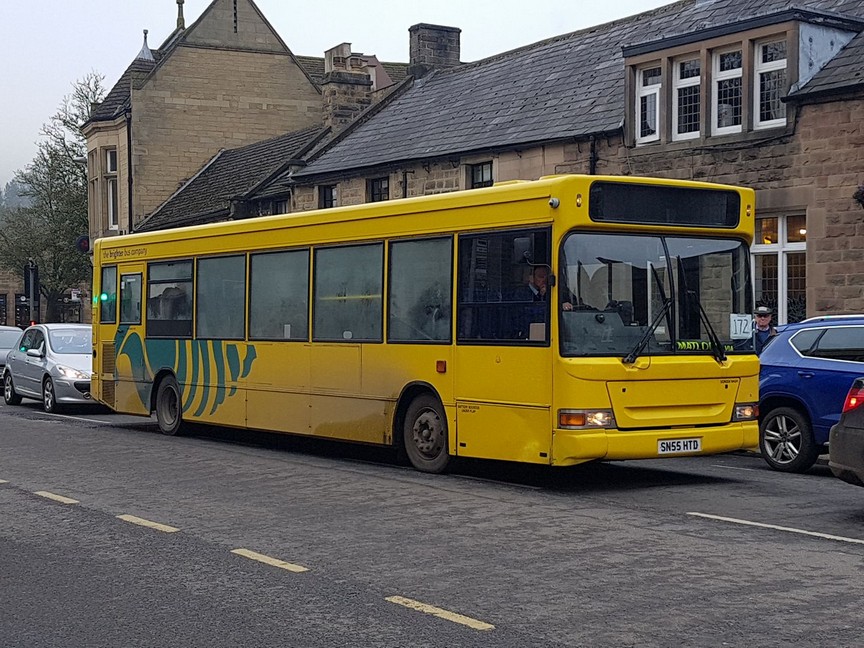 Former Bournemouth Dart (SN55 GTD).
(C) Chris Gaskin



9th January 2018
Trident 15 (LX51 FJA) has been sold to Andrews, Tideswell.

Centro 3 remains off the road, but should return to service early 2018. MAN 20 remains in use, whilst the other MAN Evolutions, number 2 (AE05 EVC) and 16 (AE05 EUY) have been sold/exchanged for 2 (TT57 BLU) and 15 (RR57 BLU).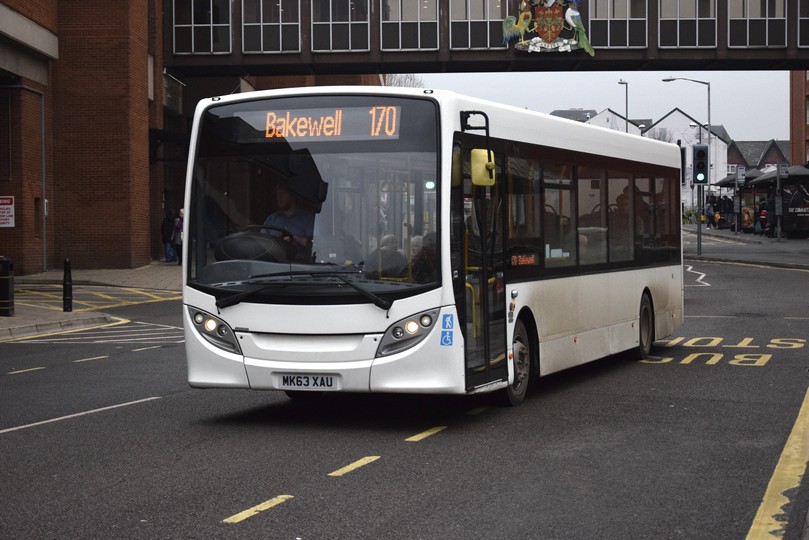 White E200 24 (MK63 XAU) seen here in Chesterfield.
(C) Geoff Girling



17th August 2017
A new arrival here is (TT57 BLU) as the new number 2.

MAN no 2 has been withdrawn. Centro 3 and MAN 16 are also currently withdrawn.


---
---
Johnson Bros / Redferns

NEWS & SIGHTINGS
26th February 2017

Johnsons Bros Tourismo (BT66 TZK) in the blue pigeon travel livery. It is seen here outside Oswaldtwistle Mills, Accrington.
(C) Jonathon
---
---
Linburg

NEWS + SIGHTINGS

---
---
Littles Travel

NEWS + SIGHTINGS
5th May
Solo (W409 YAL) has been re-registered as (AGZ 9365). Solo (W301 YAL) to (AGZ 9364).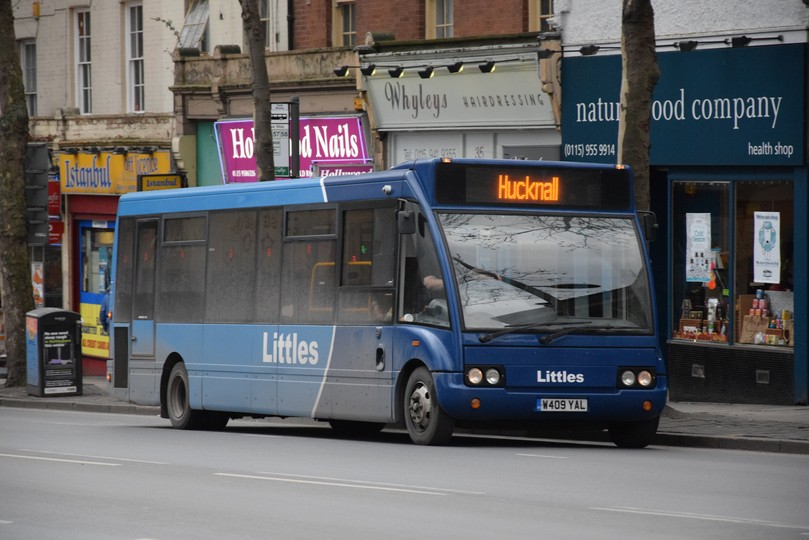 Solo (W409 YAL) is seen here working the Hucknall Citylink service in Nottingham.
(C) Alf Cundy

22nd January 2018
Former Trent Red Arrow coach, Scania Irizar 65 (FN04 BRZ) has been sold to Llew Jones.

16th January 2018
Trident/ALX400 (SN03 DZJ) is here. New to London United, its previous operator was Swans, Chadderton, Greater Manchester.

The two former Go Ahead London B7/Geminis here are (LB02 YXM/N). They are now re registered as (AGZ 9366/7).

Former Nottingham Community Transport Solos 409 and 410 are here.

14th January 2018
The two Olympians here (R98 LHK) and (R63 LHK) are for sale on ebay.
A former Trent red arrow Scania Irizar was also for sale. This carries Wrights livery.

Two more former Nottingham Solos are said to have joined the fleet in preparation for operating the new service between Hucknall and Nottingham at the end of the month. AOT are to cease operating the AOT8 and Littles are providing a replacement.

At least one Gemini joined the fleet last Autumn, and a London Trident is also said to have arrived. More details on these soon....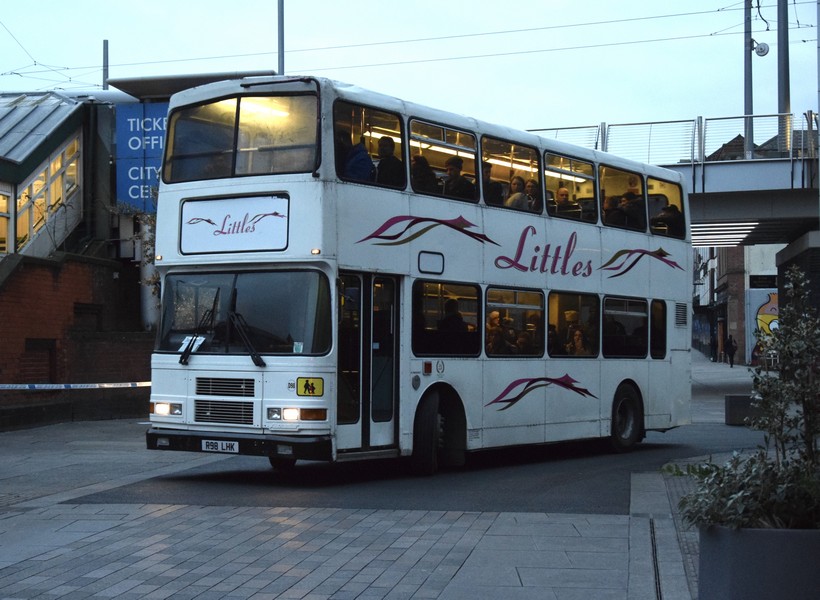 Following a fire at Nottingham station on 12th January 2018, many buses and coaches were used on rail replacement services. Littles Olympian (R98 PHK) is seen here in Nottingham en route to Derby.
(C) Geoff Girling

29th September
Solo (YJ51 XSU) has been reregistered (YAZ 8645).

9th September
East Lancs Volvo (PG04 WHB) (which carried (VIL 9336) for a while) has left the fleet to Ensign (dealer). Former Go Ahead Volvo B7/Gemini (LB02 YXN) has arrived to replace it.

17th August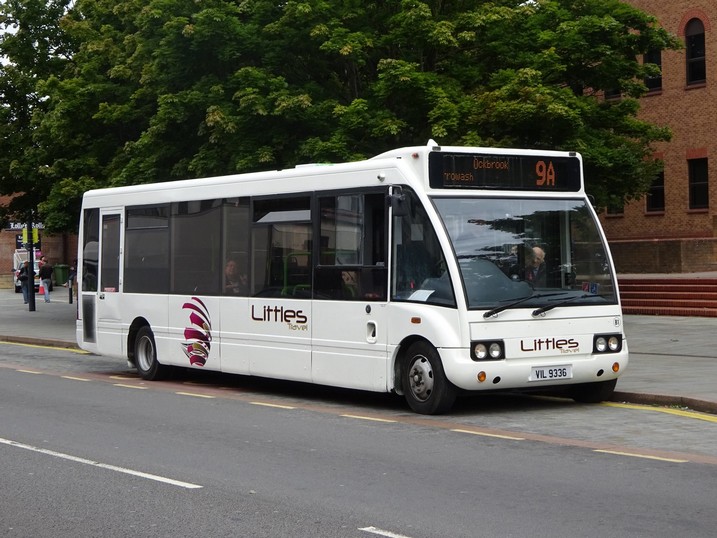 Former NCT Solo (W251 PAU) has been repainted and now carries registration (VIL 9336). This was previously carried on ex London Volvo B7/East Lancs decker which has not been seen in use since the Solo appeared, but has obviously been withdrawn, sold or reregistered.
(C) Chris Gaskin
---
---
Midland Classic


NEWS

5th May 2018
74 has been repainted.

10th April 2018
Former AOT Scania (YN05 GXG) has been acquired. It is to be painted before entering service and should be numbered 74.

18th March 2018
E200s 36, 37 and 38 are now in use. The second door will remain as they do not have an off side emegency exit door.

The Spectra is currently withdrawn.

Solo (YJ64 DWD) has been on loan here from Optare, but has not seen use.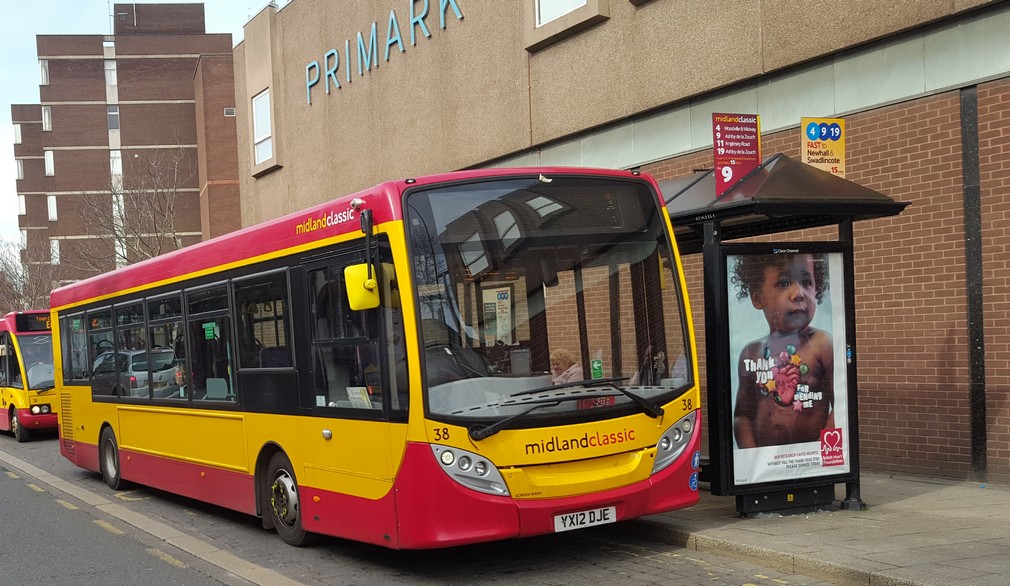 E200 38 on New St, Burton.
(C) Chris Broom

20th January 2018
Two former Reading buses Omnidekkas have arrived here in the form of 61 (YN08 MKO) and 62 (YN08 MKP). Both carry pink Reading livery.

As a result former Scania Olympus 57 (YN08 HYO) and 58 (YN08 HYP) have left the fleet.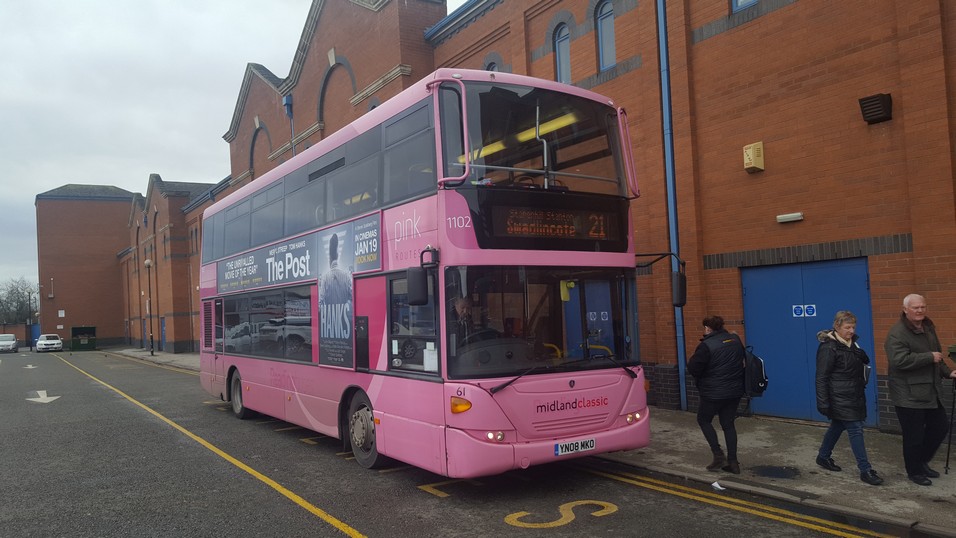 Former Reading buses 1102, now Midland Classic 61, is seen here in Burton.
(C) Chris Broom
9th January 2018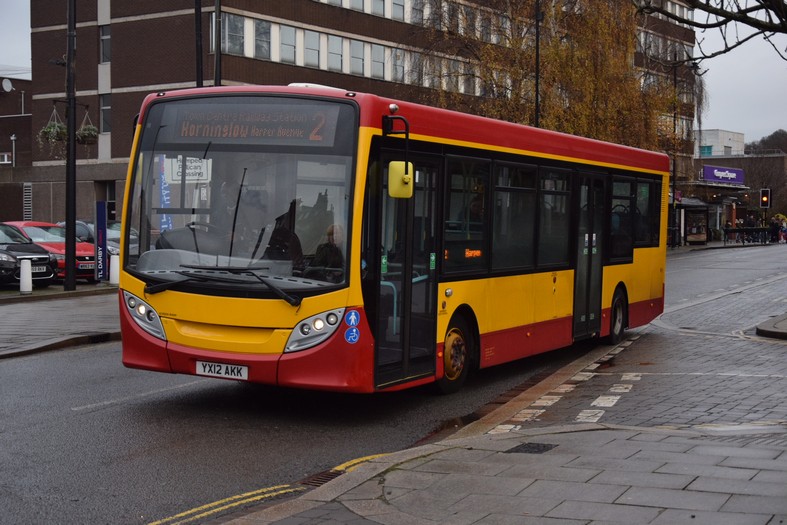 E200 35 (YX12 AKK) is seen here in a festive Burton town centre during December 2017, shortly after entering service.
(C) G Girling


4th December
Omnidekka 1108 has returned to Reading buses.
111 has been withdrawn.

18th November
5 ex London (Tower Transit) E200s are here. None are yet in service.

34 (YX12 AYZ),
35 (YX12 AKK),
36 (YX12 AZW),
37 (YX12 DJD),
38 (YX12 DJE).


21st October
The latest arrival here is former Tower Transit E200 (YX12 AZW).

9th September
On loan here is Reading Omnidekka 1108 (YN08 MMA).
---
---
Nottingham buses
6th April 2016
---
---
---
Skills, Nottingham

NEWS
15th January 2018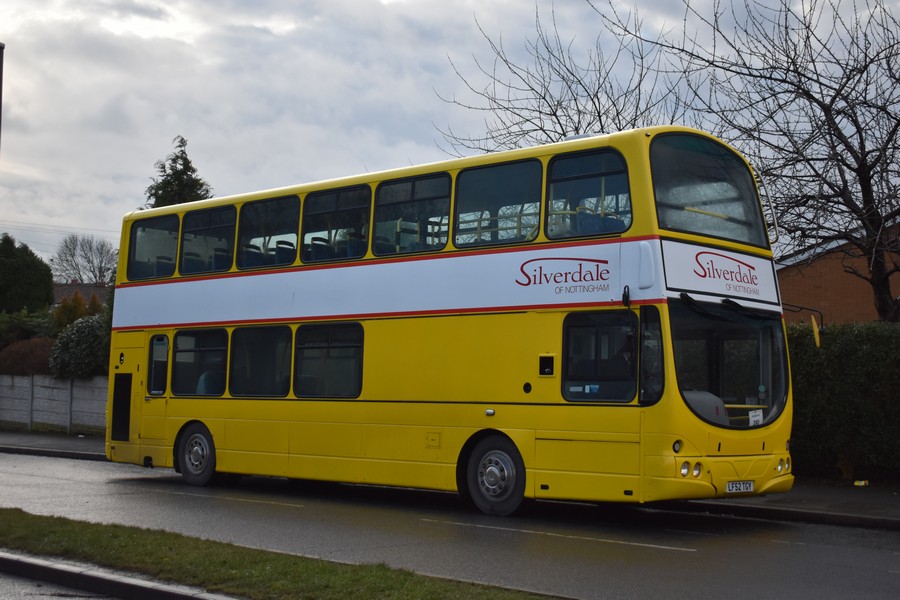 Gemini (LF52 TGY) is now with silverdale, carrying the Silverdale name on Skills/Motorvation livery.
(C) Calum Maclennan
13th May 2017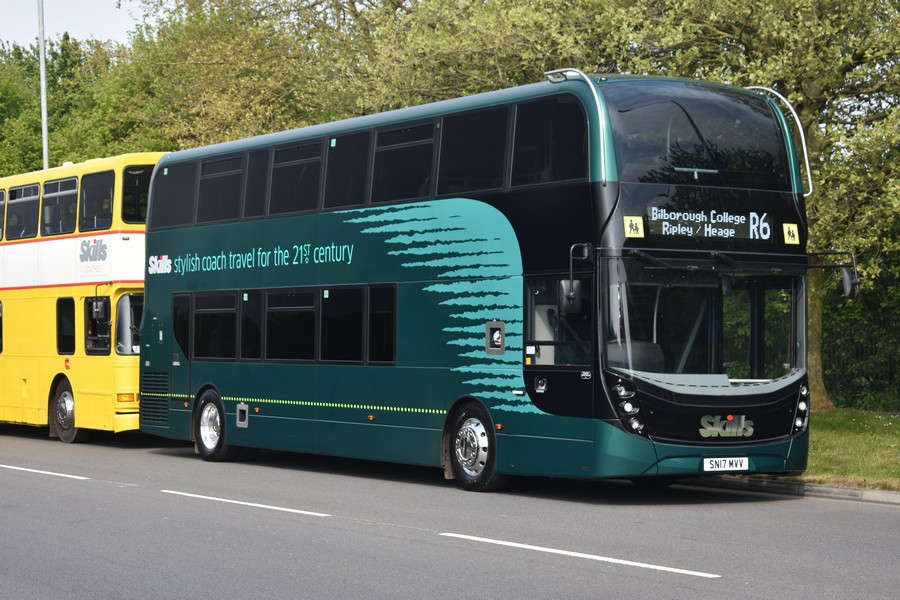 New E400 (SN17 MVV) is seen here at Bilborough College.
(C) Calum Maclennan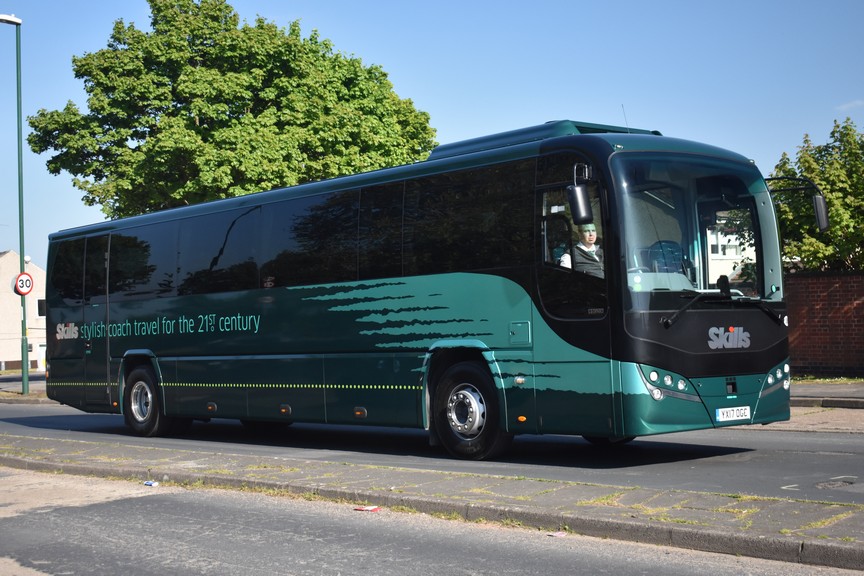 Brand new Plaxton Leopard coach (YX17 OGC) has also recently joined the fleet.
(C) Calum Maclennan
---
---
TM Travel


NEWS:
See Wellglade section.
---
---
---
The Wellglade group
trent barton, kinchbus, notts+derby and T M Travel.
NEWS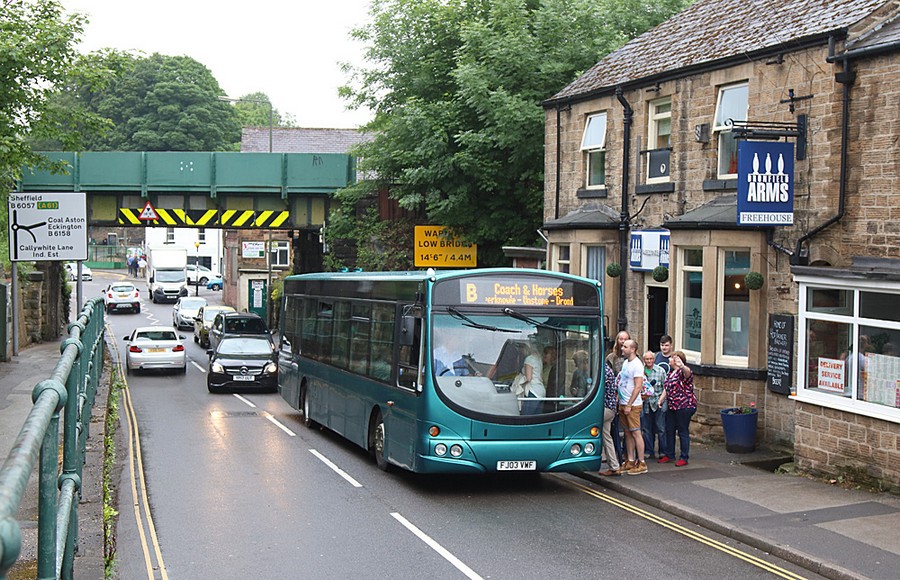 Former i4 Scania 617 is seen here in Dronfield operating the free shuttle service at the 3 Valleys beer festival.
(C) Shane Ross

10th June 2018
609 is now back in use at Sutton along with Scania 669 which has been refurbished and now carries trent barton livery.

25th May 2018
Kinch have Evobus Mercedes Citaro Demo (BT66 TZE) on loan.

Volvos 726 and 727 are currently being repainted.

Sutton Scanias 602 and 609 have been withdrawn.

5th May 2018
751 now carries Comet livery (replaces 749 - withdrawn following rta).

650 now branded for Kinchbus 9 (ex skylink Derby) replacing 623 which has been withdrawn.

Some of the former i4 and Skylink Nottingham Scanias are expected to go on loan to TM Travel for the Dronfield3 Valleys beer festival on 2nd June. They are then expected to be on loan to notts+derby for download shuttles the following week.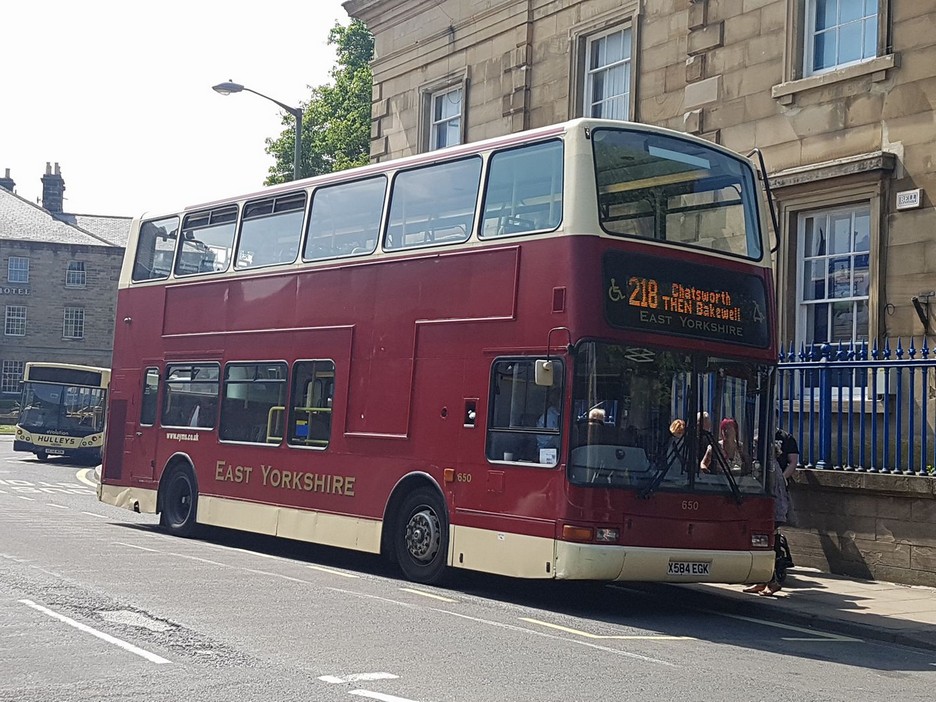 TM Travel currently have Volvo B7/Plaxton President (X584 EGK) on loan from East Yorkshire. Seen here in Bakewell.
(C) Chris Gaskin



10th April 2018
21 now carries full notts+derby livery.

A number of vehicles are now stored in a yard on Stores Rd, Derby. This may be the new site for Trents Derby garage if/when Meadow Rd closes. 4 former Nottingham Skylink vehicles are there, 625/31 and 662/3 along with the former eighteen branded Solos. 666 is in use with Tm still in blue, and 3 more reported at Bus and Coach world.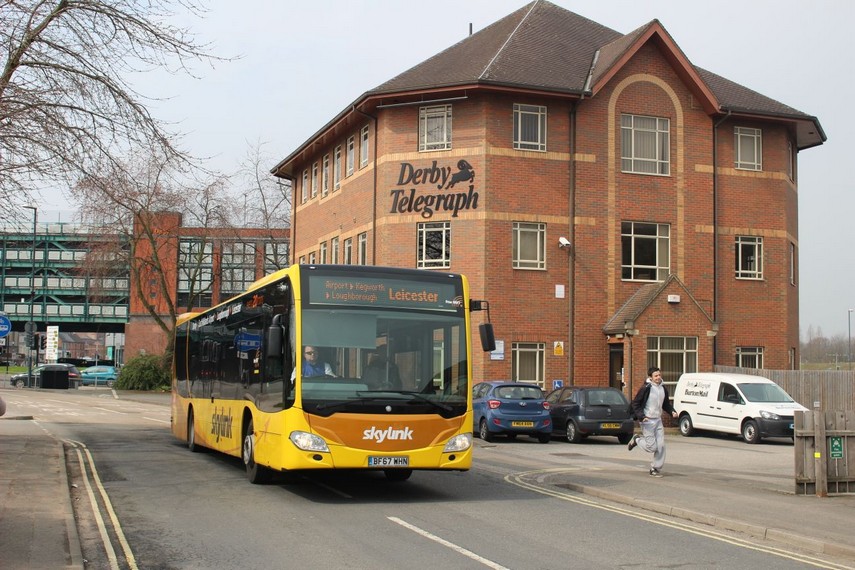 New Skylink Citaro 915 heads out of Derby to Leicester via East Midlands Airport.
(C) Dan Stone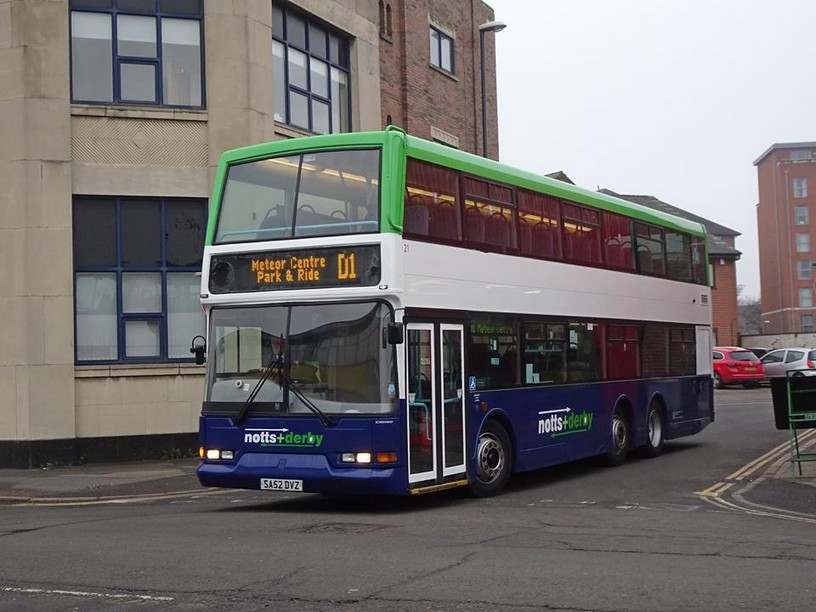 21 arrives in Derby on the D1 Park and Ride service on its first day in use.
(C) Guy



18th March 2018
Solos 484 and 492 (both ex Harlequin) are now painted red and based at Derby.

Volvo 735 is now based at Nottingham in Mango livery.

18th February 2018
New additions to the notts and derby fleet are 20 (SA52 DVW) and 21 (SA52 DVZ) a pair of Volvo/East Lancs Nordic tri axle deckers. New to First Glasgow they were laterly with Brightbus.
Similar (SA52 DVV) is now with TM Travel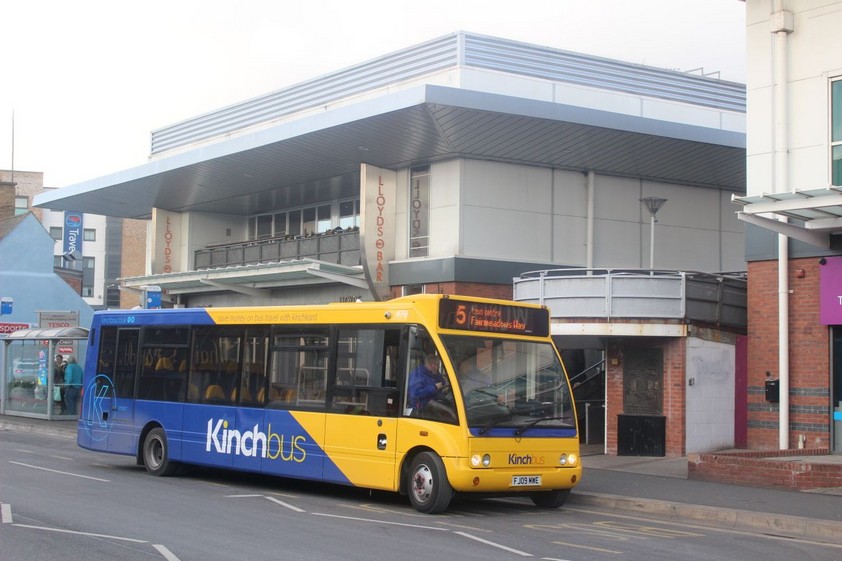 479 is now with Kinchbus. Seen here in Loughborough.
(C) Dan Stone

Former nines Solo 479 is now with Kinchbus.

Former Mickleover Volvo 735 now carries Mango livery.

Former Harlequin Solo 492 is back in use in trent barton red at Derby.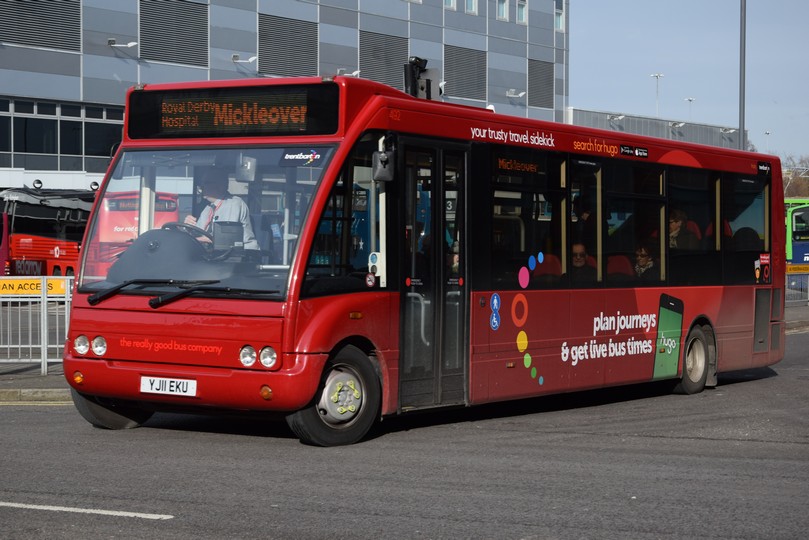 Former Harlequin Solo 492 is now in use at Derby as a spare following a repaint.
(C) Geoff Girling

i4 Scania 617 has been withdrawn ahead of a reduced frequency being introduced on the route in March. This will result in the 4 Scanias, including 617, being surplus.

Nottingham Solos 439 and 452 are now withdrawn. 440 expected to follow soon.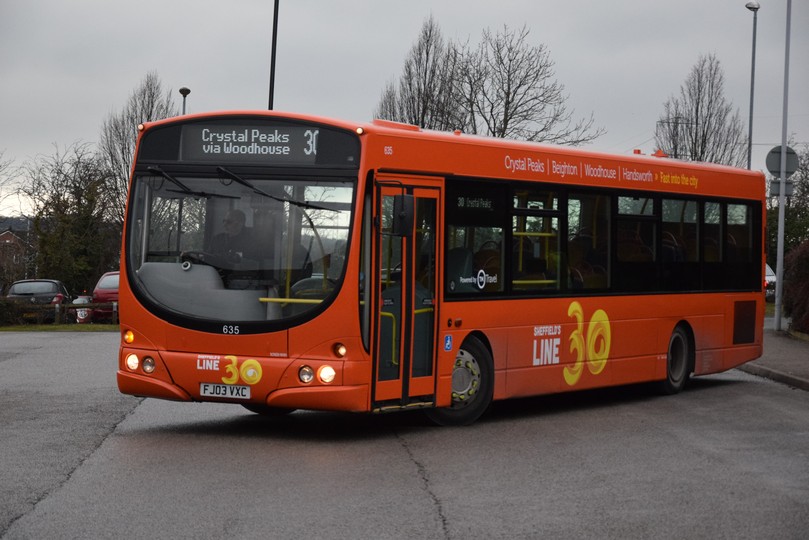 Scania 635 is branded for TM Line 30. Seen here in Crystal Peaks
(C) Geoff Girling

2nd February 2018
Comet Volvo 749 and Solo 450 have both been withdrawn following accidents. Spare 751 is expected to be branded for Comet in its place. In turn 668 is expected to replace 751 as a red spare.

Former Skylink Nottingham Scanias 637, 663 and 665 are expected to become driver training vehicles.

Purple "When you wish upon a Star" Volvo 717 is expected to be repainted soon.

20th January 2018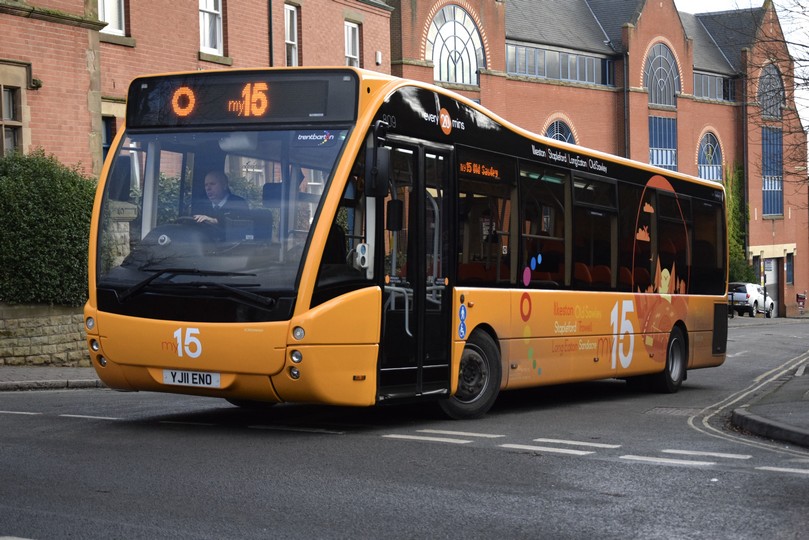 Former Spondon Flyer Versa 809 has now been branded for My15.
(C) Geoff Girling

The 4 former Spondon Flyer Versas 806-9 now carry a revised version of My15 branding, replacing the 5 Versas previously branded for the service. 802 is also currently being painted. 803/4/5 are also expected to be painted into My 15 livery soon. The frequency is set to be increased and the route extended to the airport once an hour later this year. 801 is expected to be a red spare.

Scania 656 has been painted in revised red livery and is now based at Langley Mill.

15th January 2018
Former Nottingham Skylink Scania 666 is now with TM Travel as a replacement for Centro 1199 which has been withdrawn with accident damage.
Former Brightbus East Lancs Nordic 1170 now carries fleet livery.

Former nines Solo 478 is now with Kinchbus. 479 to follow?

14th January 2018
Former Allestree Solos 495/6/7 are now based at Nottingham in trent barton livery for use on route 18. They are due to enter service later this month.

The three new Citaros have arrived for the Skylink Derby/Leicester service to replace the 3 older Scanias on the route. They are:
(BF67 WHN),
(BF67 WHP),
(BF67 WHR).

The former Spondon Flyer Versas have been repainted for route 15, although they are not yet in use. The route is expected to be extended to EMA later in the year so may need more buses.

Former Swift Volvo/Wright 741 now carries green/orange mango livery and is based at Langley Mill.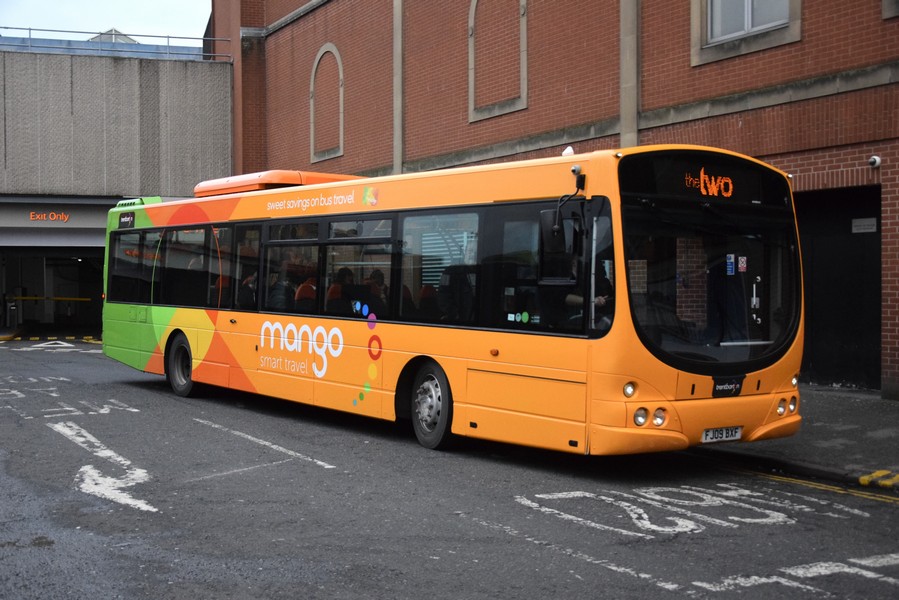 Former Swift Volvo now carries Mango livery.
(C) Geoff Girling

The driver training Paladins have been given a 9 prefix. 9131 appears wihdrawn.


---
---
Vallances
NEWS
-

---
Yourbus, Nottingham
NEWS
10th June 2018
Three new E200 MMCs have arrived here as (YY18 THN/U/V). All are plain white but are expected to be painted before they enter service. More may also be on the way.

10th April 2018 Driver training Dart (PJ02 RHA) has been repainted bright green.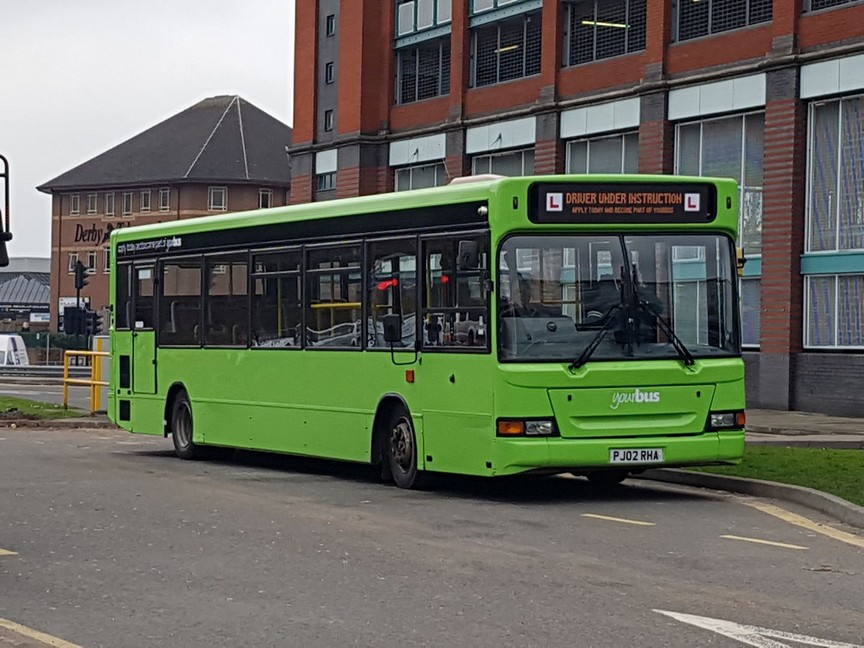 Training Dart (PJ02 RHA) carries this new bright green livery. Seen here in Derby.
(C) Chris Gaskin
9th January 2018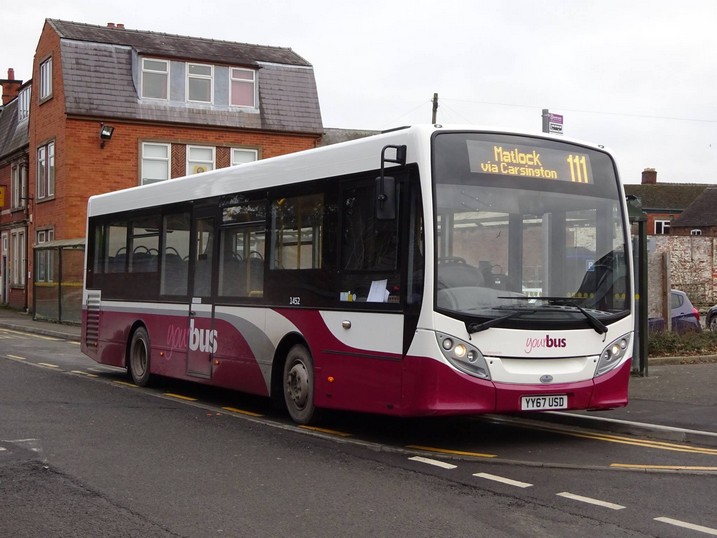 Brand new short E200 1452 in Ashbourne.
(C) Chris Gaskin


All of the Streetlites are now withdrawn and have been replaced by the recent arrival of some E200s. More likely to follow.

Recent arrivals are:

(Short B33 seating):
1450 (YY67 USB),
1451 (YY67 USC),
1452 (YY67 USD).
1453 (YY67 USE),
1454 (YY67 USF).

(longer B39 seating):
1411 (YX67 VGZ),
1412 (YY67 USG),
1413 (YY67 USH),
1414 (YY67 USJ),
1415 (YY67 USL),
1416 (YY67 USM),
1417 (YY67 USN),
1418 (YY67 USO),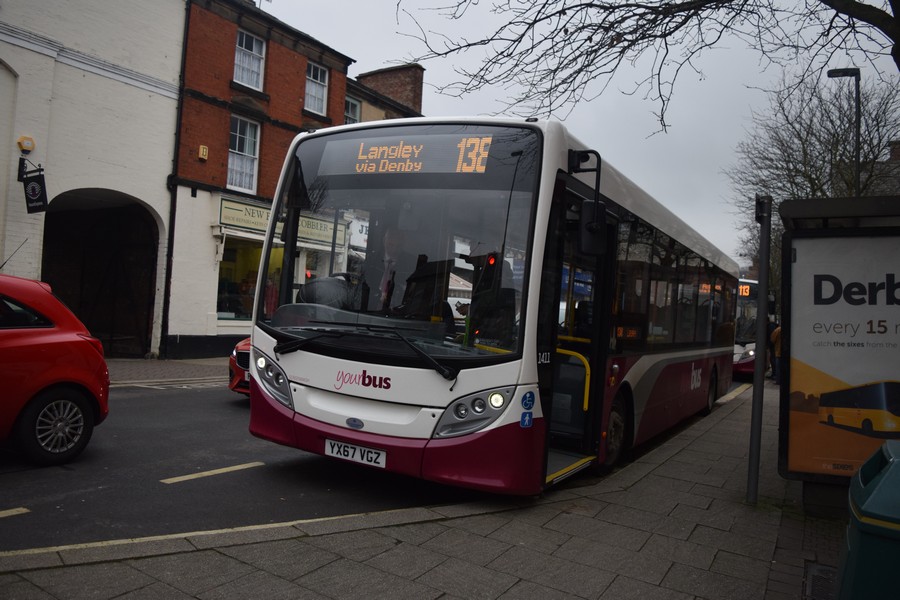 E200 1411 (YX67 VGZ) is seen here in Belper. This is from the previous order of E200s, which is why the registration doesn't follow on from the other recent arrivals. .
(C) John Curtis
---
---
Last Months News

News Index Page
---