Bus Fleet News
June 2015
---
Latest News
---
Here you will find all the latest bus fleet news for many bus operators in and around the Derbyshire area. If you have anything to report please contact me by clicking here.
---
---
NEWS
25th April
Two Neoplan Euroliners have arrived here from K B Travel, Penrith. They are (J6/7 AOT).
Merc minibus (TIW 2654) is now white.
---
---
NEWS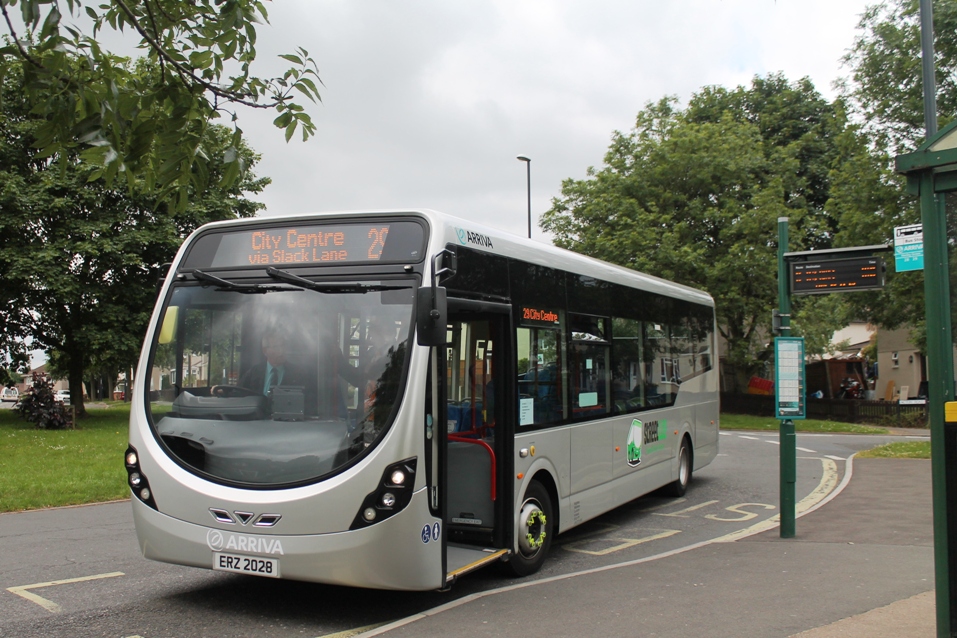 Streetlite demonstrator (ERZ 2028) is seen here at the terminus in Mackworth on route 29.
(C) DBD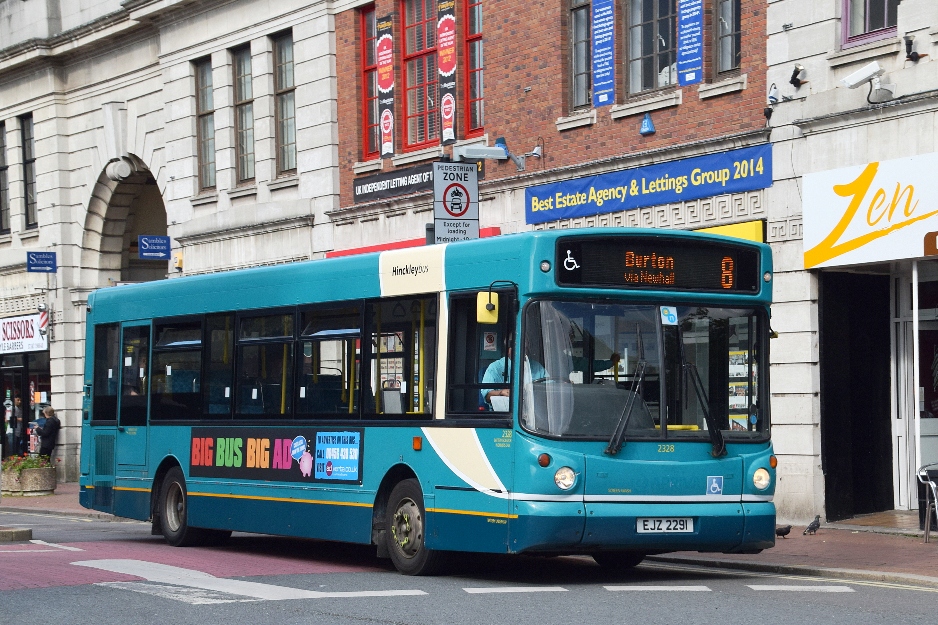 Dart (EJZ 2291) is a recent transfer to Arriva Burton from Hinckleybus.
(C) G W Girling

15th June 2015:
Streetlite demo (ERZ 2028) is at Derby for use on the Mackworth services.

Hinckleybus Alexander Dart (EJZ 2291) (former (YD02 RGY)) is in use at Burton.

A number of changes have been proposed for service in Derby. Click below for more details:
Proposed changes to Arriva Derby services


---
---
NEWS
15th June:
Former BM Coaches of London tri-axled 61 seater Van Hool T917 Astron (YJ59 BAA) has arrived from Arriva Bus & Coach with former Johnson Brothers Neoplan (A16 BNX), previously (YN03 AVE), leaving in part exchange. The private reg will be used on BAA.

Ex Mayne, Neoplan Tourliner (C49Ft) A15 NBX (ex KM11 GSM) has joined the fleet.

5th June:
Setra (S31 5GT), (RJI 4525) has left the fleet.
Caetano Algarve bodied Dennis Javelin (P179 ANR) has been sold to Warringtons of Ilam.
Former Johnson Brothers of Hodthorpe, Neoplan Euroliner (YN03 AVE) has been re-registered (A16 BNX).
Allover white Temsa Safari (YJ10 DVF) is currently on loan from the Arriva Bus & Coach dealership.


---
---
NEWS
8th May
2 brand new Solos arrived here in March as 285/6 (YJ15 AYA/B). Seating is B31F.

8th March
Skyline Scania 693 was painted into Centrebus livery last month. It currently carries no fleetnames. It is not known if Skylink branding will be applied, or if subsequent repaints will be into a branded Skyline livery.

It is thought a batch of new transpeak branded (green) Enviro 200s may be on the way.


---
---
NEWS & Sightings
---
---
NEWS
4th June
Short 36 seater Plaxton Premiere / Volvo B10M-48 (R960 RCH) has joined the fleet. This was recently operated by Johnson Brothers of Hodthorpe.

3rd February
Former Wallace Arnold Jonckheere Deauville bodied Volvo B10M (L903 NWW) has arrived here. It still carries Abbey Coaches of Darwen livery.

2nd January:
Three recent arrivals are:
(GIL 3113) Volvo B10M / Plaxton Paramount.
(R955 TSL) Volvo Olympian / East Lancs Pyoneer.
(S63 TNA) Scania L94IB4 / Irizar Century.


---
---
G&J Holmes


NEWS
3rd February
White E200 (MX59 AVN) is on loan here. This was used by Powells, and was branded for the Rotherham Free Bee service.
Solo (MX59 AVP) was with First Devon and Cornwall by November 2014.



---
---
Glovers of Ashbourne


NEWS
2nd March 2015
Volvo/ Alexander Q type (M54 PRA) is here now reregistered as (AIG 4114).
The former (AIG 4114) now carries (L923 NWW) and has been sold.


---
---
Harpurs Coaches


NEWS

3rd April 2015
(A14 GTA) left for Barnsley on 31st March.

27th March 2015
(R309/10 WVR) are both withdrawn and are up for sale.
(A14 GTA) is withdrawn, unserviceable.
Plaxton (J723 EUA) has been advertised for sale but is still in use.
(X423 PFE) will be back out soon with seatbelts fitted. 424 being fitted next. Once complete the other two Dublin B7s, currently in store, are likely to be painted and join the fleet.
(00-D-70111) and (00-D-70113) are 423 and 424.


---
---
Hawkes Coaches

NEWS
---
---
Hulleys of Baslow

NEWS + SIGHTINGS
6th January
New here on 5th January as number 4 is (MX59 ZCL) an Enviro 200 (B29F) last recorded with City Sprinter, Renfrew.
VDL SB180/ MCV 22 (YJ62 JWF) returned to ARRIVA (dealer) off loan on 23 December 2014.




---
---
Johnson Bros / Redferns


NEWS & SIGHTINGS
12th January
Volvo B10M coach (K67 BKG) is here based at Mansfield.

Trent Excel 260 has been on loan here for a few days, but has now returned to Lanley Mill.


---
---
Linburg

NEWS + SIGHTINGS
26th June
4 Northern Counties Olympians are here from London Suburban:

(L204 SKD) now (OUI 4770),
(L205 SKD) now (BUI 471),
(L210 SKD) (not yet reregistered),
(L215 TWM) (not yet reregistered).

Former Yorkshire Traction ECW Olympian (C669 GET) (this was BUI 471) and ex Cambus (F513 NJE) and (G757 UYT) have all been withdrawn.

Two Darts to join the fleet are ex Stagecoach London Plaxton Pointer bodied examples which have also be re-registered!

(V173 MVX) is now (OUI 9980),
(V175 MVX) is now (IIG 9382).
---
---
Littles Travel

NEWS + SIGHTINGS
24th June
Levante (YX07 HJF) is in the fleet. Ex Whittles (still has blue skirt).

Volvo B9 Elite EX5 (SE60 LWO) has joined the fleets. It was previously with Parks as (HSK 646).

E200 (YN62 AOH) has been sold to Ensign.


---
---
Midland Classic


NEWS
15th June
E200 (YY64 YKC) has joined the fleet.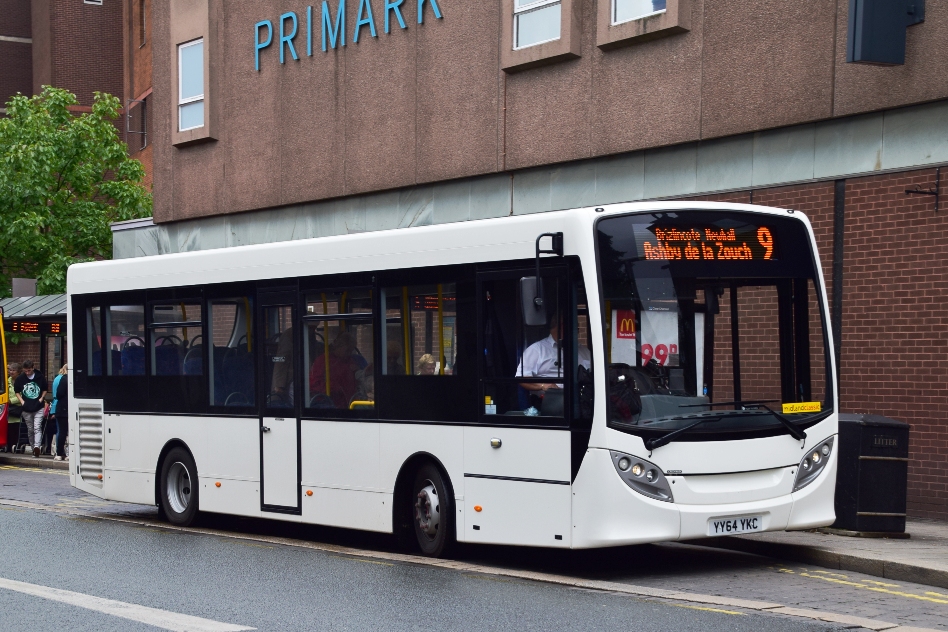 White E200 (YY64 YKC) is a recent addition to the fleet.
(C) G W Girling



8th May
Stevensons Scania 55 (YN54 OAG) now carries (TFA 13) as its registration.

E200 demo (YY64 YKC) is currently here on loan.

29th April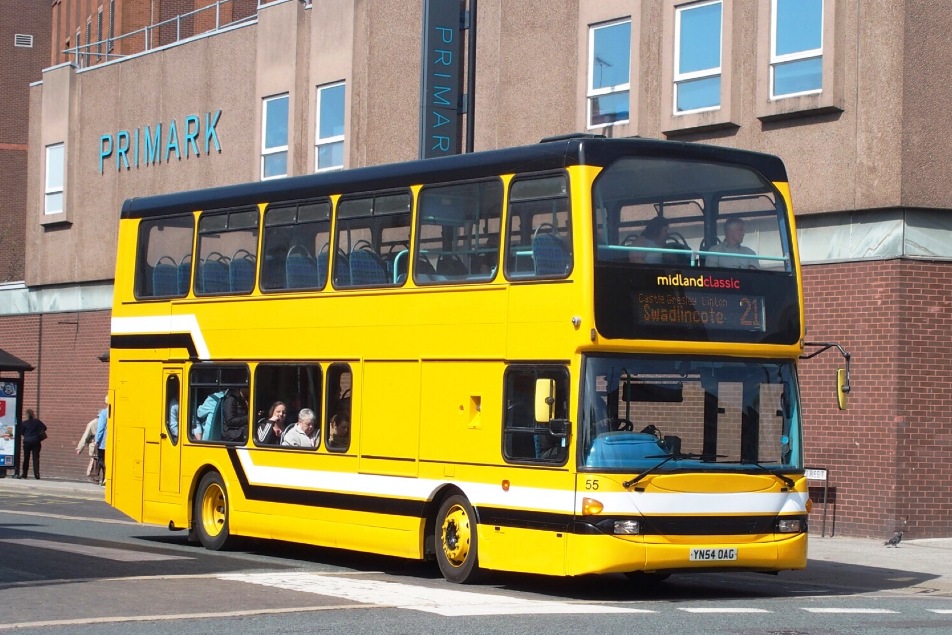 Scania 55 (YN54 OAG) has been painted into Stevensons livery.
(C) Richard Woodhead
---
---
Nottingham buses
22nd January 2015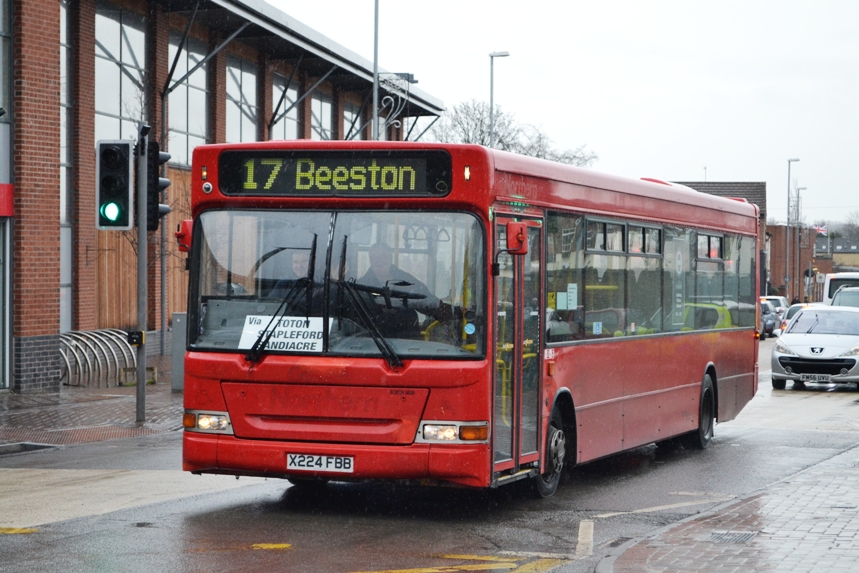 Nottingham buses now operate route 17 between Long Eaton, Sandiacre and Stapleford. Former Go Northern Dart (X224 FBB) is seen here. Similar Darts (X227 FBB) and (X232 FBB) are also in the fleet.
(C) Calum Maclennan
---
---
Paul S Winson


10th November
Former Paul S Winson of Loughborough ADL Dart SLF / ADL Mini Pointer (DW05 PSW) is now in use with Travel Wright of Newark.

14th August
Olympian (G129 NRC) is now preserved with Nottingham Heritage Vehicles. NEWS

---
---
Skills, Nottingham

NEWS
-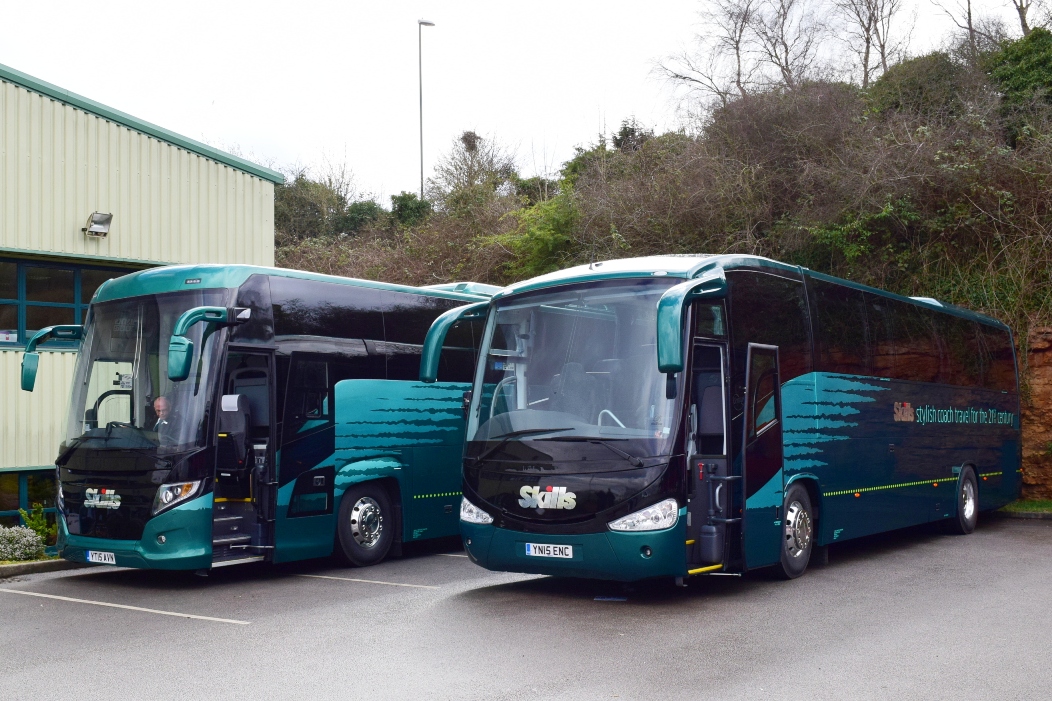 New for Skills is (YN15 ENC) with brand new (YT15 AVN) alongside.
(C) G W Girling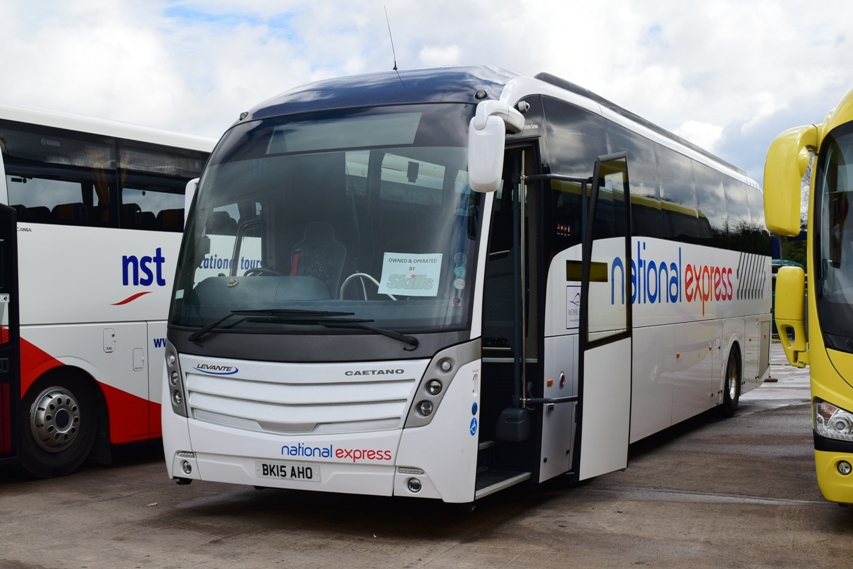 New Levante (BK15 AHO).
(C) G W Girling
---
---
TM Travel


NEWS:
See Wellglade section.
---
---
Translinc
NEWS
---
---
The Wellglade group
trent barton, kinchbus, notts+derby and T M Travel.

NEWS
24th June
Citaro 903 is now with Kinchbus branded for route 2.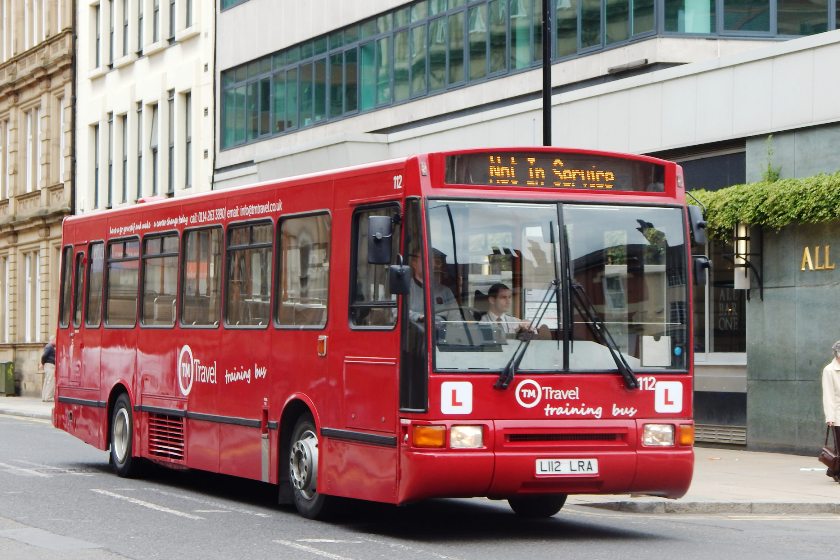 Paladin 112 has been repainted into the new TM Travel livery for use as a driver trainer. Interestingly, it has also been fitted with a digital destination display
(C) JPT Photos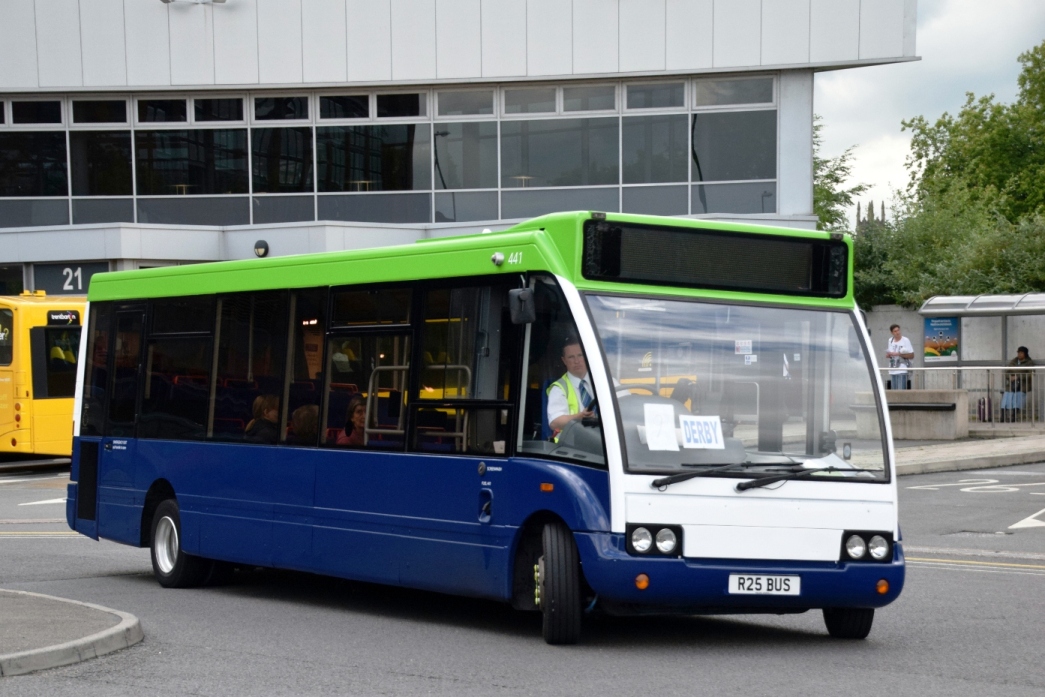 Solo 441 has joined the notts and derby fleet, seen here in Derby bus station.
(C) G W Girling

4th June
Solo 452 now back in use branded for route 18. 608 being repainted.

10 new tri axle Volvo Plaxton Elite coaches are said to be on order for use on Derby to Nottingham Red Arrow.
A number of Volvo B8s are also said to be on order for "the two" and "calverton connection".
It is thought 2 of the 10 plates coaches currently on red arrow will ne used on the X38, and another 2 on the club class and 1 spare. The Volvos off "the two" are likely to be used within the trent fleet, including Derby - Chesterfield "red arrow" (blue arrow anyone?). The Citaros off Calvertons may move to Kinchbus for route 2 (minus 902 which has been written off after fire).

1st June
Paladin 112 and DAF 1167 are now in the new TM Travel livery.
Route 18 Scania 608 is currently being repainted.

21st May
Notts and Derby Solos have been re-registered:

441 (R25 BUS).
442 (R26 BUS).
453 (R27 BUS).
454 (R28 BUS).
456 (R29 BUS).

Scania 617 is now in i4 livery. The route will be needing extra branded vehicles soon due to a frequency increase between Sandiacre and Nottingham. 667 and another Scania are also likely to get the same treatment.
Solos 439 now in service, painted in trent barton red but with "route eighteen" branding.


---
---
Vallances
NEWS
15th June 2015:
Just acquired is Mercedes Vario (SN53 MWW) from LL Travel, Mexborough. It is now in fleet livery.

Scania Irizar century (508 DKH) is now in a livery for Isle of Wight educational tours.

5th May 2015:
(508 DKH) ex (T405OWA) scania L94 Irizar century 49 seater has arrived from Barnards of Kirton Lindsay.

25th April 2015:
Scania irizar PB (A19 BNG) has arrived from from Solus coaches (now in fleet livery).
Scania K113 (M134 GAP) has been sold.
---
Yourbus, Nottingham
NEWS
1st June 2015:
Yourbus no longer operate any National Express services. The coaches used are currently stored at Heanor and Bradford depots.

Chalfont are operating the 230 at present with some Levantes based at Littles garage near Ilkeston. Skills are operating the 440 and 240 with tri axle Scania Levantes (ex NatEx) and Volvo B12B Elites (ex Parks, Scottish Citylink Gold).

24th March 2015:
Citaros 3004 and 3007 are now in the new livery and branded for the Y28 service.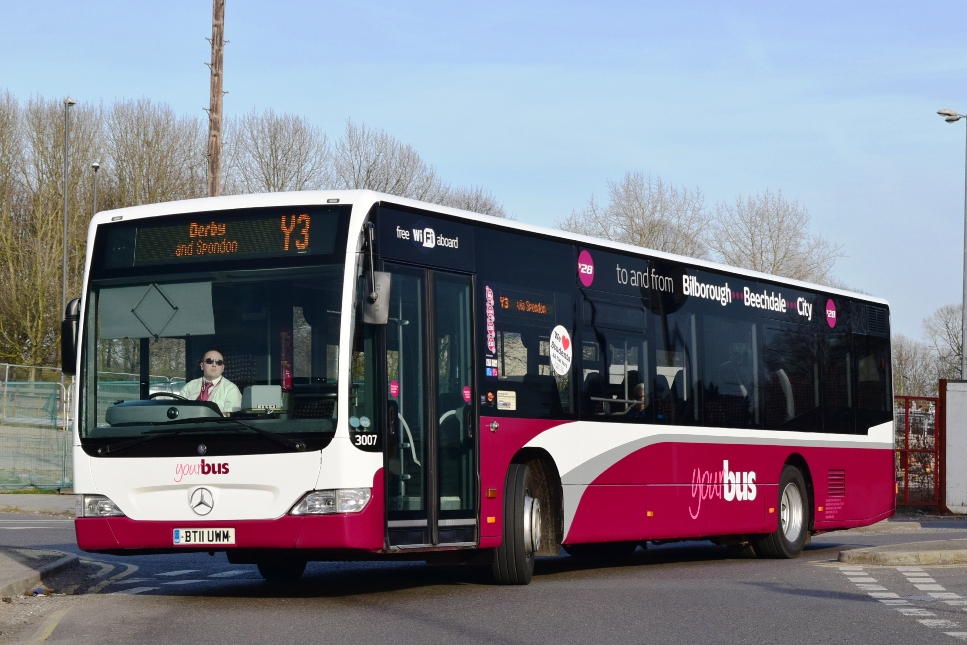 Yourbus 3007 repainted in the new livery complete with branding for the Y28. It is seen here in Derby bus station on a Y3.
(C) Geoff Girling
---
---
Last Months News

News Index Page
---