Bus Fleet News
July 2019
last update 19th July
Many thanks to all who have contributed news and photos to the website. Without this the site would not be possible.
---
Latest News
---
Here you will find all the latest bus fleet news for many bus operators in and around the Derbyshire area. If you have anything to report please contact me by clicking here.
---
---
NEWS
9th January 2018
A new addition to the fleet is Trident (LX51 FJA) from Hulleys, Baslow 2/1/18.


---
---
NEWS
8th July 2019
Some vehicles are currently on loan here whilst the exhaust systems are upgraded on certain vehicles in the fleet. Volvo B7RLE 3927 (KE05 FMM) and Wright Commanders 3702/3/4. Cadet 2745 was in use here last week too.

5th June 2019
Tamworth based Wright bodied Volvo 3927 (KE05 FMM) is in use here.

23rd April 2019
Scanias Omnicities 3581 and 3582 have joined the training school fleet renumbered 9561 and 9562.

4600 has moved to Tamworth some weeks ago, but has not seen service there. Currently VOR. 4200 remains at Tamworth but may move to Derby once 4600 is in use there.

Most/all of the Solos have now moved on to elsewhere within Arriva:

2505 - Telford,
2506 - Oswestry,
2507 - Shrewsbury,
2508 - Cannock,
2509 - High Wycombe,
2510 - Cannock,
2511 - Telford,
2512 - ??,
2513 - Cannock,
2514 - Cannock,
2515 - ??,
2516 - Cannock,
2517 - ??,
2618 - Telford,
2519 - Shrewsbury?,
2520 - Telford,
2521 - Telford,
2522 - Shrewsbury.



18th February 2019
The 19 new Streetlites here are:
2329 (SM68 EPE),
2330 (SM68 EPF),
2331 (SM68 EPJ),
2332 (SM68 EPK),
2333 (SM68 EPL),
2334 (SM68 EPN),
2335 (SM68 EPO),
2336 (SM68 EPP),
2337 (SM68 EPU),
2338 (SM68 EPV),
2339 (SN68 AGT),
2340 (SN68 AGS),
2341 (SN68 AGR),
2342 (SN68 AGP),
2343 (SN68 AGM),
2344 (SN68 AGL),
2345 (SN68 AGK),
2346 (SN68 AGJ),
2347 (SN68 AGH).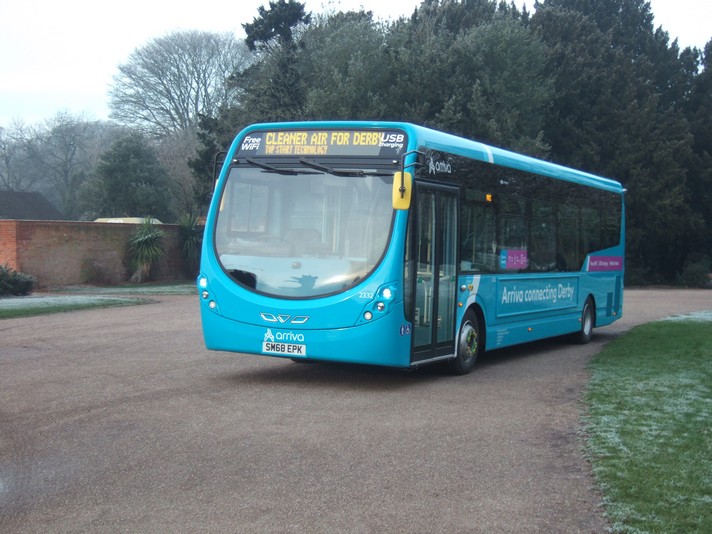 Brand new Streetlite 2332 is seen here at Markeaton Park today for an official launch for the new buses. Around 5 have already been delivered, with the other 14 expected over the next few weeks. The new buses have Euro 6 engines, and seemingly, stop start technology. Arriva intend to use the new vehicles on routes 5/5a to Sunnyhill, 7 to Sinfin/Stenson Fields and Mackworth routes 8 and 9.
(C) Jim Froggatt

22nd January 2019
Streetdeck 4600 is expected to move to Tamworth soon to be replaced by 4200. 19 Streetlites expected for Derby are to include:

2329 (SM68 EPE),
2330 (SM68 EPF),
(SM68 EPJ),
(SM68 EPK),
(SM68 EPL),
(SM68 EPN),
(SM68 EPO),
(SM68 EPP),
(SM68 EPU),
(SM68 EPV).

They are expected to replace many of the Solos, and are to be used on routes 8/9 and F1. Some Solos may remain at Derby for route 5/5a, as the Streetlites may be too large for this route!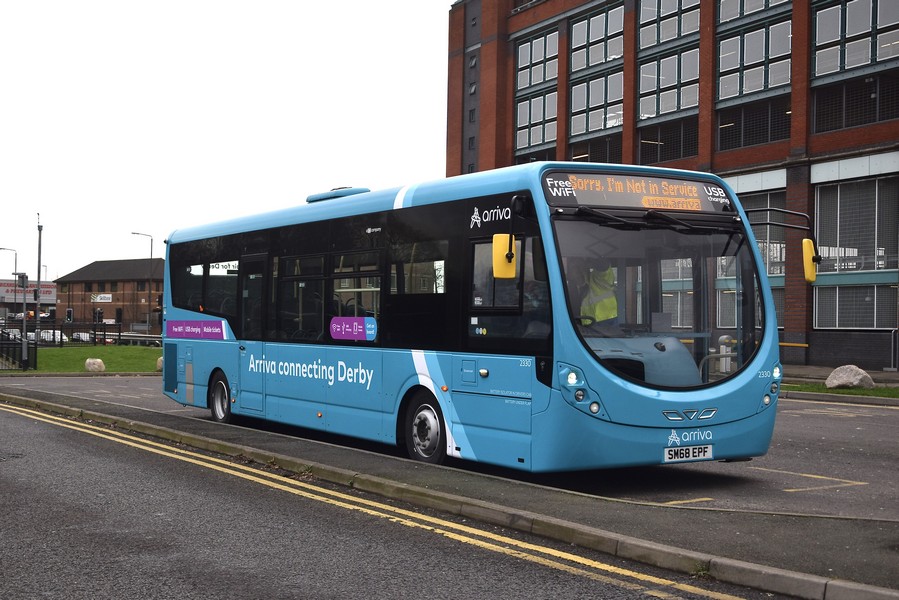 Brand new Streetlite 2330 (SM68 EPF) in Derby bus station. A batch of these are expected to replace many of the Solos in the Derby fleet.
(C) G Girling



18th January 2019
The first two Streetlites here are 3329/30 (SM68 EPE/F).

3rd December 2018
19 new Streetlites are expected to join the Derby fleet this month to replace the Optare Solos.
VDL 3763 has joined the Derby fleet.


---
---
NEWS
-
---
---
NEWS
3rd October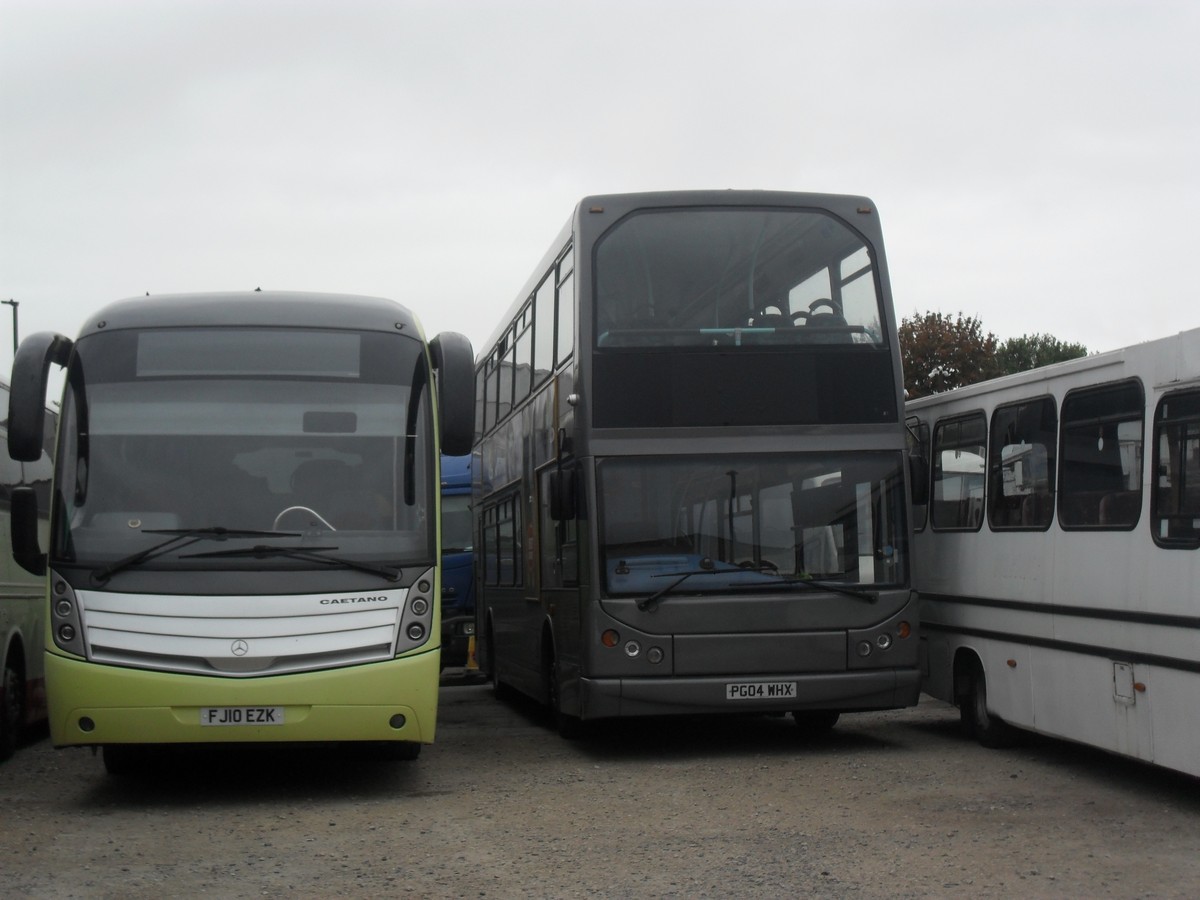 Derby minibus have recently acquired (PG04 WHX).
(C) Adrian Healey
---
---
G&J Holmes


NEWS
9th September 2017
Yje last two Solos have been sold. (LJ60 LTY) is now with Stephensons, Easingwold and (MX59 AVT) is now with Llew Jones, Llanrwst.

---
---
Glovers of Ashbourne

NEWS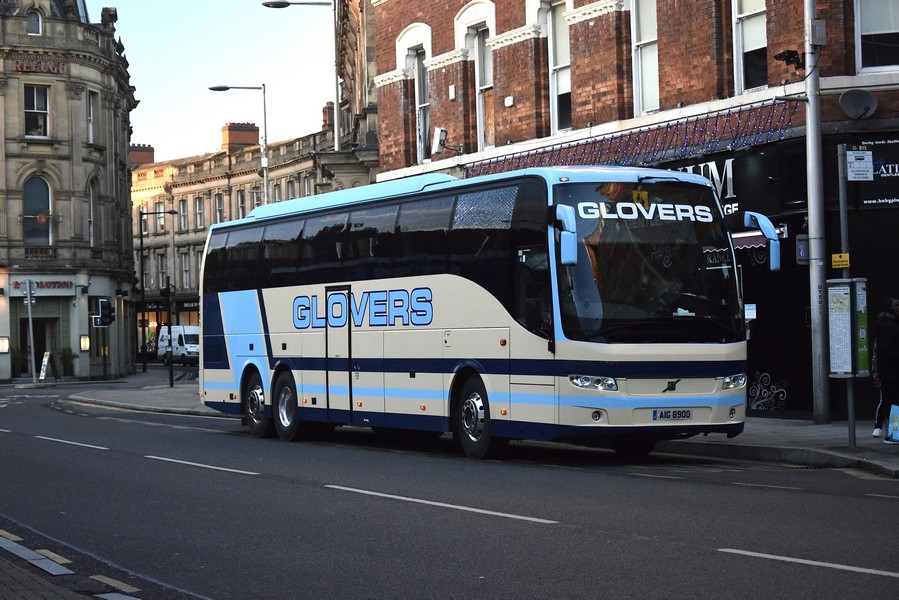 Volvo (AIG8900) seen here on Victoria St, Derby.
(C) G Girling
---
---
Harpurs Coaches

NEWS
17th July 2019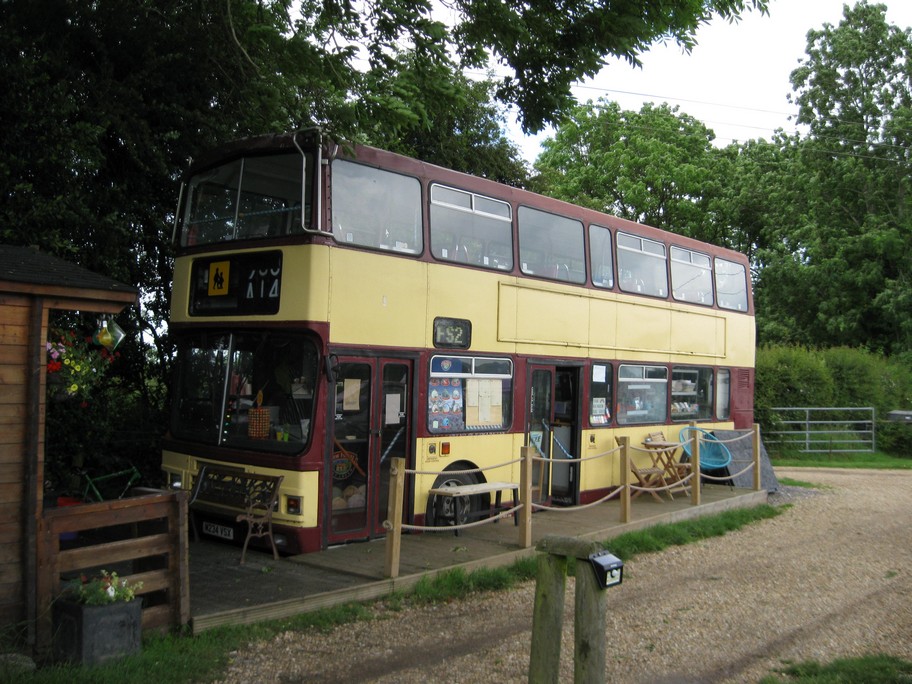 Former Harpurs Olympian (M234 VSX) has been converted into a Cafe at a camp site on the outskirts of Warminster in Wiltshire. The owners of the camp site said that they acquired it from the Manchester area about 6 months ago.
(C) Phil G

1st June 2019
All over yellow Volvo B7TL, Alexander ALX400 (LJ03 MXL) arrived here in April, thought to be last operated by Richardson Travel of Midhurst, West Sussex after they cesed trading in February. Formerly with Arriva London..

8th November 2018
A new addition here is B12M (B204 COX) from Cox of Belper.


---
---
Hawkes Coaches


NEWS -
---
High Peak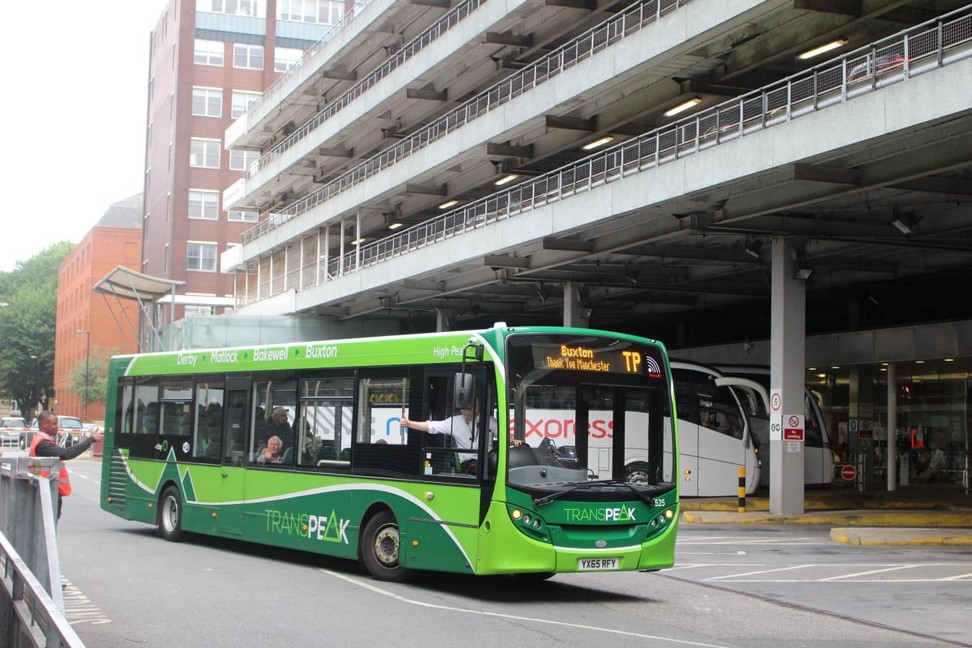 E200 525 departs Manchester for the last time on Saturday 21st July 2018.
(C) Dan Stone
---
---
Hulleys of Baslow

NEWS + SIGHTINGS
8th July 2019
The first of the two ex Bournemouth Darts 509, has become number 8 (SN55 DVO), and entered service last week. 511 (SN55 HSX) is due for delivery this week. Both carry Hulleys livery without fleet names.

Number 11 is being used for spares following last months fire, and will be going for scrap soon.

18th June 2019
11 (MX09 HJF) caught fire on Monday and is unlikely to see further service.

5th June 2019
2 more Plaxton Pointer Darts have been acquired from Yellow buses, Bournemouth. They are Yellow buses 509 and 511 (SN55 DVO/HSX), which will rejoin former 512 (SN55 HTD). All three came from Manchester Airport in 2009. They will be painted and have MOT before entering service. and are expected to replace Evolution Darts 5 (PL06 TGE) and 14 (AE56 MDN).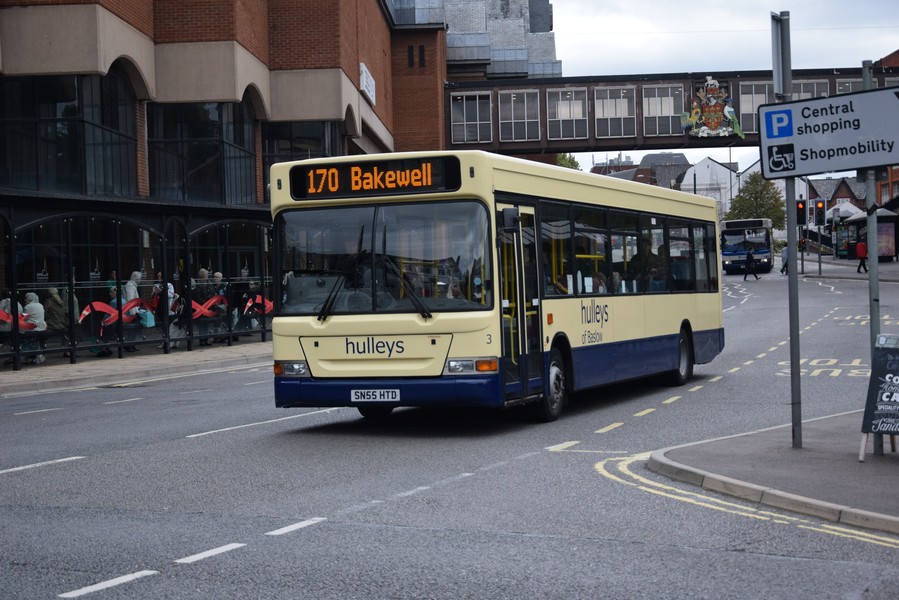 Former Yellow Buses Dart (SN55 HTD) has been repainted into fleet livery. It is seen here in Chesterfield.
(C) G Girling
---
---
Johnson Bros / Redferns

NEWS & SIGHTINGS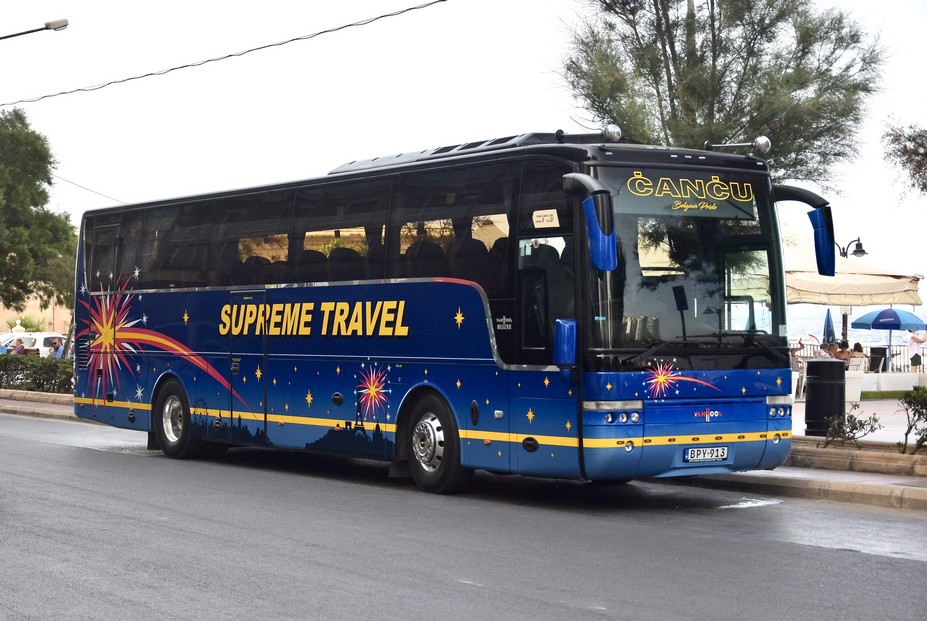 This VDL was new as (YJ58 FHT) and then became (97 RT) with Johnsons, Derbyshire. It was used on Rail Reps at Derby last summer. Now with Supreme Travel of Zejtun and seen here on Tower Road, Sliema.
(C) William Debono
---
---
Linburg

NEWS + SIGHTINGS

---
---
Littles Travel

NEWS + SIGHTINGS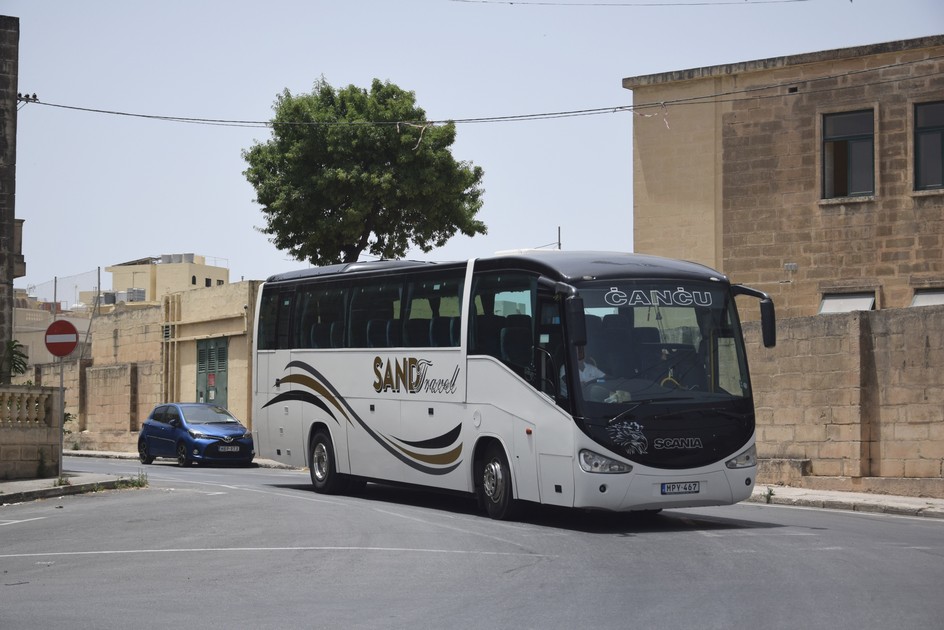 New as (YN08 DDJ) this then became (M60 LTL). Now with Sandro Abela (Sand Travel) of Zejtun, part of the Cancu operation. It is seen here in Zejtun on school duties.
(C) William Debono

31st January 2019
New here are Scania / Higer coaches E2 (YT68 GWO) and E3 (YT68 GWP).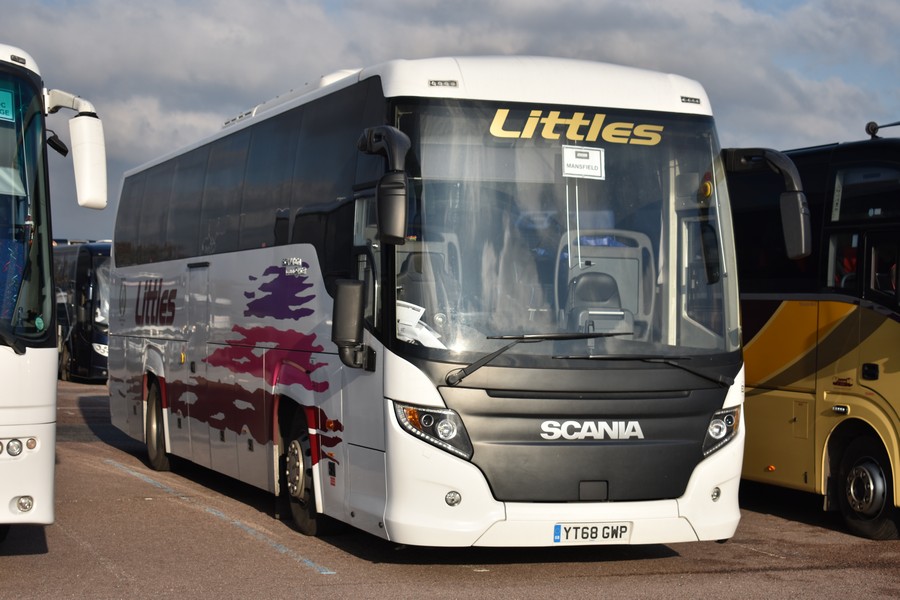 Littles E3 (YT68 GWP) is seen here at the NEC, Birmingham in December.
(C) Calum Maclennan



5th May2018
Solo (W409 YAL) has been re-registered as (AGZ 9365). Solo (W301 YAL) to (AGZ 9364).


---
---
Midland Classic


NEWS
18th July 2019
E200s 1 and 2 have been branded for the X12 service.

Gemini 47 has returned to service after previously passing to a dealer where it was advertised for sale.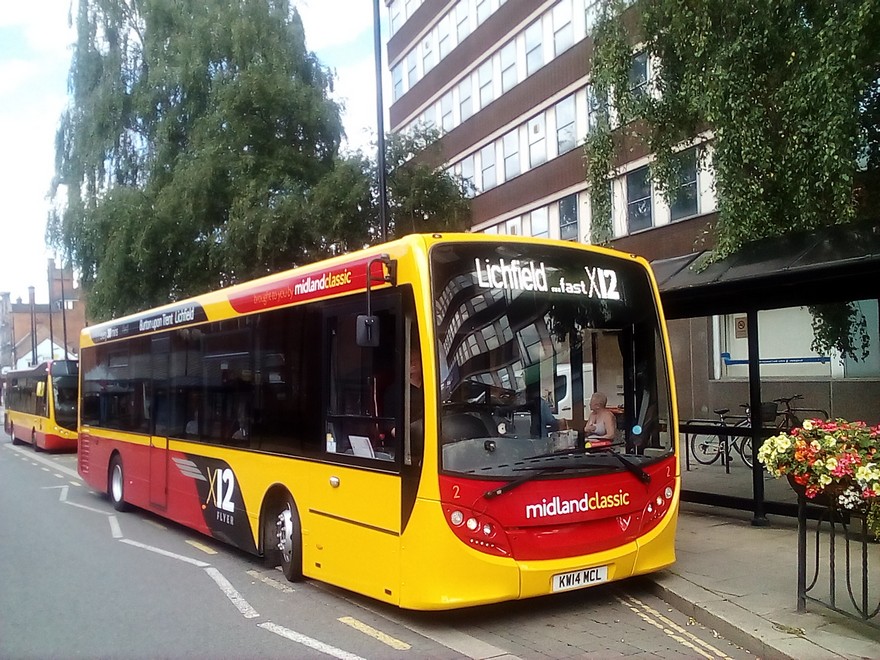 Number 2 (KW14 MCL) now carries the new X12 livery. Seen here in New Street, Burton.
(C) Chris Broom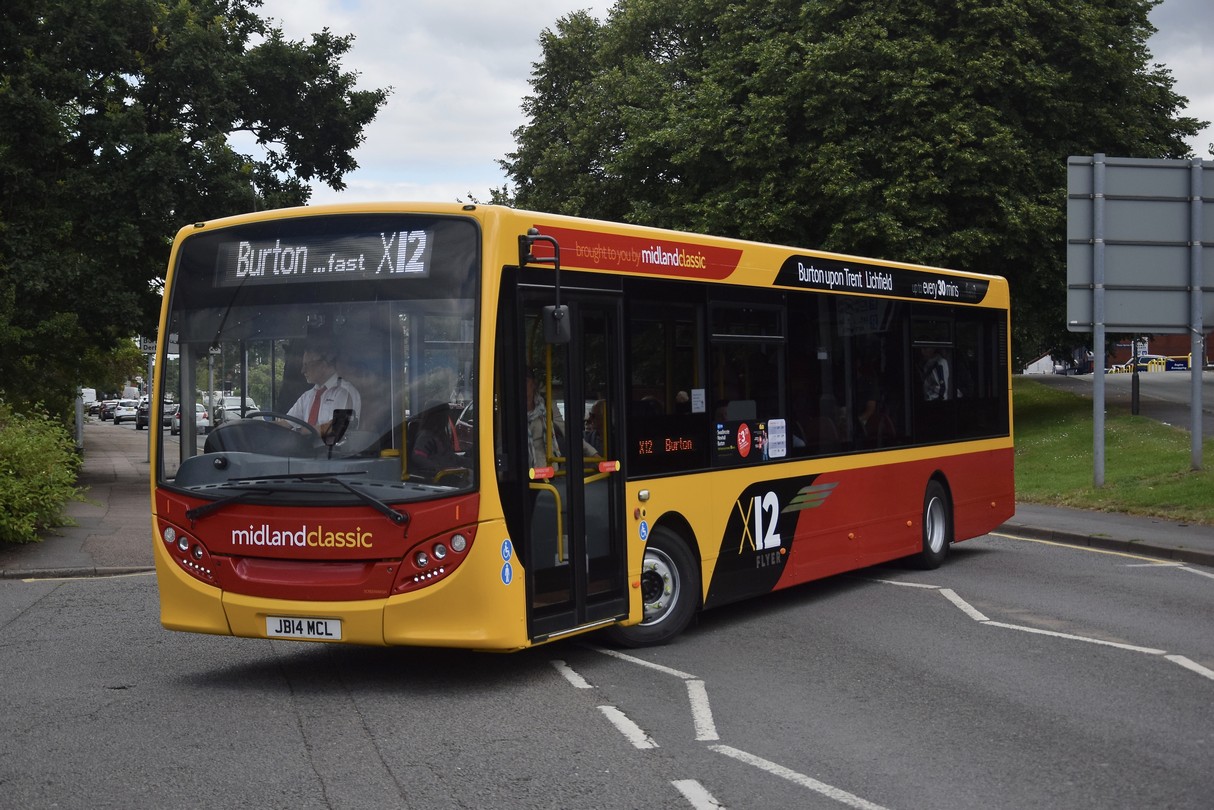 Number 1 (JB14 MCL) now carries the new X12 livery. The yellow is a different shade to the standard fleet livery, very similar or the same a trent barton villager yellow.
(C) Geoff Girling



1st June 2019
Scania 88 (YL51 ZUD) has been withdrawn.

23rd April 2019
Mercedes Strata Minibus demonstrator is on loan here for around a week. It arrived last week in the form of 217 (LK68 ZTC) and has been used on several different routes so that its suitability can be judged.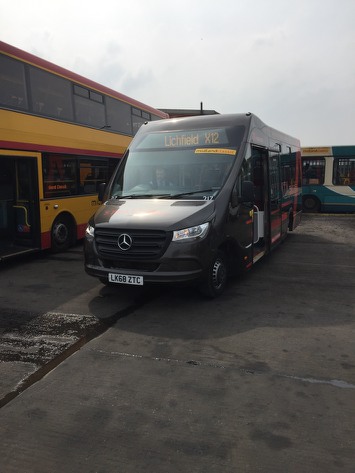 Mercedes Strata demonstrator (LK68 ZTC) saw use with Midland Classic during April.
(C) Keith West

Spectra 41 (R2 NEG) has been sold to Mike James, dealer along with DAF Geminis 42, 43, 45, 46, 47, and 48.

Solo 29 (YN03 ZXC) is now in use.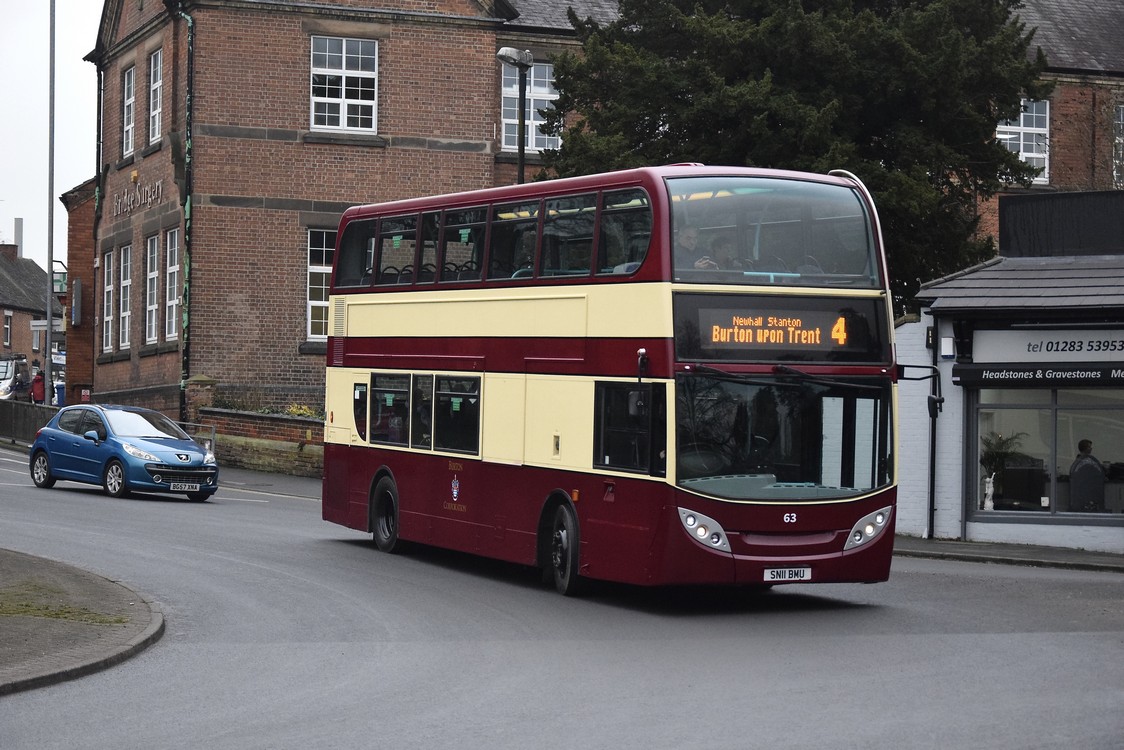 E400 63 now carries Burton Corporation livery.
(C) Geoff Girling



24th January 2019
Gemini 44 (caught fire last summer) and Commander 114 were towed away for scrap on Tuesday.

22nd January 2019
E400 63 (SN11 BMU) has been repainted in Burton Corporation livery. It should be on the road soon.

The other 6 E400s are now in use:
64 (SN11 BMV),
65 (SN11 BMZ),
66 (SN11 BNA),
67 (SN11 BND),
68 (SN11 BNE),
69 (SN11 BNL).

111 has now gone for scrap. This leaves 114 on site and 107 which is in use as a store shed.

4th December 2018
New additions to the fleet are E400s 64 (SN11 BMV), and 67 (SN11 BND), both of which carry fleet livery. 64 entered service today. 214 (SN11 BMU) is set to be renumbered as 63 following repaint. More from the same batch are also likely join the fleet soon.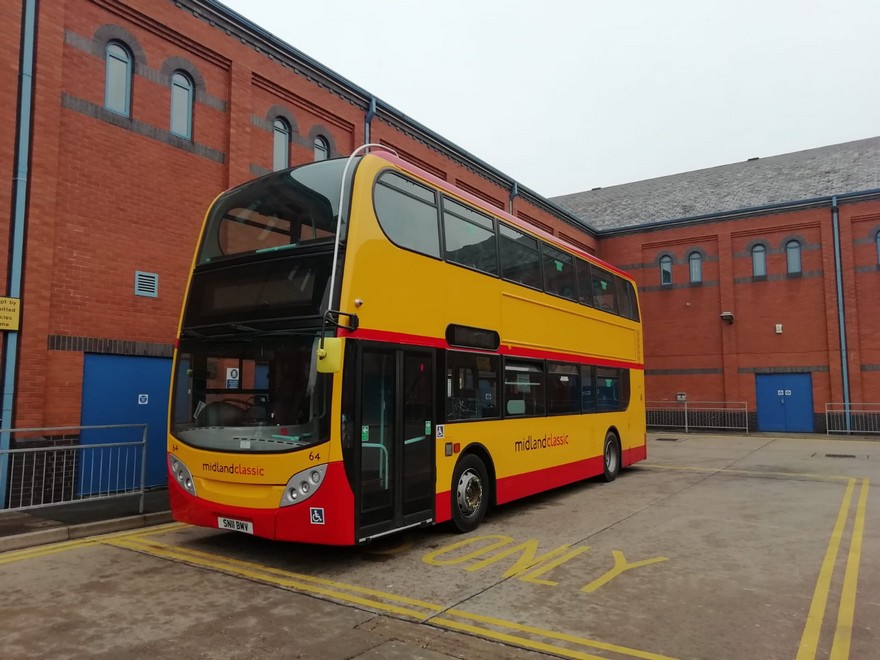 A new addition to the fleet is former Tower Transit ADL E400 64 (SN11 BMV).
(C) J Curtis



Former Lothian Dennis Trident, Plaxton President 216 (SK52 OGV) is in use here still in Lothian livery. Extra vehicles are needed at present to work the seasonal Boots contracts. 215 (PJ02 RBZ) also remains in use.


---
---
Nottingham buses
6th April 2016
---
---
---
Skills, Nottingham


NEWS
18th July 2019

2 new MCV bodied Volvo B11R coaches are here as (BV19 LNF/G). Both have entered service in plain white. 2 Neoplans (MF11 LVJ/K), in use here as (SIL 7024/5) have left the fleet in part exchange. Another MCV is due for Skills and 5 for Silverdale later in the year.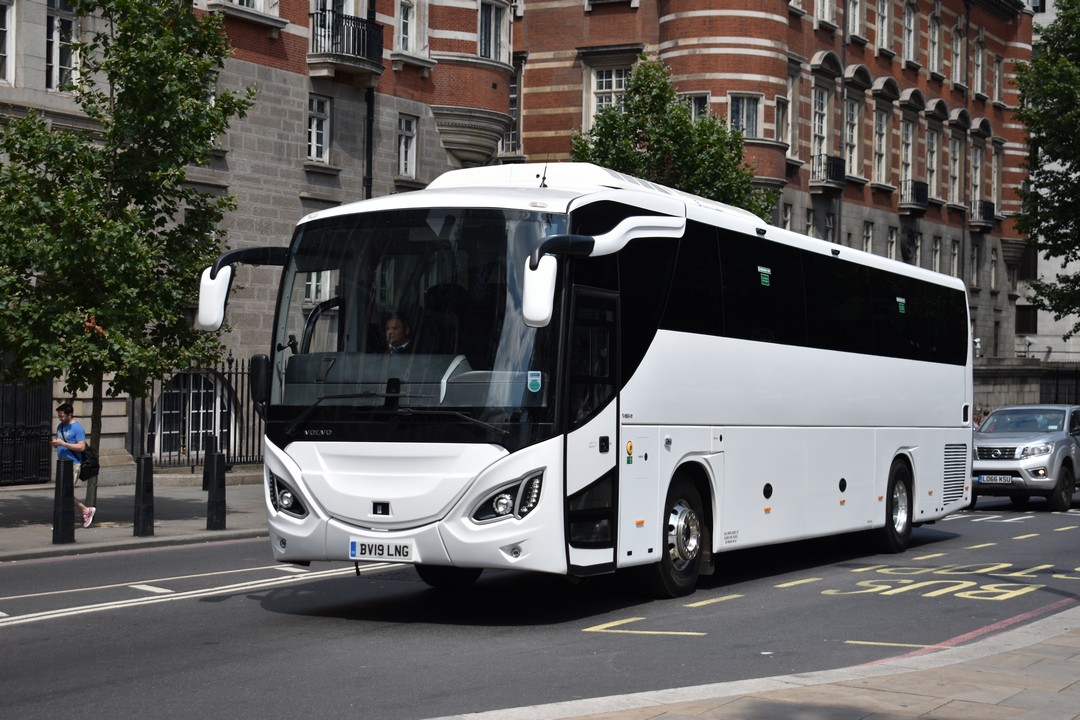 Skills brand new MCV521 Volvo B11R is seen here on Victoria Embankment.
(C) Calum Maclennan

30th June 2019

2 new Levante 3s are here as (BV19 XPO/P), with a third expected soon.

Van Hool coach (YD14 GDU) has arrived here, has been repainted and now carries registration (N1 SMC).

Former (N1 SMC) has been registered (UJI 6312).

New Tourismos here are (BV19 YJC/D). Both have been painted. (BV19 YCA/B) are in plain white at Silverdale. (SFZ 5770/1) reverted to registrations (YT11 LPJ/K) before going to Evobus in part exchange. The private plates will go on the ex Lothian Tridents.

Olympian (M421 UKN) is another to go to freeway, joining 418/9/20.

S451 is now in Norfolk in use as a fruit picker and W301 to an operator in Staffordshire.

Ex Lothian Tridents here are:
(SN04 ABV), now (SIL 7025) - still in Lothian livery.
(SN04 ABX), now (SIL 6434),
(SN04 ABZ),
(SN04 ACV), now (SIL 6435),
(SN04 ACU), now (SIL 7024),
(SN04 ACY), now (SIL 7032),
(SN04 ADX),
(SN04 AEA), now (SFZ 5771)
(SN04 AEK), now (SIL 9126),
(SN04 AEL).

Olympians (M218/9/20 UKN) are now with Freeway.

(KJZ 8508) has reverted back to (FJ04 SNX) has been sold for export. Trident (SN04 AEL) will be an 82 seater and fully DDA as back up for (SN17 MVV).

(M419/21 UKN) and (S451 ATV) have been sold. (W301 MKY) thought to have gone. (W302/3 MKY) remain in use.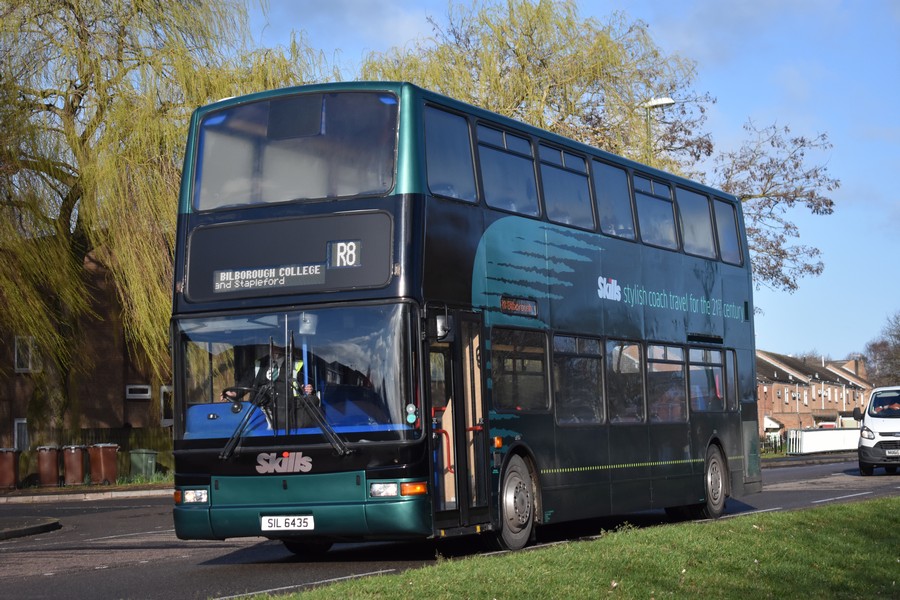 Former Lothian Trident (SIL 6435), formerly (SN04 ACV).
(C) Calum Maclennan

7th March 2019
Former Lothian Tridents from Ensign so far are:

(SN04 ACV) , now (SIL 6435).
(SN04 ABX) will be (SIL 6434).
All will get SIL plates in time as the Neoplans are sold.

(SN04 ACY) has entered service this week, with (SN04 AEK) following soon (currently being painted).

(V304 EAK) has gone to Ensign, (W302 MKY) is going on Monday, followed by (W301 MKY) then (W303 MKY).

18th Febraury 2019
Former Lothian (SN04 ABX/CV) are now in service. (SN04 ACY) is being painted, and should be out next week. 4 more are expected to arrive from Ensign this week.

30th Janaury 2019
5 Volvo coaches are on order, 3 for Skills and 2 for Silverdale.
4 63 seat Scania coaches are also on order, 2 for Skills, 2 for Silverdale. Some Neoplans and 2 63 seaters are leaving in part exchange.

Many of the deckers are now for sale, many can be found on ebay being sold by Odyssey coach sales.
Olympian (W752 DOE), Volvo B7 (SFZ 5768/9), (GX55 NHY) and Tridents (SN53 EUX/Z) plus E400 (SN17 MVV) will be the remaining deckers. All of these are expected to be painted into fleet livery.

New Levantes 3s (the good looking ones!) are expected later in the year to replace the 61 plate Levantes. These are thought to have Volvo engines.

22nd Janaury 2019

10, 04 plate former Lothian Tridents have been acquired via Ensign. All are 88 seaters and will be seatbelted. Former Lothian 679 (SN04 ACV) and 681 (SN04 ACY) are at Nottingham but not yet painted. A third has been repainted into livery but is away having seatbelts fitted.
---
---
TM Travel


NEWS:
See Wellglade section.
---
---
---
The Wellglade group
trent barton, kinchbus, notts+derby and T M Travel.

NEWS
8th July 2019
Solo 475 now carries notts and derby livery, and is usually allocated to the 71/72 Belper routes alongside repainted 455.

491 now carries trent barton red livery and is based at Derby. Any red Solo is now allocated to little sixes at Matlock.

467 is expected to be painted for the Connect service, to operate the new C1 and C2 routes, which will operate alongside the existing services later in July.

18th June 2019
679 is back in use at Derby.

654 on loan to notts+derby.

4th June 2019
660 now carries notts and derby livery.

Scanias 675/9 are now withdrawn at Derby.

The refurbished Swift Volvos are now in use.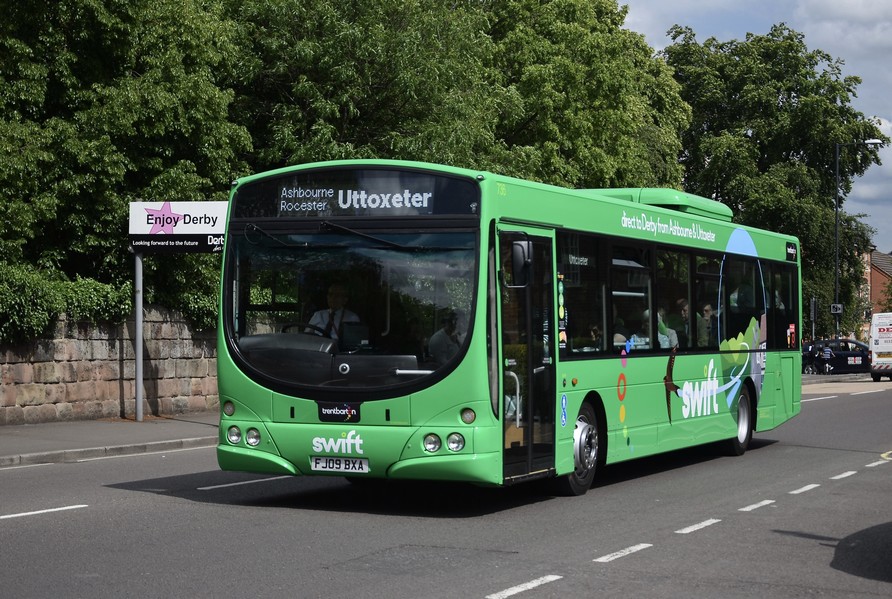 . Refurbished 736 seen on its way to Uttoxeter. .
(C) Geoff Girling



The following are now in Looms, Spondon (scrapyard):
Notts and Derby: Scania 621, Solo 441, Scania Decker 43.
Trent: Solos 429, 439, 440, 445, 448.

5th May 2019
Former Villager Scanias 657, 559 and 661 now carry sixes livery ready for the increased frequency and PVR for those routes from later this month.

25th April 2019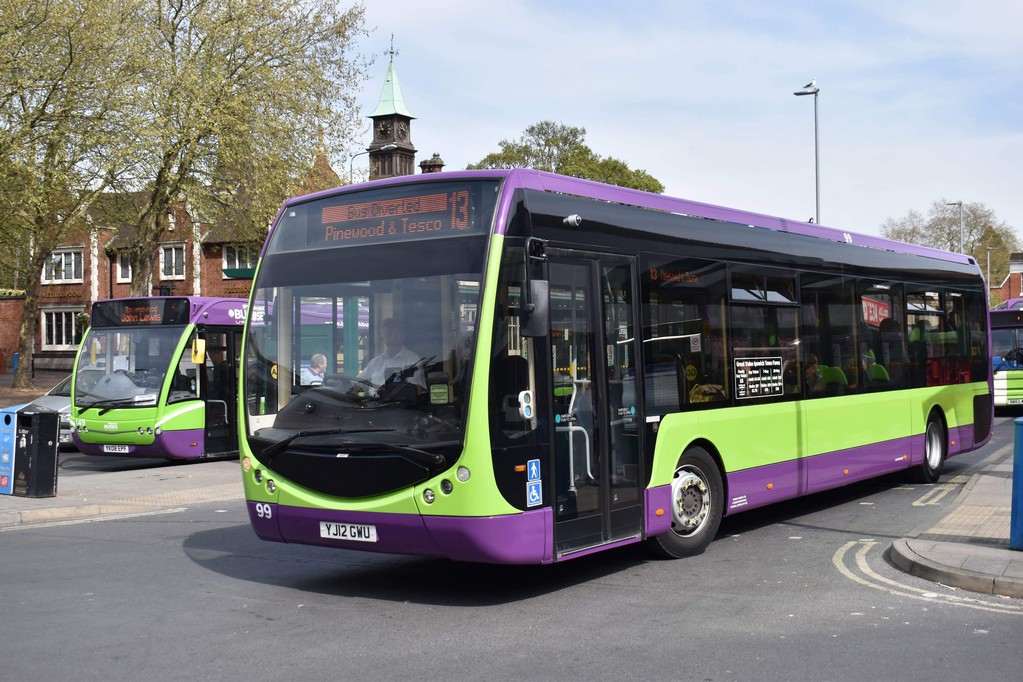 . Former trent barton i4 Tempo SR (JY12 GWU) is seen here with its new operator, Ipswich buses. The others from the same batch are also part of the same fleet.
(C) Ash Hammond

3 additional Scanias will be refurbished as additional buses for the sixes routes, which will operate to an increased frequency from the end of May. The same date will also the Sevens route switch to notts and derby. Mango cards will still be accepted on these routes, but will not count towards daily caps, and other trent tickets such as zig zags will not be sold or accepted.

Swift will be relaunched with its refurbished buses at the end of May.

Plaxton Javelin 1203 (YN09 AOS) transfered from TM Travel some time ago. It is now numbered 65 with notts+derby and reregistered as (YRC 182).

Coaches 60 and 62 have left the fleet being sold earlier this year. 62 reverted to its original registration (R62 RAU) prior to this. They have since been for sale on ebay (in March), located in Shrewsbury.

Solo 448 is in Looms, Spondon (scrap yard) alongside another red Solo.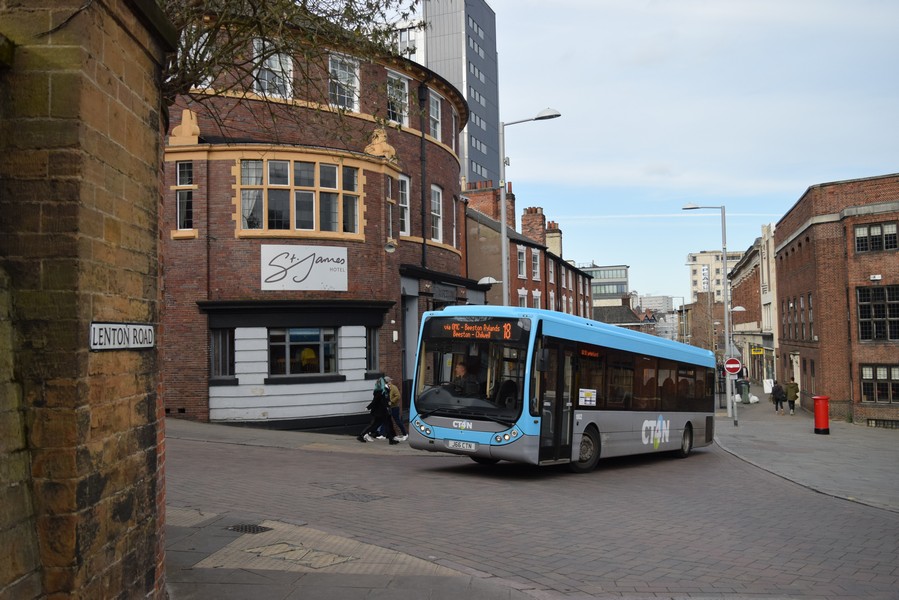 Due to the closure of Derby road following a traffic incident, CT4N Optare Tempo 1002 (J66CTN) is seen here turning into Standard Hill from Friar Lane in Nottingham on its way to Beeston. Ex Trent Barton 311 (YJ07 VFS). .
(C) DBD

5th April 2019
Former Villager Scania 660 is now in use with notts+derby replacing 621 which has been withdrawn.

Trent Scanias 605/6 have been on loan to Kinchbus for the last few weeks.

601 and 604 remain in service with TM Travel, not withdrawn as reported last month.

May will see changes to the sixes services. 3 extra buses will be required and are thought to be 3 former Villager Scanias. The Sevens are set to transfer to notts+derby from the same date.

7th March 2019
605 was back in service, based at Nottingham earlier this week after being withdrawn last month.

Route 218 branded Scanias 601 and 604 are now withdrawn at TM Travel. PVR down by 2 following the withdrawal of the Spira route last week.

Volvo 715 is now in Mango livery, based at Langley Mill.

18th February 2019
715 now carries Mango livery, based at Langley Mill.

Red Scanias 605 and 682 have been withdrawn.

All 13 former i4 Tempos have been sold to Ipswich buses.

Dart MPD 950 is now with Red Eagle, Aylesbury.

27th January 2019

Kinch Scania 651 now carries standard Kinchbus livery.

Mango liveried 714 is now at Derby, joining 712 and 716.

701-5 now in use on Villager, and 706-11 on the Calverton both sets replacing branded Scanias. 701/2/5 were out on the Village on Sunday.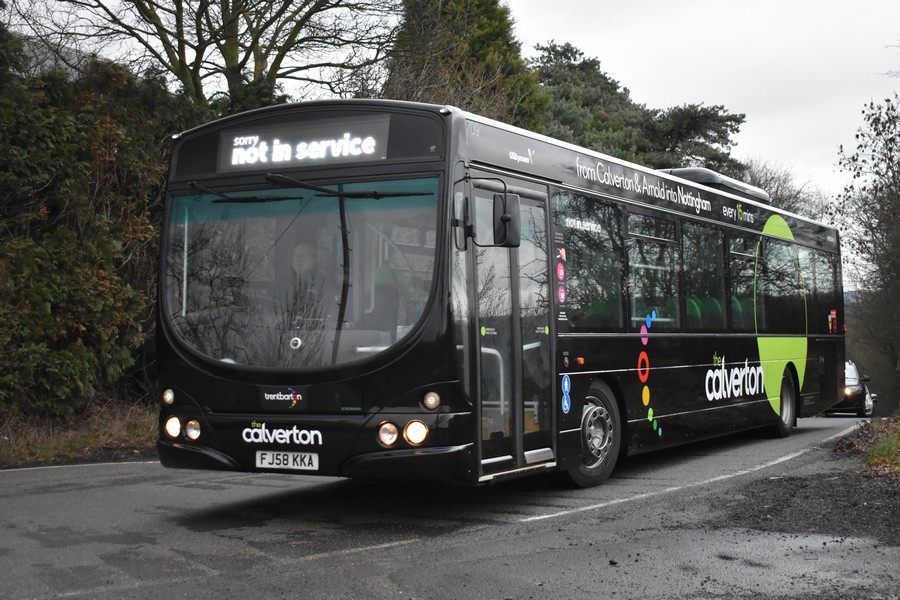 709 is seen here after climbing Georges Hill, Calverton.
(C) Calum Maclennan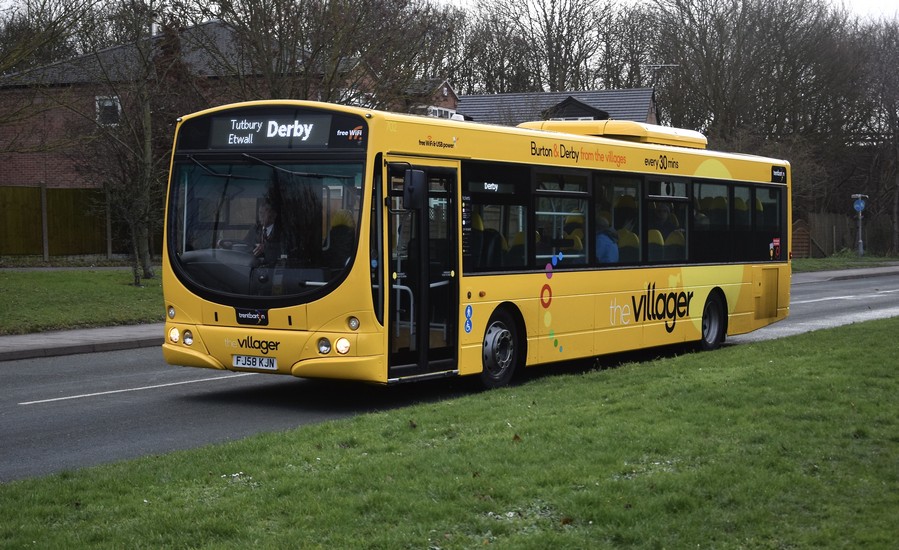 Former indigo Volvo 702 has been refurbished for the Villager route. It is seen here passing through Stretton on its first day in service on the Villager.
(C) G Girling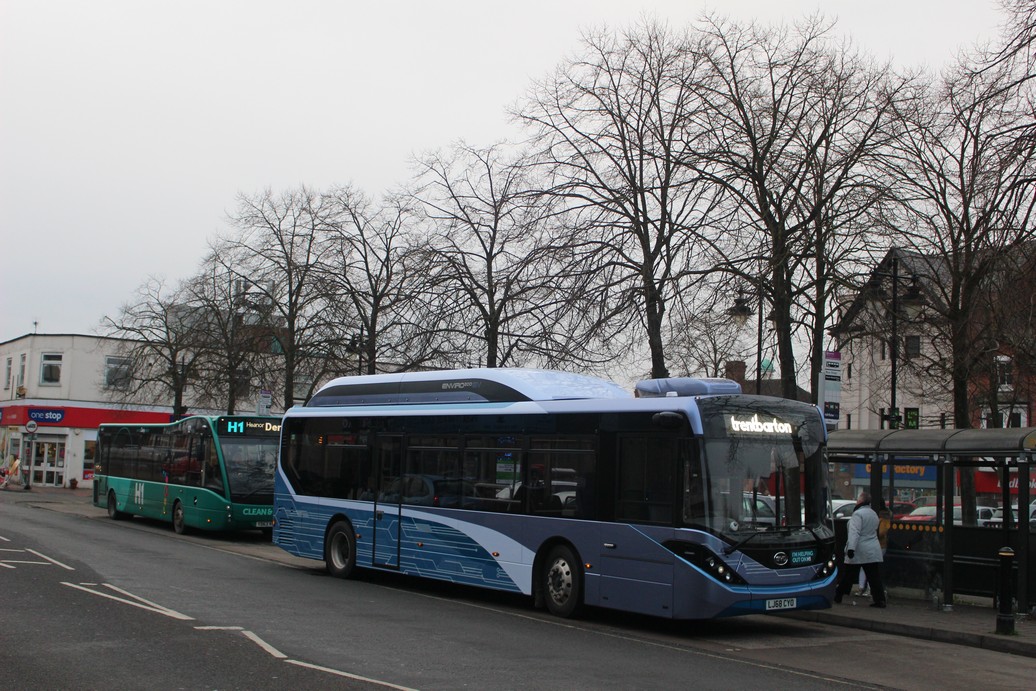 Demo vehicle (LJ68 CYO) was on loan for a couple of days earlier this month. It is seen here in Heanor "helping out on H1". This tended to see the vehicle running as a dupe, offering free rides for all, just in front of the normal service, coincidentally around the same time as the Y1.
(C) Dan Stone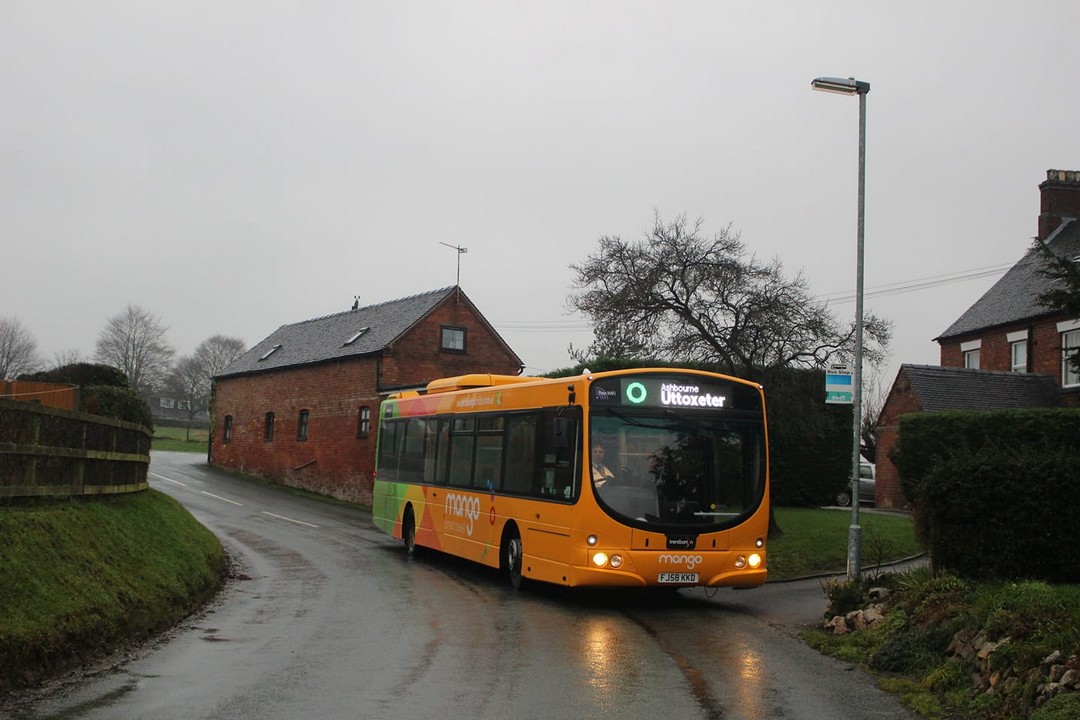 Former Indigo Volvo. 712 is now in use at Derby. It is seen here at Denstone Corner on a Swift departure to Uttoxeter on 19th January 2019.
(C) Dan Stone

The Villager and Calverton Volvos are expected to enter service on Sunday.

716 now carries Mango livery joining 712 at Derby.

713/4 also reported in Mango livery at Langley Mill (not in use). It seems likely 715 will also carry this livery, and are likely to replace red Scanias long term. Short term the ones at Derby are in use at Derby whilst the Swift Volvos are refurbished.

Blue Citaro demo (BT66 TZE) is back in use at Kinch. Scanias 623 and 624 have gone to Looms, Spondon for scrap.

BYD Electric Enviro 200 MCC (LJ68CYO) has been on loan to trent barton. It has been used on duplicate journeys on the H1 route over the last two days, but is not expected to see any further use here.

Volvo 712 now carries Mango livery and is based at Derby. Two more former indigo Volvos are set to join the Derby fleet soon, also in Mango livery. Swift Volvo 737 is at Langley Mill for refurbishment.

Former i4 Metrocity 99 (YJ16 DAA) is now in use with Flexibus, West Mids.

3rd December 2018

TM Travel Scania 613 now has an allover advert for Motorpoint.

Volvos are set to replace the branded Scanias on the Villager and Calverton routes very soon.




---
---
Vallances
NEWS
-

---
Yourbus, Nottingham
NEWS
19h July 2019
At least two (3107/8) of the 64 plate Citaros have been painted blue ready for their move to Diamond North Wests Bolton garage where they are set to take over the First bus operations.

A bit of confusion around the Tourismos. I understand 5101 now carries registration (BF68 ZHV) although it appeared to be (BF68 ZFW) when new.
Two more Tourismos reported are (BA19 OXH) and (BA19 OXJ) - not sure of fleet numbers.

30th January 2019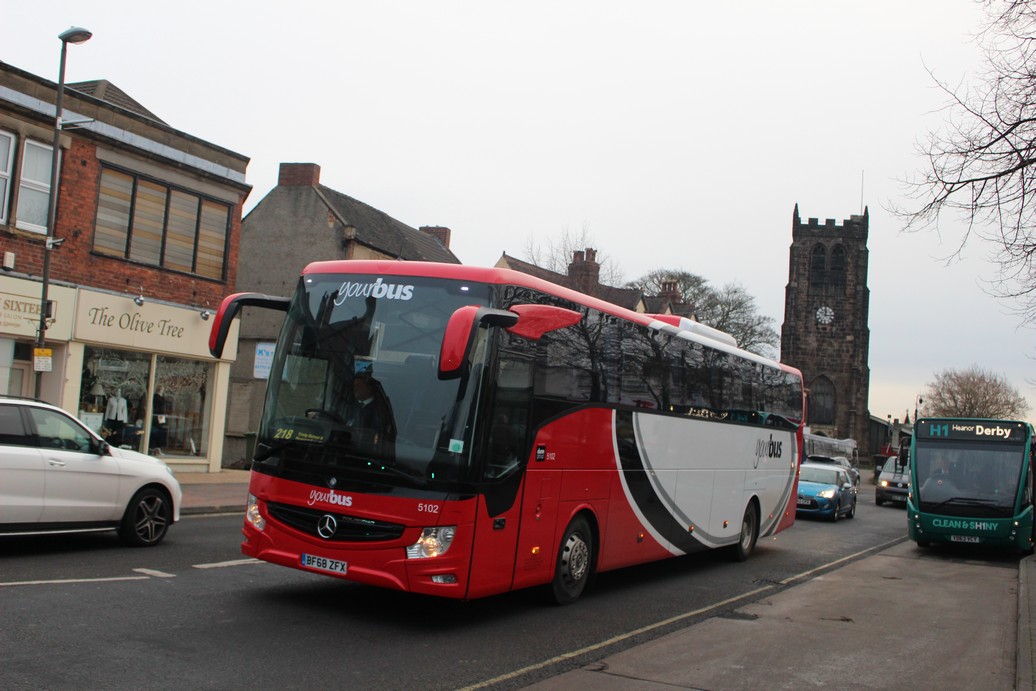 brand new Tourismo 5102 is seen here passing through Heanor.
(C) Dan Stone

Update on the brand new Tourismo coaches:

5101 (BF68 ZFW) in livery.
5102 (BF68 ZFX). in livery.
5103 (BF68 ZFY). White.
5104 (BF68 ZFZ)??
5105 (BF68 ZGA). in livery.
5106?(BF68 ZGB).
5107? (BF68 ZGC).

Citaros 3023, 3027 and 3028 have gone to Evobus.

8th November 2018
1802 has been renumbered 100, and wears a special livery to mark 100 years since the end of WW1.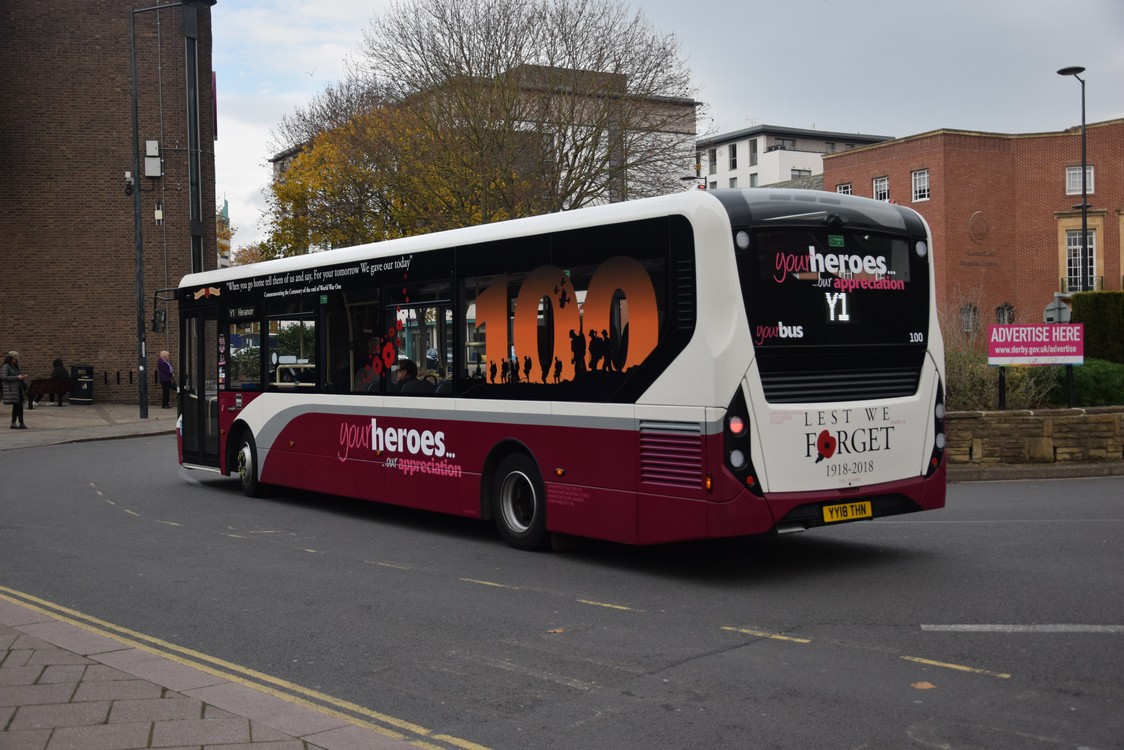 100 carries a special livery to mark 100 years since the end of WW1.
(C) G Girling



26th October 2018
A new addition to the coach fleet is brand new Mercedes Tourismo 5103 (BF68 ZFY). More may follow. Currently in all over white it is set to carry a new livery soon.
Coach 5101 is being painted.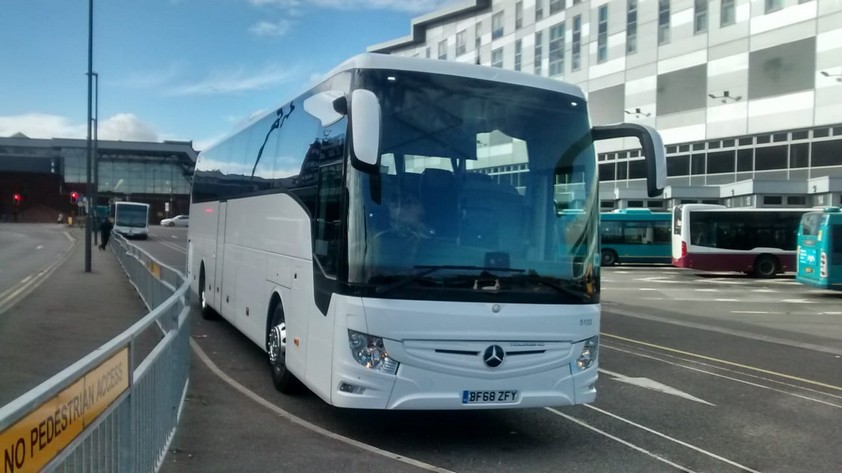 Brand new Mercedes Tourismo coach 5103 (BF68 ZFY).
(C) Adrian Healey
---
---
Last Months News

News Index Page
---