Bus Fleet News
January 2017
---
Happy New Year.

Many thanks to all who have contributed news and photos to the website. Without this the site would not be possible.
---
Latest News
---
Here you will find all the latest bus fleet news for many bus operators in and around the Derbyshire area. If you have anything to report please contact me by clicking here.
---
---
NEWS
15th October
Former NCT Excels (Y546 DTO) and (FD02 SFK) have arrived here from Go Goodwins.


---
---
NEWS
26th January
Former Derby Citybus 153 (E153 BTO) has been preserved by Andy Gadsby a member of the Bromley bus preservation group . The bus has been in use with Dews for some years since leaving Arriva Derby. It was the last Citybus delivered new to Derby and the last to be delivered in the blue and grey livery. It later carried an experimental two tone blue livery, the yellow with red and blue stripe city rider livery and Arriva livery before being painted yellow by Arriva for use as a dedicated school bus. Interestingly, at the time this vehicle was repainted yellow many of the B reg Marshall bodied retained Arriva livery and continued in all day service. Unfortunately 135, the last "Derby" Citybus to see service with Arriva was scrapped. 137 remains in use in Cornwall as a mobile bus cafe: Bus Fayre.

Back to the present and Arriva are currently facing competition from Yourbus who are currently competing with them on routes 20 and 26 in Chaddesden and Oakwood. Next month will see Yourbus going to Alvaston again competing with Arriva on services 1 and 1A. In response Arriva are reducing fares for day, week and monthly tickets across the whole of the Derby area. They are also introducing a new F1 "fast one" service between Derby and Alvaston via Pride Park, the same route as the new Yourbus services. However, although Yourbus commence operation on 12th February the Arriva "fast one" doesn't have its first departure until early March.

4 route branded VDL/Wrights are thought to be introduced to the fleet for the fast one.

Gemini 4217 is now based at Derby.

Gemini 4222 has been repainted. Much of the fleet is expected to be repainted and refurbished in 2017.

9th December
3557 and 3559 now carry the new connecting Derby livery.

The Cadets and ALX deckers that were in use here have now been withdrawn.

15th November
4 Omnicitys now carry the new revised "Derby" livery. 3552/3/4 and 3558. Arriva have also reduced fares on the 20/26 ahead of new Yourbus services which start operating next week. Day ticket £4, weekly tickets are now £12 instead of £17 and monthly £40 instead of £60. The fares are for the newly created Chaddesden and Oakwood fare zone only (routes 20/22/24/26).

20th October
Omnicity 3552 now carries "MAX" style Arriva livery (dark front lighter towards rear) with connecting Derby branding.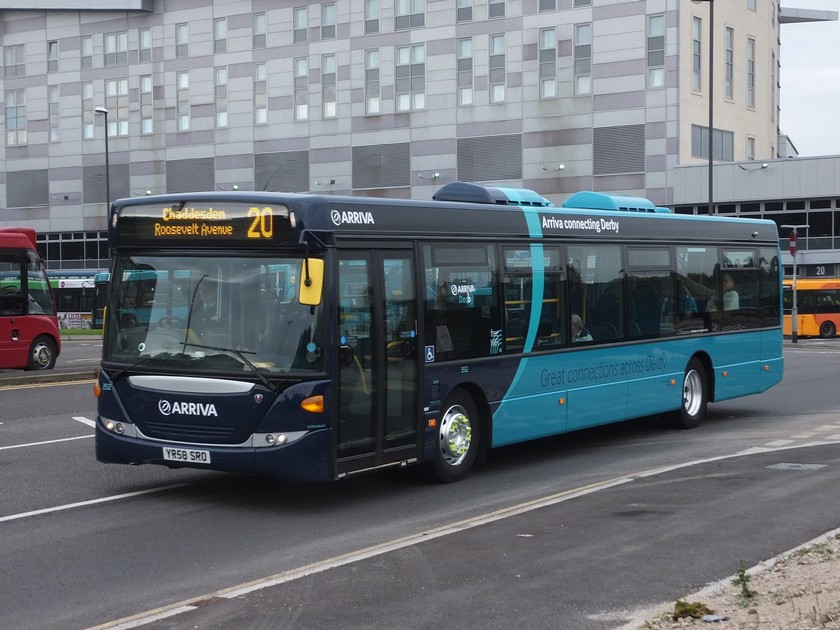 Omnicity 3552 is the first to be painted in the "max" style livery in Derby. These buses are being repainted and refurbished for the Chaddesden and Oakwood services which will see competition from Yourbus later in November.
(C) Guy



The two Centros in use are numbered 5996/7 (not 5596/7 as previously stated on this page).


---
---
NEWS
-
---
---
NEWS
4th October
Solos (MX08 DGE/V) have been in use here in white, ex Holmeswood. Solo 392 (VU02 TSX) is another addition to the fleet. The vehicles arrived during the summer, at short notice due to taking on extra services following the collapse of GHA.
---
---
NEWS & Sightings
---
---
NEWS
-
---
---
G&J Holmes


NEWS
4th October
New here is (YN66 ENM) a Mercedes 921L minibus with a Turas 900 body.

---
---
Glovers of Ashbourne

NEWS
---
---
Harpurs Coaches


NEWS

9th December
A second Setra to join the fleet is (NH09 SRH).

15th November
Former National holidays Setra (NH09 HRH) has joined the fleet. A 2nd Setra should have also now arrived. Whilst the NH registration was intended for "national holidays" it is also fitting for its new operator.

4th July
Metrobus (C373 BUV) has been sold to Watts, Leicester in running order for further use / spares. It left on 18th June.


---
---
Hawkes Coaches

NEWS
---
---
Hulleys of Baslow

NEWS + SIGHTINGS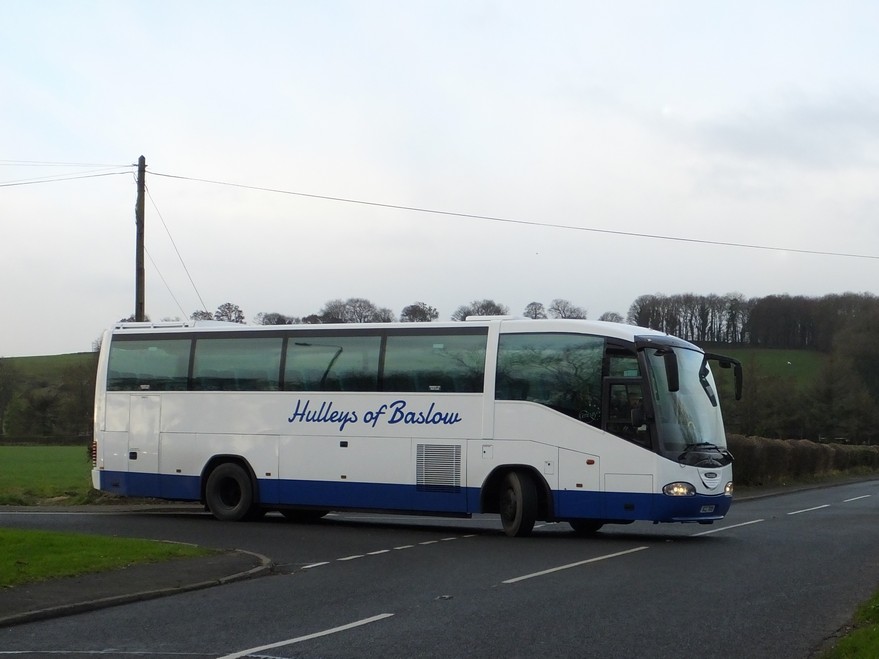 Scania Irizar (SCZ 7901).
(C) Ian Moorcroft

9th December
Volvo B7/Plaxton coach (MX04 AAE) has been sold to Moseley (dealer) in part exchange for Scania Irizar (SCZ 7901) which entered service on 25th November 2016 as the new number 8.

The end of October saw E200 (MX62 GYC) returned to Mistral (dealer). Redferns Volvo Olympian (L829 BKK) remains on loan.

4th October
New here as number 7 is Enviro 200 (YX09 HZJ), B37F seating. The vehicle was new to Veolia and latterly was with Tates of Barnsley. This replaces the enviro 200 whichich was destroyed by fire during the summer.

25th August
White Enviro 200 (MX60 BXA) was destroyed by fire on 22nd August in Old Brampton whilst on the 170.


---
---
Johnson Bros / Redferns

NEWS & SIGHTINGS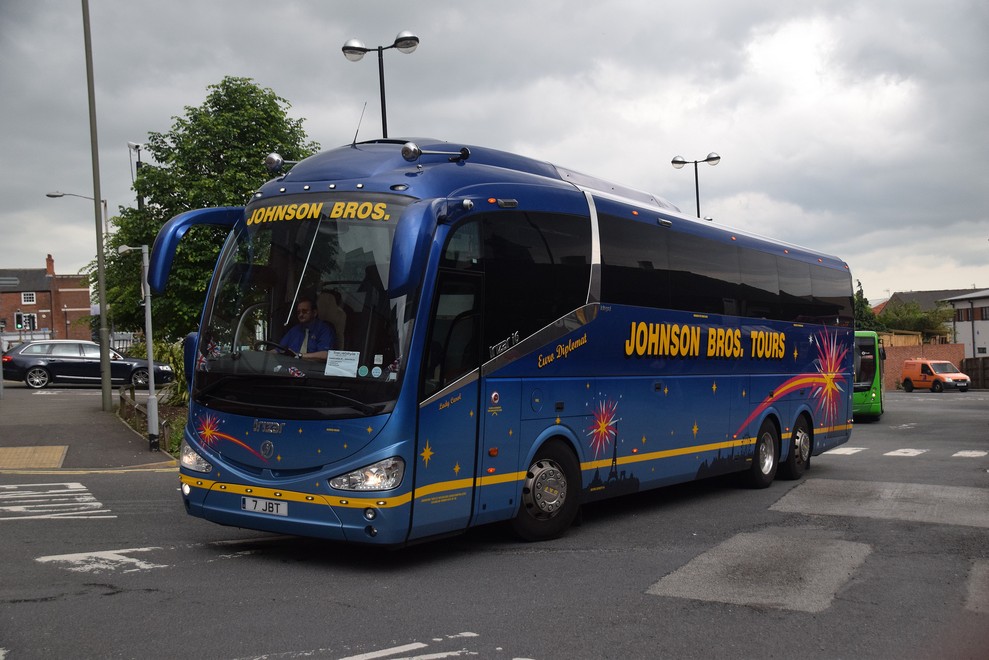 Irizar (7 JBT).
(C) Geoff Girling
---
---
Linburg

NEWS + SIGHTINGS

---
---
Littles Travel

NEWS + SIGHTINGS
15th October
REcent arrivals are two East Lancs bodied Volvo B7s from London United. (PG04 WHA) is in Littles livery whilst (PG04 WHB) is in use in red.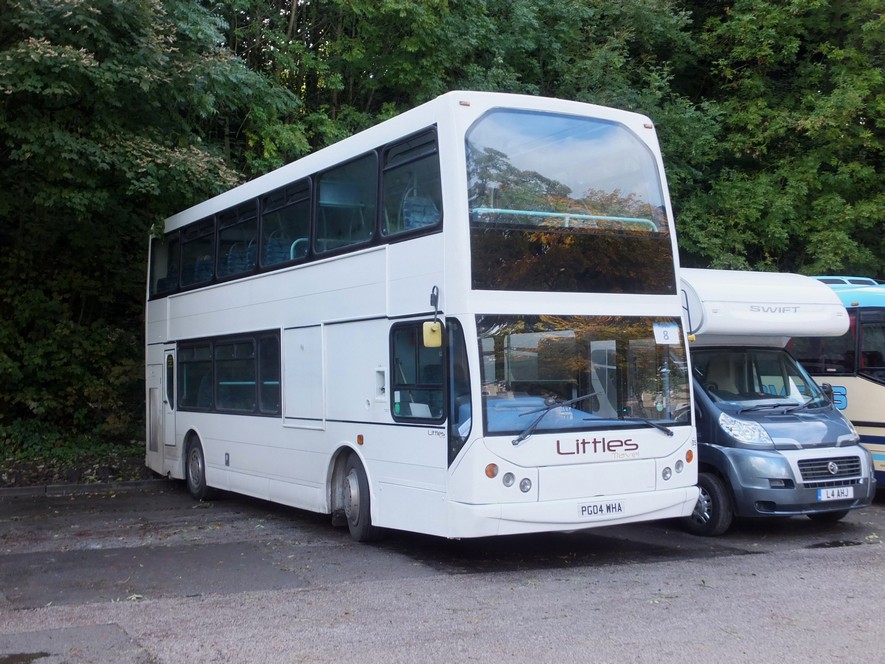 Former London East Lancs Volvo D5 (PG04 WHA) is seen here on layover in Buxton.
(C) Guy



4th October
Former trent barton red arrow Irizar coaches (FN04 BRX), (FN04 BSU/V) are now with Davies, Llanelli.

Similar (FN04 BSZ) is with Pickthall, Rowrah.

20th February
All 8 former Trent Red Arrow Scania / Irizars were purchased. Many have been painted white and are for sale.


---
---
Midland Classic


NEWS

28th January
The Metrocity demonstrator has been returned.
The Spectra is currently on loan to Lynxbus, Kings Lynn, Norfolk. I believe the company also own some former Trent Optare Excels.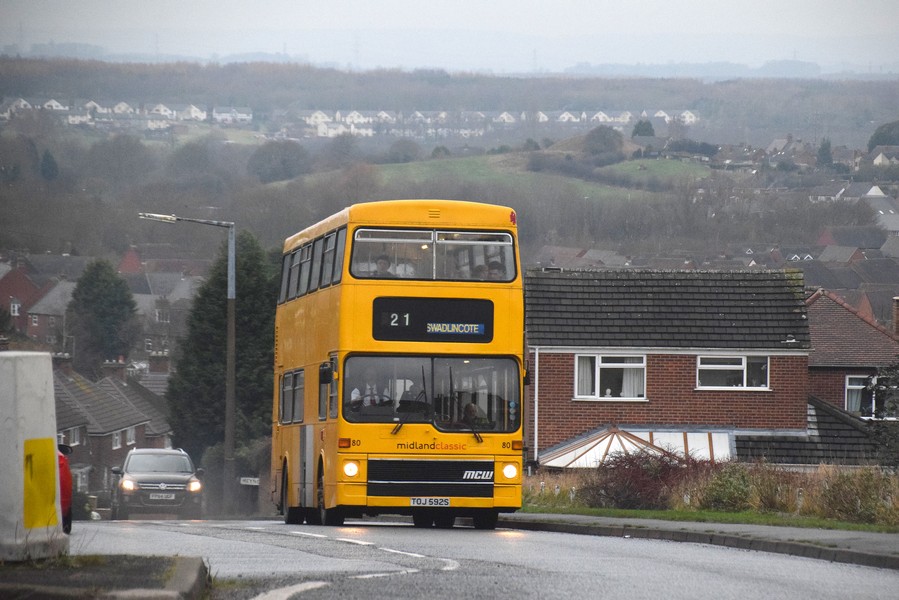 Metrobus (TOJ 592S) on Saturday 31st December 2016 operating route 21. It was joined on the route by the Routemaster and Olympian 96 to mark the last day the vehicles could be used on regular services.
(C) Geoff Girling
---
---
Nottingham buses
6th April 2016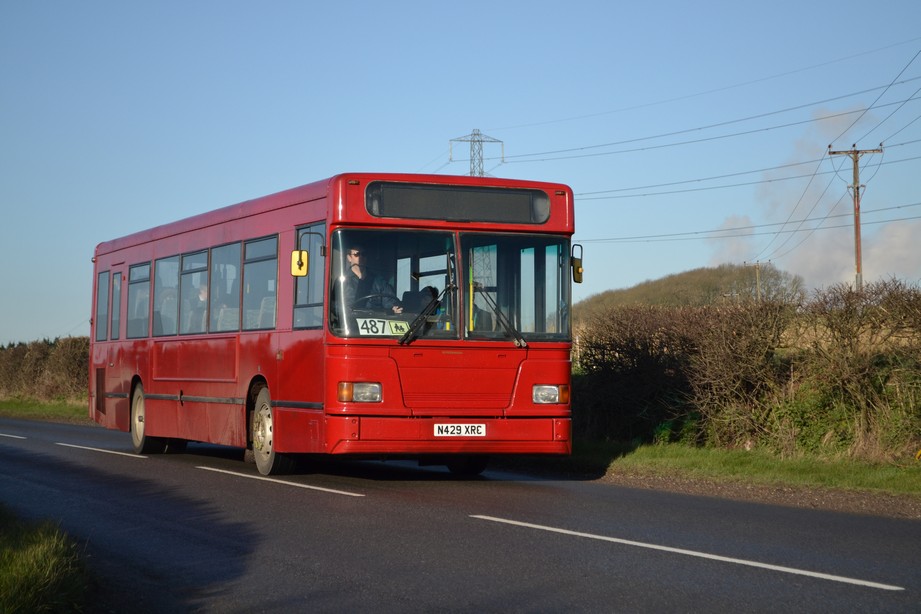 Nottingham buses now operate former Arriva Midlands Scania (N429 XRC). This was in service with Arriva in Telford until late last year, and was based at Derby for many years (new in City Rider livery) .
(C) Calum Maclennan
---
---
---
Skills, Nottingham

NEWS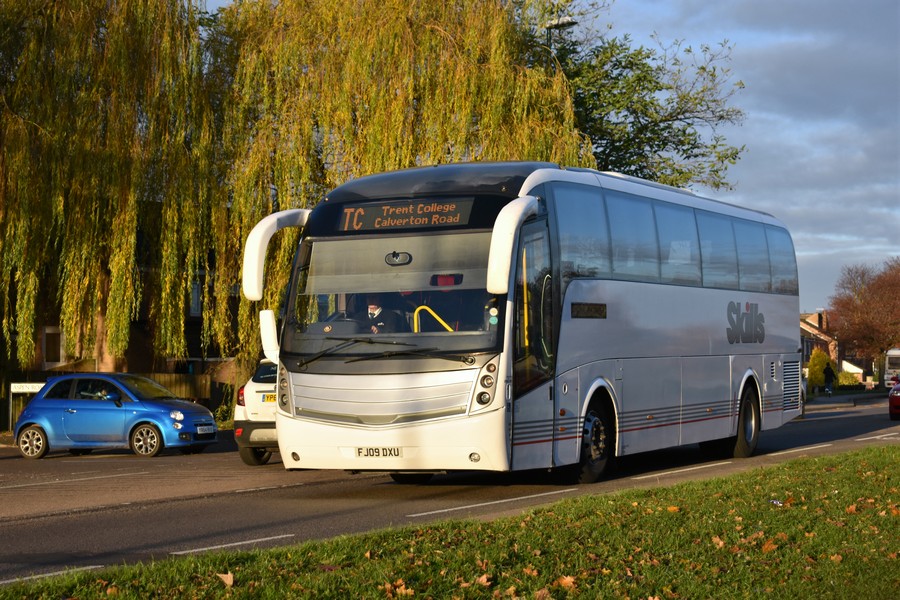 (FJ09 DXU) has moved from the Silverdale NX fleet.
(C) Calum Maclennan

29th January

New tri axle Levantes to arrive for National Express work are:
(BD65 JFG),
(BD65 JFJ),
(BD65 JFK),
(BD65 JFN).


---
---
TM Travel


NEWS:
See Wellglade section.
---
---
---
The Wellglade group
trent barton, kinchbus, notts+derby and T M Travel.

NEWS
27th January
Excel 257 and Coach 56 are both for sale on ebay.

Ex nines Solos 467 and 468 are in use with notts and derby.

White B12M coach 1201 (YN08 NKW) has transfered from TM to notts and derby. It is now 64 and registered (YRC 181). 58, the former (YRC 181) has reverted to (P58 ETO).

Olympian 16 has ended up in France as a non PSV. 26 has been sold to Routemaster buses for further use. It was parked in Midland Classics depot in Burton last week prior to making its southwards journey.

26th January
The Nines E200s entered service earlier this month.

The Zoom service is to be axed in February. Notts and Derby are to operated a replacement service which will also incorporate and replace the X17. The new services will be numbered 12 and 12A. From the same date Trent barton will operate all journeys on the Ilkeston Flyer. Notts and Derby has had one bus on the service since they acquired the former Felix operations.

1st January
718/9/20 are expected to enter service on the Ilkeston Flyer in February.

The new E200s for the nines are:

151 (YX66 WLW),
152 (YX66 WLZ),
153 (YX66 WMA),
154 (YX66 WMC),
155 (YX66 WMD),
156 (YX66 WME),
157 (YX66 WMF),
158 (YX66 WMG),
159 (YX66 WMJ),
160 (YX66 WMK),
161 (YX66 WML),
162 (YX66 WMM),
163 (YX66 WMO),
164 (YX66 WMP).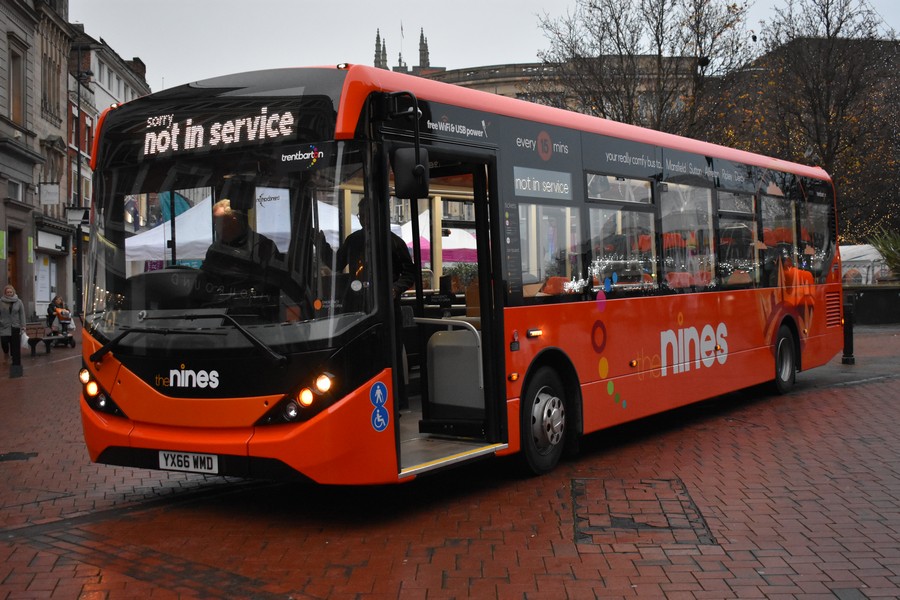 New Nines Enviro (YX66 WMD) on display. The new buses enter service in January.
(C) Calum Maclennan

9th December
The 8 new E200s entered service on the Mickleover today, Friday 9th December. They are:

101 (YX66 WLK),
102 (YX66 WLL),
103 (YX66 WLN),
104 (YX66 WLO),
105 (YX66 WLP),
106 (YX66 WLR),
107 (YX66 WLU),
108 (YX66 WLV).

The Volvo/Wrights the new E200s have replaced are expected to replace the 07 plate Tempos.

Leyland Olmpian 20 has left the fleet after being sold for preservation. It is understood it will be kept at Ruddington.

New E200s for the nines are expected to enter service in the new year.


One of the brand new bright pink Mickleover E200s.
(C) DBD

20th October
Solo SR 506 has moved from Nottingham to Derby.

4th October
Excel 257 is now in use with notts and derby, in trent barton red livery.

26th September
Omnidekka 11 (YN06 JYK) is now with TM Travel as 1178, painted in notts and derby livery. Coach 74 (FJ10 OXP) has moved from TM to notts and derby in its place.

Excel 257 is now at notts and derby.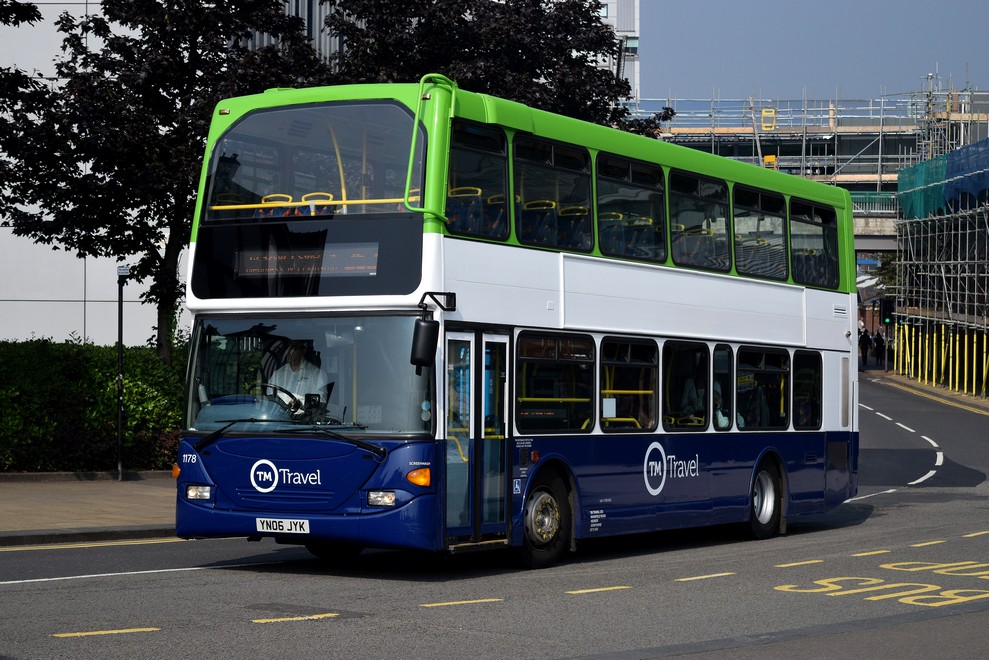 1178 is seen here in Sheffield.
(C) G W Girling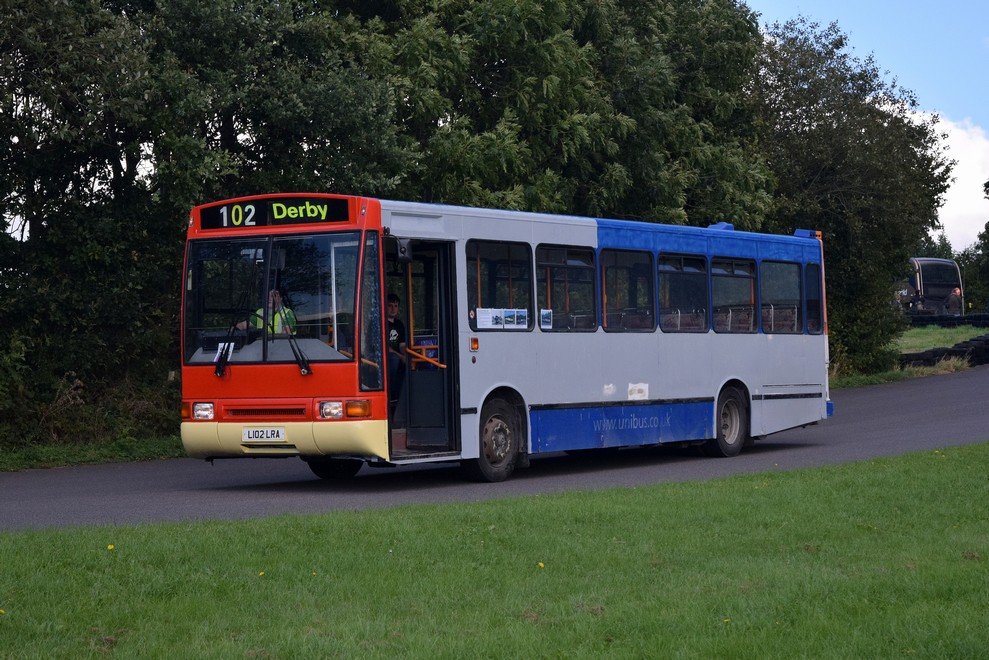 Paladin 102 has now been preserved. Seen here leaving Showbus 2016.
(C) G W Girling



21st August
New ADL Enviro 200 MMCs have been ordered for the Mickleover and Nines from November.

The Nines will have 14 38 seaters, and the the Mickleover 8 42 seaters. All buses will have wifi, leather headrests,LED screens, USB charging and wood effect flooring.

The Centrelink service in Nottingham shall be operated by Nottingham Community Transport from the end of October.

5th July
259 has currently been withdrawn and is expected to be replaced by 257 at notts+derby. 261 remains in use with trent at Sutton, the last excel with trent barton.

Haltham Travel reported to be operating former trent Excels (XIB 1908) (former V202 ENU, laterly with Littles) and (S161 UAL) (ex Belle Vue) in Lincoln.

Excels 263, 266 and Paldin 116 have all ended up at Looms, Spondon, for scrap.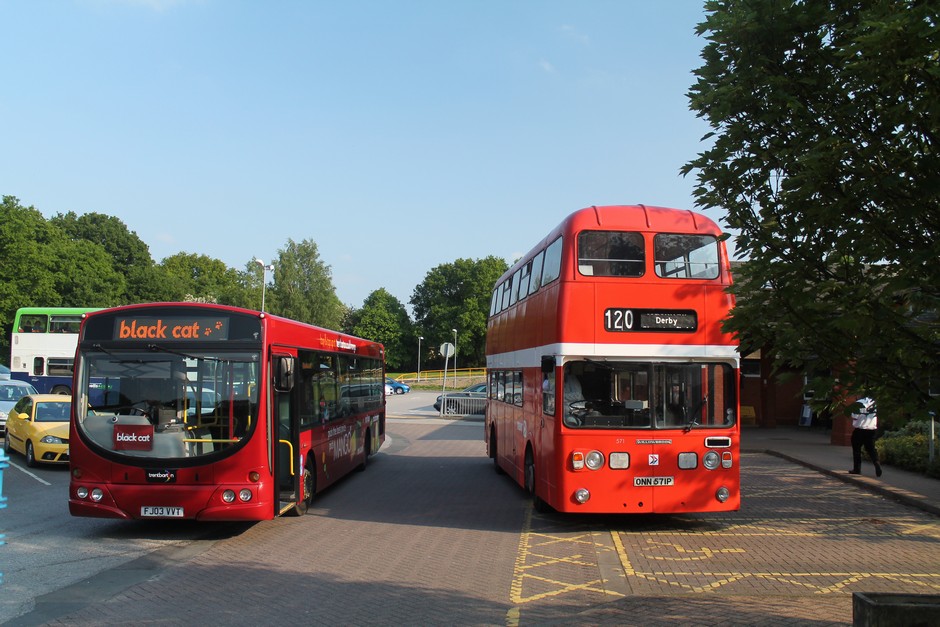 Ilkeston Hospital.
(C) DBD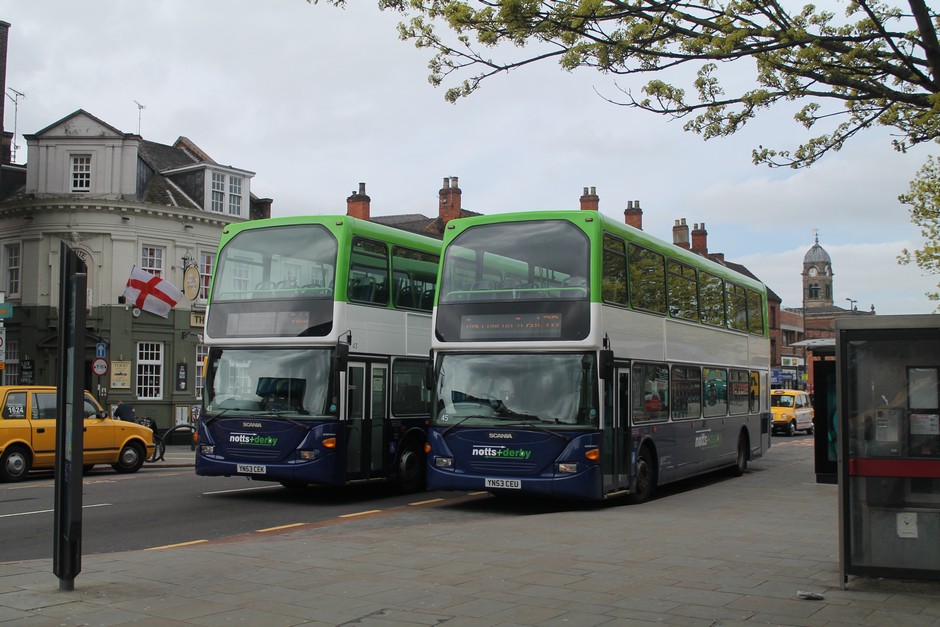 43 and 45, two former NCT Omnidekkas seen here on the Morledge, Derby.
(C) DBD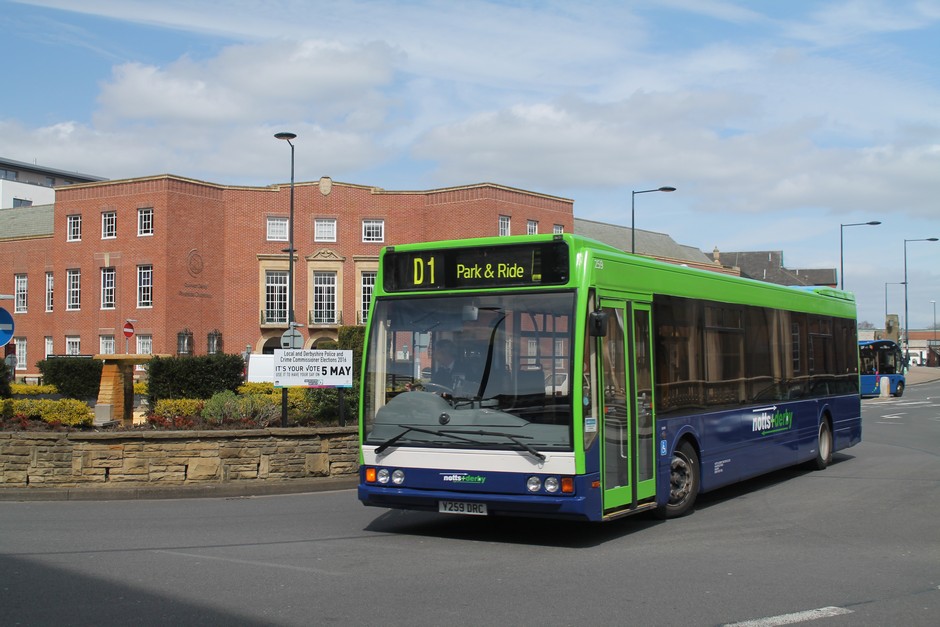 Excel 259 shortly after repaint, on the D1 park and ride in Derby city centre.
(C) DBD
---
---
Vallances
NEWS
-

---
Yourbus, Nottingham
NEWS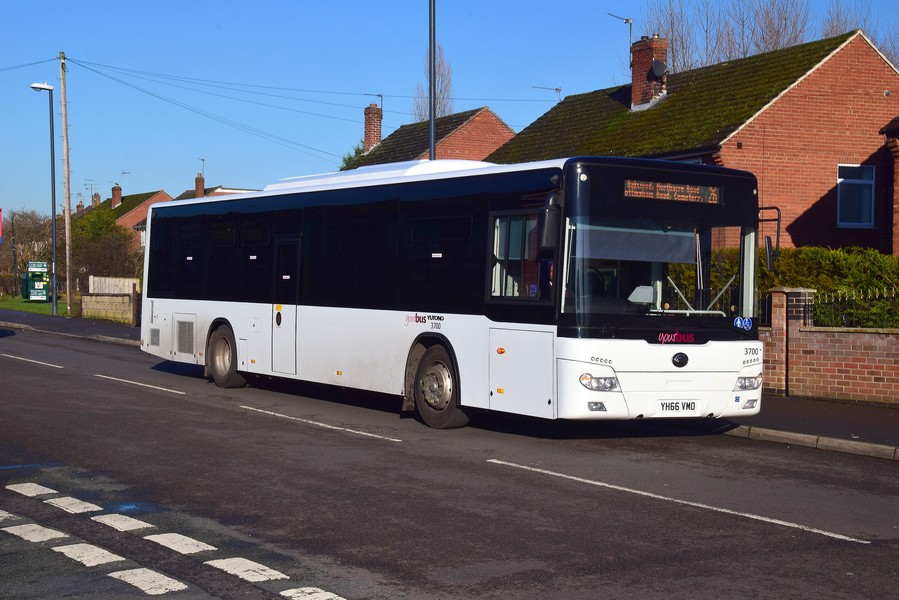 The Yutong demonstrator is currently in use with Yourbus. It is seen here in Chaddesden, Derby.
(C) G W Girling

1st January 2017:
Yutong demo (YH66 VMO) is here.

15th November 2016:
3 white Enviro 200s have arrived here as (SN66 WLL), (SN66 WLO) and (SN66 WLP).

1st December 2015:
Citaros 3002, 3003 and 3009 have gone to Prestonbus.

The 6 dual doored Citaros are back in use here.


---
---
Last Months News

News Index Page
---