Glovers coaches
Moor Farm Road East, Ashbourne
Tel:(01335) 300043
---
Updated 7th January 2014

Glovers coaches is a small operator of buses and coaches in Ashbourne, Derbyshire. Holiday tours, day trips and private hire are all undertaken.

The company is now under the control of Mason Travel of Roston, who the company was sold to due to the retirement of David Glover in April 2003. As a result of this the operating name has changed from Glovers of Ashbourne to Glovers Travel Ltd.

Most buses and coaches are blue and cream with blue Glovers names applied.
---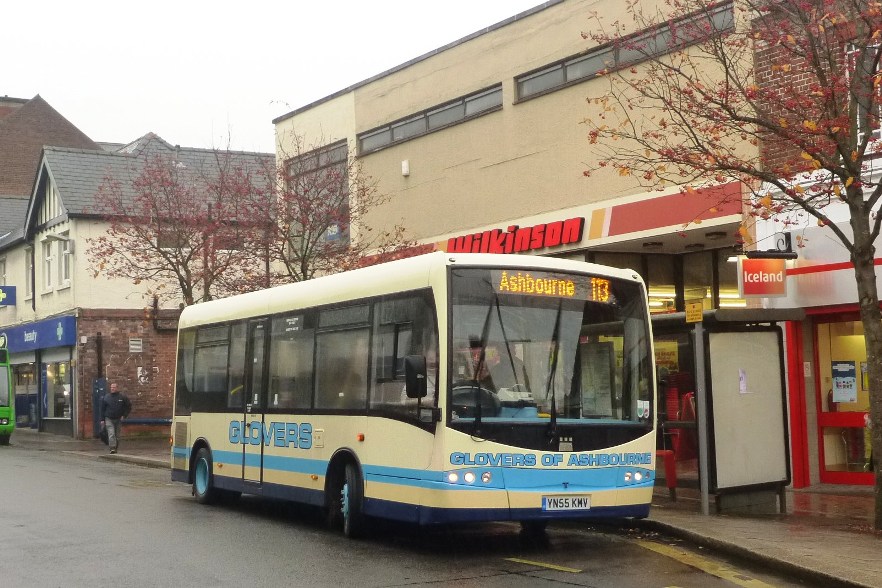 Primi (YN55 KMV) in Belper on route 113 to Ashbourne. The vehicle has now been re-registered as (AIG 4698).
---
REG
BUS TYPE
CHASSIS
LIVERY
OTHER INFO
AIG 3156
(L979 UAH)
Volvo B10M / Plaxton Premiere
YV31B2B15RA040271
White
-
AIG 4114
(M54 PRA)
Volvo B10M
YV31M2F10SA042140
ex trent
AIG 8338
(N881 EVV)
Volvo B10M
YV31M2B19SA043227
-
AIG 8385
(N761 AHP)
Volvo B10M / Plaxton
YV31M2B19SAO43454
Glovers
ex Squirrels, Hitcham
AIG 1452
(N763 AHP)
Volvo B10M / Plaxton
YVM2B1XTA044727
Glovers
AIG 8358
(N381 EAK)
Volvo B10M / Plaxton
YV31M2B14TA044884
Glovers
AIG 1451
(FJU 973)
Volvo B10M
YV31MA614VA047047
Glovers
AIG 4549
(W898 RRU)
Volvo B10M
YV31MA71XYA051820
Glovers
AIG 1450
(V323 JTO)
Volvo B10M
YV31MA61XXC061235
Glovers
AIG 6633
(YO53 VKU)
Volvo B12B / Plaxton Panther
YV3R8F8132A000430
Glovers
-
AIG 4698
(YN05 VNX)
Volvo B12M
YV3R9F8194A011867
-
AIG 8900
(FN57 FKS)
Volvo B12B
YV3RSL32771120351
-
former V40 BAY and originally 08 DL 970
AIG 6839
(YJ06 GLK)
Bova Futura
XL9AA38P632003677
-
EX Winn Brothers North Allerton
---
Click HERE to go back to the operators page.
---