Bus Fleet News
February 2014
---
Latest News
---
Here you will find all the latest bus fleet news for many bus operators in and around the Derbyshire area. If you have anything to report please contact me by clicking here.
---
---
NEWS
-
---
---
NEWS
23rd January:
3815 (YR59 NNV) entered service last Tuesday (14th) followed by 3813 (YR59 NNT) this Tuesday (21st). Dart 2235 reported at Burton. At present it is unknown if other Darts have moved / been withdrawn.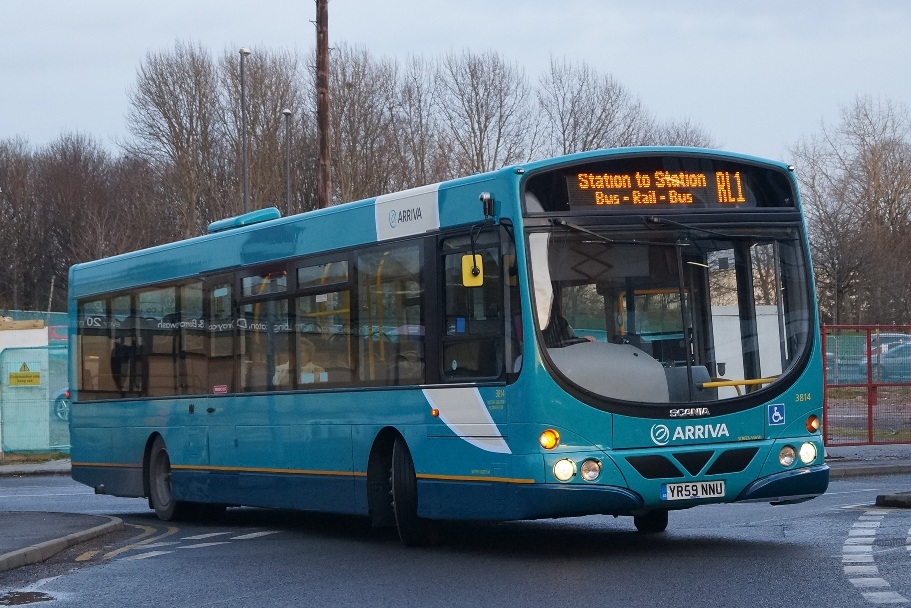 3814 is the is currently on loan from Hinckleybus to Derby.
(C) Geoff Girling

6 new Wright bodied VDLs are on delivery for use at Burton, for route 9, after being prepared for service at Derby. They are:

3770 (FL63 DXA) XMGDE02FS0H022572.
3771 (FL63 DXB) XMGDE02FS0H022573.
3772 (FL63 DXC) XMGDE02FS0H022574.
3773 (FL63 DXD) XMGDE02FS0H022575.
3774 (FL63 DXE) XMGDE02FS0H022576.
3775 (FL63 DXF) XMGDE02FS0H022577.

Coalville are having three for the same service:

3776 (FL63 DXG) XMGDE02FS0H022578.
3777 (FL63 DXH) XMGDE02FS0H022579.
3778 )FL63 DXJ) XMGDE02FS0H022580.

11th November:
3 Wright bodied Scanias, 3813-5 are expected to transfer from Hinckley bus to Arriva Derby soon to replace 3 Darts. 3814 is said to be in the paintshop at Derby.
There may be some news for route 38 soon.

17th October:
Deckers 4208 and 4211 have returned from Burton to Derby for use on the 44/45, which now requires 2 additional vehicles due to a frequency increase.




---
---
NEWS
22nd November:
(T179 AUA) has returned to Warringtons of Ilam.

20th October:
(SN57 VPL) Setra S415HD has left the fleet.
SCZ9652 (T179AUA) DAF SB3000 / Van Hool Alizee T8 is currently on loan from Warringtons Coaches of Ilam.


---
---
NEWS
2nd March
Dart 514 (T949 BNN) has been withdrawn (tax expired). Solo 377 is also now back at Dove Holes.

18th February
Transpeak Excel 689 (former Trent 232) is currently withdrawn following an electrical fire on Monday night. It is unlikely to see further service.

3rd February
Solo 266 is back at High Peak after a spell away.

23rd January
377 (YJ05 XMU) has now also moved to Corby. An 08 SOlo due at High Peak soon.

Former Trent Excel (transpeak) 231 went for scrap last week.

15th January
2 brand new Solo SRs have arrived here and are in service. 3 more are on order. The two now in use are:

279? (YD63 VDC),
280 (YD63 VDE).

Solo 266 has moved to Corby.

26th December
New Solos are on order for High Peak, and are due for delivery in January 2014. They are Mercedes engined. More details soon.

742 has been returned to service to replace Excel 688 (ex trent 231), which is withdrawn following a fire.

Ex Kimes Excel 701 (V394 KVY) has arrived here to replace 742.

18th November
Optare Solo (YJ11 EKV) is now in use here as fleet number 281.

---
---
NEWS & Sightings
Tuesday 14th January
Doyles coaches ceased trading at the end of Monday 13th January 2014. Many services in and around Mansfield have been taken over (in the short term at least) by Stagecoach. Service 228 in Hucknall is being operated by Littles. A&S Coaches are operating a reduced 331 service (Selston to Phoenix Park).

The 332 and services around Alfreton are not operating today (Tuesday 14th). Derbyshire County Council are looking into alternatives.
---
---
NEWS
23rd January:
Former Stagecoach Western Darts 33443/4 (X613/4 JCS) have arrived here. 613 is awaiting repaint. Dart (T131 MGB) has left the fleet, and (V327 ) will follow once 613 is in service. Both are from Stagecoach South, at Aldershot via Hardwick (dealer).

2nd January:
The latest Olympian here is ex Stagecoach (N709 LTN).

22nd November:
The latest addition to the fleet is Dennis Javelin / Plaxton Paramount (H160 DJU) which has arrived from Vixens Travel (East Sussex). I previously listed this under Bakewell coaches in error.


---
---
G&J Holmes


NEWS
26th December
The 2 new Enviro 200s here are (MK63 WZZ) and (YX63 GYK). Solo (MX59 AVR) has been sold to PC Coaches, Lincoln.

---
---
Glovers of Ashbourne

NEWS
-
---
---
Harpurs Coaches


NEWS

2nd March 2014
Volvo B10M/Plaxton (T300 BCL) has been withdrawn and sold.

26th February 2014
A new arrival here is former National Holidays (new to Shearings) Volvo B12M / Plaxton Panther (MX04 AEV). C48ft seating.
Volvo B10M (S79 AUP) has been withdrawn and sold.

3rd February 2014
Olympians (N594 BRH) and (R319 WVR) have been sold on for further service.

Restoration of former Derby Corporation Daimler Fleetline (XCH 425G) has begun inm partnership with Derby Museums.

7th November 2013
(R309 WVR) has been painted and now in service. Similar (R319 WVR) is currently in stock, but not prepared for use.


---
---
Hawkes Coaches


NEWS
2nd January:
An arrival in the last few months is East Lancs bodied Olympian (R343 MFR), ex Metrobus, Orpingdon and still in their blue/grey livery.

20th October:
Starliner (PO63 FLP) has been re-registered as (DH63 DEH).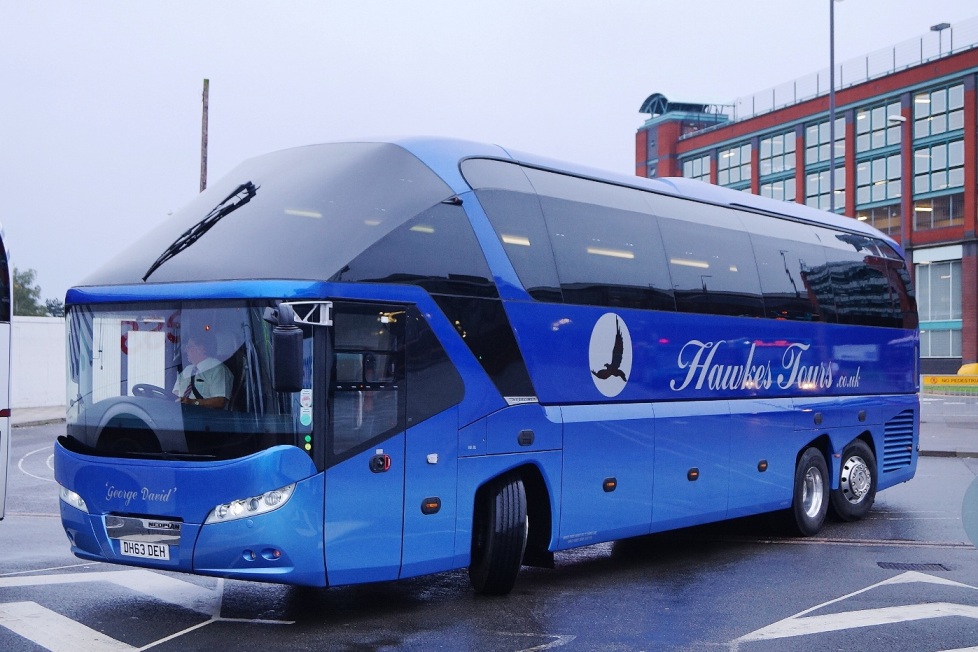 Brand new Starliner (DH63 DEH) is seen here leaving Derby bus station.
(C) Geoff Girling
---
---
Hulleys of Baslow

NEWS + SIGHTINGS
26th February
Volvo decker 4 has been towed away for scrap after being involved in an RTA a while back.
Solo 9 is being sent to Smiles in Newcastle to have the MAN engine replaced with a Cummins one. A number of former NCT Versas are having the same proccess done at the same place.
Lance 12 is currently off the road with gearbox issues. This may lead to an earlier withdrawal than first planned.

3rd February
Streetlite 22 went back to Mistral on 31st January. An Enviro 200 should be on loan from ADL later this week. Solo number 9 has been moved to Anston for work to begin on fitting a Cummins engine in place of the dead MAN unit.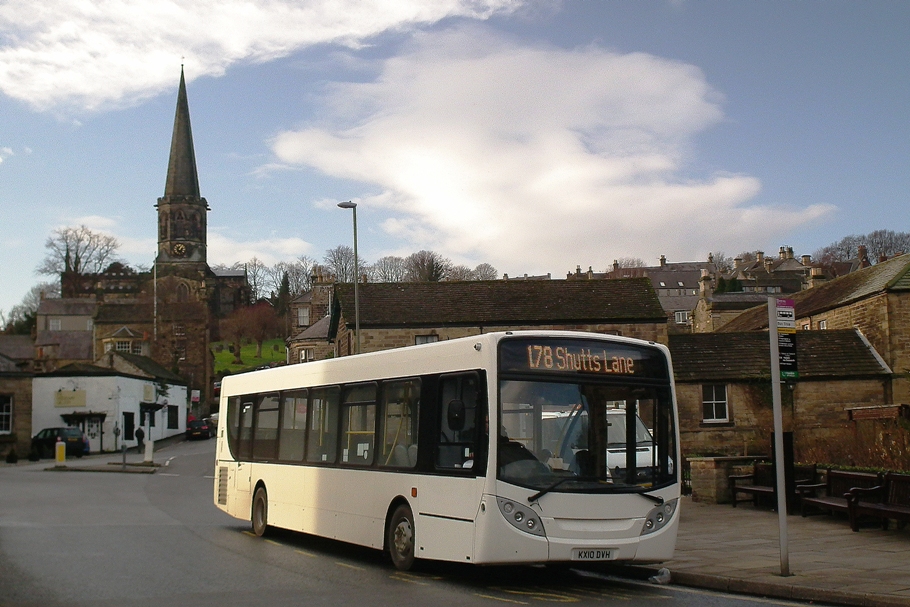 Hulleys currently have E300 (KX10 DVH) on loan. It is seen here in Bakewell.
(C) Ian Moorcroft




26th December
A temporary addition to the fleet from Dawson rentals is ENVIRO 300 (KX10 DVH). New to Order of Malta, Stirling, it is here in place of Volvo decker no 4 (V140 LGC), which has been withdrawn after being involved in an RTA. It islikely to replaced by another decker in the near future.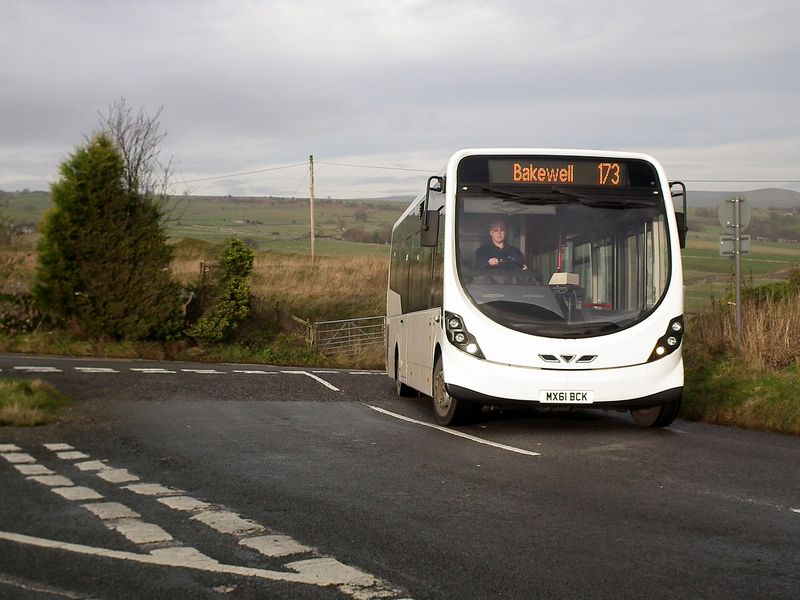 Hulleys Streetlite 22 (MX61 BCK).
(C) Ian Moorcroft



17th October
A temporary addition to the fleet is Wright Streetlite 22 (MX61 BCK). It is on loan from Mistral.


---
---
Johnson Bros / Redferns


NEWS & SIGHTINGS
18th February
3 Van Hool's have joined the fleet, these are: (YJ08 EBG), (YJ58 FHT) and (YJ58 FHU).
---
---
Linburg

NEWS + SIGHTINGS
-

---
---
Littles Travel

NEWS + SIGHTINGS
24th January
Former Gills Wright bodied Dart (YAZ 8645) is in service here. The other from the same batch is in service with AOT of Nottingham.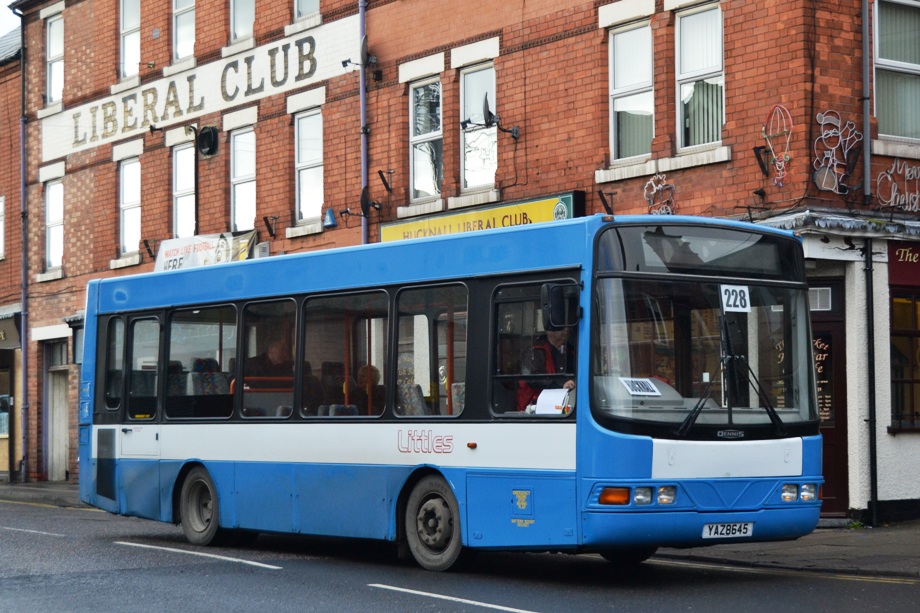 Former Gills Dart (YAZ 8645) on former Doyles route 228 in Hucknall.
(C) John Moore



2nd January
Ex London Central VDL SB120/Wright (FJ54 ZTX) has been here since around last April, but has not been previously reported.

7th April
Excel (V202 ENU) has been reregistered as (XIB 1908).
---
---
Midland Classic


NEWS
26th December
Olympian 90 (L649 MYG) is said to be withdrawn.


---
---
Paul S Winson
-
NEWS
---
---
Skills, Nottingham

NEWS
-
---
---
TM Travel


NEWS:
See Wellglade section.
---
---
Translinc
NEWS
---
---
The Wellglade group
trent barton, kinchbus, notts+derby and T M Travel.

NEWS
26th February:
Former H1 Scania 602 is now in use at Derby.

23rd February:
Centro 1199 is now with notts+derby.
Solo 466 is now in use at Matlock after repaint into "little sixes" livery.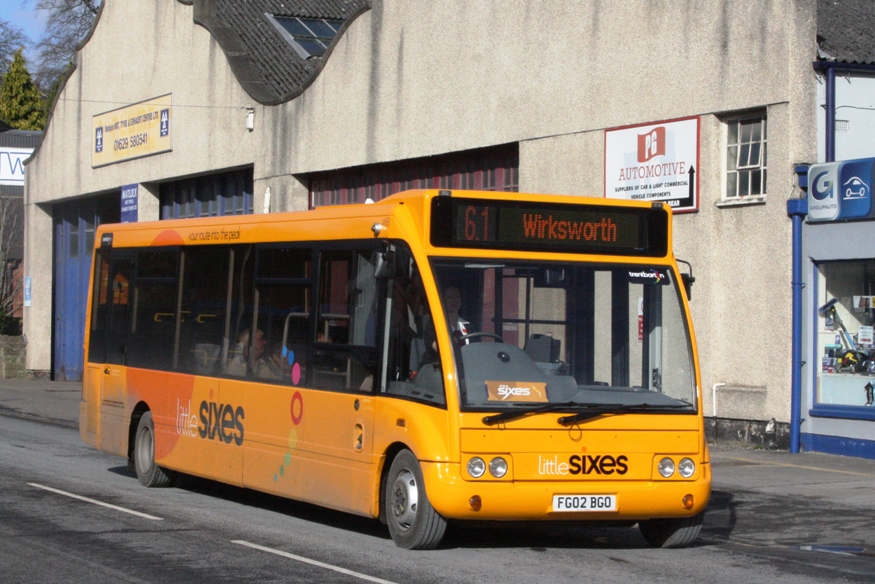 "Little sixes" Solo 466 in Matlock.
(C) Dan Stone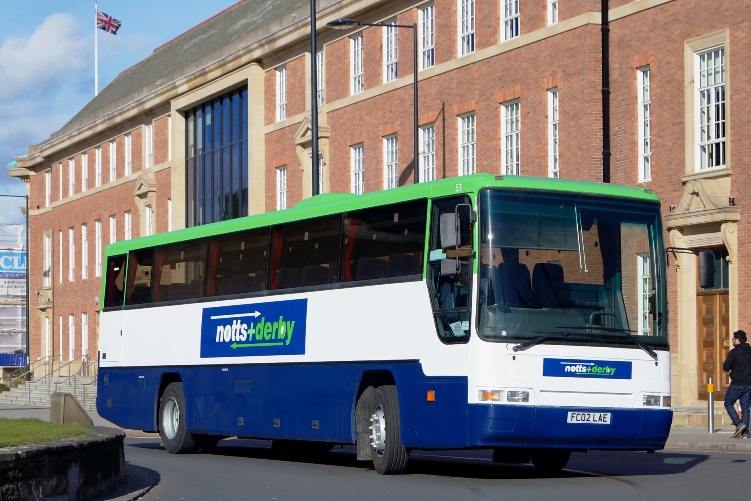 Javelin 53 in Derby City Centre.
(C) Geoff Girling

14th February:
The three Javelins at Notts and Derby are now registered:
52 (FB51 JBO),
53 (FC02 LAE),
54 (FC02 LAO).

Green Solo SRs 503/5 (YD63 VDN/P) are now in use at Nottingham. They are 2 of 6 destined for what is now the Radcliffe Line. The buses carry no branding, but are in a very similar livery to the xprss Tempos. The Solos are in use whilst the Tempos on Xprss are gradually refurbished. The Solos and Tempos are then likely to return branded for one large route (like sixes).

10th February:
3 brand new Optare Versas are now in use on TM Travel Line 30 service. The 3 new vehicles are:
833 (YD63 VDT),
834 (YD63 VDV),
835 (YD63 VDX).
The three Versas have replaced Solos 418, 424/5, which were branded for the 30.

Citaros are said to be on order for the Skylink Derby - Loughborough - Leicester service. They should arrive in August. More Optare vehicles are also expected to be ordered.

Javelin coaches 53 (FC02 LAE) and 54 (FC02 LAO) are now in use, with 52 following soon.

Solo 462 has moved to Sutton.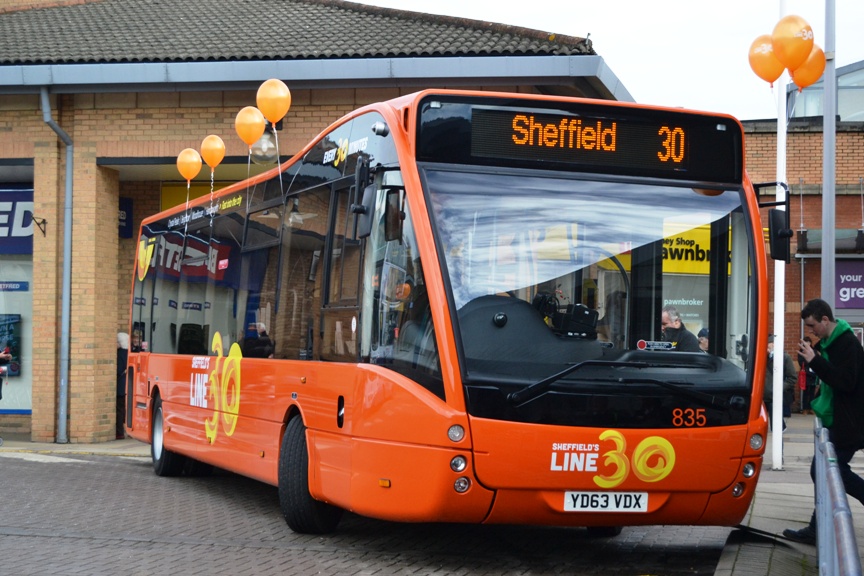 835 (YD63 VDX) is one of TM Travels brand new Versas branded for Line 30.
(C) John Moore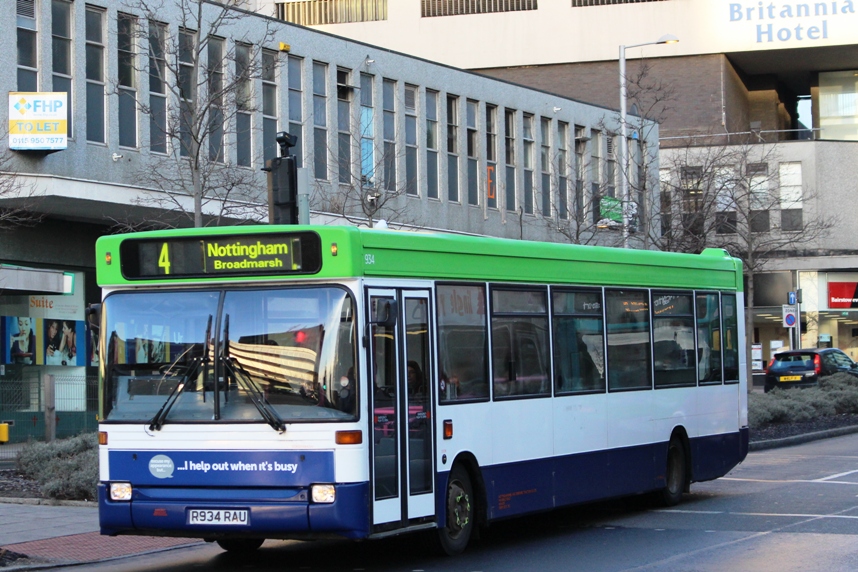 934 on an i4 duplicate in Nottingham.
(C) Matt Burley Matt Burley on flickr.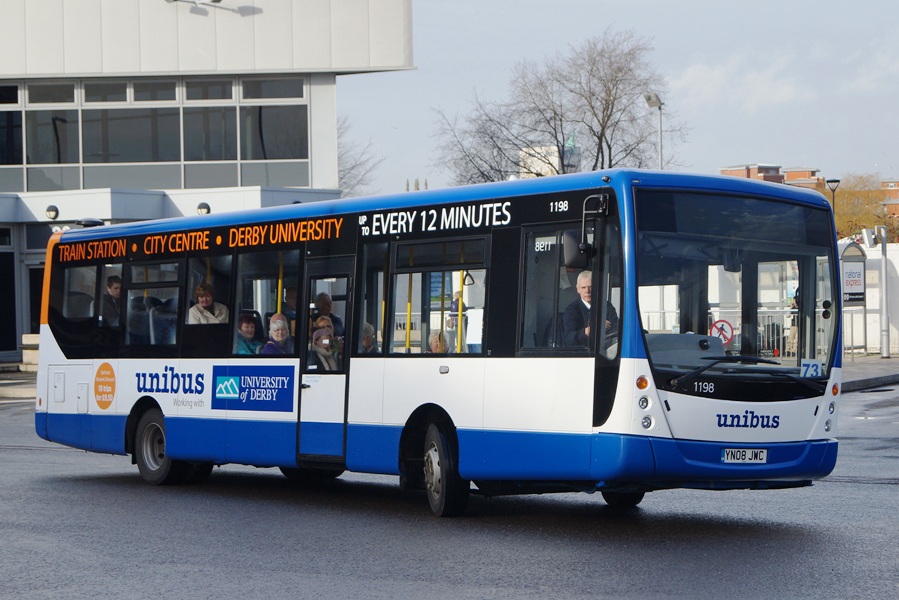 Centro 1198 in Derby Bus Station shortly after repaint into Unibus livery.
(C) Geoff Girling

3rd February:
794 now in notts and derby livery.
692 now in new sixes livery. 684 and 689 at Langley Mill for refurbishment. 686 is the last Scania on the road in "old" sixes livery.

28th January:
Scanias 601 and 631 (former H1 branded) are now at Nottingham branded for the Skylink, which now operates up to every 20 minutes.

The Zoom route has been extended to Sawley replacing the Sawley Xprss. The frequency has also been reduced, resulting in one less vehicle being required. Solo 446 is expected to be rebranded and used elsewhere.

6 green Solo SRs have arrived at Langley Mill, destined for the Radcliffe Line. One is (YD63 VDR).

23rd January:
113 has been withdrawn, and will be scrapped soon.
109 has left Meadow Road on its final journey to the scrap yard.

Expressway Coaches, Wath-on-Dearne have Olympians 718 and 719 (C718/719LTO) in their yard. 719 still has its TM livered front, 718 in full Notts and Derby livery.
Stotts depot at Milnsbridge still use all 4 ex Kinch Darts (L401/402 CJF) and (M405/406 HFP).

15th January:
H1 Scanias 602 and 603 are currently on loan to Kinchbus. In use on Sprint and Skylink today.

Unibus Centro 1198 now in service after repaint (no branding yet).

14th January:
5 new Optare Versas (sH1iny new buses) are now in service on the H1. They are:

828 (YD63 VCV),
829 (YD63 VCW),
830 (YD63 VCX),
831 (YD63 VCY),
832 (YD63 VCZ).

828 and 830 were the two used on Sunday.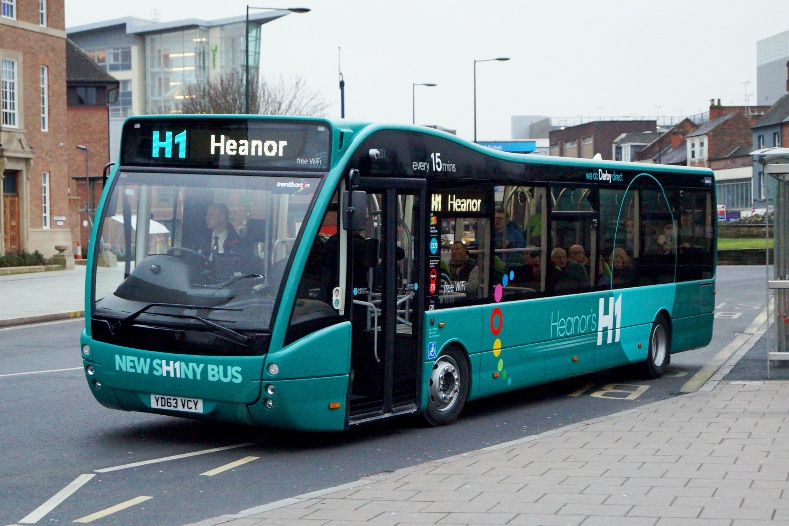 SH1NY NEW BUS, Optare Versa 831 prior to leaving Derby on the H1 route on Sunday 12th January.
(C) Geoff Girling



5th January:
Coach 55 has been withdrawn due to corrosion, 793 following its accident, and 403 following a small fire. All three have been scrapped.

2nd January:
Brand new Versas enter service on the H1 on Sunday 12 January. "Preview Parties" are taking place at Heanor Market Place on Friday 10 January and at Derby Market Place on Saturday 11 January.

Ex Trent Villager Dart 927 (R927RAU), which is now in Southern Ireland, is with Geraghty, Castlerea and is re-registered 97-RN-6012.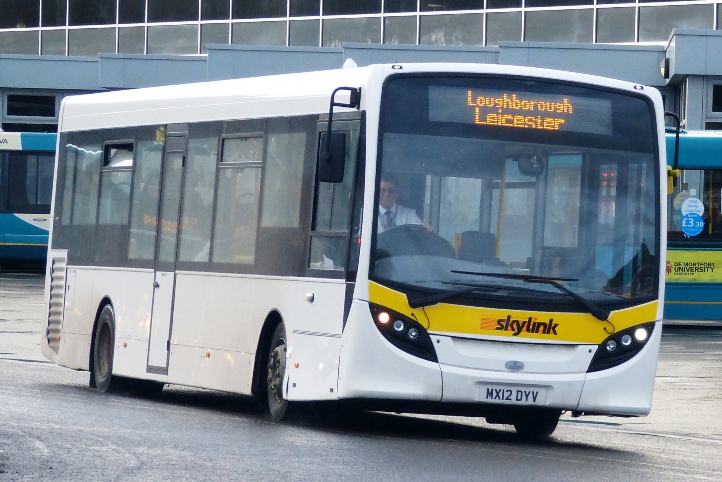 Enviro 200 (MX12 DYV) is currently on loan to Kinchbus for use on the Skylink (Derby - EMA - Leicester) service.
(C) Dennis Basford Rails, roads, and runways blog.



26th December:
The first Versa for the H1 route has arrived in the shape of (YD63 VCY). A Mercedes Citaro demonstrator is also at Langley Mill, although it may not be used in service.

687 is the latest sixes Scania to be put back on the road after refurbishment.

Solo 413 is now in use with TM Travel after a short spell with notts and derby. Centro 1198 is being repainted into unibus livery, and 794 into notts and derby livery.

TM have sold withdrawn ex Dublin Olys 1112 (J619CEV) and 1123 (L726SNO) and Solo 415 to Geoff Ripley, Carlton for scrap. Ripley's have also bought ex NCT Scanias 1119 and 1120 (L351/352MRR), but as these are operational, they may be sold on.

More ex Dublin Olys withdrawn are 1111 (H784PVW), 1113 (J628CEV) and 1125 (P487SWC) along with ex Armchair/Thompson Travel Oly 1105 (G370YUR). Of these, 1111 and 1125 are now stored in Hucknall Trent depot.

5th December:
New Versas are expected for use on the H1 route early on in 2014.

ADL Enviro 200 (MX12 DYV) is currently in use at Kinchbus.

Two extra Scanias should be needed for Nottingham Skylink at the end of January when the frequency of the route is increased. At the same time the Sawley Xprss is being withdrawn, the Zoom extended to Sawley and the Club Class route extended to Borrowash.

Dart 934 is back in use with notts and derby along with Solo 413 (from trent barton). These are for use on new school contracts (former Gills ones). Dart 935 is being repaired at Langley Mill and looks likely to rejoin the fleet at notts and derby.

Lance 367 has been scrapped and is currently in Looms, Spondon.

National 534 (FRA 534V) is due to return to the area later this month.

Door to Door Transits:

1010 (BK07 HSN),
1011 (BK07 DXD),
1012 (NM07 OMC).

1013 (HX53 OKM) is another minibus in the fleet.


---
---
Yourbus, Nottingham
NEWS
3rd February 2014:
E300 1403 (SN10 CDK) now in Yourbus livery.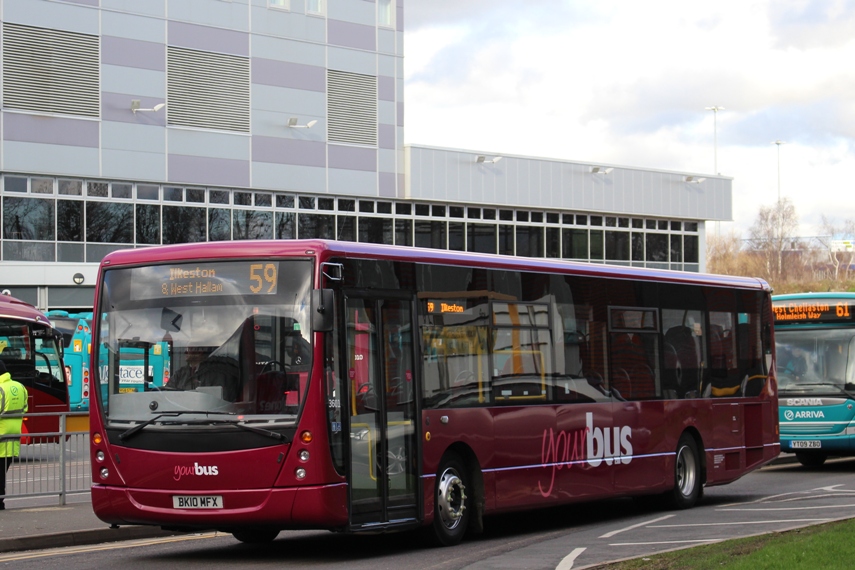 Centro 3601 now carries Yourbus livery.
(C) Matt Burley Matt Burley on flickr.



23rd January 2014:
Volvos 3605/3606 have been withdrawn. 3603/3604 should be withdrawn very soon (if not already).

Centros 3601/3602 are now regularly allocated to service 59, and E300s 1402/1403 to service 140/141.

The Citaro demo 3032 is now allocated to the 114 (Derby to Ashbourne) most of the time.

Using larger buses on these routes has allowed 4 DF streetlites to be used on the former Doyles services around Alfreton.

Keep up to date on the Yourbus Yahoo Group.

15th January 2014:
A number of routes have been acquired in the Alfreton area, building on the Derbyshire network, following the demise of Doyles coaches on Monday.
Former University Hopper Centros 3601/2 (BK10 MFX/Y) and E300s 1402/1403 (SN10 CDF/K) are all back in use here. All will be repainted soon.
Enviro 1402 now back in service with Yourbus.
(C) Dennis Basford Rails, roads, and runways blog.



5th December 2013:
Enviro 200 1401 Has now been repainted in fleet livery.

Levante 4002/05/09/13/14/15/16 have now passed to Go North East along with some NX Diagrams.

Durham Depot has now closed (November).

4021 was written off In January 13 after an RTA.

4101/02/03/04/05/06/08/09/10 along with 4201/02 have been sold To Ensign Bus.

4107 has been scrapped after it caught fire at Gatwick in August.

Mercedes Citaro Demonstrator (BF60 OEZ) is due to join the fleet shortly and will become 3032.
---
---
Last Months News

News Index Page
---