Bus Fleet News
February 2011
---
Latest News
---
Here you will find all the latest bus fleet news for many bus operators in and around the Derbyshire area. If you have anything to report please contact me by clicking here.
---
---
NEWS
-
---
---
NEWS
15th Feb:
Omnicity 3580 and Omnilinks 3809/10 are now in service. All three have transfered from Wigston.
Darts 2228/9 have gone to Burton garage, whilst 2231 has gone to Stafford.

9th Feb:
Omnilink 3810 is now in use here. Omnicity 3580 should be in use soon too.
3809 may also enter service here, although 3808 has moved on to Tamworth to replace Scania (R417 TJW).
The streetlite demo has now moved on.

29th Jan:
The Streetlite demo was in use later on Saturday.
3 Scanias are expected at Derby from Wigston this weekend. They should replace Darts. More details to follow.
Burton Dart (R920 RAU) has been withdrawn following an rta last weekend.


27th Jan:
The Streetlite demo should be in service later today.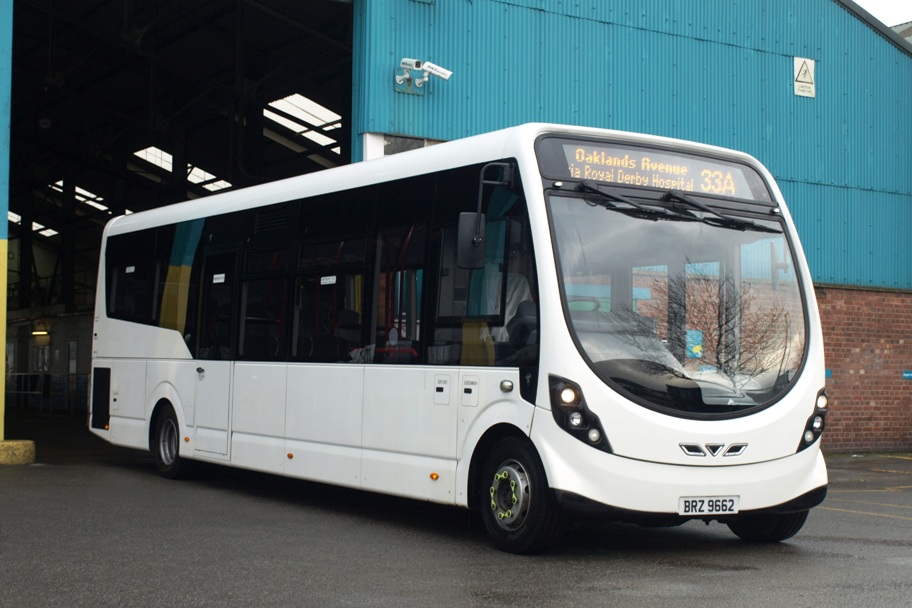 Wright Streetlite demo (BRZ 9662) at Derby.
(C) Richard Woodhead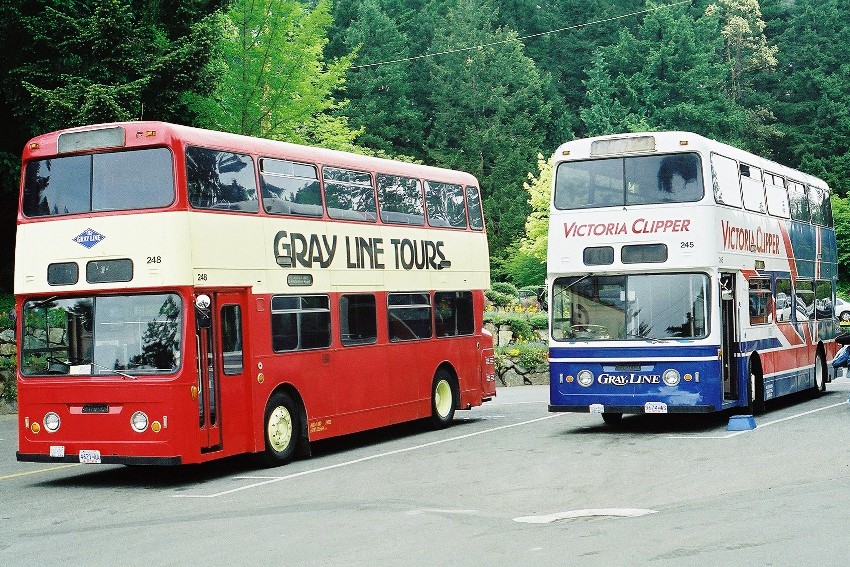 Former Derby (CRC 245J) and (CRC 248J), Vancouver Island, Canada, May 10th 1998.
(C) John Whittingham



20th Jan:
A Wright Streetlite demonstrator is due to arrive here today (Thurs).
Some new buses are on order for Derby this year.

17th Nov:
MPD 2221 has moved to Stafford.

Almost all services in Derby are being revised from Sunday 9th January. The changes include routes 33 and 36 being merged into circulars, with every other journey serving the Royal Hospital. The routes will be numbered 33/33A/36/36A. Evening services are expected to be changed on most routes.


---
---
NEWS
9th Feb
Former Travel Coventry Solo (S276 AOX) is expected here soon. It should be painted in the new style livery that (CE52 UFX) carries. It was previously with the Centrebus operation in the Luton area.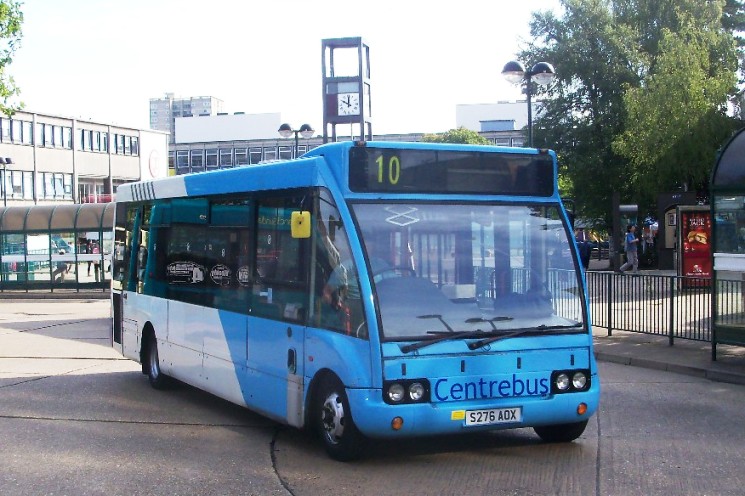 Solo (S276 AOX) seen here with Centrebus in Stevenage.
(C) Andrew Morgan
3rd Nov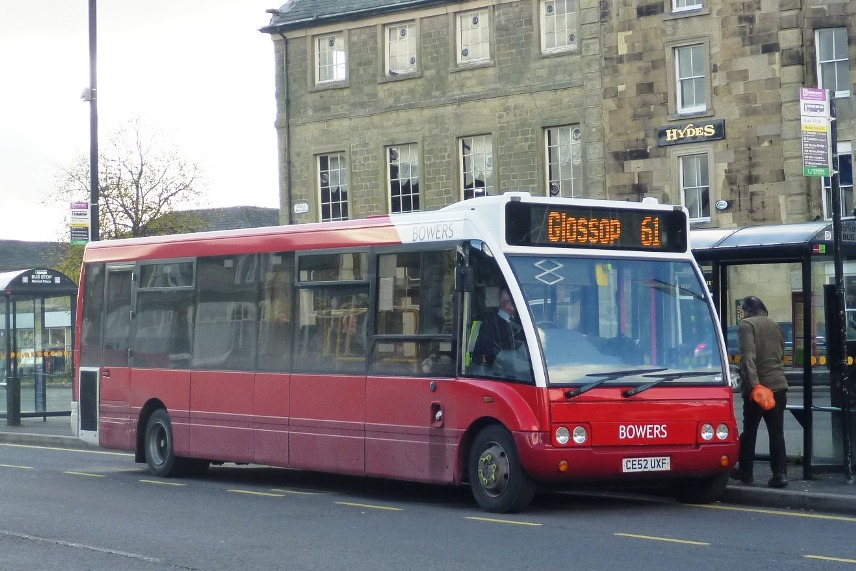 Solo (CE52 UXF) now carries this new "centrebus style" livery. Seen here in Buxton.
(C) -
---
---
NEWS & Sightings
-
---
---
NEWS & Sightings
5th March


19th Feb
Former Metroline Tridents (T183/184 CLO) are reported here.
Vecta 801 (M801 PRA) appears to have moved on. It has been out of use for a few months.

17th Nov
Varios (R167 UAL), (R183 OCW), (S279 LGA) and (S287 UAL) were delicenced during September.
Darts (R556 UOT), (P301 HDP), and (P308 HDP) have been advertised for sale.

(P301/4 HDP) remain in use, however the 8 newer Darts and 6 Solos make up the core service fleet.

Vecta 801 remains stored.

2nd August
Vecta (M801 PRA) has been withdrawn. Merc (S750 RNE) has also been withdrawn for the last few months, and may have already gone for scrap.

---
---
NEWS

31st March
The new Volvo Centro is (FJ10 NFV),and is expected to be in service on the black cat service tomorrow.

---
---
Gills Travel

-:
---
---
G&J Holmes


NEWS
13th December
The recently acquired Vario, (T95 GGO) has left the fleet.

---
---
Glovers of Ashbourne

NEWS
---
---
Harpurs Coaches


NEWS + SIGHTINGS

27th Jan 2011
Metrobus (C317 BUV) has been withdrawn. This leaves 3 left in service here, although some former DUblin Olympians may replace them in the near future. (C373 BUV) may be retained.

2nd October
2 more ex Dublin B6's have arrived via ensign. (99-D-60001/8) are now (V736/5 PHJ).

A new arrival here is ex Dublin Wright bodied Volvo B6 (V728 PHJ), which is in use in a yellow blue and brown livery. It has arrived via Ensign, and was previously (99-D-60007) - or was it (99 - D - 6002)???.
---
---
Hawkes Coaches

NEWS
---
---
Hulleys of Baslow

NEWS + SIGHTINGS
9th Feb
Streetlite Demo (MX60 GXB) is here until Friday.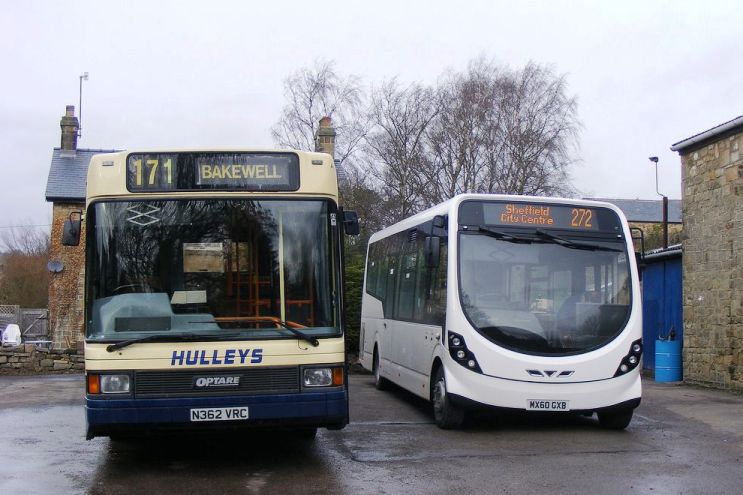 Streetlite demo (MX60 GXB) parked alongside Lance (N362 VRC).
(C) Ian Moorcroft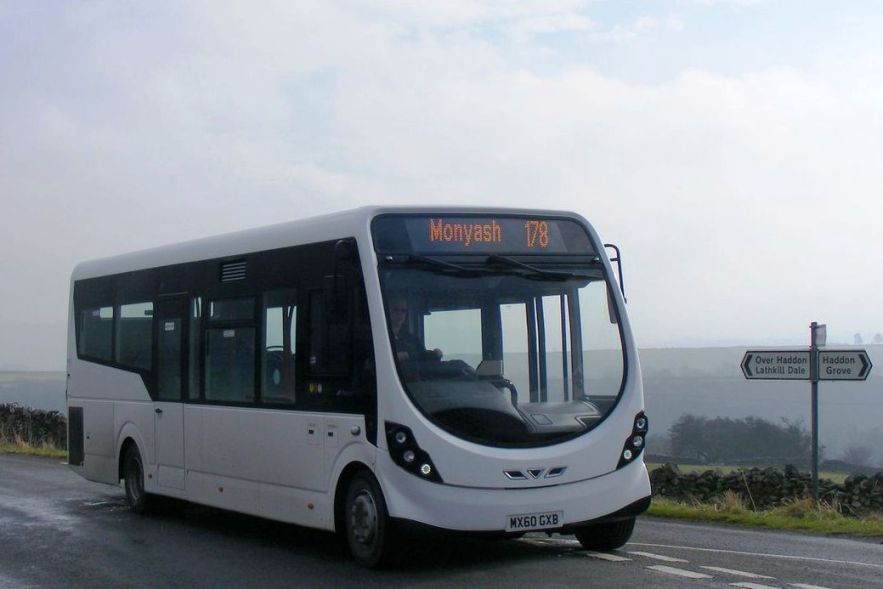 Streetlite demo (MX60 GXB) on the 178 near Over Haddon (Feb 9th).
(C) Ian Moorcroft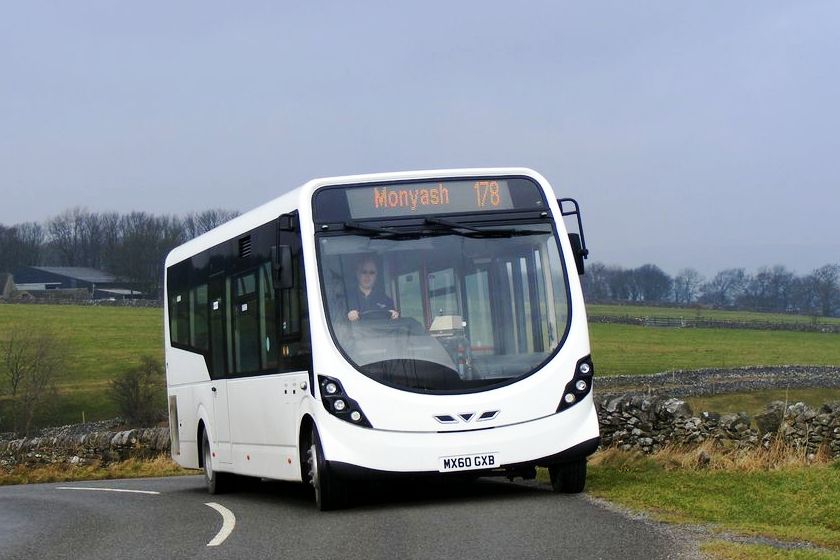 Another view of the Streetlite near Over Haddon.
(C) Ian Moorcroft
---
---
Johnson Bros / Redferns

NEWS & SIGHTINGS
-
---
---
Linburg

NEWS + SIGHTINGS
-
---
---
Littles Travel

NEWS + SIGHTINGS
Thurs 14th October
Two Metrobuses have arrived here from Skills, one of which is ex Harrow (E476 SON).
---
---
Midland Classic


NEWS
12th Feb:
Solo (YJ55 BHU) is here on loan. 20th Jan:
The Falcon is currently out of use.

10th September:
Dennis Falcon (K212 UHA) has now been painted into Midland Classic livery, and is in use.

4th September:
A new direct service numbered X12 (Burton - Lichfield) starts on 6th September.
Former East London Dennis Trident 91 (V118 MEV) has arrived here via Southdown PSV.
Dennis Dart SLF / Plaxton Pointer 24 (P409 BNR) has been repainted and re-trimmed, and gained fleet number 24.


---
---
Premiere, Nottingham


NEWS
12th Feb
Volvo B12M / Sunsundegui 964/5 (FJ55 YCG/K) are not in the fleet, they remain with Veolia.

Premiere currently have former Veolia National Express Volvo B12B / Plaxton Paragon (FJ54 ZDD/E/H) in store. These may move on soon, unless a use is found.

Ledger coach 966 (YJ06 GKO) now in full Premiere livery as part of the coach fleet, and 963 (YX53 AEN) is to be painted in the black livery for use as a team coach.

The Event link Scania tri axles are expected to be sold soon. These are owned by the council.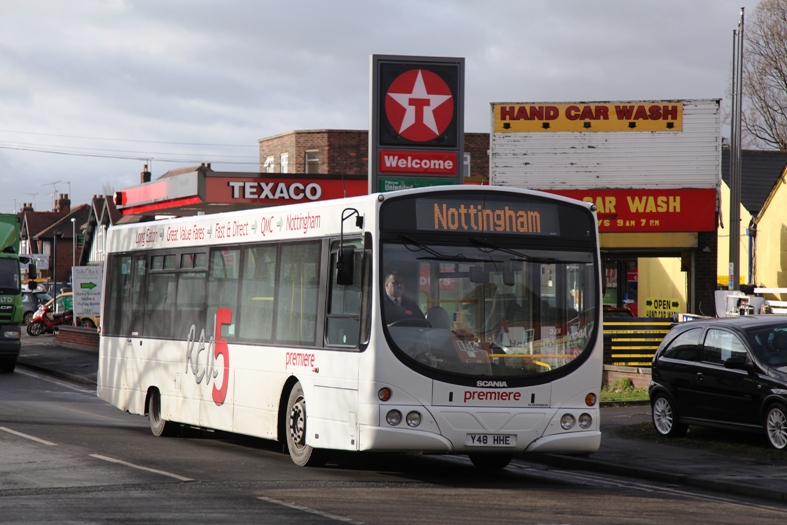 Scania (Y48 HHE) branded for the new Red 5 service.
(C) R Hadfield The Bus Parade



9th Feb
The fleet list has been updated to include the former Veolia vehicles.

Red 5 started on Monday with Enviro 300s 3352/3/4 and Scania 3348 being branded for the service.

27th January
Many former Veolia routes and vehicles become a part of the Premiere operation from February. The acquired vehicles will be on the fleet list soon....

20th January
3348 (Y48 HHE) is now in use in plain white livery.
Solos 2217 and 2218 have returned to the dealer.
Verde 1827 and Dart 3383 are on loan to Veolia Rotherham.




---
---
Stagecoach East Midlands
Chesterfield, Mansfield, Worksop
NEWS
To keep up to date with Stagecoach in Chesterfield, and many other operators in the area, take a look at the excellent Transpire website.
---
---
TM Travel


NEWS:
See Wellglade section.
---
---
Translinc
NEWS
:
---
---
---
The Wellglade group
trent barton, kinchbus, notts+derby and T M Travel.
NEWS
26th Feb:
One of the new orange Versas for route 15 reported at Langley Mill.

Coach 59 has been taken off transpeak, and is thought to be on its way to TM Travel.

Darts 923 and 928 have been sold to GRS Travel, Birmingham.

Swift Excel 265 has gone to Unitec for repairs.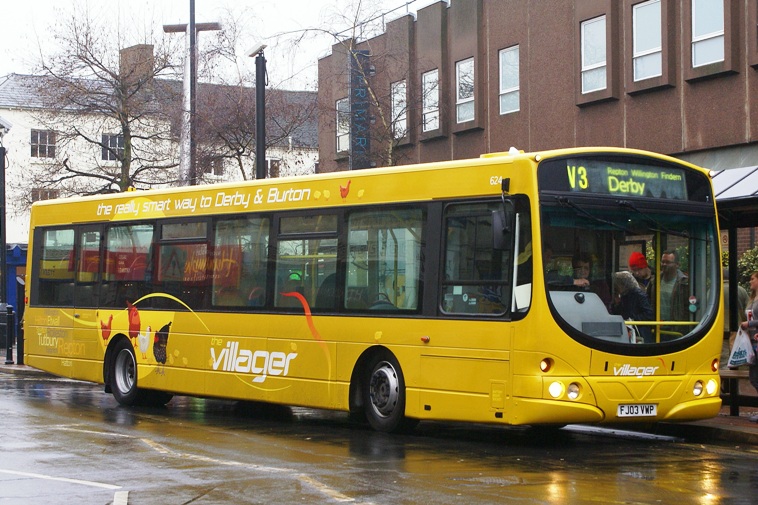 624 has recently been branded for the villager. It is seen here in Burton.
(C) Alf Cundy



19th Feb:
Former amberline Excel 255 has been painted in trent barton red livery and is now based at Sutton.
"Old" nines Solo 412 reported at Langley Mill.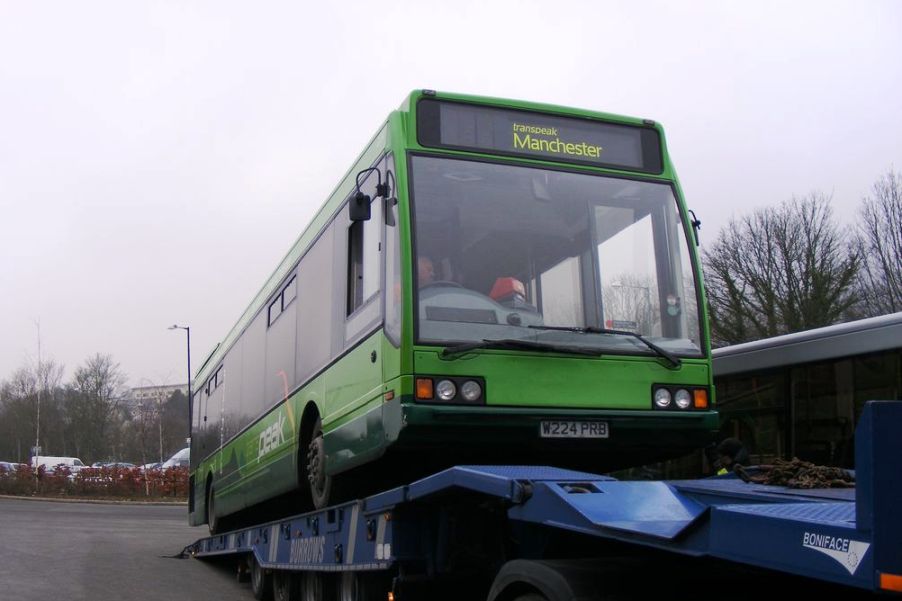 224 didn't quite make it to Manchester, seen here in Matlock 18/2/11.
(C) Ian Moorcroft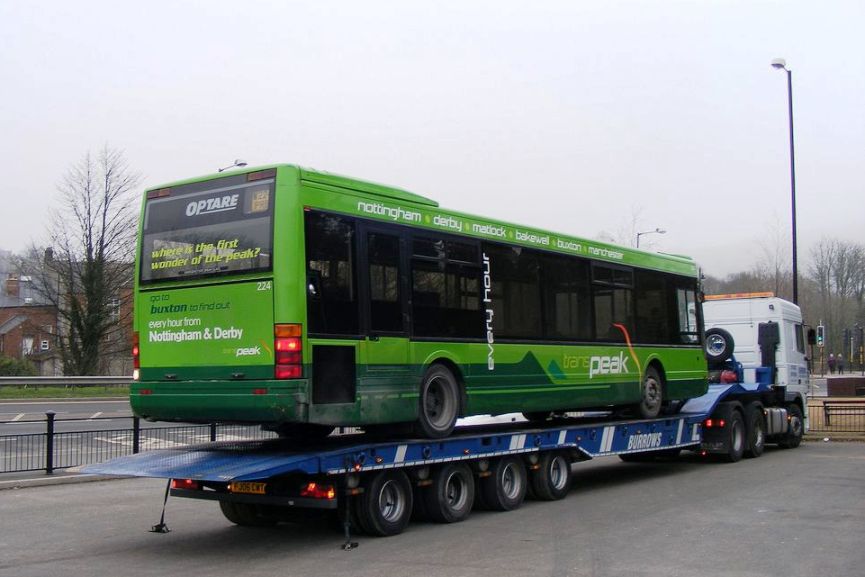 224 ready to depart Matlock Bus Station 18/02/11.
(C) Ian Moorcroft



12th Feb:
5 white 09 plate and 1 59 plate Solos reported to be at Langley Mill. Destination unknown.

Scania 624 is now branded for Villager complete with chicken images.

After making a swift appearance, 265 is now off with accident damage. Could be a write off?

In an odd move, Solo 427 has been painted into amberline livery. 255 has been taken out of service and stored at LM, (257 still in use along with 256).

Vario 290 said to be at Langley Mill - so may not have been sold, unless it has been returned?

Excel 157 sold for preservation!

29th January:
Former Trent Dart 920 (R920 RAU) (now with Arriva Burton) has been written off following an rta last weekend near Burton.

Former Trent Vario 294 has gone from Norfolk Green to Beakman, Airdre.

An addition to the Midland General fleet is minibus 1021 (CN51 BKG).
Service 145 in Mansfield is set to finish in April, leaving MPD 950 free for other duties.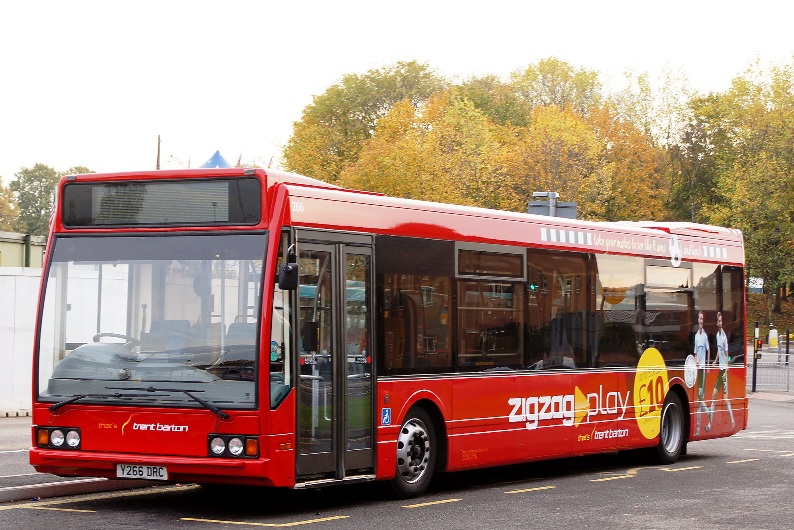 Swift Excel 266 in Derby.
(C)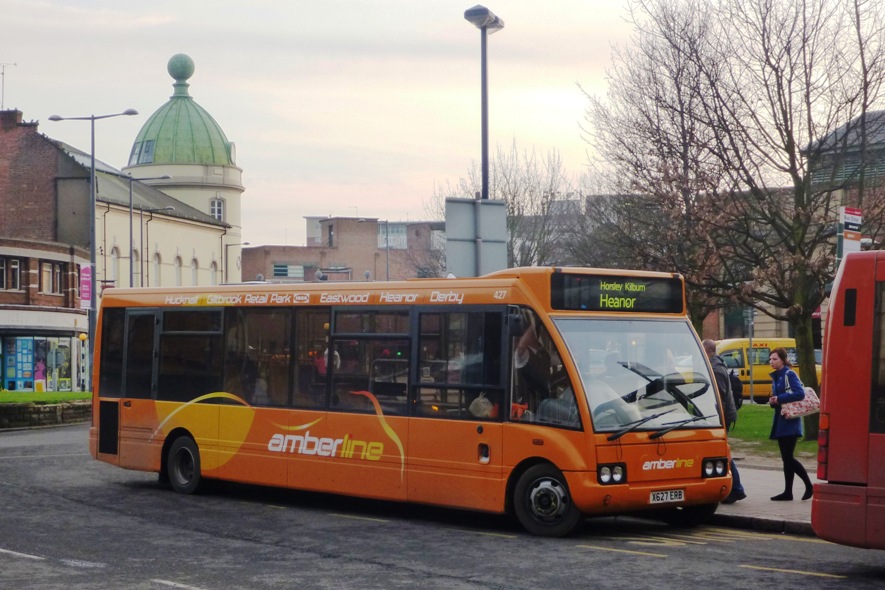 Former Connect Solo 427 has been repainted for use on Amberline, replacing larger Excels. It is seen here in Derby.
(C)

27th January:
Paladin 107 has been withdrawn after recieving accident damage.

265 has been repainted ready for the Swift relaunch. Excels 264/5/6 should all be ready for Monday.

20th January:
Ashbourne garage is set to close within the next year. The land has provisionally been sold to Sainburys. The "Swift" starts in just over a weeks time, Excels 265/6 are currently at Langley Mill for repaint.

Dart 914 is currently off the road. It is likely to be scrapped, with 106 waiting in the wings to replace it.

Can confirm that Centros 501-6 have been re-numbered 761-6.

New buses are expected to arrive for route 15 in the spring, and a Solo is expected soon to replace "old" nines solo 412.

Two more minibuses have joined the Derby Community Transport fleet. More details to follow....


---
---
Yourbus, Nottingham
NEWS
9th Feb:
6 Citaros said to be on order for use on the Y36 from May.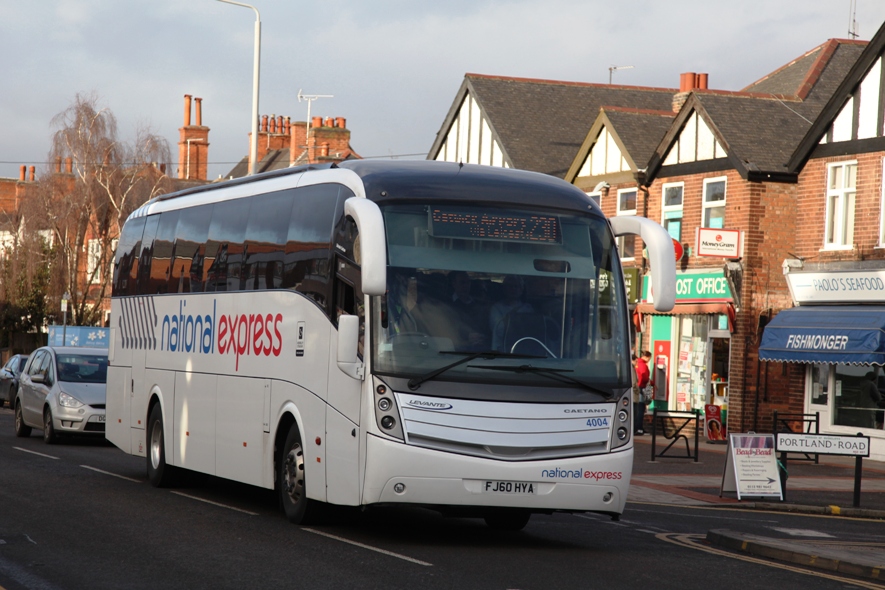 New Levante coach 4004 (FJ60 HYA).
(C) R Hadfield The Bus Parade



27th January:
3002/3/4 have all left for Ensign. 3001 & 3005 are expectedto remain until the three latest Darts are repainted and retirmmed. 1012 has been repainted.

New to the fleet is Dennis Trident / Plaxton President 2507 (X608 EGK), this has arrived from London General via Ensign.

13th January:
16 brand new Volvo B9R / Caetano Levante II coaches are here for National Express routes (mainly 230 and 240).

4001 (FJ60 EHN),
4002 (FJ60 HXW),
4003 (FJ60 HXZ),
4004 (FJ60 HYA),
4005 (FJ60 HYB),
4006 (FJ60 EGZ),
4007 (FJ60 EFX),
4008 (FJ60 EFY),
4009 (FJ60 EGY),
4010 (FJ60 KVH),
4011 (FJ60 KVK),
4012 (FJ60 KVL),
4013 (FJ60 KVM),
4014 (FJ60 KVO),
4015 (FJ60 KVP),
4016 (FJ60 KVR).

Also three more Dennis Dart / Plaxton Pointer 2's have arrived from Diamond Bus for use on services 140/141/142 to replace Volvo B10B's 3001 - 3005. 1013 is in use in Diamond Bus livery whilst 1011 & 1012 are currently in the paintshop. The three Darts are:
1011 (X630 AKW),
1012 (X631 AKW),
1013 (X641 AKW).

27th December:
Yourbus start operating National Express contracts from mid January. One of the main services in this area will be the 230 (Derby) Nottingham - Leicester - Heathrow - Gatwick, amongst others. More details to follow.


---
---
Last Months News

News Index Page
---