Bus Fleet News
| | | | | |
| --- | --- | --- | --- | --- |
| | Merry xmas & happy new year | Merry Christmas & a Happy New Year!! | Merry xmas & happy new year | |
December 2013
---
Latest News
---
Here you will find all the latest bus fleet news for many bus operators in and around the Derbyshire area. If you have anything to report please contact me by clicking here.
---
---
NEWS
-
---
---
NEWS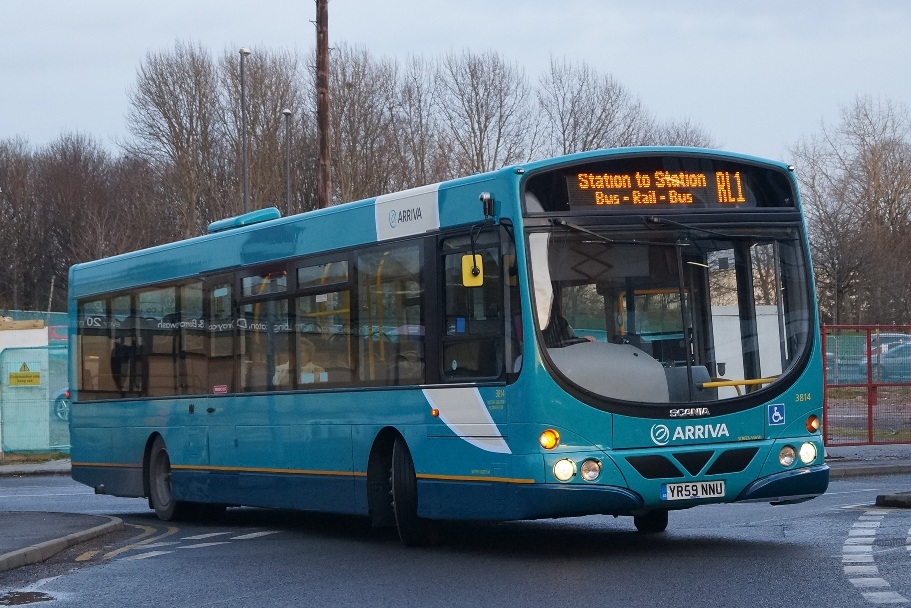 3814 is the first of three Wright bodied Scanias to transfer from Hinckleybus to Derby.
(C) Geoff Girling

6 new Wright bodied VDLs are on delivery for use at Burton, for route 9, after being prepared for service at Derby. They are:

3770 (FL63 DXA) XMGDE02FS0H022572.
3771 (FL63 DXB) XMGDE02FS0H022573.
3772 (FL63 DXC) XMGDE02FS0H022574.
3773 (FL63 DXD) XMGDE02FS0H022575.
3774 (FL63 DXE) XMGDE02FS0H022576.
3775 (FL63 DXF) XMGDE02FS0H022577.

Coalville are having three for the same service:

3776 (FL63 DXG) XMGDE02FS0H022578.
3777 (FL63 DXH) XMGDE02FS0H022579.
3778 )FL63 DXJ) XMGDE02FS0H022580.

11th November:
3 Wright bodied Scanias, 3813-5 are expected to transfer from Hinckley bus to Arriva Derby soon to replace 3 Darts. 3814 is said to be in the paintshop at Derby.
There may be some news for route 38 soon.

17th October:
Deckers 4208 and 4211 have returned from Burton to Derby for use on the 44/45, which now requires 2 additional vehicles due to a frequency increase.




---
---
NEWS
22nd November:
(T179 AUA) has returned to Warringtons of Ilam.

20th October:
(SN57 VPL) Setra S415HD has left the fleet.
SCZ9652 (T179AUA) DAF SB3000 / Van Hool Alizee T8 is currently on loan from Warringtons Coaches of Ilam.


---
---
NEWS
26th December
New Solos are on order for High Peak, and are due for delivery in January 2014. They are Mercedes engined. More details soon.

742 has been returned to service to replace Excel 688 (ex trent 231), which is withdrawn following a fire.

Ex Kimes Excel 701 (V394 KVY) has arrived here to replace 742.

18th November
Optare Solo (YJ11 EKV) is now in use here as fleet number 281.

---
---
NEWS & Sightings
-
---
---
NEWS
22nd November:
The latest addition to the fleet is Dennis Javelin / Plaxton Paramount (H160 DJU) which has arrived from Vixens Travel (East Sussex). I previously listed this under Bakewell coaches in error.


---
---
G&J Holmes


NEWS
26th December
The 2 new Enviro 200s here are (MK63 WZZ) and (YX63 GYK). Solo (MX59 AVR) has been sold to PC Coaches, Lincoln.

---
---
Glovers of Ashbourne

NEWS
-
---
---
Harpurs Coaches


NEWS

7th November 2013
(R309 WVR) has been painted and now in service. Similar (R319 WVR) is currently in stock, but not prepared for use.


---
---
Hawkes Coaches


NEWS
20th October:
Starliner (PO63 FLP) has been re-registered as (DH63 DEH).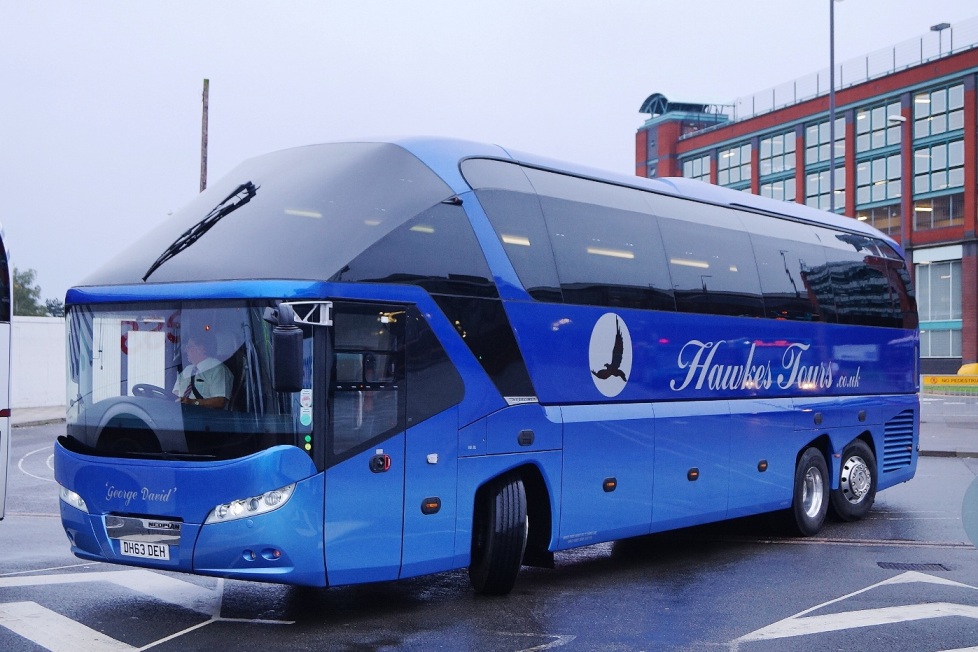 Brand new Starliner (DH63 DEH) is seen here leaving Derby bus station.
(C) Geoff Girling
---
---
Hulleys of Baslow

NEWS + SIGHTINGS
26th December
A temporary addition to the fleet from Dawson rentals is ENVIRO 300 (KX10 DVH). New to Order of Malta, Stirling, it is here in place of Volvo decker no 4 (V140 LGC), which has been withdrawn after being involved in an RTA. It islikely to replaced by another decker in the near future.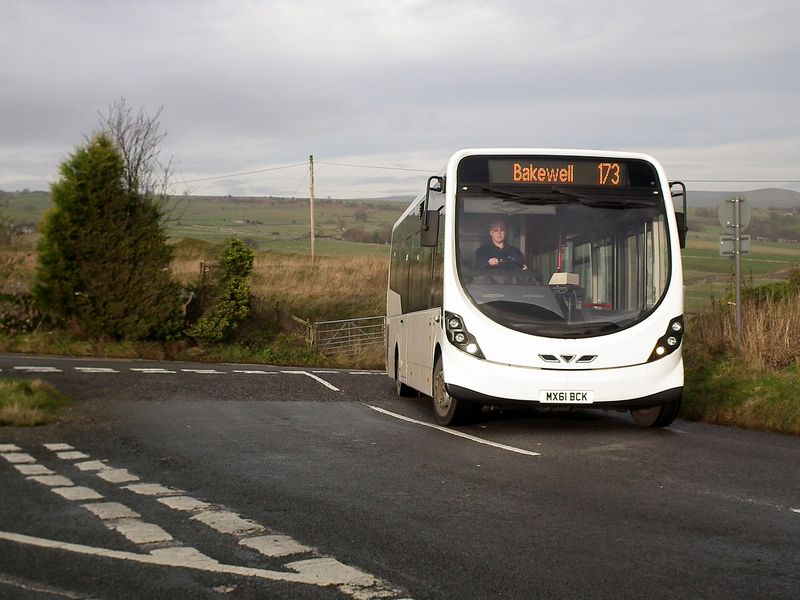 Hulleys Streetlite 22 (MX61 BCK).
(C) Ian Moorcroft



17th October
A temporary addition to the fleet is Wright Streetlite 22 (MX61 BCK). It is on loan from Mistral.


---
---
Johnson Bros / Redferns

NEWS & SIGHTINGS
-
---
---
Linburg

NEWS + SIGHTINGS
-

---
---
Littles Travel

NEWS + SIGHTINGS
7th April
Excel (V202 ENU) has been reregistered as (XIB 1908).
---
---
Midland Classic


NEWS
26th December
Olympian 90 (L649 MYG) is said to be withdrawn.


---
---
Paul S Winson
-
NEWS
---
---
Skills, Nottingham

NEWS
-
---
---
TM Travel


NEWS:
See Wellglade section.
---
---
Translinc
NEWS
---
---
The Wellglade group
trent barton, kinchbus, notts+derby and T M Travel.

NEWS
26th December:
The first Versa for the H1 route has arrived in the shape of (YD63 VCY). A Mercedes Citaro demonstrator is also at Langley Mill, although it may not be used in service.

687 is the latest sixes Scania to be put back on the road after refurbishment.

Solo 413 is now in use with TM Travel after a short spell with notts and derby. Centro 1198 is being repainted into unibus livery, and 794 into notts and derby livery.

TM have sold withdrawn ex Dublin Olys 1112 (J619CEV) and 1123 (L726SNO) and Solo 415 to Geoff Ripley, Carlton for scrap. Ripley's have also bought ex NCT Scanias 1119 and 1120 (L351/352MRR), but as these are operational, they may be sold on.

More ex Dublin Olys withdrawn are 1111 (H784PVW), 1113 (J628CEV) and 1125 (P487SWC) along with ex Armchair/Thompson Travel Oly 1105 (G370YUR). Of these, 1111 and 1125 are now stored in Hucknall Trent depot.

5th December:
New Versas are expected for use on the H1 route early on in 2014.

ADL Enviro 200 (MX12 DYV) is currently in use at Kinchbus.

Two extra Scanias should be needed for Nottingham Skylink at the end of January when the frequency of the route is increased. At the same time the Sawley Xprss is being withdrawn, the Zoom extended to Sawley and the Club Class route extended to Borrowash.

Dart 934 is back in use with notts and derby along with Solo 413 (from trent barton). These are for use on new school contracts (former Gills ones). Dart 935 is being repaired at Langley Mill and looks likely to rejoin the fleet at notts and derby.

Lance 367 has been scrapped and is currently in Looms, Spondon.

National 534 (FRA 534V) is due to return to the area later this month.

Door to Door Transits:

1010 (BK07 HSN),
1011 (BK07 DXD),
1012 (NM07 OMC).

1013 (HX53 OKM) is another minibus in the fleet.


---
---
Yourbus, Nottingham
NEWS
5th December 2013:
Enviro 200 1401 Has now been repainted in fleet livery.

Levante 4002/05/09/13/14/15/16 have now passed to Go North East along with some NX Diagrams.

Durham Depot has now closed (November).

4021 was written off In January 13 after an RTA.

4101/02/03/04/05/06/08/09/10 along with 4201/02 have been sold To Ensign Bus.

4107 has been scrapped after it caught fire at Gatwick in August.

Mercedes Citaro Demonstrator (BF60 OEZ) is due to join the fleet shortly and will become 3032.
---
---
Last Months News

News Index Page
---