Bus Fleet News
| | | | | |
| --- | --- | --- | --- | --- |
| | Merry xmas & happy new year | Merry Christmas & a Happy New Year!! | Merry xmas & happy new year | |
December 2012
---
Latest News
---
Here you will find all the latest bus fleet news for many bus operators in and around the Derbyshire area. If you have anything to report please contact me by clicking here.
---
---
NEWS
2nd July 28th April
Volvo B9R / Plaxton Panther (YN11 AXX) is here.
---
---
NEWS
24th December:
Omnicity (YT09 ZBW) is in an all over advert livery (white and yellow, looks a bit Maltese).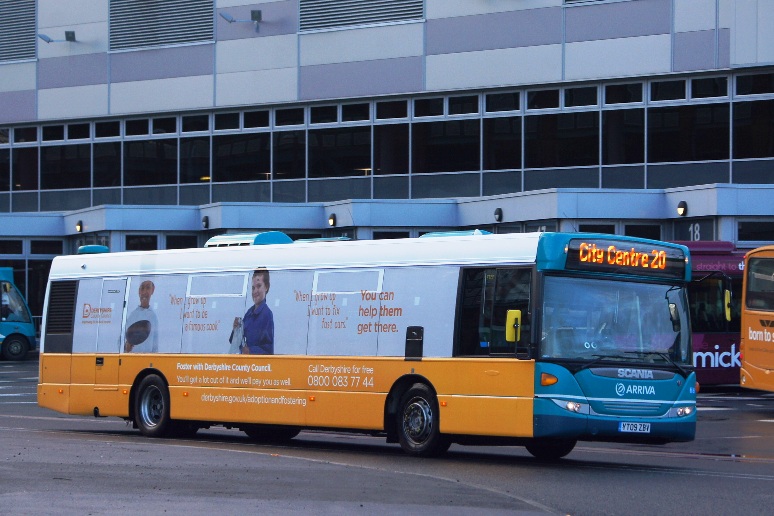 Scania Omnicity (YT09 ZBV) in its new advertising livery.
(C) Geoff Girling



21st October:
Deckers 4217/9 should be back at Derby shortly following their trial at Burton on X38. X38 branded Versas 2985/6 will be back at Burton.

5th October:
Geminis 4211/5 now carry all over adverts for Vodafone.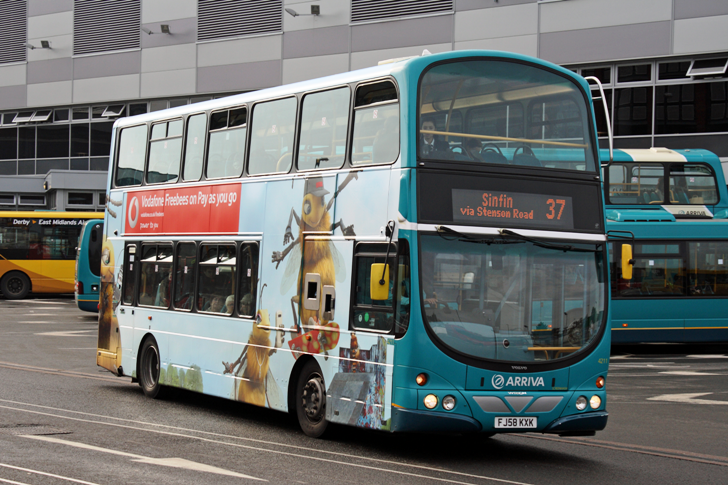 Geminis 4211 and 4215 now have adverts applied for vodaphone. 4211 is seen here leaving Derby Bus Station
(C) Jon Ridge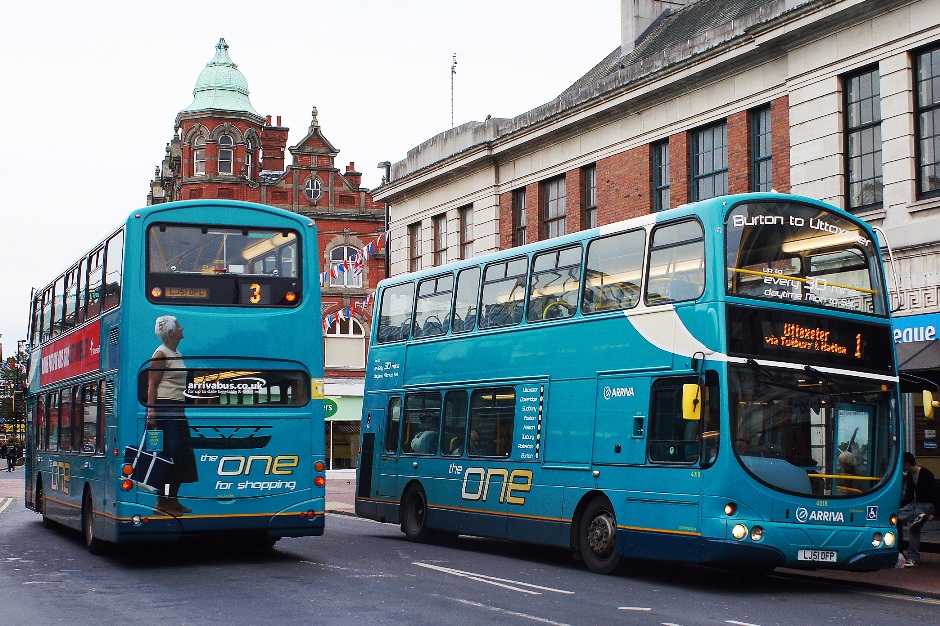 Gemini Volvo B7 4018 in Burton. These four vehicles have now had "the one" branding applied.
(C) Geoff Girling
---
---
NEWS
24th December

Leyland Tiger (D229 HMT) has been sold to McEwens at Mansfield.
Bedford YNV / Duple 320 (D66 ONS) has been purchased from Fords Coaches at Althorne.

17th December

Bakewell coaches are back. See the website for details of their excursions and holidays during 2013: Bakewell coaches website.

The following vehicles are in the fleet:

Laura Kaye, Setra (RJI 4525). Previously (X63CNY).
Belgian Betty, Bedford YNV / Van Hool Alizee (TIL 6709), previously (C658 KVW).
Lady Janet, Leyland Leopard / Plaxton Paramount (A62 OJX).

The following are also in the fleet, but currently out of use:

Leyland Tiger / Van Hool Alizee (B42 FCV).
Leyland Tiger / Van Hool Alizee (D229 HMT).
Toyota Coaster / Caetano Optimo IV (R852 SRY).
---
---
NEWS
17th December
Recent additions to the fleet are Solos 265 (YN03 ZXA) and 367 (V110 :LVH), the latter was new to Bowers, and the former ex Veolia in 2011.

12th December
Decker 904 has returned to Leicester.
Centro 753 (YJ58 FFC) was on loan for a short while, though it has now moved back to Arriva (was on loan to Centrebus Leicester).
All high peak vehicles are now operated out of Dove Holes garage, although the two operations are still quite divided!

31st October
Daf Northern Counties 737 (KUI 9266) (originally (M844 RCP)) is on loan from K-line whilst Excel (X233 WRA) is repaired.
Transpeak will no longer operate between Derby and Nottingham from November 18th. White Omnicity 789 and decker 904 are set to leave the fleet.

7th September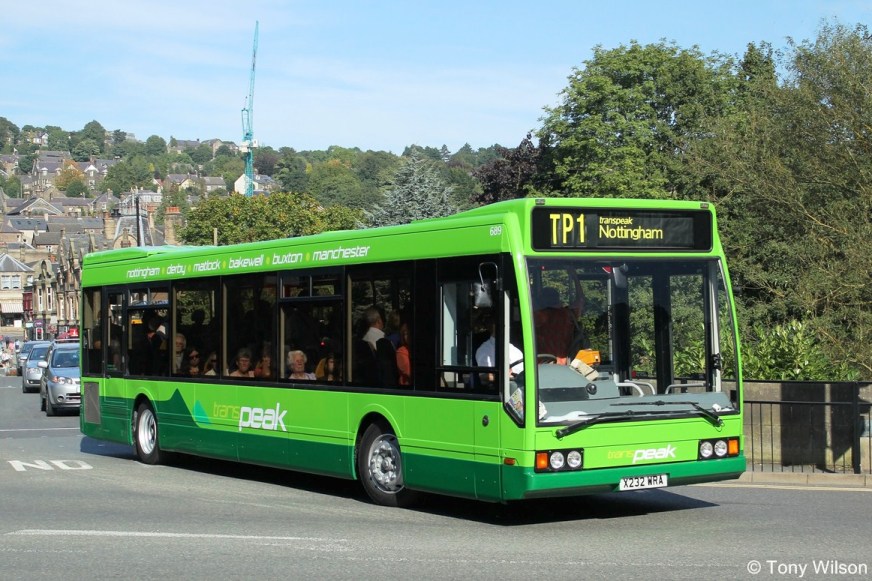 Former trent barton Excel, now High Peak 689, has had a repaint into transpeak livery. It is seen here in Matlock.
(C) Tony Wilson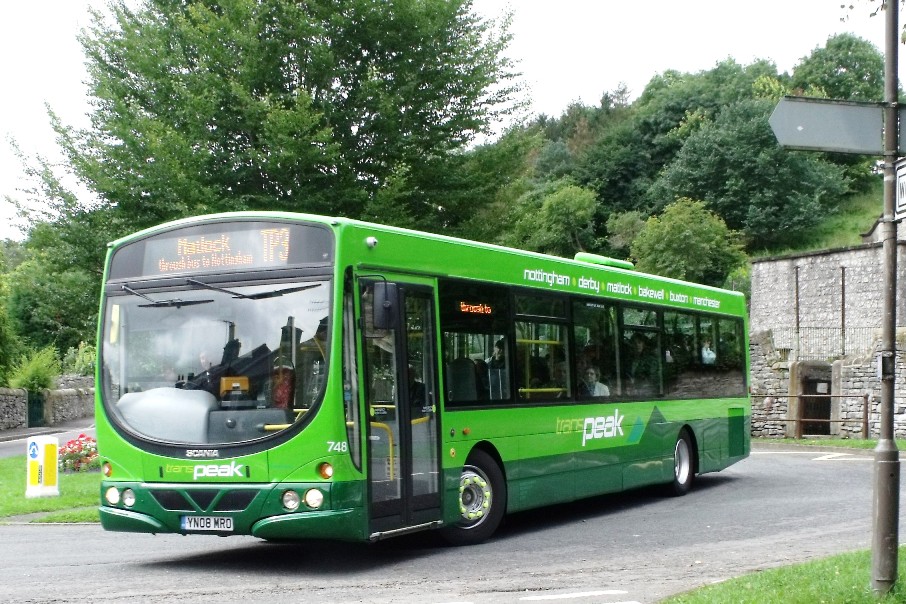 Scania 748 in Ashford in the Water.
(C) David Harrison

Excel 689 (X232 WRA) has returned repainted in transpeak livery.
Excel 687 (X227 WRA) is going to Hinckley.

Scanias 697 and 698 are likely to be painted for transpeak soon.
Former Kimes Scania / Wright Solar 703 (YN51 MJE) is due here soon as a spare for Skylink.


---
---
NEWS & Sightings
-
---
---
NEWS & Sightings
18th December:
MPDs (V331 CVV), (W365 ABD) and (W793/4 VMV) sold to Leven Valley.
MPD (V268 BNV) sold to Glamorgan Bus, Cwmbach.

12th December:
Following the loss of some tendered work this autumn some of the fleet has been sold / withdrawn:
MPDs (V263/4 BNV) are now with Gills Travel.
Trident (T183 CLO) is currently not in use.

14th October:
Dart (W793 VMV) is back in service, but Dart (X712 CCA) and Solo (T344 FWR) appear to have been sold after being canibalised.
There is likely to be further withdrawals soon with services 330, 59, 78, 81 and 585 ceasing by the end of the month, requiring 7 less buses.

30th July:
Solos (YJ54 UBP) and (YJ54 UBT) entered service in June / July respectively.
Another new bus in service is (W296 EYG) Optare Solo M850 B23F, originally HAD of Shotts.
Darts withdrawn are (W793 VMV) and (X712 CCA) both last used early May and declared SORN from June, but still at the depot.


---
---
NEWS
17th December:
Wright bodied Dart (P664 PNM) is here, ex University Bus, Hatfield.
The R reg PS is for sale on ebay, whilst similar (N818 DNE) has been scrapped. This was never used after repaint!

D W Coaches has begun operating route 150 from Clay Cross using two vehicles. Three vehicles have joined the fleet for this, East Lancs Dart (P212 DCK) and (P213 DCK) (both ex Rossendale) and Pointer Dart (V327 KMY).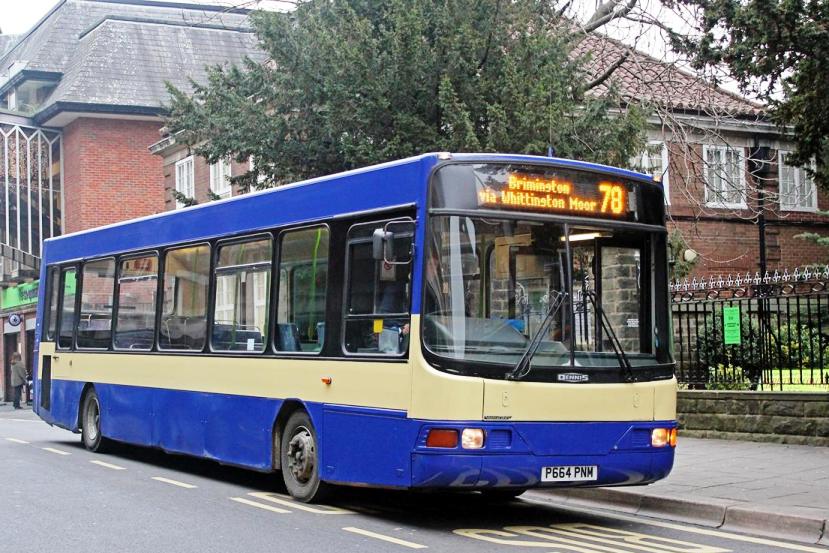 Another Dart to join the fleet is (P664 PNM).
(C) A Wilson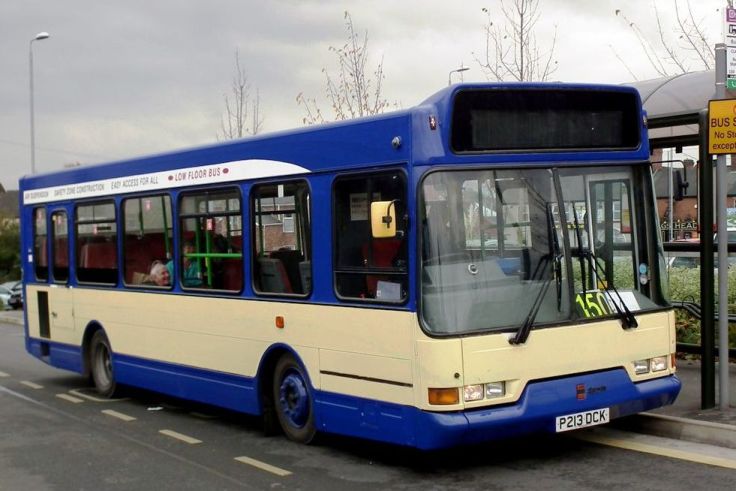 Dart (P213 DCK) on route 150.
(C) Ian Moorcroft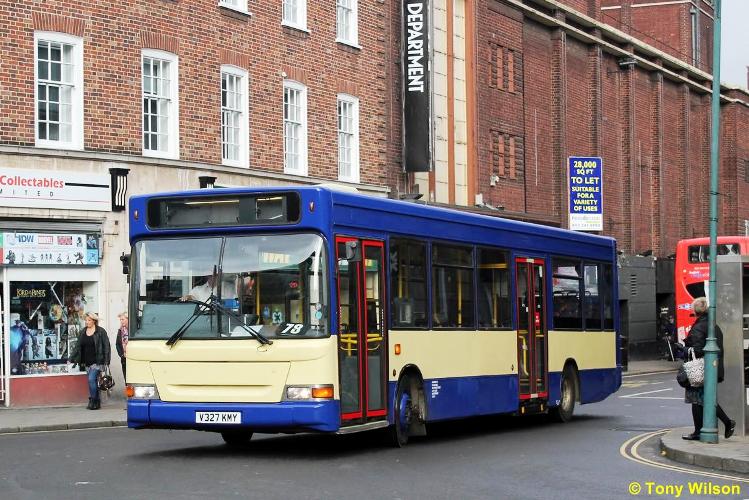 Dart (P213 DCK) on route 150.
(C) Tony Wilson



Former Finglands Leyland Tiger / Duple 300 LUI9958 (F301JNC) has been sold for disposal due to a failed gearbox.

Former Stagecoach United Counties Volvo B10M / Plaxton Premier Interurban K150DNV has been sold for disposal and did not see use during its time here.

Former Stagecoach Manchester Vovlo B10M / Alexander PS N818DNE has arrived and this is has now been repainted into full fleet livery.

Dennis Javlin / Berkhof Excellence N858XMO has now left the fleet.


---
---
NEWS

28th May
The two red Iveco coaches have been sold. The W reg Volvo coach is now on loan to Swiftsure in its place. The Bova below was purchased by Swiftsure to be used on the acquired Felix work.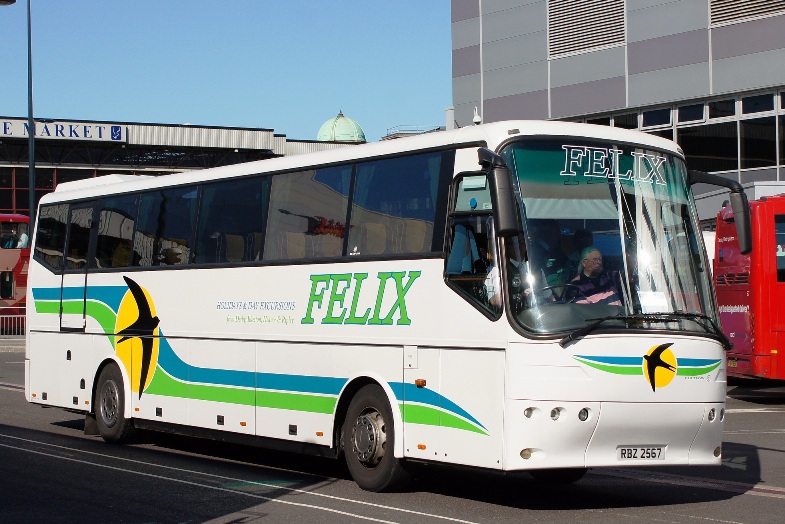 This Swiftsure Travel Bova (RBZ 2567) now carries the Felix name.
(C) Geoff Girling

21st April
Strider (M301 KRY) has been preserved.

Volvo (V708 GRY) has passed to Harrogate Coach Travel who have named the bus Felix: Photo of Felix

One of the coaches has been on loan to Swiftsure, all others are thought to be stored since operations ceased.



---
---
Gills Travel


24th December 2012:
MPDs (V263 BNV), (V264 BNV), Dart (R931 RAU), Metrorider (R228 SCH) and Darts (L134 YVK), (CAZ 6619) and an LDV minibus appear to make up the operational fleet.

Metrorider (R232 SCH) is currently SORN, off since November stored in the yard with a white Dart.

Darts (CAZ 6641), (M146 VVS), (N612 LGC) and Metrorider (R609 XAO) appear to have moved on.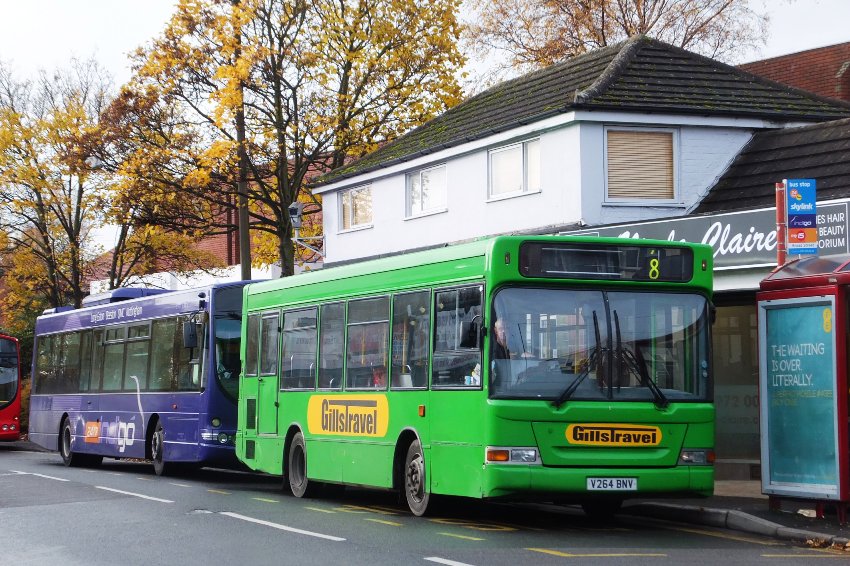 MPD (V264 BNV) is a recent addition to the fleet from Doyles, Alfreton. It is seen here in Long Eaton.
(C) Guy Guy Arab photostream



12th December 2012:
Former Doyles MPDs (V263/4 BNV) are here.

20th October 2012:
Former NCT Metrorider (R228 RCH) is in service here.

16th April 2012:
Former Trent Dart 931 (R931 RAU) is here. It was recently with Belle Vue, Stockport.
---
---
G&J Holmes

NEWS
-
---
---
Glovers of Ashbourne


NEWS
28th May 2012
Coach (AIG 1346) is here. It was formerly (L776 LUJ) with Welsh operator Owens of Four Crosses.

18th August 2011
Former Winsons Volvo Plaxton coach (FJU 973) arrived here in June.
A Mercedes Plaxton Cheetah is also here.
---
---
Harpurs Coaches


NEWS

17th December 2012
Olympian (N595 BRH) has passed to PVS Carlton Barnsley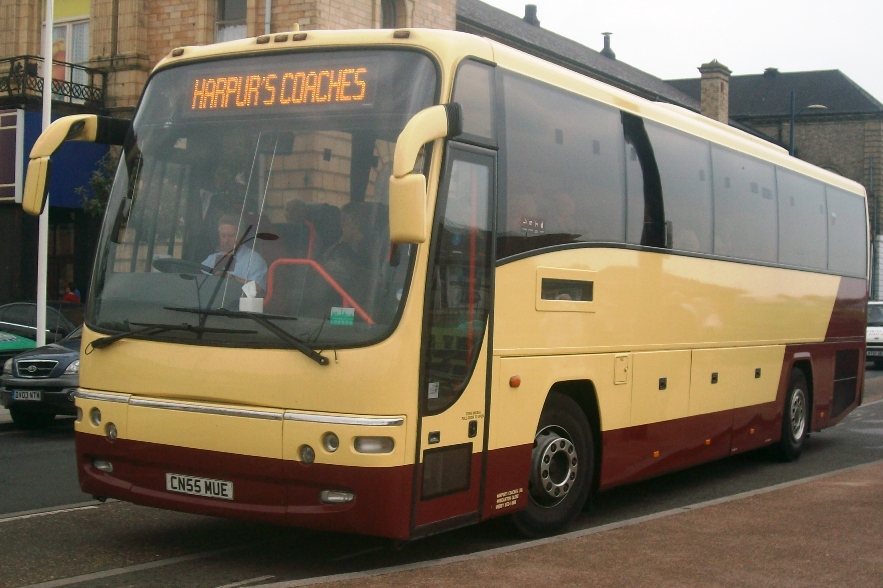 Harpurs (CN55 MUE) looking smart after repaint into fleet livery in Great Yarmouth.
(C) J Armstrong Jamie Armstrong's Photostream

16th July 2012
(G363 YUR) has been sold to Routemaster Travel of Lymm. Cheshire.

28th May 2012
Volvo coach (S315 SRL) has been painted and ready for the road, the third Dublin decker is also nearly ready.

(D922 UOD) has been sold for scrap and (RIL 5084) is expected to go soon. (G379 REG) is expected to stay on until schools finish at the end of July.

Olympians (N595 BRH_ and (G362 YUR) are now withdrawn.


---
---
Hawkes Coaches


NEWS
5th July:
A third PS to arrive here is (R978 XVM).

10th May:
The two Alexander PSs have been painted into blue fleet livery.

21st April:
One of the Volvo Alexander PS has been painted blue.

8th Feb:
Former Stagecoach Manchester Volvo / ALexander PS (P851 GND) is reported here from Ensign.

1st December:
Former Stagecoach Volvo / ALexander PS (P134 XCN) is here, still in stagecoach livery. The vehicle has arrived from Stagecoach Cumbria, and was originally fleet number 472 in the Ribble fleet.
---
---
Hulleys of Baslow

NEWS + SIGHTINGS
-

---
---
Johnson Bros / Redferns

NEWS & SIGHTINGS
-
---
---
Linburg

NEWS + SIGHTINGS
17th January
Former T M Travel Tiger (G435 EWU) is here, and is expected to be used in service!
---
---
Littles Travel

NEWS + SIGHTINGS
28th December
Excel (V202 ENU) is for sale on ebay.

30th November
An Excel has joined the fleet in the form of former notts+derby D1 Park and Ride Excel 202 (V202 ENU). It has been repainted into Littles livery.

17th October
Read Andy Izatts review of the Cheetah in route one last week: www.route-one.net

New here is Cheetah (YN62 AKO). This carries new style fleet names.

Three new Enviro 200s are here in white, branded for use on the 111 Pride Park and Ride. The three vehicles are (YN62 AOD/H/V).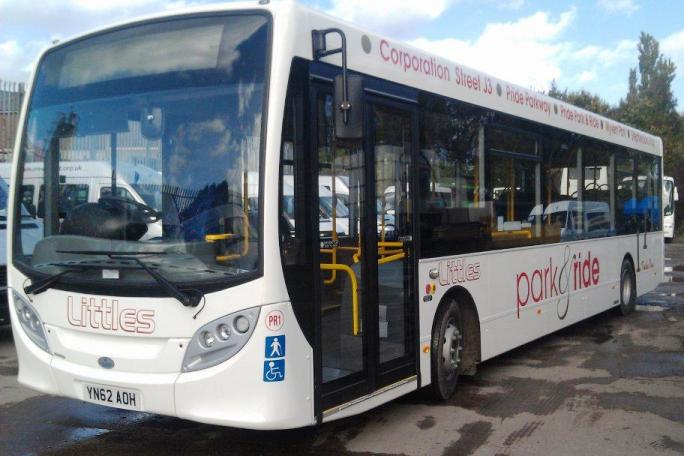 Enviro 200 PR1 (YN62 AOH).
(C)Littles Travel littlestravel.co.uk & twitter @littlestravel



8th October
Former Trent Olympians D54/5 (LHZ 6354/2) former (C717 LTO) and (C715 HVO) have moved to America for further service along with former NCT Citybus (SIL 1324) former (E318 BVO).

Ex Trent Lances 366/9/70 (N366/9/70 VRC) have all been scrapped.

Littles are to operate the 111 Pride Park and Ride from 22nd October. 3 Enviro 200s, branded for the service are expected here for this. More details soon.



21st April
The Solo that was used on route 9 has passed to Centrebus (high peak).
---
---
Midland Classic


NEWS
22nd September
MAN 61 (RX53 LNJ) has been repainted and is now in service.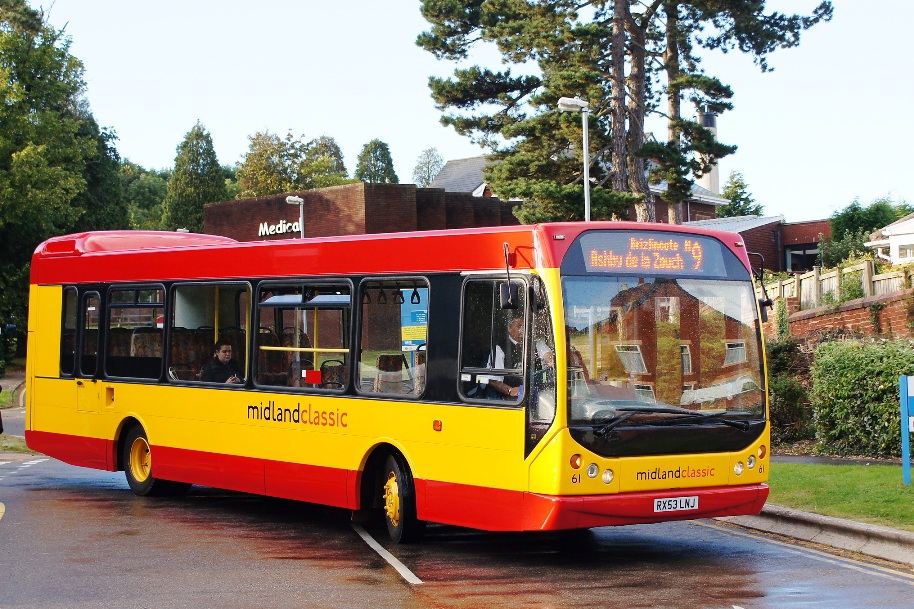 MAN 61 at the Queens Hospital, Burton.
(C) Geoff Girling

16th July
Both former Felix Solos have now been painted into fleet livery.


---
---
Premiere, Nottingham


NEWS
24th December
Enviro 200 demo (YX61 EKO) is on loan here.

12th December
Enviro 300 3337 (PT59 JPT) has arrived here in red.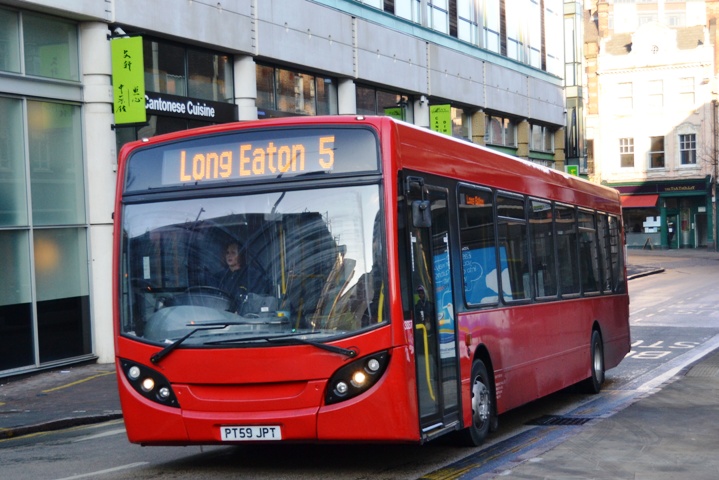 E300 3337 (PT59 JPT) is the latest addition to the fleet.
(C) John Moore



30th November
A new addition here is Scania Omnicity 3363 (YN56 NNA).

Deckers 4603/4 havew been withdrawn and passed to Stafford Bus Centre. An unidentified ADL E300 has arrived here in exchange. Also now withdrawn from service:
Solo's 2278, 2281 and 2291.
Darts 3332, 3383, 3389.
These are all placed into the reserve fleet and may soon be sold along with already withdrawn Dart 3331. MAN 3326 is also withdrawn due to engine failure.

17th October
Three silver Scania Omnicities have arrived here for the red 5, with another 5 similar vehicles due before the end of the year. The 3 here and in service are:
3360 (YN03 ZKX),
3361 (YN53 GGA)
3362 (YN53 GFZ).

3340 is currently in paint back to University livery for increased PVR on the Hopper Services.

5th October 2012
Gemini 4637 (FJ57 CZB) has been painted into Uni Hopper livery.
Some silver Scania Omnicities have arrived for the red 5 with more on the way soon. More details soon.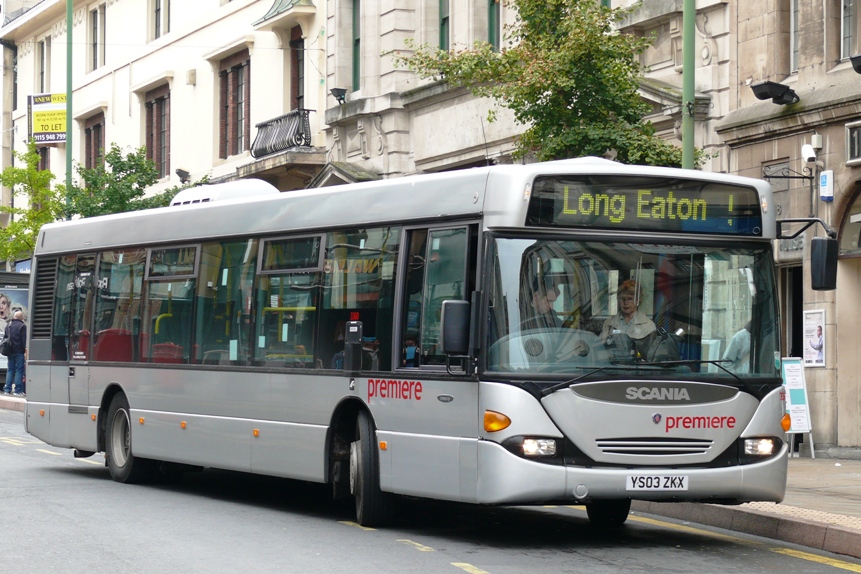 Omnicity 3360 Fri on Friar Lane, Nottingham.
(C) John Carnell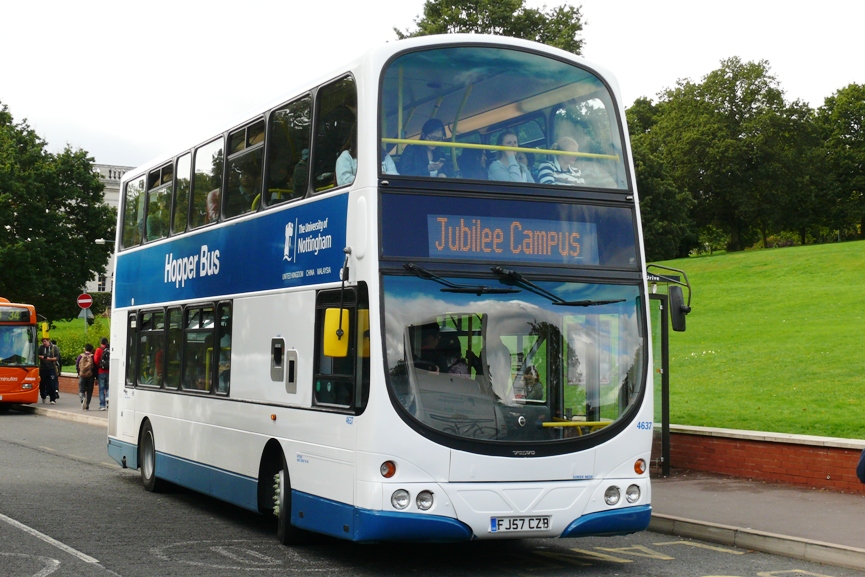 4637 now carries University Hopper livery.
(C) John Carnell
---
---
Stagecoach East Midlands
Chesterfield, Mansfield, Worksop
NEWS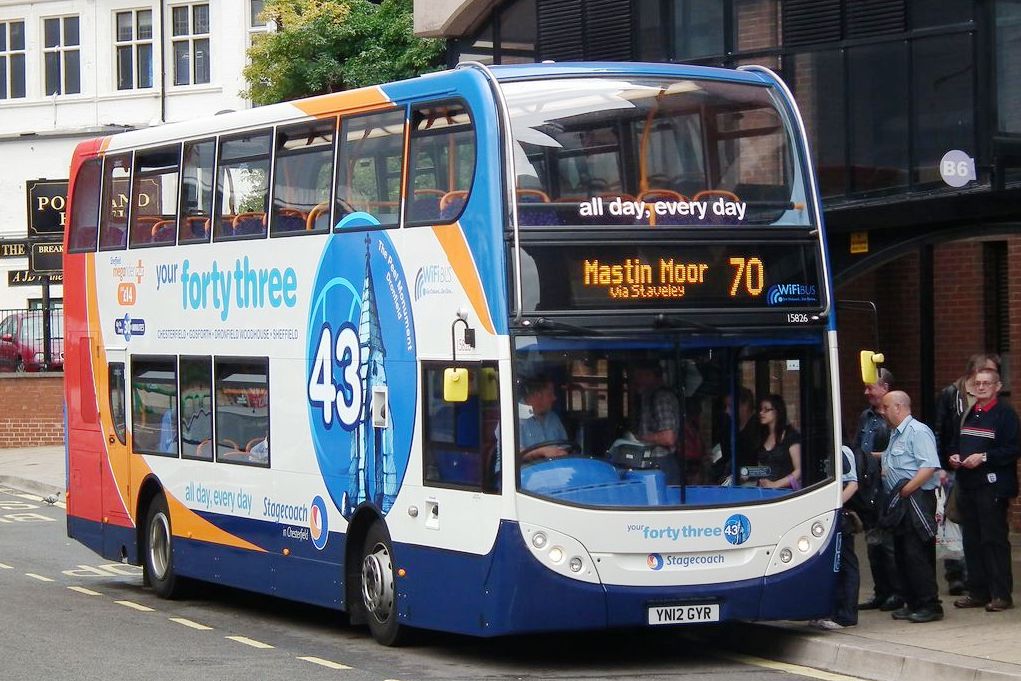 6 new Enviro 400 deckers have entered service at Chesterfield, 4 of which are branded for service 43. (YN12 GYR) is seen here in Chesterfield on route 70.
(C) Ian Moorcroft
To keep up to date with Stagecoach in Chesterfield, and many other operators in the area, take a look at the excellent Transpire website.
---
---
TM Travel


NEWS:
See Wellglade section.
---
---
Translinc
NEWS
:
---
---
---
The Wellglade group
trent barton, kinchbus, notts+derby and T M Travel.

NEWS 28th December:
Some news on former Wellglade vehicles, courtesy of Chris Gaskin:

Blackpool have sold their remaining ex Trent Olympians, (XAU702/703/705Y) and (A707/708/710 DAU) to Parton, Carlton. More than likley for scrap.
Excels 216 to 219 and 229 are being transfered from Konnect to Headingham.
Over in North Wales, Llew Jones Have sent ex Trent/Hulleys Vario 281 (R281 RAU) for scrap.
And ex TM Varios (YN54 WWU) and (YN54 WWV) have been sold by Reay, Carlisle to Plaxtons at Anston for resale.

24th December:
Notts and Derby have just purchased two Volvo / Plaxton 350, ex Southern Vectis. They are (R812/3 NUD) former (R2/3 OXF).

ECW Olympian 20 will also rejoin the fleet in the new year to replace 24.

792 should be out of the paint shop in the new year in unibus livery, 1185 due in the new year too.

17th December:
Excels 243 and 251 reported with Fricker (North Somerset coaches), Weston Supermare.

242 and 247 have left notts+derby, and have been sold, possibly to an operator in Ireland along with others from the batch.
249 is with Grand Prix Coaches, Brough, Cumbria.
Excel 165 (S165 UAL)is now in Northampton with Meridian.
Paladin 111 is now with M Travel (went weeks ago).

Centro 792 has been painted into Unibus livery. 1185 is due soon, after repaint into notts+derby livery.

12th December:
235 has been sold to Beaverbus, Leicester.

5 Excels are set to stay in the trent barton fleet 257, 261 and 263 at Sutton and 264/5 at Derby. All others should be withdrawn soon, although some remain in use temporarily.
255 and 260 are currently on loan to Sutton, 260 is covering for Versa 826 whilst it is repaired at Optare.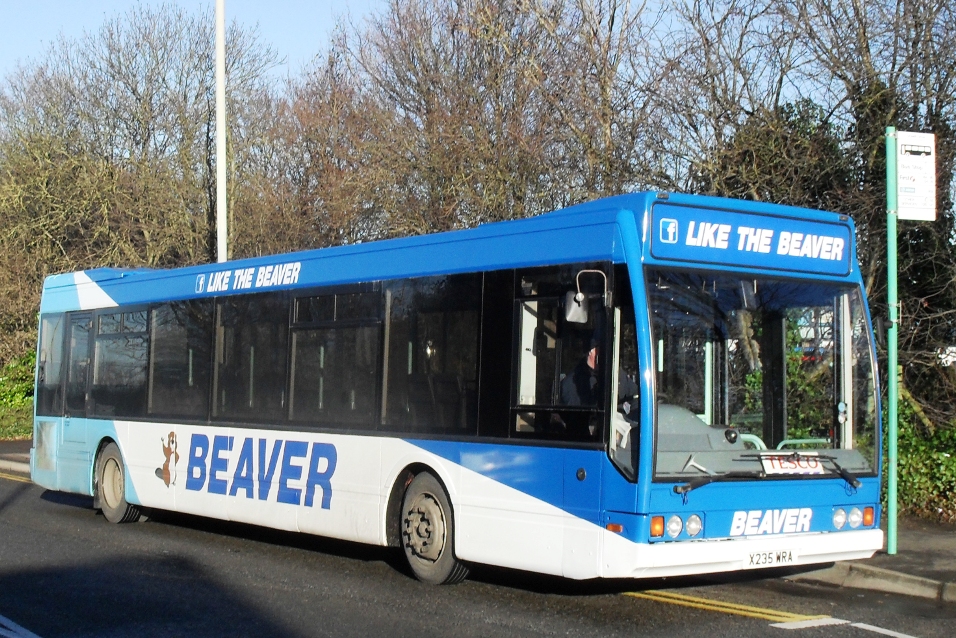 Like the beaver. Ex trent barton Excel 235 is now with Beaverbus, Leicester. This was the first vehicle to carry the trent barton livery.
(C) Adrian Healey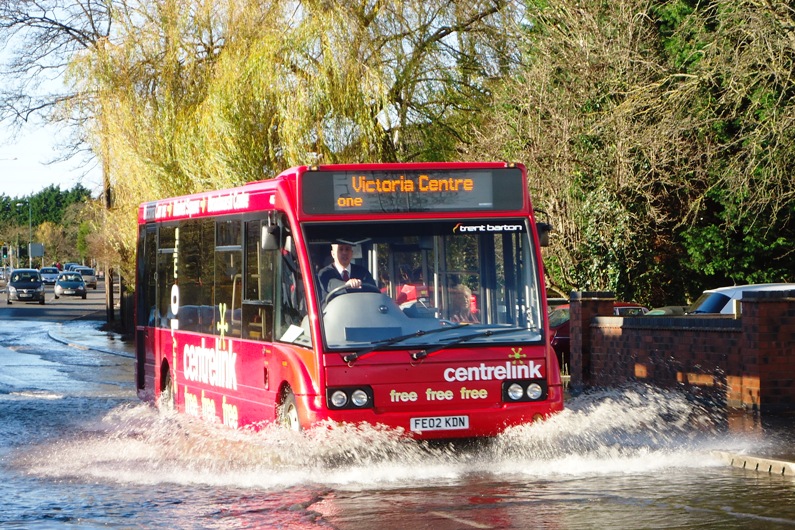 Centrelink Solo 446 is seen here during the floods on the Ruddington Connection "shuttle service" which is in operation whilst Ruddington Lane in Wilford is closed for 6 months due to the tram works.
(C) John Whittingham

30th November:
Excel 202 has been sold to Littles, Ilkeston.

Centro 1185 (YJ07 JNN) is due to be repainted into notts+derby livery.

An update on the ex Rainbow 4 Scanias:

670 trent barton, Derby
671. trent barton, Sutton.
672. ?
673 on loan to Kinchbus for Skylink repaints
674 trent barton, Langley Mill.
675 trent barton, Derby. 676 trent barton, Nottingham
677 trent barton
678 trent barton, Nottingham
679 ??
680 trent barton, Nottingham
681 trent barton, Derby.
682 ??



31st October:

4 more former TM Travel VDL Centros are expected to transfer to notts+derby soon.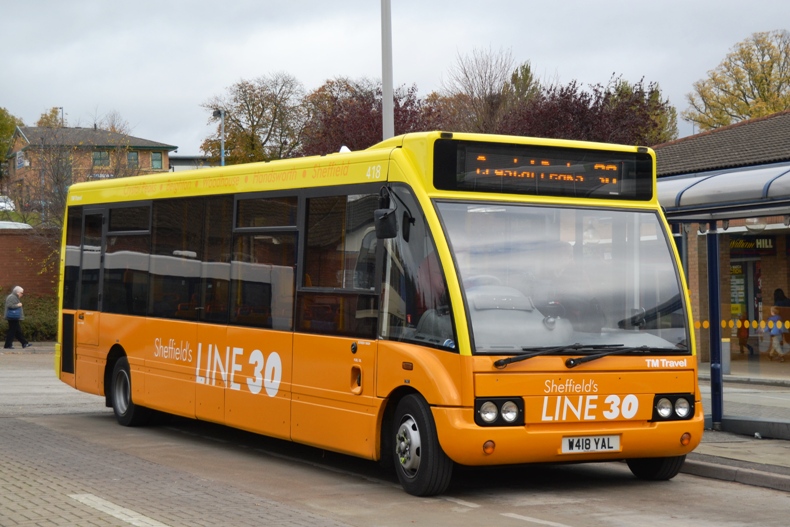 Solo 418 branded for Line 30.
(C) John Moore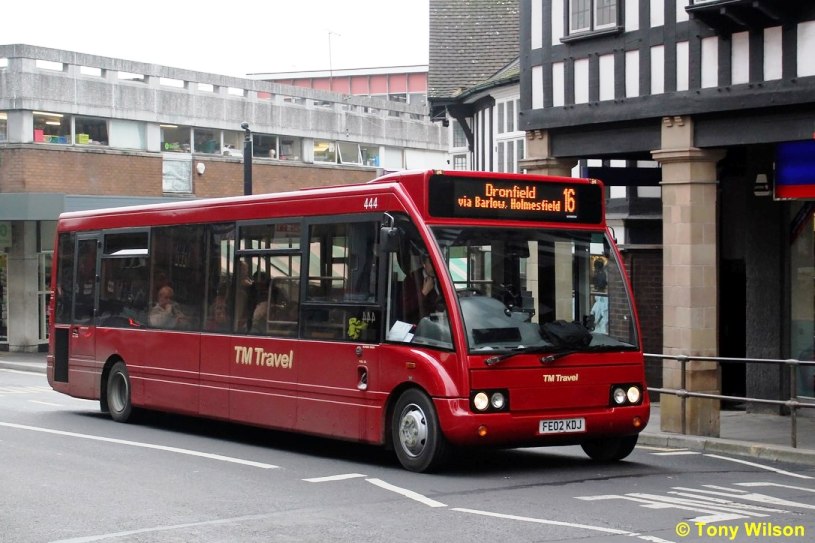 Former Centrelink Solo 444 now with TM Travel in the "new" red livery.
(C) Tony Wilson

Scania 671 is now based at Langley Mill. 674 also back in use in the new livery, based at Nottingham with 676 and 680. A list of the former Rainbow 4 Scanias and their current state is listed below:

The recent Solo movements can be confirmed:
411 from trent barton (sevens) to TM Travel. In use in sevens livery (green).
418 from trent barton to TM Travel. Branded for Line 30.
423 from trent barton (sevens) to TM Travel. In use in sevens livery (green).
424 from trent barton (Ruddington Connection) to TM Travel. Branded for Line 30.
425 from trent barton (Ruddington Connection) to TM Travel. Branded for Line 30.
437 from trent barton to TM Travel. Repainted into TM red.
444 from trent barton (centrelink) to TM Travel. Repainted in TM red.
445 from trent barton (ninety) to TM Travel. Repainted in TM red
455 from trent barton to TM Travel. Repainted in TM red.
460 from trent barton (Allestree) to TM Travel. Repainted in TM red.
461 from trent barton (Allestree) to TM Travel. Repainted in TM red.
462 from trent barton (Allestree) to ?. Under repair.
463 from trent barton (Allestree) to TM Travel. Repainted in TM red.
464 from trent barton (Allestree) to TM Travel. Repainted in TM red.

21st October:
Scania / Alexander Dennis Enviro 300 demonstrator (YN62 AAK) is here for trial on Rainbow 1. Believe this was the same vehicle that was at Showbus as (YN12 AAK), although not taxed at that point?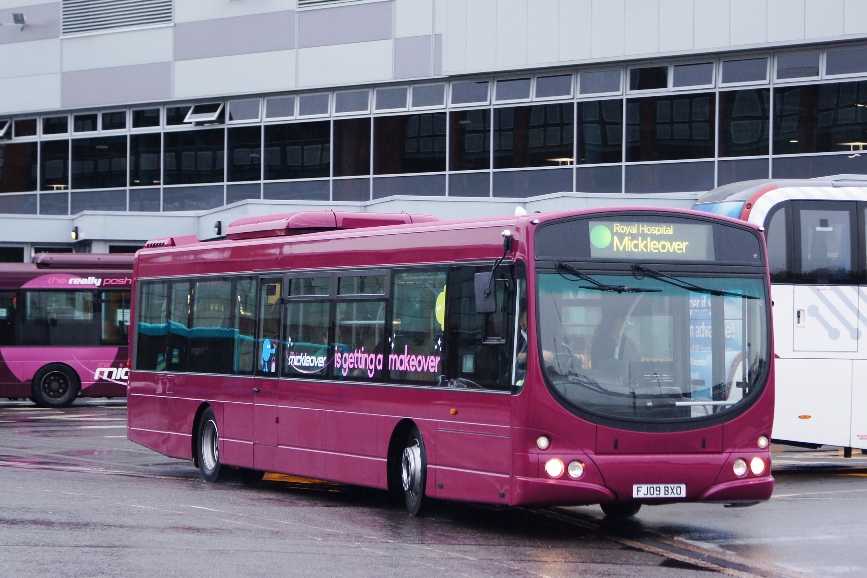 734 has been painted into the new livery for the Mickleover. Note the different shade of purple. More branding coming soon.
(C) Geoff Girling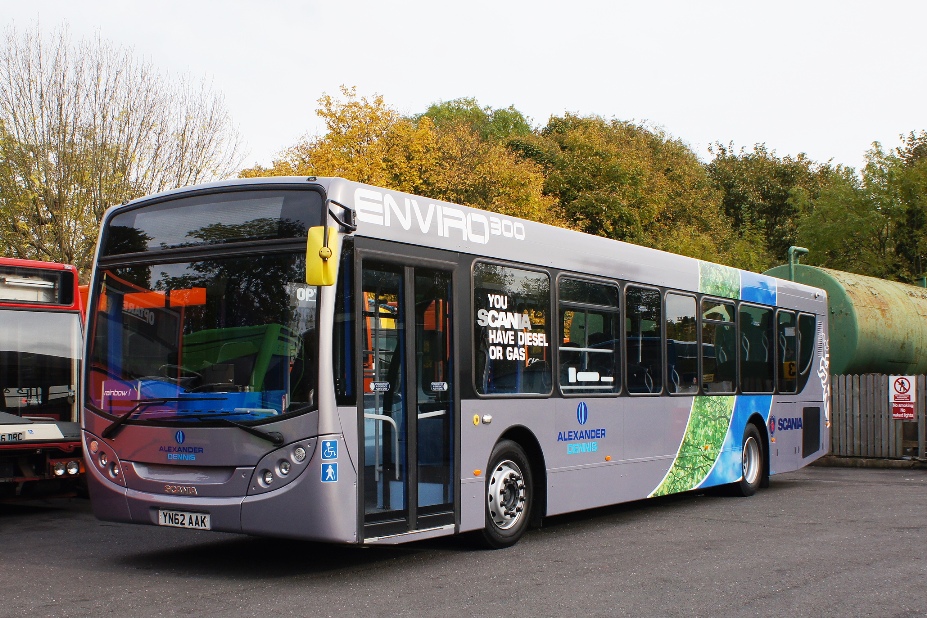 Enviro 300 demo at Langley Mill.
(C) Geoff Girling

14th October:
Excels 245 and 248 have joined 237 at Heartlands.

Scania 674 now in new spare livery for trent barton, with zig zag adverts.

Centro 1184 branded for N+D route 73.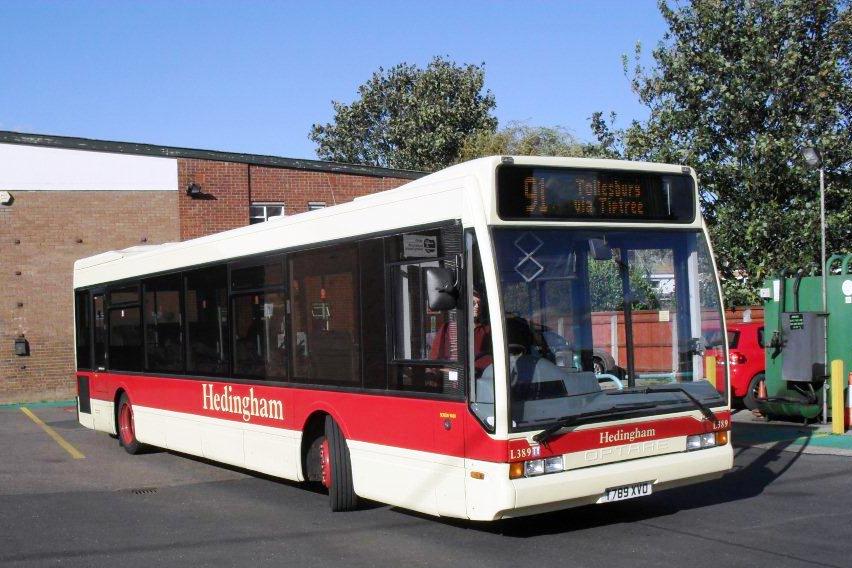 Former Trent buses Excel 189 is now with Hedingham.
(C) Adrian Healey



8th October:
726 and 727 are now based at Derby, and are set to replace Excel 234 and 262 (234 set to stay for a while whilst Mickleovers are refurbished).
676 and 680 are on loan to Nottingham due to a vehicle shortage.

671/4/8 at Langley Mill in the process of being painted into the new spare livery and refurbished for trent barton. 675 also there with seats removed ready to undergo the same treatment.
Scania 625 also there for repaint into new skylink livery for Kinch, and Volvo 734 for paint into revised mickleover livery.

Sevens Solos 411 and 423 are now stored.

All 5 former Allestree Solos 460-4 are now reported at TM Travel, along with 445 and 455 from Sutton.

Centro 1184 reported in notts+derby livery.

Many thanks to Chris Gaskin for the following information:
Paladin 111 (L911 LRA) has been sold to M Travel, Pontefract.
Dart 925 has been sold by Winsons to Suffolk operator Galloway, and still carrys registration (R80 PSW).
Ex Trent Excels 169 (S169UAL), 189 (T789XVO) and 203/205 (V203/205ENU) have been transfered from Konnect to Hedingham.
204 (V204 ENU) is now with Peelings Coaches, Kings Lynn.
Another ex Trent Excel, 165 (S165UAL) is now in Northampton with Meridan Buses, this last with Rotala subsidury, Central Connect/Blue Diamond.
Ex Trent Citybus 605 (F605 GVO) has passed from Redline, Penwortherm to Warrington Coachways.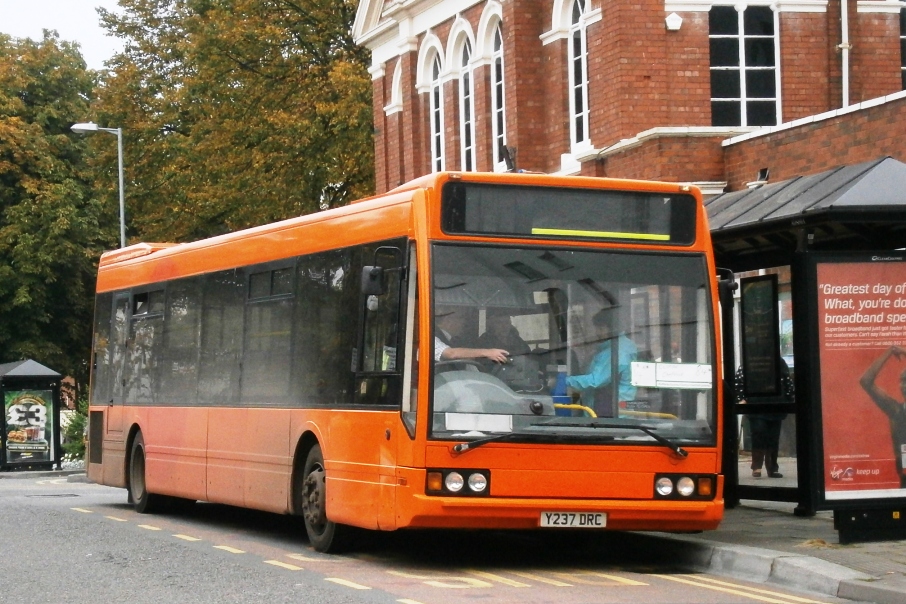 Former Rainbow 3 Excel 237 is now with Heartland, seen here in Tamworth.
(C) Daniel Louch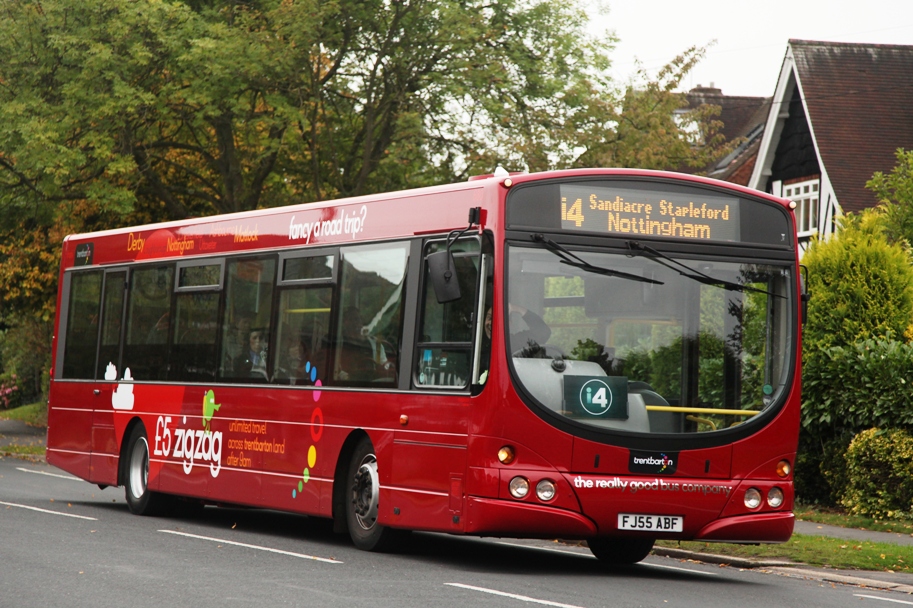 Former Rainbow 4 Scania 680 back on its old route in Nottingham, though now renumbered i4.
(C) Rob Hadfield the bus parade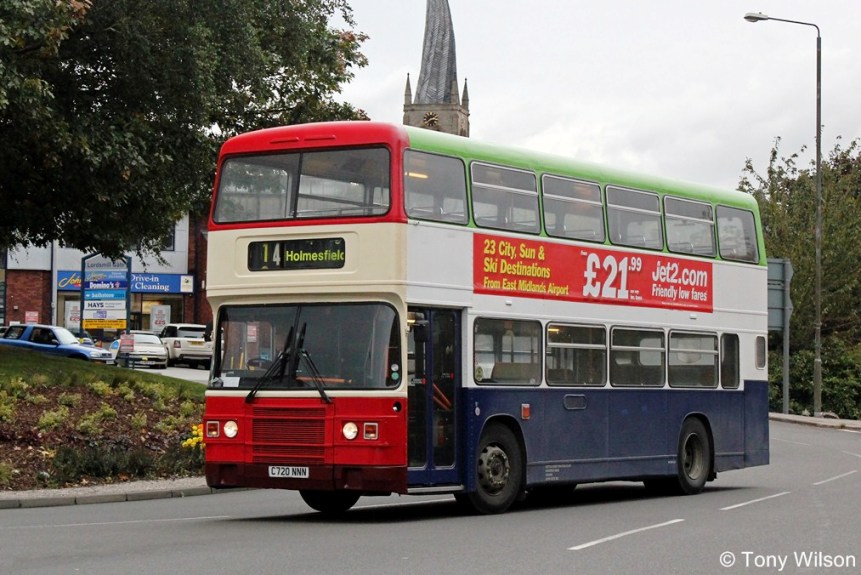 Former notts+derby, kinchbus and trent Olympian 720 is now in service with TM Travel complete with a smart front end repaint into TM Travel livery!
(C) Tony Wilson



5th October:
Some former Rainbow 4 Scanias now carry the new style "spare" livery and logos:
676 - trent barton live - Nottingham,
679 - zig zag - Langley Mill,
680 - Nottingham.

679 has replaced Excel 260 at Langley Mill.
Volvo 726 has moved to Derby as cover whilst the Mickleover Volvos are repainted into the new look livery.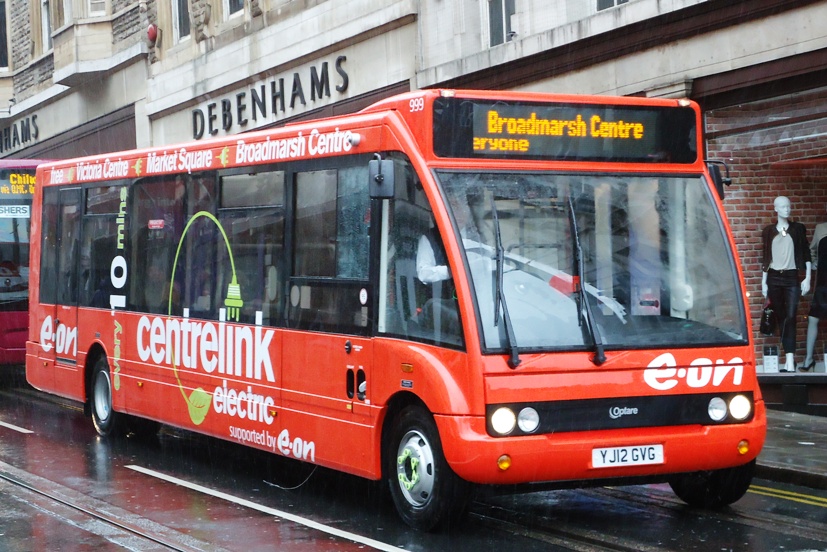 999, one of the four electric Solos now on the Centrelink service in Nottingham
(C) John Whittingham



3rd October:
Sevens Solo 423 has been withdrawn. 411 to follow if not already. The service is to be operated with two red Solos 441 & 466 until the sixes and sevens are rebranded.

Electric Solo 999 has been back to Redferns for accident repairs.

677 has become a third former Rainbow 4 Scania to carry temporary branding for the Derby Leicester Skylink. Currently on loan to Kinchbus whilst the branded vehicles are refurbished. An additional vehicle is also currently required due to roadworks.

Solos 460/3/4 appear to be at TM Travel (not 461 as previously stated), still in grey Allestree livery. They are for use on the Matlock Town services, a contract TM have gained from Holmes - who have now registered the services commercially!


---
---
Yourbus, Nottingham
NEWS
28th December 2012:
A new Citylink service will be launched on 18th February. The service will operate between Derby and Nottingham every 10 minutes Mon to Sat and every 30 minutes on Sundays. The service will be limited stop only calling at Derby bus station, Nottingham QMC, Upper Parliament St and Victoria bus station.

7 Citaros are due soon 3017-23. They will be branded for the new Citylink service, along with 3015/6.

30th November 2012:
Streetlite 1303 is now in standard livery.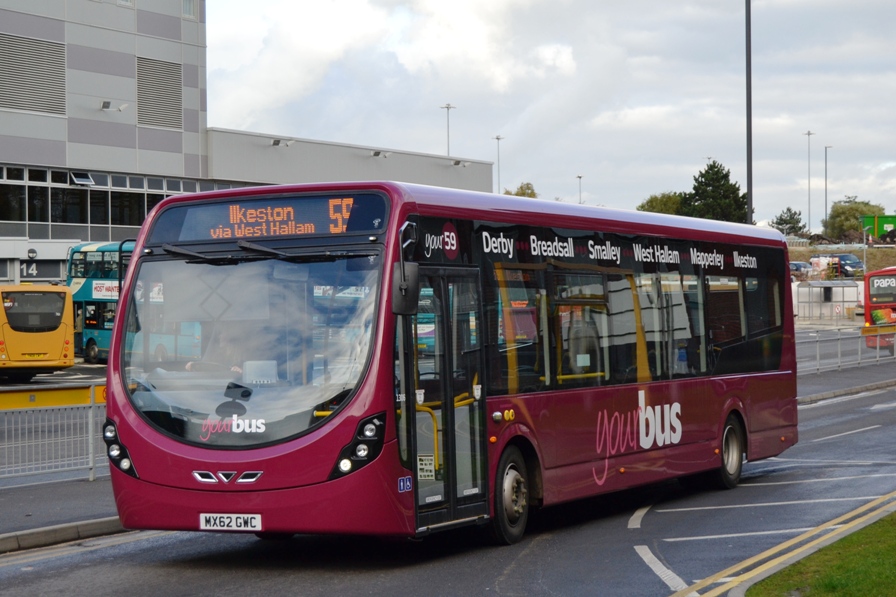 Y59 branded Streetlite (MX62 GWC) leaving Derby Bus Station.
(C) John Moore

Two more Citaros due for delivery this week are:

3015 (BF62 JYR),
3016 (BF62 JYS).

5 wheel forward Streetlites are now here, currently in white but will be painted into fleet livery over time:

1201 (MX62 GVL),
1202 (MX62 GVN),
1203 (MX62 GVR),
1204 (MX62 GVV),
1205 (MX62 GVZ),

And 5 brand new Mercedes Citaros for the Y28:

3010 (BF62 JZA),
3011 (BF62 JZC),
3012 (BF62 JZD),
3013 (BF62 JZE),
3014 (BF62 JZG).

More Citaros are due next year.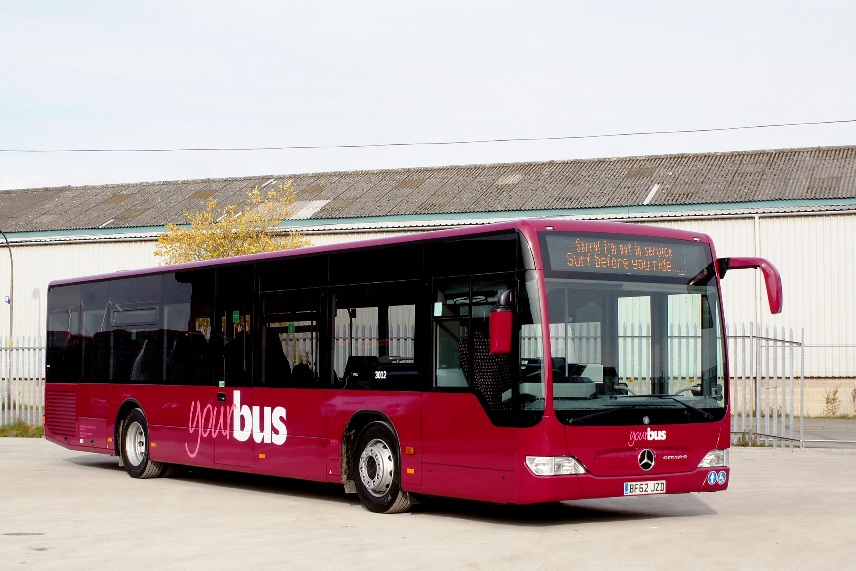 Brand new Citaro 3012 (BF62 JZD) here for use on the new Y28 route.
(C) Geoff Girling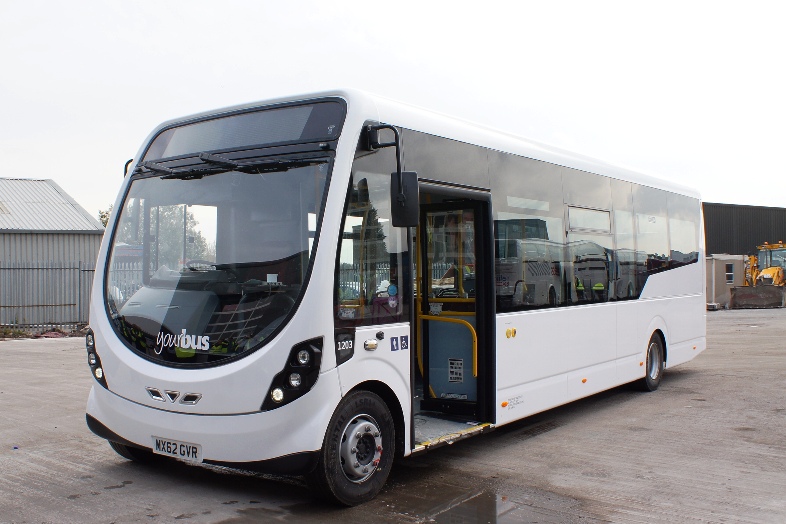 Wheel forward Streetlite 1203 (MX62 GVR).
(C) Geoff Girling

3rd October 2012:
7 door forward Streetlites are now in service here as:
1301 (MX62 GOA),
1302 (MX62 GXE),
1303 (MX62 GXK),
1304 (MX62 GXY),
1305 (MX62 GXZ),
1306 (MX62 GWC),
1307 (MX62 GWZ).

Yourbus have won the contract to run the 59 Derby to Ilkeston from the end of the month. It will be renumbered Y59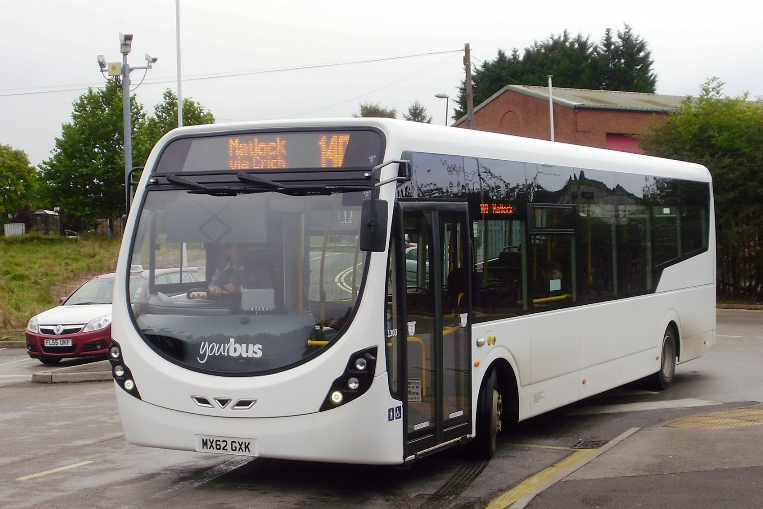 Yourbus Streetlite 1303 (MX62 GXK).
(C) John Moore


27th August 2012:
6 Mercedes Benz Citaro's from Epsom Coaches as follows:
3501 (BU53 AWX),
3502 (BU53 AWW),
3503 (BU53 AWY),
3504 (BU53 AWZ),
3505 (BU53 AXA),
3506 (BW03 ZMY).
2 for Heanor Depot 4 for Tuxford Depot.

Vehicles to be withdrawn are as follows:-
Darts 1011,1012,1013,1101,1102,1103,1104,1105,1106,1107,1108 & Trident 2503 (All sold to Weaden PSV).

2507 is now transferred to Tuxford following end of 228 service.

Dart 1010 is being converted for use as a driver training vehicle.
---
---
Last Months News

News Index Page
---