Bus Fleet News
August 2011
---
Latest News
---
Here you will find all the latest bus fleet news for many bus operators in and around the Derbyshire area. If you have anything to report please contact me by clicking here.
---
---
NEWS
2nd July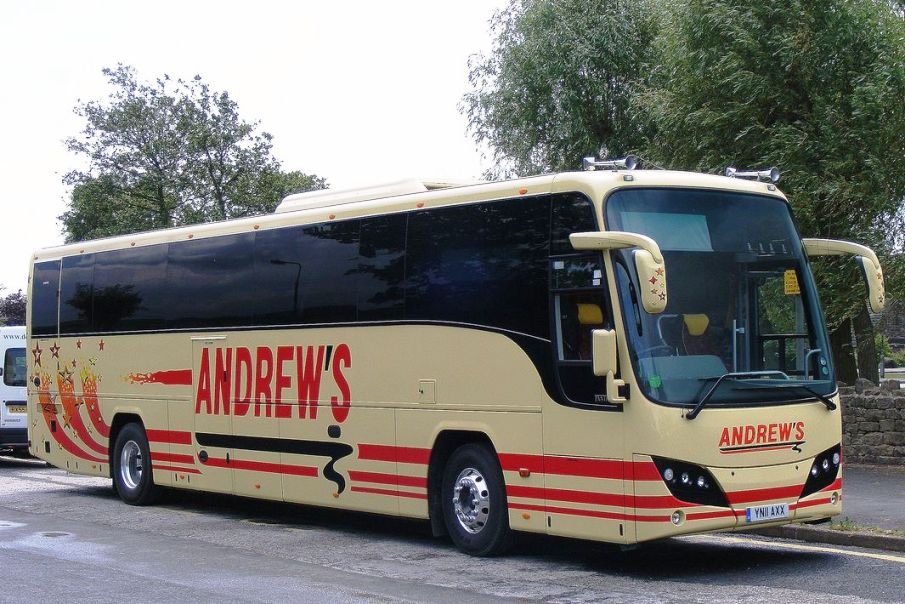 Andrews new style Plaxton Panther / Volvo B9R seen here in Bakewell on private hire duties. They also have a new Plaxton Cheetah (YN11 AXD). .
(C) Ian Moorcroft

28th April
Volvo B9R / Plaxton Panther (YN11 AXX) is here.
---
---
NEWS
27th August: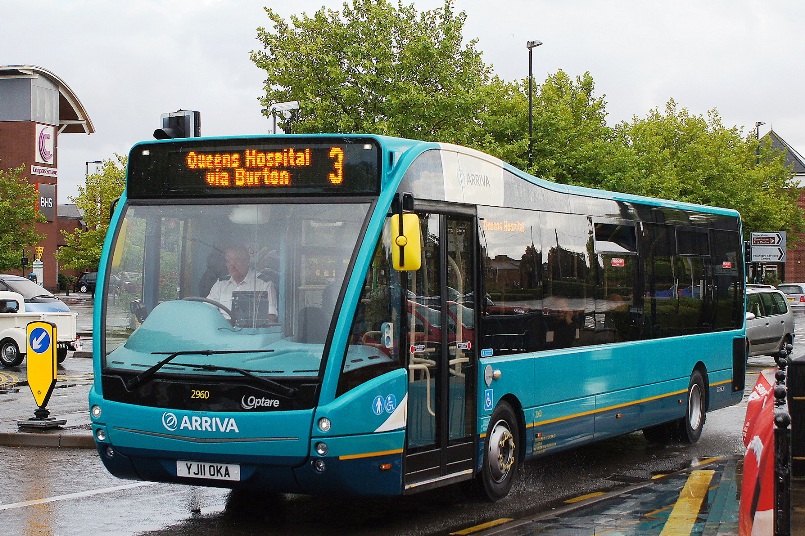 New Versa 2960 in service in Burton on Saturday 27th August.
(C) Geoff Girling

Versas due at Derby over the next couple of weeks are:

2948 (YJ61 CFF),
2947 (YJ61 CFG),
2946 (YJ61 CFK),
2945 (YJ61 CFL),
2944 (YJ61 CFM).

4 for Burton are already at Ascot Drive and are:

2960 (YJ11 OKA),
2959 (YJ11 OKB),
2958 (YJ11 OKC),
2957 (YJ11 OKD).

18th August:
Former Derby Corporation Tower Wagon 3 (RC 4248) and 5 (RC 6262) (converted latterly to a tow truck) were recently listed on ebay, although in a sorry state after being stored outdoors for many years.

4th August:
Arriva Midlands Solo's will soon become 25xx, so 9 will be replaced by a 5.
The 5 Versas for Derby will be numbered 2944,2945,2946,2947,and 2948.

23rd July:
MPDs 2217/8 and 2223/4 have moved to Wardles. The 4 new slimline Solos are now in service.

7th July:
The Derby Solos on loan in Malta are numbered as follows:
2913 (BUS 300),
2914 (BUS 301),
2916 (BUS 302),
2917 (BUS 303),
2918 (BUS 304),
2919 (BUS 305),
2920 (BUS 306),
2921 (BUS 307),
2922 (BUS 308).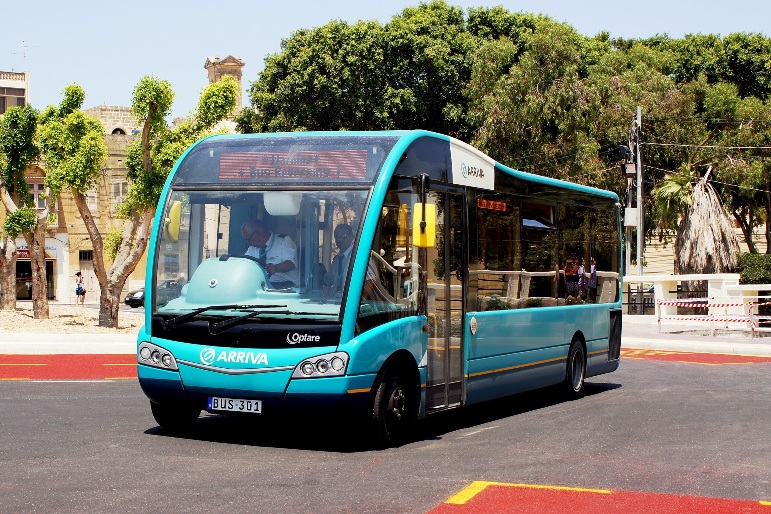 Derby Solo 2914 (BUS 301) in Victoria bus station, Gozo.
(C) Geoff Girling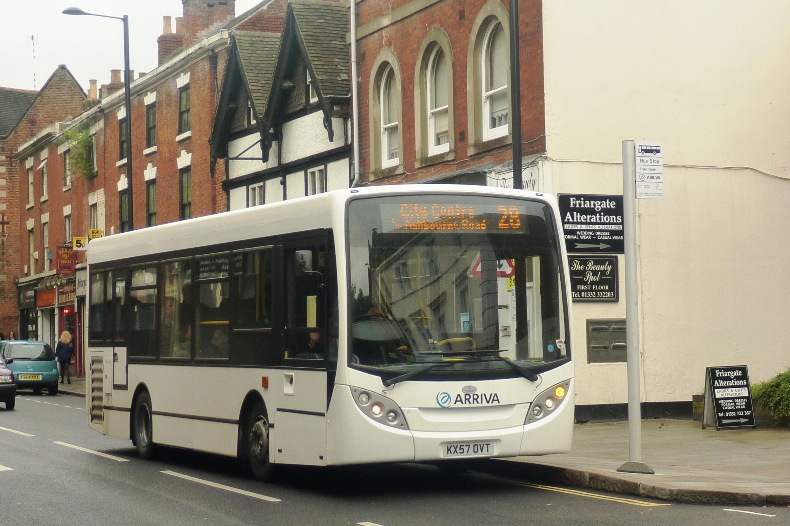 Enviro 200 1001 on Friar Gate in Derby.
(C) Bobby

2nd July:
The four slimline Solos have arrived at Ascot Drive. Omnilink 3812 now in the new livery ready for its move to Cannock. 3578/9 both out this week.

18th June:
9 Solos are going on loan to Malta. 2913/4/6/7/8 should already be off, with 2919/20/1/2 following on Tuesday. 2915 will remain at Derby.

9 Enviro 200s are here as cover for around 3 months, all are at Ascot Drive:
1001 (KX57 OVT),
1002 (KX08 UXU), in service 17/6
1003 (SN59 AXA), in service 17/6
1004 (SN59 AXB),
1005 (SN59 AXC), in service 17/6
1006 (KX57? FMC),
1007 (KX08 HMD),
1008 (KX08 HMF),
1009 (KX57 OVU),


15th June:
9 Solos from the Derby fleet are going on loan to Malta very shortly. Two Enviro 200s have arrived at Derby to cover their absence, which is expected to last around 3 months. (KX57 OVT) and (KX08 UXU) are the first to arrive, with more likely to follow. Both are from Dawson Rentals and are painted white.

The 4 new Solos here are:
2935 (YJ11 OHF),
2936 (YJ11 OHG),
2937 (YJ11 OHH),
2938 (YJ11 OHK).

5th June:
Omnilinks 3811 and 3812 are to move to Cannock for New X31 service Cannock - Birmingham. They will be replaced at Derby by Omnicities 3578 (YN55 RCF) and 3579 (YN05 HGC).

4 Slimline Solos (not SRs) are due late June early July, and 5 Versas in the autumn. This is likely to see all Darts withdrawn / moved elsewhere.

8th May:
MPD 2222 has had a repaint into the now standard inter urban livery.

4th April:
Omnilinks 3811 and 3812 are now based at Derby (again).
Dart 2227 has gone to Burton.

15th Feb:
Omnicity 3580 and Omnilinks 3809/10 are now in service. All three have transfered from Wigston.
Darts 2228/9 have gone to Burton garage, whilst 2231 has gone to Stafford.

---
---
NEWS
8th May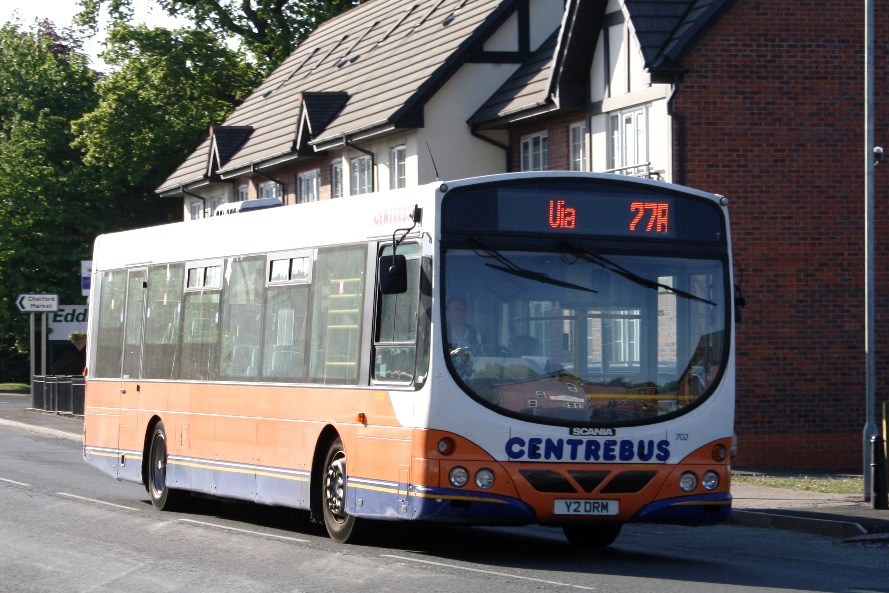 Scania 702 (Y2 DRM) is currently with Bowers, seen here on route 27 (Macclesfield - Knutsford).
(C) Nick Mannion

Scania L94UB/Wright (Y2 DRM) is now in use here.

9th Feb
Former Travel Coventry Solo (S276 AOX) is expected here soon. It should be painted in the new style livery that (CE52 UFX) carries. It was previously with the Centrebus operation in the Luton area.


---
---
NEWS & Sightings
-
---
---
NEWS & Sightings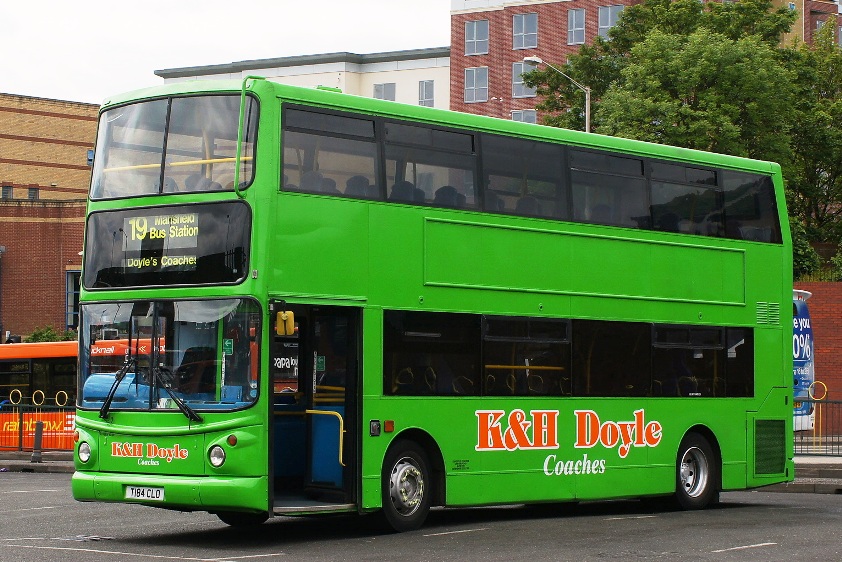 Doyles Trident (T184 CLO) in Mansfield.
(C) Geoff Girling

4th April
The 4 former Go Ahead MPDs here are: (Y863/4/5/6 TGH).

27th March
3 of the 4 former Go Ahead MPDs to arrive here are said to be (Y863/4/5 TGH).

22nd March
Bus Eireann DPC3 (00D84191) is now registered (W975 ETW).
4 former Go Ahead London MPDs are expected here on Wednesday.

17th March
Two Plaxton Pointer Darts are here from Bus Eireann:

DPC3 (00D84191) has just been repainted (no UK reg yet).
DPC10 (00D89227) is now (W973 ETW) and is in full livery.

(T183/4 CLO) are both now in full livery, 183 awaits fleet names.

5th March
Bus Eireann Dart/Plaxton Pointer (00-D-89227) in the yard today. Acquired?

One of the two tridents (no plates) has now been painted and converted to single door. It is thought to be (T184 CLO) as the other example was untouched earlier this week.

Darts (P301/8 HDP) now back in use and (R556 UOT) re-licenced but not yet in use.

Former Fox County Merc (R167 UAL) remains in store, Trent Vecta 801 left early Feb and remains untaxed, whilst ex Trent Vario 287 (S287 UAL) is now on the road elsewhere.


---
---
NEWS
-
---
---
Gills Travel


26/03/2011:
Former NCT, and more recently Littles, Optare Metrorider (R232 SCH) is now here.
---
---
G&J Holmes

NEWS
-
---
---
Glovers of Ashbourne


NEWS
18th August 2011
Former Winsons Volvo Plaxton coach (FJU 973) arrived here in June.
A Mercedes Plaxton Cheetah is also here.
---
---
Harpurs Coaches


NEWS

29th August 2011
Two of the Dublin Olympians here are (99D583) and (99D585).

18th August 2011
3 Dublin Olympians have arrived here, along with 2 more from Arriva in Liverpool. More details to follow.
Metrobus (B204 WUL) has gone to PVS (scrap).

4th August 2011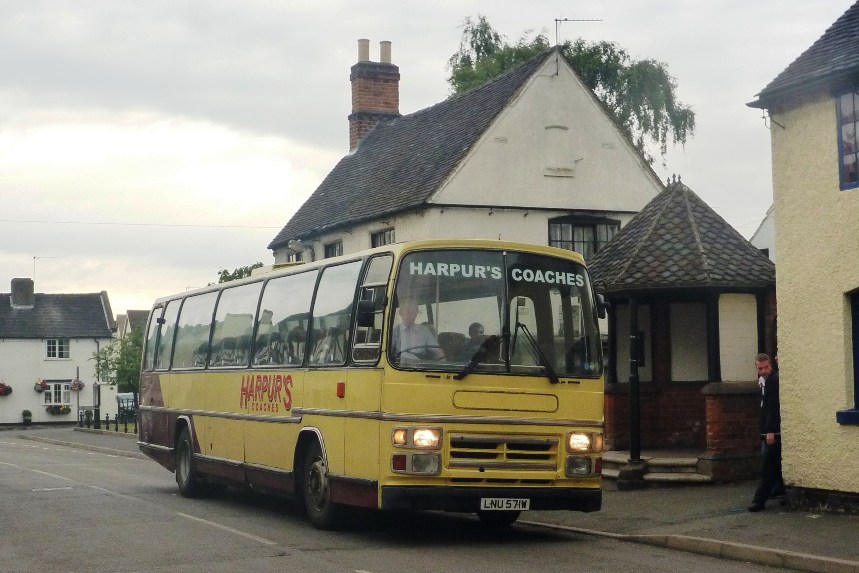 After a brief return to service this former Barton Leopard is now back in storage / preservation. (LNU 571W) is seen here in Weston on Trent.
(C) Bobby.



17th March 2011
Dennis Dominator (F638 BKD) and Metrobus (C317 BUV) have gone to PVS for scrap.

27th Jan 2011
Metrobus (C317 BUV) has been withdrawn. This leaves 3 left in service here, although some former DUblin Olympians may replace them in the near future. (C373 BUV) may be retained.
---
---
Hawkes Coaches

NEWS
---
---
Hulleys of Baslow

NEWS + SIGHTINGS
29th August
Hulleys require a decker for a new contract which begins in October.
---
---
Johnson Bros / Redferns

NEWS & SIGHTINGS
-
---
---
Linburg

NEWS + SIGHTINGS
-
---
---
Littles Travel

NEWS + SIGHTINGS
26th March 2011
Metrorider (R232 SCH) has gone to Gills Travel.

Thurs 14th October
Two Metrobuses have arrived here from Skills, one of which is ex Harrow (E476 SON).
---
---
Midland Classic


NEWS
18th August:
Super Pointer Dart 51 (R92 XNE) is here on loan whilst Trident 93 is away for repaint and door conversion. Two Olympians were sent at one point, but these are unlikely to be used.

MAN (RX53 LNJ) has arrived here but is not expected to be ready for service just yet.

22nd July: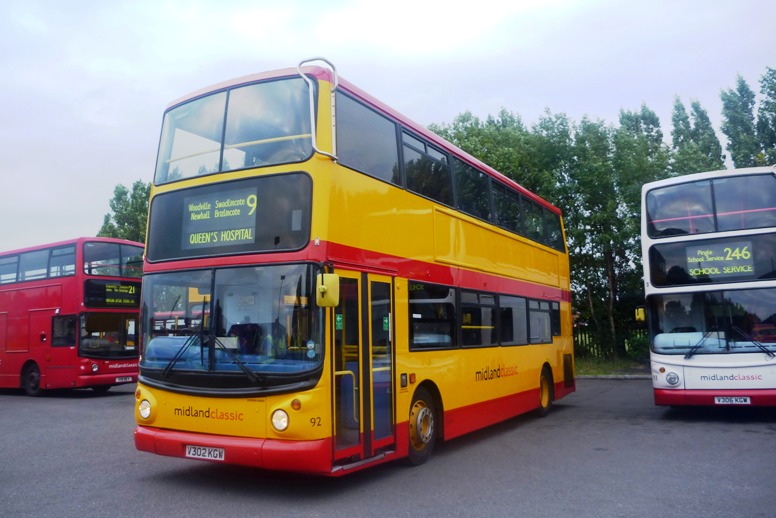 Triden 92 (V302 KGW) looking smart in fleet livery.
(C) S C Pop.



11th May:
The 4 Tridents to recently arrive here are:
92 (V302 KGW),
93 (V306 KGW),
94 (X264 NNO),
95 (X265 NNO).

92 is currently away to have the centre door removed and a repaint.


---
---
Premiere, Nottingham


NEWS
26th August
Solo 2291 now in fleet livery.

21st August
Two former Brighton and Hove Dennis Tridents are here, thought to be 4416 (T816 RFG) and 4418 (T818 RFG). These will be used on Red 8 alongside 4636.

Two more Scania / Wright Solars are here numbered 3345 and 3346. These will join similar 3347 (which has already been branded) on the Red 9.

Nottsbus branded Darts 3316, 3317, 3327, 3328, 3332 are now in storage. 3331 remains in use. MPDs 2220-4 are expected to leave the fleet soon.

Solos 2204, 2208 and 2214 have lost their Red 2 branding.

7th July
Solo 2291 (T291 UOX) is now registered (LUI 7627).
Coach (FJ55 YCM) is now (B12 PTL).


---
---
Stagecoach East Midlands
Chesterfield, Mansfield, Worksop
NEWS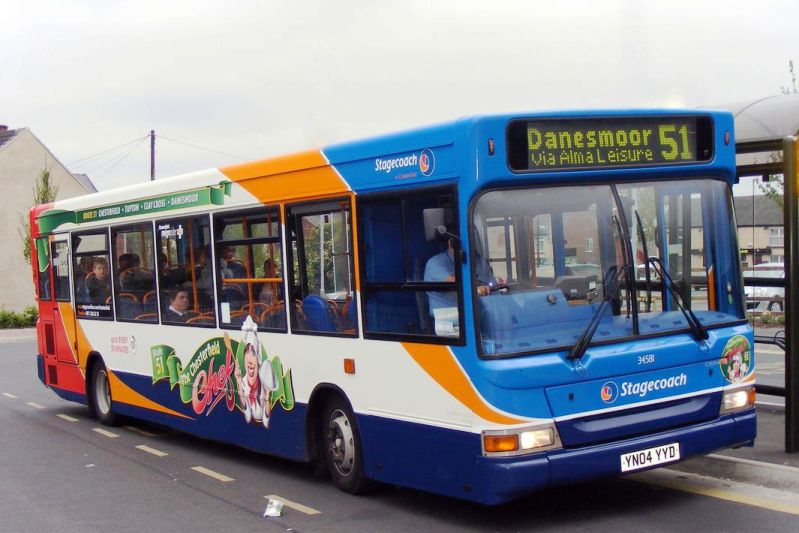 Route branding has been introduced on many routes around Chesterfield.
(C) Ian Moorcroft
To keep up to date with Stagecoach in Chesterfield, and many other operators in the area, take a look at the excellent Transpire website.
---
---
TM Travel


NEWS:
See Wellglade section.
---
---
Translinc
NEWS
:
---
---
---
The Wellglade group
trent barton, kinchbus, notts+derby and T M Travel.

NEWS
29th August:
939 now at Dove Holes repainted in trent barton livery. 930 is being used for spares to keep this on the road.

Olympian 23 to be painted into unibus livery for High Peak contract.

Scania 668 is now based at Sutton, 669 has been on loan to Kinchbus.

Coach 63 is at Langley Mill for repaint into N+D.

Darts 921 (bargain bus 2006), 931 and Excel 161 have been sold. But to who??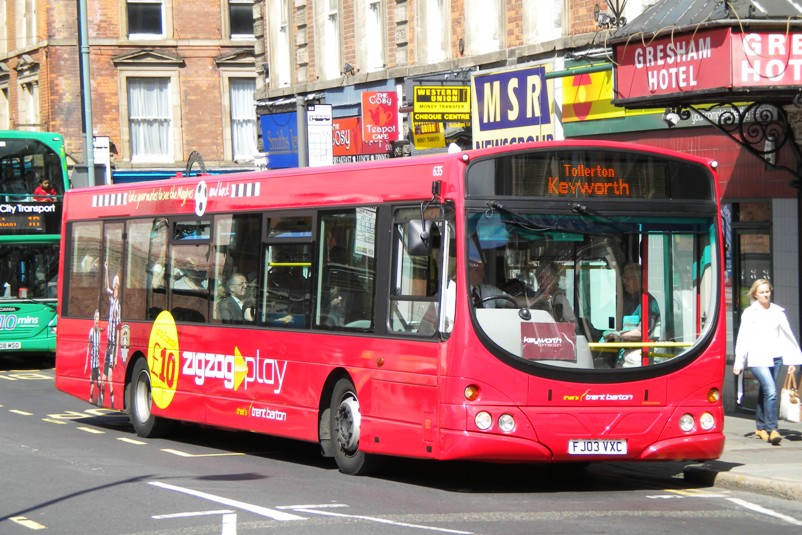 635 carries advertising for the new zig zag play ticket. Leave your Mango at home this Saturday. Maybe a matchday mango next, maybe not.
(C) John Whittingham



21st August:
Vario 290 is now in use with Kinchbus, on a Loughborough University contract.

Coach 63 has been debranded ready for its move to notts+derby. Coach 61 is to be scrapped, and 62 is to remain as the Red Arrow "spare".

Excel 257 is due at Sutton in trent barton red (replace 201?), whilst 265/6 are expected to be red spares at Derby (not certain what they will replace).

Former Connect SOlo 449 is set to be branded for the nines. More buses will be needed if route 90 becomes part of the brand later in the year.

Vehicles currently awaiting allocation are Excel 264, Tempo 306, and Scanias 662/3, 668.

Dart 939 expected to go to Dove Holes, possibly to replace 930 which is said to have been withdrawn?

Paladin 117 has been withdrawn and is now for sale along with Paladins 105, 111, and 115.

Other vehicles for sale are: 157, 161, 898, 904, 908, 913, 915, 931, 938, 1110, 1126, 1133, 1135, 1136, 1140, 1188, 2003, 2006.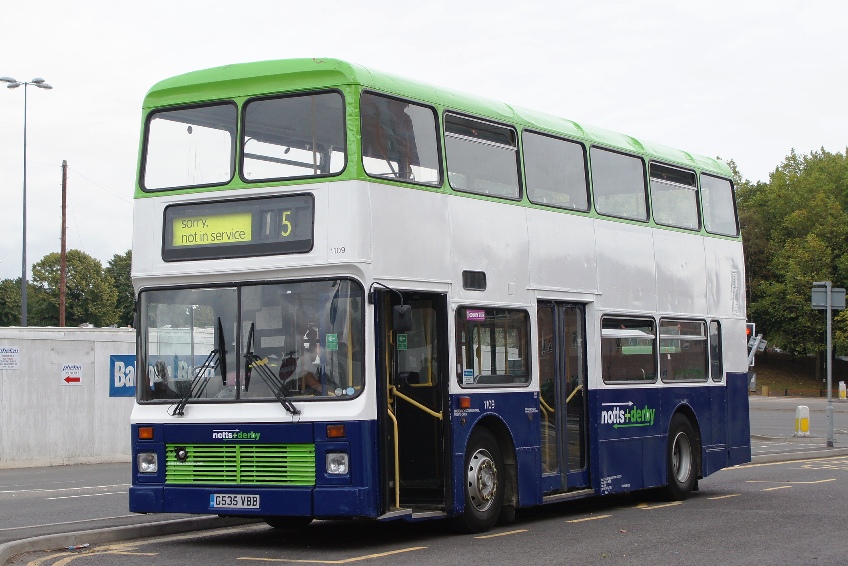 Former TM Travel Olympian 1109 in Derby bus station.
(C) Geoff Girling



18th August:
Paladins 137/8 have been painted for JCB academy contracts. Cheetah 1178 (YN06 CYP) will still be needed, however Sprinter 1019 (WJ02 KNR) may now be surplus (move to door to door work).

6th August:
Solo 433 now at Langley Mill, Scania 631 now at Derby.
668 has moved from Nottingham to Langley Mill following the arrival of 635.
Olympian 20 has been partially painted, so it seems asthough all three of these are staying.

4th August:
Former Spondon Scania 635 now based at Nottingham in red, with advertising for Zig Zag play / Notts County.
At least one of the ECW Olympians at N+D have been painted. 18/19 are expected to be done over the summer, future of 20 may be in doubt.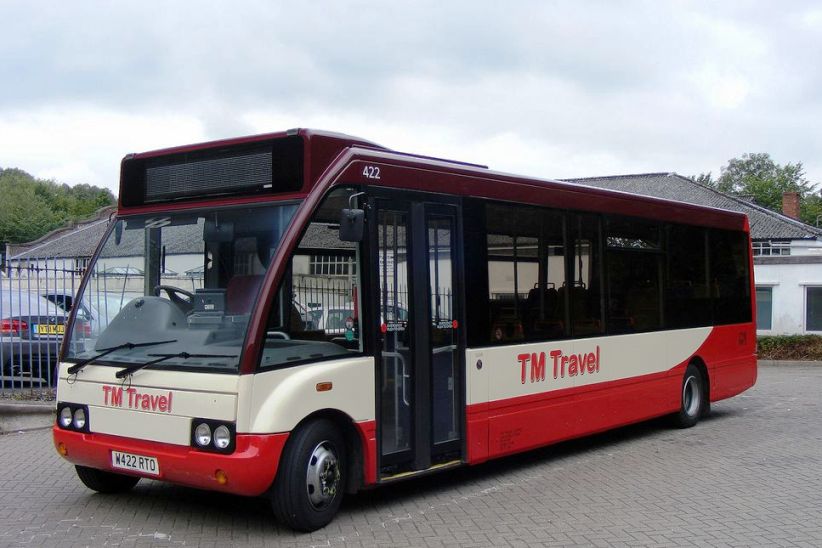 Former Trent Solo 422 has moved to TM Travel. It is seen here in Matlock.
(C) Ian Moorcroft



23rd July:
Solo 450 now branded for amberline.

Coach 61 suffering from corrosion and is likely to be scrapped. This and 63 were expected to go to notts+derby, but red arrow 62 may now transfer instead.

Leyland Olympians 18 and 19 are expected at notts+derby from Kinch. They are likely to be painted along with 20 ready for September.

notts+derby Paladins 106, 107 and 117 (asda) are due for withdrawal.

Former Trent / notts+derby / Bowers Lances 358 and 359, are now in Cornwall with Roselyn, Par, and Vario 296 (S296 UAL) is now with South West Coaches at Weymouth.

17th July: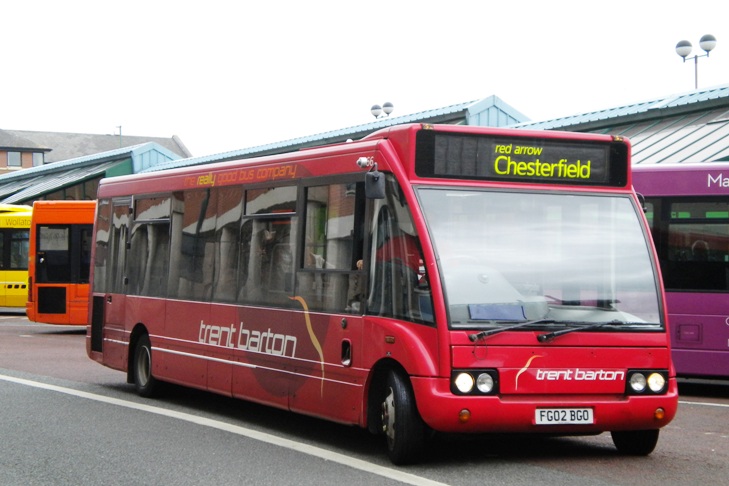 Luxury Solo 466 on the Red Arrow from Nottingham to Chesterfield.
(C) John Whittingham

Darts 938 and SPD (S779 RNE) have been withdrawn at TM Travel.

12th July:
Solo 451 repainted in trent barton livery and based at Langley Mill replacing 401. 450 also in paintshops.

Solos 401, 421 and 422 have been repainted for TM Travel.

308 is being repaired at Langley Mill after its accident earlier in the year.


---
---
Yourbus, Nottingham
NEWS
6th July: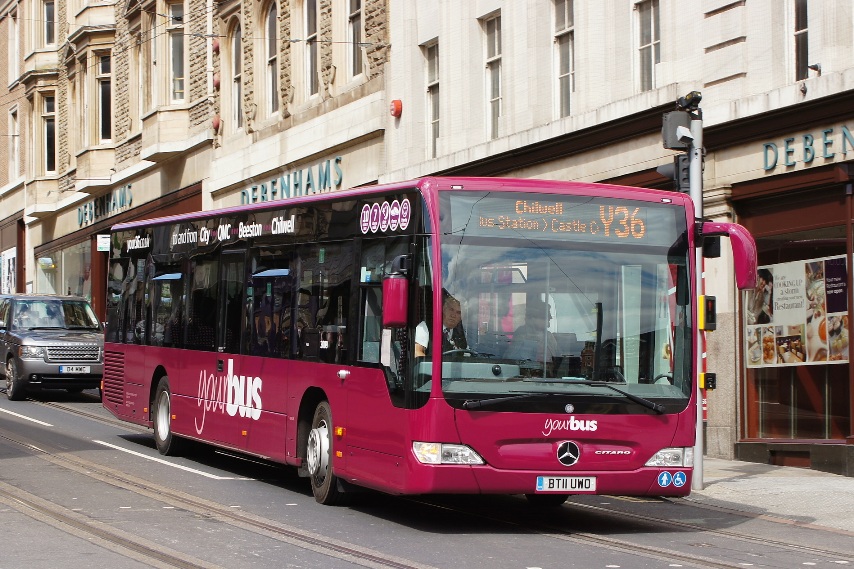 Citaro (BT11 UWO) in Nottingham.
(C) Geoff Girling

9 new Citaros for the Y36 arrived in June, they are:
3001 (BT11 UWF),
3002 (BT11 UWG),
3003 (BT11 UWH),
3004 (BT11 UWJ),
3005 (BT11 UWK),
3006 (BT11 UWL),
3007 (BT11 UWM),
3008 (BT11 UWN)
3009 (BT11 UWO).


---
---
Last Months News

News Index Page
---