Bus Fleet News
April 2015
---
Latest News
---
Here you will find all the latest bus fleet news for many bus operators in and around the Derbyshire area. If you have anything to report please contact me by clicking here.
---
---
NEWS
25th April
Two Neoplan Euroliners have arrived here from K B Travel, Penrith. They are (J6/7 AOT).
Merc minibus (TIW 2654) is now white.
---
---
NEWS
8th March 2015:
MPD 2212 is now based at Burton.
Omnicities 3581 (YN03 UVS) and 3582 (YN03 UVW) have joined the fleet from Wardles.

6th February 2015:
News on former Derby vehicles. Citybuses 4333 (H682 GPF) and (H658 GPF) are now with Brown, Barway from Green bus.
Olympian 4631 (R631 MNU) is now with Beestons, Hadleigh. It was de-roofed by previous operator and is now used as a tree lopper.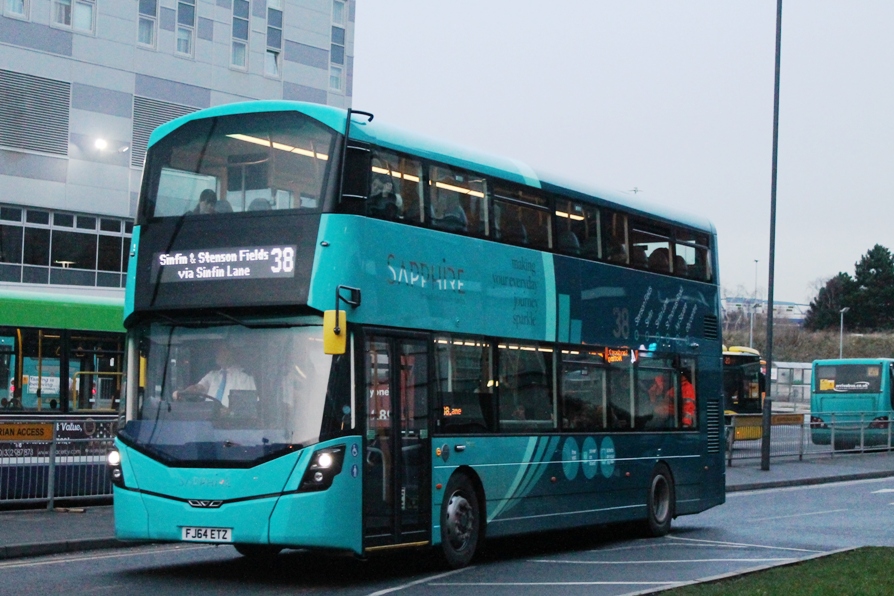 Streetdeck 4600 (FJ64 ETZ) on its first day in service.
(C) DBD

12th January 2015:
Streetdeck 4600 is expected to enter service tomorrow (Tuesday 13th January).

December saw Scanias 3813/14/15 renumbered 3513/14/15.

DAF 4720, which has seen use at Derby as a driver trainer, is currently on loan to Burton and in use in service.

20th November:
Streetdeck 4600 has been registered as (FJ64 ETZ). For those interested the chassis number is: SA9DDRSXX14141004.

DAF / East Lancs decker 4720 is in use here as a driver trainer.

MPD 2210 has had Rail Link branding removed. The service will no longer operate after the end of November due to the re opening of London road bridge.

4th November:
A new Wright Streetdeck is due here in December. It is branded for route 38 as the 8th Sapphire vehicle and will be numbered 4600.
---
---
NEWS
22nd November:
(T179 AUA) has returned to Warringtons of Ilam.

20th October:
(SN57 VPL) Setra S415HD has left the fleet.
SCZ9652 (T179AUA) DAF SB3000 / Van Hool Alizee T8 is currently on loan from Warringtons Coaches of Ilam.


---
---
NEWS
8th March
Skyline Scania 693 was painted into Centrebus livery last month. It currently carries no fleetnames. It is not known if Skylink branding will be applied, or if subsequent repaints will be into a branded Skyline livery.

It is thought a batch of new transpeak branded (green) Enviro 200s may be on the way.

3rd February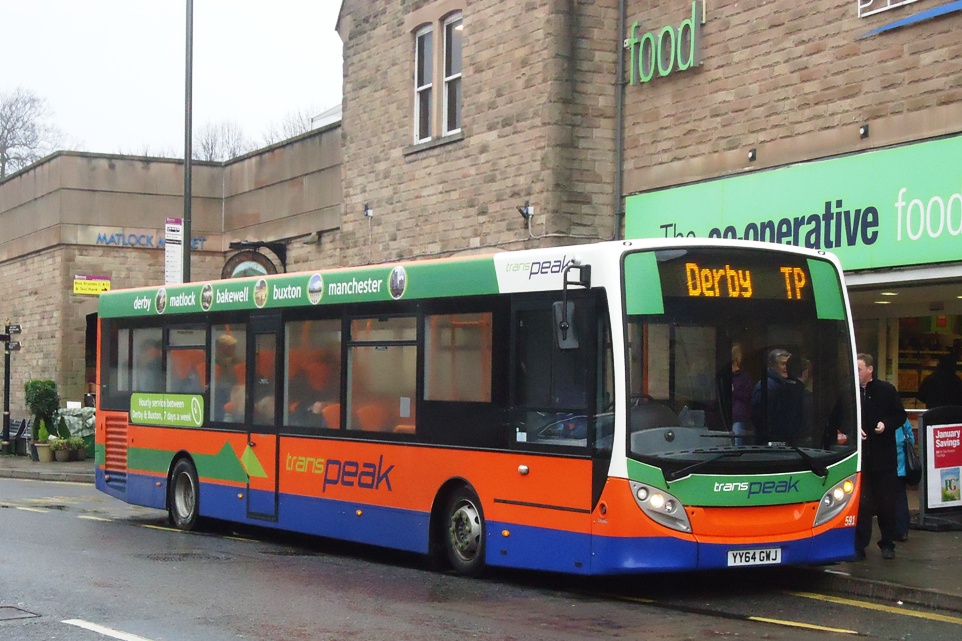 The new Enviro 200s have had transpeak branding applied to the centrebus livery.
(C) John Whittingham

8th December
4 new Enviro 200s have arrived here for use on the transpeak. They are in Centrebus (High Peak) livery. Branding may be applied soon. The four new buses are:

591 (YY64 GWJ),
592 (YY64 GWK),
593 (YY64 GWL),
594 (YY64 GWM).

Former NCT Excel 772 has moved to Centrebus (Leicester). Transpeak liveried 682 (W224 PRB) is likely to go for scrap soon.
---
---
NEWS & Sightings
---
---
NEWS
3rd February
Former Wallace Arnold Jonckheere Deauville bodied Volvo B10M (L903 NWW) has arrived here. It still carries Abbey Coaches of Darwen livery.

2nd January:
Three recent arrivals are:
(GIL 3113) Volvo B10M / Plaxton Paramount.
(R955 TSL) Volvo Olympian / East Lancs Pyoneer.
(S63 TNA) Scania L94IB4 / Irizar Century.


---
---
G&J Holmes


NEWS
3rd February
White E200 (MX59 AVN) is on loan here. This was used by Powells, and was branded for the Rotherham Free Bee service.
Solo (MX59 AVP) was with First Devon and Cornwall by November 2014.

8th December
Another new E200 here is (YY64 GWW). This is likely to replace Solo (YJ12 NAA).

Solo (MX59 AVP) has been reported with First in Cornwall (Cambourne).

Mercedes / Optare Solaria (CC03 HOD) was sold to E Coaches, Alfreton earlier this year.

12th May
Another Enviro 200 here is (YX14 RZB).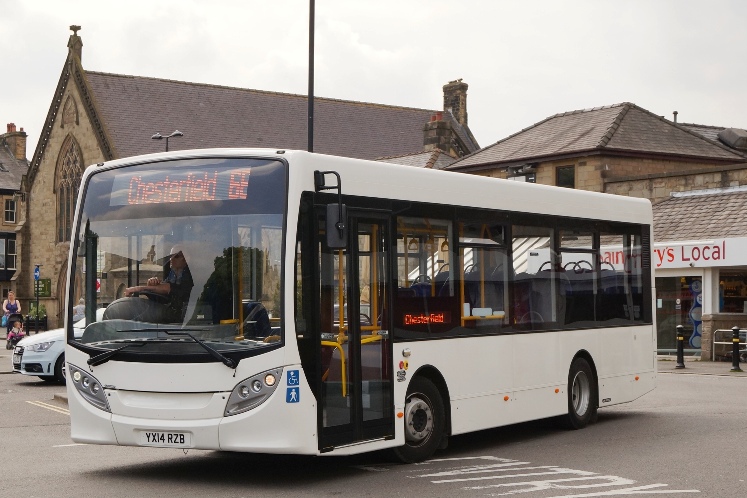 Enviro 200, (YX14 RZB) in Buxton.
(C) Geoff Girling



26th December
The 2 new Enviro 200s here are (MK63 WZZ) and (YX63 GYK). Solo (MX59 AVR) has been sold to PC Coaches, Lincoln.

---
---
Glovers of Ashbourne


NEWS
2nd March 2015
Volvo/ Alexander Q type (M54 PRA) is here now reregistered as (AIG 4114).
The former (AIG 4114) now carries (L923 NWW) and has been sold.

6th February 2015
Former Transpeak (Trent) Volvo/ Alexander Q type (M54 PRA) is here. It is expected to carry an (AIG) plate very soon if it doesn't already!
Primo (YN55 YSC) is now with Moseley, South Elmsall.

26th June
Scania Irizar (XJI 2964) is here in plain white livery. This Coach is Ex Winns Coaches.

1st April
Former Roy McCarthy, Macclesfield Volvo B12M/Plaxton Paragon (YN05 VRX) is here. The two Primos have left the fleet. There are rumours that one may be on its way to Malta soon!
---
---
Harpurs Coaches


NEWS

3rd April 2015
(A14 GTA) left for Barnsley on 31st March.

27th March 2015
(R309/10 WVR) are both withdrawn and are up for sale.
(A14 GTA) is withdrawn, unserviceable.
Plaxton (J723 EUA) has been advertised for sale but is still in use.
(X423 PFE) will be back out soon with seatbelts fitted. 424 being fitted next. Once complete the other two Dublin B7s, currently in store, are likely to be painted and join the fleet.
(00-D-70111) and (00-D-70113) are 423 and 424.

11th February 2015
Two of the 4 ex Dublin Volvo B7s are (X423/4 PFE).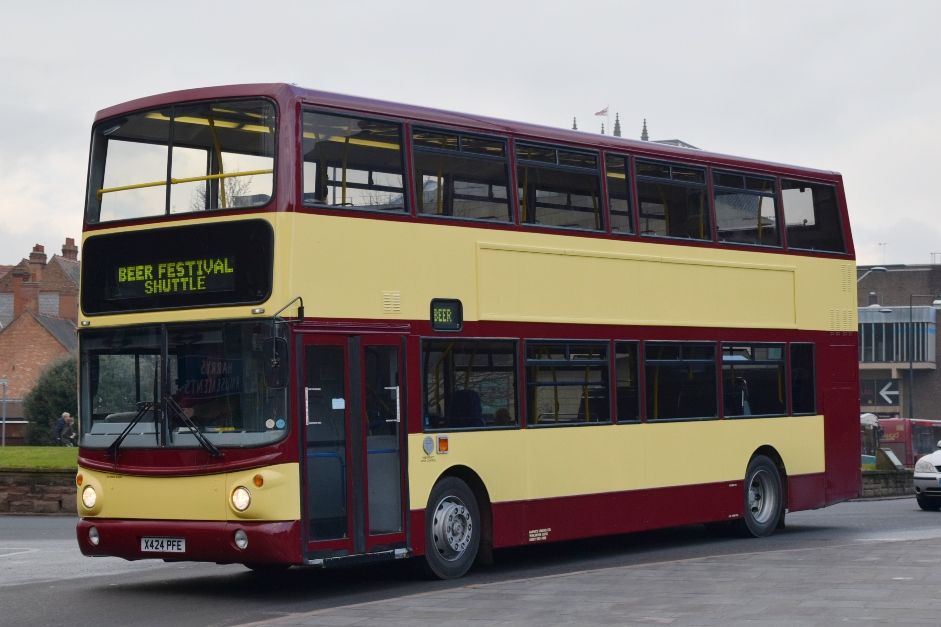 Volvo B7 (X424 PFE) in Derby on the Beer Festival Shuttle.
(C) Geoff Girling



6th February 2015
4 ex Dublin bus Volvo B7TLs are here. Two of these are (00-D-70111) and (00-D-70113). More details to follow. One of the 4 has already been repainted.

10th September 2014
Metrobus (C373 BUV) is back in use.


---
---
Hawkes Coaches

NEWS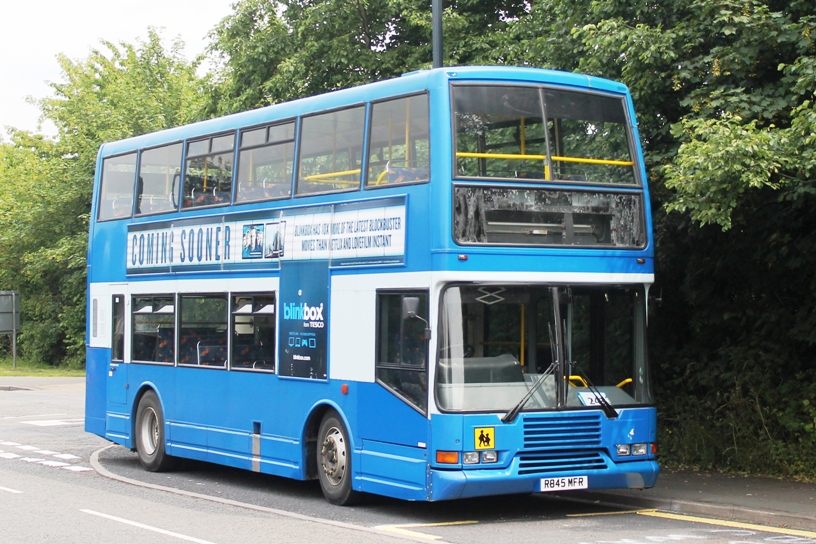 Olympian (R845 MFR) is a recent addition to the fleet.
(C) DBD

2nd January:
An arrival in the last few months is East Lancs bodied Olympian (R343 MFR), ex Metrobus, Orpingdon and still in their blue/grey livery.


---
---
Hulleys of Baslow

NEWS + SIGHTINGS
6th January
New here on 5th January as number 4 is (MX59 ZCL) an Enviro 200 (B29F) last recorded with City Sprinter, Renfrew.
VDL SB180/ MCV 22 (YJ62 JWF) returned to ARRIVA (dealer) off loan on 23 December 2014.

15th November
Dennis Lance 12 (N362 VRC) went for scrap on 7th November. Its engine lives on in a recovery truck.

From January 22nd 2015 Hulleys will take over the operation of service M17 (Jordanthorpe - Dore) from TM Travel under contract to SYPTE using one solo.


---
---
Johnson Bros / Redferns


NEWS & SIGHTINGS
12th January
Volvo B10M coach (K67 BKG) is here based at Mansfield.

Trent Excel 260 has been on loan here for a few days, but has now returned to Lanley Mill.


8th December
Scania Irizar (4 JBT) is the third to be sold to Supreme Travel, Zejtun, Malta.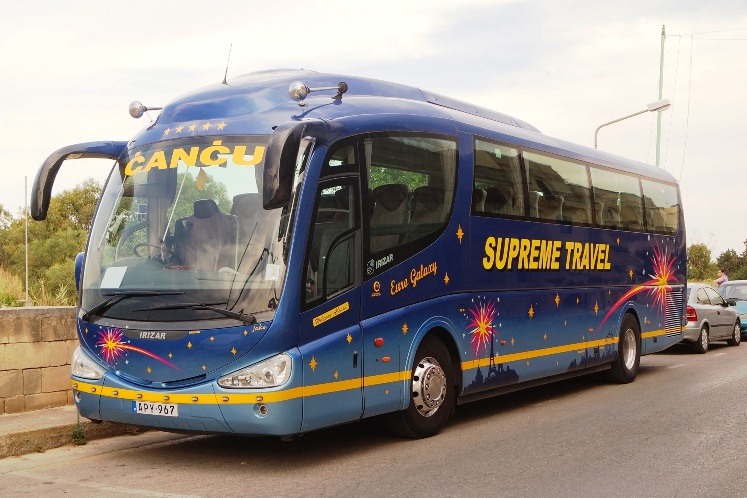 Former Scania Irizar (6 JBT), (YN56 NNP) is now in Malta with Cancu, Supreme Coaches.
(C) Geoff Girling


18th February
3 Van Hool's have joined the fleet, these are: (YJ08 EBG), (YJ58 FHT) and (YJ58 FHU).
---
---
Linburg

NEWS + SIGHTINGS
26th June
4 Northern Counties Olympians are here from London Suburban:

(L204 SKD) now (OUI 4770),
(L205 SKD) now (BUI 471),
(L210 SKD) (not yet reregistered),
(L215 TWM) (not yet reregistered).

Former Yorkshire Traction ECW Olympian (C669 GET) (this was BUI 471) and ex Cambus (F513 NJE) and (G757 UYT) have all been withdrawn.

Two Darts to join the fleet are ex Stagecoach London Plaxton Pointer bodied examples which have also be re-registered!

(V173 MVX) is now (OUI 9980),
(V175 MVX) is now (IIG 9382).
---
---
Littles Travel

NEWS + SIGHTINGS
14th October
Merc Sprinter (BU14 SZL) has been here for a while. Ex Evobus demo, C19F seating.
King Long M1 (BX14 KNW) arrived here at the end of July replacing Cheetah (YN61 AXB), which carried the same fleet number.

Former Trent Dart 932 (R932 RAU) has been withdrawn.

26th June
Ex London United Dart / Plaxton Pointer (Y552 XAG) is here painted in battleship grey.
---
---
Midland Classic

NEWS
29th April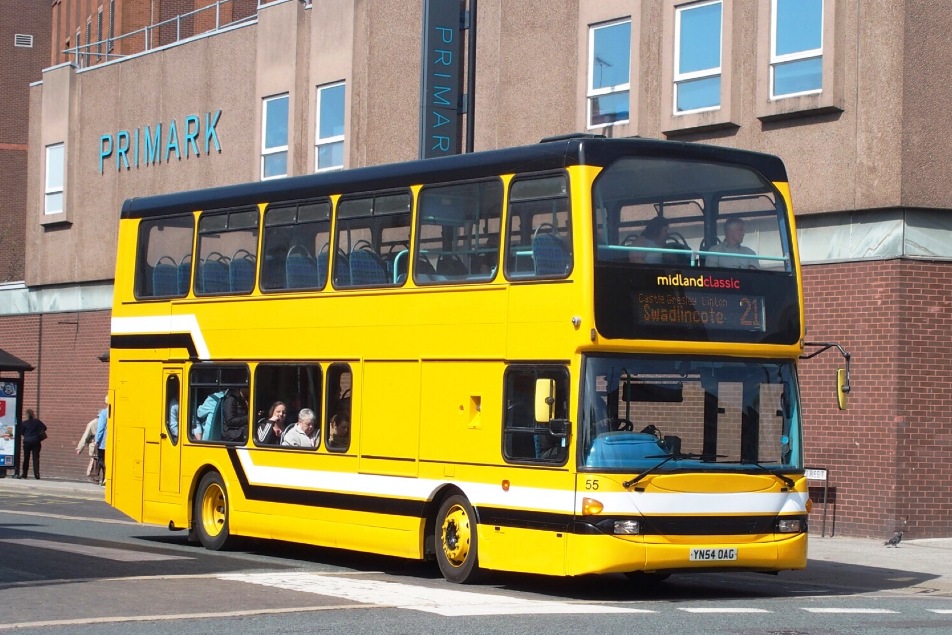 Scania 55 (YN54 OAG) has been painted into Stevensons livery.
(C) Richard Woodhead

11th February
2 more Wright bodied Scanias have arrived from Reading buses. 76 (YN05 GXL) and 77 (YN05 GXP).
Scania 54 has been repainted.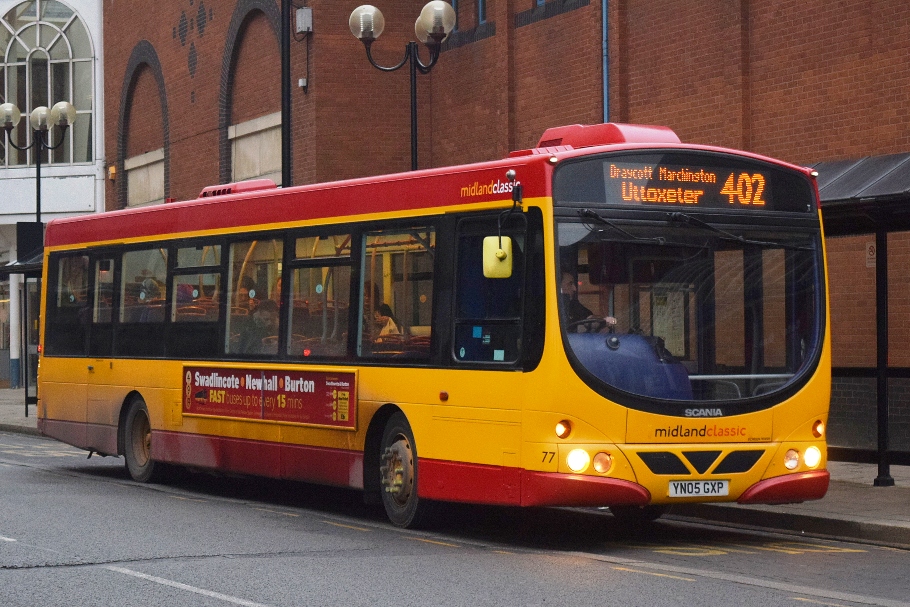 Former Reading 77 (YN05 GXP) after repaint.
(C) Geoff Girling
3rd February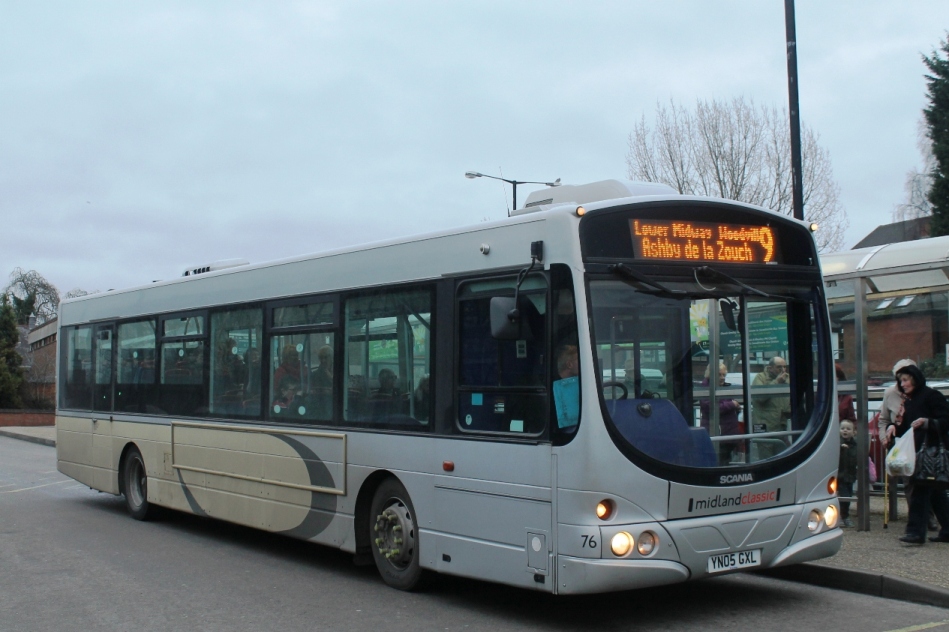 Former Reading 76 (YN05 GXL) in Swadlincote.
(C) DBD
52 (YN54 OAA) in fleet livery.
(C) William Debono



8th December
Former London United East Lancs Scanias SLE 1, 2, 3 and 5 are here as:

52 (YN54 OAA),
53 (YN54 OAB),
54 (YN54 OAC),
55 (YN54 OAG),

55 is in service in London red.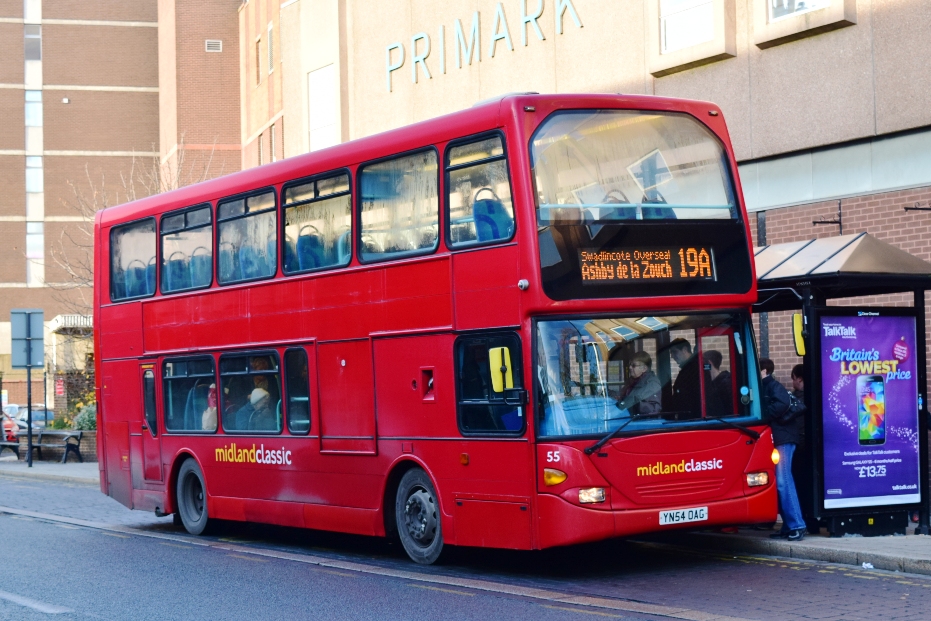 A new addition to the fleet is 55 (YN54 OAG).
(C) Geoff Girling




20th November
The former South Lancs Scanias have been re-registered as follows:

81 (S24 SLT) is now (FX55 VKH),
82 (S25 SLT) is now (FX55 VLO),
83 (S26 SLT) is now (FX55 VKG),
88 (S200 SLT) is now (YL51 ZUD),
89 (S27 SLT) is now (YN51 MGU),



---
---
Nottingham buses
22nd January 2015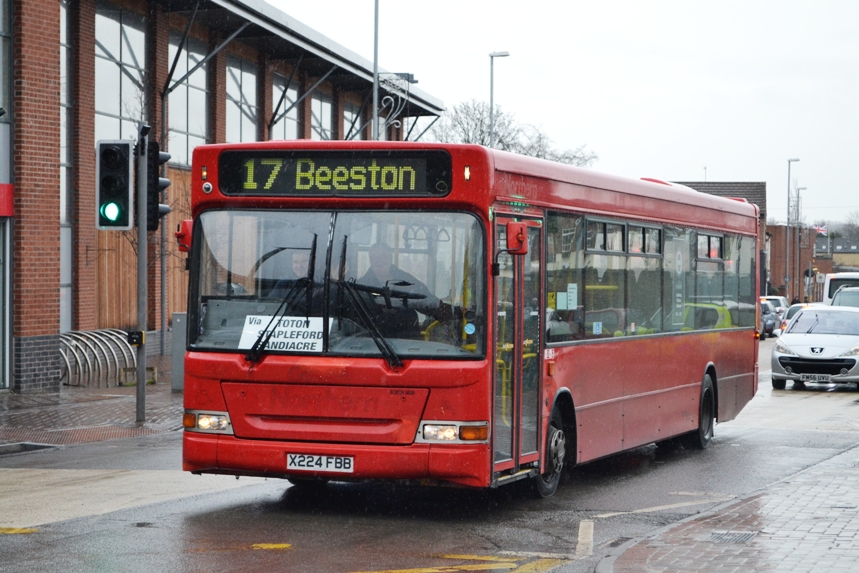 Nottingham buses now operate route 17 between Long Eaton, Sandiacre and Stapleford. Former Go Northern Dart (X224 FBB) is seen here. Similar Darts (X227 FBB) and (X232 FBB) are also in the fleet.
(C) Calum Maclennan
---
---
Paul S Winson


10th November
Former Paul S Winson of Loughborough ADL Dart SLF / ADL Mini Pointer (DW05 PSW) is now in use with Travel Wright of Newark.

14th August
Olympian (G129 NRC) is now preserved with Nottingham Heritage Vehicles. NEWS

---
---
Skills, Nottingham

NEWS
-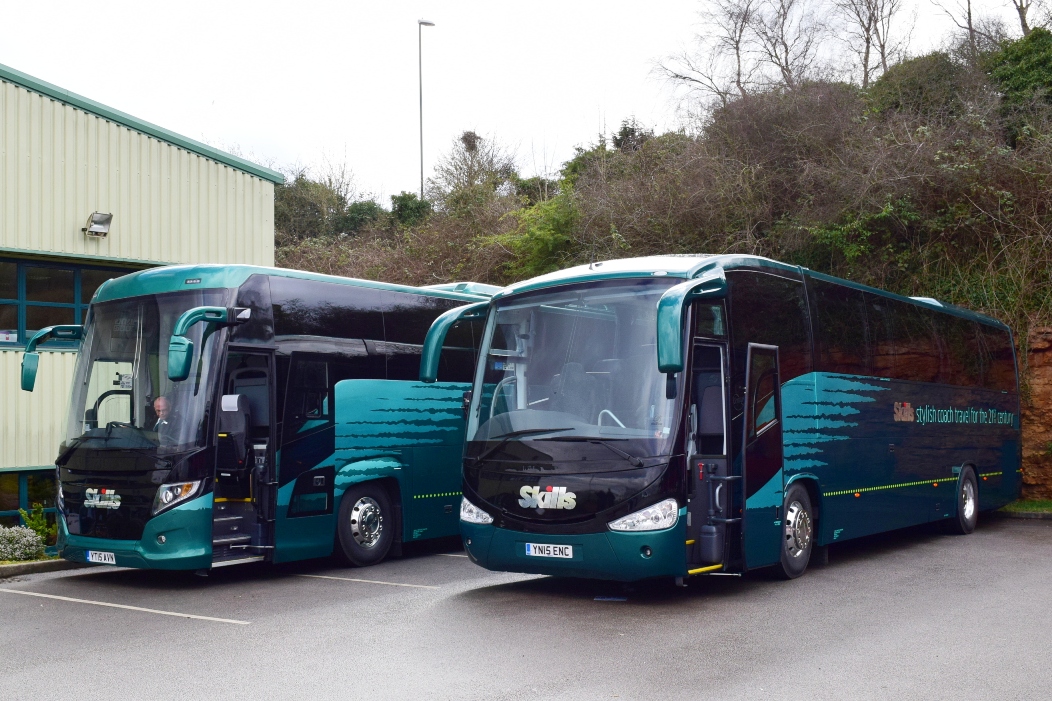 New for Skills is (YN15 ENC) with brand new (YT15 AVN) alongside.
(C) G W Girling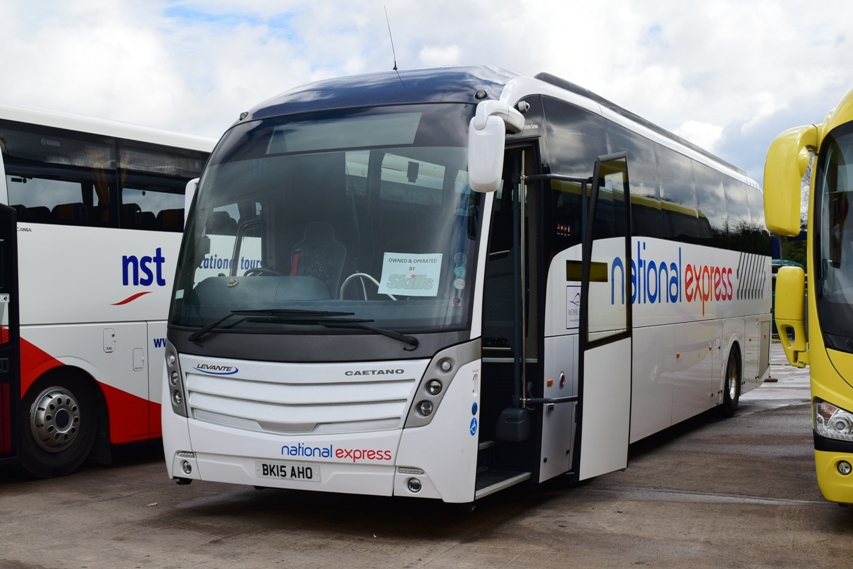 New Levante (BK15 AHO).
(C) G W Girling
---
---
TM Travel


NEWS:
See Wellglade section.
---
---
Translinc
NEWS
---
---
The Wellglade group
trent barton, kinchbus, notts+derby and T M Travel.
NEWS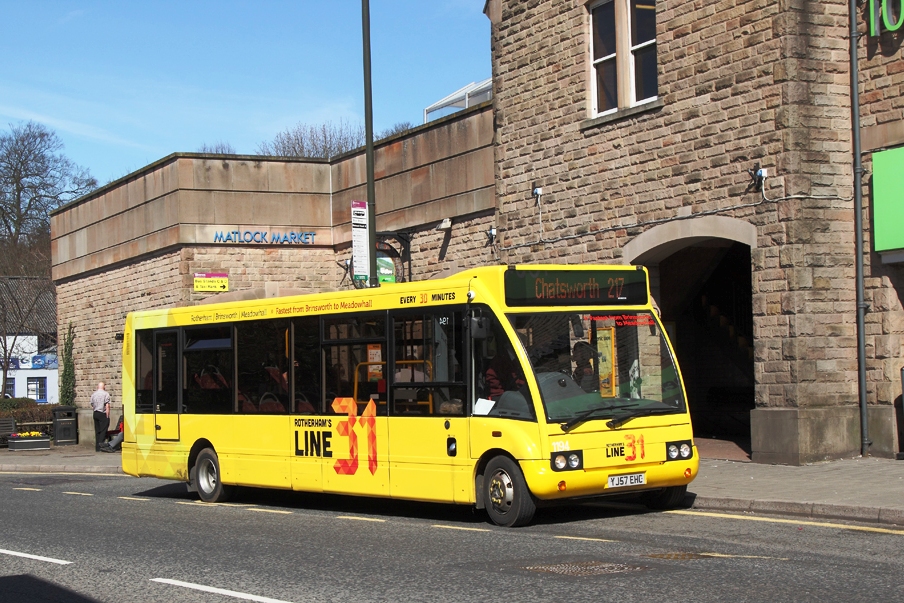 Solo 1194 carries this branding for Rotherham route Line 31. It is seen here in Matlock on the 217.
(C) Shane Ross

3rd April
Former Skylink Centros 762/3/4/5 and 767 are now in Unibus 6 livery. 761 and 766 are in use in yellow, but are expected to be painted for use on unibus 5 soon.

Former Villager 614 now red and at Langley Mill.
All 7 Villager Scanias are now in use. 616, 657/8/9. 660/1 and 664.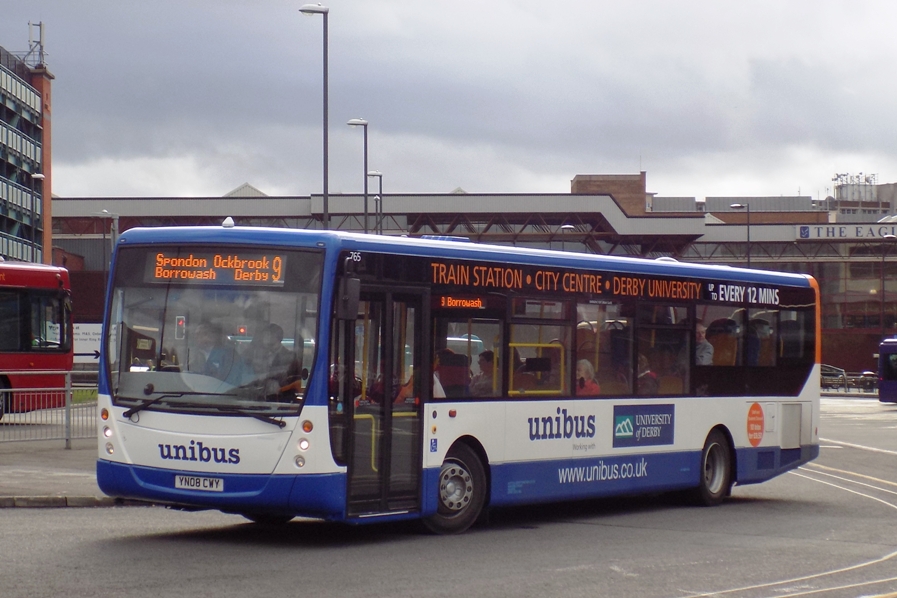 765 is now in Unibus 6 livery. It is seen here in Derby bus station heading to Ockbrook on route 9.
(C) Daniel Louch



8th March
Scania 615 now painted in trent barton red and based at Sutton.
Route 18 Scania 605 now painted red (was branded for the 18), still based at Nottingham.

2nd March
616 and 660/1 now carry the new livery for Villager, but are not yet in service.

20th February
Centro 766 is now with notts+derby.

unbranded Villager Scanias 614/24 were in use at Meadow Road earlier in the week. Unbranded Zoom Solo 439 is also in use at Nottingham.

Indigo 718 suffered a small brake related fire last Friday night.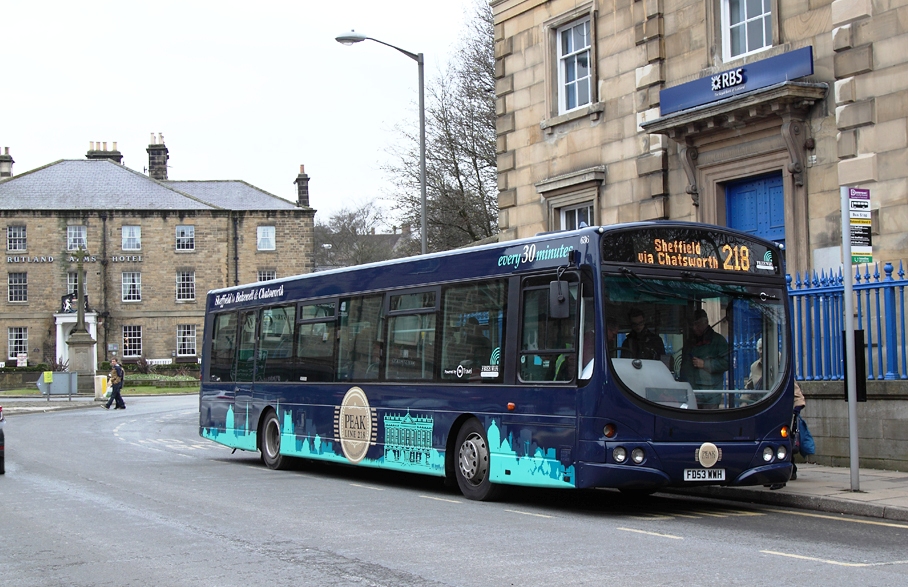 Former Trent Scania 636 is now branded for TM Travel route 218. It is seen here in Bakewell.
(C) Shane Ross



11th February
Scania 664 is now in Villager livery.

3rd February
Scanias 601, 604, 634 and 636 are now with TM Travel and branded for the 218 Sheffield to Bakewell.

Scania 657 is now in service after being refurbished and branded for the Villager services.

22nd January
Paladin 107, and Centro 793 are now at Looms.

Excels 230 and 236 no longer stored at Kinch. Sold? 221, 222 and 234 remain stored there.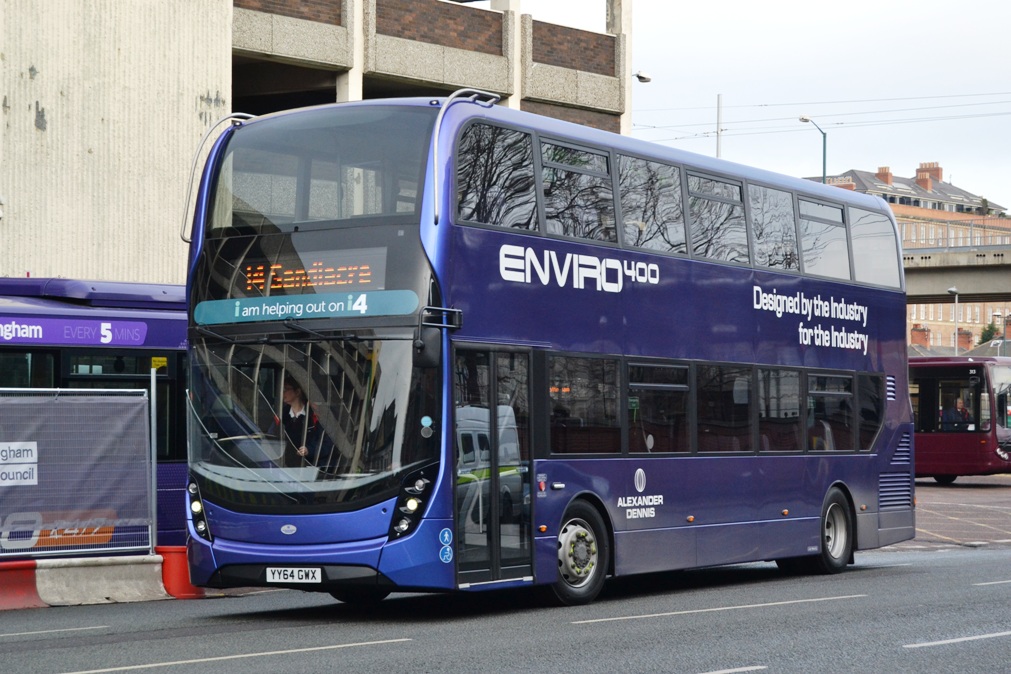 Enviro 400 demonstrator (YY64 GWX) is seen here in Nottingham on the i4. It is being used on selected journeys each day to assess its suitability.
(C) John Moore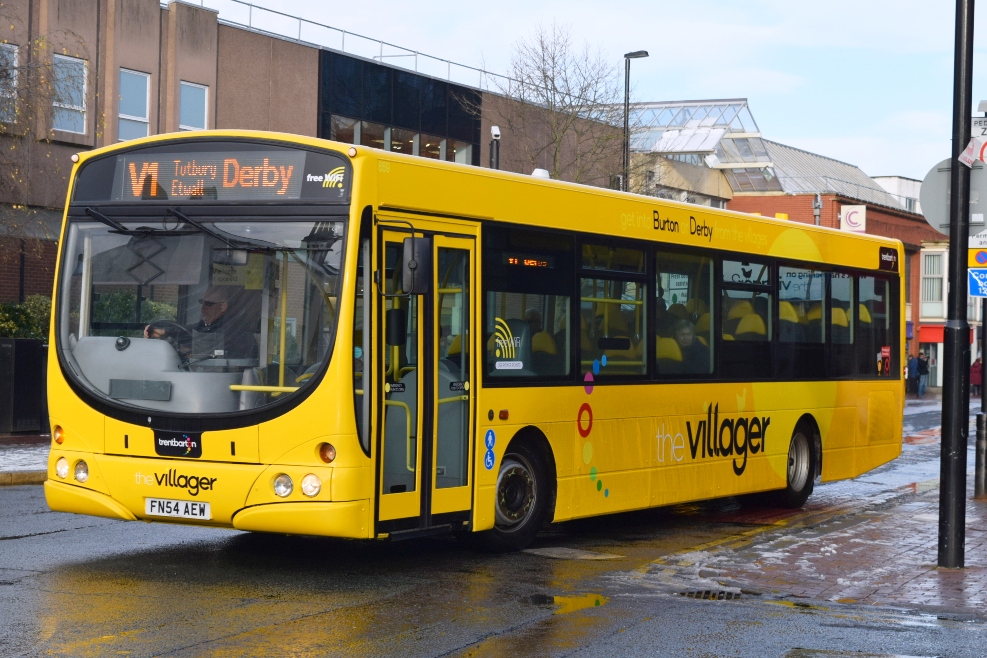 Former Rainbow 1 Scania 659 is now branded for the Villager services that opererate between Derby and Burton Upon Trent.
(C) G W Girling

2nd January
Scanias 658/9 have been refurbished and painted for the Villager and entered service before Christmas.

A number of Scanias are thought to be heading for TM soon for the Sheffield to Bakewell / Matlock services. 634 has been painted in a dark blue for this.

Centro 764 now carries Unibus livery and should be in service mid January.

NCT have sold former Trent Solo 408 to Lowes coaches, Nottingham.

8th December
Scanias 652/3/4 are now branded and in use on Zoom.
Scanias 649/50/1 are now in use with Kinchbus on the Skylink.


---
---
Vallances
NEWS
25th April 2015:
Scania irizar PB (A19 BNG) has arrived from from Solus coaches (now in fleet livery).
Scania K113 (M134 GAP) has been sold.
---
Yourbus, Nottingham
NEWS
24th March 2015:
Citaros 3004 and 3007 are now in the new livery and branded for the Y28 service.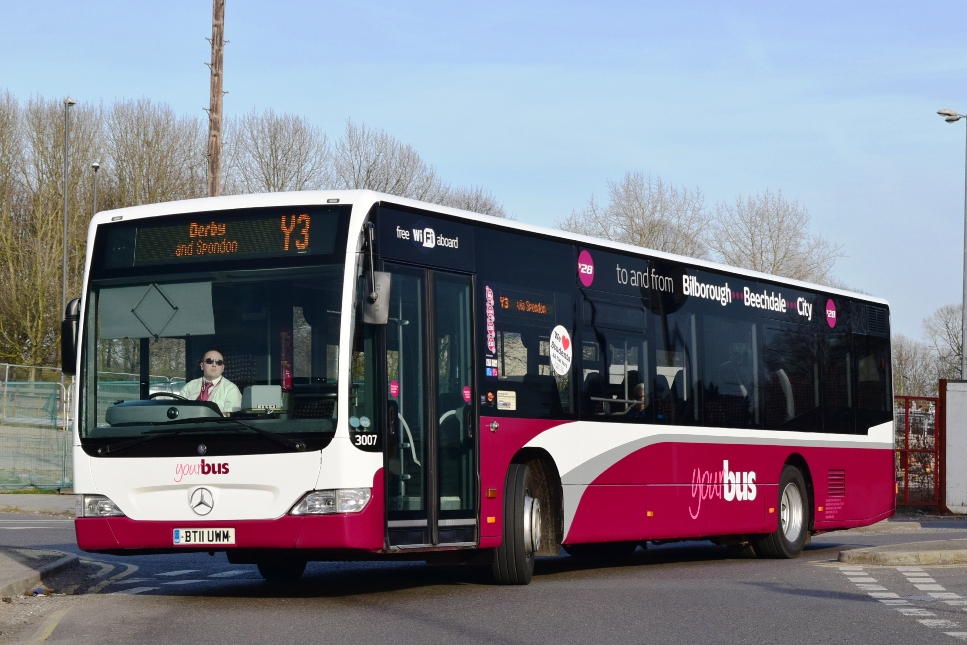 Yourbus 3007 repainted in the new livery complete with branding for the Y28. It is seen here in Derby bus station on a Y3.
(C) Geoff Girling



20th Feb 2015:
Citaro 3008 suffered fire damage after an engine fire in Heanor in the early hours of Sunday morning (15th Feb). This follows a similar incident last month involving 3001.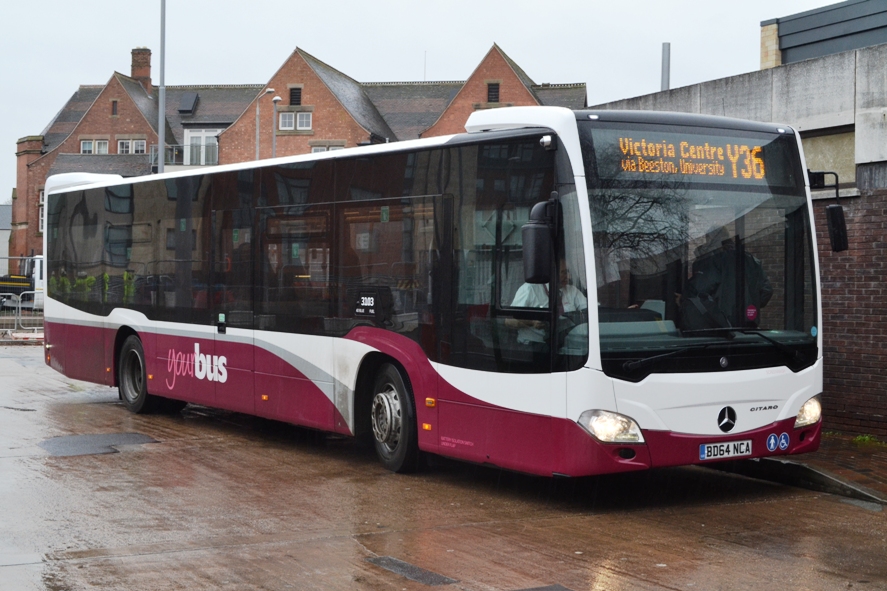 Yourbus Citaro 3103 (BD64 NCA).
(C) Calum Maclennan

Citaro 3001 (BT11 UWF) sustained fire damage in Heanor Market place on Wednesday morning (7th Jan 15).

The new Citaros are (registrations believed to be correct, incorrect ones were previously displayed here):

3101 (BD64 NBO),
3102 (BD64 NCN),
3103 (BD64 NCA),
3104 (BD64 NCE),
3105 (BD64 NBZ),
3106 (BD64 NCJ),
3107 (BD64 NBX),
3108 (BD64 NCC),
3109 (BD64 NBY),
3110 (BD64 NCF),

---
---
Last Months News

News Index Page
---